If you are in a rush the best automatic bilge pump is the Shoreline Marine Bilge Pump.
Bilge pumps serve a critical function. They are used in boats to pump out water. Usually, this is a small amount of water that comes in from rain or splashes on deck. But these simple battery-operated pumps can be used for several other purposes. Buyers may be looking at using them for fountains or landscaping or draining sumps and damp areas.
For a boat, picking a bilge pump is a balancing act. You want to have as much capacity as you can get, but you also need something that fits in the space provided when wired and plumbed correctly. A bilge pump is a critical safety device on any vessel and should be installed with great care.
The Best Automatic Bilge Pumps are as follows:
Automatic Bilge Pump Reviews
1. Shoreline Marine Bilge Pump with Float Switch
This pump from Shoreline offers a built-in float switch and a compact design. It operates on 12-volt systems and features a 3/4 inch hose outlet. Available in either 600 or 800 gallon per hour models, the pump replaces many OEM pumps at a great value. Since the float switch is integrated, installation is simple, with no extra parts to worry about.
At approximately six inches tall, this pump has a different form factor than most of the name brand units Users are encouraged to double-check measurements to ensure this unit will fit if they have to fit it in a tight space. 6×4 approximate,
If you are installing your pump from scratch, Shoreline also sells all of the components you will require. Even though you must purchase them separately, the hose and through-hull kit are convenient. They also offer a control switch with manual mode, an automatic setting, and an indicator light. The indicator lamp is a great feature since it alerts you to the pump running for long periods when en route or at times when you might not otherwise hear it.
The pump produces a great flow, has a good design with all the right features. Unfortunately, some users have indicated that they've received disappointing customer service. The pump does not appear to be UL or CE marked, and there is no information available whether or not they are ignition-protected. Hopefully, these reports are the exception and not the rule since the Shoreline pump looks to be a winning product.
Pros
Available in two capacities
Installation kits available
Cons
The tall design may not fit in shallow bilges
Not UL or CE marked
Not ignition-protected
2. Eco Worthy 1100 GPH Bilge Pump
These Eco Worthy bilge pumps come in a variety of sizes and options. Pump capacity ranges from 750 to 2000 gallons per hour, depending on the model selected. Of the four models available, two are automatic and include float switches, while two are not. All carry the European CE-mark.
All of these Eco Worthy pumps share the same form-factor of many top brand pumps, meaning that more than likely, they will snap into place to replace existing pumps. These pumps are installed atop a plastic filter basket, which is usually screwed to a board or the floor of the bilge. Clasps allow the pump to come off the basket for cleaning or replacement.
It seems like the one reoccurring weakness of these off-brand bilge pumps is the float switch. Automatic switches seem to be prone to failure. Luckily, Eco Worthy has reportedly good customer service and replaces faulty units when they pop up. It might be worth considering a model with a separate bilge switch, to make it easier to replace should problems appear.
It is also worth noting that while Eco Worthy offers an impressive 2000 gallon per hour pump, they do not package it with a float switch. If you're interested in upgrading to this big boy, remember to purchase your float switch separately.
Pros
Multiple flow rates and designs to choose from
Up to 2000 GPH capacity
CE marked
All designs feature clip-on filter baskets for cleaning
Cons
Larger pumps require a larger hose
1100 and 2000 GPH models require external float switch
3. Seaflo Automatic Submersible Pump – 750 GPH
The Seaflo Automatic pump looks like the typical 750-gallon per hour bilge pump. It shares the same shape, size, and specifications of many of its competitors. This design features an integrated float switch. A nice additional feature is a manual test switch so that you can move the float up to make sure the pump activates.
This pump is a direct replacement for the Attwood Sahara series of bilge pumps. These pumps are commonly used as the primary pumps on small boats. Big boats use these as dewatering pumps or shower sump pumps. When kept cleaned and maintained regularly, these pumps can last years.
Like other products we've looked at, the switch might have issues. Most problems can be avoided by installing the pump correctly and keeping the filter basket clean.
Separately, Seaflo offers products to help with the install, including a three-way panel control switch for this bilge pump. This pump works on 12-volt systems and requires a 3/4 inch hose. It is CE-marked and ignition-protected.
Pros
The common shape allows for interchangeability with other pumps
CE marked and ignition-protected
Compact, all-in-one design
Cons
Float switch design may cause problems
Higher capacity pumps with the same form factor are available
4. Amarine 1100 GPH Bilge Pump with Switch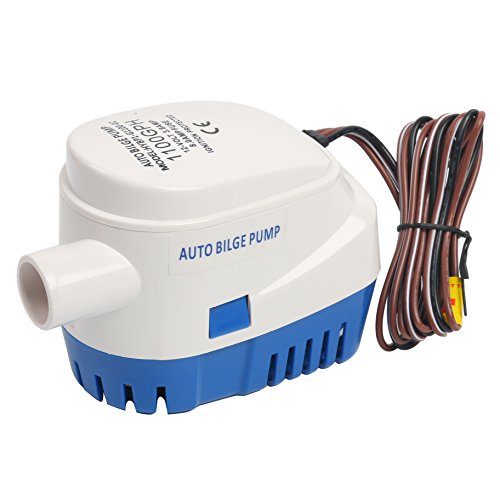 If you're looking for a fully automatic, all-in-one bilge pump unit with high output capacity, the Amarine 1100 gallon per hour pump is worth a look. This pump features the same small form-factor of the Seaflo pump above, but with a significantly higher pumping capacity.
Like other pumps of this design, the Amarine features a clip-on filter basket to keep the float switch and pump impeller clean.
Users have had great luck with these pumps, and this is a very popular model. With a slim and easy to install footprint, the Amarine pump is the perfect upgrade for many vessels.
Remember, to move more water, an 1100 GPH pump needs more power from the battery and larger plumbing. This pump draws 3.8 amps at 12 volts. For the discharge hose, you will need 1 1/8-inch tubing and through-hulls.
Pros
Good pumping capacity for its size
CE marked and ignition-protected
Float switch integrated design
Cons
Requires large 1 1/8-inch discharge hose
5. YopoToys Automatic 1100 Gallon Per Hour Bilge Pump
Like the Amarine, the YopoToys is an 1100 gallon per hour pump built on the same design principles as the name brand Attwood Sahara series. The 1100 GPH class pump is the perfect size for many smaller boats, and this compact design allows you to upgrade existing pumps in small places easily.
Having and larger capacity doesn't have some cons, of course. For one thing, this pump requires a larger 1 1/8-inch hose for its output plumbing. This might not seem like a big thing, but when you consider running the new hose and drilling a larger through-hull into your boat, you may not be so keen.
The YopoToys pump features a manual test switch and a snap-off filter basket for cleaning, maintenance, and testing. It comes prewired with labeled and colored wiring connections. For proper installation, you'll need to purchase a switch panel separately. The pump is 12-volt and is CE-marked and ignition-protected. It appears to be identical to the previous Amarine pump, and we wonder if they do not come from the same supplier. Users have reported that the pump works great, though a handful of reports have shown problems with the float switches.
Pros
Snap off filter basket for easy cleaning
Built in float switch with test feature
CE marked and ignition-protected
Cons
Larger plumbing required
Float switch must be kept clean
Choosing the Perfect Bilge Pump
Bilge pumps are simple pumps designed to be fitted in the lowest part of a vessel. They can then be switched on to pump out water and keep the bilge dry. They are not designed to keep a damaged boat afloat, but rather to get rid of water that comes from rain or drips.
While this is one use for these pumps, many buyers use them for other purposes. From solar-powered water fountains to pumping out low spots in their yard, bilge pumps are a great way to move water using battery power. They run on a standard 12-volt system, although you can find models that run on 24-volt batteries.
Even onboard boats, these pumps can serve multiple purposes. Automatic pumps are often used in sump boxes to drain greywater from sinks or showers overboard. In this setup, multiple drains can be fed into one sump box, allowing for just one pump and one overboard discharge. They can also be used to pump water through live-well systems on trolling fishing boats.
Things to Consider when Purchasing an Automatic Bilge Pump
If you're planning to install a bilge pump in your boat, consider the following.
How much pumping capacity do you need?
Generally speaking, the bigger the boat, the bigger the pumping capacity you need. Depending on where and how you use your boat, you might even want to consider having two pumps. This way, one pump is used to get rid of drips and small amounts of water, while the other one only gets used in emergencies. In this setup, the emergency pump is usually mounted higher than the primary so that it only comes on and off when the primary pump is overcome by the flow of water coming in or fails altogether.
According to marine surveyor David Pascoe, even small skiffs in the 16 to the 20-foot range should have two pumps totaling at least 2500 gallons per hour of pumping. Most boat builders do not supply adequate pumps with their boats, and it's always a good idea to upgrade and maintain your system.
How will you power the bilge pump?
Bilge pumps run on battery power. If you are leaving the boat for long periods, and the bilge pump runs even occasionally, you can drain the battery. If your bilge pump uses the engine starter battery, you might not be able to start the boat the next time you try. Or worse still, if the bilge pump drains its battery and it needs to keep pumping, the boat might fill with water and sink!
Ideally, bilge pumps are installed but seldom used. There really shouldn't be any reason that a boat takes on water beyond the occasion drip from rainwater. All leaks, especially those underwater, need to be tended to immediately. Bilge pumps are not designed to keep your boat afloat.
How will you discharge the water?
When you install a bilge pump, you need to plump the discharge hose overboard. The bigger the pump, then the bigger the plumbing. Most boats have a through-hull installed somewhere above the waterline. If you want a bigger pump, you'll need a bigger through-hull. And if you are installing a second pump, you'll need to install a second through-hull.
Care must be taking in the design of your discharge system, especially on sail boats that heel. The through-hull must always be above the waterline. If it goes underwater, you run the risk of water running back through the discharge hose and into the boat. That's precisely the opposite of what you are trying to do!
How do you want to control the pump?
You can purchase pumps that only come on when you turn them on or that are automatic. Automatic pumps have an internal float switch that turns them on when water levels rise. You can also add external float switches to manual pumps.
Bilge pump installations require a float switch. If you are using the pump as a shower sump or live-well pump, you might only need a manual pump fitted with an on/off switch.
Bilge Pump Sizes
Pumps are differentiated primary by their flow rate. Bilge pumps vary from 500 GPH (gallons per hour) to over 2000 GPH. Bigger pumps move more water, but they also use a lot more power. Their hoses and plumbing fixtures are larger, and they require more space. If a large pump comes on accidentally, it can drain your battery more quickly.
Unfortunately, there is no industry standard to measure pumping capacity between brands. Does the manufacturer measure that flow rate at the pump outlet or after it has been pumped through a hose for five feet? Ten feet? Is it tested at the system voltage of 12 volts, a low battery level of 11 volts, or charging voltage with the engine on at about 14.4 volts? All of these factors significantly affect the flow rate of a pump.
Generally, you need to reduce the advertised flow rate greatly. By some estimates, use half the listed rate as a rule of thumb. Some boating experts recommend counting on even less than that. According to BoatUS, pumps can have as much as a 70 percent drop from their advertised capacity due to voltage drop in the wires, head height, and hose resistance.
Float Switch
Bilge pumps come in two basic designs: pumps with an integrated float-switch and pumps without.
An automatic bilge pump has an internal switch that senses rising water and turns the pump on. This switch is usually a simple plastic float that turns on the pump as it moves up.
Pumps with built-in switches come with three wires, one providing power to the automatic switch, one providing a manual on option, and the electrical ground. Look also for models that come with a test switch, allowing you to move the float manually to check to see if the pump comes on as it should. If installed in a boat, bilge pumps are one of your final lines of defense from sinking, so you'll want it to be in top working order.
You can also buy non-automatic bilge pumps. These pumps are simple on-off type pumps with only two wires. Separate float switches can be purchased to add to the circuit, giving these pumps the same functionality as automatic pumps. Keeping the parts separate makes them easier to service and provides more options should something break.
No matter whether your float switch is inside the pump housing or separate, it's vitally important to keep the switch clean. If the switch is gummed up with grime and nasty bilge sludge, you cannot count on it working. Automatic bilge pumps usually snap off their bases, allowing you to inspect and clean both the switch and the pump impeller.
Standards and Safety
If you are using your pump in a boat, always look for bilge UL-listed and ignition-protected models. Underwriter Laboratories certifies components that operate as intended and as designed. Pumps not made in the United States may use the European CE mark to indicated compliance instead of the UL.
Ignition-protected examples are very important in small boats, since gasoline vapors or other combustibles may be present. Even if your boat has external fuel tanks, spills can and do happen. The extra money for a certified unit is well worth the expense for such an important component in your boat.
Proper Installation
Fitting your new bilge pump properly is important to the safety of the installation and the seaworthiness of your boat. An improperly installed pump can fail at the very moment you need it most.
Most small boats use a 12-volt pump. But some boats come standard with 24-volt systems, in which case you must look for a 24-volt model that meets your needs. Both pumps will function the same and use the same amount of power, but the 12-volt version will draw more amps. This will necessitate larger wiring and larger fuse size.
Proper wiring is critical for bilge pumps to operate as advertised. Connecting the pump with undersized wire is a fire hazard. If the wiring connections used are not done correctly, the connections can corrode and cause extra resistance. Always use marine-rated, stranded, and tinned copper cable for wiring your bilge pump and use waterproof crimp connectors with shrink wrap tubing. Never use wire nuts on a boat, which corrode quickly and can vibrate themselves loose. And remember, if you are installing a larger capacity pump than the one it is replacing, it will consume more electricity and require bigger wiring.
Automatic bilge pumps come with three wires for installation. The color of the wiring is standardized on most boats and with most pump manufacturers, but don't count on these holding true if you are buying a discount pump. The black wire is always routed to the battery ground. Remember that unlike cars, boats always route the black wire back to the battery or a negative bus. Do not ground it to the engine or any other part of the boat. The other two wires power the pump, one for manual mode and one for automatic mode. The wire for manual on/off operation is usually solid brown, whereas the float switch operation is brown with an orange stripe. The automatic mode should be tested to ensure that the float switch is operating as designed. Pumps with an integrated float switch should have a knob that moves the switch for testing. If your float switch is external to the pump, you should be able to lift it and check its operation.
Fuses protect the system from overloads and short circuits that can cause fires. Be sure to use the correct size of fuse. The size to be used should be marked on the pump or in the instruction manual.
The easiest way to wire a bilge switch is with a purpose-built bilge pump switch panel. These controllers give the operator options for manual or automatic pumping. The best ones include a fuse holder for the pump fuse so that it can quickly be tested and replaced. Having an indicator light, or even a warning buzzer, to let the user know the pump is running is nice to have too. If operating a powerboat, for example, it can be difficult to hear a pump running over the engines. Excessive pumping is the first sign of a big problem with your boat, and most skippers would want to have a heads up as soon as possible.
Finally, care must be given to the hose and tubing that pumps the water overboard. Corrugated tubing adds resistance to the water flow, thereby reducing the pumping ability of your new bilge pump. Use smooth-walled bilge hose for maximum flow, and always use the size specified by the manufacturer. High-quality hose is considerably more expensive than the cheap corrugated stuff, but it's well worth it to preserve the pumping ability of your new system. Any restrictions in the system will reduce the efficiency of the pump.
Final Thoughts
Picking a new bilge pump for your boat requires considering several factors. Are you adding a second pump, or are you replacing an existing pump? If you're swapping out a failed pump, can you find a direct replacement?
The clear winners of our bilge pump roundup are the Eco Worthy line of bilge pumps. These pumps come in every size and configuration you could want, enabling you to pick the perfect size and setup for your boat. They come with internal or external float switches, and they offer great options for pumping capacity.
If you're looking to upgrade an existing pump, consider the Amarine 1100 gallon per hour pump. This pump should fit in the space of a 750 GPH pump, and only then require upgrading the hose and maybe the electrical wires for increased capacity.