Best Cheap Inflatable Paddle Boards
Looking to get into Paddle Boarding? Fantastic! Paddle Boarding is a sport that I thoroughly enjoy in the warmer months because it is like therapy on water! No I don't have a therapist that sits on the nose of the paddle board while I paddle, although I would imagine that it would be an experience! I say Paddle Boarding is like therapy because floating gives off meditative qualities that gives your mind a rest from the hoopla of life similar to yoga and meditation.
Inflatable Paddle Boards have come a long way in the last 10 years thanks to their roaring popularity which has given way to more competition and therefore better built and more affordable paddle boards.
A few years ago Paddle Boards were easily priced at over $1,000 but thankfully that is not the case anymore. There are many different paddle board brands out there, and I mean a ton! We have done our research and have compiled a list of paddle boards that are under $700 and $500 respectively.
Why Inflatable Paddle Boards?
If you are in a similar position like me, you want to get out on the water but, not have a big board to store and lug around with you. While traditionally Hard Boards do produce better performance in the water you are probably more concerned about where to actually store the board and how to get it to the lake or ocean.  You can read about the differences between inflatable and hardboards here. 
In enters the Inflatable Paddle Board and you are halfway to the solution. However you start looking around on different sites and there is a ton of board to choose from. Let us take the guess work out of it and steer you in the right direction of where you want to go. In this guide I have classified the best cheap inflatable paddle boards in two different categories:
Best Cheap Inflatable Paddle boards under $700 and the Best Cheap Inflatable Paddle Boards Under $500.
VS
In General Inflatable Paddle Boards Under $700 are:
High Quality Brands from Industry leaders
Are Innovative
Provide Great Customer Service
Will Provide Better Performance in the Water
Have Better Quality Accessories and Instructions
In General the The Inflatable Paddle Boards Under $500 are:
Are Smaller Private Brands
Are made with Cheaper Materials
Have Lower Quality accessories and may have unclear instructions
Some are Made offshores
If you don't belive me take a look at this video
So what is this video telling us? Imagine paddling on either board in the water. One glides along the top of the water while you paddle while the other sags. As a result you have to exert more effort into each paddle stroke which will be a lot more tiring and result in you paddling a shorter distance because of it. 
Personal Note:
Talking from personal experience I always feel that it is better to spend a bit more money on bigger brands. I bought a cheaper inflatable paddle board local, and while I do like it and have not had any major problems with it, I kind of feel that I should've just gone with the bigger brand names. I say this because the board I have came with a cheap paddle which is almost impossible to unlock out of place on the water. This limits me to kneeling while I paddle. I also feel that the board is not as stable as it could be despite pumping it up to 15 PSI.
Having said the above I have scoured the web in search of the best 700 and 500 and under inflatable paddle boards that have high customer rankings and praise which is usually the best indicator to the quality of the board. I will also be posting a mini guide on how search for the best cheap inflatable paddle board below.
Best Cheap Inflatable Paddle Boards Under 700
| Paddle Board | Length | Width | Weight/ Max Capacity | Best For |
| --- | --- | --- | --- | --- |
| Tower Adventurer 2 | 10'4″ | 32″ | 25 lbs350 lbs | A Board that Grows with you |
| Ten Toes Weekender | 10′ | 30″ | 29 lbs275 lbs | Calm Water |
| Isle Peak Isup | 10'6″ | 31″ | 23 lbs300 lbs | Fitness, Casual Paddling |
| Xterra 10' Inflatable SUP Package | 10′ | 30″ | 29 lbs250 lbs | All Around Conditions, Durability |
| iRocker Cruiser 10'6 Board | 10'6″ | 33″ | 25 lbs350 lbs | Bigger/ Taller Folks and Fishing |
Inflatable Paddle Boards Under $700 Full Reviews
Tap (or Click) below to see Full Reviews)
Best Cheap Inflatable Paddle Boards Under 500
| Paddle Board | Length | Width | Thickness | Weight/Max Capacity |
| --- | --- | --- | --- | --- |
| SereneLife Inflatable Stand Up Paddle Board | 10′ | 30″ | 4″ | 19.6 lbs275 lbs |
| Solstice Bali | 10'8″ | 30″ | 4″ | 34 lbs240 lbs |
| PathFinder Inflatable SUP | 9'9″ | 30″ | 5″ | 25 lbs240 lbs |
| Aqua Marina Monster 12' SUP | 12′ | 32″ | 6″ | 23 lbs352 lbs |
| HydroForce White Cap SUP | 10′ | 32″ | 4″ | 19 lbs209 lbs |
Inflatable Paddle Boards Under $500 Full Reviews
Tap (or Click) below to see Full Reviews)
How to Choose an Inflatable SUP
Length
The Longer the board is the quicker it is. Longer Paddle boards tend to glide on the water quicker than shorter ones.

The Longer the board is the less maneuverable it is. It is harder to turn a 12' board than say a 9 or 10 foot inflatable SUP.

Beginner and Intermediate Paddlers are best to go with ranges of 9'9-12'6 paddle boards. All the Boards reviewed here are in those ranges

Longer Boards generally track better although that is not the only factor in tracking ability
Width
Wider Boards mean more stability. A 32" board would be better for a beginner than say a 28" board.

Wider Width also equals more drag. As a result wider boards are usually slower than skinnier ones.
Thickness
Many Good quality Paddle Boards are now 6 inches thick. This is because they keep you higher out of the water and keep shape better.

Boards that are less than 6 inches thick will usually not be as firm
Nose and Tail Rocker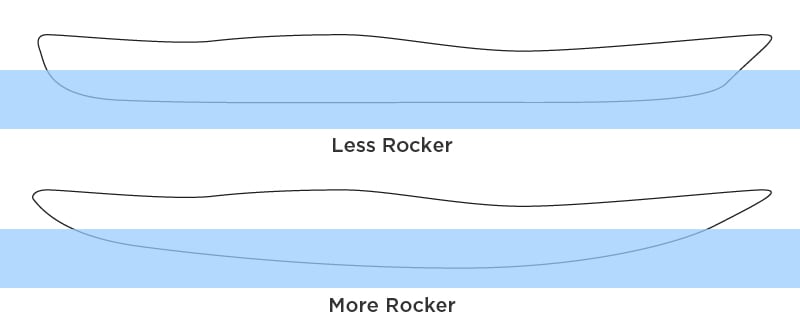 While not the most important factor when choosing a board it does make a difference.

More Tail and Nose Rocker means that the front and rear of the board point upwards.

Having more Nose Rocker is ideal for for more wavy conditions.
All of the boards I have reviewed on this page are All Around Boards. I did this because these are usually the best boards to start off with. If you are up for the challenge and a steeper learning curve check out my Best Paddle Boards page. I review a variety of different types of boards such as Touring, Inflatable, Surfing, Yoga, Fishing as well as All Around boards.  If you want to read more about the differences between paddle boards heres a great article by REI