The Best Cheap Inflatable Paddle Board Over $500 is the Tower Adventurer 2     >>Check Price on Amazon<<
The Best Cheap Paddle Board Under $500 is the SereneLife Inflatable Paddle Board     >>Check Price on Amazon<<
Looking to get into Paddle Boarding? Fantastic! Paddle Boarding is a sport that I thoroughly enjoy in the warmer months because it is like therapy on water! No I don't have a therapist that sits on the nose of the paddle board while I paddle, although I would imagine that it would be an experience! I say Paddle Boarding is like therapy because floating gives off meditative qualities that gives your mind a rest from the hoopla of life similar to yoga and meditation.
Inflatable Paddle Boards have come a long way in the last 10 years thanks to their roaring popularity which has given way to more competition and therefore better built and more affordable paddle boards.
The Best Cheap Inflatable Paddle Boards Quick List for 2019:
Best Cheap Inflatable Paddle Boards Over $500 Quick List
Inflatable Paddle Boards Under 500 Quick List
Paddle Board
Durability
Stability
Maneuverability
Speed
Total
1. Serene Life ISUP

Good
Durability

4 Points
Okay
Stability

3 Points
Okay
Maneuverability

3 Points
Okay
Speed

3 Points
6.5/10
2. Solstice Bali

Good
Durability

4 Points
Okay
Stability

3 Points
Okay
Maneuverability

3 Points
Okay
Speed

3 Points
6.5/10
3. Pathfinder Isup

Good
Durability

4 Points
Okay
Stability

3 Points
Okay
Maneuverability

3 Points
Okay
Speed

3 Points
6.5/10
4. Aqua Marina Monster

Okay
Durability

3 Points
Good
Stability

4 Points
Okay
Maneuverability

3 Points
Okay
Speed

3 Points
6.5/10
5. Hydroforce ISUP

Okay
Durability

3 Points
Good
Stability

4 Points
Okay
Maneuverability

3 Points
Okay
Speed

3 Points
6.5/10
How to Choose an Inflatable SUP (Step By Step)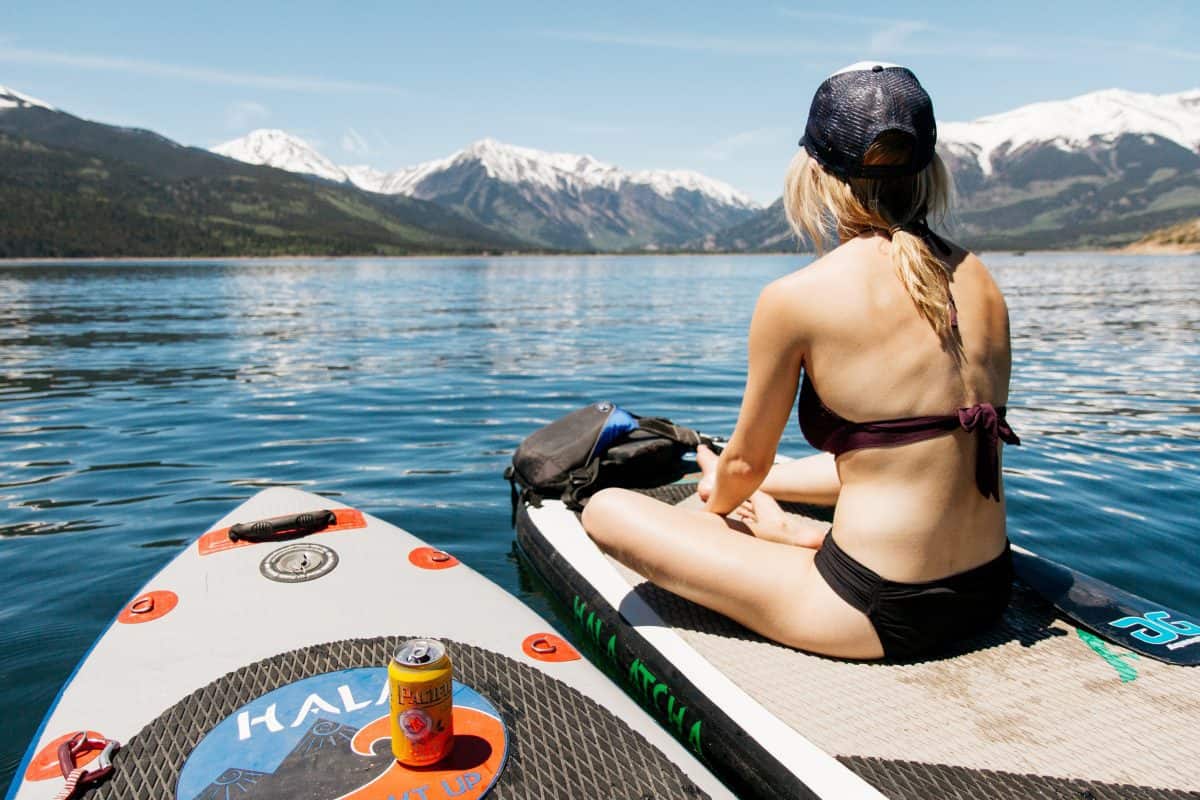 Step 1: Where are you Paddling?
When choosing the best inflatable paddle board for you and your lifestyle you have to keep in mind a few different factors. The first is where are you paddling and what kind of paddling would you like to do? When I first bought my inflatable paddle board I went for a Recreational/ Touring hybrid as I could see myself wanting more speed from the board. What I completely underestimated was the fact that it was tippy and tricky to get used to when attempting to stand on the board. I definitely was not the kind of person that had good balance from the get-go. As a result I had to adjust my learning curve by kneeling on the board and standing when I was paddling in lakes that had calm water.
The point of my story is that you should get an ISUP that will best represent the skill level you are at now and what you plan on doing with the board in the future. If you are a bit like me and you want a challenge, by all means you can get an inflatable touring paddle board. Just know there there will be an adjustment period in the beginning.
Types of Inflatable SUP Boards
Now that you have an idea of where you will be paddling, and what skill level you are. Now we will show you the different types of inflatable paddle boards there are and what purposes they serve.
Recreational ISUP Boards
These are usually the most common inflatable paddle boards on the market and they are usually the best for beginner to intermediate paddlers. They are also the main types that we will be reviewing in this article. These boards typically have a round snout and tail which allows them to act as an all around type of board. They are also the most common fishing paddle boards as well.
When looking at these types of inflatable boards some factors to look out for are the width, length and thickness of the board. The width will give you a good idea as to how steady the board is. Typically if you are new to paddle boarding you are looking for a board that has at least 30" in width. Anything less and you start getting into tippy territory. In terms of length with these boards anything within the 9' to 12' range is a pretty good starter range, with 10' being the most ideal all around board. The length of you board relates to your height. The taller and heavier you are the longer the board should be for ideal stability.
Thickness of the board should preferably be at least be 4" but more preferably in the 6" range. I say preferably 6" range because as soon as you start going under that thickness the board will drag in the water making you have to paddle harder and exert more effort per stroke.
These inflatable paddle boards are typically best for lakes, calmer bays but can handle some surf and waves if need be. Different ISUP manufacturers will be good for different conditions so read carefully what the paddle board is best for. These are the jack of all trades types of stand up paddle boards that are meant to get you out on the water.
Touring / Racing ISUP's
These boards are made for intermediate to advanced paddlers and are typically above the price range of this particular article. Touring ISUPs are meant for long distance paddling and feature a pointy nose and a more skinnier build. Racing ISUP's are even thinner and are meant for advanced users who actively take their boards out to race.
Examples of Popular Touring Boards: Isle Discovery, ISLE Airtech Inflatable Explorer
Examples of Racing ISUPS: Ten Toes Jet Setter, Shark SUPs
Yoga ISUP's
We did a full review on Yoga Paddle boards that goes more indepth. Inflatable Yoga SUP boards are meant to act as a yoga mat but on water. A common feature of Yoga SUPs is that they feature a wide width to insure stability while doing those yoga poses you love.
Examples of Yoga Inflatable Boards: Peak Yoga SUP, Isle Airtech Yoga Board
Surfing ISUP's
Typically hardboards are better for surfing because of their rigid structure but there are a few inflatable sufing sups out there. Some common features of these boards is that they feature smaller fins that come in 3's or 5's instead of the larger center fin that are typically found on most inflatable paddle boards. This is to help the surfer with quick turns and maneuverability while in the water.
Examples of Surfing ISUP's: Hala Milligram
Step 2: Anatomy of a Good Inflatable Paddle Board
Length
The Longer the board is the quicker it is. Longer Paddle boards tend to glide on the water quicker than shorter ones.

The Longer the board is the less maneuverable it is. It is harder to turn a 12' board than say a 9 or 10 foot inflatable SUP.

Beginner and Intermediate Paddlers are best to go with ranges of 9'9-12'6 paddle boards. All the Boards reviewed here are in those ranges

Longer Boards generally track better although that is not the only factor in tracking ability
Width
Wider Boards mean more stability. A 32" board would be better for a beginner than say a 28" board.

Wider Width also equals more drag. As a result wider boards are usually slower than skinnier ones.
Thickness
Many Good quality Paddle Boards are now 6 inches thick. This is because they keep you higher out of the water and keep shape better.

Boards that are less than 6 inches thick will usually not be as firm
Nose and Tail Rocker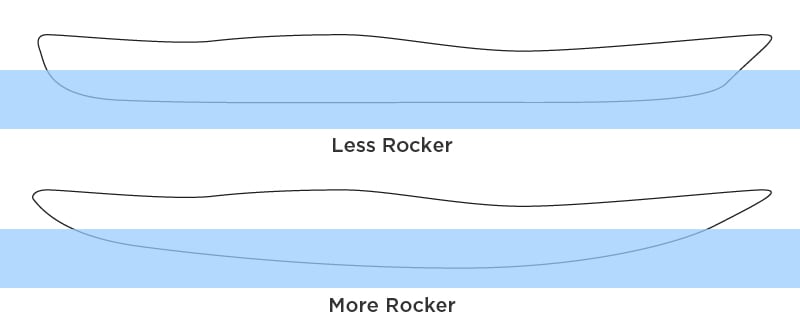 While not the most important factor when choosing a board it does make a difference.

More Tail and Nose Rocker means that the front and rear of the board point upwards.

Having more Nose Rocker is ideal for for more wavy conditions.
All of the boards I have reviewed on this page are All Around Boards. I did this because these are usually the best boards to start off with. If you are up for the challenge and a steeper learning curve check out my Best Paddle Boards page. I review a variety of different types of boards such as Touring, Inflatable, Surfing, Yoga, Fishing as well as All Around boards.  If you want to read more about the differences between paddle boards heres a great article by REI
Step 3: Portability and Weight
Not a lot of people put as much thought into this criteria as they should. Most times when people buy an inflatable SUP they assume "ohh it will be around the size of a backpack" when really this is not so much the case. Keep close attention of how big the board is when folded up and in its bag. In my case the board that I bought folds up to be the equivalent of a hitchhiker's backpack, maybe even bigger. This limits me from being able to walk long distances with it. A good way to avoid this problem is contact the manufacturer or look at their website to see how big the board is when it is folded up.
Step 4: Quality Materials
Another thing that seperates a cheaper stand up paddle board from a higher quality one is the materials used. Cheaper paddle boards (typically ones that are under $500) have a single layer of PVC which will result in more sag in the board. It will also not keep its rigidity as long as a higher quality ISUP. A higher quality ISUP will typically have a double or triple layer PVC which allows the more expensive brands to keep their rigidity for a longer period of time. In the long run it makes more sense to pay a few hundred more to get a board that you can use for a long time.
Step 5: On-Water Performance
On-water Performance can be broken down into 3 different categories. Stability, Speed and Maneuverability. This is a particularly important factor because ideally you want buy a SUP that can do what it's expected to do in the water. Otherwise you may be paddling an over glorified pool toy that lasts less than 2 years. Unfortunately if you want more on water performance you will typically have to pay a bit more for a few different reasons. Cheaply made SUP's typically do not put a lot of effort in the materials that go into the board. As a result you have to paddle with more effort to travel less distance.
Stability
This is typically a factor that is important to beginner paddle boarders. Qualities of a good stable paddle board is that its length is at least 9'6" it's width is 30" and up and the thickness of the board is at least 4" but preferably in the 6" category. When looking for a stable ISUP it's best to stick to the leaders in the paddle boarding industry as they have years of experience making these boards. I would also look at customer reviews as a good way to judge stability. Many beginners express their opinions (both good and bad) in these customer reviews.
Speed
This will not be as important a criteria for those starting out but it is something to think about in the future. In the long run if you are looking to do longer paddling excursions you probably don't want to spend more money on a different kind of SUP. Some characteristics of a fast SUP is as slender build, pointed nose. These SUP's typically are in the 12' category and are less than 30" wide. If this is the route you want to go one day you may just have to accept the steeper learning curve and get a touring inflatable paddle board.
Maneuverability
Depending on where you are paddling you may want a SUP that does not feel like you are drive a giant boat. These SUP's will usually be shorter in length and their fins will be shorter in length as well. While I would not say this is a main criteria you do ideally want your board to have some steering capability to it. This especially comes in handy if you are paddling tighter quarters like the mangroves in Florida.
Step 6: Whats the Maximum Capacity?
The maximum capacity is how much weight you can take on the ISUP. You also have to take into consideration what you will be bringing with you when you are paddling and add that to your weight. Paddle boarders for the most part are minimalists compared to kayakers and canoers but there are definitely activities like fishing, diving or even camping where all these little items add up quick.
Step 7: Inflation and Deflation Time
So I touched on this a bit in portability and weight but it is still a pretty important factor in my mind. It is often a very looked over criteria but it is important as it represents how much time you occupy before you can go into the water and leave the site.
As an inflatable paddle board owner I will just say this outright. Get an electric SUP Pump (or be creative like the man in the video) ! I cannot tell you how much time this saves and how much less stress you will cause your back. While almost all inflatable paddle board manufacturers come with a SUP Pump they often are a bit clumsy, cumbersome to use and are often not the right size for the person doing the pumping.
Deflation is a bit of a different animal but with most SUP's you will just have to wrestle around with it and roll it up/ deflate it like a sleeping bag. Some SUP's are easier than others to deflate so do some research beforehand.
Step 8: Accessories that Come with the ISUP?
Finally last on the list is accessories. What does your inflatable paddle board come with? Typically the bare bones paddle boards come with a SUP Pump, a fin ,a repair kit of some sort and a bag to store it in. Some Inflatable SUP manufacturers even throw in a paddle, SUP leash and a waterproof phone holder. While more an more Inflatable paddle boards come with a paddle these days don't assume that it does unless it specifically says so in the product description. Some other accessories you should have with you include:
A SUP Leash
Small waterproof backpack
A Whistle
Bathing suit
Sunglasses
Hat
Paddle
We go into more detail on what to expect when you first go out on a paddle board.
A few years ago Paddle Boards were easily priced at over $1,000 but thankfully that is not the case anymore. There are many different stand up paddle board brands out there, and I mean a ton! We have done our research and have compiled a list of paddle boards that are over and under $500.
Why Inflatable Paddle Boards?
If you are in a similar position like me, you want to get out on the water but, not have a big board to store and lug around with you. While traditionally Hard Boards do produce better performance in the water you are probably more concerned about where to actually store the board and how to get it to the lake or ocean.  You can read about the differences between inflatable and hardboards here. 
In enters the Inflatable Paddle Board and you are halfway to the solution. However you start looking around on different sites and there is a ton of board to choose from. Let us take the guess work out of it and steer you in the right direction of where you want to go. 
In General Inflatable Paddle Boards Over $500 are:
High Quality Brands from Industry leaders
Are Innovative
Provide Great Customer Service
Will Provide Better Performance in the Water
Have Better Quality Accessories and Instructions
In General the The Inflatable Paddle Boards Under $500 are:
Are Smaller Private Brands
Are made with Cheaper Materials
Have Lower Quality accessories and may have unclear instructions
Some are Made offshores
If you don't belive me take a look at this video
So what is this video telling us? Imagine paddling on either board in the water. One glides along the top of the water while you paddle while the other sags. As a result you have to exert more effort into each paddle stroke which will be a lot more tiring and result in you paddling a shorter distance because of it.
Personal Note:
Talking from personal experience I always feel that it is better to spend a bit more money on bigger brands. I bought a cheaper inflatable paddle board local, and while I do like it and have not had any major problems with it, I kind of feel that I should've just gone with the bigger brand names. I say this because the board I have came with a cheap paddle which is almost impossible to unlock out of place on the water. This limits me to kneeling while I paddle. I also feel that the board is not as stable as it could be despite pumping it up to 15 PSI.
Having said the above I have scoured the web in search of the best 700 and 500 and under inflatable paddle boards that have high customer rankings and praise which is usually the best indicator to the quality of the board. I will also be posting a mini guide on how search for the best cheap inflatable paddle board below.
Inflatable Paddle Boards Over $500 Reviews
Tap (or Click) below to see Full Reviews)
Inflatable Paddle Boards Under $500 Full Reviews
Tap (or Click) below to see Full Reviews)
Ask an Inflatable Paddle Board Owner
How Durable is an inflatable paddle board?
Good quality paddle boards are made of military grade PVC, the same material as zodiacs and river rafts. While it is not impossible to puncture any inflatable a high quality inflatable SUp can take a beating on rocks and other sharp objects you may encounter like logs ect. Below is a video of what a good quality paddle board can take
What if there is a Leak?
If it is within the warranty period talk to the manufacturer otherwise most ISUP's come with some sort of repair kit that you can use to patch it up. Talk to the manufacturer if there is a leak in the valve, often times it just needs tightening with a valve wrench.
What PSI should I inflate my board to?
This depends on how sturdy you like the board and what the manufacturer recommends. I definitely do not recommend going over what the manufacturer says for obvious reasons. I typically like to Pump my inflatable board to 15 -17 PSI but this is dependant on what kind of ISUP you have.
Should I Keep my Inflatable paddle board inflated when storing it?
I personally wouldn't recommend it because it will put stress on the materials and stretch the PVC bonding. As much of a pain as it is I always make sure to rinse and deflate my paddle board after I use it.
Where Can I store an ISUP?
Anywhere undercover is what I say! Depending on the size of the ISUP and how dirty it is I usually like to store it on the balcony undercover to protect it from the elements. You can by all means store it inside but just make sure that you rinse your board first before doing that. Believe me sand can get everywhere.
Hand Pump or Electric Pump?
Definitely Electric SUP Pump. It will cost more money but the time and stress it saves on your back is well worth it. You can definitely try out the pump the manufacturer gave you first. But after a while you will quickly see what I mean 🙂
Is it necessary to attach my fin to my sup?
Definitely. The fin is your sole tracking device that allows you vessel to go straight. Without it you will have a tough time tracking in a straight line. Especially since inflatable boards sit on top of the water instead sit in the water like hardboards do.
PFD or a SUP Leash?
I say both :). The PFD helps you keep safe incase you bump your head and become unconscious while the leash helps keep the board with you at all times.
Can I Attach a Go Pro to Document my awesome SUP journeys
Yes , some models like the Xterra come with a Gopro Mount. If it doesn't come with one, there are lots of ways to document your sup journey including chest straps, poles ect.
How long does it take to inflate an ISUP?
Depends on the manufacturer but typically between 7 and 15 minutes. You can probably half that time if you use an electric SUP Pump.
Last Updated on