Hooray you got a new kayak! Now what? I mean if you got an inflatable kayak you can just throw it in the trunk or back seat and go. Not so much the case with a hardshell kayak. Well the good news is you don't necessarily have to fork out a good sum of money for a trailer to haul your kayak around (unless if you have more than two) so the best step is to get the best kayak roof rack that best suits your needs!
I don't think I have to go over the reasons why you need a kayak roof mount as, well it's pretty obvious. You need to get your kayak from point A to B without portaging your kayak on the side of the highway like this guy.
A good quality roof rack should be something that is well researched in terms of what customers thought of those products. After all you will be driving between 40 to 100 KPH with this thing and you definitely do not want to see your kayak behind your car causing chaos on the freeway.  
You should also be looking for a kayak roof rack that is compatible to the vehicle you drive so that you do not have to sell the farm and buy a truck or van. If you are thinking that you do need a truck, van or trailer to transport you kayak, you don't! I have an old 2003 Buick Century and it can hold two kayaks and pull a tent trailer (all at once for that matter).
From my own personal experience it can be a bit intimidating getting a roof rack and installing the kayak on the rack. I mean you can't really help but think what if something comes loose? what if the kayak falls off? Well we looked deeply into that and choose the best roof racks for a variety of different vehicles out there.
How to Choose a Kayak Roof Rack that Fits your Vehicle
When looking for the best kayak carrier for your car you have four different roof racks to choose from.  What you will be choosing ultimately depends on what you are driving. Your roof will either have a naked roof, side rails or Crossbars which are prevalent on vans and bigger vehicles.
Temporary Pads (How to transport a kayak without a roof rack)
These universal kayak racks are best for naked roofs where there is nothing on the roof like cars and various older style cars and vans. Temporary pads are pads like the Malone HandiRack Inflatable Universal Roof Top Rack that are made of nylon and inflate. There are also less expensive foam pads you can use as well like I used to with my old canoe. These roof racks are typically the easiest to install as the straps go around the inside of you car and your kayak will lay on the pads.  These pads are not ideal for longer journeys or higher speeds like highway driving. They are best for short trips from your house to the water.
Saddles
Just as the word suggests, saddles consist of usually two cradles that hold your kayak onto the roof. The biggest advantage to having a saddle on your roof is that it secures your kayak in place and insures that there is little movement from winds or other external powers.  The down side of these is that if you have a polyethylene kayak it is sitting on it's floor which is in fact the weakest area. These are more ideal for pointier fiberglass, composite kayaks because they have a much stronger floor that does not dent in. Sea kayaks are also preferred for these racks because they are more aerodynamic due to their point bow and stern which reduces wind drag.
Kayak J Rack
These are what I use and I actually prefer them because I own two polyethylene kayaks. These are the ideal roof racks for these kayaks because they sit the kayaks on their side which is the strongest part of the kayak (the plastic is thicker).  The J Cradles are the most popular roof rack systems because they can fit on a wide variety of cars and they keep the kayaks secure on their side. I will say this though, if you have a narrower car you will have a hard time fitting both kayaks on it! It also takes a bit more strength to stack the kayak on it's side on the top of your car or van. If this is the case make sure you have someone who accompanies you during your paddling trip. A lot of J Cradles to need vehicle bars but you can find some (like mine) that don't have them.
Stackers
Stackers keep your kayaks in an upright position on their side. The difference between these and the J Cradles is that the stackers take up less room than J cradles meaning you can stack up to 4 kayaks (depending on the vehicle) on one van.  Stackers, unlike J Cradles have a bar that stands upright instead of on the J angle. Stackers are best for vans or vehicles that have the two bars on the roof because they clip onto those bard and use it as it's support system.
Best Kayak Rack for your car and SUV
We selected a variety of different roof racks to best represent the number of different vehicles there are out there. Some cars have no bars and just a bare roof, other like SUV's have bars that you can clip the roof rack onto. The first step when looking for the right roof rack is figuring out what configuration would work for your vehicle and if it can support it. If your car, van or SUV already has rails then you have more to work with and more options. If you have a bare roof read below!
Kayak Roof Rack for Cars Without Rails
One of the biggest struggles when looking for a roof rack that is compatible to a bare roof car is finding one that does not require a rail. I know because it took us ages to find one. There are a few ways around this though. You can get an inflatable padding system like the Malone Handirack or you can get Universal roof rack cross bars for your car.
With temporary roof rack cross bars you will be able to support more types of roof rack systems and more options will be available to you. Not just that but you would also be able to transport a wide variety of different things as well. I would recommend temporary roof racks for longer trips as it is more stable and less susceptible to heat stress and higher speeds as opposed to temporary inflatable roof racks that are best for shorter distances.
1. Thule 898 pro Hullavator Pro Kayak Lift System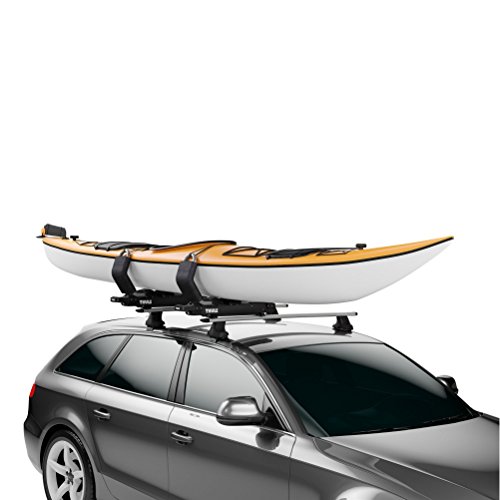 Features
Life assists up to weight of 40 pounds

All types of kayaks

Corrosion-resistant base

Protective padding
Best For: SUV's
The Thule 898PRO Hullavator kayak car rack is perfect if you have heavy kayaks. The biggest problem with heavy kayaks is that you have to load it and unload it to and from your car. This is exhausting especially when it comes to loading the kayak back after a long day of kayaking. The Thule 898PRO Hullavator can reduce the car kayak racks loading weight of your kayak by 40 pounds as it takes up the load in its lift system.
This kayak carrier for the car  is great when it comes to accommodating a wide range of kayaks. Its cradles are wide so it can easy take hulls that are up to 36 inches.
You don't need to be tall or strain your back loading the kayak when you use the Pro Kayak Lift. You can literally load at waist level. You can unload and strap the kayak up to 40 inches lower when the kayak is at the side of the car.
Since the Thule Hullavator has gas struts with a capacity of 40 pounds to assist it, you don't need to wait for another person to help you load the kayak on to the car.
The Thule 898PRO has padded support at 8 touch-points. This gives your kayak a lot of protection when you are traveling. Since the base is corrosion-resistant you are assured that the rack has a long life.
You can buy Thule's lock cylinders which are one-key so that you can lock the 898PRO securely to the car.
Customers were very appreciative that the rack helped reduce back ache and even a person of lower height and weight can easily load and unload a kayak single handedly onto a car. The price point of the carrier is on a higher side but the comfort that the rack gives in loading the kayak is worth it.
What We Liked
Loads the kayak at waist level

Easy to use

Protective padding

High-quality

One of the best kayak roof rack systems out there
What We Didn't Like
You will need Thule crossbars

Set-up is difficult

More images should be included in the instruction manual

Lock sold separately
2. Yakima Jaylow Kayak Carrier
Features
Up to 2 kayaks or boats

Total weight capacity of 110 pounds

24 inch minimum spreads of the crossbar
The Yakima JayLow Kayak Racks is light, inexpensive and easy to use. The biggest advantage of this carrier is that it can easily accommodate two kayaks as long as the total weight of both the kayaks doesn't exceed 110 pounds. It is one of the best kayak carriers for an SUV .
You can fold the racks down on to the car when you are not using it so that you can an increased garage clearance and get better aerodynamics while driving the car.
The Yakima Jaylow has an integrated cam-lever which allows you to adjust the rack to multiple settings with ease. You can either carry a single kayak in J-Cradle position or you can carry two kayaks vertically. It has a soft bait or sand to wash away. You also get bow/stern tie-downs and heavy-duty straps with the rack. It has a bottle opener integrated into it.
https://www.youtube.com/watch?v=8bvy1ckjC4E&ab_channel=etrailer.com
Since the JayLow has multiple settings, you can position two kayaks or one on it very easily. The extra padding at the contact points helps to give your kayak proper grip when you are travelling along with giving it added protection. You can also buy and use a SKS Lock Cores to lock the base of the rack. This gives you increased security. It is sold separately and doesn't come with the rack.
Overall, the customer reviews about the Yakima Jaylow Kayak Racks is very good. The price is good and you can easily fold it when you are not using it. It looks good so it doesn't make your car look unattractive. It is easy to install. The kayak rack has multiple settings so you can adjust the kayaks easily on it. Since it can carry two kayaks, it is great for couples going kayaking. There were a few negative reviews about the durability of the rack but overall the reviews were positive.  
What We Liked
Great price

Easy to fold when not in use

Two kayaks

Lockable

Looks great
What We Didn't Like
If it is not attached properly to the car, you hear whistle sounds of the air passing through the screw holes.

Capacity of only 110 pounds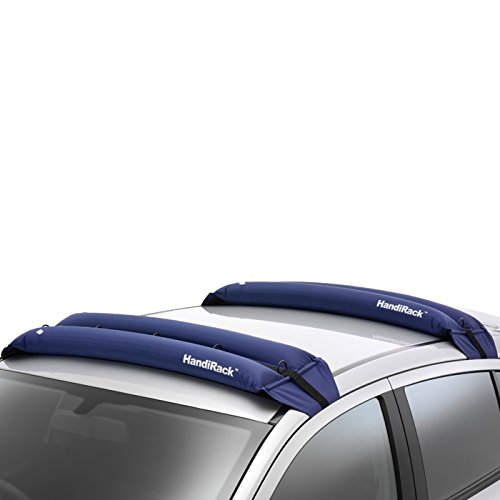 Features
Weight carrying capacity of 180 pounds

1 kayak

Multi-purpose

Easy to set-up
With the Malone Roof Top Rack  kayak carrier for cars, you get all the advantages of a traditional car rack with none of the disadvantages. It is inflatable and you can use it to transport your kayaks and other sports gear. You can even use it to transport furniture. It has a Handi Pump which is double action. This helps you to inflate the roof rack in a few minutes. The kayak holder is made of 420-denier nylon which is very tough. It also has 5 D-ring points so that you can straps things securely to it. You can install it on almost every vehicle. It is very strong and it has a weight capacity of 180-pounds.
Since it is inflatable, it is very easy to use. You can set it up easily and deflate it when you are done using it. It is also easy to store when it is deflated as it comes in a handy travel bag.
https://www.youtube.com/watch?v=YtGi8pE16Kg&ab_channel=etrailer.com
The Malone Handi Rack can adapt to any vehicle. It is a great alternative for kayak rack for cars without roof racks.  You can use it with almost every vehicle other than vehicles that have side curtain airbags. Since it is inflatable, it is perfect for car owners who don't want a roof rack that is permanent. If you do not like the inflatable aspect of this roof rack you can simply cut a pool noodle into pieces and slide it under the nylon cover. This is  particularly a good solution if it is hot out and you don't want the heat to expand the inflatable portion of the rack.
Customers were very impressed with the high-quality of the fabric used by the Company when making the rack. The load straps too are very strong and made well. Since it is inflatable, the air chambers give a good cushion between the rooftop of your car and the luggage or your kayak. You can even use it on cars that have glass tops. A couple mentioned that it deflates fast when kept in the sun so you might want to remove it and deflate it when you reach the destination and then inflate it again when you start on your way back.
What We Liked
Strong and sturdy

Excellent weight capacity

Multi-purpose

Easy to inflate and deflate

Don't need tools to set it up

One of the best rated kayak saddles
What We Didn't Like
Air chambers can't take too much pressure or heat so it's best to deflate it or keep it in shade when you go kayaking
Best Kayak Racks for your Truck
Trucks have a different configuration when it comes to roof racks that go on cars and SUV's. Most kayak truck racks have a configuration that involves the bed and tailgate where you can can stack things in the bed of the truck.  These racks allow you to have the bed of the truck free to put other stuff you may need such as camping gear.
How to carry a kayak on my pick up without a roof rack
If you do not want to use a roof rack for your truck you can always store your kayak safely with an extension . What you will need though some something soft and secure for you kayak to lie on so that it does not get damaged should you go over any bumps. We will talk more about this particular extension below.
1. Yakima Outdoorsman 300
Features
26 inch height

Great for compact-sized trucks

Easy to install

Great weight capacity at 300 pounds
The Outdoorsman 300 Compact is an excellent kayak roof carrier if you are looking for a bed rack for a compact truck. In case you have a mid-sized or a full-sized truck, you can opt for the Outdoorsman 300 Full Size roof rack.
The biggest advantage of the Yakima Outdoors Man 300 is that it is very easy to install. You don't need to do any drilling. You can just clamp the rack to the rails which are on your truck bed and it is ready to take on the load.
You can combine it with round bars so that you can match it to the width of your truck. You will need to buy the round bars separately though.
The Yakima Outdoorsman 300 is very durable and strong and you can easily load weight of up to 300 pounds on it. This makes it easy to carry a couple kayaks in your truck.
Most of the customers felt that the carrier is made well, sturdy and durable. It is much cheaper than a bed rail system. You can mount the rack as you please on the length of the trucks bed sides. You get the placement and separation of your choice along the length of the canoes or kayaks that you will be carrying. There were a few complaints about having to buy two separate pairs.
What We Liked
Strong and sturdy

Great placement of the kayaks as per your choice

300 pounds weight capacity

Easy to install due to the clamp rather than having to drill it in

One of the better laual roof rack holders
What We Didn't Like
It can't be used on trucks having a bed liner.

You have to buy the cross bars separately

You have to buy two pairs

There is no security lock system
2. TMS 800 LB Adjustable Fit 2 Bars Utility Ladder Rack
Features
Easy to install

Heavy duty steel construction

Multiple kayaks

800 pound weight capacity
The TMS Utility Rack is a set of two racks which is made of heavy duty steel. It is an adjustable ladder rack for a truck. It can be used for multiple functions and can very easily carry items that are bigger or are longer than what can be carried in normal truck beds.
Since the frame of the carrier is very sturdy, you can easily carry over 800 pounds of weight on it. You can adjust the width of the carrier from 5 feet to 7 feet so that you can use it various trucks. You can use it for long distance traveling. The carrier ensures that your kayaks are secure in your truck.
Many customers praised its ability to carry multiple kayaks without any effort. It is versatile and can carry many items. It is made of high-quality steel and has excellent weight carrying capacity. A few customers complained that the paint wears off very fast and you need to use rust stop paint to prevent it from rusting.
What We Liked
Adjustable width of 5 feet to 7 feet

High-quality material

800 pounds weight capacity
What We Didn't Like
The set screws rattle loose easily

Rusts quickly
3. Darby Industries 944 Extend-A-Truck
Features
Versatility – Can use it as a roof rack and in the trucks bed

Support that is 4-feet wide

Can accommodate a kayak of 14-feet

Easy to store when not used
The Darby Industries 944 Extend-A-Truck is a perfect way to carry your kayak in your truck. You can extend the bed of your truck using it. You can easily store it when you are not using it behind the seat in your truck. You can adjust it as per your requirement. You can use it in case you need it for roof top hauling.
It has a red flag so other drivers behind you are safe if you plan to use it to extend the bed.
The carrier gives you a fully adjustable increase of 4-feet support to your truck. You can easily haul heavy kayaks over long distances either as a roof rack or as an extension to your trucks bed.
Overall customers found the carrier very useful especially when you need to transport long kayaks of up to 14 feet. The carrier is durable though there were complaints about the welding. There were few complaints that the shipping material used was of low-quality due to which the product was affected. Made of strong gauge material is and very useful to increase the length of the bed of the truck.
What We Liked
Strong and durable

Easily adjustable

Red flag to alert other drivers behind you

Easy to store when not in use
What We Didn't Like
Shipping material is low-quality

Not suitable for low trucks
How to Load and Unload your Kayak: Detailed Steps
How to Load a Kayak Onto a Roof Rack
Loading a kayak on and off of a car (especially after a long paddling voyage) can be extremely tiring and a but tricky especially if you are by yourself so we will go through this step by step.
By Yourself (with Pads or Saddles)
Use a kayak cart to transport the kayak back to your vehicle

First you will need a mat, the kayak and your SUV

Lay the rubberised section of the mat onto your SUV

Lift one side of the kayak up and lean it onto the back of your SV or truck where the mat is

Pick up the other end of the kayak and push it onto the roof

Align it and tie it down
How to lift a kayak onto a roof rack with a Partner (J Crades, Pads or Saddles or Stackers)
You and your partner stand the kayak on it's edge (cockpit facing out)with your shins holding it in place

bend your knees (seriously do it!) grab the front of the cock pit with your one hand and the back of the cockpit with your other

lift the kayak (not using your back) onto your thighs,

Use one knee to support the boat if need be and lift the kayak straight over you head

Place kayak onto roof rack in its proper position pending on what roof rack system you have going on.
How to Tie a Kayak on a roof rack and secure it
My first recommendation for this is to consult your manual because each roof rack is different from the other, especially if we are talking about J Cradles, Saddles, Pads and Stackers. I have included instructional videos on all the roof racks reviewed so that you can find out which is easiest for your situation. What usually ends up happening is that
You throw the straps over your kayak, to the other side.

You then loop the strap under the roof rack bar, throw it back over the kayak and thread it into the buckle.

It is recommended that you pull the kayak tightly against the rack so that you will not hear the straps humming or clanking against the car or kayak. If you do it's not a huge deal, it's just more annoying to listen to than anything else.

Make sure all straps are tight
How to Tie Down a Kayak without a Roof Rack
To do this you simply place the kayak on your roof rack and use a ratchet strap that goes around the inside of your car, over your kayak. If you have a longer boat like a sea kayak I highly recommend that you secure the bow and stern of the boat to the bottom of your car using a rope. I don't recommend this for long trips on the highway.
Transporting Multiple Kayaks
If you are transporting multiple kayaks it is best to get a kayak stacker (do some measurements first before committing) or a kayak trailer. A kayak stacker can fit about 4 white water kayaks to it's roof and 3 or 4 recreational kayaks depending on the make of your vehicle. If you are an instructor and you are transporting multiple kayaks it is probably best to go with a kayak trailer or getting a large van or truck with appropriate racks.
How to Lock your Kayak on a Roof Rack
When you are out on a road trip you never know when you need to stop along the way. When this happens it's best that you lock your kayak to your roof rack.
You can do this one of two ways: You can buy a speciality locking system like the Yakima SKS lock keys or you can do it the thrifty way like in this video:
How to Test your Kayak Roof Rack
before driving away to a quick inspection of you kayak to insure that it is safe and securely in place. try pushing the kayak when it's on the roof rack to insure that it does not go anywhere. next if you kayak is long enough you secure the bow the and the stern to the bottom of your car to insure that it does not slide around. You now have a secure kayak!
When looking at what kayak cradle that is best for you follow these steps:
Figure out what Vehicle you will be using to take your kayak out
From there figure out what roof rack system would be compatible (some roof rack will specify what model vehicles they can be used on)
Figure out how you will load your kayak on and off of your vehicle (see steps above) 
Make sure everything is really tight. Do a test run around your neighbourhood. If you are going long distance then tipple check and add extra support cords on the front and back of your kayak.
If you have not already, figure out where you are going to store your kayak