If you are in a rush the best kayak for big guys is the Wilderness Systems A.T.A.K. 120
If you're a larger-sized person and you like exploring the outdoors, then you're probably well aware of the difficulties in finding a kayak that's the right size for you. Most kayaks feature a smaller cabin that can make the buying process difficult for larger individuals to fit into.
But the market for kayaks is actually diverse, and you can find a kayak of the right size when you search for the right factors. But what factors should you take into consideration and where should you be looking for kayaks of this diverse nature?
Here is a guide that can eliminate you consider all of the various different factors before you choose a certain kayak. This guide breaks down all of the important features that you should be looking for, and it even contains reviews of the best kayaks on the market that are specifically designed for individuals of a larger size.
The Best Kayaks for Big Guys Go as Follows:
Kayaks for Big Guys Reviews
1. Wilderness Systems A.T.A.K. 120 Sit On Top Kayak
If you're worried about a more stable kayak, then this Wilderness Systems boat is highly recommended for you. Featuring a rudder-ready design that has a rocker shape, this kayak helps you to more easily travel through the water while also having a stable and sturdy base.
This kayak accounts for optimal personalization as well, given that you can alter the seat so that it can either be raised or lowered in order to fit your height needs. You can easily change the setting of the AirPro Max seat with the quick-release cam lever that's located under the seat. This feature is especially beneficial for bigger guys, since you can easily personalize the seat to help you fit into the kayak more comfortably.
In addition to this, there is also an adjustable shock cord rigging within the stern storage that you can alter in order to fit your specific needs. If you have any accessories that you want to attach, you even have the ability to attach them at a later time, since the Wilderness Systems 120 comes with SlideTrax rails for optional accessories.
Furthermore, you don't have to worry about keeping your belongings safe or dry while you're using this kayak, since you have the opportunity to purchase a secondary transducer scrapper that can keep your electronics dry while you're using them.
It's easy to transport, since it weighs 80 pounds and is only 12 foot long. The weight capacity for this Wilderness Systems kayak is 400 pounds, and it's produced with a lightweight and durbale polyurethane material.
Pros:
Easily portable, since it weighs 80 pounds and is 12' long
Supports 400 pounds
can be personalized, since it comes with an adjustable seat
Cons:
Doesn't come with a rudder system pre-installed
2. Perception Pescador Pilot 12.0 Pedal Kayak
For those of you than are worried about the weight capacity and have kayak gear as well, then this Perception Pescador kayak is highly suggested for you to check out. It has a maximum weight capacity of 525 pounds, so you have plenty of space to put all of your kayaking gear, fishing gear and even your personal belongings.
Even though it has a large weight capacity, this kayak is surprisingly easy to transport. It only weighs 85 pounds and it measures 12 feet, so you can easily carry it from the car to the water.
Perhaps the most convenient feature on this Perception Pescador kayak is the pedal feature that it offers. Located within the body of the kayak, there is a removable pedal pilot drive that can easily be adjusted in order to fit your leg height specifically. By having the option to use the pedal drive, your upper body can rest while you're still making progress across the water.
This kayak also comes with an ergonomic chair that you can adjust in order to fit a wide range of heights. As for storage, you can safely store away your belongings while using this kayak, since it features plenty of storage compartments that offer waterproof properties. There are multiple different storage pods that have transducer scrapper to ensure safety and security from the water.
Moreover, you can easily maneuver through the water with this kayak, since it features a low-profile rudder steering control with a tight radius. With that, you can spend less time and effort trying to turn your kayak around and maneuver it through the water currents.
Lastly, this Perception Pescador Pedal Kayak is highly suggested for you because it produces little to no noise while you're pedaling. It comes with turbo flaps that help to keep the turbulence minimal and the noise reduced.
Pros:
Has the highest weight capacity of most kayaks, at 525 lbs
Features a low-profile rudder steering control system
Turbo flaps reduce the noise
Cons:
More expensive than some of the other kayaks for larger people
3. Sea Eagle 380x Explorer Inflatable Kayak
Whether you're traveling with one or two people, the Sea Eagle 380x Explorer is classified as an inflatable kayak that can conveniently be inflated and deflated during your transportation process. Since it can hold up to a maximum of three people, this inflatable kayak has an overall weight capacity of 750 pounds.
Given that, you can have more than enough confidence while traveling through the water with this kayak and all of your gear. This inflatable kayak has a durable overall construction that you can trust, since the seams have strong glue and then are quadruple overlapped for extra protection.
Many people think that inflatable kayaks take too long to assemble and dissemble, but this Sea Eagle 380x has a total of 16 high capacity self-bailing drain valves that you can open all at once in order to speed up the assembly process.
To secure all of your gear, you also have 24 D-rings in order to ensure their security. And this kayak has a removable floor that you can use for the convenience of having more stability while traveling through the the water.
Pros:
Maximum weight capacity of 750 lbs
Has 16 self-bailing drain valves
Has a removable floor and quadruple overlaps for optimal stability
Cons:
It's inflatable, so there's always a risk of the kayak deflating in the water if not taken care of properly
4. Feelfree Lure 13.5 Kayak
>>Check Price on Austin Kayaks<<
Last but certainly not least, the Feelfree 13.5 kayak is highly recommended for bigger guys because of its high weight capacity and its larger overall construction. This kayak has a larger deck as well as a wide open platform that can fit individuals of all sizes comfortably. It's weight capacity is 500 pounds, so you can easily use the kayak while still having room to spare for fishing gear and other kayaking gear.
In order to account for the security of your belongings, this kayak comes with a multi-use console that you can position behind the bow hatch in order to store your things. If you have any electronics, then you can remove the sonar pod and place them in there for extra protection.
Furthermore, this kayak is extremely versatile. You have the ability to use it for a variety of different purposes, ranging from fishing to recreational uses. If you're using it for fishing, then it's convenient because it comes with two fishing rod holders as well as a track system that can help you focus on your fishing activities.
Lastly, this kayak from Feelfree comes with various different features that most other kayaks don't come with, including an extra-wide and multi-position seat, a wheel in the keel and a Uni-Track system.
Pros:
Comes with an extra wide seat
Has a wide open platform and a large deck specifically for larger people
Can be used for various purposes, especially fishing
Cons:
Weighs more than others, at 95 pounds, so it may be difficult to transport
5. Vibe Kayaks Sea Ghost 130 Sit On Top Fishing Kayak
Classified as a sit-on-top kayak, the Sea Ghost from Vibe Kayaks allows for optimal leg room and maximum comfort for your all-day kayaking excursion. It measures 13-foot, so it's longer than some of the other recreational kayaks.
By having a longer kayak, you have the ability to travel faster through the water, and you also have more deck space for your belongings. Also regarding your belongings, the Sea Ghost sit-on-top kayak includes two flush-mount holders for rods that can conveniently hold your fishing rods while you're resting.
There are also four integrated gear tracks that you can use in order to place your belongings onto. The large center console can be used for larger items, like water, snacks and a life jacket when you're not using it. And there is also a 20-inch hatch located in the front end of the boat that can store smaller items that can withstand getting water on them.
Additionally, there is a rear hatch as well as a rear tank well. These rear storage compartments can be used to store things that are more fragile, since they have more protection and the hatches have waterproof qualities.
In addition to all of these benefits, this sit-on-top kayak from Vibe kayaks only weighs 75 pounds, so you can easily transport it from your truck or car to the water with ease. As for control while operating this kayak, there is a toe controlled rudder system that comes pre-installed within the kayak that you can use in order to control the kayak's maneuverability and direction.
By using the rudder system, you can give your upper body a break while still operating the kayak at the same time. This is especially beneficial for days where you're kayaking in weather that has strong currents and heavy wind or rain.
Lastly, this kayak accommodates for your comfort, since it features a dual position Vibe hero seat. This seat is known for its ability to offer cushion for both your back and bottom, which is great for long kayak excursions all day long. It's especially beneficial for larger people, since its weight capacity is 550 pounds.
Pros:
Affordable
Offers 5 different types of storage spaces
Features a pre-installed rudder system
Cons:
Longer than most other kayaks, so you may have difficulty trying to fit it in your truck or on the rack
What Makes a Good Candidate for a Big and Tall Person Kayak
Deck Space
Especially for larger-sized individuals, considering the amount of deck space that a certain kayak offers is important because it will ultimately determine the overall size, weight, carrying capacity and storage capacity of the entire kayak.
The deck space essentially refers to the amount of space that a kayak has on the top, upper portion of its construction. The deck is important to consider because it's what is essentially holding the boat together, and you should thus have a durable and stable one that you can trust.
Perhaps the most important factor that the deck space of a kayak affects is the amount of storage space that the kayak offers. Different types of kayaks have various different designs on the deck space, each accommodating for different factors. Most kayaks have various types of storage accommodations, one usually offering water-proof qualities.
Overall, you'll want to find a kayak that can offer storage space that's large enough to fit all of your belongings into. Additionally, the deck space should be stable and durable enough to hold the kayak together.
Maximum Capacity
The maximum weight capacity of kayaks is likely one of the most important factors to consider when searching for kayaks for bigger people. The maximum weight capacity is essentially the highest amount of weight that the kayak is able to support, and many people mistake this weight capacity number for the amount of weight a person can weigh specifically.
This is largely problematic because many individuals don't take into account the weight of the fishing gear, kayaking paddles and other belongings that may be on the boat with someone at a time. Because of this common misunderstood perception, it's important that you consider how much your belongings weigh.
Even more than that, you should also take into account the amount of water that usually gets into the boat at a certain time. Water is typically the heaviest element that you'll have in your boat if its gets full contact to the inside of the cockpit, and it's even strong enough to sink the kayak.
Some kayaks do the extra work of conveniently providing you with the maximum weight capacity of a person in general, but you should still refrain from coming too close to that boundary and posing a risk to your safety.
Because of each of these factors, you should keep in mind the safe zone. The safe zone is essentially a percentage of the weight that you should keep clear from, and it ranges according to how risky you want to be when using your kayak. Most professional kayakers recommend a safe zone of 20-25% from the maximum weight capacity.
This means that you should subtract 20-25% from the maximum weight capacity number and make that your new maximum weight allowed. This helps to ensure that you're completely safe while using the kayak within these limits.
After everything, you should consider the weight of your kayaking gear, the weight of your belongings, the amount of water that comes into the boat and consider the safe zone of the specific kayak that you have. From there, you can be sure that your kayaking trip will be safe.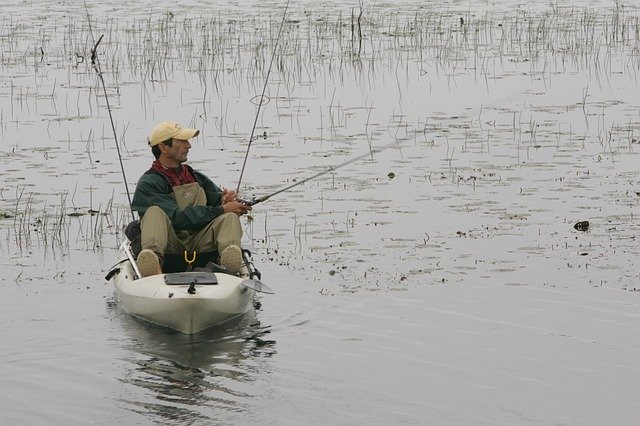 Room to Move
Kayaks feature a long and narrow construction that can make it difficult to have practically any leg room to move around. This is why there are so many different features that attempt to try and accommodate for this issue, including the leg and foot pegs as well as the overall sit-on-top or sit-in designs.
Having enough room for your body to comfortably move around is important because kayak trips can last anywhere from an hour to a few hours. When you're confined to the same small space for a few hours, then your legs can cramp up by staying in the same position for too long.
Because of that, you should consider finding a kayak that can allow enough room for you to move your legs around, at least into different positions in order to get the blood in your legs pumping for health. Especially for bigger guys and girls, having enough room to move around is essential. Sometimes having the standard-sized kayak may account for moving room in smaller-sized individuals while excluding the larger people.
Altogether, make sure that you have all of the space you need in order to move around every once in a while. You'll not only be more comfortable, but it's also safer and gives you more control over the kayak overall.
Comfort
Having a kayak that's the right size and offer comfort for you is of the utmost importance when searching the market for kayaks that are made for larger people. There are various different features that make up how comfortable a kayak can be, and these factors range from kayak seats and back rests all the way to foot and leg pegs.
Your kayak seat is one of the most common features accounted for by most kayak brands, since they often already come with a padded cushion that can act as a seat for comfort. But many companies forget to include a padded cushion to act as a back rest. Most kayaks are structured so that you're slouching in the cockpit or on top of the boat, so having a supportive and comfortable back rest is important.
Another feature that accounts for comfort are leg and foot rests. Some of the more expensive kayaks take into account leg comfort, so they install pegs and waterproof padded cushions within the boat that help your legs and feet to rest comfortably. Having these features is also convenient because they make controlling the kayak easier.
Maneuverability
A kayak's tracking and maneuverability are essential for choosing kayaks that are beneficial for your specific experience. A kayak's tracking is essentially how easily the kayak can turn and maneuver through the water around the currents. From there, most people would assume that they want a kayak with easy tracking abilities. But this isn't always the most recommended, since these kayaks have the ability to essentially turn and react to the direction of all wind and water.
Rather than that, you'll want a kayak that has great maneuverability features. This includes having a center of gravity located within the center portion of the boat as well as having a heavier and more narrow bottom. Both of these features help you to more easily navigate your way through the water and into the direction you initially had planned.
Kayaks produced for larger individuals have the ability to more easily maneuver through the water, since they can accommodate for more weight capacities. And heavier kayaks tend to maneuver through the water more easily.
Sit on-top or Sit Inside?
When you're searching for different kayaks on the market, you'll soon notice that there are various different types of kayaks. One of the two main distinctions between most kayaks are the sit-on-top boats compared to the sit-inside boats. Like many other types of boats, each of them come with their advantages and disadvantages, so it's important that you choose the best one for your personal preferences.
Sit-On-Top Kayaks
Sit-on-tops are structured so that you are literally sitting on top of the boat. That being said, you are sitting on top of the water's surface while you're using these types of boats. Not only that, but sit-on-top kayaks also don't have a cockpit, so you're above the boat rather than inside of it, and you're paddling from on top of the water.
This type of higher construction has its benefits, including allowing you to have more freedom about how you sit on the kayak. Since you're positioned above the water's surface and on top of the kayak, you have the ability to put your legs wherever you want them without feeling confined to the inside of the cockpit.
More importantly for you, these types of kayaks are also more beneficial for larger-sized individuals because they don't limit the amount of room you have to fit into. Some other advantages that you can benefit from by using sit-on-top boats are the fact that they are easier to get on and off from.
If you capsize, then you have the ability to easily flip the kayak back over on its right side without you having to worry about the cockpit filling with water. Sit-on-top kayaks are practically unsinkable, since they have almost no openings for water to cave into. Additionally, the closed structure of the sit-on-top kayaks give you more space for storing your belongings while you're kayaking.
Sit-On-Top Cons
There are some disadvantages to using sit-on-top kayaks, including the fact that they travel slower through the water than sit-in boats. Since all of the weight from your body and your belongings is located on top of the boat and above the water's surface, the water has a more difficult time traveling around the sides of the kayak.
Other downsides of sit-on-top kayaks are the instability, the more difficult to control and the limited protection. More specifically, sit-on-top kayaks have the center of gravity placed above the water's surface, making the kayak more susceptible to capsizing.
Additionally, they're more difficult to control than sit-in kayaks because the majority of their weight is on top and the water is lower than you. Since the water is lower and further away from you, you may also need a longer paddle in order to reach deep enough into the water to move the kayak.
Lastly, sit-on-top kayaks offer very limited protection for your legs and feet. You're not sitting in a cockpit, so your whole body is clearly exposed to the external environment surrounding you. This allows for the opportunity of more injuries developing, including injuries from the external debris in the water around you and even the sun's harmful UV rays.
Sit-in Kayaks
On the other hand, sit-in kayaks are also available on the market, and they feature an enclosed cockpit that you essentially place yourself into in order to begin exploring the waters. Sit-in kayaks tend to be more common than sit-on-top boats, since they offer a more user-friendly experience as well as some other advantages.
For instance, sit-in kayaks are more stable and easier to control than other kinds of kayaks. Since you're sitting in a cockpit that's located in the middle of the kayak, the center of gravity because of your weight allows the water to more easily pass around the kayak's external shell. Not only that, but they have the ability to travel at higher speeds through the water, making them easier to use while traveling with friends.
Furthermore, sit-in kayaks tend to be more comfortable, since your legs and fit are enclosed within the body of the kayak. This allows you to more easily rest your legs against the sides of the boat, and some brands even offer features to accommodate for leg and feet comfort.
Not only that, but the fact that your legs can rest against the internal walls of the boat gives you more maneuverability while traveling through the water, since you can use your whole body rather than just your upper body.
Lastly, sit-in kayaks offer maximum protection for your legs and feet while you're traveling through the water. They're completely enclosed within the kayak's body itself, so you don't have to worry about developing sunburn from the sun's UV rays or any other injuries from the debris in the water. You even have a lesser chance of getting wet while you're using a sit-in kayak, so you can stay dry throughout practically your whole kayak trip.
Sit-in Cons
Just like there are downsides to using sit-on-top kayaks, there are still downsides to using sit-in kayaks as well. For example, sit-in kayaks have an open cockpit that can make many kayakers feel confined within. Because of that, they aren't recommended for anyone that often feels claustrophobic in any way.
Perhaps one of the most obvious downsides is that sit-in kayaks are more susceptible for drowning. The open cockpit gives them the ability to fill up with water very quickly if they ever capsize. And because of that, they can be more dangerous to use, not to mention more difficult to fix if the cockpit is already full of water when you capsize.
Overall, sit-on-top kayaks and sit-in kayaks both have an equal amount of upsides and downsides that each should be consider before you make an ultimate decision. For larger individuals, you may benefit from sit-on-tops more, since you're not necessarily confined to a limited space within a cockpit.
But you also lack the protection and stability that are important for kayaking in general if you limit yourself to a sit-on-top boat. Ultimately, your final decision should depend on personal preference.
Hardshell or Inflatable?
You may also find that there are various different types of kayaks on the market, ranging from hardshell boats to inflatable boats. Each of them have various pros and cons that you should keep in mind, so it comes down to your personal preference.
Hardshell Kayaks
Hardshell kayaks are usually produced with a plastic, wood, fiberglass or other types of harder material. Given that they're produced with a more composite material, hardshell kayaks are usually more durable and offer more stability than inflatable ones.
Not only that, but they also allow you to have more control over the kayak in general. Since they're heavier than inflatables, they transition more swiftly through the water. Lastly, they tend to be safer, since you don't have as high of a risk of the boat popping or deflating while you're using it in the water.
There are some downsides to hardshell kayaks, being that they are usually heavier and more difficult to transport than inflatable ones. You will likely have to purchase a kayak rack to install on to the top of your car in order to transport the boat if you don't have a truck.
But the heavier structure gives the hardshell kayaks a more durable construction, which is more recommended and suitable for larger individuals.
Inflatable Kayaks
On the other hand, inflatable kayaks are produced with a hollow, plastic construction that you have to fill up with air before using them in the water. Likewise, you're also responsible for deflating the kayak when you're done using it in the water.
That being said, you can more easily transport inflatable kayaks from one location to another. Not only can they be deflated to being small enough for storing in a backpack, but they are also extremely lightweight and can be carried with practically one hand, since they're essentially filled with air.
Even though they're more convenient for transporting, there are some disadvantages to using inflatable kayaks. For instance, the portability takes away from the durability of the boat. Since they're essentially produced with a vulnerable and flimsy plastic, they can easily develop damage if they hit the wrong debris in the water.
Not only that, but they tend to be more difficult to control throughout the water. Since they weigh practically nothing, they descend disproportionately under the surface of the water. This prevents the water from being able to flow nicely around the kayak, thus making it more difficult to control and maneuver through the body of water that you're kayaking in.
Lastly, inflatable kayaks tend to have lower weight capacities, since they are filled with air. They can only support so much weight, and they allow for a lot less room than other hardshell kayaks. Because of that, inflatable kayaks aren't the best choice for larger-sized individuals to try out. But there may be some on the market that can act as an exception.
Where Are You Kayaking?
Before you choose between any kayak, regardless of what type of kayak you want, it's important that you consider what type of environment you're kayaking in. The type of environment that you're kayaking in ranges from the types of water, the weather and the area surrounding you.
The different types of environments that you'll be kayaking in is important because different kayaks are specifically designed for certain environments. For instance, you can either use sit-in boats or sit-on-top boats for kayaking in lakes. For coasts, you'll want a sit-in boat that can offer protection and keep you dry from the waves that are constantly crashing at coasts.
And the water currents in rivers range depending on the specific locations. For instance, if the river you're kayaking in has higher and more active water currents, then you'll want a sit-in boat. But if the river is more free-flowing, then you can get away with using a sit-on-top kayak.
Before you go kayaking, you should also consider the type of weather that you're going to be boating in. Technically, kayaks have the capability to withstand the water from the rain. But you should keep the water currents in mind, since they likely worsen when it starts to rain.
Lastly, the area surrounding the place that your kayaking is important to consider because highly populated areas will likely have a larger number of people in the water. From there, you will have to consider the amount of waves that the other boats are creating, since the water currents have a larger effect on a kayak than they do on larger boats.
If you're still having trouble understanding which kayaks would be the best for your specific needs, then this YouTube video may be helpful.
FAQ's
How do I avoid tipping over?
The main reason that kayaks tip over is because of an uneven distribution of weight. The side with the heavier weight ends up descending into the water, causing the whole boat to tip over. Because of that, there are a few things you can do to avoid this. Having a kayak with a wider beam can prevent it from happening, since you have more room to evenly distribute the weight.
Additionally, you can make sure that the weight of things on the boat is distributed evenly. Put heavier things on either sides of the boat to ensure likeness. Lastly, you can also install skegs and rudders on your kayak to improve its stability and prevent capsizing.
What type of hull is the best?
The hull is classified as the bottom of the kayak, and there are different hulls on the market to choose from. Flat ones are more for beginners, since they're easier to maneuver. Rounded ones are recommended for rough waters, since it allows the kayak to easily tilt without capsizing.
V-shaped ones are for going fast, and pontoon hulls are more stable. Given each of these features, you can choose the best according to your personal preference .
Does the type of kayak paddle I use matter?
There aren't really types of paddles on the market, rather there are paddles of different sizes available for purchase. The size paddle you need varies according to your skill level, the type of kayaking you doing as well as your personal reference.
There are two ways that you can figure out the measurements of the best kayak for you. One requires that you hold the paddle vertically and reach for the tip. Your finger joints should rest just over the edge of the blade. The other way requires that you hold the paddle horizontally over your head and bend your elbows. Your hand should be about halfway between the center and the blade's shoulder.
Final Thoughts
Overall, each of these kayaks is able to offer you a wide variety of beneficial features that can specifically benefit larger people. For instance, they have larger platforms, higher weight capacities and they also have extra comfortable seats that are made to offer comfort for heavier people.
Even though they're all beneficial for larger guys, they each have features that are specific to that product. Because of that, it can be difficult to choose the best product for your specific needs. That's why you're most recommended to purchase product #1: Vibe Sea Ghost.
This kayak offers a weight capacity of 525 pounds, and it only weighs 85 pounds. Additionally, it features a removable pedal pilot system that you can use in order to allow your arms to rest.
Lastly, it comes with various other features that can benefit larger kayakers in general, from the adjustable seat to the adjustable pedal system and more.