If you are in a rush, the Best RC Boat is the Altair Aqua Fast RC Boat.
Remote control vehicles are a fun thing to enjoy for adults and kids alike especially on beach days when people are out bodyboarding and skimboarding. Many people enjoy RC cars, but if you live near a body of water, then an RC boat may be a fun, enjoyable option that you can try. Not all RC boats are made the same, so how do you know which one is the best RC boat for your needs? In this guide, we are going to take a look at five different models, but before we dive into the reviews, let's talk a little bit more about the product in general.
The Best RC Boats goes as Follows:
Best RC Boat Reviews
The top RC Boats as rated by customers go as follows.
1. Altair Aqua Fast RC Boat (Top RC Boat Pick)
When it comes to build quality, the Altair Aqua Fast RC Boat has some great design features that make it a reliable choice for those looking for durability. The first of these features is its robust material construction; Altair Aerial designed this product using a particularly tough plastic, so it'll stay watertight, and it will avoid damage during use. The second feature that makes this an excellent go-to RC boat is its anti-capsize hull. This feature will allow the boat to automatically right itself should the waves get too choppy.
In addition to the aforementioned features, the operation of the Altair Aqua is also very reliable. You'll be able to control the operation of the boat for up to 120 meters from the control unit, so you won't have to worry too much about range. Also, this is a super-fast option; at max speed, the Aqua Fast will move at 15.5 miles per hour. While you're underway, you'll also be able to adjust the trim functionality via remote. In total, this product will allow about six to eight minutes of driving time on a charge.
When it comes to the controls, this is a fairly responsive boat that won't lose maneuverability when you're testing its range. While you may not want to push it to its full 120 meters, you'll have full functionality while you're hundreds of yards away. Additionally, once you get used to the remote trim functions, you'll have an easy time getting precise control out of the Aqua Fast.
Pros:
This thing won't stay capsized.

You can control the trim from the remote.

It's made so that it's very durable.

You get a range of 120 meters, which is more than 393 feet.
Cons:
You only get about six minutes of driving time on a charge.

The battery pack connector can melt.
2. Traxxas DCB M41 Widebody Race Boat (Fastest RC Boat)
One of the first things that you might notice about the Traxxas DCB M41 is its unique and cool-looking design; the boat comes to two points, which looks very stylish. Also, from an aesthetic standpoint, the coloration is very noteworthy; the boat has some white, green, and blue elements that all work well together. Traxxas went with a catamaran design, and as a result, this looks (and feels) very speedy. It's vital to note that this is a replica model that is designed to be 1/10th the size of the real thing.
This is an RC boat that packs in a lot of power; it's capable of reaching speeds of over 50 miles per hour, so keeping control is critical. This is a larger RC boat; in total, it has a length of 40″, so it could be a little big for some smaller racing enthusiasts. Since this has a catamaran design, it'll work pretty well from a stability standpoint, but it's worth noting that there are no anti-capsizing features.
The controller is also very responsive; you'll be able to carve across the water with a high degree of precision and efficiency. These days, many drone and RC enthusiasts love to interact with their vehicles via Bluetooth, and this boat is no exception; with either an Android or Apple device you'll be able to tune the boat. In addition to this, you'll even be able to add telemetry readouts as well using Traxxas' Traxxas Link smartphone application.
Pros:
This is a very authentic replica of a real-life catamaran-style boat.

There are several aesthetic design options.

It uses a 2.4GHz signal so that you'll have a good amount of range.

The hull is relatively durable.

It can run for a full 10 minutes.
Cons:
There is no self-righting feature that can save it from capsizing.
3. SZJJX RC Boat (Best Budget RC Boat)
The next RC boat that we are going to look at is a classic blue and black boat that looks amazing in the water. It has a very powerful motor that is going to provide you with quite a bit of speed. It also has a streamlined hull that will help to reduce the resistance against the water to make the boat travel faster in the water. When the battery begins to die, there will be a warning that will sound from the remote to let you know that it is time to head for the shore. The boat is capable of traveling up to 150 meters from the remote.
The boat is designed with a water sensing functionality that will make sure that the boat does not function when it is out of the water. There is also a water cooling system in the boat that will help to keep the motor cool and extend its life by quite a bit. There is a rudder system on the boat that is designed to correct the movement of the boat, which means that it will be easier to navigate. It can move backwards when it needs to, and there is also a self-righting function that will help to get the boat back in the water more quickly if it capsizes.
Pros:
There is an LCD screen that will tell you the strength of the signal.

You can limit the speed of this boat so that beginners can use it.

It has a durable design that allows it to move backward.

This model is easy to operate.
Cons:
The battery takes quite a while to charge; in fact, it will take about two hours.

The controls can easily jam when other boats are nearby because of losing the frequency.
4. Force 1 Velocity RC Boat
This is a boat that is designed to work well for both kids and adults. The boat has a realistic look that is white and blue. The hull is pointed to help it pick up speed, so it's capable of going at speeds of up to 20 miles per hour. The remote is designed with four channels that you can use, and all of them will have a frequency range of 120 meters that will allow the boat to travel into a body of water without fear of losing the signal. This model comes with a 2.4 GHz remote that will be quite effective for most RC boat enthusiasts.
The unit has a battery that will let you know that it is running low on power, so if you hear the battery alarm, it's time to bring the boat back to shore. There is also an alarm that you can use that will tell you that the boat is getting a bit too far away from the remote. This is an RC boat that is easy to maneuver, but if it does happen to capsize in the water, it will be able to self-right itself when you press the button on the remote. This model is not designed to work in saltwater, so make sure to keep it in lakes, ponds, and other bodies of freshwater.
Pros:
This RC boat has a lot of speed, which makes it an excellent option for racing.

The boat is quick to respond to the remote, especially when you need to turn quickly.

The boat comes with a spare battery.

The self-righting system works spectacularly.
Cons:
The boat tends to overheat before the batteries die.

The batteries do not last that long, so it's best to have a spare.
5. Volantex RC Brushless RC Boat
The final RC boat that we are going to look at is one that has a sleek look. It is black with white and green highlights. The unit has a brushless motor that is designed to give you the speed and the power that you need. In fact, the innovative design of the hull allows the boat to hit speeds of up to 30 miles per hour. When the battery life begins to get low, there is a low battery protection mode that will kick in and reduce the speed of the boat so that it is easier to retrieve.
This model has a self-righting mode that will turn the boat back over if it capsized in the water. In addition, if you get stuck in a tight space on the body of water, this model can be put in reverse so that you do not have to retrieve the boat manually. The remote is a 2.4 GHz unit, so it's capable of reaching up to 656 feet. This means that you will be able to enjoy cruising for quite a distance with this waterproof boat. The RC boat comes fully assembled, so you will be able to use it right out of the box.
Pros
This is a well constructed, durable model.

The self-righting system works quite well, which will help you get back in the race quickly.

Customer service is quick and responsive, so you will be able to reach them easily.

It has a streamlined design that is ready to go within a minute of unpacking it.
Cons
The run time with a fully charged battery is only about seven to eight minutes.

This boat takes on a bit of water at high speeds.
Types of RC Boats
When you are looking for an RC boat to call your own, there are going to be several types of boats that you can consider. There are even boats that are designed to look exactly like the ship that they model but in a smaller size. These boats are not typically designed for speed; they are modeled to give the appearance of the actual ship accurately. Two of the most popular types of remote control boats include:

Sailboats
This is a type of boat that comes with a sail and a rudder, so it will be able to function in the water without a battery or another source of fuel. All this type of boat will need to sail on the water is a little bit of wind. Most of these models are fitted with batteries, which will allow you to control the boat as it moves.
Powerboats
This is a faster type of boat that is often popular amongst boat enthusiasts that like to race. These speed boats are typically made with a streamlined design that makes them faster in the water. Because of their speed, they will require a good bit of fuel or battery life to function. These boats are not the best for a beginner to use because they are more challenging to control.
Features to Consider Before Making a Purchase
When purchasing an RC boat, there are going to be certain features that will be important to consider, especially if you are looking for a model that will be able to provide you with all of the speed, power, and looks that you want. Here are some of the features that should be considered:
How it's Powered
When you consider the type of power that you want your RC boat to have, there are going to be a few different options that you can select. Depending on how you use the boat, the source of fuel that works best for you may differ from other RC boating enthusiasts. The three primary fuel sources that you should consider include:
Gas: Most of the larger boats run on gas-power. It is a relatively inexpensive method of fueling the boat, and using this type of fuel makes it easy to maintain. Boats that run on

gas-power

cannot be used indoors because breathing in the fumes in an enclosed space can be dangerous.

Nitro: Nitro is a type of fuel that allows the boat to race at high speeds without losing its responsiveness. However, boats that use this type of fuel are known for requiring a lot of maintenance to maintain them. In addition, this option can be a bit on the costly side, which means that it will not be a possibility for many kids or beginners to use. These boats can be relatively loud to run, which can make them a bad choice to use in some spaces. Since this is an option that lets off a lot of fumes when it runs, it is not a good idea to use a nitro-fueled boat indoors.
Battery: If you select a battery-operated device, you will find that it is going to be easy to maintain and equally easy to operate. Their quiet motor makes them ideal for indoor use, but it will still have enough power to run outdoors as well. Because these models run on batteries, the amount of use that you get before they need to be recharged may vary. In general, the bigger the boat is, the more battery power it is going to use to move. Ideally, you will want an RC boat that has a battery that will provide you with more time to use it, which means that you should consider the capacity, the charging time, and the mAh rating before just choosing one.
Speed and Control
For some, the speed of the boat that you purchase is essential. If you intend to purchase a speed boat, and you get a cheap boat that is slow to move, then you are sure to be disappointed in its performance. It can take some time to master. The more practice you have behind the wheel, the easier a faster boat is going to be to control.
Control of the boat needs to be user-friendly, which means that it needs to be simple to understand so that a child can control it without the help of an adult. You are going to want a remote that has at least 2.4GHz of transmission power so that the boat does not lose connection with the remote when it is out in the water. The more boats that you see on the same body of water, the more likely it will be that you will encounter interference while you are using it in the same area.
Easy to Maneuver
One of the aspects of the boat that will change the amount of speed and control that you can get from your boat is the design of the hull. A larger hull, or a catamaran hull, is going to have a large area that goes over the water. This will increase the drag and slow the boat down quite a bit. A V-shaped hull can cut through the water with ease, so it is going to be able to go much faster in the water. The ability to cut through the water instead of pushing it can also make it easier to control the boat.
The size of the boat will also affect how it turns in the water, so a large battleship is not going to handle the same as a short speedboat. Once you use the boat for a little while, you are likely to learn how it handles on turns, which means that you will be able to manage it with ease.
Durability
The durability of your boat is important as well. If you are inexperienced with this type of RC unit, then you may prefer a model that is not going to fall apart on you the first time the boat runs into something. The longer it lasts, the more experience you will be able to get with driving the boat, so make sure that you get one that is made out of high-quality materials.
If you are not experienced with using this type of boat, make sure that the one that you choose has a self-righting option that can help you reset your boats positioning if it flips in the water. If you do not have this feature, then you are going to need to retrieve the boat on your own or wait until it floats to shore to get it.
Additional Accessories
When you consider purchasing a new RC boat, there are going to be some accessories that you will want to make sure that you get for your unit. Some of these accessories will need to be purchased separately, but some may come with the unit when it is purchased. For a battery-powered RC boat, you can get a charging station and a stand that will allow the boat to be charged more quickly. You can also purchase propellers to upgrade the look of the boat and help it move with ease in the water.
It may also be a good idea to purchase water-resistant tape so that you can seal any parts of the boat that are not entirely water-resistant. This can help seal the hatch so that the boat does not capsize as easily, but it can also seal up any parts of the boat that become damaged over time.
Customer Support Options
When you have a boat like this, you are going to want to know that the manufacturer backs the product. This is why it is vital to find a model that comes with some type of warranty. Typically, these will range between 90 days and two years for an RC boat. You will also want to make sure that the unit has parts that are easy to find. Often replacement parts are a possibility to keep using the boat, but if they cannot be found on the market, you may have to purchase a whole new one instead of repairing the one that you already own.
Safety Tips for an RC Boat
If your boat stalls in the middle of a body of water because the battery dies, do not swim after it to recover it. Even if you can swim well, swimming in the water with an RC boat is not going to be an easy task to manage, especially if the water is deep. If you must swim to get the boat, make sure that you always use a life jacket or some type of floatation device to make sure that you are safe. The best way to get your rc boat is by grabbing a kayak or boat and retrieving it. 

Do not operate a remote control boat while you are standing in the water. This is because the boat will generate an electric current in the water, which can easily travel to you if you are in the same body of water. With that being said, it is not a good idea to use an RC boat near other swimmers.

Be aware that the boat propellers can be sharp. The boat is not to be considered a toy. The propellers are designed like they are on a full-sized boat, which means that the blades of the propellers can cause injury. This could be dangerous to you, other swimmers, or wildlife that live in the area.
Frequently Asked Questions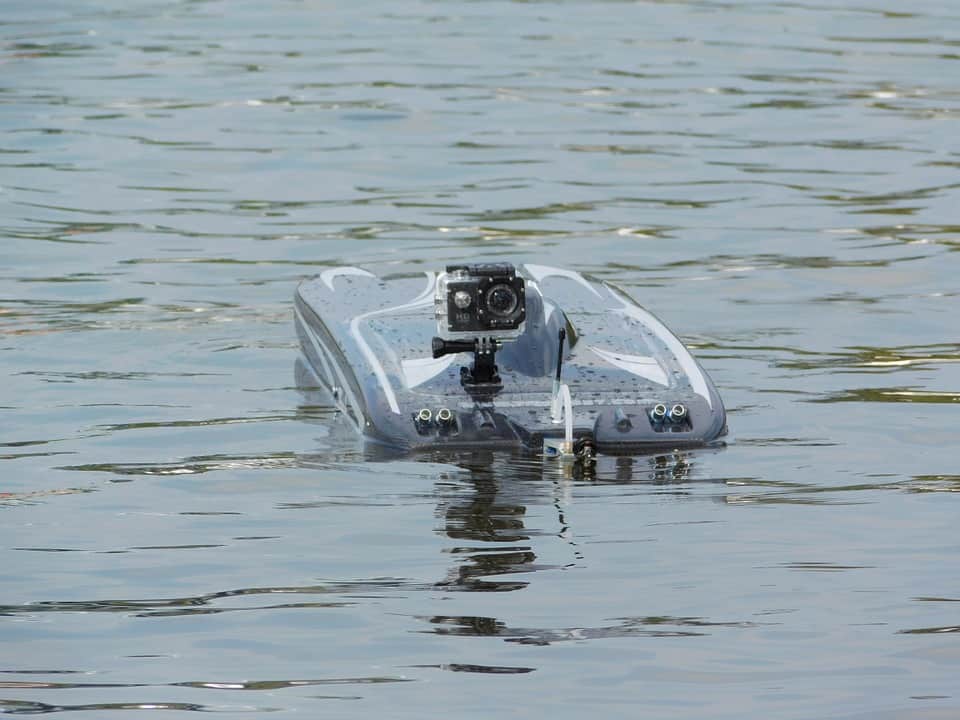 Question: How fast can an RC boat travel?
Answer: If you are looking for speed, then you will be glad to know that many RC boats can travel at speeds that are faster than 100 miles per hour. However, the faster they travel, the more difficult the boat will be to control. Most racing boats, even those that are considered to be on the lower end of these products will be able to travel at speeds that are 50 miles per hour or more. Don't forget that the type of hull that the boat has will affect the speed that the boat can travel at, so make sure to consider it before purchasing if you are looking for speed.
Question: In a battery-powered model, how long should the battery last?
Answer: The amount of battery life that you get from an RC boat is going to vary based on the model that you purchase. Typically, the battery that comes with the boat is not going to last as long as one that you purchase separately. If you can find a battery that lasts for 30 minutes or more when you purchase it, it is an excellent battery option. High-end, lithium-ion batteries can efficiently run for about an hour or so with a full charge.
Question: How far can the boat travel away from the remote?
Answer: Most of these types of boats are designed so that they can travel a reasonable distance without losing communication with the remote control. It communicates using radio waves, and this function is intended to provide you with quite a bit of coverage. In fact, you should easily still be able to control the boat from 100 feet away.
Question: How old should a child be before operating an RC boat?
Answer: There is not an age that a child will need to be when they are operating on of these boats; however, they can be dangerous to use, so young children should always be supervised. If the child is responsible enough to pilot the boat without running it into others or harming themselves, then they should have enough intellect to run it without an issue. Some parents will allow children as young as two to run an RC boat while they are watching them, but other parents may not allow a child to use the boat before they are a teenager and can be responsible for their actions.
Question: Where can these boats be operated?
Answer: Obviously, these boats will need water to run on, but which option is going to be a viable place to use it? These boats can be used in a pond, a lake, or a swimming pool. Larger boats can be run in water with waves, but they must be mild waves that are not going to tip over the boat. Waves that are too large are not a good idea for smaller RC boats.
Question: In what ways can you upgrade an RC boat?
Answer: When you begin to gain skills in using one of these boats, you are going to want to upgrade the model that you have instead of getting a new boat. You will be able to the motor to give it more power as well as the battery to make it so that you can run it for a longer period. This will significantly improve the performance of the RC boat, but there are still going to be limits to how much the components can be upgraded.
When you can't upgrade further, it is possible to purchase a new boat that is of higher quality. Most beginner boats are about 17 inches, but you will be able to get a larger boat that is up to 36 inches so that you can try the boat out on a larger body of water. You can also move from a battery-powered model to a gas-powered model that will provide you with more speed and more run time.
Final Thoughts
When it comes to RC boats, there are quite a few great options on the market that you can consider. The five that we reviewed gives you a good picture of what is available on the market, but if we were to pick one budget RC that stood out above the rest, it would be the SZJJX RC boat because it is so well rounded. It was built with impact-resistant parts that make it more durable, it runs on lithium-ion batteries that are known for longevity, and it is easy to handle, especially with the self-righting mechanism that is designed into the boat. In addition, this is a model that is sold at a relatively low price, which makes it a great buy, especially if you want to spend less than $100 for a good RC boat.