The glint of the sun on a calm, clear river. A cold beer. An itchy sunburn on your shoulders. What could be better than a day spent fishing out on the river?
Of course, that special joy might be dampened if you have the wrong gear. As an angler, it's important to invest in the right equipment to get the job done. River fishing kayaks are tailor-made for fishermen (and women) that want to comfortably track through tough-to-maneuver waterways.
In addition to reviewing some of the most popular river fishing kayaks available, we've drawn up a list of important factors you should consider before shelling out your hard-earned money.
With all that said, let's dive in!
Review of the Best River Fishing Kayaks
Below, we've compiled a shortlist of some of the most customer-loved, durable, and feature-rich fishing kayaks on the market. Each kayak has been highlighted for its unique features that are well-suited for different anglers.
As you peruse the list, make sure to consider your priorities. Would you prefer a kayak with superior speed or one with greater tracking and maneuverability characteristics?
1. Perception Pesador Pilot 12 Pedal Kayak: Best All-in-One Kayak

>>Check Price on Austin Kayak<<
Key Features:
Material: High-Density Polyethylene
Length: 12'5″, Width: 33.75″
Type: Sit-on-top
Maximum Capacity: 525 lbs
Built for superior mobility and stability, the Pescador Pilot 12 uses an internal propeller system to propel the boat forward and in reverse – all hands-free! With a spacious sit-in design, the Pescador is perfect for anglers that need a watercraft with generous storage space and the ability to squeeze into narrow waterways.
The kayak is so stable that anglers can even cast from a standing position. The easily adjustable seatback tilts back for relaxed pedaling or forwards for sporting purposes.
The internal storage includes bow storage pods, a bow tankwell storage space, and a stern tankwell space. This makes it easy to hoist all your fishing gear, snacks, and beer for a long river trip.
A transducer scupper and rudder are included, helping to aid mobility in the most difficult-to-maneuver areas. Moreover, the Pilot Drive system helps with zero draft adjustability.
The kayak is constructed from high-density polyethylene, which is highly impact-resistant and won't corrode when exposed to salty water. And, of course, the material is effortless to clean after traversing through mud and algae-coated waterways.
No matter your preference, the Pescador is designed for that high degree of all-day comfort that anglers need. You'd be hardpressed to find a more feature-rich, durable kayak at such a fair price point.
Pros
Sit-on-top design accommodates for upright casting
Peddles provide for hands-free forward and reverse movement
Features a high maximum weight capacity of 525 pounds
Cons
Somewhat heavy at 74 pounds
Peddles may not operate efficiently in high wind conditions
2. Hobie Mirage Passport Sit-on-Top Pedal Kayak: Best Premium Choice
Key Features:
Material: High-Density Polyethylene
Length: 12′, Width: 34″
Type: Sit-on-top
Maximum Capacity: 400 lbs
A kayak with easy-drive pedal propulsion and a stable hull, the Hobie Mirage tracks well through dense algae and calm waterways alike. Anglers that need to make a hands-free journey for difficult rivers are especially well served by the Hobie.
The Hobie features a broad cockpit complete with dense EVA-foam padding, providing a super stable platform for stretching your legs, casting from an upright position, or standing.
Fishermen can stash all their equipment in the bow and stern cargo areas or even below the deck through a center 8″ twist-and-seal hatch system.
This feature-rich, premium-quality kayak comes with tons of added features, including a steering system with a stowable rudder, two fishing rod holders, under-seat storage, gunnel tackle storage, and accessory tracks.
For additional customization, riders can install a fish-finder through the transducer cavity and scupper. A power-pole micro bracket indent lets anglers mount a shallow-water anchor; however, keep in mind that an anchor isn't provided with the purchase.
Constructed with high-density polyethylene plastic, the Hobie provides a great balance between lightweight portage and high-speed performance. The 12″ kayak can accommodate a weight capacity of up to 400 pounds.
Users should be aware that this high-quality kayak is best for flatwater kayaking and fishing. It isn't designed to take on the challenges associated with coastal or rough weather kayaking.
Pros
Broad cockpit area allows for comfortable sitting and standing
Riders can stash equipment in under-deck storage space or above-deck storage
Packed with tons of convenient add-ons for anglers
Cons
At 74 pounds, may be too weighty for some users to carry and stow
3. Pelican Sit-on-Top Fishing Kayak: Most Accesorizable Fishing Kayak
Key Features:
Material: Multi-Layer TST RAM-X Polyethylene
Length: 120″, Width: 30.5″
Type: Sit-on-top
Maximum Capacity: 325 lbs
Lightweight and easy to hoist, the Pelican fishing kayak features two retractable carry handles with an open cockpit for easy portage. Out on the water, the Pelican provides a high degree of stability and smooth tracking via the multi-chine flat bottom hull design.
With a maximum weight capacity of 325 pounds, the kayak can carry mid-range weight riders and tons of extra gear. With a quick-lock hatch in the front and 4″ day hatch, the Pelican makes it easy to safely stow sensitive items.
The kayak even comes with extra bungee cords, a dry storage bag, and a flat storage platform for items you need the most frequently.
Unlike other fishing kayaks, the Pelican is equipped with add-ons that support anglers. The kayak is fitted with a swivel rod holder, two flush-mount rod holders, two bottle holders, a tie-down paddle storage space, and six accessory eyelets to attach gear to the side of the kayak.
Users appreciate the proprietary ErgoFit G2 seating system, which utilizes a padded seat cushion, adjustable foot bracing, and a customizable backrest cushion for the ultimate support. Above all else, this kayak is designed to keep you comfortable on those long river trips.
This kayak is recommended for beginners that prefer stability over speed. That said, the Pelican is still very maneuverable and does provide a favorable return on paddling effort.
So, what's it made out of? The Pelican employs twin sheet thermoforming (TST), which is exceptionally durable under stress. Owing to its high impact-resistance, the kayak is comparatively more lightweight since fewer materials are required to reach durability.
At just shy of 50 pounds, it's hard to find a more lightweight kayak.
Pros
High-density polyethylene construction minimizes kayak's weight
Excellent for riders who value stability over cruising at high speeds
Offers tons of possibilities for stowing and porting gear
Cons
Will not match the speeds of high-performance racing kayaks
Users should be careful about the buyer they ship from, as some have complained of damage upon arrival
4. Lifetime Tamarack Angler 120 Fishing Kayak: Most Fair-Priced Fishing Kayak
Key Features:
Material: UV-Protected High-Density Polyethylene
Length: 120″, Width: 31″
Type: Sit-on-top
Maximum Capacity: 400 lbs
Available in one shade of UV-coated beige, the Lifetime Tamarack may not be a looker, but it does get the job done. The kayak is constructed with dense polyethylene composite plastic, making it very impact- and corrosion-resistant to the harshest conditions.
With multiple footrest positions available and an adjustable padded seat back, users of many different heights can ride the kayak comfortably.
The kayak is fitted with two flush-mount fishing rod holders, one top-mount rushing rod holder, and one paddle keeper. Users can stow their gear in two six-inch storage compartments positioned in the rear and center, securing loose gear with front and rear shock cord straps.
Users appreciate the inclusion of front and rear t-handles that allow for easy out-of-water transport. The stability chine rails allow for even better tracking and stability through tough water passages.
Moreover, a sharp-pointed bow provides both speed and superb tracking capabilities, while the supportive flat-bottomed hull allows for improved stability. A rear tracking skeg naturally encourages straight paddling, which is especially important for anglers.
Pros
Provides very budget-friendly option for experienced anglers
Tracks very well through water at high speeds
Includes self-bailing scupper holes, two water bottle holders, and a paddle keeper
Cons
Lacks some of the features of higher-end kayaks, such as pedal propulsion and gear eyelets
5. Vibe Kayaks Skipjack Angler Kayak: Best Compact Fishing Kayak
Key Features:
Material: Polyethylene
Length: 9′, Width: 32″
Type: Sit-on-top
Maximum Capacity: 250 lbs
At just 46 pounds, the lightweight 9′ long Vibe kayak provides a deluxe experience in as little space as possible. Equipped with four capped flush-mount rod holders and an added mounting point, the Vibe is great for kayakers that need to squeeze through the tightest areas.
The kayak features two paddle parks, helping to secure your gear when not in use. After all, who enjoys losing their paddles overboard in a moment of clumsiness?
Moreover, the Vibe also features two sealed hatches with bag inserts and a large bungee rear tank well to protect all your gear.
Outfitted with four easy-grip handles, the kayak is super easy to transport, carry out of the water, and store. As a hybrid-style kayak, the Vibe is sufficient for both river fishing and more technical unpredictable water routes.
While it may not be suitable for coastal kayaking, the Vibe provides a great intersection between speed, maneuverability, and straight tracking.
Of course, not all riders are fit for the Vibe. At the end of the day, the Vibe is a very compact kayak that's best for users under 5'10" and 200 pounds. Some users state the kayak is very wide, which may make it somewhat cumbersome for single riders to port.
See the Full Review of the Vibe Skipjack 90
Pros
Backrest and foot position is highly adjustable
Tracks well through the most compact, hard-to-maneuver waterways
Cons
May be too small for riders over 5'10"
River Fishing Kayak Buying Guide
For anglers, there are a few key characteristics to consider before opting for any specific river fishing kayak. You'll need a kayak that offers a high degree of stability, maneuverability, and sufficient storage for all-day trips.
We'll discuss the best ways to suss out which kayaks are quality among all the low-grade performers.
Stability
Where ever humans have been near water, there have been kayaks. Ranging from three to 30m, ancient kayaks were used for basic transportation and trade.
Experts believe kayaks first originated in indigenous cultures, with the Eskimos from Greenland providing one of the most notable initial instances. With a thin design, these early kayaks were ideal for hunting yet lacked smooth tracking and stability metrics.
Nowadays, modern kayaks are especially stable. Even narrow seafaring kayaks designed to reach top speeds have a mitigated chance of flipping over. That said, anglers and those with physical impairments need to be even more focused on stability.
Stability refers to two basic terms: primary and secondary stability. Initial, or primary, stability is defined relative to the kayak's width and refers to how steady the watercraft is on flat water.
By contrast, secondary stability refers to how the kayak reacts when it's angled relative to the waterline. This measure comes into play when you're executing a sharp turn. Typically, kayaks with a softer chine will have better secondary stability than those with a harder chine – we'll discuss this in more depth later on.
When you're seated all day, you need to have the room to adjust your position comfortably without risking a capsize. Kayaks with flat-bottomed hull design and broad width, ranging from 29 to 33 inches, are exceptionally stable.
Anglers should avoid V-shaped hulls, which are designed for faster tracking. V-hull designs are best for advanced kayakers that want to maximize their return per paddle and coast at high speeds.
If you don't want to lose all your speed, a shallow-V or combination hull provides a hybrid between flat-bottomed and V-shaped designs. While they are slightly less stable, they are significantly faster than a standard flat-bottomed hull. This provides an advantageous mixture of primary and secondary stability for fishermen.
Make sure to review the manufacturer's specifications for any specific product you're considering. The most stable kayaks allow riders to sit or cast from an upright position.
That said, some believe that kayakers have come to "overvalue" stability above all other factors. There is a natural tradeoff between metrics of stability, maneuverability, and speed.
An overly stable, broad kayak will be more difficult to paddle efficiently. If you need to track to difficult-to-navigate fishing spots, this is an important factor to consider. Narrower models may be better suited for anglers that want to cover a lot of ground in a single day.
Maneuverability
In case you're unaware, maneuverability refers to how efficiently and quickly a kayak responds to angled paddle strokes. The more maneuverable the kayak, the easier it is to tightly position yourself into difficult-to-reach water passages.
The most maneuverable kayaks feature flat bottoms and a shorter length comparative to their width.
Maneuverability is also affected by your ability to "edge" the kayak. During an edging operation, the rider rocks their body from side to side to displace one edge of the hull out of the water. A more lightweight kayak with an angled hull can better accommodate for this specific behavior.
Along those lines, you'll also want to factor in the chine of any kayak into consideration. The chine refers to the portion of the watercraft that transitions between the bottom and side of the kayak.
Chines are divided into two subcategories: hard and soft. A short chine is rounded and transitions softly, while a hard chine has defined edges that are better for "edging" a kayak.
The most maneuverable kayaks come with a rudder, which allows the rider to steer from side to side using foot braces attached to the rudder positioned at the back of the kayak. However, small kayaks will often forgo a rudder since they're already very easy to pivot.
Often, highly maneuverable kayaks don't track as well as other models. Tracking refers to how straight your kayak moves when you stop paddling. If your kayak continues to move smoothly, it is said to have great tracking capability.
Keep in mind that, the more maneuverable a kayak is, the more stable it is. This is fantastic for both beginners than anglers, making the watercraft best-suited for flatwater yet less stable on choppy conditions.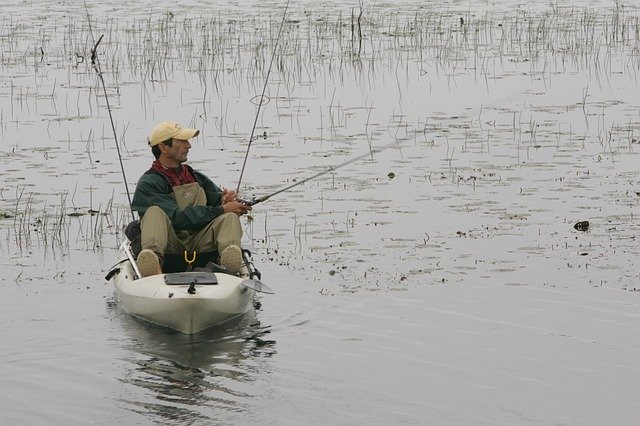 Onboard Storage
Fishermen need a lot of equipment to be successful. There's no shortage of hooks, lines, sinkers, floats, rods, reels, baits, lures, gaffs, and traps that decorate an accomplished angler.
Do you see where we're going with this? You'll need a river fishing kayak that features enough onboard storage to stow all your gear and then some.
While most kayaks feature storage components, seafaring kayaks have comparatively less storage than a feature-rich fishing kayak.
The main storage components that a fishing kayak has include bulkheads and hatches. Essentially, bulkheads are walled-off compartments that provide for dry storage in the bow and stern (in addition to providing extra flotation if your cockpit gets swamped).
More customized fishing kayaks feature additional storage pods, tankwell storage, internally-lined dry storage bags, and fishing accessory attachment points on top of the kayak.
We recommend opting for a product that features extra bungee cords for securing top-level items you need to secure and access repeatedly throughout the day. Many come with flush-mounted fishing rod holders and top-mount fishing rod holders.
Fishing rod holders help keep your rod and reel out of harm's way, especially when you're executing turns or enduring choppy water conditions.
We also suggest selecting a kayak with paddle keepers where anglers can store their paddle when they've stopped paddling.
Make sure to consider the gear you have, your space requirements, and other items you'd like to take with you out on the river. In addition to your fishing gear, consider how you'd like to store food, extra clothing, and safety equipment.
Shortened Length
Perhaps one of the most important characteristics of a fishing kayak is its length. While longer kayaks move faster and glide further per stroke, shorter kayaks are lightweight, less expensive, easier to portage, and are highly stable.
On complex water routes, it's important to have a kayak you feel comfortable bringing to portage. Portage is a French term that refers to the act of carrying a boat over a water-inaccessible route.
The primary benefit is that a short and wide kayak grants riders more control over steering and their ability to move forward. Long kayaks are comparatively more difficult to turn around sharp corners and maneuver appropriately.
FAQ on River Fishing Kayaks
How much gear can I bring on a fishing kayak?
Often, anglers with little kayaking experience make the mistake of bringing way too much gear. Trust us, you don't need as much stuff as you think you do.
We suggest bringing two rods, an extra reel just in case, and only the lures that are already on your rods. Extra jig heads, leader, and soft baits wouldn't be remiss either.
You'll have to consider what storage space your current kayak offers. In addition to fishing gear, you'll want to bring along a lightweight long-sleeve shirt, personal flotation device, hat, sunglasses, and neck gaiters to avoid the sun's rays.
Should I get a sit-on-top or sit-in kayak?
There's no right style to choose – it all depends on your personal preference. Sit-in kayaks feature an enclosed cockpit that sits above the waterline. By contrast, a sit-on-top kayak has no internal cockpit.
A sit-on-top kayak allows for more of the internal hull space to be used for stability, buoyancy, and storage. You also have the option to stand and cast from an upright position on a sit-on-top.
We find that sit-on-top kayaks offer more comfort, allowing anglers to sit, stand, and stretch as needed. These vessels are also far more stable owing to their wider hull and flat-bottomed design.
Final Thoughts
Ultimately, it's hard to beat the stability and maneuverability guarantees of the Perception Pescador Pilot 12 pedal kayak. Featuring a pedal propulsion system, the Pescador is tailor-made for anglers of all stripes.
Featuring fully adjustable seating that allows for upright casting, the polyethylene-based boat includes rich storage space, zero-draft adjustability, and generous accessory mounts. Feel free to leave your hands paddle-free while you pedal forward or reverse in the watercraft.
Of course, the Pescador compares well to the Hobie Mirage sit-on-top kayak. With a super broad cockpit and EVA floor padding, you can feel comfortable all day long out on the river.
Make sure to carefully consider your options before investing in a new fishing kayak.