Snorkeling is without a doubt one of the best ways to see a new destination, however sometimes the quality of your gear (especially with snorkeling cameras) can get in the way of full enjoyment for all. To avoid this look for the best snorkeling gear that suits your needs and wants. So how do you go about doing that? Well there are several criteria that I have laid down in this easy to follow guide.
Believe it or not, not all snorkeling gear is created equal or used for the same things. While you don't HAVE to buy snorkeling gear I highly recommend it for a few reasons.
Reasons to Own Your Own Snorkelling Gear
You will be able to choose a size that fits you best for comfort

Rental Snorkeling Gear 80% of the time is not sanitized properly so, unless you want to share saliva with over hundreds of people around the world you should own at least a mask and snorkel before you head out on your snorkeling expedition

Think about Bullet point # 2 again

More Clarity of Vision

Better quality equipment meaning you can spend a longer period of time out in the water

You can use it multiple times saving you time and money

Rental Fins do not get cleaned properly lots of the time making you susceptible to getting planters warts or other foot fungus's
I should also mention that before you try your brand spanking new snorkeling gear in a new destination that you should trial it out in a local pool. It is important that you adjust the mask, fins and get it so that it sits comfortably on your head and feet respectively.
The Best Snorkel Gear Sets
1. US Divers Admiral Snokeling Set
Features
Comes with Mask, Snorkel, Fins and Gear Bag

Improved Snorkel Clip

Dry Snorkel Top that is claimed to be 100% submersible

Snorkel has Pivot Dry Tube Technology with splash guard

Mask has dual tempered glass lenses

Hypoallergenic silicone face skirt

Short Fins feature comfortable foot pocket with dual composite heel strap

Fins feature easy adjust buckles

Fins Feature Dual Composite vented blades

Includes heavy duty nylon Snorkel bag
Best For: Intermediate- Advanced travelling snorkelers who like to dive.
U.S. Divers is one of the most recognized brands for both Snorkeling as well as diving. In Fact they have been around since 1943! They also offer a wide range of different snorkeling and diving products at a wide range of prices. This one is more on the expensive side. With a greater price, better quality usually follows up. This set is for divers who take snorkeling a bit more seriously.
U.S. Divers Admiral Snorkeling Mask
The Admiral Snorkeling Mask features a dual tempered glass mask with a wide field of view. This allows you to see your underwater world in almost HD vision. This is one of the better masks being reviewed because of it's soft hypoallergenic silicone face skirt that allows you to keep a proper suction at all times without the seal hurting your face. It also has a built in purge valve to keep water from entering the mask. The mask also seems to be more forgiving to people of different shaped faces and when sized correctly can hold a proper seal without worrying about water leakage.
U.S. Divers Admiral Snorkel
The snorkel is made to be 100% submersible which many intermediate to advanced snorkelers appreciate. While many of these newer style snorkels look the same the quality of design is different for each kind. The Admiral Snorkel is one of the better ones. It is 100% submersible due to its pivot dry technology which closes the tube and ultimately keeps water out while you are diving. Many snorkel manufacturers try to copy this technology but few actually make the tube 100% submersible.
U.S. Divers Admiral Fins and Bag
You may notice that the fin design of the Admiral strikes a bit of a similarity with the Phantom Aquatics Speed Sport Fins. So are these the same fins? Not exactly. While from the afar they look similar the Admiral Fins have better technology associated into them. For one these fins are a lot more comfortable. This is because the material is easier on your foot. The fins come with a Comfo Strap that doesn't blister the back of your foot for an extended period of time. The Short blade is best for smaller bursts of diving activity as well as making excellent bodyboarding fins.
The only real issue with the fins is that the straps seem to be a bit tricky and can snap with too much torque put on them. The trick to this is to put the fins on in the water as the water makes the strap easier to adjust.
The only big issue with the U.S. Divers Admiral Set is that the snorkel clip was said to be cheap. As a result many of them broke and customers had to find alternatives. However, it appears that U.S. Divers fixed this problem with an improved clip.
2. Cressi Rondinella Snorkeling Set
Features
Set Includes Mask, Snorkel, Fins and Mesh Bag

Fin Blades are optimized so longer swims and performance

Durable and Light Weight

Soft Flex Fin Blades

Mask Features Temepred Glass

Snorkel features splash guard
Best for: Beginner to Advanced Snorkelers who want to dive comfortably.
Cressi is one of the leaders in terms of snorkeling and diving equipment. This Cressi snorkel set caters more towards more experienced snorkelers who want to dive and swim for longer periods of time.
Cressi Mask
The mask provided in this package is the Free Diving mask that you can find here. It features a no frame design for reduced weight and a large field of view to see your surroundings. This kind of mask is ideal for spear fishermen, photographers as well as other kinds of underwater snorkelers who want a large longitudinal field of view.
The mask is also pretty comfortable on the face and does not "pressure" the face more when going for deeper dives which is a big bonus. In fact many experienced scuba divers cite this as one of the most comfortable masks they have ever worn, even after trying more expensive masks.
The Buckles are an easy adjust style that allows you to spend more time underwater than fiddling with your mask at the surface. This is much easier than your traditional snorkeling mask which often is difficult to adjust, especially while in the water.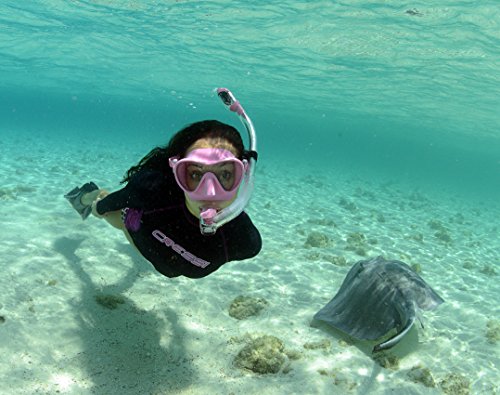 Cressi Snorkel
One of the best things about this package is the snorkel. It is fully submersible in the water because it is able to eliminate water entry when the full snorkel is submerged. In terms of doing it's job it's a good quality snorkel. The only problem is that it drags a bit when you go for dives. This can be slightly uncomfortable especially when you have the snorkel constantly dragging and moving against your mouth as you are swimming underwater.
Cressi Rondinella Fins
Cress has always been pretty good with the quality of their fins. While this fin set is considered a bit more on the budget side it is still very good quality. Most of the customer compliments about the Rindinella set is the fact that the fins work well. The are especially useful for longer deeper dived because of their length.
Typically is you want to go a longer distance underwater you want longer fins for a variety of different reasons. Longer fins allow you to expel less effort than smaller ones meaning you don't get tired and out of breath as quickly. As a result you can stay underwater for a longer period of time.
This is a great quality package for a very respectable brand that works well for it's price point. If you are a more experienced snorkel diver who wants a comfortable mask and good quality fins.
3. Phantom Aquatics Speed Sport Signature Set
Features
Comes with Mask, Snorkel, Fins and Mesh Bag

Semi Dry Snorkel with splash guard

Short Diving Fins for Speed

Comes in Different Colors and Sizes
Best for: Budget or First Snorkelling Set
The Phanton Aquatics Speed Sport Signature Set is a a great first step for people who want to get into scuba diving but don't want to break the bank while doing it. One of the first things that you will notice about this package is that the fins are a bit shorter compared to what you standardly see. I'll explain this below.
Phantom Aquatics SPeed Sport Mask
With this being a bit of a budget item there are some discrepancies in terms of quality compared to more expensive brands. The biggest weakness in this package would probably be the mask. It seems to favor people with smaller heads. Larger folks have a few complaints about it leaking and there are even more complaints about fogging that does happen with this mask. A good majority of this however, is that fact that people estimate what size their face is and complain after they order it. If you look at a snorkeling face sizing guide this will reduce headaches in the future.
One this to note about this mask which can either be a hinderance or a blessing is that the mask has a wide view field of vision. This is a pro if you are with a group of scuba divers and want to be close to them but a con if you are not used to it.  Overall It is a pretty standard mask and there are certainly better quality ones out there.
Phantom Aquatics Speed Sport Snorkel
The Snorkel is probably the best selling feature of this bundle. It's snorkel can compete with some of the more expensive brands out there as it uses the same innovation. The snorkel features a semi dry top valve that prevents water from entering. Thi gives you more freedom to dive underwater with confidence. Some customers who have ordered this bundle have even gone as far as to say this is the best snorkel they have ever used. It is also very comfortable on the mouth and jaw meaning you can be out snorkeling for a longer period of time.
Phantom Aquatics Fins and Mesh Bag
The fins seem to have some mixed feeling among customers. They are smaller than other standard fins in order to be more compact. This is great for traveling and allows you to kick more. In theory this is all good however the fins tend to favor people with wider feet. So if you have a thinner "Nike" style foot like mine than will be a bit cumbersome and uncomfortable. You can solve this however by changing your swimming style from "kicking" to "dolphin" where you place your two fins together and work them in unison.   
Another advantage to the short style fins however, is that they are a lot easier to walk on. Which is great for snorkeling on a boat or beach.
The mesh bag is of pretty good quality and allows your gear to breathe easily.
Overall for the money this is a solid snorkelling set. It definitely has areas it can improve upon such as mask fogging and fin design however, there are a lot more happy than unhappy customers who purchased this set.
4. SealBuddy Fiji Panoramic Snorkel Set
Features
Comes with Mask, Snorkel, Snorkeling Fins and Carrying Bag

Mask has a Four window panoramic view

Mask has 100% hypoallergenic silicone face skirt

Mask has ability to insert myopic and presbyopia glasses

Mask is made of Anti Impact Safety Tempered Glass Lenses

Snorkel is Fully Submersible

Snorkel features Dry Top (splash guard) Ball keeps water out

Snorkel has Sealed Purge Valve

Fins feature an Open Heel Design

Fins fit a wide range of different sized feet.

Fins have dual composite streamlined blades with minimum thrust fatigue

1 Year warranty and Full Customer Support
Best for: A Traveling Set
The SealBuddy FIJI Panoramic Snorkel Set is a relatively new player in the Snorkeling game. Many people are cautious when swaying away from main well known brands such as Cressi and US Divers but in this case you shouldn't be.The Seal Buddy Fiji Comes with a Mask, Snorkel, adjustable fins and a high quality carrying bag.
Seal Buddy FIJI Panoramic Mask:
For a relatively unknown player in the game the Seal Buddy Fiji Panoramic Mask is a great start. The Mask gives you a full Panoramic view of everything with it's 4 window viewing. The whole point of snorkeling is to see your underwater surroundings so you want a mask that gives you clear vision all the way through.
The mask itself is made of 100% hypoallergenic silicone for the face skirt and anti- impact safety tempered glass. Diving underwater you are bound to have some dings here and there along rough objects under water or even the tumbling on the boat. Regardless these masks can definitely take their fair share of punishment which will mean it can last you a long time. 
In terms of fitting and suction the mask also exceeds. It's easy fit pinch buckles allow you to adjust the mask with relative ease so that you do less fiddling and more spend more time underwater.
Seal Buddy FIJI Bendable Dry Top Snorkel:
This snorkel is great for snorkelers who prefer to dive under water. It's bendable dry top snorkel is designed so that water stays out when you dive under the water. This is certainly a huge difference to your traditional snorkel set where you get a mouth full of water each time you go diving.
It is also a much better way for divers to get acquainted to diving while snorkeling. How the Seal Buddy Fiji Snorkel does this is by placing a submersible dry top ball at the top that seals water out when you go underwater but releases with you breathing out of the snorkel. It's cover also helps by keeping a good majority of the water out of the snorkel tube.
The mouthpiece is also very comfortable to use underwater as it's design is soft on your jaw so that you do not need to do a death grip on it.
Seal Buddy Fiji Fins and Travel Bag:
The diving Fins for the Seal Buddy Fiji are pretty standard it must be said. If there was one weakness with this diving package it would be the fins. There have been some reports of the fins buckle breaking before even using it. Although it should be said that this does not happen all that often and the 1 year warranty should cover anything that happens. The Fins have an open heel design complete with an adjusting strap. The fins will fit most foot sizes and for the most part do a sufficient job in propelling the diver. The design of them is pretty standard of most good- decent quality diving fins.
The Travel bag is particularly a great add on and is one of the best in terms of quality to come in a Professional Snorkeling set. The bag fits the whole set with ease and is relatively compact as opposed to a mesh bag. This makes these fins particularly packing/ travel worthy because you will not have stubborn fins popping up every which way. The bag also features a mesh pouch at the top that allows the bag to breath and dry off your equipment efficiently.
Overall this is one of the highest rated Snorkeling Sets found online and is probably one of the best traveling sets you will be able to find. Backed with a One Year Warranty the Seal Buddy Fiji is definitely a good snorkeling/ diving companion.
5. Ocean View Snorkel Set
Features
Comes with Snorkel Mask and Fins

Mask features Dry Top Seal

Mask has a solid 180 wide angle view

Mask has dual air flow ventilation

Mask features drain valve

You can breathe through your mouth or nose

Shorter Adjustable Diving Fins Easy for walking
Best For: Surface Snorkeling
The Ocean View snorkeling set is one of the newer "Full Faced" Snorkeling masks that has been hitting the market lately.  So what are they all about? How do they compare to traditional diving masks?  To sum it all up many of these full faced masks are great for recreational snorkeling. They are less advantageous for harder swimming such as free dives or anything that involved any sort of impact against the mask.
Ocean View Mask
Since the Snorkel Comes attached to the mask let's talk a bit about how this mask actually works. While the mask does look slightly silly compared to other snorkeling masks it provides a full 180 view of your under water surroundings and allows you to breathe through your mouth or nose. This is ideal for people who are not comfortable (like me when I was younger) with the conventional snorkel mask and snorkel. If you use the mask for what it is meant for which is hovering mostly on the surface with maybe a few shallow dives it works pretty well.
There have been a few concerns over fogging issues with the mask. This can be fixed by either spitting on it or the more effective way, scrubbing toothpaste on the glass and eventually rinsing it out.
Ocean View Fins
The fins that come with this are actually pretty good quality. There have been few complaints about the fins actually other than the obvious "too small" comments. As stated with previous fins they are shorter and match the use of the mask which is mostly sticking around the surface and only doing short dives.
I will go a little bit  more in depth about the issues with some of these full faced masks but for this one it appears that it's main issues are the fogging as well as the fact that a lot of the time you are breathing in your own oxygen, which is fine for short bursts but it becomes harder to breathe the longer you have the mask on.
What to Look for when Purchasing Snorkel Gear
When purchasing good Snorkel Gear Sets there are a few things you should be looking for:
A good respected brand name (such as Cressi, US Divers)

A variety of different sizes

A set that fits closest to your preferences

Look at Verified User snorkel set gear reviews
It's hard to come out to say this is the best snorkeling equipment because lots of different people will want to use different combinations and have different preferences. Before committing to anything it's best to go and try out different masks, snorkels to see which is right for you. What I do recommend is going for best snorkel gear brands because it will last you longer and they are better designed to be comfortable while you are in the water.
Buying Individually vs buying a package
This is mostly preference based but the best snorkel set for beginners tends to be in a bundle. When you are a beginner snorkeling you are not really sure what to look for and what types of gear you should use, a snorkel package often gets rid of a lot of this headache. A lot of the times new snorkelers get accustomed to the snorkel gear package that they bought and won't buy any other brand because of that. That's find too, just find a package that fits well with your face and feet!
People who choose individual gear tend to have some snorkeling experience under their belts. This is because they know which brands they like for certain snorkel gear. Many professional divers like to mix and match snorkel brands because of certain preferences they have. Example: They use U.S. Divers Fins but use a Cressi Snorkel and Mask.
The Mask:
Traditional vs Full Face Snorkel Masks
Full Face Snorkel Masks are a relatively new invention in the world of snorkeling. It seems people either love them or hate them when comparing them to traditional snorkel masks. So which should you choose?  Typically if you are not a serious snorkeler who has a lot of experience the full faced ones seem to work the best, ditto if you stay near the surface or have a mustache. Traditional Snorkel masks tend to be preferred by traditionalist snorkelers who have experience and like diving frequently.  I go more in depth in full face snorkel masks 
The mask is viewing stage to your snorkelling experience, and yes, for people with glasses there are percription snorkel masks. It is also very important not to cheap snorkeling gear that you buy at the dollar store. Things to look for when choosing the best snorkeling mask is the following:
Has Tempered Glass Lenses
Double Silicone Skirt
Head Straps that are Comfortable and easy to adjust
Does it Fit?
A good test is to place the mask on your face and breathe in through your nose to insure a comfortable fit. At this point you are NOT putting the strap on. The point of this exercise is to see if the mask will stay on your face with the suction your nose created.
Next you want to make sure that there is no pressure from under your nose or on your forehead. Remember you will be diving with this thing for a while so you don't want to get uncomfortable wearing it.  Put the straps on and adjust accordingly. If your face is red then it is too tight if it feels that the mask is falling off then the mask is too loose. 
It is also important to note that beard that beard or facial hair will cause your mask to leak. 
Defoging a Mask
The best way to defog your snorkel mask is to scrub the inside lenses with tooth paste and rinse thoroughly. Ideally you do this throughout the duration of your masks life.
The Snorkel:
There are three types of snorkels, the classic, the dry snorkel and the semi- dry snorkel. Typically snorkelers who have a lot of experience tend to like the classic as they have grown accustomed to them over the years. New Snorkelers tend to prefer dry and semi- dry snorkels because they, like me hate the idea of having water flood into your mouth, especially when you are in the ocean. I'll explain a bit more below.
Classic Snorkels:
Classic Snorkels consist of a wide open top and a fairly basic shaft design. These are the cheapest snorkels you can buy and do not prevent water from seeping into the snorkel.  While these types of snorkels are the cheapest they are also the hardest to get used to and have a bigger learning curve to use. This is because when diving underwater you have to blow water out and try to keep it from being swallowed or breathed in. Lots of beginners hate the sensation of water going into their mouth while experienced divers don't seem to mind one bit.  These snorkels are a common occurrence in cheap dive rentals shops and all inclusive hotels.
Semi- Dry Snorkels:
Semi- Dry Snorkels are almost a hybrid between the classic and dry snorkels but they work a bit differently. Rather than having no protection or having a fully sealed off area they have various slits and vents that filters water out without completely sealing off your breathing tube.  This type of snorkel usually filters most of the water away from the breathing space when it goes under the water.
Dry Snorkels:
Most of the Reviewed Snorkels in this list are dry top simply because they are the best type of snorkel for a beginner. Dry Top Snorkels are Snorkels that have a protection piece at the top of the snorkel called a splash guard. How a dry top snorkel works is there is a ball within the protection piece. As soon as you dive under the water that ball closes the valves sealing off any water from getting into the snorkel barrel and your mouth. These snorkels are best for beginners and divers who are in choppier conditions.
The type of snorkel and it's fit ultimately depend on you. Some are made to fit more comfortably and are softer while some are harder. Try a few out before purchasing one so you get a feel for it. 
The Fins:
Snorkel Fins can be put into two different categories. Open Heal and Full Foot.
Full Foot Fins: Are used mostly for snorkeling and diving in warmer temperatures. You can easily go barefoot in them. They are also lighter and much easier to travel with.
Full Fit Fins usually jump two sizes at a time so there probably won't be an exact fit. You should be able to insert your small finger  comfortably between your heel and the back of your foot, if you can wiggle it or it is struggling to put it in then it is the wrong size. 
Open Heel Fins: Open Heel Fin are better for colder water temperatures and more serious diving. They are also stronger and will give you more power per kick. 
These are usually paired with speciality neoprene boots. Your foot should be able to go until you get to your ankle. If your ankle is partially inside then it will irritate it and cause blisters.
You can read more about criteria by Scuba Shop.
Getting a travel Snorkel Set is the most cost effective way to get good quality snorkel gear at a great price. If you go this route you are looking for an all in one package that you can start off with. While you will be getting solid quality gear buying snorkeling kits as a set, chances are you will not get the absolute best performance per item as buying top rated snorkel gear individually like the Mask, Snorkel and fins. I say this because certain divers will prefer the qualities of Mask A and Fins B as Opposed to Mask A and Fins A. Having said that all of these best snorkeling sets are still relatively high quality that you should not be disappointed in.
If you are starting out it is better to get a good quality gear set that is a bit more expensive rather than buying from your standard department store because they will… A) Last Longer B) Be more comfortable and C) Give you better quality viewing time. Really that's what it is all about, enjoying the water and spending as much time in it exploring your underwater world rather than having to come up every 5 minutes to fidget with your mask and fins.
Choosing the Best Snorkel Gear  depends specifically on you and your preferences. To find out what your preferences are simply try as many combinations of snorkels, masks and fins to find out which you prefer or look at other forums for recommendations.  
The following recommendations are based on user reviews and feedback. What actually works for you may differ from them so keep that in mind before diving in.