If you have a great paddle, you will experience a different type of joy when you are kayaking. There are many excellent kayak paddles in the market, but you need a kayak paddle which is perfect for your kayak and you. A right kayak paddle will increase the efficiency of your strokes, help you go straighter and faster, and help you conserve your energy.
The Best Kayak Paddles
The Best Cheap Kayak Paddles for the Money
Why should You Invest in a Kayak Paddle?
Paddles that come with the Kayaks are often cheap and can break relativly easily
Not all Kayaks come with Paddles
A Good quality Paddle is light weight and allows you to be out for longer
They carry less fatigue after a certain period of time
Your Kayak will track a bit better
They are more comfortable to hold
They will allow you to transfer more energy to the water per each stroke
They look much better
The funny thing is I'm actually in the look out for a new paddles for my kayak as Iv'e grown tired of paddling these big bulky ugly orange paddle blades. So really this list is for me as well as you!
When looking for the best kayak paddle you need to keep in mind many things like the size, shape, and material of the blade, the shape, length, and material of the shaft, etc when you are buying your paddle.We will go through this below. We have compiled a list of the best kayak paddles in the market and the cheapest quality kayak paddles in the market below but first this is the order you should be doing things when looking for a kayak paddle .
Find out what kind of Kayak you are getting
Decide what you will mainly be using the kayak for
Choose a Price Point you are willing to spend on a paddle
Step 3 will be a big determining factor into what blade/shaft materials to get
Choose the right design that best fits your paddling style and needs
Get a Kayak Paddle that is the correct length for you (Look at Manufacturer sizing)
Most times budget will be a big factor when choosing the best kayak paddle for you. If you are just starting out it makes the most sense to look at our Best Cheap Kayak Paddles.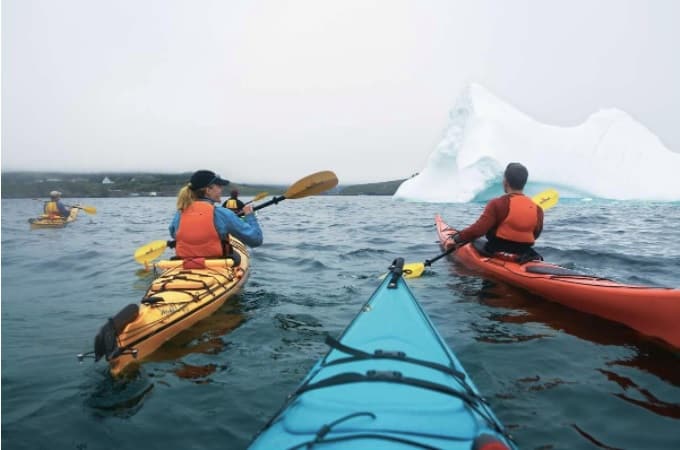 Why These Paddles?
There are many different uses for kayak paddles so we catered to a more rounded crowd. These Kayak Paddles are lightweight manoeuvrable and most of all are at a good price point for anyone who wants a paddle that gives great performance at a solid price. All of these paddles have great overall customer reviews.
Kayak Paddle Full Reviews
Tap (or Click) below to see Full Reviews)
#1 Carlisle Magic Plus Kayak Paddle Review
The Carlisle Magic Plus has polypropylene, fiberglass-filled blades and has a fiberglass shaft. The paddle is durable along with being very light-weight. You will get more power with every stroke as it has a spoon-shaped curve to its asymmetric blade. The Carlisle Magic Plus comes in three lengths of 220, 230 & 240 centimeters. The shortest one has a weight of only 35.6 ounces. The strength and light weight of the Kayak paddle ensures that you have a great day on the water.
Recommendation
Since the Carlisle Magic Plus is a lightweight and very durable paddle, you can look at it as a long-term investment that you will make in your kayaking trips. The blade is asymmetric and spooned so you get more power per stroke. You get it in multiple lengths and in two colors.
Check the latest price on Amazon
What We Liked
Lightweight: The blade is made of glass-filled polypropylene and the shaft is made of fiberglass. This makes the paddle very light.
Easy to use: The paddle has a wound fiberglass shaft. This gives you stiffness that you would need for a strong stroke and it will also give to you the flexibility that you need to reduce the stress on your body.
Any weather: Another excellent advantage of using a fiberglass shaft as compared to an aluminum one is that it won't get as hot or cold to touch as the latter.
Storage: The Carlisle Magic Plus Kayak Paddle is easy to store as it can be split in two. This also makes it easy to transport.
What We Didn't Like
Slightly high priced: The price of the Carlisle Magic Plus is slightly high when you compare it to other paddles in the market but it is well worth its price
#2 Advanced Elements Compact Touring Kayak Paddle Review
The Advanced Elements Compact Touring Kayak Paddle is a durable and lightweight paddle which has a nylon construction. The best feature of the Advanced Elements Compact as its name states is that it is really very compact. You can separate it into four parts and you can easily store it and transport it. You can even carry it in a suitcase.
Recommendation
The Advanced Elements Compact is a great paddle if you are fine with a medium size one. It is lightweight, strong, durable and easy to transport.
Check the latest price on Amazon
What We Like
Strong and durable: The Bending Branches Angler Classic is made from fiberglass and it has a two piece shaft is made of composite ferrule and fiberglass. This ensures that the paddle is durable.
Great for kayak fishing: The Angler Classic is specially designed to row fishing kayaks. It has an integrated hook retrieval device in the blade of the paddle. This helps you to free your line when it gets caught. It also has a measuring tool in the shaft to measure the fish you catch.
Length: You get this paddle in a variety of lengths from 220 cm up to 260 cm.
It is made in the USA: The paddles are made in the USA so you are assured that the quality is much better than the cheaper ones you may get in the market which comes from China.
What We Didn't Like
One size: The only disadvantage of this paddle is that it is only 231 cm long so it is of medium length. Unless you have a wide kayak, it won't be a problem for you.
#3 Bending Branches Angler Classic Kayak Paddle Review
The Bending Branches Angler Classic has a straight shaft and blades made of fiberglass. This makes the kayak paddle very light and durable. The main purpose of this kayak paddle is for helping you when you go kayak fishing. There is a hook retrieval system in the blade of the paddle so if your line gets caught, you can free it easily.
Recommendation
The Bending Branches Angler Classic is made for kayak fishing. It is made by kayak enthusiasts so you can be sure that the design and quality are excellent. The paddle is made in the USA and is very strong and durable. The Angler Classic is an excellent paddle for a recreational kayak fisherman.
Check the latest price on Amazon
What We Like
Lightweight: The Advanced Elements Compact is very light at just 2.7 pounds. It is made of aluminium and the blades are made of nylon which ensures that it is light.
Strong and durable: The aluminium that this paddle is made from is aircraft grade. The blades are reinforced with glass fibres and made of nylon so the paddle is very durable and strong.
Easy to transport and store: The best feature of the Advanced Elements paddle is that it measures only 25.5 inches long when it is taken apart. This makes it very easy to store or to carry when you are going to the sea or lake. It will fit very easily in the trunk of your car
Design: The design of the paddle is great for giving you more thrust especially at low paddle angles. This is because the paddle has dihedral asymmetrical blades and a shaft that is round.
Easy to assemble: Since the paddle separates into four parts, there is always a concern that the paddle may be difficult to assemble. The paddle is very easy to assemble and the parts fit into each other snugly. Even a kid can assemble the paddle.
What We Didn't Like
Price: When you compare the paddle with other paddles in the market, it is slightly expensive but if you are looking for a good, reliable paddle for kayak fishing then this is the one for you.
Budget Kayak Paddles Full Reviews
These Kayak Paddles are best for newer paddlers who don't want to spend a ton of money on kayak paddles.  These Paddles are geared more towards durability then performance.
#1 Seaflo Adult Aluminium Kayak Paddle Review
When it comes to affordable kayaks which are still strong, durable and have an excellent design, the Seaflo Adult is an excellent kayak to purchase. It is one of the most affordable kayaks in the market and yet it has all the features that a $100+ kayak would have.
Recommendation
The Seaflo Adult kayak paddle is an excellent purchase for its price. It is a great paddle for a beginner. The material used is great and it is very strong and durable.
Check the latest price on Amazon
What We Like
Great for entry-level kayaker: The Seaflo Adult Aluminum is good for a beginner as it is inexpensive but still is strong and has a great design.
Strong: The shaft of the kayak paddle is made of aluminum unlike other ones in the same price range that are made of plastic. The blades of the paddle are made of fiberglass-reinforced polypropylene which makes it very durable and gives you strong high-angled strokes.
Warranty: The paddle comes with a two-year warranty which is very good given the price.
Easy to transport and carry: The Seaflo Adult kayak paddle can be split into two pieces. This makes it very easy to carry and to store.
Hand grips and water drip stoppers: Most kayak paddles of this price range don't have hand grips or water drip stoppers. Both are important when it comes to a beginner using it as the grip of a new kayaker may not be firm.
What We Didn't Like
One Size: This isn't really a big issue but the Seaflo comes in only one size. It would be great if there were more size options.
#2 Shoreline Marine Kayak Paddle
The Shoreline paddle is around and 96-inch kayak paddle. It is lightweight but very sturdy. It has rounded blades and has three positions that you can customize it for. The shaft is made of aluminum and it does not create any drag.
Recommendation
The Shoreline marine kayak paddle is a great paddle for its price. It has an aluminum shaft so it is strong and sturdy and has grips which help improve your kayaking experience. It's a good deal for the price.
Check the latest price on Amazon
What We Like
Grips: The Shoreline paddle has foam grips so that your hands are comfortable. It also has drip guards so that you are dry and you enjoy the kayaking experience.
Easy to store: The paddle has three-position locks and you can separate it into two pieces so that you can store it easily.
Speed: The Shoreline paddles are simple to use and you can immediately get speed with it.
What We Didn't Like
Thin blades: The blades of the Shoreline paddle are thin and made of plastic. Though you can use them without worry, don't use them for activities where they can snap, for example, pushing the kayak away from the shore.
Paddle latch: The paddle latch that locks the paddles into place is a little difficult to use.
Length: The Shoreline paddle comes only in an 8-foot length, so you need to make sure that you are comfortable with a long paddle.
#3 SeaSense X-Treme II Kayak Review
The SeaSense X-Treme II Kayak Paddle is a great paddle when it comes to quality and price. It comes into options and has blades made of nylon and the shaft made of aluminum. It has a great look and many advanced features that most affordable paddles don't have like having drip guards and hand grips.
Recommendation
The SeaSense X-Treme II is an excellent entry-level paddle or a paddle for backup. It is easy to use, light and easy to store. It is also strong and durable and comes at a very attractive price.
Check the latest price on Amazon
What We Like
Three colors: The old version was in black but the latest models come in Orange/Yellow and Blue/White colors.
Lengths: The paddle comes in two lengths of 84-inch and 96-inch so you can choose the one which is best for you.
Light and durable: The aluminum shaft ensures that the paddle is durable and the nylon blades keep the paddle light.
Easy to use: The blades of the SeaSense X-Treme II are feathered. The blades are positioned at an angle to each other. This reduces the resistance of wind for the paddle that is in the air. This helps to reduce fatigue while paddling and increases the efficiency.
Guards and grips: The SeaSense X-Treme II has drip guards that are adjustable. They don't allow the water to run down the shaft into the kayak. The paddle has two foam grips so that your hands won't get calluses. This also makes long-distance trips comfortable.
Easy to store: You can split the paddle into two so that you can transport and store it easily
What We Didn't Like
Weak Grips: The grips on the paddle may not be able to hold up in rough water. The paddle is more suited for flat water paddling.
Choosing the Right Kayak Paddle for YOU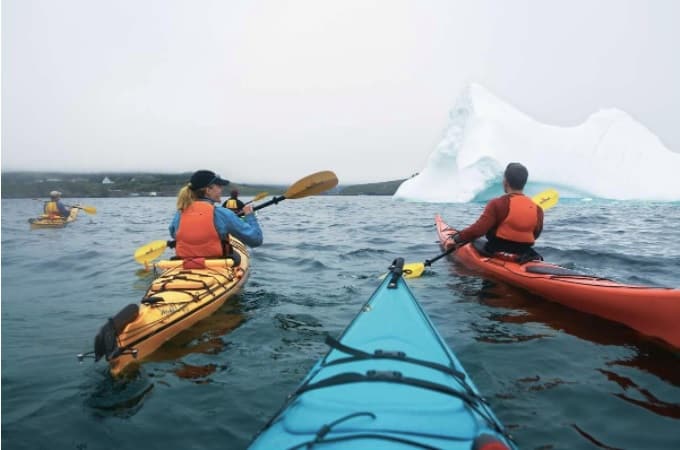 Choosing the best kayak paddle for your self depends on a few different things that you must keep in mind. We will go through a few of them below.
What Type of Kayak are you Paddling?
You can find out more about these kayaks in our kayak buying guide
Recreational Kayak: These are usually the cheapest kayak paddles of the bunch and are used for casual use. They tend to be less expensive but heavier and are meant for short paddling trips. They usually range in height anywhere from 26" to 30" wide. Often times the shaft is made of aluminum and the blade is plastic. This category also includes inflatable kayaks, fishing kayaks and sit on tops.
Touring/ Sea Kayaks: These paddles are lighter, made for longer trips and are built to last.  These paddles are made of carbon fiber and can range between 22" and 25" wide. These paddles are made for rivers, oceans and big lakes, they are the ideal paddle if you are kayak camping or going on a multi day kayaking trip in a sea kayak.
Performance Kayaks: These are the most expensive paddles because they are made for special racing events. These are the most expensive and lightweight paddles you can buy.
White Water Kayaks: These are a different animal all together these are the toughest kayak paddles on the market. When white water kayaking there will be many times where you will be clunking your paddle against rocks and other wonders in the river so your paddles need to be tough. Otherwise will you will be down ___ creek without a paddle! These paddles are also built for manoeuvrability in mind and tend to be shorter.
What Length Kayak Paddle do I Need?
This is a little bit more of a difficult question, while there are standard size charts that people go by this does not always mean it is the right fit. I have come across countless Kayaking groups where people did not agree with the sizing guide. Still if you are a bit newer to kayaking or are buying a kayak paddle for the first time here is the standard Werner Paddle  sizing guide courtesy of REI.
Paddler Height
Boat Width
Under 23″
23″ to 28″
28″ to 32″
Over 32″
Under 5′ tall
210cm
220cm
230cm
240cm
5′ to 5'6″ tall
215cm
220cm
230cm
240cm
5'6″ to 6′ tall
220cm
220cm
230cm
250cm
Over 6′ tall
220cm
230cm
240cm
250cm
Each Paddle manufacturer will have different specifications so as soon as you hone in on what kind of paddle you want check the manufacturer's website for a sizing guide, most of them have one.  As a rule of thumb,
Taller Paddlers and Wider yaks = longer paddles
Shorter Paddlers and Shorter yaks = shorter paddle
Low Angle vs High Angle Paddle
Low Angle Kayak paddles are idea for recreational paddling through calm waters at a slower pace. The idea here is that you are going for a long distance in still and predictable waters. Low angle paddles are a bit longer and thinner but are also lighter.
High Angle Kayak Paddles are better suited for more tricky conditions and is used to gain more speed. As you can see the paddle blade is a bit wider and is used for more control which is what you need in unpredictable environments such as oceans and Class II and up rivers. These paddles are usually used by more advanced kayakers to tackle these unpredictable conditions brought their way.
Blade Materials
Choosing the right Blade materials ultimately comes down to different levels of fatigue, and how well the blade transfers your energy into the water per stroke. Blades that are more expensive tend to be made of more light weight materials while blades that are less expensive will be made of cheaper materials.
The most common blade materials are:
Plastic and Nylon Blades
These are ideal for newer paddlers as they are the least expensive, and one of the more durable blades out there. They require little upkeep but I should caution you not to leave it out in the sun for too long as this degrades the plastic over time which can make it less durable and more prone to cracking.  In terms of performance they are the heaviest of the three which will give you greater fatigue over time.
Fiberglass Blades
These blades are the middle man in this category that offers a great blend of performance and durability. While these blades are not indestructible they are not prone to cracking but more so to chipping which will not affect the blade as a whole. These Blades are also in the middle in terms of price range.
Carbon- Fiber Blades
If you are doing any sort of performance related kayaking these will likely be the blades for you. Carbon Fibre Kayak Blades are in their own category in terms of performance as they are truly ultra light and very stiff which allows you to get that extra bit more out of each stroke you take.  These blades are the most expensive of the bunch.
Blade Designs
There are several different types of kayak paddle blades out there. The most common are Asymmetrical blade and a dihedral blade. Some even use a combination of both.
Asymmetrical Blades
are narrower and one side is shorter than the other. This design is used for even distribution of water flow when the blade hits the water.
Dihedral blades
has a rib along the center which allows for water to flow evenly through both halves of the blade. Water distribution is relatively uneven on both sides which does not generally track as well as Asymmetrical Blades.  Still, a lot of the tracking ability comes down to the actual kayak itself.
Fishing Kayak Blades
These paddles have a J hook on them to retrieve snared fishing lines that are stuck in the water.  These blades are usually less about on water performance and more about practicality in terms of fishing use.
Shaft Designs
The Differences between Straight and Bent Shafts
When choosing between the two the preference mostly lies with you. Bent shafts give you a better wrist position for paddling forwards. This is ideal for people who have had wrist problems or injuries in the past that will help the paddling motion be easier on your wrists.  It should be noted that your wrist position will be slightly worse off when backing up so theres some trade offs there. Most people use a straight shaft for paddling.
Two Piece Paddle vs Four Piece Paddle
Two piece paddles will have slightly less bend when paddling in the water and will provide more stiffness while paddling. Four piece paddles will have a bit less resistance but will be a better paddle for traveling.
*Hot Tip: If you have in inflatable kayak get a four piece paddle, it will be a lot easier to pack with your kayak than a two piece!
Feathered or matched paddle shafts
Feathered and matched paddle shafts refers to what angle the paddle blades are in comparison to each other. Matched blades are the same on each side whole feathered are angled differently. Feathered paddles are meant as a way to break wind resistance with each paddling motion which can lead to less fatigue for a longer period of time because the wind is hitting the blade on it's side instead of head on. To be honest if you are starting out you really don't have to look too far into this and just get yourself a matched set. feathered is more for touring kayakers or paddlers who want to go a long distance.
Conclusion
As you can see, the Carlisle Magic Plus is an excellent paddle when it comes to strength and durability. The Advanced Elements is great if you want a compact paddle. The Bending Branches is great for kayak fishing. If you are looking for an affordable and strong kayak paddle then the Seaflo Adult Aluminium Kayak Paddle is the one for you. If you want a cheap kayak which is lightweight, go for the Shoreline Marine Kayak Paddle and finally, you can consider the SeaSense X-TREME II if you want an attractive, reliable and strong paddle which is within budget.
Last Updated on