Looking for a new kayak? Before you make the investment, you should first conduct careful research before opting for any particular craft. Your experience level, activity, and preferences will all play a big role in selecting the appropriate kayak.
Below, we've made sure to review some of the most important elements concerning pelican kayak reviews, type, price, and fancy features for you.
The Best Pelican Kayaks go as Follows:
Pelican Kayak Reviews
Here, we've compiled some of the most customer-loved Pelican kayaks. Each of these products has been selected for their popularity, durability, agility, and comparative performance benefits.
1. Pelican Premium Sprint 100XR Kayak: Best for Smooth Tracking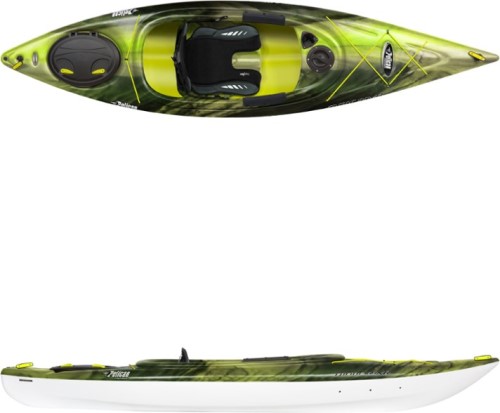 Features
Built to track smoothly in the most choppy waters
Very lightweight and easy to carry around
Features pre-installed bungee cords and mesh covers meant for toting tons of gear easily
Designed to track smoothly through even the choppiest waters, the Pelican Premium Sprint is a surprisingly lightweight yet durable watercraft. With a deep V chine hill, this pelican kayak is very responsive to intentional shifts in body weight, which gives it an excellent return on effort. I myself own an older Pelican Escape kayak model that features the same pointed hull as this kayak and I have to say I'm not disappointed with the tracking at all.
Moreover, this kayak is manufactured from patented, high molecular weight polyethylene with a hearty top coating of resin. This durable RAM-X boating provides rigidity in the water without adding too much extra weight.
Weighing only 41 pounds, this ergonomic watercraft is unlikely to capsize due to the inclusion of a rear bulkhead and slightly heftier stern weight. If you do happen to flip, the kayak comes equipped with ergonomic carrying handles so that it's easy to pop back into the craft.
Users love the little details that show the manufacturers really paid attention to this product's design. Thick, pre-installed bungee cords make it convenient to strap gear on deck. A cockpit table, with a small day hatch and bottle holder, make your most necessary items easy to safely reach and stow out on the water. Last but not least, the ergonomic seating system provides knee pads and an adjustable footrest for the most comfortable journey every time.
Most customers state that this kayak handles maneuvers very competently and with excellent stability. Since it isn't heavy, it can easily be top-loaded on your vehicle with just one person. This ten foot watercraft handles choppy water easily.
That said, some have mentioned a small flaw in the kayak's design: the drain plug is in the waterproof compartment rather than near the bulkhead. This one flaw means that it's difficult for the kayak to drain properly when it capsizes. You may have to resort to wiping it down with rags at the end of the day.
Though this pelican is a little on the pricier side, most customers believe it is a more than worthwhile investment.
Pros
Customers love the highly waterproof four inch day hatch and high security bottle holder
Most lightweight kayak weight due to polyethylene hull construction
Rear bulkhead and hydrodynamic design provide great tracking behavior in heavy cross currents
Cons
Not possible to drain the hull without opening the waterproof compartment
2. Pelican Premium Sport 140DT Kayak: Most Agile Kayak
Features
Provides fastest tracking in choppy currents
Features front and rear bulkheads to keep kayak afloat in rough conditions
Prominent cockpit lip allows for tons of customizable enhancements
Retrofitted with a deep V chine hull, the Pelican Premium Sprint 140DT keeps tracking smooth and is perfect for a more experienced kayaker. With a keel extension component, this product remains very stable in the water and decreases the physical effort needed to paddle.
With a fluid steering system rudder, it's easier than ever for you to keep straight during unpredictable onslaughts of current and wind. Whether you're hit with strong crosswinds or rapids, you can rest assured that the 140DT will remain steady through the inclusion of convenient foot peg controls.
This product is constructed with patented Ram-X materials, which includes high molecular weight polyethylene with a top coating of resin. Much like other water crafts in this series, these durable materials keep the kayak lightweight yet effective in any weather condition.
Additionally, the front and rear bulkheads ensure the kayak can handle choppy waters while also making it easy to bail in case the kayak flips.
Compared to the similar 100XR boat, the 140DT is a somewhat heavier weight kayak that can handle a larger set of unpredictable weather conditions. At fifty-five pounds, the kayak is easy to carry around while providing a solid presence in the water.
Customers love the portability of the 140DT, since it is pre-installed with bungee cords for securing gear on deck. It also features comfortable bow and stern carrying handles, making it super easy to load on the top of your truck. With an eight inch day hatch storage container and quick-lock system, it's easy to store important items in reach without risking water damage — and don't you forget about the convenient bottle holder.
Some consider the 140DT an improvement on earlier pelican kayaks in the same series, since it includes more ergonomic features for longer journeys. Featuring the patented ErgoFlex G2 seating system, the kayak offers padded thigh braces and a maneuverable footrest for ultimate comfort. You can even attach a spray skirt, since the lip of the cockpit is prominent enough to accommodate customizable extensions.
Pros
Deep V hull improves both stability and enhances return on effort
Very ergonomic design due to folded footrests, thigh braces, and adjustable foot rest
Features comfortable grippy lifeline for easy holding on in high agility kayaking
Cons
Somewhat heavier and denser than other pelican kayaks in the same series
3. Pelican Prime 100 Sit-On-Top Recreational Kayak: Best All Purpose Kayak
Features
Best All purpose kayak for agility, tracking, and speed
Constructed with twin sheet thermoforming (TST) tech for durability and lightweight performance
Meant for both amateur an advanced kayakers
The Pelican Prime 100 features a multi-chine, flat bottom hull design for the ultimate stability and ease of tracking. With a maximum capacity of over three hundred pounds, the Prime 100 is comfortable, durable, and safe for both beginners and advanced kayakers.
As a ten foot kayak, this kayak is lightweight and easy to carry for a solo trip on the water. Since it's a sit-on-top product, the Prime 100 allows the easiest cockpit entry and exit.
Though some may be concerned over this product's stability in choppy waters, the deeply-set foot rest molds and secure ErgoFit seating system keep it evenly balanced – no matter how you move your body.
With a bottle holder, paddle tie-down, and adjustable footrests, the Prime 100 is super comfortable. You can even attach accessories to the six optional eyelets, making it perfect for hauling gear on an extended river trip.
This particular kayak is constructed from patented Ram-X material, which is known for its high impact resistance, rigidity, and UV protection guarantees. Like other products in its category, the Ram-X Prime 100 has become a benchmark of quality in the water craft industry.
Interestingly, this kayak utilizes twin sheet thermoforming, or TST, the improves the structural rigidity of the boat by tenfold. Through fusing the deck and hill under extreme pressure, the Prime 100 remains durable, strong, yet incredibly lightweight.
Overall, this hydrodynamic and lightweight kayak provides excellent performance on nearly all measures of agility, tracking, stability, and speed. Depending on your style, the Prime 100 provides a great all purpose experience for different occasions.
The only flaw that some buyers mention is the lack of a comfortable backrest. It's recommended that buyers customize this watercraft with a more sturdy pad for enhanced lumbar support.
Pros
Very lightweight and easy for individuals to load themselves
Features additional eyelets, four inch waterproof day hatch, and secure bottle holders for enhanced ease of use
Offers deep-set leg and foot mold for enhanced stability and comfort
Cons
Some complain that the backrest is uncomfortable and needs to be supplemented with extra support
4. Argo 136XP Sit-Inside Tandem Kayak: Most Comfortable Kayak
Features
Provides most comfortable, all day long kayaking experience
Enhanced keel extension provides enhanced stability for both front and rear passengers
Thin enough to launch in any water
Able to accommodate five hundred pounds, the Argo 136XP packs a punch with its visually striking and weighty appearance. At nearly fifteen feet long, the Argo sit-in weighs merely sixty-seven pounds despite appearing much heftier.
If you're looking to enjoy a relaxing and very stable experience in the water, the Argo is specifically designed for those who prize comfort during their water adventures. Since this kayak is on the heavier side, it's recommended that you and your buddy load it together.
Constructed with patented Ram-X materials, the hull is made from lightweight polyethylene with a generous coating of clear resin. These materials provide excellent rigidity and durability, while still being very lightweight.
With two large cockpits and fully adjustable footrests, the ErgoFit G2 seating system will comfortably accommodate both kayakers. Moreover, the keel extension will help keep both of you straight when pounded with crosscurrents or crosswinds.
Ultimately, the Argo is meant to be a "good time" kayak. With the individual cockpits tables, independent waterproof compartments, and bottle holders, it's easy to have a fun and effort-free day on the lake.
More specifically, the front passenger gets their own storage platform with pre-installed bungee cables, while the back passenger is placed near a four inch day hatch.
Users appreciate the lifetime warranty provided for both the hull and deck, while all accessories come with a one year no-questions-asked warranty. Though this tandem kayak is certainly an investment, it's not hard to make good memories out of the water with your best friend in this water craft.
Pros
Extremely comfortable for all day use due to enhanced ErgoFit seating system
Features tons of extra storage space, bottle holders, and compartments for a fun time on the water
Comes with lifetime warranty for hull and deck
Cons
Long fourteen foot design makes it more difficult to maneuver than a single person craft
Not meant for competitive speed performance
5. Pelican Sit-On-Top Fishing Kayak: Best Kayak for Maneuvering
Features
Best kayak for tricky maneuvering
Easy entry and exit due to shallow Sit-On-Top design
Multi-chine flat bottom hull provides enhanced stability on rough waters
Considered lightweight and very easy to maneuver, this pelican kayak is easy to pack up and take out on the water. Known for its wide open cockpit, the sit-on-top design allows the easiest entry and exit.
Moreover, users can feel safe and comfortable knowing that the multi-chine flat bottom hull provides stability in rough currents. With excellent tracking, this pelican can accommodate users under 325 pounds.
The kayak is geared with a swivel rod holder, angler ruler, and flesh mount rod holders that allow for more specific maneuvering. More experienced kayakers benefit from these slight enhancements on the standard pelican kayak design.
With a quick lock hatch and four inch day hatch, this product features a lot of room for safe personal storage. The storage bag and platform are both rated as waterproof. Even in the event of capsize, the strong mesh deck cover will keep all your items completely secure.
Though some consider Sit-on-Top kayaks a little less comfortable, this pelican comes with the ErgoFit seating system directly built in. The padded seat cushion, adjustable backrest, and ergonomic leg rests keep the kayak endlessly comfortable for a long day spent on the water.
Aside from the kayak's comfort, users love the inclusion of a bottle holder, paddle tie-down mechanism, and molded footrests for secure bracing in choppy water. The six accessory eyelets make it even easier to attach optional safety gear to this water craft.
Overall, this Sit-on-Top kayak is recognized for its excellent agility, tracking, and enhanced stability.
However, users should be aware that this kayak is meant more for those that value stable operation over speed. Some complain that the kayak can take time to get used to and it may be difficult to receive maximum return on effort.
Pros
Features additional swivel rod holder, angler ruler, and flush mount rod holders for enhanced maneuvering capability
Carrying handles are ergonomic and retractable for best portability and packability
Great water craft for beginners concerned about capsizing
Cons
Not meant for reaching high speeds
The Ins and Outs of Pelican Kayaks
Founded in the early seventies, the Pelican brand totally revolutionized the kayaking and water craft industry. In a California garage, husband and wife duo Dave and Arline Parker created the first leak-free Pelican float product.
Soon enough, the home-based company would grow steadily over the years. Now, the company practically monopolizes the manufacture of high performance protective coating, temperature controlled products, and advanced kayaks for water enthusiasts.
As the leading producer of lightweight boats around the world, Pelican utilizes two special processes in manufacturing kayaks: TST and Ram-X.
TST, or Twin Sheet Thermoforming, refers to a process that tightly binds the kayak deck and hull using high pressure. With three different layers that provide YV protection, high-density scratch resistance, and excellent stiffness, TST is practically an industry standard feature of most kayaks nowadays.
Additionally, almost all Pelican kayaks are constructed with patented Ram-X materials that are known for their impact-resistance, UV finish, and lightweight durability.
Through providing durable, lightweight, and rigid performance, Pelican kayaks are known for their hydrodynamic operation.
How to Choose the Right Pelican Kayak
Though most Pelicans are constructed through the same manufacturing process, the performance between different products varies wildly based on type, design, and other important features.
Depending on your needs, the right kayak for you will be different than anyone else's perfect product. We've made sure to outline the most important considerations for your selection.
Sit-on-Top versus Sit In Kayaks
If you've ever tried out both a sit-in and a sit-on-top kayak, the differences should be immediately clear to you. Though amateurs often confuse the two, these types of kayaks both perform very differently depending on the task.
Just like the name suggests, sit-on-top kayaks lack an inner cockpit; instead, the paddler is positioned somewhat above the surface of the water. For beginners, the sit-on-top kayak is the easiest to maneuver and re-board in the event of a capsize.
Many prefer sit-on-top models since they have a significantly higher center of gravity, making it much wider and more stable in calm waters. These units are essentially unsinkable and drain very well, making them a prime choice for accident prone paddlers.
By contrast, sit-inside kayaks feature an enclosed interior where the kayaker sits either at or below water level. By far, these units are the most popular among more advanced paddlers since they offer a higher degree of stability in rough water.
In general, sit-in kayaks can be made more thinner, meaning that they are typically faster and require less effort to self-propel.
Of course, a sit-in kayak's greatest advantage is also its greatest failure. It's much harder to exit the kayak in the event of a capsize, which can make beginners feel more nervous. They are also more difficult to drain and can quickly fill with a high volume of water.
Type of Kayak
Before you select just any kayak, make sure to consider what you're going to use it for. Depending on the task, some kayaks boast more relevant performance benefits than other water crafts.
Fishing
If you're fishing, you should opt for a fishing kayak that boasts excellent maneuverability and decent tracking. Arguably more importantly, the kayak should be extremely comfortable to sit in for long durations of time. As you can likely guess, speed is not the most important factor in selecting an appropriate kayak for fishing.
Look out for high-density polyethylene Pelicans with adjustable seats, ample storage space, accessory eyelets for holding gear, and slip-resistant coating. The more mounts and working space available, the better the kayak will perform for fishing-related tasks.
Recreational
If you're a beginner or just looking to enjoy the sight-seeing aspect of kayaking, many extremely comfortable Pelican kayaks would work for you. We suggest sit-on-top kayak models that feature the ErgoFlex seating system for the ultimate comfort.
We'd also suggest kayaks with tons of room for storage to bring snacks, beer, and perhaps a book for leisure. For purely recreational water crafts, you can likely skimp a little bit on quality since you won't have to opt for the most agile and hydrodynamic kayak.
Touring
For the more  experienced or intermediate paddler, touring provides an excellent way to pass the time in new environments. If you want to focus on sight seeing rather than zooming by at ultra-fast speeds, touring kayaks may be for you.
Look out for touring kayaks with a deep hull for straighter tracking, a rudder steering system for feet-controlled steering, and padded thigh braces for a more comfortable right. You should feel safe and stable enough to keep your eyes on the sights rather than focused on navigating harsh conditions.
Typically, touring kayaks are much longer than the standard model for tracking long distances in a short amount of time.
Tandem
Tandem kayaks are really fun water crafts that give you an excuse to hang out with your best friend for a day. Featuring two seats for both a front and rear passenger, tandem kayaks are typically bulkier, wider, and heavier than the standard solo water craft. Tandem Kayaks can be used for fishing as well.
Typically, tandem kayaks aren't prized for their speed, agility, or maneuverability – they're purely meant for providing a good day out on the water. We suggest looking for lightweight polyethylene crafts that are wide, feature extensive hatch space, and boast ergonomic seating for all day comfort.
Kids
Though some parents feel nervous boating with their young kids, kayaking provides a great way for your child to get more comfortable with the water. That said, it is important to take your kid's age, experience level, comfort, and weight into account when selecting a child-appropriate water craft.
Most kids' kayaks are very light weight, feature extra safety straps, and are very stable. These products often feature a square stern, adjustable padded seat, and are less than eight feet long. Make sure to look at the age recommendations of a particular kayak before you buy it for your child.
Where Are You Paddling?
You should know that not all high performance kayaks are appropriate for all types of water environments. Water currents vary quite a bit between the sea, ocean, lake, or rivers. It's recommended that beginners stick to smooth, calm waters in slow moving creeks or lakes. Recreational, tandem, and touring kayaks are all great options for this type of environment.
By contrast, the ocean and whitewater rapids can prove extremely difficult for novices. Advanced paddlers should opt for models that are specifically built to track effectively through diverse crosscurrents and crosswinds. In general, sit-in kayaks provide greater stability in the ocean when withstanding choppy waves.
What's Your Budget?
Kayak prices can vary wildly. In fact, it's not that difficult to purchase a cheap used kayak from an authorized reseller.
However, if you imagine that you're going to frequently kayak, it's probably best to chip in for a higher quality and more durable water craft.
On the low end, inflatable kayaks start as cheap as one hundred dollars; however, these are not very sturdy and lack maneuverability. These rafts are better for those that merely want to enjoy a day out on a still lake.
Similarly, pure plastic kayaks are lightweight and slightly more sturdy, yet are still easily damaged. Plastic kayaks start at around $200.
For rough water, managing crosscurrents, and tracking in the wind, it's recommended that you opt for a rough water Pelican kayak. These strong, lightweight boats can withstand some of the harshest weather conditions while providing storage space, accessories, and ergonomic seating. These units can cost between $500 to upwards of $3000 USD.
You'll also need to consider the price of paddles, life jackets, and other necessary elements when making your final selection. Though these items may seem pricey, it's ultimately a small investment to make for a quality kayak that will last you years.
Final Thoughts: What's the Best Pelican Kayak?
Although the Pelican Premium Sprint 140DT has a somewhat bulkier appearance, this kayak more than makes up for it with its high performance guarantees. Featuring fluid steering system rudder extensions and a deep V chine hull, it's easier than ever to track smoothly and quickly through the most diverse water conditions.