If you are in a Hurry the Best Pro Bodyboards for the Beach is The Morey Mach 7 
The Best General Use Bodyboards for Adults/ Kids is the Wave Weapon Bodyboard
 Going on a vacation and wondering what are the best bodyboards for the beach? For that matter what is bodyboarding? The art of bodyboarding (or boggie boarding) primarily relies on prone riding which is when you are laying your stomach on the board and riding a wave. Bodyboards are the perfect tool to hone your skills surfing. While you will not be standing on them(unless you are advanced) they do teach you similar techniques to surfing that allow you to gain valuable skills that stay with you. There are many professional bodyboarders who swear by this tupe of surfing for a number of reasons.
Best Pro Bodyboards for Adults
Best Kids and Adult Bodyboards
| Bodyboard | Sizes | Construction | Price |
| --- | --- | --- | --- |
| 1. Beach Attack Pack- Wave Weapon | 33",37",41" | EPS Core, | $$ |
| 2. CBC MMAG Bodyboard | 44" | EPS Core, Polyethylene Slick Bottom | $$ |
| 3. Younger Bodyboard | 33",37",39",41", 42" | EPS Core, IXPE Deck | $$ |
| 4. Storm Bodyboard BPS | 33",37",41" | EPS Core | $ |
| 5. Wave Rebel Magala | 39",42" | EPS Core, XEPE Deck | $ |
| 6. California Board Company Switch Bodyboard | 33",36"39" | XPE Deck, High Density Polyethylene Slick Bottom | $ |
| 7. Lucky Bums Bodyboard | 33",37",41" | EPS Core, High Density Polyethylene bottom | $$ |
The Top 6 Reasons to Give Bodyboards a Try
It is a an easier learning curve to surfing
Bodyboarding is much cheaper than surfing
Its design gives you better stability
 Easier on your body especially if you are dealing with an injury
 You are closer to the surf which makes it look like you are going faster
Even on Surfer today they posted an article on why bodyboarding is better than surfing

!
Bodyboards similar to skimboards come in a wide array of shapes, design and sizes for a variety of different shapes and dimensions for people so without further ado here are the top bodyboards for the beach.
Best Professional Bodyboards for Adults – Bodyboard Reviews
These are not your average Joe boogie boards. These cool bodyboard brands are used by many pos and focus more on the intermediate to advanced bodyboarder who has some experience with the sport already. These are the best boards for people who are serious about the sport.
One of the most common characteristics is that these bodyboards have stringers. Stringers help give the board enough support and flex in high impact situations that allow the board to perform without breaking under impact. Here is a more detailed article by Surf Science that explains how stringers work.  These Professional bodyboards are featured at a higher price but are worth it in the long term if you are looking to really try Bodyboarding.
1. Morey Mach 7 Bodyboards
Features
Made of High-Density Poly
Features Channels
Single Power Rod Stringer
Idea for 160-180 lbs
Crescent Tail
50/50 rails
These bodyboards are great all around board for a good variety of different sized people. The Mach 7 Morey Body board is one of the longest lasting models in the bodyboarding industry and it is also one of the best boogie board brands. Many people are extremely loyal to the brand because it is the exact same model they used 20- 30 years ago. These boadyboards feature a prefect blend of weight and stiffness that is consistent in many different kinds of surf. The design is a bit of a heavier board but that is due to it's great craftsmanship. The great craftsmanship which I entailed is the fact that it has a slicked bottom, and is laminated and sealed so that it keeps the board from deteriorating after a few uses.
Another reason why the Mach 7 is such an iconic board is that it suits a wide range of different riding styles. It is large enough and heavy enough to attempt dropknee and even stand up riding. Many people would not attempt these kinds of manoeuvres in fear that they would break their board. The Mach 7 However is made of Dow Polyethylene and a Power Rod Stringer that is made of dual composite carbon. This gives the board great strength while offering the right amount of flex to slide along the water without bottoming out.
The Mach 7 board also features a channel on the underside of the board. These indents allows the design of the board to have some traction in the surf so that you can control it properly. The rails featured on this board are 50/50 or shallow rails. This is ideal for speed. Normally 50/50 gives you less control but because of the channels underneath it allows you to have the right amount of control in most varieties of surf. In terms of value I would say this is the best if not one of the best boards to get. It has generations upon generations of specifications added
Ideal For
Riders that want a reputable brand
Riders who want to ride a wide variety of different kinds of surf
Riders who want to dropknee or even attempt standing
All Around Execution
Riders who want one of the best bodyboards in the industry
Not Ideal for
Children
People looking for cheap boogie boards
People who do not want to do any maintenance on the board
People who Weigh more than 200 lbs
2. Big Buddah Bodyboards
Features
Dual vs Harden strip
Nose Grip Lip
Tail Bumpers
45" Long
Crescent Tail
60/40 rail
Zero-G PP Material
Wave Cushion Air NXL Deck
The Big Buddha Bodyboards are great bodyboards for people who shop at the big and tall section of clothing stores. All kidding aside this is one of the best bodyboards that ihas a design to fit the bodies of people that are big and tall. In this section it is comparable to the Big Kahuna 44" board by Morey. So how does it compare? For one the Big Buddha Bodyboard can handle a wide variety of different surf. The quality of this board is also better because there are few reports on it getting creased. That is due to its Zero-G PP material which makes the board significantly stronger than many EPS boards. This also allows the board to last a lot longer than ones of lesser quality giving you the best return on investment!
As you may remember there are a few of the bodyboards we have reviewed have 50/50 rails. Well this one has 60/40 rails. As a result this particular board will give you more control and less speed making it the ideal candidate for bigger waves that you can do a variety of different flips with. You may have seen the words Dual vs Harden strip and may be wondering what that exactly means. It is essentially the stringer of the board that, because of its size has a dual stringer setup that gives you just the right amount of flexibility without compensating the durability of the board.
Ideal for
Bigger Surf
Tricks
Maneuverability
Trying Dropknee
Bigger and taller individuals
Not Ideal for
People starting out
Smaller Riders
3. Morey Big Kahuna 44′ Bodyboard
Features
EPS on the inside
Single Rod Stringer
Features a Crescent Tail
Has Channels
Made of Polyethylene
For Riders Over 5'10 and 185 lbs
We already know that Morey is one of the best bodyboard brands around, so how does it compare with the Mach 7? The Morey Big Kahuna 44" is a great wave riding board that is not too expensive. It is meant for the Intermediate bodyboard surfer. It features a good level of manoeuvrability and speed which is great for surf in the range of 1' to 5'. It is able to do this thanks to its slight nose rocker that cascades a slight angle upwards from the bottom. As a result it allows you to project at a pretty decent speed without losing too much handling.
This is the ideal board for heavier people that are over 155 lbs although other smaller people like children have used it to some success. While this board is classified under "Best professional Bodyboards for Adults" I would rate it at the lower end of spectrum. There were a couple of customer complaints in terms of this board creasing. Much of the creasing was due to people tackling waves that were larger than 5'0. For those larger than 5'0 it is best to use a stronger less Buoyant board than this one. Unfortunately with this bodyboards there is no leash installed so you will have to do the installation yourself. Although this can also be a bonus because you can pick the best spot for installation where it will not get in the way of your riding style. See Table of contents on how to install a leash.
Ideal For
Smaller waves of 5' and under
Larger people who want the best mix of extra buoyancy and speed with maneuverability
For Bodyboards for Beginner to Intermediate Riders
Not Ideal For
People who want to tackle larger surf
People who want to do tricks in larger waves
Smaller people under 185 lbs
Best Bodyboards for Adults and Kids Starting Out – Bodyboard Reviews
Don't have or want to spend over $150 on bodyboards? That's okay! There are still a lot of different kinds of models of bodyboards that are made of decent quality that perform well for their price. If you are just getting into the sport these are the best boards to look into. A lot of these selections are some of the best for beginners as well.
1. Beach Attack Pack' Wave Weapon
Features
Comes in 3 sized (33", 37" and 41")
Comes with Bodyboard Leash
Emailed Leash Installation Instructions Upon Purchase
Comes with Two Fin Tethers
Board Guaranteed against Defects for 12 Months
Comes in Three different colors
It is apparent when looking at this bodyboards features that you get a good amount for what you pay for and it's 12 month warranty is almost unheard of in this industry. So the biggest question is how is it's on water execution? Turns out its not bad at all! The combination of its EPS core, bottom channels and crescent tail allow you to glide along at an ample speed.
These are good bodyboards for smaller surf and casual surfing but I would not use this as a pro board for big impacts. This is because it does not have a Stringer which helps hold the composition of the board upon impact of the waves. If you are looking for a board to knee ride there are better ones on this list. Having said the above it is one of the better quality budget bodyboards that are available. If you are just wanting to surf some smaller low impact waves this is definitely one of the best starter boards. The fact that it comes with a 1 year warranty, a leash and fin leashes are just a bonus.
Ideal For
Casual Wave Riding
Beginners
Smaller Surf
Riders who want different sizes
Spotting the board in the water
One of the best bodyboards for all around play
Not Ideal For
Tricks
Advanced Riders
Larger Surf
High Air Impact
2. California Board Company MMAG
Features
Thumb Bulbs
Waterproof EPS
Slick Bottom
Channels
Crescent Tail
Includes Dual Swivel Pro Style coil wrist leash
These are great bodyboards for a larger person who wants to catch some waves and expect reasonable performance. It should be noted though, that the bottom shield is thinner than the more expensive bodyboards above. This may make you think twice about surfing this board close to shore as it may not last too long. Having said that it is a good board to tackle some bigger surf. The Thumb Bulbs also give you added grip. What is great about this board is the fact that it has channels. This is a feature that you find on more expensive bodyboards normally. This is part of the reason why this board has more bite than others in its price range.
The MMAG is also complimented by customers by the quality of leash that comes with it. It seems to be of good quality. The bad thing I read is that sometimes the sides come off. It does not appear to be too common though and I'm sure proper care and maintenance takes care of it. I should note as well that although this board does not have a stringer you can still drop knee on on it and the board will hold up. People who are a bit smaller actually prefer using this board because they can perform this trick.
Ideal For
Intermediate Riders
Bigger/ taller people
Riders on a budget that want a good quality bodyboard
Riders who want to attempt drop knee with confidence
Bigger Waves
One of the best for grip
Not Ideal for
Shore riding (thin bottom may not last)
Riders who want a stringer
3. Younger Bodyboards
Features
IXPE Deck
EPS Core
Heat lamination for durability
HDPE (High Density Poly) Slick Bottom
Channels
Crescent Tail
60/40 Rails
Includes Extra Leash and wristband
This is one of the more performance driven bodyboards for riders starting out. Unlike many other bodyboards, this one is actually designed to provide for riders who want to get into doing more advanced techniques. Even better is that it is priced very reasonably! The Younger Super Bodyboard is also built like a high quality board with EPS on the inside, HDPE slick bottom  and channels that allow efficient bite. On top of all that the board actually specifies its rail specs at sixty / forty. If you are familiar with bodyboards or have read our body board basics section you will know that the following rails are ideal for tricks. Most beginner bodyboards use 50/50 or do not specify their rails at all. The Super Bodyboard is also has a comfortable grip pad which is equally as important at performance. If you are going to use a board you would hope that it is comfortable, especially if you are using it for prolonged use.
Ideal For
Beginners who want to try their hand at tricks
Medium sized riders
Comfort
Durability
Absorbing Impact
One of the best in this category for tricks
Not Ideal For
Larger riders
Shore Riding
4. Storm Bodyboards BPS
Features
Comes in Three different sizes
Comes with Coiled Leash
Comes with Fin Tethers
EPS Core
Bottom Rear Channels
Crescent Tail
Comes in Three different colours
The Storm Bodyboard BPS Bodyboards are a starter board that can last as long as you would like it to. Built with EPS , rear channels and a crescent tail it also add a bit of execution at a more than affordable price. The board is best for a variety of different waves but is best for body surfing towards the shore. It's one of the faster bodyboards out there.
The board comes with a good amount of accessories for it's price as it features a coiled leash,  and two fin savers should they fall off.  The boogie board comes in three different dimensions including 33, 37 and 41 inches. 33 inches is best for  Riders up to 65 lbs and 41" is best for smaller adults that weight up to 188 lbs. Unlike many bodyboard manufacturers BPS stands by their product with a full 12 month warranty against board defects which goes to show how much Surf and Snow Warehouse stand behind their boards.
Ideal For
Speed
People between 65 to 188 lbs
Riders on a budget
Warranty
One of the strongest boards
Not Ideal For
5. Wave Rebel Magala Bodyboards
Features
XEPE Deck
EPS Core
Pro Slick Bottom
Crescent Tail
Includes Double Swivel leash with brass swivels
The Wave Rebel Magala is a great starter boogie board to get into the sport that is great for people within the 130- 200 lb range. Unlike many starter board however, this one is very durable and can be ridden on larger waves, although if you are a beginner I would not necessarily recommend that. It's bright colour also allows you to see it clearly in the water in case you bail in the water.
Unlike many beginner bodyboards it has EPS that gives it great floatation all the while being covered by a slick bottom XEPE deck. This allows the board to be durable but buoyant enough to allow you to tackle some bigger waves as you gain some experience. This board is ideal for riding waves closer to shore. It is not an ideal trick board.
Ideal For
Medium sized adults
Shore Riding
Tackling larger waves
Durability
Not Ideal For
6. California Board Company Switch Bodyboards
Features
Includes  Extra Leash and Wrist Strap
XPE (Cross Linked Poly) deck and silk screen graphics
Slick Bottom with Channels
Comes in the range of 33-39 inches
Crescent Tail
California Switch Bodyboards are great for smaller framed adults as well as children pending on the size that you order. It features everything that you need to get started including a leash and wrist strap to ensure that you do not lose your board.  It also has the standard slick bottom as well as channels that are often found on more expensive boards. These channels give you a bit of bite when surfing the wave to insure control.
The Switch can take a good amount of use for the price that is charged. That is due to it's cross linked Polyethylene deck and bottom that makes it more durable than your standard rental or beach shop boogie boards. Overall it rides smaller waves well and is a great introduction board. I would not recommend it for larger people or riders who want to get more serious into bodyboarding.
Ideal For
Beginner Riders
Smaller Adults
Durability
Riders who want a leash attached
Great Bodyboards for casual use
Not Ideal For
Riders who want an advanced board
Bigger Bodies
Throw away a Bodyboard
7. Lucky Bums Bodyboards
Features
60/40 Rails
Rear Channels
High-Density Polyethylene slick bottom
EPS Core
Comes with Extra Leash and wrist strap
Crescent Tail
Three different sizes
Five Different Colors
Lucky Bums bodyboards are a great way to to introduce yourself or your kids to the sport of bodyboarding. They feature EPS in the inside and come in Three different dimensions, 33, 37 and 41 inches. These are great all around bodyboards that can tackle a wide variety of waves. They also have sixty forty rails that allows you to try some advanced techniques if need be. This board comes in five different colours including blue, green, orange , pink and red.
I must say though, customer experiences with Lucky Bums have been extremely varied. Some customers swear by them while others say it broke after the first use. One common problem that does come up on these bodyboards is the fact that the side seams come apart after a couple of uses. Having said the above the above customer service with this particular company appears to be quite good so I'm sure if you report a problem they will be more than happy to aid you with your board.
Ideal For
Kids
Learning tricks
A variety of different waves
Not Ideal For
Durability
Seams appear to be a common problem
Larger people
Most Important Things to Look at when getting a Body Board
Size of the Bodyboard
This is perhaps the most important thing to keep in mind when looking to purchase some of the best boogie boards. A size 37" Board will not be a good fit for an individual who is over 6 feet and 175 lbs. See the sizing chart above to get a better idea of what is a good fit for your size.
Beginners should consider getting a bit of a extra big board. This allows the board to be more buoyant which in turn will make it easier to paddle. As soon as you have those two features it will be easier to catch waves and learn surfing technique.  To get a good idea of what is best for you, grab a board and place it just below your chin. It should be a good fit between your chin and your knees.
Bodyboard Materials: What they are made of?
There are two main types of bodyboards. Polypropylene and Polyethylene boards.
PolyPropylene is
Stiff

Fast

Ideal for Warm Waters

Not the best for turns or scoops
Polyethylene is
More Flex

More maneuverable for tighter turns

Ideal for Colder Water

Not as Fast

Projection is poorer
Bodyboard Styles and types
Before we get into the different riding styles you have to first ask yourself What kind of Body Boarding are you going to be doing?
What is Prone Riding?
This style of bodyboarding is performed while lying down on the bodyboard. This is usually the most common form of bodyboarding and the easiest to get into as it takes the least amount of balance. Once experienced enough you can attempt advanced riding techniques such as 360 spins, cut back, El Rollos and even barrel rolls. This style also allows you to gain experience of getting deep into the tube of the wave  (where the wave curls over and creates a tube like setting). Prone Riding is a great beginners stepping stone to other tricks that you can do on a bodyboard and down the road a surfboard as well.
What is Dropknee?
Drop Knee riding is when the rider puts his one foot at the front of the board and lets the other knee rest. This gives you greater maneuverability to actually control the board but is a lot harder to achieve especially if you are a beginner. With gained experience you can perform backflips, rolls, air reverse, air forward as well as floaters carves and spins!
What is Standup Riding
Isn't that just regular surfing? Well, no. Standup Riding is performed on the same bodyboards as above but are way more maneuverable than surfboards, but also more difficult to stand on. You need very good balance and be very comfortable in surfing conditions to perform this type of feat.
Bodyboard Design
Each bodyoard differs from one to the other, certain styles are better for doing different things.
All About Tails
There are two different tails prevalent in Bodyboards.
Bat Tails:
Are Better for Drop Knee Riding

Designed for riding Bigger Waves

Offer more Drive as they are faster

Easier to do spins on

Work well with Channels

"Looser Feel" Think Oversteer
Crescent tails:
Offer better "Bite" into the wave

Offer Better Control on breaking wave

More Traction as you surf

"Tighter Feel" Think Understeer

Are More Common in Bodyboards
Stringers
Stringer refers to the carbon fiber or fiberglass tube that runs the length of the bodyboard. Usually high quality bodyboards feature one to two of them per board. They act as a spine for the board that keeps it intact for when major forces rush against it. Some bodyboards are customizable and can put different degrees of flex in each board to taylor to the conditions. Bodyboards that have Stringers are more performance driven and therefore cost more.
Rails
The edges of the bodyboards. Their function is to help in planning through the waves.
Steep Rails
Result in More Bite

Increased Control

Configured as 60/40 rails
Shallow Rails
More Speed

Less Bite

Less Control

Configured as 50-50
The Bodyboards Thickness
The two most popular bodyboard sizes are 55 mm and 51 mm Bodyboards. Both have their advantages and disadvantages as seen below.
55 mm
Are Faster

More Buoyant

Best for Smaller Waves

Less Maneuverable bodyboard
51 mm
Give you more Control

Better for Tricks

Slower

Less Buoyant

Better bodyboards for Larger Waves
The Rocker of the Bodyboards
You may remember this term from some of my other articles about kayaks and paddleboards, well it is equally true for bodyboards. For those who are new here Rocker is how curved up the board is. For surfing bodyboards there is nose and tail rocker but, for good bodyboards however, there is mostly nose rocker.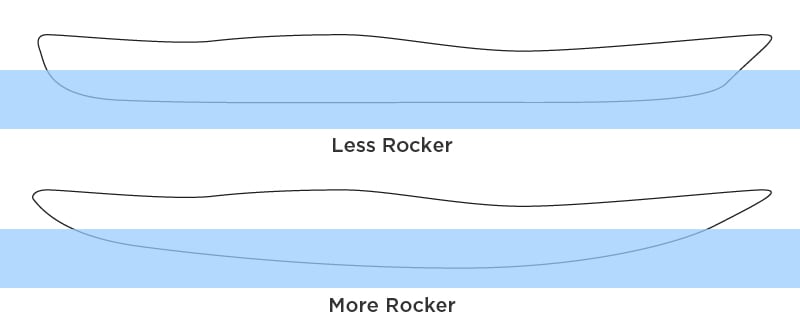 More Nose Rocker
Best for Maneuverability

Best for Less Speed
Less Nose Rocker
Best for less Maneuverability

Best for less Speed
Last Updated on