One of the preeminent manufacturers of quality is the Ascend kayaks. Their line of sit-inside and sit-on-top kayaks have become pretty popular. With both beginner and pro-level kayakers. To help you navigate through their product catalog. I researched five Ascend kayaks that each performs differently so that you can find one that best fits your needs.
Out of the five Ascend kayak models, which include the H10, D10, 10T, 133X, and FS10 kayaks. I determined that the 133X delivers the most bang for your buck. Still, the other models stand out for a myriad of reasons, which I'll cover below. Continue to read on to the comparison write-ups below to find out the best kayak that can fit your needs.
Kayak
Storage
Stability
Price
Total Rating
1. Ascend H10

Great
Storage
Capactity


5 Points

Great
Stability



5 Points

Good
Pricepoint



4 Points

2. Ascend D10

Good
Storage



4 Points

Good
Storage



4 Points

Great
Pricepoint



5 Points

3. Ascend 10T

Good
Storage



4 Points

Great
Stability



5 Points

Good
Pricepoint



4 Points

4. Ascend 133X

Great
Storage
Capactity


5 Points

Great
Stability



5 Points

Expensive
Pricepoint



2 Point

5. Ascend FS10

Good
Storage



4 Points

Okay
Stability



3 Points

Good
Pricepoint



4 Points
Ascend Kayak Reviews
Below are some of the reviews of what we belive to be the top kayaks from Ascend.
1. Ascend H10 (Best Overall)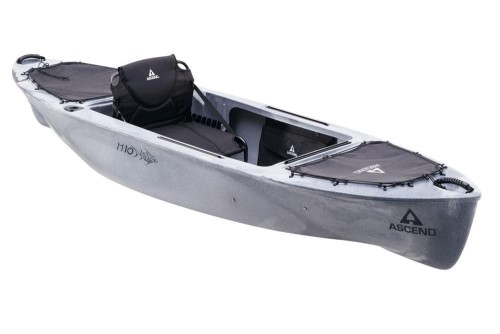 Features
Length: 10 feet
Weight: 55 pounds
Width: 31 inches
Maximum Capacity: 400 pounds
Carry System: Two rubber molded carry handles
The H10 is designed to grant you a bit more stability while you're out on the water. The H10 also stands out because it's a hybrid vessel that delivers a sit-in profile open cockpit with more back support and padding in the seating area. As a result, this is a perfect long-term angler kayak to keep in mind for your week-long paddling adventures.
This is a scupper-less kayak, so there are no drain holes like you'd find in a sit-on-top kayak. In fact, one of the features of this that makes it a hybrid is its blending of features that you'd find on both canoes and kayaks. In total, the H10 is 10 feet in length and is the smaller sibling of Ascend's 12-foot H12 kayak. Like some sit-on-top kayaks, this vessel has mesh areas in the front and rear. This will allow you to carry crates, coolers, and gear safely while you paddle on the water.
From several owners' mention, the H10 is a well-rounded kayak that works well for stability and tracking over the water. Many also love its sizing. The 10-foot length allows it to fit into secluded areas in the river where larger boats would get stuck. Also, this vessel's weight capacity is 400 pounds. Most paddlers will be able to bring whatever gear they like without overweighing the vessel. Despite this higher capacity, the H10 also only weighs 55 pounds. Many reviewers appreciated this fact. It isn't a vessel that's going to be hard to carry into the water. Save your back!
Sit-inside kayaks aren't always comfortable, but the H10 has a padded seat and back support. So this is a great vessel for longer trips. Add in the storage spaces both forward and back of the cockpit, and you have a kayak that is well-suited for weekend getaways on the water, as well as fishing trips.
Pros
This is a lightweight kayak at only 55 pounds
The seating is very comfortable
This is a perfect middle ground kayak that's nice for beginners and experts alike
Cons
The chair could be higher
For those that carry their kayak for longer distances, the non-padded walls can be uncomfortable
2. Ascend D10 Sit-Inside Kayak (Best Budget Choice)
Features
Length: 9 feet, 10 inches
Weight: 45 pounds
Width: 29 inches
Maximum Capacity: 300 pounds
Carry System: Two rubber carry handles
This is my budget pick because it comes in at almost half the price point of any of the other Ascend models. This ultra-maneuverable kayak has a smaller profile and makes cutting through the water easy. This makes it more favorable for people that want to go against the current or maneuver into tighter areas.
The kayak cockpit is also very comfortable; the seat is completely adjustable and removable. In fact, this part of the kayak is even usable on dry land. Gear cargo is well-managed with the D10. You can fit several items in the cockpit. There is a mesh-protected cargo area at the back of the backrest that can be used for various kayaking items.
Most reviewers mention that this is a very stable kayak that doesn't tip easily. Additionally, most users seem to value maneuverability and its ability to fit into tighter spaces. This is also often considered a very stylish kayak, and most users seem to love the red/black color scheme offered by Ascend. If there were any issues, it would be the hull's shape. It causes issues when mounting the kayak on some kayak carriers. Some users even reported that the shape of the hull causes impacts that make the kayak lurch more than others.
This is a well-rounded kayak that has a variety of uses. It's notable that many of the features of more expensive kayaks, like mesh storage, deep-set cup holders, and molded-over grip handles, are present in the D10. These enhance the solo paddling experience. The comfortable seating allows you to enjoy hours on the water without fatigue or discomfort. The 36-quart cooler stern well also can be used for crates should you want to see what's biting.
Pros
The kayak is very inexpensive
At 45 pounds, it's on the light side to carry to and from the water
The two carry handles are spaced to make hauling the 45-pound kayak simple
Cons
The kayak tends to lurch significantly when it hits anything
The rod holders aren't the best
3. Ascend 10T Sit-on-Top Kayak (Most Comfortable Choice)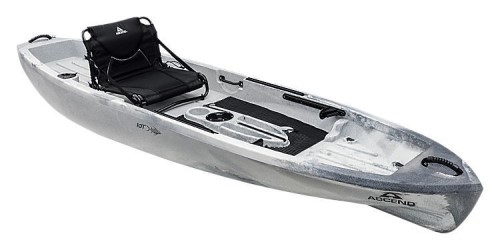 Features
Length: 10 feet
Leight: 67 pounds
Width: 31 inches
Maximum Capacity: 325 pounds
Carry System: Carry handles at the bow and stern
The Ascend kayak 10T is the only sit-on-top that we'll be covering in this guide. Like other Ascend vessels with the "T" designation. this model is designed for heightened stability. Thanks to its upper platform, you can even opt to stand cast on this kayak. This is also a vessel with an updated seating system. It uses a steel frame, mesh seat that's fully adjustable and offers a high level of comfort.
This is also a kayak with a tunnel hull, which is sometimes called a pontoon hull. As that name indicates, the hull on this kayak is designed like a pontoon's. Which provides the most stable design available in a vessel of this type. As a result, the kayak will track a straight path, and you'll have an easy time engaging in a bit of the aforementioned stand-fishing. This is also a kayak that doesn't underperform when it comes to maneuverability. You should be able to get in and out of tight spaces fairly easily.
The general customer perspective about this kayak is that it's one of the most stable on the market. Anglers of all types seem to love the fact that you can easily cast from a standing position on the 10T. Many reviewers also seem to mention how well it tracks. If there were a drawback, it would be in the kayak's design for heavier people. Some customers have complained that if you're over 230 pounds, the seat's positioning can cause the rear of the boat to take on water. This is because the scupper plugs, which are in the rear, will not hold water as well.
This is a perfect all-purpose vessel. Add to this the presence of two flush-mounted rod holders and a deep-molded drink holder, and you have a good kayak for long trips. There's also adequate storage in the aft and forward sections of the vessel.
Pros
Stand up fishing is more than possible
The seat has a very adjustable design
This is a kayak that tracks very well
Cons
Slightly heavier paddlers may cause the kayak to take on water
The kayak does sit low in the water
Ascend 133X Recreational Kayak (Premium Fishing Choice)
Features
Length: 13 feet
Weight: 125 pounds
Width: 36.5 inches
Maximum Capacity: 550 pounds
Carry System: two handles a piece at bow and stern
If you're looking for a true workhorse yak, then the 133X fits the bill nicely. This make just hit the market mid-year in 2020. It offers ample seating space, roominess, and a nonskid cushioned floor in the cockpit that makes stand up angling an option. This is also a vessel that tracks. On top of this, it has a high-back seat that provides plenty of back support during your paddling sessions.
This is a 13-foot length kayak, so while it may not be able to maneuver in tight areas. There are two dedicated storage areas behind and in front of the main seating section. Each is very large so that you can store coolers or crates. This is also a vessel with a good carrying capacity. It'll happily manage up to 550 pounds, so feel free to bring extra gear.
Overall, this feels like the premium option for Ascend. It even offers space for trolling motors, and there's a dry storage hatch with the perfect amount of storage space. There are also four accessory rails. For the most part, customers mention that they enjoy these features. They also find the high-back seating area very comfortable, even on longer trips. They also seem to agree that the vessel's stability, combined with the chair's design, makes it very easy to board and disembark from the kayak.
This is a kayak that some consider to be more like a flatboat than a traditional vessel of the type. As a result, this is a great go-to for kayakers that want to fish for long periods. The storage and weight capacity also support this; it's easy to load it up and be ready for a full weekend of kayaking.
Pros
The floor is cushioned so that it's comfortable to carry and use
Will last for years
There are four carry handles
There are four 16-inch accessory rails
Cons
This kayak is on the heavy side and is cumbersome to carry
The post is a bit too short on the seating area
Ascend FS10 Sit-Inside Angler (Budget Angler Pick)
Features
Length: 10 feet
Weight: 57 pounds
Width: 30 inches
Maximum Capacity: 325 pounds
Carry System: Two rubber carry handles
The FS10 is a perfect day trip fishing yak. It manages to fit in some ample storage space for accessories like coolers and crates on the bow and stern.
Like the 133X, the FS10 offers storage space behind the seating and in front of it, but the front section is smaller than what you'd see on the larger vessel. In addition to these areas, there is also a dry bag area in front and a cup holder for little and large drinks. Ahead of this area, you'll also find a bungee section for storage that you can use for spare clothes and accessories.
Seating is also very nice in the cockpit of this vessel. The seat is adjustable and has padding so that you won't feel fatigued after extensive angling. The FS10 has a 10-ft design. Similar to the H10, it's easy to maneuver this boat into smaller spaces.
Most reviewers love the comfort of this budget angler. The chair is soft and adjustable so that extensive kayaking is easy. The dry hatch is also a valued feature because it protects the items you want to keep from the water. The one feature that customers don't seem to like as much is how poorly the weight shifts on the FS10. This can cause the boat to take on water if you're not careful with your movements.
Pros
This is a great beginner's angling kayak
The chair is very comfortable and has several ways methods for adjustment
It tracks well
Cons
This kayak could use more storage space
The weight shifts poorly due to low profile
How to Choose an Ascend Kayak
Ascend is a kayak brand that grants you numerous options, so finding the right one may take a bit of due diligence when shopping for one. In this section, I'm going to hit on a few different criteria that may help you better decide which Ascend vessel will work best for your needs.
How Much Storage Will You Want in Your Kayak
For those considering longer trips that'll need extensive carrying capacities, then the 133X will suit your needs. This 13-foot vessel is a one-piece rotomolded kayak with a catamaran-type hull. After the main seating system, you'll find a very large indented area that can easily hold a large crate.
Bungees also support this area, so if you merely want to secure some gear. There are several square feet of storage in this section. There's also a large storage area forward of the sitting position as well where you can store more gear.
On the other end of the spectrum, you may not need a ton of storage space during your paddle. When this is the case, the FS10 is another great kayaking option from the company. This is significantly smaller than the 133X at only 10 feet in length. This is a sit-in vessel that does have several storage options. Such as a dry box for devices and any items you want to keep dry. It also has a cup holder and also features a holder for your rods. Despite offering less storage than the 133X. The rear storage compartment behind does have ample room for a crate or a cooler.
Weight Capacity
Weight capacity isn't a criterion that just larger kayakers will have to consider; any kayaker can benefit from having more weight capacity. Especially when you're packing for a long period of time out on the water. Each of the Ascend kayaks has differing carrying capacities. For example, the 133X can manage 525 pounds, whereas the FS10 can only manage 325 pounds of load. A lot of this has to come down to the width and length of the yak.
Decide which is best for you by estimating how much you'll be carrying on an average trip and leaving some extra weight just if you opt to carry a little more.
Sit Inside or Sit on Top?
Sit inside kayaks are great because they keep the paddler dryer and are ideal for places with temperate/ cool waters such as a lake. On the other hand, sit-on-top kayaks tend to be more stable and are easier for newer kayakers to adjust to. There's no better kayak type of the two, so it'll come down to the user in most cases. As a rule, sit-inside vessels tend to offer more maneuverability. While sit on top kayaks work well for those who just want more stability. Sit on top kayaks typically have a wider width.
As you can see from my reviews, Ascend has kayaks of both types and even a hybrid sit-inside kayak with a profile that combines the features of a kayak and a canoe. In general, if you're looking for some simplified fishing on calmer, warmer waters, select a vessel like the 10T. If you're looking to chase the fish or explore the water as you paddle, then consider a sit-inside vessel like one of the other kayaks that I covered.
FAQs
Ascend produces a fairly varied listing of kayaks, and as a result, you may have a few questions. Here are a few answers to some frequently asked questions:
Which Ascend model is best for fishing?
This will always come down to the type of fishing that you'll be doing. For example, a vessel like the H10 will be useful for anglers who want to chase the fish through less-traveled waters. Conversely, like the 10T, a sit-on-top kayak will be more suited for calmer and cooler waters.
Still, the biggest difference between the vessels will be fishing trip duration. For those looking for longer trips, the 133X is going to be the go-to vessel. This is because it has a hefty weight capacity of 525 pounds, storage space in the front and the back, and a comfortable seating area that won't wear on your after-hours of fishing.
If you're just hitting the waves for a short period of time, then the FS10 is another great kayak. This has a 325-pound weight capacity, and it also has a large rear area for storage. The FS10 also has a rod holder, a dry storage area, and a frontal bungee area for storing your stuff, so it makes for a great kayak for short-term day fishing.
Can you stand on an Ascend Vessel?
Overall, Ascend kayaks are very stable, so you can stand on many of the vessels they offer. For the highest level of stability, any vessel with a "T" tends to be very stable for standing and fishing. This includes the 10T, and these models have a dedicated standing platform for stable casting. As a general rule, it's harder to stand on a sit-inside vessel like the other ones that I covered in this guide.
Final Thoughts
Ascend is a manufacturer that places a good level of focus on quality. For my money, the 133X just stands out as the winner; it has amazing stability, a boat-like design, and so much storage space that you'll be well-stocked for more than a weekend.