If you're venturing out on saltwater, you're going to need a yak that can handle the pressure of the tides, surf, and seafloor. Rigid air floors, self-bailing cockpits, and durable skegs are just a few of the elements that make a boat ocean-ready. However, we set out to find what specifications make an inflatable boat perfect for ocean excursions. That search led us to this year's top five best inflatable ocean kayaks.
Inflatable Ocean Kayak Reviews
1. Advanced Elements Advanced Frame Convertible Kayak (Top Pick)
Features:
Material: PVC-coated polyester/aluminum
Length: 15 feet
Width: 32 inches
Weight: 52 pounds
Weight Capacity: 550 pounds
Capacity: 2-person
Tracking System: Tracking Fin
With its rigid aluminum stern and a multi-chamber inflatable hull, there is no mistaking the Advanced Elements Advanced Frame Convertible Kayak as one of this year's top inflatable ocean kayaks. This boat offers unmatched portability and performance for one to two paddlers. It's our go-to pick in the inflatable sea kayak category.
The Advanced Frame is a 15-foot inflatable kayak that's made to handle intermediate paddles in rough ocean waters. Paddlers can easily convert this vessel from a solo to a tandem kayak in mere minutes. Plus, removable spray skirts make it easy for users to take the Advanced Frame from an open- to closed-deck kayak. While the Advanced Element's rigid aluminum hull adds weight to the bundle, it also gives the boat the same tracking potential as a hard-shelled kayak. Despite the bulky materials, the setup and breakdown processes take less than 10 minutes each. Moreover, the materials are still light enough for one person to carry on their own.
The boat's solo deck cover (sold separately) features D-rings, bungee deck lacing, arched aluminum stays, and a rear cargo hatch. Meanwhile, the tandem deck (also sold separately) boasts d-rings, bungee deck rigging, and a mesh storage bag. Both deck covers can be paired with Advanced Frame's proprietary Backbone technology and drop-stitch polyester flooring to create custom ocean-ready vessels. While the full package can be a bit pricey, most customers agree that it is a worthwhile investment.
The boat's triple-layer hull is durable enough to withstand the pressures of the ocean. It even boasts six separate air chambers. So, you don't have to fret over singular punctures and abrasions. The hull's spring valves make inflation and deflation quick, easy, and leak-free. The boat comes with two moderately supportive adjustable back supports. Plus, you get rubber paddle holders, a carrying bag, a repair kit, and a set of low-profile rubber handles.
When it comes to water performance, the Advanced Frame outperforms many hard-shelled yaks in its class. A slide-in skeg enables paddles to track and turn easily. Meanwhile, the aluminum-backed stern acts as a secondary skeg. Moreover, the long, broad hull cuts through ocean waves with maximum efficiency. The broad open cockpit offers excellent stability in both flat and rough ocean waters.
Pros
The boat's aluminum frame and tracking fin work together to provide this boat with excellent tracking and speed.
Compact enough to take on remote adventures
The double-coated fabric and reinforced bow and stern seams can put up with a great deal of wear and tear.
Paddle holders, adjustable backrests, and side handles increase paddlers' comfort and control on the water.
Consumers can purchase aftermarket spray skirts for more comfortable closed-cockpit solo or tandem adventures.
The boat boasts ample onboard storage, including D-rings, bungee deck rigging, bulkheads, and mesh bags.
The Advanced Frame comes with a durable carrying case, a portable paddle, and a repair kit.
Cons
Water tends to accumulate inside the spray skirt.
A pump is not included in the package.
2. Sea Eagle 420 X (Premium Pick)
Features:
Material: 1000 Denier Reinforced
Length: 14 feet
Width: 3 feet 3 inches
Weight: 44 pounds
Weight Capacity: 855 pounds
Capacity: Three people
Tracking System: Removable skeg
Sea Eagle is one of the premier manufacturers of inflatable ocean vessels. Their 420 X is a three-person inflatable kayak with excellent saltwater potential. It also happens to be one of the largest boats in the inflatable kayak class. The cockpit boasts seating for three and a weight limit of 855 pounds.
It has 16 super-fast self-bailing drain valves that can be left open on whitewater and ocean excursions or closed during flatwater paddles. While self-bailing drains are an obvious addition to any ocean-ready inflatable, we struggled to find other ocean yaks with comparable amenities.
At 14 feet in length, the 420 X cruises right over waves and Class IV rapids. Its removable slide-in skeg improves its tracking on calm water. Its durable air floor maintains a PSI of 3.2. As such, most paddlers would conclude it is just as rigid as an aluminum bottom. Not to mention, the kayak's 1000-denier reinforced fabric hull can handle just about anything the sea throws at it.
The boat comes with two removable seats, a duffel bag, a manual pump, and a repair kit. The roomy cockpit offers enough space for up to three adult passengers or a whole lot of extra gear. The front and rear bungee rigs give passengers somewhere safe and reachable to stow their belongings. There are also 26 D-rings for connecting seats and other accessories. You even have the option to attach a small trolling motor.
The Sea Eagle also happens to one of the leading inflatables in terms of rigidity. The boat boasts a high-pressure drop-stitch inflatable floor. This element has a dramatic impact on the kayak's speed, tracking, and stability.
Pros
While this boat is 14 feet long, the packed cargo only measures 31-by-21-by-10 inches.
The yak comes with a carrying case, pump, two paddles, two inflatable seats, a bow bag, a stern bag, and a repair kit.
It boasts three separate air chambers and a rugged 1000-denier reinforced hull material.
It features a separate drop-stitch floor for enhanced rigidity on the water.
A removable plastic skeg offers paddlers better speed, tracking, and maneuverability in flatwater.
One-way air valves enable this boat to maintain its high air pressure on extended paddles
Separate I-beam for enhanced rigidity and stability
Cons
The Sea Eagle doesn't come cheap, so keep an eye out for occasional sales and markdowns.
This boat has quite a long inflation time. We recommend that you use an electric pump to speed things along.
3. Advanced Elements Advanced Frame Elite (Best Upgrade Option)
Features:
Material: Aluminum and PVC
Length: 15 feet
Width: 32 inches
Weight: 52 pounds
Weight Capacity: 550 pounds
Capacity: Two passengers
Tracking System: None
While the Advanced Frame Elite may look and feel a lot like the original Advanced Frame, these boats are quite different from one another. While both kayaks are 15 feet long and 32 inches wide, the Elite can hold roughly 250 pounds more than the original Advanced Frame Convertible Kayak. It also has one less air chamber. However, we don't see this being an issue.
Paddlers will appreciate this boat's rigid aluminum skeleton as well as its triple-layer fabric hull. The yak is easy to assemble, taking just about 9 minutes from start to finish. It packs neatly into a provided duffel bag. The bag even boasts removable shoulder straps. These straps are perfect for those that prefer to hike into remote waterways.
Like its predecessor, the Advanced Frame Elite is compatible with Advanced Frame's aftermarket cockpit decks. You can easily convert the open cockpit into closed solo or tandem seating. No matter what setup you're using, you're bound to find comfort and support in the boat's inflatable high-back seating. The seats' lumbar-enhanced backs provide paddlers with the cushioning they need to make through extended tours.
Unlike other inflatable kayaks, the Advanced Frame doesn't fold or bend under pressure. The hard edges, reinforcement I-beams, and inflatable drop-stitch floor keep the bow and stern from caving under the pressure of cross-winds and high waves. Thanks to the boat's rigid aluminum spine, it is capable of maintaining the same speed and maneuverability of a hard-shelled boat. Some paddlers even say that they feel comfortable standing up inside this vessel.
Overall, this boat is a bit bulky and heavy for one person to transport. It's probably not the best pick for those that enjoy hiking into remote waterways. Still, it is compact enough that you don't need a roof rack or trailer to transport it to your destination. Expect to pay a bit more than you would for the original Advanced Frame inflatable. Keep in mind that this boat's enhanced weight capacity makes it a strong contender for multi-day tours.
Pros
We love that this boat gives paddlers the option to ride solo or tandem.
The durable aluminum backbone gives this boat the rigidity of hard-shell yak.
The boat's rugged drop-stitch floor holds up to the pressures of the ocean.
Six air chambers prevent a single puncture from sinking this ship.
Built-in aluminum rib-frame technologies keep the boat from folding.
Three layers of material make this watercraft resistant to abrasions and punctures.
Made from honey-comb rip-stop fabric
Cons
Minimal onboard storage options when used as a tandem
A bit heavy for remote paddles
4. Sea Eagle Razorlite 393 RL (Best For Calm Water)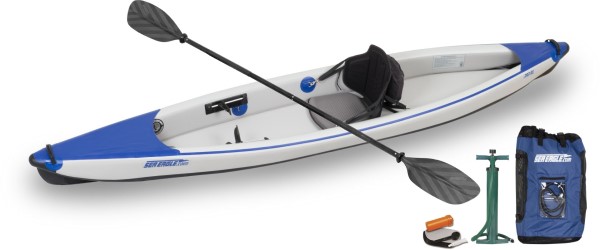 Features:
Material: 1000 Denier Reinforced
Length: 12 feet 10 inches
Width: 2 feet 4 inches
Weight: 35 pounds
Weight Capacity: 500 pounds
Capacity: One person
Tracking System: Removable rear skeg
The Sea Eagle Razorlite 393 RL is an excellent inflatable boat for calm ocean waters, including bays, estuaries, and coves. This 12-foot kayak can hold one paddler or up to a 500-pound load. The open cockpit is an inviting space for paddlers of all sizes. It boasts two closable drain valves and front and rear spray skirts. So, you can expect to stay relatively dry on your adventures. A removable inflatable seat and footrests offer paddlers ample cushioning on extended paddles. Given the boat's generous storage amenities, paddlers should have no trouble stowing away a day or more worth of gear and other belongings in the open cockpit.
Setup is as simple as unpacking and inflating. The entire process takes just 7 minutes. We also love this yak's blue and white colorway. The colors blend in nicely with ocean backdrops. However, they are still highly visible.
This boat is an excellent alternative to bulky plastic kayaks. You can easily pack it into its designated tote bag and carry it to remote waterways. We love that the packed kayak is small enough to fit in a trunk or overhead compartment on an airplane. It's easy to set up and even easier to pack.
The Razorlite's drop-stitch floor gives it the rigidity of a hard-shell yak. Meanwhile, the rigid bow and stern enable the boat to cut through the surf at speeds as high as 6 miles per hour. A removable rear skeg makes it easier for paddlers to slice through calm water. This is also one of the few inflatable kayaks that are capable of picking up speed. Keep in mind that this boat is a bit narrower than your traditional recreational kayak. Therefore, it's not the best option for beginner paddlers.
This boat's trio of air chambers, quadruple-overlapped seams, and 1000-denier reinforced hull make it one of the market's most rugged inflatable offerings. You can expect the one-way air valves to maintain the boat's rigidity. Not to mention, this yak is speedy, maneuverable, and stable. We're confident recommending this to intermediate paddlers with a desire to do some recreational ocean exploration.
Of course, there are a few design elements that interfere with the boat's performance. For example, it can be hard to break the kayak down so that it's small enough to fit in the provided bag. Moreover, the seat is a bit large for the cockpit. While the self-bailing drains are incredibly helpful, there always seems to be some water left in the corners of the cockpit.
Pros
The Sea Eagle measures 22-by-22-by-12 inches when deflated
This boat can hold up to 500 pounds
Three separate chambers prevent a single puncture from sinking this vessel
Self-draining holes keep water from accumulating inside the open cockpit
inflatable seat and footrests offer paddlers comfort on long paddles
There's plenty of space for gear and food
Excellent tracking, speed, stability, and maneuverability
Cons
Drains are not 100% efficient, some water gets trapped in the cockpit
The provided paddle is cheap and fragile.
5. Sevylor Quikpak K5 (Budget Pick)
Features:
Material: 24-gauge PVC
Length: 10 feet
Width: 2 feet 8 inches
Weight: 23.4 pounds
Weight Capacity: 250 pounds
Capacity: One person
Tracking System: Two small skegs
If you're looking for a reliable budget-rate inflatable kayak, be sure to check out this selection from Sevylor. The Wuikpak K5 is a 10-foot with a shockingly low price tag. Despite its bargain price, the yak is incredibly stable, speedy, and maneuverable.
This boat's tarpaulin bottom and polyester cover provide paddlers with ample protection against abrasions and punctures. Meanwhile, the multiple air chambers allow the kayak to stay inflated even after one air chamber is punctured. The boat also boasts double-locking air valves. These serve as an easy point for inflation and deflation. Since setup only takes 5 minutes, you can spend the majority of your time on the water.
This boat is exceptionally portable. You can easily pack it into the provided backpack and high into remote waterways. The unpacked backpack converts into a seat, spray skirt combo. There is also ample onboard storage, including several D-rings for float bags and accessories and a large bungee storage area for coolers and larger items.
Pros
This is a spectacular purchase for anyone whose budget is keeping them from their saltwater paddling dreams.
It takes no more than five minutes to assemble this vessel.
This is an excellent boat for backpacking adventures.
Comes with a pump, a three-piece paddle, and an easy-to-carry backpack storage bag.
The 24-gauge PVC construction is perfect for calm bays, lakes, and saltwater estuaries.
Multiple air chambers stave off disaster in the case that one is punctured.
The backpack contains a convertible spray cover that's helpful in sudden rain and surf.
Cons
While this boat is surprisingly durable, we wouldn't recommend taking it on heavy surf.
The skegs are easily bent out of shape. Avoid sitting on this boat unless it is on the water.
The 250-pound limit may prevent you from bringing a cooler or furry friend.
What Makes a Good Inflatable Kayak Ocean-Ready?
Inflatable kayaks that are suitable for the ocean look and feel a little different. Here are three things that you need to look out for when you're shopping for a new inflatable ocean kayak. For those new to ocean kayaking take a quick look over sea kayaking safety guide
Rigid Air Floor
If your inflatable ocean kayak is going to make it over surf and currents, it is going to need an incredibly stable floor. The air-filled elements need to be able to maintain a high level of pressure without experiencing any leakage. Many manufacturers refer to air floors as drop-stitch floors.
Many kayaks, including Advanced Elements Advanced Frame Convertible Kayak and the Advanced Elements Advanced Frame Elite, use rugged aluminum skeletons to increase the rigidity of their inflatable kayak hulls. These elements are usually more challenging to assemble and port around. However, many paddlers find that the backbones give their inflatable crafts much-needed reinforcement in heavy surf and wind.
Fully inflatable kayaks tend to be easier to transport, assemble, and store. However, these boats also seem to be a bit less rigid and stable. With that said, a high PSI, multiple air chambers, reinforced bow, and stern seams, and puncture-resistant fabric are all good indicators that a boat is suitable for saltwater adventures. It's worth noting that fully inflatable kayaks tend to more budget-friendly.
A Tracking Skeg
A tracking skeg, or fin, is a must-have when it comes to controlling a yak in surf, cross-winds, waves, and tides. Most inflatable ocean kayaks boast at least one removable skeg. However, lengthy tandem models sometimes have a skeg on both sides of the stern.
A skeg gives paddlers the ability to track and maneuver. These accessories usually fit into a small fin box on the bottom of a boat. You should only attach your skeg after you have inflated your kayak. Paddlers must always take care to minimize their skeg's contact with sand, pavement, and the ocean floor.
A Longer, Wider Hull
Longer, wider hulls tend to be more stable in ocean water. Boats that are 12 feet and longer tend to have fewer issues traversing over waves. Meanwhile, cockpits that are 20 to 36 inches wide tend to be more forgiving in choppy water.
Look at Customer Reviews
It's always a good idea to check out the reviews on eCommerce sites and other online discussion forums. These places are usually excellent sources of honest feedback. A quick skim of the comment section should give you a good idea of a boat's strong suits and weaknesses. You may even be able to ask your fellow consumers questions about their experience with a particular kayak model.
How to Choose the Best Inflatable Kayak for Ocean Paddles
Below you'll find our guide to choosing the ultimate inflatable ocean kayak.
Size
Check the size (length, width, and capacity) of your kayak to determine whether it fits your needs. Most recreational inflatable ocean kayaks are at least 12 feet long and 2 feet wide. They may be able to hold anywhere from one to three passengers or 200 to 900 pounds of cargo.
Consider your size and height as well as how much weight you need to carry. Are you planning on bringing along an extra passenger, a dog, or a cooler? You must be sure that your kayak has enough carrying capacity to hold you and everything else.
Durability
Your inflatable kayak needs to be able to handle everything that the ocean and the ocean floor throws at it. We're talking about the sun, surf, salt, and sand! Be sure to choose an inflatable with rugged hull material, such as a 1000-denier PolyKrylar PVC. The hull should be able to withstand punctures and abrasions. It should boast multiple air chambers. As such, a single rip or tear isn't going to sink this boat. The seams should be welded or drop stitched to stave off leaks. The hull should boast UV protection, as the sun's rays are quite impactful on open water.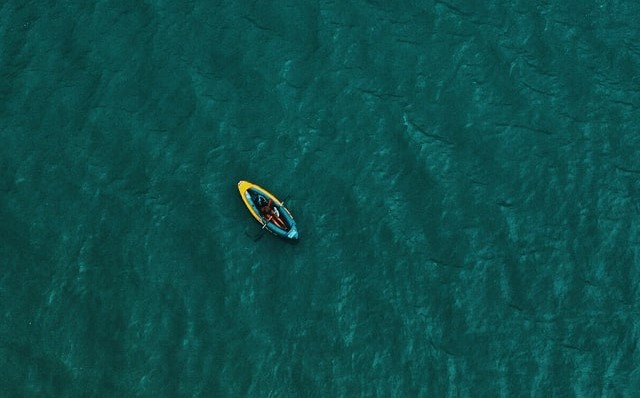 Stability
There are a lot of elements that contribute to an inflatable kayak's stability. The watercraft's PSI (air pressure), self-bailing features, hull width, and rigid reinforcements all contribute to its on-the-water performance. The best inflatable kayaks can cruise over heavy surf without bending.
Some inflatables are even stable enough for standing. Inflatable drop-stitch floors, fortifying L-beams, and aluminum skeletons all increase a kayak's stability. We'd compare the rigidity of these sorts of models to that of modern-day SUPs.
Portability
If you're opting for an inflatable ocean kayak, portability is most likely one of your biggest priorities. Most of these kayaks break down into compact bundles that are perfect for travel and storage. Check your prospective kayak's packed dimension to be sure it's compact and light enough for you to transport with assistance.
Ease of Setup
Not all inflatable kayaks are as easy to assemble as you would assume. Consider the Advanced Elements Advanced Frame Convertible Kayak as an example. The hull of this boat contains an aluminum backbone. Users must unfold, inflate, and assemble parts before they can hit the water. The entire process takes about 10 minutes. On the other hand, kayaks like Sevylor Quikpak K5 only require unpacking and inflation.
You want both your setup and packing session to go smoothly. To ensure this, you're going to need a reliable air pump.
Weight Capacity
Don't forget to check the weight capacity on any of your prospective kayaks. We've seen weight limits as low as 250 pounds and as high as 900 pounds. That's a huge difference. A boat's weight capacity also determines whether a paddler can bring along a cooler bag, dog, or paddling companion. Don't even think about taking your kayak on an overnight trip if there isn't enough weight capacity for all of your camping essentials.
Storage
When choosing an inflatable ocean kayak, you must make sure there is plenty of onboard storage space. You're going to need designated areas to store essential items, such as coolers, communication devices, fishing gear, first-aid kits, and extra clothing. You want to be sure that you can stow your stuff without running the risk of puncturing your boat's inflatable floor. Look for a yak that offers watertight bulkheads, mesh bags, D-rings, and bungee rigging. Make sure the base and sides of the cockpit are not susceptible to punctures.
Final Thoughts
Inflatable kayaks make ocean-based paddles more accessible while maintaining paddlers' safety, comfort, and performance. These compact vessels enable paddle enthusiasts to skip the usual heavy lifting, roof-mounting, and trailer hitching. If you're in a rush but still need a reliable inflatable kayak recommendation, be sure to check out the Advanced Elements Advanced Frame Convertible Kayak. The Advanced Frame offers unmatched efficiency on the water. You'll have no trouble transporting, setting up, and storing this versatile watercraft. If you're desperate to get on the water but don't have the money for a top-notch inflatable kayak, the Sevylor Quikpak K5 is an excellent option. This budget-friendly inflatable kayak is perfect for solo paddle adventures in bays and other calm ocean waterways.
We hope you enjoyed our rundown of the top inflatable ocean kayaks. Feel free to drop your questions and comments in the section below! As always, happy paddling!