It's summer and I know that you are looking forward to jumping in, what is the best way to beat the summer heat with family and friends?
Plan a road trip to the beach or lake and jump in and enjoy the water of course! Besides swimming, floating on the lake or pool is one of the most relaxing activities you can partake in during a hot summer's day.
Often times people bring inner tubes and inflatable floating swimming islands which is great, but you need preparation time to inflate them and if you forgot a pump it is all the more painful. No pump means no fun in the sun! What's the most pain free option? Floating mats of course. With these mats you can literally just unroll them and throw them in the water for an enjoyable dip!
They are floats that require the least amount of time to prepare which means more water fun and less "pumping". This floating water walkway can even be used as mats for boats to be able to board the vessel easier. This is due to the fact that you can walk on water with these mats which gives them a ton of different uses. This makes them a great edition to the world of watersports.
The Best Floating Water Mats are as follows:
Best Floating Water Mat Reviews
The following that I listed below is a comprehensive list of the best floating mat reviews. We have taken features, customer opinions and durability all into consideration when creating this list so that your friends and family can pick the most reliable one. For those who want convenient storage, we have also included one that is an inflatable.
1. Goplus 12′ x 6′ Floating Water Pad
Want to float on top of the water for hours of fun? The Goplus 12′ x 6′ Floating  Pad is made of Eco-friendly XPE foam and its material consist of a triple layer and a heavy-duty Polyethylene foam.
This fun float has an overal overall size of 11' Lx6'Wx 1" and its weight is 20 pounds. It also comes with a roll up strap that allows you to transport this mat easily to the water. It only offers one color variety that consists of orange and black.
It offers a built-in Reinforce Net that intensifies its sturdiness and impact resistance. Moreover, the four corners of the floating pad have a place for a rope to tie on which makes it portable and easy to use.
This water mat can support up to 5 friends or family members (adults) which can save you some money from buying an inflatable floating island if you don't mind getting a bit wet.
A unique factor about this product is its design. The rolled up rolling sleeper design relaxes your body and supports your head area allowing you to get some quality zz's while on the water. As as result it was rated the best floating water mat.
Pros:
It has a very strong buoyancy
Easy setup and storage
Easy to carry around
Appropriate for kids and adults
Appealing design
Very Durable
Cons:
Can be pricey for some people
2. Rubber Dockie 18 x 6 -Feet Floating Mat
First things first, Rubber Dockie Floating Mat is not made of rubber, it is made of a closed cell foam, two-ply cells, and foam material of over 1.3-inch thickness.
It is a product that has one of the highest customer satisfaction ratings because of its premium quality materials. It is constructed with a Tuff-Hide Outer Membrane and a Tear-stop nylon inner rebar matrix to avoid any punctures.
It is made of high visibility and a variety of vibrant colors, which makes it a great large lake or pool mat, especially in areas that are high traffic. The color of the outer layer is bright green on one side, and bright orange on the other.
The green and orange colors of this product is very eye-catching and bold, which makes it very visible on the surface of the water. This is especially useful as it is very visible to boaters.
Rubber Dockie comes with a 12 feet Elastic Bungee Tether. It is used to anchor the Dockie to immobile objects or to any docks. It also includes a pair of customized loop and hook storage straps with metal buckles.
It comes at a higher price than other competitive products although most customers say that the price is reasonable for its quality and durability which is something to consider if you want a product that that last for a longer time period.
Pros:
Impressive quality
Lightweight
Safe and easy to use
Comes with Velcro straps
Strong and steady
Can be tethered to a boat
Cons:
The foam can tear easily
May be a bit tricky to carry for smaller people
Color can fade quickly in the sun
Takes two people to roll up for storage
3. Rosso Water Floating Fortress 18 x 6 Feet
The Rosso Floating Fortress is an 18 ft. by 6 ft. oversized water mat. It is made from a cross-linked polyethylene foam which makes it durable. The capacity of this mat is approximately 1,200 pounds and it can fit 6-8 adults. This is the perfect mat to have a little mini party on!
The mat is not heavy, for it only takes seconds to place and it packs easily. This is a key feature because it is a rather large mat! The colors consist of vibrant blue and green and do not easily fade in the sun. It is equipped with features such as Velcro storage straps and a 12 feet bungee tether that allows for easy storage when you are not using it.
This product is great for a fun day at the beach because of its excellent and huge pad. It can also be used a bigger water ways like pools, lakes, bays and bigger slow moving rivers. Just keep in mind that this may be a bit of a handful to paddle should you need to maneuver it. The thickness of the mat ensures durability that can definitely be played on by kids, teens, and adults.
Pros:
Easy to roll out
It is very stable
Good value for the money
Comfortable
Durable
Offers a lot of space for an entire family
Cons:
You may need help carry to it around
Comes in one size
4. Intex Giant Inflatable Floating Mat 9.5 x 7 Feet
Intex is the indutry leader in all things that can be blowed up and thrown in the water. Unlike other mats this model actually is a blow up water mat so keep that in mind before purchasing.
The inflatable floating mat that is known for its simple design. At 18 lbs it is one of the lighter water mats which makes it a good candidate for those wanting to pack light. Gives the right amount of comfort as it keeps you right at the surface, letting just enough water in to keep you cool on those hot summer days thanks to its "bumpy" design.
It is very suitable for relaxation or a chill day at the lake. Another cool thing about this mat is that it has a secure connection system that is compatable with other intex products. This is perfect because you can all stay hooked together while enjoying the suns rays.
The Intex Giant Inflatable Floating Mat has a size of 114" x 84" and weighs 19 pounds. The material of this mat is thick and it can fit more than two people at a time. Keep in mind that this is a inflatable product which "sits" ontop of the water rather than sits in it. This makes it a bit more unstable compared to other mats in terms of trying to stand on it. This is served better as a sitting/ lying down type of mat rather than a water mat you can stand on.
Parents and kids enjoy this product as it packs small enough to take on vacation.
Pros:
Folds small for when you store it
Can fit in a box
Easy to inflate and carry
Durable
Has a cooler in the middle
Enough space for 2 or more adults
Great pad used in lake or giant pool
Cons:
The design is not impressive
It is small compared to other similar products
Smaller sizes
An air compressor is necessary
5. Popsport Floating Water Mat Series Floating Foam Pad 9×2 and 18 x 6 Feet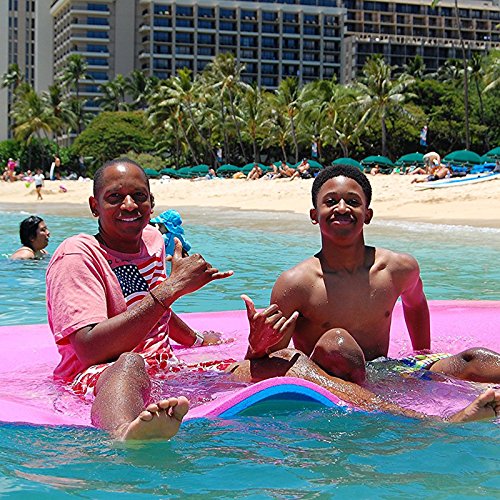 The Popsport Floating Water Mat Series Floating Foam Pad is one of the objects that you should not forget to bring along during a nice summer getaway.
This is a floating water pad that is made from high tensile strength center core and a high-density cell foam. The size varies from 9′ L x 2′ W x 1.3" to the large floating mat which is 18′ L x 6′ W x 1.3″.
Its capacity can weigh from 170 pounds to 1300 pounds. Pick which size you want based on how many adults and children will be floating on the water. It offers a variety of bright colors to choose from such as orange and green, red and yellow, and pink and blue.
It is convenient to use and is the appropriate water pad for a lake or large pool. It can also be a good water mat for pools and calm bays. The materials of this mat is eco-friendly and its high-density cell foam makes it strong and sturdy for fun days on the water.
Pros:
Guaranteed to keep multiple bodies afloat all at once
Lightweight
Durable
Comes in two different sizes
Easy to roll up and carry (for the smaller mat)
Provides surface protection through its rugged edges
Eco Friendly
Cons:
The color quickly fades
The surface can get scratched easily
No straps included
Why Should You Purchase A Floating Water Mat
Life is short after all, why not spend some time to float on the water? Through the use of a floating water carpet, you can float in water without the use of a pump or lugging a giant watercraft like an inflatable paddle board or kayak.
It makes it a perfect minimalistic water acivity anyone can partake in. Best of all? Very little maintenance is required!
Floating water mats are made of tough materials such as cell foams since it is commonly used for lounging . The floating mat is most commonly used for lakes and pool use but can be used in calm bays and rivers as well. . Sitting on a huge and cozy water walkway makes adventures and trips more fun and exciting for everyone.
Water Carpet floats make it possible for us to relax in the water without worrying about durability or safety of the device. Below is a video of swim mats for lake use.
Advantages, Disadvantages And Benefits Of Floating Water Mats
Inflating a pool toy is not always a quick and easy task to perform. Products similar to this usually require an air pump to inflate it. Worse yet, if you don't have one you have to use all of your breath to inflate it. By then you will probably be out of breath!
Floating Water mats are a good choice for both children and adults who want to jump in and enjoy the water instantly without worrying about inflating anything. This is because of the durable foam material they are made of.
Floating water mats are created from highly durable cell foam. Meaning you don't have to worry about it tearing or breaking at any point while enjoying floating in the water. Another good feature is that large foam swim mats have high buoyancy which can help support you and multiple family members all at once. Making it an ideal hassel free water craft to just do some casual floating on.
Additionally, most of these products roll up for you to store which is great because you can easily bring it wherever you go. Similar to that of a big thick, oversized yoga mat.
The only issue is that these mats is that they take up more roomand are harder to carry because they are more bulky.
How To Choose The Best Floating Water Mats to Fit Your Life
Safety Requirements:
The most important factor is the durability of the water mat, the materials used, and the interior and exterior design.
The efficiency of how a floating mat is constructed should be properly done by the manufactiurer. If not, the foam mat may impose danger and risks, and it will not last long. Be sure to check its quality and limitations, tear proof or not, can be easily punctured or not, and the like. Choose a mat that includes a lock or a hook for easy storage and transportation to boot.
Weight Capacity:
I strongly suggest that you buy a suitable water mat that fits you and your family members or friends perfectly. A large water mat is necessary in order to experience better buoyancy in the water.
Water mats vary in sizes and buying a large mat provides more comfort and space as well as additional floatation. The only downside of a huge water mat is that it will require more storage space.
Solidity:
The firmness of a water mat will control the type of activities you can do on it. Some water mats can be used for walking, playing, running, and other water sports comfortably while some are only capable of you being able to lie down.
Typically smaller and inflatable mats are meant for more low key activities like relaxing while the larger mats are good for play.  A water mat that is appropriate for larger weight are the most popular and in demand nowadays since it is stronger and can take more weight.
The Proper Way To Use a Foam Floating Water Mat
It is crucial to choose a good location with a water surface that is clear of stumbling blocks and has a water depth that you can climb onto easily. The water depth for which you haul yourself onto the mat will be different for each person so try different depths until you find the right one for you. Locations frequented by boats should be avoided.
Before you unroll the floating water mat into the water, position the mat on a safe distance away from any objects. After you unroll the floating water mat, secure it by tying it to a rope, anchor, or any other floating object to prevent it from drifting away. This is key because water mats are harder to manuever since they do not have a defined keel or shape similar to a kayak or paddle board.
After using the floating water mat, carefully remove it from the water, rinse it and give it a quick wipe down and then roll it up once it is dry. Tie the mat with its provided strap or cord for security purposes.
Maintenance And Care For The Water Mat
Floating Water Mats are low maintenance. However, it is important to take good care of it so that the mat can be used and will last for many years. The longer time you leave dirt and grime on the foam the more it will disintegrate and have a shorter life span.
Clean the mat with the use of a sponge and a small amount of soap to remove dirt, grime, and other debris. Rinse with clean water afterward.
Some floating water mats are stain resistant. On the contrary, if a stain develops, use a mild detergent soap to remove it. Ensure to rinse the soap from the water mat before storing it.
Let it dry completely before you store it.
What Value Do the Best Floating Water Mats Bring?
It's easy to see the reason why floating water mats tend to come at a higher price than a regular water toy.
Standard water toys are commonly made of plastic that can be easily damaged or punctured. In comparison to a floating water mat that is made of high quality can last for years and years if cared for properly.
Set your priorities straight before purchasing this kind of product, it is necessary that you set budget limits.
Consider features and prices before purchasing this product. Pick a long-lasting water mat that suits you and your budget.
Floating Water Mat Precautions Before you Head Out
Before you go out and enjoy using a floating water mat, understand the precautions for using this type of product.
Carefully read my list of safety guidelines:
A typical floating mat is capable of floating approximately 1300 to 1500 pounds only.
The capacity and number of family and friends allowed on a water mat must be determined before purchasing.
Always check the floating water mat before use to make sure it is in good condition.
Floating Mats are strictly prohibited to be towed behind a boat or any watercraft.
There must be enough distance between a floating mat and any floating objects within the location.
It is recommended to use a vest while using a floating mat for safety.
Do not use the product after sunset, before dawn, and during a thunderstorm.
A child cannot use a floating mat alone. Family supervision is required if it is used by children.
For emergency purposes, a buoy must be visible while using a water mat since it lays flat on the water.
Examine your chosen location and ensure that the water is free any underwater obstructions or dangerous sea animals.
Do not hesitate to inquire and ask locals if you are unfamiliar with your chosen location.
Never attempt to use a floating mat while under the influence of alcohol or drugs.
Do not dare to swim under a floating mat.
Do not attempt any risk of harm to your body. The results can be fatal especially when jumping off a water mat.
Maintain enough distance from the rope if the floating mat is anchored or secure to the boat.
Final Thoughts
Assorted floating water mats are available on the market today and the five floating water mats that I have mentioned above are the floating mats that you can easily purchase online. The products that I have reviewed should give you ideas and help you pick the best choice.
While each of the floating water mats above will serve you and your friends and family satisfactorily, I personally recommend the Goplus 12′ x 6′ Floating Water Pad for it has numerous positive customer reviews compared to other floating water pads that contains a few negative reviews. The Goplus 12′ x 6′ Floating Water Pad is the clear winner of the roundup because of this fact and the fact that it is manufactured very well to be safe and durable after repeated uses in the water.
The quality, safety, and value are the main factors to consider when purchasing a floating water mat and this can all be found in The Goplus 12′ x 6′ Floating Water Pad. It is made from high-quality materials and the unique feature will keep you comfortable and at ease. Ensure that you will get a water mat that meets your needs and requirements. It also has a contour for you head when you are relaxing in the water. Therefore your best choice is the Go Plus Floating pad.