Taking a float down the river is one of my favorite activities to do during a hot summer day! It is a great way to get outside relax and simply enjoy the water and the great outdoors. Especially if you have an inflatable floating island handy. Here in B.C. there are several rivers that people including myself, flock to go river floating. Like the Shuswap river, Okanagan Lake, and the Capilano River Near North Vancouver.
Some places will want to charge you to use their floats but there are plenty out there that are cheap enough to buy for multiple uses! Here I will show you what I believe are the best river float tubes.
I personally tried a few of these. In this review I have spent 36 hours both testing and researching how these river tubes behave in the water.  
The Best Inner Tubes for River Floating are:
Reasons to Get Good Quality Inner Tubes for River Floating:
Puncture Resistant Material
Lasts for Multiple Uses (I have some that have lasted years)
Easy to Inflate and Deflate as well as transport
The Sun is out and all of your friends are hitting the lake or river with their river tubes
They are pretty cheap, especially when bought in bulk
It is one of the best ways to relax and have fun in the sun
Some can hold beverages
The gentle rocking of the waves is meditative and soothing
Great for viewing water sports
If you are just looking to get an inner tube just for yourself these are the best selection of individual inner tubes available. This is usually the route that I take myself as many of my other friends have their own preferences of floaties and what to float on during a hot summer's day. These inner tube floats are judged on a more practical level of usefulness. Another option is to use floating water mats that do not need inflation.
1. Intex River Run I Sport Lounge
The Intex River Run inner tube is one of my favorite river tubes because it is designed to be simple but efficient. The River Run brings the perfect combination of my 3 criteria of blending good durability with plenty of room to bring things like water and beer on board.
It also is very maneuverable allowing you to float your way through the river and all of its obstacles.
I have owned several of these Intex River Run I Sport Lounge river floats and they hold up relatively well. I have had one experience where one of them has had a slow puncture. This was because I had it tied up in the water just off of the shallow water where there were pointy rocks. I've had one of these floaties last 5 years (It just died last summer RIP). The great thing with these cheap river floats is that if it leaks air or bursts you can just get a new one for a cheap price.
You can interlink them with other river runs thanks to their interlinking cords. This is an ideal feature to have if you want to stay anchored to one place and have an inter-connected river tubes party.
What We Liked
The River Run I Sport Lounge inflatable tube has two built-in cup holders
Lots of room to put sealed drinks in netting
Mesh Bottom ensures nothing gets lost
The built-in backrest on the Intex River Run is comfortable enough to spend hours in
Great River Float for a group of friends on the lake or cabin
Very Maneuverable
Features all-around grab rope
What We Didn't Like
Can Puncture if you are not careful
Harder to paddle against the wind
2. NRS Wild River Float Tube (Premium Pick)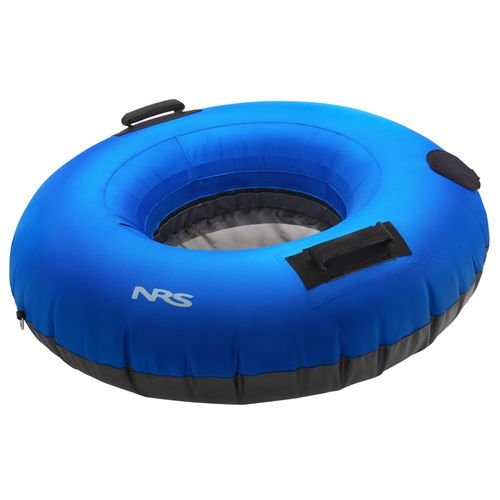 The NRS Wild River float is about as heavy duty a river tube as they come. NRS makes a wide range of different Outdoor gear from inflatable rafts and kayaks to SUP's as well as a wide range of outdoor gear. These guys know how to make a durable heavy duty inflatable product. 
The anatomy of this heavy duty river tube features an 840-denier nylon cover fitted over a 28 gauge PVC bladder. This cover helps the tube bounce off rocks and sunken logs/ sticks without getting that dreaded puncture. It also comes with handles that help with travel and holding on in trickier parts of the river.
Finally, the folks at NRS give you the choice between fitting the tube with or without a mesh bottom. 
In terms of customer reviews, one custom remarked "This tube will easily outlast 10 of the river run tubes". While I kind of doubt that (mine lasted for 5 seasons), I can see and take his point. Especially if you are in rougher water conditions. 
What We Liked
The highest quality river float on this List
The manufacturer is very experienced with heavy duty inflatables
The Inner tube comes with a cover that can endure sharp objects
High customer satisfaction rating
This inflatable tube can last you a long time
The safety valve stem is built well
 
What We Didn't Like
The price tag is quite expensive, especially if this is a one-time thing
Heavier than most of the tubes on this list
 
3. Kelsyus Chaise Floating Chair Lounger
Ok so this is not so much a river tube. but it still deserves to be mentioned. The Kelsyus Chaise Lounger features a mesh backing on the seat as well as on the bottom of the floatie similar to the Intex River Runs.
So what's the main differences between the Kelsyus Chaise Lounger and the Intex River Run you may ask? The main difference is the size. The Chaise Lounger is much smaller and more compact compared to the River Run. It also takes less time to blow up which may be a selling point if you do not use a vacuum or pump to blow up your inner tubes.
This is a good pick for rivers because it has fabric covering the insides of the inflatable tube. This gives it better durability than the river run but it is far harder to find punctures as you would have to remove the fabric.
If you are going on a hike this may be the ideal product for you because it is less than 5 Lbs plus it really does not take up much room when inflated. It can also hold 250 lbs or even more according to some customer reviews. Overall this inflatable tube lounge gets the nod because it is durable, compact and easy to store.
What We Liked
Includes foot recliner
Fabric over inner tube protects better
Can hold a lot of weight
Compact
Can be a good candidate for pools, rivers, and lakes alike
One Cup Holder
What We Didn't Like
Some reports of sloppy stitching which leads to punctures
Not a lot of room to store things other than yourself
Harder to repair
4. Intex River Run II Sport Lounge
The River Run II double river tubes are for two people and features more room to bring the accessories that you want to bring on the journey. If you are bringing a lot of liquids with you this is an ideal float.
This is because it is a river tube with a built in cooler that holds 24 cans. It also has space in the middle for a Six-pack or more! It's safe to say these large river floats are a favorite for the it's 5′ o'clock somewhere crowd.
The maneuverability of this float is compromised because of its bulky size. To move you will have to paddle in unison otherwise you will be paddling in circles! It is recommended to get half paddles with it so that you can move easier. Overall Customers seem very happy with this model and recommend it for river cruises. I highly recommend tieing a sandbag or an anchor to it if you want to remain stationary otherwise you will have a tough time getting back. Or you could just anchor yourself to your friends with the all-around grab rope
What We Liked
Has a Cooler!
Can hold 24 cans or beverages
Can hold a lot of weight
Room for valuables in the middle
Two cup holders
Very durable
What We Didn't Like
Bulky
Clumsy to maneuver
Best leave it for slower-moving bodies of water
Difficult to steer
4. Swimways Spring Recliner with Canopy
The ideal vessel for the floating napper, The Swimways Spring Float Recliner has a canopy attached so that you can stay cool in the shade while enjoying your time out in the water. This is a big plus when you are in the beaming sun and want a bit of shade without having to leave the water. It also comes in a carry tote for easy transport and features a leg rest and a cup holder for the true floating napper in the group.
I would use this in calmer waterways as the canopy has been reported as a bit flimsy. Perhaps not the most ideal thing for rivers that are a bit faster moving. there is a solution to this though, the canopy can be fixed with pull ties.
What We Didn't Like
Covered with Fabric which greatly helps durability
Offers shade for your face on those annoyingly bright days
Great relaxing float
Good for on water naps
Easy to Inflate
Great Customer Rating
 
What We Didn't Like
Canopy is Flimsy
No repair kit
Hard to find a leak should one sprout
Not great for moving water
6. Tube in a Box 
The Tube in a Box heavy duty river tube float is the most simple but also most versatile inner tube we have on this list. The best thing about it is that it can be used all year long!
You can use it barreling down hills and mountains in the wintertime and use it to relax while floating in the summer. Often these are actually the same heavy duty river rental tube that you can rent for a day. 
These tubes are made of commercial-grade rubber (the same kind as found in tires) that features UV protection and tear resistance. This is useful especially in those narrower rivers where sharp rocks could be lurking below.
Customers seem to really dig this tube as well. Many of them have used it for multiple seasons with both snow and water. Being rubber this product is heavier than the majority of the tubes on this list. You also need to follow the instructions carefully when distributing the air to the air chambers in the tube. 
What We Liked
Simple design
Heavy Duty design is durable and dependable in the water
Can be used as a floating tube or for sledding
Comes in 3 different sizes (36 inch, 40 inch, 45 inch)
What We Didn't Like
No head or backrest
No mesh bottom
Cover sold separately
7. Intex River Rat 2 Pack (Budget Pick) 
The River Rat definitely has the most interesting design of the bunch but that's where the advantages end for the most part in this inner tube. The River Rat is a simple tube that is made of a 12 gauge top and a 16 gauge bottom vinyl construction.
These tubes will not last as long as a lot of the other choices we've made in this list so I decided to include the 4 pack so you have enough for you and your friends. 
This river tube does have a lot of satisfied customers though. The most common feature that people liked about these tubes was the fact that they were a great price. There have been quality control issues with these tubes though.
Some seem to last years while others don't even get to the inflation stage because they are found to have holes in them. 
What We Liked
Great pack to get for a day on the lake
Design is easy to see on the water
Features the best price per tube
Two air chambers for added durability
What We Didn't Like
Not the best pick when it comes to rougher water conditions
Some of these tubes have reported manufacturing defects
A few complaints about the valve stem that seems to leak in some cases
No mesh bottom
These river floatation devices are excellent companions to your river floating excursion. Usually, the most important things that you can bring are liquids, clothing, and your phone for emergency reasons. I would also highly recommend bringing something like water shoes to protect your feet whenever you need to get to land. 
Intex Mega Chill II Float Cooler
Bring this cooler tube around with you if you have limited room for beverages or use it as a floating storage center.
This cooler can hold up to 72 cans, be tied up with any other Intex product and has two heavy duty handles and six cup holders. The Perfect river companion!
Intex Mega Chill Cooler
If you are not looking to overdo it on the beverages there is this handy little cooler that is 35" in diameter.
This cooler tube for river floating can store up to 30 Cans in the cooler compartment and 15 extra in cup holders and storage area.
Water Shoes
You may be scratching your head about this one but trust me, getting out of the water onto rocks can be treacherous, especially for your feet! Truthfully if you are at a beach or sandy setting you won't need them and they would probably be a hindrance if anything. Rivers are a different matter as there are lots of sharp rocks around that can give you cuts like they did to me!
What to Look for in best Inner Tubes for River Floating
When looking for the best river float tube it is always good to remember a few key things. These are not to be confused with towable tubes that are pulled behind a boat. You can find those here. Keep a close eye out for river tubes for sale. There are often deals to be had in the Spring and Summer time. 
Is it Durable?
Make sure to look for heavy duty material when looking to do some river tubing. The river often likes to spring tiny sharp surprises at you even when coming to shore! Canvas covered poly bottoms are usually the way to go but there are other strong materials out there that work. These canvases also help shade your float tube from the sun deteriorating the inner tube. If you do happen to buy a floatable tube that is made of thinner quality materials then it is best that you stay in the deeper end of the river and mind where you are going.
In my experience inner tubes like the River Run I typically can last 2- 3 summers depending on how often you use them. Some more, some less.
Inflation
This is the part that many of us often forget about. Only for us to be reminded just before you're about to go into the water that you have to inflate the darn thing! I highly recommend using a pump when inflating an inner tube. This is because it takes a lot longer when you are trying to huff and puff all of your breaths into the tube float. Believe me, for the extra $15 to $30 it is definitely a worthwhile expense. Not only does it take way longer but it also requires a lot more effort which I would rather use for floating. I often use a leaf blower vac with the proper housing to inflate my inner tube.
What are you Planning on Bringing?
I weigh a good amount of importance to this because I personally like bringing stuff such as water bottles or erhmm beer! If you don't plan on bringing anything or one handheld item then a simple floaty tube is great! However if you are more like me and you want to bring stuff with you on your floating journey then I would look for a tube with cup holders, a storage area or a mesh bottom. It becomes quite uncomfortable juggling a bunch of things when floating down the river in nothing but a tube.
Inner Tube Manoeuvrability
Inner Tubes or inflatable river floats, are more desirable to float down a river with than an actual pool float because A) They are more durable and B) It is way easier to steer and maneuver these river inner tubes than if you were on a big honking Unicorn float! When picking the best inner tubes for river floating try to keep this in mind.
Things To Remember When River Tubing
Ones does not just bring a river tube and go floating ! There are several things you have to remember beforehand Below I have created a don't forget checklist on what to bring before your river adventure.
Inner Tubes for River Floating Check List
Sunscreen: Even on a cloudy day sunscreen is very important to bring with you so that you reduce a sunburn or possibly worse. I can count on more than one occasion where my friends have looked like lobsters
Sunglasses: Remember how your parents told you to never look at the sun for an extended period of time? Well this hold true even if you are not looking directly at it  
Bug repellent: A lot of people forget this one but it is quite Important! Rivers can be breeding grounds for mosquitos and other insects such as duck mites. In Shuswap River there are Duck Mites and often time if you are floating for an extended period of time you will get a lot of red dots on your back!
Waterproof Speaker: in my experience, this is a great thing to bring along. Just make sure that it's actually waterproof! 
Cash or Credit Card: If you are going to an actual floating center where they charge you this is important. Keep a waterproof bag handy for your wallet or just simply bring a credit card.
Key floats: The last thing you want is to be enjoying your time down the river only to find out that you lost your house or car keys down the river! There are a wide variety of inexpensive key floats you can get like this one.
Waterproof Phone Pouch: If you are bringing your phone with you it is important to put it in a waterproof pouch so that it does not get water damaged.
Life Jacket/Vest: This one may not sound important but if your float pops it is better to be safe than sorry!
Water: Right up there with Sunscreen, it is vital to stay hydrated while floating in the hot sun. Getting heat stroke is no laughing matter.
Inner Tube Safety
This is a bit of an overlooked topic but a very important one to insure everyone is safe.
Main Tips from the video
Stay Hydrated
If you are planning on drinking some brews out on the water it is important to stay highdrated as it is easy to start getting dehydrated from the combination of alcohol and the sun beaming on you for multiple hours. Make sure to bring bottled water to accompany those brews.
Bring a PFD or floatation device
Even if all of the above-mentioned inner tubes are durable, it does not mean that accidents cannot occasionally happen. To be safe I would recommend bringing a Belt PFD as it takes up much less room and can be equally effective. 
Don't Over Do it
While I can be the first one to tell you that having a drink on the water is about as fun as anything during the summer it is important to not over do it. In my younger years, I used to have various cuts on my feet and toes from stepping on sharp rocks that would ultimately give me cuts and bruises looking for my river raft. You don't feel it when you have one too many bevy's but you will after!
Final Thoughts
Overall I still think the best river float tube the River Run I Sport Lounger because of its durability and reasonable price. If you want more durability go with the Wild River Float. If you want a cheap float pack to go out with your friends, get the River Rats. 
Before heading off river tubing, ideally, take an hour or two to pack everything you need and write a checklist so that you don`t forget anything on your maiden journey. Other than that, have fun, be safe and get out there!