Selecting the best drysuit for kayaking is serious business. Every year, nearly 400 people die in the UK as a result of being submerged in cold water.Whether you're braving chopping waves or blustery wind, drysuits are an essential component of what keeps kayakers safe. In an emergency, a proper drysuit could just save your life coupled with the right life jacket.
More than that, modern drysuits are highly breathable, flexible, and insulated against the cold. For both day trips and multi-day adventures, drysuits can make your time on the water all the more enjoyable.Below, I'll touch on some of the best drysuits currently on the market, discussing their primary features, add-ons, and capabilities. We'll then discuss some of the most important features to consider when selecting your new suit.
The Best Drysuits for Kayaking Go as Follows:
The Best Drysuit for Kayaking Reviews
The best drysuit for kayaking go as follows below.
1. NRS Extreme SAR Drysuit
>>Check Price on Austin Kayak<<
Key Features:
Best for kayaker safety
Low-seam construction makes the drysuit very lightweight
Cordura-reinforced joints keep the suit durable
When it first hit the market, the NRS extreme drysuit was built for rescue workers operating on the front-lines of water search and rescue. Constructed with breathable 320-denier TriTon tech, the fabric is meant to withstand years of abuse under the most demanding weather conditions.
The ultra-tough Cordura exterior padding reinforces the elbows, knees, and seat for regular use. Unlike other brands, the NRS uses as little seam work as humanly possible, which makes it significantly lighter than other drysuits.
Every stitch is sealed with tough liquid rubber (RSeal), meaning it's guaranteed to never leak. The waterproof entry zipper and men's relief zipper keeps water from penetrating the suit, no matter how submerged you are.
So, why is this suit excellent for kayakers worried about safety? The stitch-free reflective material, which is directly welded into the suit's material, wraps around your wrists and ankles keeps you visible in low-light and foggy conditions.
Potential buyers should keep in mind the suit is only offered in medium and large sizes; it may be too baggy for wearers on the smaller side.
2. Stohlquist Shift Drysuit: Best Convertible Drysuit
Key Features:
Best suit to convert for different weather conditions
Features internal suspenders, removable hood, and integrated skirt for ultimate customizability
Built with welded reflective accents for higher visibility
Built with a unique conversion system, the Stohlquist Shift makes it easy to dress down for calm, dry paddles and suit up for extreme weather conditions. If you want the best of both worlds, the Shift is right for you.
Even though it's a dual-system suit, the Shift doesn't comprise on waterproof performance. It's designed to withstand blowing sprays of water, high waves, and heavy rain.
The Shift is equipped with triple-layered rampart waterproof fabric, which is non-porous and hydrophobic. The suit is especially recommended for kayakers that like to brave saltwater.
Users appreciate how painless it is to slip and out of the suit since it's equipped with a captive-zip entry system and an easy-to-reach back zipper right under the outer jacket. The master-seal waterproof relief zipper reduces pit-stop frustration and reduces wear on the central zipper.
Moreover, the integrated Gripp-Loc spray skirt attaches easily to the suit and ensures water doesn't enter a sit-in kayak. If you're keen to take a dip, the internal elastic suspenders help keep the suit from shifting while swimming.
3. Stohlquist Amp Drysuit: Best Relaxed-Fit Drysuit
Key Features:
Best suit for ensuring full range of movement
Built with relaxed fit for better all-day comfort
Excellent fit for customers on the bigger side
Available in fireball-red or mango-yellow, the breathable Stohlquist drysuit is rated for complete waterproof performance and breathability. The suit is fitted with neoprene-coated dura-seal on the neck and wrist gaskets to keep you warm and dry.
Buyers appreciate the attached, universal fit fabric dry socks and built-in tunnel systems. The zippered arm pocket makes it easy to store anything you'd like to keep dry during a long outing.
Both the knees and seat are constructed with reinforced mesh drainers and full articulation for easy movement. Though the fit is slightly baggy on most users, the suit is designed for maximum all-day comfort.
Potential buyers should be aware that sizing could be tricky. The suit comes in sizes ranging from extra small to double extra-large, yet most state that the brand runs large.
4. Kokatat GORE-TEX Radius Drysuit: Best Two-Piece Drysuit
Key Features:
Most comfortable internal lining
Two-piece suit can be converted to dry top or pants
Slim booties are built for better grip
Built with triple-layer Goretex, the Kokatat provides full waterproof protection for multi-day adventures. With Cordura pro-shell knees and seat, the suit remains durable in extreme conditions while providing full joint articulation.
The suit features a switch-zip zipper placed between the seat and backband for easy entry and exit. Moreover, an additional zipper pocket makes pit-stop relief painless on long outings.
While some buyers are thrown off by the attached hood, it's completely removable and made with Goretex, just like the rest of the suit. The compression booties are also reinforced with grippy bottoms and a Goretex base.
Users especially appreciate the pile-lined, zippered collar, which feels silky-smooth on your neck. We all know there's nothing worse than a drysuit with a tight, rubbery neckband.
Since the suit is two-piece, it can be worn as either a dry suit or dry top. Every suit is tested for durability and waterproof performance before it's shipped to your door.
5. Level Six Emperor 3.0 Ply Drysuit: Best Ventilated Drysuit
Key Features:
Most well-ventilated suit for diverse weather conditions
Utilizes patented Tri-Zip system for easy entry and exit
Available in very broad range of sizes
Find yourself exhausted and overheated after crawling out of a neoprene drysuit at the end of the day? You're certainly not alone: That's exactly what the creators of the Emperor suit sought to solve.
Made from 100 percent Nylon, the triple-ply suit is built not just for waterproof performance, but is made with maximal breathability in mind. With an integrated exhaust system and reinforced suit entry points, the Emperor keeps you cool on searing hot days and warm in blustery weather.
The suit features adjustable wrist and neck gaskets so that you can achieve that perfect fit. The super-bright yellow arm and leg fabric are made with reflective material, making you easy to spot in dangerous conditions.
Moreover, the suit utilizes a proprietary Ti-Zip system that makes it simple to slip in and out. If you're out of the water, the cross-body zipper lets in a little extra breeze.
6. Stohlquist Ez Drysuit: Best Drysuit for Breathability
Key Features:
Boasts highest layer count
Uses a combination of hydrophobic and microporous coating for breathability
Includes universally sized fabric dry socks
Available in shades like noir and mango, the Stohlquist brand has once again topped predecessor products with novel innovation. Built with four-layer twin sensor fabric, the drysuit is both waterproof and highly breathable for high-intensity kayaking.
The fabric is built from a combination of hydrophobic coating, laminated membrane, nylon tricot lining, and an outer nylon shell. The suit's coating is microporous, meaning that it lets in the air without allowing cold moisture to seep into the suit.
If you've got a wide neck, this is the right suit for you: the super-stretch neoprene neck gasket keeps water out, yet is very comfortable to slip in to.
Like other Stohlquist suits, the Ez features a master-sealed cross-chest entry and relief zippers for the hottest part of the day. The knees and seat are dually reinforced with Cordura and mesh drainers.
Of course, some users do complain about the updated neckline. For some, the neoprene texture could be bothersome for sensitive neck skin.
7. Kokatat Hydrus 3L Meridian Drysuit: Best No-Sweat Drysuit
Key Features:
Best suit for reducing sweating
Uses front-entry system for better waterproof performance
Hydrus waterproof layer makes suit lightweight
The Hydrus drysuit features a simple front-entry system for a waterproof barrier against heat-sapping water and whipping wind. With a bladder relief zipper, the Hydrus makes it simple to slip out discreetly throughout the day.
Ultimately, the Hydrus is recommended for serious kayakers who brave extreme weather and high seas. The durable water repellent (DWR) finish causes water sprays to simply bead on the suit before rolling off, making it perfect for heavy rain and crashing waves.
The suit is comprised of three primary layers: a tough outer nylon fabric, a polyurethane middle, and a silky polyester inner layer. The internal microporous layer works to wick away internal moisture, while the nylon coating combats exterior water.
The latex neck gasket and wrist opening seal against your skin for a flush feel, helping to keep water out. Users love the small details the Hydrus boasts: a self-draining chest pocket for keys, specialized movement-enhancing sleeves, and tough knee reinforcements make the suit very worthwhile.
8. Kokatat Goretex Meridian Dry Suit: Best for Women
Key Features:
Built specifically for the needs of women
Rear dropseat makes pit-stops less cumbersome
Covered by lifetime warranty
Ladies who love extreme whitewater and sea-kayaking – look out. The Kokotat has released a whole line of drysuits specially made for women.
Lacking none of the durability of standard suits, the women's Meridian drysuit utilizes a triple-layer fabric, Cordura, and Goretex system for high breathability and waterproof performance.
With Goretex-reinforced booties and latex gaskets for the opening, the neoprene limb cuffs help to ensure dryness in all weather conditions. When the suit is splashed with water, it simply beads and rolls off to keep your suit sufficiently lightweight.
Unlike male Kokotat suits, the Meridian features a rear drop-seat for all any call to nature. The extra convenience makes it easy to enjoy all-day adventures without the frustration of slipping out of a sopping suit.
Buyers love the dual-adjustable overskirt, which features padded neoprene and can be removed through the suit's hook-and-loop system. The zippered, self-draining chest pocket contains a key lanyard, while a bungee drawcord can tucker in the suit's waist.
Like other Kokatat products, the drysuit is guaranteed to be dry and is covered through a lifetime warranty.
9. Kokotat Supernova Angler Semi-Drysuit: Best Fishing Drysuit
Key Features:
Best suit for anglers
Constructed to preserve warmth in chilly conditions
Seat, knees, and elbows are ultra-reinforced to reduce long-term wear
If you're an angler, you'll need a suit that can keep up with your unique needs. Built for fishermen requiring protection and all-day comfort, the Angler semi-drysuit is constructed to withstand rough and cold water.
Fitted with a proprietary Hydrus system, the suit is triple-layered with a nylon coating, reinforced middleware, and a silky inner lining for comfort. The lap, seat, knees, and elbows are all secured with 330-denier Hydrus Tough lining to accommodate for repetitive movements.
The latex wrist gaskets feature adjustable hook-and-loop cuffs for optional degrees of waterproof performance. The drawcord waist cinches in excess fabric, helping anglers to focus on fishing.
Though the suit is mostly meant for fishing, it performs excellently for technical paddling and more complex tasks.
10. O'Neill Men's Boost Drysuit: Best Budget Drysuit
Key Features:
Most wallet-friendly drysuit
Loose fit, coupled with internal suspenders, ensures comfortable wear
Great multi-purpose drysuit
O'Neill is, by no means, a new name in the drysuit industry. Offering premium fit and functionality, O'Neill lives by the motto that quality products don't have to entail a high price tag.
Constructed with breathable fabric and a nylon outer coating, the Boost suit offers a loose fit for better layering and 100 percent waterproof taped seams. The integrated suspenders allow wearers to hoist up the suit if the fit isn't perfect, which many customers prefer.
The suit features a waterproof horizontal back zipper for easy slip on and off, while the smooth-skin dry neck lining slips on comfortably and seals against the skin.
Like other brands, the Boost incorporates a multi-part nylon coating for higher breathability. The suit isn't just used by kayakers, either: recreational divers and fishermen love it too.
Some buyers have complained of occasional leaks. Users should be careful to make sure the back zipper is securely sealed once they slip into the suit.
How Do I choose a Drysuit?
Selecting the right drysuit is no easy task. Depending on how you use it, the suit you buy could exceed expectations or fall far short.
There are a few key factors you'll need to consider before shelling out for any particular product. Above all else, a drysuit is designed to keep you insulated, warm, and completely protected against the elements.
While some drysuits are suitable for swimming, kayakers need to be much more discerning than the average consumer. You'll need a suit that not only keeps you dry: it has to be comfortable, form-fitting, and breathable enough for the heat of day.
Trust me, I know from experience. You don't want to be stuck on a multi-day trip in a suit that, somehow, keeps sopping sweat trapped on your skin and weighs you down with internally trapped saltwater.
With that said, let's dive into the most drysuit important characteristics below!
Drysuit or Semi-Drysuit?
Drysuits come in many different varieties, with one of the most common distinctions being between dry and semi-dry.
Standard drysuits are designed to keep you completely protected against any external water. With reinforced seals and limb gaskets, no water is allowed in through the most vulnerable entry areas of the suit.
By contrast, semi-drysuits are more akin to wetsuits, in that they allow some water into the suit. These suits feature wrist, ankle, and neck materials made with special microporous openings that reduce warm water from flushing out of the suit through new cold water.
Both suits are meant to keep you warm; however, a semi-drysuit keeps you insulated through trapping a regulated amount of body-heated water into the fabric. When you slip out of the suit, you will be coated in a fine layer of water if you took a dunk.
Semi-dry suits are ideal for the late Spring to early Fall in warm bodies of water. In general, you should only use these suits for day trips in water temperatures ranging from 60 to 80 degrees F.
Drysuits are built for any season, built to withstand extreme chills, lapping waves, and bitterly cold sea spray. Since modern drysuits are equipped with breathable composite materials, there's virtually no reason why a kayaker should opt for a semi-dry suit.
What Kind of Kayaking Are You Using?
Not all kayaking is created equal. It's important to consider the type of kayaking you're attempting before opting for a drysuit.
Recreational kayaking on well-protected lakes or lazy rivers requires the least protection since it's unlikely you'll be hit with sprays of water. Thinner drysuits that emphasize breathability are excellent for touring or beginner trips, especially if the suit can be converted into two pieces.
More intensive trips that require braving whitewater, the sea, or the ocean require a little more forethought. In particular, sea kayaking can be very unpredictable and may require a thicker, triple-layer drysuit with rubber-protected seams.
Whitewater kayakers brave rivers and streams with rapids, which can vary a lot in intensity. For any whitewater trip, I suggest a drysuit with reinforced joint padding that emphasizes easy joint articulation.
Material
Drysuits are made out of a complex combination of different materials to optimize waterproof performance, durability, and breathability. Materials are one of the best indications of product quality that customers rely on when judging a product.
Most kayaking drysuits feature a multi-layer system that uses each material to its best possible benefit. The outer shell, which is directly exposed to water, is usually made with 100 percent nylon or crushed neoprene.
Crushed neoprene is a very tough, insulating material, which is stretchy enough to accommodate users of different sizes. External suit components may either be stitched or welded directly to the surface, sealed with a tough rubber liquid coating to prevent water intrusion.
The ankle, arm, and neck openings are usually made with a buoyant and stretchy composite like neoprene. Some may be lined with a softer plastic-based fabric to prevent unpleasant chaffing.
To enhance breathability, many suits feature an internal liner between the external and internal layers. The inner liner, usually crafted from a piece of polyurethane fabric, is both hydrophobic and microporous to let air in and sweat out.
Fit
Drysuit fit is completely subjective. For most new buyers, it's notoriously difficult to pick the precise fit. You'll need to know many different measurements: will the suit fit over your chest, feet, neck, arms? Is the inseam proper for your leg length?
Kayaking drysuits are usually meant to be baggy when you're standing upright since the fabric needs to accommodate a greater range of motion for paddling. Generally, it doesn't matter if the drysuit sits flush against your skin – it's alright to size up if a bigger size would make you more comfortable.
That said, extra space inside a suit makes it more difficult to retain heat. You'll want a suit with room to stretch, but you won't want one that's too loose. When in doubt, peruse through customer reviews and consult the manufacturer for more precise measurement details.
Entry Type
Drysuits can be entered and exited in many different ways. The most common types include shoulder, front, and back exit.
With a front-facing in-seam zipper, front-entry suits are some of the easiest to crawl into. You can put it on yourself without relying on anyone to make sure it's fully zipped closed; however, front-facing and shoulder suits may be difficult for those that lack a full range of motion due to shoulder injuries.
By contrast, back-entry suits are built with a zipper on the back of the suit's torso. They are simple enough to slip in to, but you may struggle to get it fully zipped on your own.
Accessories
Accessories, accessories, accessories. Everyone loves them and there are a few key ones that make a drysuit much more flexible for different use cases.
Many drysuits come with cuffs, which slip right onto the top of the suit at the neck, arms, and feet entrances. A latex-based cuff is the gold-standard for anyone that'll get hit with water sprays; not only are they stretchy, but latex cuffs also adjust comfortably without being overly tight.
Zipper covers are external coverings that prevent water from penetrating through porous entry zippers. These zippers can even be affixed on storage pockets to keep sensitive items from getting wet.
Tunnels or sprayskirts are adjustable coverings that keep water from entering your boat. Usually, the sprayskirt can be attached to both your suit and the edge of a sit-in kayak. For adventurous seafarers, tunnels are practically a must.
Some kayakers prefer drysuits that come with attachable hoods. Drysuit hoods are normally tucked on top of the neck seal and help to keep your head from getting wet.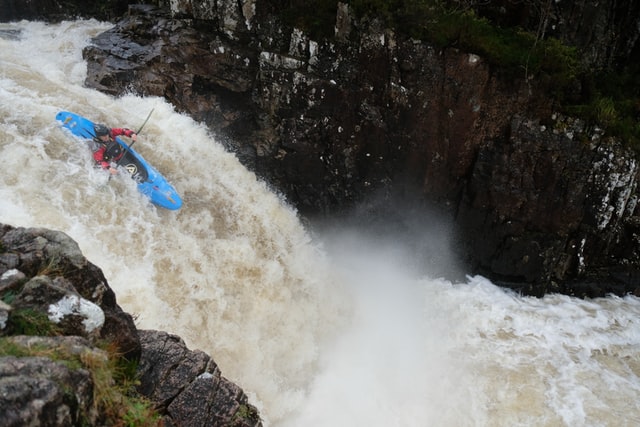 FAQ
What's better: a wetsuit or a drysuit?
Ah, the age-old question: should I go for a drysuit or a wetsuit? Wetsuits are form-fitting suits made out of neoprene, designed to keep a thin layer of water trapped on your skin for insulation.
Wetsuits are best for a narrow range of warm water conditions between 55 to 70 degrees F.
Though they're perfectly suitable for kayaking, most opt for a drysuit if they're braving diverse weather conditions. For temperatures below 55 F, rely on a drysuit to keep you protected if you flip over.
Do I really need a drysuit for kayaking?
A drysuit might not always be required, but a good-quality suit will serve you well for years to come. If you're a serious kayaker, it's important to have a drysuit as your primary protection against the elements.Drysuits are especially recommended for cold, windy, or winter kayaking. Without a proper drysuit, you could contract hypothermia or drown in the event of a flip.
Final Thoughts
Though there are so many top performers out there, nothing quite matches the performance of theNRS Extreme SAR Drysuit. Built for rescue workers on the front line, the SAR is built to withstand even the most unpredictable weather conditions.
Why, exactly, does this suit take the cake? With reinforced Neoprene padding and a minimal-stitch design, the SAR performs well on factors of durability and lightweight performance.
Of course, I can't finish off this article in good faith without mentioning two close runner-ups: the Stohlquist Shift and the Stohlquist Amp. Both suits are feature tons of add-ons, triple-layer waterproof systems, and a simple captive zip entry system.