If you're an avid canoeist or kayaker, you know that some of the most memorable days are the ones spent on the water. What better way to bond with the family than taking them on a canoeing trip?
Canoeing gives you the opportunity to get your loved ones all in one location for a few hours. Better yet, it's a low-impact exercise that lets you enjoy the outdoors without any modern distractions. So, with all that said, it's time to explore the best family canoes and how you can make the right selection.
Best Canoes for Families
Below, we've drawn up a brief list of the best canoes out there for family trips. Each canoe makes a trade-off between maneuverability, speed, and stability. Consider what your needs are before you invest in any one product.
1. Old Town Saranac 160 Canoe: Best Family Canoe
Features:
Best overall family canoe
Material: Thermoformed polyethylene and vinyl
Size: 16′ length, 37″ width
Number of Paddlers: 3
Weight Capacity: 800 – 850 pounds
The Saranac canoe provides smooth, stable performance for families, fishermen, and casual boatmen looking for a recreational adventure. Moving through the water with ease, it's very easy to get acquainted with the Saranac without needing much experience – and that's what makes it ideal for small families.
The low, broad seats ensure all-day comfort while the flat-bottomed hull offers enhanced stability. Under the center bench, a spacious storage area, cup holder, and 6″ dry hatch with a molded-in rod holder make it easy to stow your gear for long trips. Built with straight sides, the canoe offers security for beginner paddlers.
Moreover, the mid-sized rocker provides a decent trade-off between tracking and maneuverability. Even inefficient paddle strokes will get you where you're headed (eventually). The boat is constructed from thermoformed polyethylene, which is incredibly stiff, durable, and lightweight. Owing to its cost-minimized production, the boat is available at a reasonable price. This canoe fits three people and can accommodate up to 850 pounds. It's ideal for small outings with close friends and family.
Pros
Polyethylene construction provides rigid, durable, and lightweight performance
Offered at price that won't break the bank
Comes with generous storage space and low, wide seats for better all-day comfort
Cons
May not be best for those that prioritize speed
Moderate-sized rocker may not be best for those that want enhanced maneuverability guarantee
2. Grumman Square-Stern Canoe: Most Durable Family Canoe
Features:
Boasts most durable construction
Material: Fiberglass
Size: 17′ length, 36″ Width
Number of Paddlers: 3
Weight Capacity: 875 pounds
The Grumman canoe is built for both experienced paddlers and newbies alike. Whether you're gliding over a calm lake or tackling rapids, the lightweight yet sturdy Grumman can take on the challenge. The canoe features an oversized beam and low profile, offering better wind resistance and stability in adverse weather conditions. While the canoe comes in sizes ranging from 13′ to 18′, the 17′ heavy-duty version is best for families and multi-day trips.
The canoe can be custom-tailored to meet your needs, depending on whether you're braving whitewater rapids or flatwater lakes. You can opt between standard or shallow draft keels from the manufacturer. Buyers should keep in mind that the Grumman may be a bit harder to paddle than the standard two-point model, owing to its square stern. The stern does have some drag, but that's to be expected from its shape.
Pros
Low profile and wide beam offer improved wind and water resistance
Can be customized with different sizes, builds, and hull shapes
Perfect for death-defying rapids and calm lakes alike
Cons
Customer needs to be sure to get into contact with verified reseller to secure warranty
Bulb-T keel does produce some drag
3. Travel Canoe 16: The Inflatable Canoe: Best Inflatable Family Canoe
Features:
Best inflatable family canoe
Material: 1000 Denier Reinforced
Size: Deflated – 40″ x 24″ x 16″, Inflated – 16′ Length, 3'2″ width
Number of Paddlers: 3
Weight Capacity: 915 pounds
The Travel Canoe 16 is sure to catch your attention. Considered the first high-pressure all drop stitch travel canoe in the world, the Travel Canoe is small enough to fit in the trunk of your car – it only measures 40″ x 24″ x 16″. Once unpacked, the canoe takes just ten minutes to set up. It's naturally buoyant and more than a third lighter than traditional wooden canoes.
The stable hull-to-waterline length enables paddling speeds of up to 5 miles per hour. A removable skeg can help enhance tracking while three air isolated chambers improve the canoe's safety. In fact, the chambers provide consistent buoyancy that makes it virtually impossible to accidentally sink.
After it's inflated, the canoe measures a respectable 16′ long and 38″ wide, with a maximum weight capacity of 915 pounds. The canoe offers both primary and secondary stability through its inflatable drop-stitch flooring, which means the side rails and highest points can be set at an angle depending on the weather conditions. The canoe features four open-and-close floor drains, 12 d-rings for securing seats, two EVA foam deck pads, three one-way air valves, and rear spray skirts.
Yes, it may be difficult for you to trust an inflatable canoe at first, but the Travel Canoe 16 is independently certified for up to Class IV whitewater conditions. It's also NMMA certified, braving both glass-calm lakes and rapids alike.
Pros
Small enough to pack in the trunk of your car and 1/3 less heavy than traditional canoes
Can brave whitewater rapids or glide over calm waters
Offers excellent primary and secondary stability guarantees
Cons
Does take some time to inflate
Plastic bow and stern molds make break over time
4. Old Town Discovery 158 Recreational Canoe: Most Trusted Family Canoe
Features:
Offers best performance and durability guarantees
Material: High-density molded polyethylene
Size: 15'8″ length
Number of Paddlers: 3
Weight Capacity: 1,150 pounds
Crafted from triple-layer polyethylene composites, the Old Town Discovery canoe is designed to handle years of use and abuse. The canoe's sleek design performs well on both calm and rough waters. Each seat is crafted from breathable, water-wicking nylon webbed seats, which allow free airflow for all-day use. With a 1,150-pound weight capacity, the canoe supports up to two paddlers (though you could easily squeeze in a child or family dog).
The canoe measures 15'8″ and weighs just 87 pounds. Moreover, the comfortable molded handles on the end caps make it easy to tote the canoe with the help of a friend.
The Old Town canoe is best for longer trips where you need to track more distance in a single day. The slim build makes it easy to track through dense waterways and maneuver through thin rivers. Users love this canoe so much because it's covered by a lifetime guarantee. Unlike other canoes, the Old Town Discovery is meant to "stay in the family" and last more than a generation as long as it's well taken care of.
Pros
Developed by one of the world's most long standing manufacturers of canoes and kayaks
Supports high maximum weight capacity for stowing extra gear
Comfortable molded handles make it easy to take canoe to portage
UV-resistant webbed seats provide sweat-wicking, breathable seating all day long
Cons
Some complain of canoe defects upon delivery due to improper packaging
5. Sun Dolphin Mackinaw SS Canoe: Best Canoe For Your Budget
Features:
Most inexpensive family canoe
Material: UV-Stabilized Fortiflex High-Density Polyethylene
Size: 18.5′ Length, 42″ Width
Number of Paddlers: 3
Weight Capacity: 800 pounds
Boasting a hybrid, square-backed design, the Sun Dolphin Mackinaw supports up to three riders at a time. The square back makes it convenient to paddle as well as attach an electric trolling motor for those effortless days out on the lake. The three-seater boasts a built-in cooler and storage space stowed right under the central seat. Each seat features its own beverage holder, too, which makes it perfect for recreational family trips.
And you can rest assured that the canoe is backed by a generous 2-year warranty on the hull and parts if anything goes wrong.
The hull is made from UV-stabilized Fortiflex polyethylene, which is exceptionally rigid, durable, and surprisingly lightweight for on-land travel. According to buyers, the canoe steers and maneuvers akin to a regular canoe, but with the benefit of a motor transom.
Buyers should keep in mind that the canoe doesn't come with an electric motor. Some complain that, when they are seated at the stern, it's not simple to handle a standard motor in the helmsman position.
Pros
Hybrid design can be used for both electric trolling and paddling
Offers generous amount of built-in storage, cooler, and cup-holder space
Covered by decent warranty and protection program
Cons
May be hard to properly configure standard electric motor since stern set doesn't reach conveniently to where motor would sit
Cooler latch may fall open when canoe is held upside down
Factors to Consider When Purchasing a Family Canoe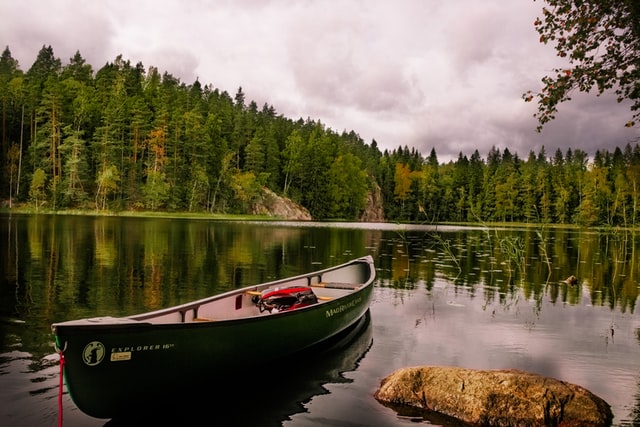 The best family canoe will largely depend on your priorities, the size of your family, and what you hope to get out of your watercraft. Below, we'll touch on the most important factors to consider when deciding between different models.
Size
The depth, width, and – most importantly – length of the canoe will help you determine how many riders you can squeeze in (as well as the canoe's carrying capacity).
Canoes range in length from a teensy 13′ to over 19′ on average. Most popularly, 17′ canoes can usually fit three riders and offer a good combination of speed and maneuverability.
While shorter canoes are easier to maneuver, longer ones are easier to track over long distances and can carry much more gear. The longest canoes are best for multi-day touring trips with the family, while shorter models are best for wading through narrow inlets.
You'll also need to consider the width (or beam) of the boat – generally, the wider a boat is, the more stable it is. Narrower boats are easier to paddle and provide a greater return on investment per stroke, yet can be sensitive to wind and movement in the hull.
Depth, which refers to the distance between the bottom of the boat and its side rails, is also more important than you might initially realize. Deeper boats have better carrying capacity and keep out water, yet are more susceptible to changes in the wind than shallower watercraft.
Stability
Canoes differ widely in terms of stability depending on their construction. Typically, a more stable canoe is less efficient and requires more effort to paddle.
The length, width, and depth of the canoe have the biggest impact on its stability. A wider canoe, especially relative to its length, is more stable than a narrow model and can tolerate movement in the hull well.
The canoe's hull profile will also play a big role. Most hulls are either flat-bottomed, round-bottomed, shallow arched, or V-shaped.
A flat-bottom canoe is exceptionally stable on calm water, which is perfect for lake trips; however, they are vulnerable to changes in the wind and choppy water, which puts their secondary stability at risk.
Round bottomed hulls designed for speed and efficiency but little else. While primary stability is poor, these canoes are hard to tip over when leaned on the water edge.
A shallow arch provides a good balance between flat- and round-bottomed designs, offering improved maneuverability and a great mix between primary and secondary stability.
Finally, a V-shaped hull also provides a mix of good primary and secondary stability, yet is slightly less efficient per stroke than most other models.
Construction
Canoes can been made from a broad range of materials that all boast different performance characteristics. Most canoes are crafted from wood, aluminum, composite plastics, fiberglass, or kevlar.
The materials are one of the best insights you can get into the quality and durability of a new canoe.
Classic wood canoes are very durable, yet require regular maintenance and come at a high price. That's why it wasn't long before aluminum alternatives started to dominate old-style wood models. Aluminum offers even greater durability than wood and doesn't take much effort to maintain over the years. Moreover, they're also significantly less expensive than their wooden predecessors. However, aluminum is slow and very noisy. Most buyers prefer composite plastic canoes, which offer great durability and mid-range speed at more than half the cost.
Most plastic canoes are made from high-density polyethylene that's thermo-molded into the right shape. Keep in mind that these canoes aren't the easiest to lift on and off docks, owing to their high weight.
In recent years, fiberglass and kevlar canoes have risen as popular alternatives to plastics. Both types are more pricey than plastic alternatives, yet boast much greater speed and lower weight. However, neither are quite as durable as composite plastic canoes.
How to Canoe Like a Pro
Okay, so you have your canoe picked. Once you have everything you need, how do you actually enjoy yourself out on the water?
Bringing your kids on the all-day outing? Check out this video for some tips-and-tricks to keep your children safe and amused.
Water Conditions
Before you head out, you'll want to check the weather conditions and plan appropriately for your trip.
Make sure to ask yourself key questions like:
How long do I plan to be out canoeing?
What do I expect the water conditions to be like?
Will there be significant wind or any chance for unexpected weather?
Do I plan to explore narrow inlets, streams, or offshoots?
Depending on your experience and comfort level, we recommend calm water conditions. Lakes are usually the calmest in the early morning, which is when they lake the most surface waves.
What to Bring
What you bring should depend on the water conditions and how long you plan to stay on the water.
No matter where you head, you should also bring one certified PFD (personal flotation device) for every person on board. Each person should also bring their own paddle. We also recommend carrying a whistle and flashlight in case you get lost or need to signal for help.
For longer trips, we recommend waterproof maps, a GPS, compass, fire starter, headlamps, and a water treatment filter. Make sure to bring energy bars, protein, trail mix, and plenty of snacks – you're bound to get hungry quickly.
Paddling and Safety
Above all else, the most important is to practice good canoe safety habits. Generally, flat-water canoeing is very safe, yet poor planning can cause a situation to quickly become dangerous.
Always have every rider wear a PFD and, if you're new, select areas sheltered from the wind and waves. If you're paddling in cold water, make sure to wear properly insulated clothing and bring more than you think you need.
Make sure to check the weather report before you head out and stay close to the shore until you understand what the water condition is like.
Final Thoughts
It's hard to beat the long-term, durable performance of the Old Town Saranac 160 canoe. Developed by one of the oldest canoe brands in the US, the 16″ Saranac is an excellent choice for both anglers and families.
The flat-bottomed canoe provides exceptional stability on calm lakes. However, if you're looking for faster performance and better secondary stability, check out the Sea Eagle Inflatable Travel Canoe. Whatever you choose, make sure to have fun out there!