If you are in a rush our favorite fly fishing reel we reviewed was the Redington Crosswater Fly Reel. 
Here at Floating Authority, we are constantly looking for ways to upgrade and learn our fly fishing setups. We've found that even the most premium rods are useless without a reliable reel and fly tying set ups behind them. From the moment you snag a fish, your reel is the element that will help you land your catch.
Many people fail to see that fly fishing includes the hunt for a wide variety of fish species. We want to bust the myth that fly fishing only covers the pursuit of trout. You can set your fly rod to combat a wide range of species, including everything from small river wanderers to the real big game. According to the International Game Fish Association, fly fishermen go after roughly 100 different fish species. With such a vast array of targets, you better believe that there are a seemingly ever-expanding selection fly reels on the market.
We wanted to help our readers discover the key differences between fly reels. We also wanted to make it easier for you to find offerings that meet your requirements and do not exceed your spending limits. You already know that there are plenty of fish in the sea. We want to help you catch your target with machine-like accuracy. Let us know what you think in the comment section!
The Best Fly Fishing Reels Go As Follows:
Why Fly Fishing Reels
Fly fishing reels are an essential piece of fly fishing equipment. You literally can't snag a fish without one. So, why do so many anglers fail to appreciate these indispensable elements?
For starters, many of the top-performing reels are expensive. For this reason, the vast majority of fly fishermen embracing generic bargain-rate reels. Unfortunately, the drag systems on inferior fly reels can barely hold up against prominent game fish. This leaves amateur anglers thinking that reels are nothing more than a rotating barrel.
We searched high and low for affordable fly reels that improved everything from casts to retrievals. We couldn't be happier with our findings.
The Top Five Fly Reels Reviews
The following are some of the most popular and top rated fly fishing reels as judged by a combination of us at Floating Authority and verified customers.
1. Redington Crosswater Fly Reel – Best Plastic Budget Option
Sizes: 4/5/6 and 7/8/9
Weight: 5.1 to 5.5 ounces
Material: Polymer
Drag: Sealed disc drag
The Redington Crosswater is a budget-friendly polymer fly reel with a sealed disc drag system. The sleek black plastic finish pairs well with almost any fly pole. It is available in sizes four, five, and six.
We appreciate the Crosswater's sheer simplicity. The uncomplicated combination of a large arbor and a reliable drag give this reel a timeless look, even if the base material is composite plastic.
Each Crosswater model can accommodate three different leader sizes. The smallest model suits size 4/5/6. The larger model accommodates sizes seven, eight, and nine. The arbor diameters are 3.5 and 3.9 inches. Line capacity ranges from 100 to 200 yards of 20-pound test. The reel weighs a mere 5.1 ounces.
It's hard to believe the Crosswater is made from polymer composite. It's incredibly versatile and durable. Since there are very few metal elements, there's no need to worry about corrosion. You can easily convert the device from a right-hand to left-hand orientation. The reel even comes with a protective cloth bag. Not to mention, it is covered by a one-year warranty. We are always looking for ways to preserve our fishing equipment. In this case, Redington already has us covered.
Customers seem to agree the Redington outperforms most other plastic reels in its price class. Most said that it was light enough to take on remote expeditions. More importantly, most anglers agreed that its drag system was reliable and easy to use. Users found it easy to switch back and forth between right- and left-hand orientations. The reel comes pres-spooled with coveted RIO Mainstream floating line.
The smooth Rulon disc drag system offers ample stopping power. Rulon is incredibly durable plastic. It produces enough friction for hard fighters. Some anglers don't like the idea of replacing cork and carbon bases with plastic. However, stats don't lie. Rulon is here to battle it out with the toughest species.
We recommend this fly reel to beginner anglers and those looking for an affordable and long-lasting backup fly reel. It functions best as a freshwater reel, but we'd be open to using it against some small and medium saltwater species.
Pros
Can be converted into both left- and right-hand retrieve
Durable corrosion-resistant polymer foundation and drag system
Large arbor for faster retrievals
Strong, silent type of disc dag system made of Rulon
Comes with a soft fabric storage bag for safer storage
Cons
Not as durable as most alloy alternatives
May warp or discolor when exposed to high heat and sunlight
2. Piscifun Sword Fly Fishing Reel – Best Budget Aluminum Pick
Sizes: ¾, 5/6, 7/8, 9/10
Weight: 4.2 to 6.9 ounces
Material: CNC-machined 6061-T6 aluminum alloy
Drag: Multi-disc cork and stainless steel
We were eager to put one of Piscifun's fly fishing reels on our page. The difficult part was choosing a single gear offering. Still, the Piscifun Sword stood out as one of the company's most reliable aluminum fly reels. For just under $50, you can upgrade your rod without taking out a bank loan. The CNC-machined 6061-T6 aluminum alloy creates an unbelievably sturdy foundation for your line.
First off, we love the gunmetal base and green accents. Let's not forget that the Piscifun is available in several colors, including rose gold, gunmetal, and black.
The reel is equipped with a mid arbor spool. This enables quick line pickup while maximizing your comfort and balance. Depending on the model, line capacity ranges from 50 to 150 yards of 20-pound filament.
The Piscifun Sword fly fishing reel is made from incredibly durable CNC-machined 6061-T6 aluminum alloy. It boasts a reliable right-hand retrieve with a super smooth drag. You can easily switch this reel over to a left-hand orientation. The Sword has an anodized finish that is resistant to corrosion and abrasion. As we mentioned before, this protective coating comes in a gorgeous array of colors.
The drag is made from cork and stainless steel. It boasts a one-way clutch bearing that engages the drag with a single tug. The medium arbor reduces line memory during rapid-fire pickups. Retrievals are completely silent. However, the drag makes an audible clicking sound during adjustments. The mid-sized arbor makes for rapid-fire pickups.
An incredibly anodized finish helps fight against salt and water corrosion. The cold-forged and tempered aluminum alloy further enhances this reel's durability. The reel has several large and decorative cutouts. As such, it weighs less than your typical mid-arbor reel. For example, the ¾ model weighs just 4.1 ounces. The largest model, the 9/10, weighs just 6.9 ounces. Arbor width ranges from 0.83 1.07 inches.
Customers love the fact that the Piscifun Sword is covered by a three-year warranty. Piscifun also offers a 30-day money-back guarantee. Many consumers have also reported that it is easy to convert this reel from la left- to a right-hand orientation. The drag engagement is reportedly smooth. The ball bearings are even reinforced with corrosion-resistant rubber 0-rings. According to the manufacture, the hard anodizing treatment boasts a 30% abrasion resistance. However, Picsifun warns anglers to only ever rinse the reel in fresh water.
Color options include gunmetal, black, space gray, and pink. The bright skins look great against a backdrop of colored filament. It's nice to have a few options when shopping for yourself or a loved one.
Piscifun's vast array of size offerings can be a bit overwhelming. The smaller sizes include 3/4WT and 5/6WT. The smallest model can accommodate a size-three weight-forward floating leader and 50 yards of 20-pound backing. The largest size, 9/10WT, can fit a size-nine weight-forward floating leader and 150 yards of 20-pound backing. Sizes 5/6 and 7/8 cover everything in between these two extreme offerings.
Customers did complain that the drag system was a bit wobbly. As a result, it is sometimes challenging to dial in a precise tension. Still, the system maintains itself well. You'd be hard-pressed to find a similarly priced reel that can outperform the Sword. Overall, we'd say this model is ideal for beginners fishermen and those looking for a super affordable backup reel.
Pros
CNC-machined aluminum alloy
Covered by a three-year warranty
Set for left-hand retrieve, but can easily be altered to right-hand retrieve
Mid-arbor design reduces line memory for smoother retrieves
Available in four attractive and trendy color combinations
Resistant to corrosion and abrasion thanks to a hard anodized coating
Multi-disc cork and stain-less steel drag with one-way clutch bearing
Silent retrieve with audible clicks for setting adjustments
Cons
The drag is not as tight as we would have preferred
3. Orvis Clearwater II Large Arbor Fly Reel – Best Brand Pick
Sizes: WF3 TO WF9
Weight: 5.5 ounces
Material: Die-cast alloy
Drag: Stacked disc drag retrieve
Orvis is the brand that immediately comes to mind when we discuss fly fishing gear. This amazing company offers free and low-cost fly fishing workshops. For many anglers, the brand is a symbol of their love for the sport. As you can see, our list wouldn't be complete without at least one of Orvis's top fly reels. We chose to include the incredible Orvis Clearwater II. This reel has a large arbor made of carbon-stainless steel. The drag consists of stacked disks with a positive click drag knob. The audible confirmations will give you enhanced confidence in your drag settings. That means no more fumbling in the middle of a fish fight. As a result, you're sure to experience less unexpected line snaps.
The Clearwater II comes pre-spooled with their revered Dacron Backing, Clearwater WF Floating Fly Line, and an Orvis Tapered Leader. That's right, folks. Just snap this on your favorite fly rod, and you're ready for a fair fight with your favorite fish species.
Sizes range from three to nine. The reels are built half-size heavy to make loading easier. They also boast welded loops for easier leader changes. The die-cast aluminum and stainless steel elements provide consistently smooth actions. The reel weighs 5.5 ounces and has a diameter of 3 3.8 inches. It has a matte gray powder coating that protects it from harsh natural elements. Reel capacity tops of at 100 yards of 20-pound WF5.
The Clearwater's large arbor makes it a top choice for anglers hunting down large targets. We love the way this dark reel compliments neon fly leaders.
Customers love the floating line. This impressive filament can handle everything you can throw at it. Most consumers confirmed that the Orvis reel held up against strong species, heavy winds, and other harsh fishing realities. The reel looks quite beautiful against the stark backdrop of a glistening lake. It's bound to be the star of the catch-and-release photos you post on social media.
Customers say the reel spins nicely. You can easily make adjustments using the drag knob. Audible clicks give users assurance that their adjustments were successful. The drag system is open, with lots of attractive geometric cutouts. The whole package is surprisingly affordable. Many customers say they have been using their Orvis Clearwaters for years without issues. If your looking for a good fly fishing education resource, be sure to check out your local Orvis fly fishing seminars.
Pros
Can be easily converted from left- to right-hand
Positive click drag knob
Available in two sizes (4-6 and 7-9 weight)
Lovely dark gray color
Cons
Does not respond well when bent at an angle
4. Ross Animas Fly Reel – Quality Pick
Sizes: 4/5, 5/6, 7/8
Weight: 8.8 Ounces
Material: Machined Silhouette
Drag: Composite Drag System
If you want to improve your fly setup, the metallic Animas is the way to go. The Animas is manufactured by Ross Reels, an American company that is known for their excellent craftsmanship. This reel has an extra-large bell-shaped arbor with intricate machined details. The proprietary Phenolic handle and two-toned (chrome and bronze) aluminum details give it a luxurious look. What's more, the composite-disc drag provides consistently smooth casts and retrievals.
The Animas is available in three sizes, include 4/5. 5/6, and 7/8. The line capacity ranges from 70 feet of WF4 to 100 feet of WF5. Expect to pay top dollar for this premium fly fishing element. Of course, a limited lifetime warranty ensures that you will get your money's worth. Still, at nearly $300, this reel isn't the best buy for amateur anglers.
This is a guide-approved fly reel with a reputation for excellence. Anglers who are privileged enough to give this device a try loved it. Reviews suggest that it has a lightweight feel and incredible strength. The sealed spool does not require maintenance of any kind.
Pros
Extra-large bell-shaped arbor
Intricate machined aluminum details offer incredible durability
Two-toned colorway provides an impressive aesthetic
Precision machined phenolic handle
Low-profile drag knob with incredible grip
Maintenance-free spool system
Cons
Not a budget-friendly option
5. Waterworks Lamson Liquid Fly Reel – Best Drag System
Sizes: Three, five, seven, nine
Weight: 4.2 to 6.7 ounces depending on the size (four sizes available)
Material: Pressure-cast aluminum frame and spool with a polyurethane finish on the case and spool
Drag: Sealed conical drag
The Waterworks Lamson Liquid fly fishing reel is an impressive piece of angling equipment. The Liquid's unmatched sealed conical drag system enables it to stick out against a backdrop of thousands of other fly fishing reels. The device consists of a pressure-cast aluminum frame and spool. A corrosion-resistant polyurethane finish provides it with added protection from the elements, like salt and water.
This reel is manufactured in Boise, Idaho. Over 50% of the materials are domestically sourced. The quality craftsmanship is easy to identify. Very few die-cast reels hold up as well as the Liquid. Yet, Waterworks Lamson manages to keep its prices incredibly low.
The Liquid is available in four sizes, including three, five, seven, and nine. Its arbor diameter ranges from 3.34 inches to 4.65 inches. The models are compatible with WF4, WF6, WF8, and WF10 lines. The various models hold between 100 and 250 yards of backing. A solid rig job will complement this metal reel's already impressive uptake.
This reel's large arbor makes it an excellent choice for saltwater species. The arbor's U-shape prevents line stacking. Whether you are looking for extra value or want to throw a backup reel in your gearbox, the Waterworks Lamson's Liquid fly reel is an impressive option.
Customers love this reel's smokey gray foundation color and burnt orange accents. However, other available color sleeves include black, salsa green, and coral blue. It's a hardworking piece that will land you fish after fish in both fresh and saltwater fishing holes.
According to users, the polyurethane finish holds up well when regularly exposed to harsh aquatic conditions. The sealed conical drag system won't succumb to salt spray or other harsh natural elements. We also want to take a minute to discuss how gorgeous the reel details. The rims consist of a rugged-looking structure of geometric lines and smooth curves.
Some customers complained that the reel didn't feel smooth during retrievals. However, we are fairly confident that the reels kinks will work themselves out over time. With the Liquid reel, you get a high-class fly experience that won't break the bank.
Pros
Large arbor
CNC-machined aluminum alloy frame and spool made through pressurized casting
Made in Boise, Idaho
Available in sizes three, five, seven, and nine
Contains a sealed conical drag
50% of the materials are manufactured in America
Corrosion-resistant polyurethane finish on the case and spool
Cons
The drag is a bit bumpy when compared to higher end models
How to Choose a Fly Fishing Reel
In this section, we identify the defining characteristics of fly fishing reels.
Drag System:
At the helm of every reliable fly reel is a smooth drag system. Drag systems control the speed and stopping power of a line during retrievals.
Drag systems come into play the moment a fish starts tugging on your line. You can use your drag to control dial in a particular line resistance or stop your line altogether. When using appropriately, a quality drag system will eventually tire and overcome even the most resilient fish.
Skilled fly fishermen constantly adjust their drag settings while fighting fish. This is a skill that most anglers only achieve after years of practice. Newbie fishermen can start by learning how to set their drags. Guide Recommended offers some helpful tips on how to set the tension of fly reel drag with just your mouth.
Drag systems vary dramatically. Popular options include disc and click-and-pawl drag systems. Disc drags are the most popular option on the market today. This type of drag system consists of several washers built up against a reel spool. Users must turn a reel knob to adjust the tension of the washers. This action can slow or halt the line. Disc drags are the preferred option for fast-moving waterways and powerful species. These drag systems
maybe open or sealed.
Disc drags tend to be quieter than their clicky cousins, the click-and-pawl drags. The tension systems also tend to be a bit more dynamic.
Click-and-pawl drag systems, also known as ratchet and pawl drags, are typically only seen on older fly reels. These systems just don't offer the same stopping power as click drags. Still, if you're looking to reenact a picture out of a retro L.L. Bean catalog, these tried-and-true reel systems are the way to go. For many fly fishermen, there is nothing more enjoyable than hand retrievals.
We won't get too deep into a discussion about how to use drag. This lesson is best learned in person. However, it is important to always set your drag before fishing. Furthermore, make sure your drag settings are not so high that they could potentially damage your leader or tippet.
Click-and-pawl reels sometimes boast exposed rims. Exposed rims enable anglers to manually palm their spools. Palming is sometimes easier than setting the drag tension. It's nice to have a simple fallback when you are in the middle of a long, hard fight.
Weatherization:
Manufacturers use a variety of design features to protect their reels from the elements. Sealed drags are engineered so that no water, salt, or other elements can gain access to the precious internal ball bearings. Waterproof seals ensure that a reel's internal mechanical elements run smoothly. However, most reel seals are not completely impervious to nature.
On the other hand, unsealed drags are just out there in the open. As a result, users can and must rinse the bearings to ensure they last. A well-maintained open drag system is just as sustainable as a sealed one. However, they do demand a little extra elbow grease.
Hard anodized coatings are also used to prevent the surface of aluminum reels from corroding. These coatings are very similar to the coatings on modern-day cars and trucks. They can withstand repeated exposure to water, salt, and sand. However, they are also not completely impervious to the elements. You'll notice that these coatings are largely prevalent on saltwater reels.
Budget
We've done our best to include everything from budget-friendly models to those fit for professional fly fishermen. As you take a look at our selections, you'll notice that certain materials and elements increase the price of a reel. You must understand the benefits of each element.
Arbor Size
You'll also hear us talk a lot about fly reel arbors. Arbor is the word used to refer to the spindle in the center of a fly reel. These elements vary in size. For the most part, anglers must choose between medium and large arbors.
Medium arbors take up string fast while providing rods with plenty of balance. Large arbors are a bit more cumbersome. Yet, their rapid retrieval rates and enhanced line capacities make them the optimal choice for extreme saltwater fishing excursions.
Most anglers use backing lines to bulk up the diameters of their reel arbors. Backing increases the speed and efficiency of pickups. Most anglers use around 150 feet of backing. Check out this linebacking explainer for more information on this process.
Aesthetics:
Fly fishing is a rugged outdoor sport. As a result, performance usually takes precedent over aesthetics. Still, there are plenty of manufactures that work hard to make attractive fly reels. From intricate cutouts to unique colors, there are lots of aesthetically pleasing reel options on the market. Take a minute to find a reel that meets your performance requirements and looks good out on the water. After all, your new pieces are probably going to find itself into a picture at one time or another.
Trendy options include gun-smoke coatings with colorful metallic accents. Many anglers use brightly colored leaders. Coordinates are not out of the question.
The Difference between More Expensive and Cheaper Fly Fishing Reels
We often hear inexperienced anglers complaining about the price of fly fishing reels. Why pay top dollar for something that is only designed to hold your line? Well, we're always happy to spend a little more dough to ensure that our gear is top quality. The materials and features used in top-tier fly reels tend to be a lot better. These reels can usually handle more abuse. Some of them are even backed by lifetime warranties.
When it comes to expensive fly reels, we expect to see fewer manufacturing defects and more quality performance markers. Resist the urge to buy a cheap reel. Poorly made equipment will only deter you from spending time on the water.
Experience
While shopping for fly reels is a fairly straightforward process, your end goals may vary depending on your experience. Save the pricier, more complicated models for experienced anglers.
Types of Fish to Look for When Fly Fishing
You should always shop with your target species in mind. For most anglers, the decision lies between freshwater and saltwater species. However, there are also inherent differences between reels designed to catch small and big species. Some anglers like to prepare for their hunt by packing a few extra spools. The extra gear makes it easier for them to pursue diverse species.
Trout and Bass
Freshwater fly fishing typically involves the pursuit of trout and bass. These fish are not very overwhelming. As such, anglers do not need to invest in a reel with a jumbo arbor and powerful drag. Instead, you should focus on finding a reel with a well-balanced disc drag system and a midsized arbor. The reels that accommodate fly leads between the sizes 4/5 and 6/7 are ideal for most freshwater fly fishing setups. Don't forget to look at the size of your rod before selecting a reel for your freshwater hunts.
Saltwater Fish
When it comes to saltwater fly fishing, size and power are much more imperative. Saltwater fish fight harder. You'll want to invest in a fly reel with a large arbor, a powerful disc drag, and a rugged retrieval. Split reel sizes (including 7/8, 9/10 and 11/12) are the most appropriate options for these fly fishing pursuits. Steelheads, sea trouts, and Atlantic salmon are just a few of the species that are known to test the limits of a rig.
Where are You Fishing?
Your fishing location should also have an impact on your purchase. While all fishing reels are designed to endure regular exposure to the elements, some are far more durable than others. For example, sealed drag systems provide an extra layer of production against grit and grime. Anodized coatings also fend off imminent corrosion. If you are planning on spending most of your time in the ocean, invest in a reel with several weatherizing reinforcements.
Materials
Fly fishing reels are manufactured from a variety of materials. In the section below, we discuss the major differences between plastic, cast aluminum, and machined aluminum fly reels. Is one material better than another? We have comprehensive answers for all of the most frequently asked fly reel questions.
Plastic vs Cast Aluminum vs Machined Aluminum
While your budget will play a tremendous part in your material options, it is important to understand the pros and cons of each reel material before setting out on a shopping spree.
Plastic
Plastic, or polymer, reels are not generally known for their durability, but they are inexpensive and reliable. We recommend plastic reels for anglers looking to cut down on costs. Plastic reels are also excellent options for beginner fly fishermen.
One of the biggest complaints that surround polymer fly fishing reels is that they warp and melt in high heat conditions. Still, many anglers rave about the enhanced friction offered by composite drag systems. It just goes to show that every manufacturing material has its limitations.
Cast Aluminum
Cast aluminum is next up on our list. This type of metal reel is made when molten metal is injected into a mold. Cast reels offer enhanced durability for a low price. However, cast aluminum is much more likely to break apart or become distorted.
Machined Aluminum
CNC-machined aluminum reels are carved by computerized mechanisms. If you enjoy fishing in rivers and surf, then machined aluminum is the way to go. This type of metal is exceptionally durable. It is also less much susceptible to corrosion.
Drag vs No drag
Do you need a drag system when fly fishing? We've got answers for all of your pressing drag system questions!
Drag
A fly reel drag builds tension and stopping power during retrievals. While traditional fly reels were made without drags, modern reels are rarely made without them. Most anglers are more torn between which drag to choose. Stopping power is essential when it comes to fighting against powerful species, wind, and currents. The go-to stopping function for most anglers is disc drag. Click-and-pawl disc drags are usually a secondary choice from most anglers.
No Drag
Although almost all modern reels are made with drags, some fishermen still prefer old-fashioned alternatives.
Type of Retrieval System
Fly reel retrieval systems are engineered to gather the line released during a catch. There are three main types of reel retrieval systems, including single-action, multiplying, and automatic retrievals.
Single-action retrievals consist of a reel spool that spins at one ratio. These retrieval systems are a good option for beginner anglers. However, they do not offer enough speed to combat powerful species. If you're looking to do saltwater angling, stick to something a bit more powerful.
On the other hand, multiplying retrievals consist of spools with multiple speed settings. As a result, you can collect the line faster. You'll pay more for the added power. This type of retrieval system requires a bit more input from the angler. Don't let the potential learning curve deter you if you're looking for extra power.
Finally, automatic retrievals rely on spring-powered tension devices. When the line tightens, the line is automatically reeled back onto the spool. This results in enhanced speed and accuracy. You'll pay more for this type of retrieval system. If you're not careful, you might set off the retrieval at the wrong time. This can result in line snaps and lost fish.
Wheel Size
Pay close attention to the diameter of the wheel, or arbor. This measurement must coordinate with your backing, leader, and fly pairings. Line sizes range from 4 to 12. However, many sizes are paired together, as in size 4/5, 5/6, or 11/12. Combined reel sizes give anglers greater flexibility when choosing a line weight.
The line weight capacity is determined by the arbor's diameter. Arbor diameter measurements vary by a fraction of an inch. Each arbor can accommodate a specific length of 20-pound backing, a specif-sized leader, a tippet, and a fly. You must follow the manufacture's capacity recommendations. There is rarely any room for substitutions.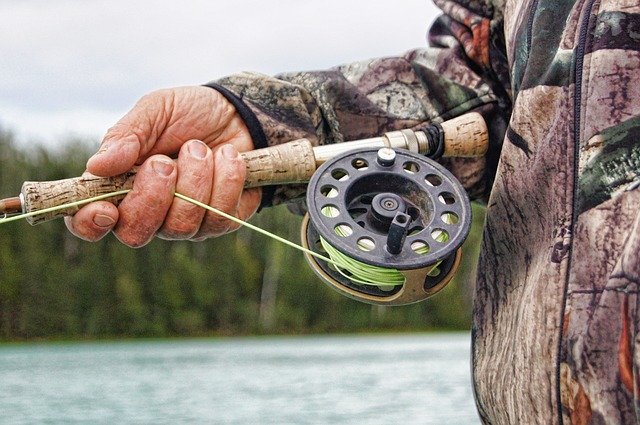 FAQ's
How do I set up my fly reel?
Most fly reels are very easy to set up. You'll need to attach an appropriate length of backing, a fly line, a tapered leader. You can do this with the help of your hands and a pair of scissors. The hardest part is attaching the backing to the arbor. Simply use an arbor not to create a stable backing foundation. Trim off any excess line to prevent snags and tension issues.
Does brand matter all that much?
The fly fishing world has long heralded several gear kingpins, such as Orvis, Rio, and Simms. Many of these brands are steeped in long histories. Many companies started their production with wooden rigs and have evolved to offer more modern offerings.
With such rich histories, some brands have extremely loyal customers. Still, manufacturing and outsourcing have evolved. Many time-tested brands have succumbed to poor-quality outsourcing and price-gouging. We always use consumer ratings as a guidepost for our product reviews. After all, consumers are the ones looking out for quality and value. We've also come to favor a few brand veterans. The reputation of these brands has been demonstrated through their consistently amazing fly fishing gear offerings.
Are there different kinds of fly reels?
Yes, there are many fly reel variations. For one, there are sealed and open fly reels. Sealed reels are designed to protect the most vulnerable mechanical elements from corrosive salt, sand, and water. There are also reels with and without drag systems. These offer very little stopping power. Still, there are always a few fly fishermen who enjoy using these traditional retrieval systems. Many anglers spend a lifetime trying to master palming skills.
How do you decipher reel capacity computations?
Many inexperienced fly fishermen struggle to interpret the codes used to explain reel capacities. For example, Streamlight Ultra Fly Reel Large Arbor Spool lists the product specs like this: WF-3 105 yd. with 20 lb. Backing. WF-3 translates to size 3/4 weight-forward floating line. As the description reads, this particular reel can hold a WF-3 leader with 105 yards of 20-pound backing.
Will my new reel help me master coveted fly fishing skills?
Maybe. It takes a lifetime to master finer details of fly fishing. Still, you can accelerate your progress by investing in reliable, hard-working equipment. For many anglers, a reliable fly fishing setup starts with a good reel. From there, you work on finding a suitable rod, lures, and lines.
How do I ensure that my fly system is adequately balanced?
While building a fly fishing rig may seem stressful, it is very straightforward. First off, you need to identify your target species. From there, it should be easy to determine what size line you need to be using. No, bigger isn't always better.
Your line must coordinate with your leader, tippet, backing, reel, rod, and flies. For example, a trout-geared rig may use size 3/4, 4/5 or 5/6 WF (weight forward) or DT (double taper) 20-pound line. As a result, that same rig would need a size 4/5/6 reel with either a disc or click-and-pawl drag. The rod would need to be size four, five, or six too.
How do I set the drag on my fly reel?
If you're working with a disc drag system, you can make drag adjustments by turning the drag knob on your reel. This element should be fairly easy to identify. Many manufactures make it a contrasting color, as anglers must go to it in the heat of a fight. You must crank the knob clockwise to increase line friction. Counter-clockwise turns will increase line slack. Any seasoned angler will tell you that these skills come with practice and good instinct.
Some click-and-pawl drags can be adjusted, while others cannot. If your drag has a knob on the outside, you can use this to tighten or loosen the tension on your line. However, you may not be able to adjust the preset tension.
Final Thoughts
We hope you enjoyed our comprehensiveness fly fishing reel buying guide. If you're in a rush, check out our quality choice, the Ross Animas Fly Reel. This incredible piece features a corrosion-resistant stainless steel interface with an ultra-large arbor and intricate machined details. The composite disc drag offers unmatched maintenance-free friction. The limited lifetime warranty helps counter out some of your initially steep investment.
Of course, you may also prefer a more affordable polymer reel, such as the Redington Crosswater. This piece of fly gear is equipped with a powerful disc drag system and a mid-sized arbor. It's our go-to pick for backcountry expeditions and trout. Just pop it and your favorite rod in your bag, and you'll be ready for the angling adventure of a lifetime.
We hope you enjoyed this guide to fly fishing reels as much as we did. These often-overlooked fly fishing accessories have a tremendous impact on your angling experiences. Whether you're trolling for trout or more powerful saltwater species, we hope we provided you with some helpful buying tips and excellent product recommendations.
Do you have a favorite fly fishing reel? Feel free to share the details in the comment section under this article. We are looking forward to hearing from all our readers. If you have any questions, do not hesitate to drop us a line in the comment section. We're always happy to talk fishing and floating with you!