In this article, we will be learning about the best beginner fishing rods. Between my year's experience of handling fishing gear in Lake Ontario and the 12 hours of research put into this article, we think we can help you find one to your liking. We have compiled not just experience from ourselves but also have scoured the web looking at what customers thought of these products and point out the good bad and the Ugly.
The best fishing rod and reel combo for beginners are the Penn Fierce III. It was a toss-up between that, the Ugly Stick GX2, and the more coastal-friendly Penn Battle II fishing rod and reel, but we decided that quality was key. While the price tag may be a bit more it is a rod and reel combo that will last many fishing seasons.
For More about Reels Click Here.
The Top Introductory Fishing Rods go as follows:
Beginner Rod Reviews
Below are the best fishing rod options for Beginners. I have included fishing rod and reel combos in this review because combos are the easiest set-up to get started when picking out fishing gear.
1.  PENN Fierce III Spinning Combo (Best Quality Option)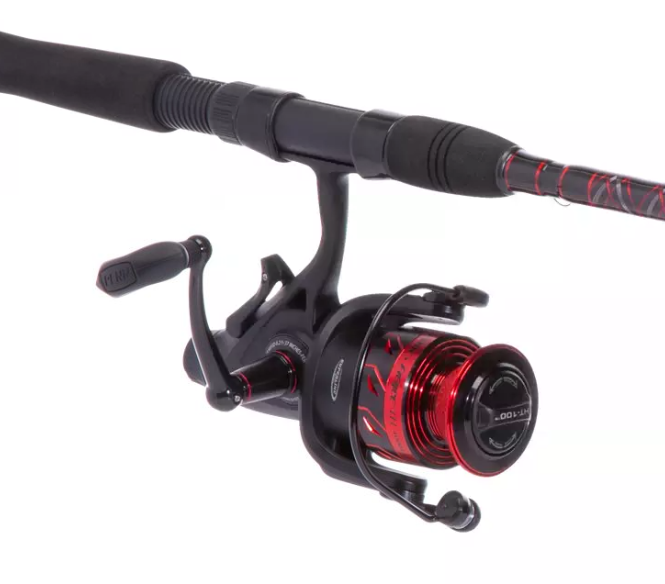 Techno-Balanced graphite rotor
4 +1 Stainless Steel bearing system
5:6:1 or 6:2:1 Gear Ratio
Anti-reverse
graphite composite rod
Sometimes the looker of the bunch also happens to be the best option. The Penn Fierce III Live Liner Spinning Combo is a rod-reel combination that is a bit more pricy but a rod that will last you for a long time. While I realize that this article is about beginner rods, I have often found that starting off with a good quality rod that will last you for years is a good way to start your fishing.
 The Penn Fierce III is also a great rod and reel combo that can be used in a variety of different environments like lakes, bays, and ocean fishing. Some customers even state that it is one of the top saltwater spinning reels that they have tried.
Another cool thing about this combo is that it comes in a variety of different reel and rod sizes. The reels range from 4,000, 6,000, and 8,000 while the rod is 7′, 9′, and 10′ with Medium, Medium Heavy, and Heavy power range. Safe to say this is an ideal rod reel combo to use for bigger game fish such as pike, trout, and big mouth bass in lakes and striped bass, salmon, Mahi, rock bass to name a few ocean fish.
Pros:
Great for Bigger Fish
Very highly regarded by customers
One of the better looking rod -reel combos
Can be used in salt and freshwater environments
This is a combo that can last you a long time
Cons:
May be a bit more expensive then what you want to spend
2. Shakespeare Ugly Stik GX2 Spinning Rod and Reel Combo (Best Budget Reel/Rod Combo)
Graphite and Fiberglass Construction
Eva Grips
3 Ball Bearings and one way clutch with Anti-reverse beating
1 Piece rod
This light 1 piece rod reel combo will simply up your fishing game. It features 3 ball bearings alongside a one-way clutch instant anti-reverse bearing to ensure that all your gears feel smooth. This will also allow you to set the hook instantly. This combo is a bit more on the pricey side but it is a solid combo that you can grow with.
The Ugly Stik construction features a Machined double anodized aluminum spool that further comes with an oversized bail wire to increase its durability. The Ugly Stick rod and reel combo also comes with compression bail springs that are aimed at improving the spinning reel's life span. You will also appreciate the soft touch handle knobs that will allow you to grip it firmly and comfortably.
A lot of the reviewers were very impressed with the quality of both the fishing reel and rod. As it is with many combos the fishing reel may be better than the rod or vice versa. With the Ugly Stik GX2, this simply was not the case. The main complaints about this combo are that it is not packed very well for shipping but very few are actually directed towards the performance of this product. Overall this is a great pick for those who want the best fishing rod on a budget that you can keep for years and years.
Pros:
This Ugly Stik GX2 rod is highly durable and sturdy, which means that you will enjoy its services for a long time.
It is highly sensitive, implying that it can offer all-round use despite the type of fish being caught.
Offers the best value for your money.
Cons:
This spinning rod is a little heavy; you can't cast it for long without getting tired.
Complaints about the packaging of the fishing rod
3. Pen Battle II Rod and Reel Combo (Best Beach Option)
>>Check Price on Amazon<<
6.2:1 Gear Ratio
Carbon Fiber Drag System
Comes in a variety of different sizes and actions
Both 1 and 2 Piece available
Max Drag 15 Lbs
This is a good rod and reel combo to do some offshore fishing with if you live by the ocean. In terms of choice, there are many different kinds of models to choose from from the 2000 – 6'6 Medium Light Series to the 6000 – 9' Medium Heavy Series for bigger fish. Below is a video of how the rod fairs against a Bullnose Ray surf fishing.
The overall impression of this fishing rod and reel combo was positive. Many people including the gentleman in the above video have stated positive experiences catching various offshore species such as rays, sharks, and striped bass. A lot of reviewers tested this combo out on beached off of coastal waters. Some of the more negative qualities about this combo were the fact that more than a few reviewers stated that it was not packaged very well and in some instances, some pieces broke on delivery. A few other odd cases stated that the rod broke while they were in the middle of a battle.
Pros:
Comes in Many Different Varieties
Good Introductory Rod/reel for Offshore Fishing
Lots of compliments about the reel
Cons:
Shipping Packaging can be poor on Delivery
Some Complaints about the quality of the rod
4. Plusinno Rod and Reel Combo (Most Value)
6 Different Lures
4 different sinker weights
Fishing Line
Everything you need in one purchase
The Pussino comes with a fishing rod, a fishing spinning reel, a fishing line, 6 fishing lures, 6 fishing hooks, 4 sinkers, a fishing bag, and other amazing fishing accessories. This allows you to hit the lake instantly with all you need. What's more, is that you can easily stow it away because of its telescopic spinning make.
It offers just the perfect elasticity to help you increase your catch and enjoy the adventure. Its construction features a mix of high-density carbon fiber and fiberglass that make it hard and durable for beginner fishermen. Its medium power allows you to catch species that are a bit bigger and give you more fight.
The spinning reel seats are hooded and made of stainless steel, which means that they are resistant to the corrosion caused by seawater. Most users love the fact that the telescopic fishing rod is made with a closed length design that makes it highly portable and convenient to use. The extended handle works alongside the medium power to deliver solid action.
Overall a lot of customers were delighted to see how this rod held up when fighting fish such as bass tagged the line. Some even have pictures in the reviews. There seem to be some quality control issues though as some customers complain about the rod snapping even before getting to use it in odd instances.
Pros:
It has an instant anti-reverse power drive gear equipped for maximum strength.
The spinning reel is made from deep aluminum for durability.
Despite its compact body, it has a large spool and large line capacity to enhance your fishing efficiency.
Cons:
Some users are worried that the plastic body makes it a lower quality product.
Quality Control for this product could be better
5. Sougayilang Fishing Rod Combo (Best Telescopic Option)
The Sougayilang is a telescopic fishing rod and reel option that is sold with a spare spool, 110 yards of fishing line, 3 fishing lures, and 12 other fishing accessories. The hooded reel seats are made of stainless steel so the rod is always bright and resistant to corrosion in seawater.
It is also one of the top cheap models you can get that gives you an affordable price with decent craftsmanship. It further features sealed waterproof and dust-proof bearings that complement the zinc material gear for longevity.
Many customers commented on how smooth the spinning reel is, especially when using it for the first time. Lots of customers were impressed with how the telescopic rod held up as well, especially when fighting medium-sized catch! As with the Plussino there were some customers who complained about the rod breaking after only a few uses. This seems to be a somewhat common theme with telescopic fishing rods where most of them hold up well but a few of them may be not up to manufacturing standards.
Pros:
The line roller features a new design specially made to minimize line twist and fatigue that would otherwise lead to a breakage.
It comes with left/right interchangeable aluminum handles that boost your handling strength and make the rod lightweight for easier usage.
It comes with an exquisitely made fishing carrier bag that is made from a durable material and double zippers for item security.
Cons:
This rod doesn't seem to handle snags and high tension well. This means that its use might be limited in large lakes/rivers.
6. Abu Garcia Black Max Combo (Best Baitcasting Combo)
7:1:1 Gear ratio
Aluminum Spool
Power Disk Drag System
Rod is made of a one piece graphite frame
Length 6'6" Medium
Variety is the spice of life so we decided to add a baitcasting combo for those who want to start out at a higher level. This lightweight option is a solid choice for those who want to go fishing for monsters who lurk in the lake. The drag on the reel is also rated very highly as it can take a variety of different sized lures which makes it a very versatile combo.
The 7:1:1 gear ratio allows you to reel fish in faster. You want this because you don't want them to be mucking around in and around the weeds, potentially bringing damage to your line and rod.
The rod is ideal for topwater fishing, that is having your lure glide along the surface. This is ideal for Pike, Muskie, Perch, and sometimes Bass.
Pros:
Good for bigger species
Ideal for Top Water fishing
Strong and flexible rod
Reels in quick
Cons:
More Expensive
May get some getting used to in the beginning
7. KastKing Centron Spinning Rod and Reel Combo
5:2:1 Gear Ratio and 4:5:1 Gear Ratio
Medium – Heavy Rod Sizes
Rod Made of Graphite
9+1 Max- Dur Ball Bearings
Reel Made of Carbon
One of the more budget-friendly picks, the KastKing Centron does hold its own in this list. This spinning combo meant for smaller game but still performs well under pressure from fighting species such as Large and Small Mouth Bass.
Having said that people have done some offshore fishing with this setup and have had success. The ideal use for this combo would be as a travel set since it does not take up a lot of space and it comes in two pieces.
Because this combo is made for smaller game the sensitivity of the rod is pretty good. Various customers and reviewers of the fishing reel remarked how smooth it is to cast and retrieve. They also seemed to be very impressed with the fact that the value of the reel hovers in at around $20 bucks. Many believe it's performance has exceeded the price tag stuck to it.
Pros
Great Value for what you get
Great Sensitivity
Can be a solid travel set
Cons:
Some customers have reported the rod snapping
Many people think the Rod is not to the same standard as the reel
8. Zebco Spincast Reel and 2-Piece Fishing Combo (Best Spincast Combo)
Moderate Action
Medium Power
Metal gears
Fiberglass Rod
Quick Set Anti-Reverse
These were the types of beginners set-ups I was used to when I was a kid growing up. This is a cheaper combo because A) it's a Spincast model and B) It does not have the same craftsmanship as the above list. I decided to include this anyway because I know a lot of you are looking for something cheap.
Spincast Combos are known for being on the kid's shelf or they sell for people who just want to get started and go once or twice a year. But as it turns out this Zebco can take it further than that. This combo is meant more for medium-sized game such as catfish, Trout, Panfish, and smaller Walleye. Some people have had success with bigger fish but I wouldn't go for bigger species like Muskie or Salmon.
Pros:
Durable for a Spincast Combo
Good for people just starting out
Great for small to medium-sized catch
Cons:
Lots of customer complaints about the rod breaking when hooking heavier species
It's a spin-cast reel so realistically it will only last so long
Materials of the reel are made of cheaper quality.
What Makes a Good Fishing Rod and Reel?
There isn't really such as thing as a labeled beginner pole. It's a subjective term that should be worded differently. Instead, you should first decide what type of fishing you will be doing and decide from there what your budget is and what you want to fish for. The fishing rod and reel combos that we recommend above all have different uses that are relatively easy for beginners to get into. Just keep in mind that basic setups are not always great for beginners. This is because as you get more into the sport you will want to start advancing and learning new techniques. Fishing with these new techniques will require a more advanced combo. If this is something that you can see yourself doing fairly regularly get a decent setup like the Pisicifun Carbon X Serpent Spinning Rod Combo that you can grow into and have as part of your arsenal for a long time.
Rod Length
The length of your fishing rod ultimately depends on where you will be fishing and what kind of casting you will be doing. Longer rods give you a longer cast distance and are meant for more open spaces. Shorter rods are for casting shorter areas, They are also handier for close-up battles with fish when they are near the boat, shore, or dock. Typically most of the choices above will give you different sizes to choose from.
Rod and Reel Construction Material
Today's manufacturers have upgraded to the graphite, carbon and fiberglass. A carbon fiberglass rod is more reliable as compared to the graphite types since they are not only highly flexible but also cheap, tough, and durable. On the other hand, graphite is more weightless, sensitive, and stiffer, but also much easier to break. Most of the above brands that we have reviewed use either or. For beginners typically you are going for smaller fish so a cheaper graphite rod would do just fine.
For reels, the options usually come down to graphite, aluminum, or sometimes carbon. Each has its own sets of pros and cons. Reels can also have a mix of both parts. In short, graphite is usually the way to go in saltwater bodies of water like coastal and offshore fishing. This is due to its corrosion-resistant material. Aluminum is better for freshwater bodies of water but a lot of this does come down to personal preference, so try out both and see what is the most comfortable for you. The most important thing is that when you cast the reel is smooth and is durable enough to last a few fishing seasons.
Action Of The Rod
This refers to how easily the pole can flex every time a force is applied to it. This further defines the ability of the rod to bend and determines how far it can go. The fast action rods are used to catch large species of fish since the entire top third of the rod bends. Moreover, such actions allow you to fight the fish easily that mostly feature a stiff backbone. Medium action allow the bending of the top half and are mostly a favorite of beginners. A slow action fishing pole is perfect for catching small fish since it will be from the lower third.
Power
This refers to the level of pressure needed to bend the fishing rod while in action. A fishing rod is often described as ultra-light, light, medium-light, medium, medium-heavy, heavy, and extra-heavy with respect to its power. The lighter rods need less bending power while the heavy types require more pressure to bend. We go a bit more into this below when we explain what types are good for what types of fish.
What's The Difference Between More Expensive Rods And Cheaper Ones?
The first difference that you would find out soon if you compared the two together is the "feel" of the rod. That is when you are jigging the bait you get a better feel for how sensitive the rod is meaning you can feel the bites better and react accordingly. Another smaller difference is quality materials that are used although truthfully lots of fishermen are just as happy handling a mid-range $30 – $65 rod as they would handling a $100 plus rod. A lot of this does come down to personal preference though. In my opinion, I like to throw the money down and get a rod that can grow with me, such as the Ugly Stick GX2. Models that can grow with you will be of a lot more use as time carries on. This is because you do not outgrow them and have to throw them away, but instead, you have another option available for the rod power desired. As you get more experienced with fishing chances are your artillery will grow too.
Types of Fishing rods
When looking to acquire the best fishing rod for beginners, you have to decide the types of fishing that you will be doing.
Spinning rods
The spinning rods are designed with a fixed below just below the rod and the weight of the bait is supposed to cause the spinning line to be drawn. They are the perfect choice for beginners since they are simpler to use and offer top-level versatility. You can use these reels to cast artificial or live bait too.
Bait-casting rods
Baitcasting Rods and reels are  specially designed for experienced fishermen since when casting you have to keep your thumb on the line to avoid a "bird's nest situation". These setups are usually used for fighting fish such as bass, trout, and pike. The reels are meant to be pointed up and are typically paired with Medium-Heavy to Heavy rod setups. The reels usually have braking systems to avoid the backlash that may happen when the lure suddenly hits the water and slows down.
Spincasting Rods
These were the reels that I grew up with, but as you advance through the ranks you will most likely upgrade to a Bait-Casting or Spinning Rod setup. This setup is most common with beginners as well as kids. The reels are enclosed and use a push button to release the line when casting.
Fly fishing rods
Fly fishing rods are normally weightless and long. Their length usually varies between 6 and 14 feet. They allow you to cast a fly that is then tied to something like fur to mimic the appearance of an insect. Once you cast your fly fishing bait into The flexibility of these rods enables you to catch fish that leap out of the water.
Final Thoughts
The best introductory fishing rod and reel combo is the Penn Fierce III fishing rod and reel combo.
This, however, does not rule out the other four best fishing rod for beginners. They are also amazing choices that are worth considering since they have multiple unique features to offer.