For those of you who are pining to paddle but simply don't have space or funds for hard-shell kayaks, now is the time to consider inflatables. We're here to show you some of the best inflatable kayak options and give insight into lesser-known paddling alternatives. It's difficult to summarize our love for inflatable kayaks in a single sentence. But they are one of the best innovations to come out of the kayaking industry and this segment just keeps on growing!
These inflatable boats offer all the benefits of traditional kayaks without any of the portability drawbacks. There are even inflatable kayaks that are engineered for fishing, touring, and other custom uses. We carefully evaluated the top-rated kayaks before honing in on 10 premium selections. Then, we've spent over 30 hours analyzing inflatable kayaks from different sections and putting them all together on one list to provide you with thorough and honest kayak reviews. Below are the results. Grab your life vest and lets go!
Top 10 Best inflatable Kayaks reviews
The following are the Best Inflatable Kayaks as per selected per category. The way we judged these kayaks was based on my previous experience paddling some of these kayaks. As well as evaluating up to date customer reviews, taking each compliment and complaint in mind. When we reviewed these models, we looked at it more from a per category basis and came together to collect the final (Best of) inflatable kayaks and rated them against each other. Similar to a Best in Show format. Below are the findings of our best inflatable kayaks list. 
1. Advanced Elements AdvancedFrame Convertible Tandem Inflatable Kayak (Best Rated)
Specs
Length: 15 feet
Width: 32 inches
Weight: 52 pounds
Weight Capacity: 550 pounds
Number of Passengers: 2
Packed Dimensions: 35 x 21 x 12 inches
If you're looking for an inflatable kayak that is comparable to a hard-shelled traditional kayak. Then the Advanced Frame kayak is the best inflatable kayak that is comparable to the hard shell models. These two individual kayaks are suitable for extensive recreational and touring expeditions. It holds up well in flat water and mild surf as well as chop. In Fact, there are pictures of these inflatable kayaks being tested in the arctic. 
Rigid aluminum ribs rival the support and tracking capabilities of conventional kayak shells. Adjustable seats enable you to instantly switch between solo and tandem setups. The boat also has a generous amount of onboard storage areas. The roomy cockpit does not disappoint as it has a weight capacity of over 550 lbs, which is ample for those camping gear hungry folks. 
Customers are pleased with the exceptional safety features that this inflatable tandem kayak offered. A combination of multiple air chambers and Twistlok valves ensures leaks don't make a big impact. The durable triple-layer polyester is reinforced with a double layer of puncture-resistant polyvinyl chloride . Welded seams serve as an additional fortification against rocks, logs and anything else this kayak might brush up against. With a boat surface this resilient, you'll never have to leave your furry friend at home. Even if they just came from a nail trimming!
At 15 feet in length, the kayak has a well-established center of gravity and ample leg room. Its 3-foot cockpit boasts reinforced l-beams. Aftermarket spray skirts enable you to transform the boat into a sit-inside watercraft. If your target waterways are chilly in nature, you might want to invest in these accessories.
The chamber is equipped with two seats that are padded. Remove a seat, and the Advanced Elements becomes a spacious solo touring kayak. A generous weight capacity, bungee lacing, and D-rings ensure there is always enough space for overnight gear and plenty of refreshments. The ample onboard storage area is complemented by a large array of tie-down options.
Plus, the Advanced Elements inflatable is super easy to assemble. All elements fold up easily into the provided duffel bag. You can pop the boat into your trunk without a struggle. The yak's spring-loaded valves are compatible with most conventional air pumps. However, you may need to purchase aftermarket adapters.
This kayak got overwhelmingly positive reviews, as such it was rated our best inflatable. However, its downfall lies in transportation. While it comes with a travel bag it is a heavier kayak to lug around. The bag may also be awkward as it does not feature any shoulder straps. 
Check The Full Review of the Convertible Here.
Pros
These Kayaks Come with a repair kit and durable storage bag
Multiple bungees and D-ring tie-downs across the deck
Aluminum Ribs for better tracking in the water
Removable seats enable you to convert it from a single to a double vessel with ease
Rated as the best inflatable kayak for its high quality materials
Made from ultra-durable triple-layer polyester and double-layer PVC construction
Aluminum frame for greater steadiness and tracking
Cons
The aluminum frame is difficult to take apart
This inflatable tandem kayak is heavier to transport than most on this list
2. Advanced Elements Advanced Frame Sport Inflatable Kayak (Best Single Kayak)
Specs
Length: 10 feet 5 inches
Width: 32 inches
Weight: 26 pounds
Weight Capacity: 250 pounds
Number of Passengers: 1
Packed Dimensions: 30.75 x 18 x 10.75 inches
In terms of how we scored the points, the Sport actually had a slight advantage over the Advanced frame Convertible. We ultimatly chose the Convertible over this one because it was more versatile though.
The Advanced Elements Sport is an excellent boat for solo kayakers. This impressive inflatable performs just like a hard-shell kayak. Rigid aluminum bow and stern reinforcements compliment multiple airtight chambers. You get the same buoyancy, steadiness, and maneuverability as most solo hard-shell yaks. Its tracking and speed are also quite impressive.
The boat is quite compact, but don't fret. An average adult paddler will have no trouble stretching their legs. The onboard bungees and D-rings serve as superb spots for excess gear. There's also a good chunk of space behind the seat. That said, we wouldn't consider the boat a good match for an extensive overnight trip compared to it's cousin the Advanced frame Convertible.
The aluminum frame improves the craft's stabile profile. It also helps this inflatable kayak to track better in varied water conditions. However, the yak's handling ceases to prevail when subjected to adverse weather. While a rear tracking fin does make up for some of its design shortcomings, choppy waves tend to tip the hull back and forth.
polyvinyl chloride-coated, triple-layer polyester is an excellent match for the great outdoors. This boat shows very few signs of wear and tear after being exposed to the elements. Protective neoprene pads are positioned to protect the paddler's arms from friction-induced chafing. Low-profile rubber handles on the sides, front, and back of this vessel improve the boat's overall portability. While this boat's aluminum frame can be a bit cumbersome, it's still our go-to choice for lengthy solo journeys.
Check the Full Review of the Sport Kayak
Pros
Triple-layer polyester base with PVC coating for extra durability
Aluminum bow and stern reinforcements for extra steadiness on the water
Twist lock valves create airtight chambers
Bungee deck lacing and rings
Perfect for one-man adventures
Highly maneuverable
Cons
Limited weight capacity
Can not be converted into a tandem
Not a tone of room for gear on this kayak
If you are a taller person get the Convertible
3. Sea Eagle 370 Inflatable Kayak (Best Tandem Kayak)
Specs
Length: 12 feet 6 inches
Width: 2 feet 10 inches
Weight: 33 pounds
Weight Capacity: 650 pounds
Number of Passengers: 3
Packed Dimensions: 31 x 19 x 8 inches
When packed up properly, the Sea Eagle inflatable kayak is just 31 inches long, 19 inches wide, and 9 inches tall. That's saying a lot for a 2 person inflatable kayak that packs into a small duffel carry bag at the end of the day. A trio of inflatable chambers gives this boat a major safety advantage. An ultra-durable 38-mil PolyKrylar (K80 polyvinyl chloride ) construction keeps the boat's price low while upping its overall durability. The white and blue exterior holds up well to UV rays. The seams are welded shut for added strength and security.
The yak's set of five one-way fill valves prevent air from leaking out in the middle of a paddle. They also help to keep inflation times under the 10-minute mark. .The Sea Eagle inflatable kayak performs best under an inflation pressure of 1.1 PSI. Serious kayakers should invest in a high-out air pump. An l-beam drop stitch floor and pair of skegs help to improve the boat's handling.
The boat's spacious sit-in seating area is a great addition too. There are two seats that are removable with inflatable backrests and seats. Either seat can be removed to make room for gear or a four-legged passenger. The seats have built-in storage bags. Adjustable straps enable you to change the position of the backrests. 
The Sea Eagle deflates quickly. You can fold it up and place it in the provided storage bag in just a matter of minutes. If you're looking for a premium tandem kayaking experience but simply don't have the space for transportation for a hard-shell kayak, you need to check out this boat.
It also boasts a lashed-down inflatable spray skirt. The skirts keep choppy water from making its way into the kayak. The kit also includes two aluminum paddles, a foot pump, a repair kit, and a rugged drawstring storage bag.
This is a great starter kayak for a day of paddling the lake. While it's high beam floor adds to its steadiness on the water, it does not do the kayak a lot of favors when it comes to tracking. As a result you will be doing more corrections than hardshell kayaks. 
Check the Full Review on the Sea Eagle 370 Here.
Pros
Durable PVC-coated hull
Inflates in less than 10 minutes
Self bailing drain feature
Lashed-down front and rear spray skirts to keep water out
Suitable for up to Class III whitewater rapids
Three air bladders and five one-way fill valves.
Cons
Comes with foot pump (may want to replace with a high-powered alternative)
Some customers had issues with tracking
Can get bullied by the wind because of the high I-beam floor
4. Sea Eagle 393rl Inflatable Kayak (Best for Speed)
Specs
Length: 12 feet 10 inches
Width: 2 feet 4 inches
Weight: 35 pounds
Weight Capacity: 500 pounds
Number of Passengers: 1
Packed Dimensions: 22 x 22 x 12 inches
The 393rl is the first-ever all drop stitch inflatable kayak. This ultralight watercraft is designed to respond to your firm paddle strokes. It picks up lots of speed and offers incredible tracking. If you're a solo kayaker looking for a lightweight touring vessel, this RazorLite will help you cover more miles while kayaking.
On top of that, inflation and assembly couldn't be easier. It takes less than 10 minutes to fill the boat's three air chambers. The trio of recessed one-way air valves serves as one of this kayak's biggest defenses. Drop stitch seams further reinforce this floating construction.
The cockpit is comfortable enough for lengthy paddling trips. Front and rear spray skirts keep water out of the seating area. Your feet get relief from the proprietary FlexBrace adjustable footrests. Not to mention a pair of drain valves serve as a convenient way to empty the hull during portage. The inflatable seat lacks the support needed for full-day paddles. However, the inflatable elements serve as an effective buffer. The lengthy seating area offers enough space for outstretched legs and lots of extra gear.
The 393rl's narrow, hard nose, bow, and stern help it to pick up speed. You'll cut a path straight through flat water. However, expect the steadiness to wane a bit in the surf. The kayak maxes out at 6 miles per hour full paddling speed. Since it lacks initial stability, we'd highly recommend it for intermediate kayakers. It will quench your thirst for speed without eating into your car's overhead storage.
Check the Review on the Sea Eagle 393rl 
Pros
Removable rear skeg
Front and rear spray skirts
Adjustable footrests
Three air chambers
1000-denier PVC fabric
Quadruple-overlapped dropstich seams
Cons
Only suitable for intermediate and advanced paddlers
Can be tippy for less experienced paddlers
5. Intex Challenger K2 (Best Budget Kayak)
Specs
Length: 11.5 Feet
Width: 30 inches
Weight: 38 pounds
Weight Capacity: 400 pounds
Number of Passengers: 2
Packed Dimensions: 11'6 X 2'6 X 1'3 inches
The Intex Challenger is a budget-friendly inflatable kayak with rave consumer reviews for people getting into paddle sports. This nearly 12-foot boat has a cockpit with room for two kaaykers. It is made of rugged vinyl. The hull is resistant to both UV-damage and punctures. The kit is priced low, and it comes with all the essentials. The included set of 86-inch aluminum oars, high-capacity air pump, and repair patch kit ensure that you won't have to spend more money after your initial purchase.
The Intex Challenger boasts a pair of inflatable seats. They offer plenty of comfort and stabilization on long paddles. However, some consumers suggest that you only inflate the backrests. Overall, the boat can handle loads as heavy as 400 pounds. As such, you can easily bring a pair of adults and gear aboard the craft. The inflatable seats can be removed and adjusted for optimal paddler comfort. Front and rear grab lines add convenience to launch times. A front cargo net serves as the perfect space for a small gear pack or soft-shelled cooler.
Don't let this inflatable boat fool you. It has decent handling in flatwater. Removable plastic skegs boost their overall tracking potential. The Intex Challenger tracks and turns nicely. You can expect it to stay on course in fair weather. However, intense winds and waves tend to challenge the boat's stabilization.
The bright green and blue graphics stick out against foggy, dimly lit backdrops. The hull consists of a rigid l-beam floor and inflatable sides. Each side of the boat has an air chamber. As such, a single puncture is unlikely to cause the entire craft to sink. Due to the Intex's limited seating space space, some consumers feel it is better suited as a solo craft. When two paddlers occupy the deck, the rear paddler can expect to keep their feet folded or extended over the sides of the boat.
Pros
Includes a repair kit, 86-inch aluminum oars, and a high-capacity pump
Has a 400-pound weight capacity
Low price for a comprehensive package
Bright green/blue colorway offers enhanced visibility
Inflatable l-beam floor offers exceptional rigidness
Two puncture-resistant air bladders
Cons
Limited foot space
Not recommended for coastal conditions
Not a lot of onboard storage
6. Bote Dues Aero (Stability Pick)
Specs
Length: 11 feet
Width: 33 Inches
Weight: 41 pounds
Weight Capacity: 300 pounds
Number of Passengers: 1
Packed Dimensions: 39 x 18.5 x 13.5 inches
The Bote Deus Aero looks like it comes from a whole other universe compared to many of our other best inflatable kayak picks. On first impression it looks a bit goofy, but as you look closer you start to appreciate what this company has done. You will notice that the seat is a platform that is raised. While strange looking at first, there is method to the madness. Because this seat is raised you don't have to worry about that wet bottom that you get with other inflatable kayak models. 
Another thing you will notice is the fact that this hybrid kayak is made of the same material as your inflatable paddle boards. It's drop stitch construction makes for a durable exterior that you would expect from an inflatable SUP. As a result it increases the rigidity of this kayak making it a pleasure to paddle. It's tracking is on point as well as it features the same fin configuration as paddle boards with a long middle and two shorter side fins. 
If you were interested in doing some stand up kayak fishing this would also be a very good pick to do that with. The stability of this kayak is also great because instead of standing on air bladders, you have firm footing on a solid surface of 10 PSI plus. This makes it much easier to stand up and paddle, as well as sit and paddle. As an avid paddle boarder I like the flexibility that this serves riders. 
Overall this kayak is great for flat water paddling but can handle some smaller waves. The only downside to this watercraft is that it can get pushed by wind, because of its pronounced bow profile. 
Pros
One of the most durable kayaks on this list
You can use it as a kayak or paddle board configuration
Higher seating keeps your bum dry
A good pick for fishing
Cuts through the water like a hot knife in butter
Cons
Can be pushed around by the wind
Long Inflation time
7. Sevylor Coleman Colorado Two-Person Fishing Kayak (Best fishing Pick)
Specs
Length: 10 feet 9 inches
Width: 3 feet 3 inches
Weight: 40.5 pounds
Weight Capacity: 470 pounds
Number of Passengers: 2
Packed Dimensions: 30.1 x 11.6 x 19.2 inches
Sevylor's Coleman Colorado excels as an inflatable fishing watercraft. First off, this vessel is steads as can be. We wouldn't hesitate to stand up or fight a big catch. It can even be fitted with a Sevylor kayak trolling motor, which you would want to get to your honey holes quicker. The 18-gauge polyvinyl chloride core holds up well to regular lake use. The 1000-denier pvc tarpaulin bottom can handle being dragged to shore. The 840-denier nylon top is durable enough to withstand hours of exposure to the elements.
The Colorado's airtight chamber system ensures that leaks will not be a problem. The boat can carry quite a load. There's room for two passengers and their gear. This boat can hold up to 470 pounds. So feel free to bring your cooler, your dog, or your friend.
The seating arrangement in the kayak is quite comfortable. The seats are adjustable. Plus, there is plenty of room to stretch out between catches. We all know that fishing is a game of patience. Rest assured that the Coleman Colorado will support you for the long haul.
The boat has a few basic storage amenities. There are side-mounted metal rings for tie-downs. Onboard mesh bags are perfect for grab-and-go items. The front and bow of the boat also boast extra space for gear essentials. It also comes with paddle holders which allows you to fish hands free.
You can trust the Sevylor Coleman Colorado to carry you and your fishing gear through lots of angling expeditions. The boat is extremely stable. What's more, it maneuvers well considering its size. The materials are durable enough to withstand the pressures of freshwater. However, we wouldn't feel very confident about taking this boat into the ocean.
Check The Review on the Coleman Colorado Kayak
Pros
Multiple air bladders
Built-on fishing rod holders
Side grab handles make it easy to carry to the water
Plenty of wiggle room
Self Bailing Drain feature
Durable polyvinyl chloride base layer with further reinforcements
Cons
Slow
Does not include hand pump
Positioning of rod holders is said to be poor
8. Intex Excursion Pro Kayak (Best Budget Fishing Kayak)
Specs
Length: 12 feet 7 inches
Width: 3 feet 1 inch
Weight: 35 pounds
Weight Capacity: 400 pounds
Number of Passengers: 2
Packed Dimensions: 30 x 20 x 16 x inches
Intex has constructed an inflatable watercraft that's fit for tandem fishing. This 12-foot kayak boasts a spacious sit-in seating with all sorts of angling amenities. Since it is an inflatable, you don't need a kayak roof rack or any other complicated contraption to transport it to your favorite water destination like you would a hardshell Hobie or Old Town fishing kayak.
The hull is constructed from an ultra-durable fabric laminate. The triple-layer material consists of one layer of polyester and two layers of puncture-resistant polyvinyl chloride. The wear-resistant material coating protects the yak against accidental punctures and abrasions. Alas, we have a finishing boat that can't play victim to the contents of a tackle box. The yak's designers didn't drop the ball when it came time for onboard storage. The bow and stern both boast unused spaces that are large enough to tackle containers. 
There are also multiple D-rings for dry bags and other gear items. Not to mention, a removable, adjustable mounting bracket sets the stage for angling add-ons. Recessed rod holders surround the kayak.
The package also includes a set of 86-inch aluminum oars, a carry bag, repair patches, and a high-output air pump. That means fewer upfront costs and faster inflation times. While the packed vessel is quite compact, we wouldn't want to carry the bundle long distances. The kayak features a pair of rigid bucket seats with adjustable backrests. Removable inflatable booster pads give paddlers the option to elevate their seating.
Customers are all too pleased by Intex's low price tag. The PVC construction makes us hesitant to take this kayak on overnight journeys. Yet, we're sure this budget-friendly fishing craft is a good fit for low-key pursuits in relaxed waterways. The boat's stable hull feels nearly as rigid as a plastic one. Not to mention, you can track and turn without much trouble.
Pros
Plenty of tie-down spots for tackle plus two fishing pole holders
Room for two anglers
Made from triple-layer PVC fabric
Comes with all the essentials you need to get started
Bucket seats with inflatable boosters
Cons
Not suitable for standing
Most suitable for day fishing excursions
Multiple reports of air leaking 
9. Airhead Montana Two-Person Inflatable Kayak (Best Kayak For White Water)
Specs
Length: 12 feet
Width:
Weight: 36.3 pounds
Weight Capacity: 500 pounds
Number of Passengers: 2
Packed Dimensions: n/a
Bet you didn't know they made inflatables that could handle whitewater kayaking? The Airhead Montana is a tandem inflatable that is engineered to handle intense situations like river kayaking. The 840-denier nylon is reinforced with UV- and water-resistant coatings. As such, we think it's safe to say that these whitewater kayaks can handle its share of white water rapids. 
The seating arrangement consists of two incredibly comfortable inflatable chairs. The seats can be moved and removed. Adjustable back support cords enable users to sit upright or recline. The sit-in cockpit keeps them grounded and out of the way of spray. Neoprene elbow guards and spray skirts further improve the comfort and safety of your elbows.
A tubular l-beam floor serves as the boat's foundation. It offers exceptional rigidness and stability in flat to moderate white water. The kayak walls are semi-rigid, and each one boasts an air chamber. The PVC is thick enough to handle being thrust into sharp rocks. However, a triple layer of laminate reinforces the bottom where the majority of the beating will be. 
The 10-foot boat maintains a steady pace in water. You can thank the four bottom fins for its good maneuverability. The bulky hull offers excellent primary and secondary stability. We wouldn't even think twice about entering the water from the cockpit. A stretch net in the bow and a set of six D-rings serve as spaces for people to secure their gear. Bring your essentials along for the ride. It's difficult to surpass the boat's 500-pound weight capacity. The boat's front, rear, and side grab handles also make the list of onboard accessories.
The kayak is super easy to assemble. Since it is very compact when it is deflated, one person can carry it to and from a waterway. If you're looking to take on some modest rapids, the Airhead is your go to inflatable white water kayak pick.
Pros
Neoprene elbow pads for added comfort
Six D-rings and a stretch net for gear storage
Self Bailing Drain Feature incase water gets in
Three air chambers enclosed in 840-denier nylon
Suitable for mild whitewater paddling
Maneuverability is a key strength with this kayak
Cons
Plastic skeg tracking system is sustainable to bending
While you can paddle in calmer waters there are better kayaks for that use
Tracking in flat water is not very good
10. Sevylor Big Basin Three-Person Kayak (Best 3 Person Inflatable Kayak)
Specs
Length: 12 feet 3 inches
Width: 3 feet 1 inch
Weight: 46.4 pounds
Weight Capacity: 490 pounds
Number of Passengers: 3
Packed Dimensions: 18 x 10 x 24 inches
If you're looking to bring along a friend or two on your next aquatic adventure, check out the Sevylor Big Basin. This heavy-duty PVC inflatable is perfect for peaceful lake and pond paddles. The 12-foot hull offers room for up to three passengers. The boat's semi-rigid polyvinyl chloride body is backed by a puncture-proof pvc tarpaulin bottom. Since the kayak consists of multiple air chambers, one accidental puncture will not necessarily cause it to sink. The seams are sealed to prevent air from leaking. Of course, Sevylor's one-year warranty keeps paddlers from having to worry about air pressure issues.
The boat is exceptionally stable. However, it is not intended to be used in surf. Despite its size, it pulls through when coming around turns. However, things can get a bit tipsy when the kayak is at capacity. Side handles offer paddlers stability when getting in and out of the kayak.
The Big Basin's seating space offers room for three adults. This is a great inflatable kayak for families with multiple children or water-loving canines. Front and rear spray covers keep passengers dry. Adjustable seats set the stage for comfortable treks. Just be sure not to go over the boat's 490-pound weight limit. What's more, you aren't able to fully extend your legs if you are in either one of the rear seats. Side D-rings serve as secure points for tie-downs.
The included pressure gauge helps you stay on top of the air pressure. However, you'll need to purchase an air pump if you ever plan on leaving the shore. Inflation times vary. For the most part, paddlers can fill the three inflation chambers in less than 10 minutes. Front and rear grab handles make it easy to launch and dock the boat.
This boat is exceptionally stable. We can't think of a safer craft for parties of three or more. Three-person synchronized paddles require patience and skill though. So take some time to learn how to paddle insync!. Both PVC and tarpaulin can handle a great deal of abuse. So, don't worry if you're not an expert. Just jump right in and enjoy your shared kayak experience.
Pros
Has three removable, adjustable seats
Backed by a one-year warranty and guaranteed to not leak
Spray covers for added comfort
Comes with a pressure gauge, removable fins, and a carry bag
Cons
Not suitable for surf
A bit clumsy to paddle
Not the easiest kayak to learn on
Not the easiest kayak to paddle solo
How to Choose an Inflatable Kayak
Now that you've seen our best inflatable kayak selection, you're probably wondering what to look for when choosing a kayak for yourself. In this section, we discuss what to look for and we use specific examples from our reviews to illustrate our points. Below is a chart that we have used to illustrate how we chose our picks and how they relate to the below criteria.
Where Are You Paddling
You should know where you'll be going and what you'll be doing with your kayak. Vessels that are made to lunge through white water are not the same as those that are intended to cruise around the perimeter of a still lake.
Small Fresh Waterways: If your target watering hole is a small, generally still lake, a slow-moving river, or a pond, then any wide, stable sit-in or sit-on-top inflatable should be a good choice. Everything we have rated in the top 9 will do decent to well in these conditions. 
Rivers: If your local river has a moderate to fast current, you need to opt for something a bit wider and shorter. This sort of situation also calls for a sit-in kayak. If your target waterway is a bit angrier, then opt for a whitewater kayaking specific vessel. In this case a good pick for this would be the Airhead Montana Series or the Sea Eagle 370in Class III rapids and under. 
Oceans: Many inflatables do not perform well in marine currents and surf. If you're looking to take your inflatable into saltwater, make sure it has some sort of tracking aid, such as a skeg or a rudder. The kayaks that can do the job on this list are the Advanced Elements Advanced Frame Convertible and Sport. The Sea Eagle 393rl would also be a sufficient pick in calm coastal conditions.
Price
Several factors impact the price of a kayak, including materials, capacity, and brand.
For example, a kayak like the Intex Challenger Kayak Series offers many of the same perks as the Sea Eagle 370 Inflatable Kayak. Both of the products have seating for two people and weight limits of 400 pounds. However, the Intex is made from vinyl. As a result, it costs a fraction of the price of the PVC-based Sea Eagle. Neither inflatable kayak comes within the price range of the Advanced Elements Advanced Frame Convertible Inflatable Kayak. That's because this boat is made from a combination of double-layer PVC and triple-layer polyester.
Setup Time
Since you'll be inflating and deflating your kayak during each session, it's important to consider setup times. Consider the number of pieces that you'll need to drag to and from your launch points. Some inflatable kayak and accessory pairings can be shoved into a single carry bag. Others, like the Advanced Elements AdvancedFrame Convertible Tandem Inflatable Kayak and the Advanced Elements AdvancedFrame Sport Inflatable Kayak, have more complicated assembly requirements. The first few times the set-up will take longer but as you get used to assembly you will be able to get the job done quicker. 
Portability/ Storage
For many consumers, the main appeal of inflatables is portability. While inflatables are undoubtedly easier to transport than hard-shell yaks, it's still important to consider a boat's weight and dimensions when packed. Even the functionality of the carry bag plays a part in an inflatable kayaks portability. 
Some other factors you need to consider is the packaging. It's easy to say that you will be bringing and inflatable kayak with you on a hike. The reality is for this to happen you would need a backpack system to accompany you and all the bits like the paddle, hand pump and other accessories. These play a big factor as to which inflatable kayaks you can take on a hike or excursion. The Sevylor Quikpak K5 actually does come with a backpack-style carry bag.
If portability and storage space is a big reason why you are getting an inflatable, make sure you look at its packaging. If you don't have a lot of storage space available look at a kayak that has smaller packed dimensions and less accessories that come with it. 
Durability
The price of a kayak usually reflects its material makeup. Vinyl construction and PVC (polyvinyl chloride) models tend to cost the least. These materials are durable, flexible, and inexpensive. Inflatables made of these materials can be welded and patched. With a little care, you can easily extend the life of an inexpensive inflatable. However, there's little you can do to fend off UV damage. the below video shows the Sea Eagle Explorer 380X take a bit of a beating. 
Midrange inflatable yaks tend to be made from some sort of PVC-coated composite. Stretchy materials, such as polyester and nylon, are buried under layers of durable PVC. The combo tends to be durable and flexible. Boats made with layered materials tend to inflate easily.
The most expensive blow-up boats are typically made from materials like Nitrilon and Hypalon. These proprietary polymer fabrics offer unmatched durability and resilience. They are often reinforced with a rubbery PVC coating. As such, they are the best choice for people who engage in frequent or extensive paddle sessions.
For this metric, take a look at the type of paddling you will be doing and decide how much durability your kayak will require. Is it rocky? Lots of submerged sticks? sand? What area will you be launching from? 
Handling
A kayak's handling is dependent on its tracking and maneuverability. Kayaks that track well hold its course for extended periods. Since they make good speed, these boats are excellent for racing and touring. However, their inability to turn makes them a poor choice for recreational paddling. Skegs and rudders can be added to the bottom of the kayak to improve its tracking. The kayaks rocker profile will also be a factor in how the inflatable kayak handles.
The Sea Eagle 393 rl Razorlite tracks well thanks to its thin profile, rigid construction and tracking skeg. Meanwhile, the Intex Explorer K2 Kayak's short, squat hull is better suited for abrupt maneuvers.
Length And Width
A kayak's dimensions have a huge impact on its overall performance. For example, the length of a kayak often impacts its tracking potential. Long boats tend to maintain more direct trajectories. Short kayaks can make sharper turns and abrupt maneuvers. The average length of an inflatable is 9 to 12 feet. However, tandem models may be as long as 15 feet.
An inflatable width also impacts its performance. Thin boats have excellent secondary stability. Meanwhile, wide boats tend to be more stable on flat water. Most inflatables are between 2 ½ and 3 feet at their widest point.
Comfort
A poorly made kayak seat will leave you with a sore back and bottom. But, what does a thoughtful kayak seat design look like? Models like the Advanced Elements AdvancedFrame Convertible Kayak stand out immediately. The seats boast inflatable back supports and adjustable support straps. They can be rearranged and reclined to meet each paddler's personal preferences.
Then, there's an example like the Sevylor Coleman Colorado Two-Person Fishing Kayak. Sevylor has added mesh bags to the back of their seats. In doing so, they've elevated an otherwise one-dimensional boat part.
You should also have enough cargo space to stretch out their legs. The lower extremities are underused during paddle sessions. Cramped cockpits often cause people to develop pain, cramping, and numbness in their legs and feet.
If you see reviews where a few customers suggest that the inflatable kayak is cramped for tall people, it's best to listen to them. 
FAQ's
Below are FAQ's that are some of the most useful questions prospective inflatable kayak buyers may have. If you have any more give the comments a shout!
Q: Are Inflatable Kayaks Stable and are they Good for a Beginner Paddler?
A: They can be as stable as you would like them to be! Most inflatable kayaks have excellent primary stability which is something that beginners like to have. The vast majority of the picks on this list outside of the Sea Eagle 393rl give you that secure feeling that the kayak won't just tip over at any moment.
In Fact many beginners actually prefer the feeling of sitting on an inflatable kayak over a hardshell kayak. This is because inflatable kayaks tend to be wider and sit flat on the water as opposed to being partially submerged.
Q: Are Inflatable Kayaks Safe Compared to Hard Shell Kayaks? 
A: Inflatable kayaks are actually exceptionally safe these days. As the industry grows there's more companies out there who really have to step their game up to stay ahead. And of course, safety is always at the forefront of their mind. 
Many inflatable kayaks are made of high military grade PVC material. This material is very hard to puncture and many of these kayaks come with reinforced bottoms. In case a puncture were to happen, many inflatables also feature more than just one bladder. Which gives you time to paddle back to safety should you have a leak. 
Q: Are Inflatable Kayaks Dog Friendly?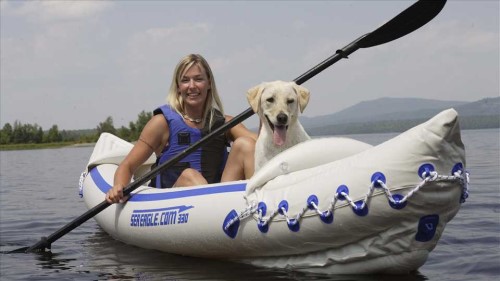 A: The vast majority of the above kayaks have had reviewers take dogs with them on their kayaking trips. Smaller dogs are usually ok to take on the majority of the above picks. Larger dogs require a higher weight capacity and more reinforced material because of their weight. Picks like the Advanced Frame Convertible and the Bote Dues Aero are solid large dog picks because of their high-quality materials. The Advanced Frame features a double layer PVC covered with a triple layer polyester cover that will be more than ample enough protection against those nails. 
Q: How Long Will an Inflatable Kayak Last?
A: Unfortunately I cannot give you a specific answer as it ranges from manufacturer to manufacturer. A good way to tell if a kayak will last you a long time is to go to the manufacturer's warranty section. Companies like Sea Eagle provide a whopping 3 year warranty on manufacturer defects while boats like Intex give you a 90 day warranty. 
Another way to check how long an inflatable kayak model will last is by checking the reviews. Look at the 1 -2 star reviews to see any sort of defects the kayak may have had. Unfortunately, manufacturing defects do happen from time to time so find a company that gives you a good manufacturer's warranty on their products.
Q: How Do You Repair an Inflatable Kayak?
A: Words will never be able to do as good of a job as video so below is a video on how to repair an inflatable kayak should it have a leak!
Q: How do you Dry an Inflatable Kayak? 
A: For models that don't have nylon covers (everything on this list except for Advanced Elements and Coleman Colorado). You deflate the kayak, flip it sideways or upside down to get a good portion of the water out and dry the remainder with a towel. 
For inflatable kayaks with nylon coverings you will have to do some scrubbing with some soapy water and a few towels handy. If you paddle in salt water you should do this every time.If you are in fresh water you can skip a few goes if you are planning to paddle the next week.
Probably the most important thing to remember is to dry to clean and dry it thoroughly before storing your inflatable for winter. 
Final Thoughts
We hope that this guide serves as a helpful tool for anyone doing a little kayak shopping. Some paddlers are nervous to delve into the world of inflatable water sports. Yet, many of these inflatable kayaks perform just as well as, if not better than, the hard-shell alternatives. If you are in a rush, check out our top-rated inflatable kayak, the Advanced Elements AdvancedFrame Convertible Tandem Kayak. This boat's performance rivals that of many conventional hard-shell kayaks. Yet, it's significantly less expensive and easier to transport. Do you have any unanswered questions or comments you want to share regarding inflatable kayaks? Let us know in the section below!