The Best Inflatable Kayaks of 2018
The times are a changing these days, the best inflatable kayaks are starting to outsell many hardshell kayaks! This is a tell tale sign of the way perceptions are being shifting these days. Have you ever found yourself wanting a kayak or canoe but you simply do not have the room nor the space for it?
Think of all the fun paddling memories that you and your family could be embarking on but can't because you don't have the space. Insert the inflatable kayak into your life and these challenges are gone.
Inflatable kayaks are the best option for those who do not have any space, room nor way of transportation to lug giant canoes and kayaks to the Lake/ River/ Ocean. Chances are if you are on this page you are considering an inflatable kayak but are still relatively unsure. I don't blame you really. As soon as anyone hears the word "inflatable" they think of something you blow up for a few uses only for it to pop dramatically or start a slow undramatic leak.
Instead I want you to liken your thinking to that of a tire. Think about it. You drive thousands of miles on an inflatable piece of rubber that can travel speeds of over 100 miles per hour. Rarely do they pop and often times they can last years. Now it's time to apply that kind of thinking to an inflatable kayak.
Why an Inflatable Kayak?
They are Durable (often more so than hardshell)
They can fit in most closets
Transportation is easy, just throw it in the trunk or carry it with you!
You can easily travel with them to almost any destination
They are lighter than hardshell kayaks
They are Cost effective
More Expensive ones give similar performance to hardshell kayaks but are less expensive
The are Safer for families and dogs alike, no hard hull to wack your head on
These are a few of the major reasons why to own an inflatable kayak. I could go on, but then I would probably risk losing you! So here's a video!
The Best Inflatable Kayaks:
#2 Sea Eagle Razorlite
393rl
Supremly Fast on the water
Tracks Well
Comes with lots of accessories
#3 Advanced Elements AdvancedFrame
Convertable Kayak
Very Versatile
Can handle lots of different conditions
Great Customer Rating
It is easy to get lost in all the criteria available for inflatable kayaks so let me just say this. It depends on you and what you want to use it for. Even though the Advancedframe Expedition Kayak is listed as the best inflatable kayak, doesn't mean it's the best for your needs. Choose a kayak that suits what are are looking for,  for example if you were looking for an inexpensive family kayak to have fun in you would turn to the Sea Eagle 370. If you were looking for a high quality inflatable fishing kayak to go RVing with you,  you would get a Hobie Mirage i12s.
With that in mind there are a few constants that we sticked by for picking the best inflatable kayak and best inflatable kayak under $500. We factored in Durability, Speed, Stability, Features and Value as Criteria.
The Best Inflatable Kayak Buyers Guide: What to Look for
A Respectable Brand

A Kayak with High Customer Satisfaction Ratings

The Material is Durable

Features Great Value

Is Simple enough to Pack and Unpack
Best Inflatable Kayaks Full Reviews
Tap (or Click) below to see Full Reviews)
Best Inflatable Kayaks Under $500 Criteria
#2 Advanced Elements
Advanced frame Sport
Good maneuverability
Tracks Well
Great for Day Paddling
#3 Sevylor Colorado
Two Person Kayak
Great Fishing Kayak
Has a lot of add ons
High Maximum Capacity
If you still want good value and a well made kayak but don't want to blow open the bank account, $500 and under is a good range to look. You can get good kayaks that are $200 and under but you will be sacrificing a lot of on water performance and isn't that part of the enjoyment of owning a kayak? There is no point paddling a kayak that behaves like an air mattress in the water because then you will spend a lot more effort correcting it and your paddling journey will be cut short,
The kayaks selected in this list have some degree of on water performance and although they may not perform as well as the best inflatable kayaks they can still get the job done and provide a ton of value to the paddler.
Best Inflatable Kayaks Under $500 Full Reviews
Tap (or Click) below to see Full Reviews)
So Many Kayak Reviews, but Who Do I Trust??
Okay I have to get something off of my chest. I would say about 90% of the kayak reviewers on the internet just look at what sells and slaps together a paragraph stating the features that you can already read on the manufacturers website. There I said it!
Have I tried all of these kayaks? No I don't have the disposable income for that but a good reviewer looks for what Customers that own the kayak have to say about it. I also do have is over 20 years of kayaking and canoeing experience that I can draw from, and I have tried a good amount of different kayaks to know what the on water behaviour is like.
All of these kayaks selected are well made, have at least some aspect of performance on the water and most importantly have a high customer satisfaction rating. I just would not feel right if I were to recommend a budget kayak like an Intex, only for you to try and cross the Atlantic Ocean in it. Ok maybe not that extreme, but I get annoyed when the internet is cluttered with half- done reviews that always recommend Intex as the best inflatable kayak. Sure the Intex K1 Challenger and Explorer are made of decent materials and are great for their price, but they will not last as long nor will they give you the same enjoyment that the above list will provide you with. For really in depth criteria check out these guys 
Now that I have finished my rant let's talk about some common Inflatable Kayak Questions
What's the Difference Between a kayak that is under $500 vs over $500?
The main difference is On Water Performance. As soon as you start going to about the $600 range inflatable kayaks like the Sea Eagle Razorlite and Advanced Frame Expedition start having more pronounced hulls to add to on water performance. Often times these $600 and up inflatable kayaks actually perform better than many recreational style kayaks and are sometimes much cheaper as well.
Are Inflatable Kayaks Safe?
Very, in fact I would trust them over many hard shelled recreational models for several reasons.
Inflatable kayaks have Multiple Air Bladders

Inflatable Kayaks are some of the most stable kayaks in the industry

Inflatable Kayaks often times just bounce off obstacles while hardshell kayaks can crack

Brands like the above mentioned are some of the safest in the industry
Are Inflatable Kayaks Hard to Care For?
Not at all, although some care should be done to insure that your inflatable kayak can last for a long time. Most of the time all you need to do is hose them off with water after paddling, dry them off and then deflate and fold them. I would also recommend using 303 UV Protection Spray every year or so just to protect the materials exposure to the elements. It is also a good idea not to leave them out in the hot sun too long.
What is the Best Inflatable Kayak size to get?
This one is ultimately up to you and your lifestyle but I will give you some insights.
Longer and Thinner Kayaks Track better and give you better straightline making them ideal for Lake and Ocean Touring Use

Shorter Kayaks are more maneuverable and are better suited for tighter waterways like winding rivers or even white water (if the manufacturer recommends it) .

Wider Kayaks are more stable and are best for day paddling or even fishing

Many Tandem Kayaks can be used as a two in one for solo and tandem paddlers

Keep in mind how much gear you will be bringing with you before paddling
What If My Inflatable Kayak has a Hole?
While inflatable kayaks are very durable they can be susceptible to a bit of wear and tear the odd time. To successfully find out where it is located simply inflate your kayak, spray soapy mixture all over the kayak and watch for areas where bubbles or even a slight hissing noise would occur, if you see either then that is your leak.
The next step is to repair it. Oftentimes manufacturers will include a repair kit should something happen. If this is insufficient simply contact the manufacturer (the ones I have listed all have good customer service). You can also use water proof glue if the hole is small enough.
What Kind of Pump Should I Use?
I always like having a pump that comes with a pressure gauge so that I can see what PSI the kayak is inflated to. These gauges are usually on manual hand pumps but they are rough on your back. A good alternative to this is getting a proper foot pump or an electric pump if you do not want to do any of the work.
How Long do Inflatable Kayaks Last?
If properly Maintained the models I have mentioned above should last for years and years. The life in inflatable kayaks decrease based on
How often you use the kayak

How and Where you Store your inflatable kayak

How it is cared for After Paddling

How much abuse it takes from obstacles
If you do not take some necessary steps such as Cleaning/ drying it after each use and occasionally Spraying UV Protector on it then it's life will decrease. The same can be said if there is a degree of carelessness while paddling. Proper Kayak storage entails storing it away from direct sunlight, hot and cold conditions. The best place you can store your kayak is in a garage or even a closet away from harmful outside elements. This alone will help add years to your inflatable kayak.
Recommended Accessories That You Need
Water
Food
Before Jumping in head first take a look at the Coast Guards/ Your Countries governing body for Saftey Gear recommendations for your Area.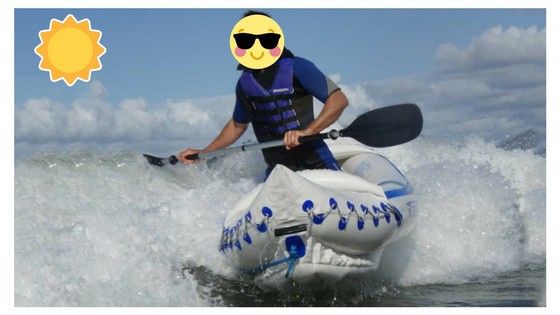 Inflatable Kayaks Open up a whole new world of potential that are left behind by hardshell kayaks. They give you the potential to be able to get out and explore the water no matter where you live and require less room then needed before. As time has gone on they have become more advanced in both materials and on water performance and continue to be the more popular pick as time has gone on.
Why not leap forward and give yourself that jump into the water than staying behind and continually saying that you don't have room for a kayak? Affordable models are everywhere and you will be every bit as glad that you finally purchased one instead of letting another summer go by admiring other paddlers having fun.