If you are in a rush the best kayak fishing pfd is the Bassdash Strap Adjustable Fishing Vest.
When you're deciding what to bring with you on your fishing trip, you'll most likely be focused on the types of fishing lures, bait, tackle and other accessories. But many people forget to mention the PFD, which ensures your safety throughout the whole trip.
Especially when you're fishing on a kayak, the risks of your kayak tipping over are greater than if you're fishing on any other type of boat. Because of that, it's important that you have the right kind of PFD for your paddling purposes.
But what constitutes a "good" fishing PFD? Here is a guide that can help you choose the best kind of kayak PFD by referring to features that you should consider before purchasing. In addition to that, here are also some of the best kayak PFDs on the market and their reviews.
The Best kayak fishing pfds are as follows:
Kayaking Fishing PFD Reviews
1. Bassdash Strap Adjustable Fishing Vest (Best Overall)
Features:
Adjustable suspension system
Padded air mesh shoulder straps
18 pockets
Multiple D-rings
Known as the Strap Fishing Vest, the Bassdash is the best overall safety vest for all types of fishing excursions. This jacket offers the best overall features for a kayak fishing trip, including comfort, storage space and size. It comes with fully adjustable straps and a suspension system that keep the vest tight to your body.
It's available in various different colors to choose from, and it offers a total of 18 different pockets that you can use to store certain tackle gear. The pockets are sized differently from each other, so you can even stay organized while you're on your fishing trip.
Pros:
18 storage pockets
Available in multiple colors
Adjustable suspension system
Cons:
Only available in one size
2. ONYX Kayak Fishing Life Jacket (Best Storage Option)
Features:
Tan color
4 different pocket designs
6 adjustment straps
Fleece-lined pockets
This ONYX life jacket accounts for easy accessibility of most of your vital tools. There are zippered, fleece-lined pockets as well as a zippered chest pocket that both allow you to put your tools into and clamp down on the top of the pocket. Given that, you can more easily access the tools from your vest.
Also, there is a drop down tray pocket that has one button to hold a small tackle box. There aren't many other life jackets on the market that can effectively store a small tackle box in their construction. Lastly, this life jacket from ONYX is recommended for you because it's classified as a high back vest that won't get in the way of letting you sit back while in a kayak seat.
Pros:
Multiple different pockets for tackle gear
High back structure
Fits a small tackle box
Cons:
May not be as comfortable as others, since the pockets take away from some cushion
3. Lixada Fly Fishing Breathable Vest (Great Value)
Features:
Universal adult size
Premium textile and EPE foam
4 chest pockets
4 front zippered pockets
2 side pockets
Last but not least, the Lixada Fly Fishing Breathable Vest is especially great for kayak fishing trips because it's available in a universal adult size. The foam used to make this life jacket is classified as EPE foam that can be replaced, which is convenient for those of you that are fishing in waters with a large amount of debris.
In addition to that, this Lixada PFD has multiple pockets and is extremely breathable with the mesh material built into it. More specifically, there are four chest pockets, four zippered front pockets, two side pockets of mesh and a back pocket as well. The mesh is located on the back as well as on the inside to ensure comfort.
Pros:
Comes in a universal adult size
Produced with an EPE foam
Breathable mesh material located on inside and outside
Cons:
Pockets are all zippered, so they may be difficult to access with one hand
4. Anglatech Fly Fishing Vest Pack for Trout Fishing (Best for Trout Fishing)
Features:
Adjustable shoulder and waist straps
Breathable mesh material back
Forest Green and Sand Khaki colors
Conveniently for those of you with plenty of tackle gear, this life vest offers a large amount of storage space for various different components. More specifically, this life jacket from Anglatech has more than 20 different sized pockets that can each be used to store different tackle gear and keep it organized.
In addition to that, this life vest is fully customizable with adjustable straps and bands. The material in addition to the straps and bands give this vest the ability to fit snug onto your body for comfort as well as safety.
Pros:
Affordable
Mesh back for optimal breathability
Has more than 20 different sized pockets
Cons:
Only available in one size
5. Old Town Lure Angler Men's Life Jacket (Most Customizable)
Features:
Ripstop nylon material
Adjustable straps on shoulders, side and waist
Multiple D-rings
Available in various different colors, this Old Town Lure Angler Life Jacket offers the utmost customizability. It features countless storage compartments within the jacket that you can use to store your tackle gear. And it even has an envelope pocket for holding a GPS.
In addition to these beneficial features, this jacket was produced with a tough rip stop nylon material that is abrasion-resistant and can withstand a large amount of wear and tear. You can perfectly fit the jacket to your body with the various adjustable straps located on the waist, side and shoulder areas.
Pros:
Available in various different sizes and colors
Features Lure Angler's Air Comfort System
Made with a rip stop nylon material
Cons:
More expensive than others
6. Kokatat Leviathan Life Jacket (Best for Cooler Weather)
Features:
PVC-free foam
Ripstop nylon shell
Hand warmer pockets
Olive, Orange and Gray colors
If you're kayaking in cooler weather, then the Kokatat Leviathan Life is most beneficial because it features hand warmer pockets in addition to various other pockets. It's produced with a Gaia PVC-free foam that offers optimal buoyancy, and it also has a durable high tenacity ripstop nylon shell externally.
Moreover, this life jacket is great for relaxing fishing trips in your kayak, since it accommodates for comfort with the internal foam contour. This jacket is specifically designed for your comfort on cooler trips without making you feel confined within a thick coating.
Pros:
Made with a PVC-free foam
Accounts for comfort with the internal foam contour
Comes with hand warmer pockets
Cons:
Doesn't offer the best breathability
7. NRS Chinook Mesh Back Fishing PFD Life Jacket (Most Convenient)
Features:
Charcoal, Green, Orange colors
7 front pockets
Mesh lower back
Multiple D-rings
In addition to keeping you safe on the water, this PFD from NRS offers various convenient features specifically for fishing. For instance, this life jacket comes with multiple attachment points for your tools as well as pockets for all of your tackle equipment. Not only that, but it even comes with an integrated rod holder so you can relax while you're fishing at the same time.
Furthermore, this PFD features a mesh material on the lower portion of the back so that you can have optimal air flow and easy breathability. The mesh back even fits well with high-back seats that are often on kayaks nowadays. As for comfort, this jacket conforms to the size and shape of your body, eliminating the risk of the jacket slipping off in the water.
Pros:
Come with 8 adjustment points for optimal customization
Features an integrated rod holder and pockets for gear
Includes a coil tool retractor for clipping lines
Cons:
Only available in one color: Charcoal
8. Stohlquist Fisherman Personal Flotation Device (Most Durable)
Features:
Nylon material
500 denier cordura shell
200 denier oxford liner
High-back construction
Lower-back waistband
Labeled as the more durable life jacket, this Stohlquist Fisherman PFD is formulated with a 500 denier cordura shell as well as a 200 denier oxford lining. This durable and sturdy construction helps to elongate the jacket's lifespan, and it also offers the capability of withstanding a large amount of wear and tear.
Additionally, this Stohlquist PFD features neoprene padded shoulders that help to keep your shoulders comfortable and protected. Speaking of comfort, this vest even has a lower back waistband and open sides that offer breathability, comfort and support while you're sitting for long periods of time.
Pros:
Produced with a cordura and oxford shell
Features neoprene shoulder pads
Has open sides that increase air flow
Cons:
Limited straps for easy tool access
9. Extrasport Striper Kayak Fishing Type III PFD (Budget Option)
Features:
7 pockets
Sand color
X-small size
Neoprene adjustable waist belt
For a more affordable option, then this Extrasport Kayak Fishing PFD is available with seven pockets that can easily store specific tools, since they have Velcro closures and zipper closures. The jacket's overall construction has a mesh lower back, sides and even on the shoulders for maximum breathability.
Moreover, this life jacket is built for comfort, since it has a neoprene-covered adjusted waist belt that can be adjusted to securely fit around your waist. Because of that, you don't have to worry about the jacket coming off up over your head if you fall in.
Pros:
Hypalon shoulder attachment points
Has mesh on the back, shoulder and sides for breathability
7 pockets with different closures
Cons:
Only available in an X-Small size
How to Choose the Right Kayak Fishing PFD for You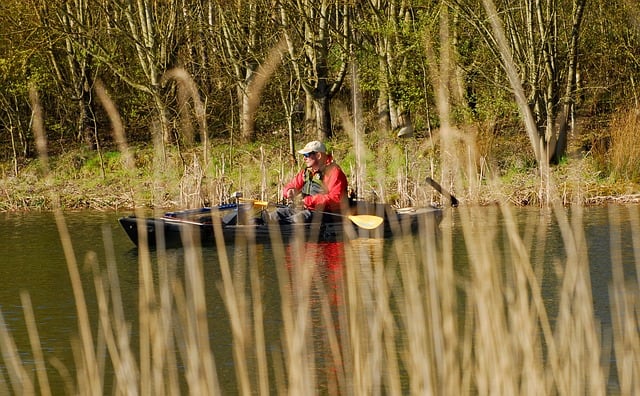 Material and Weight
One of the most important factors that you should be considering when you're searching for a certain PFD on the market is the type of material that it's made out of. Different materials can make the overall vest weigh and feel differently, so it's important that you consider what material if the most beneficial for you.
Life jackets will typically have a specific external material, internal material and it may have other accessories that are produced with other materials, too. And depending on the certain kind of PFD you have, they will usually have different components to them.
For instance, most outer shells are made from either a nylon or vinyl material, which is essentially what keeps the floating material on the inside altogether. From there, the three different types of PFDs will have different materials on the inside that help the jacket stay afloat.
Also known as inherently buoyant, standard life jackets will usually have either a plastic foam or cork material on the inside. Additionally, they may have pockets and other fabric put together to act as straps. The foam functions by the closed cells that help to trap air pockets throughout the material for a lightweight quality.
Classified as the most comfortable PFD, inflatable jackets are able to float because of a carbon dioxide cartridge on their inner portion. When they're activated, the gas will release throughout all of the jacket's chambers.
Hybrid PFDs are essentially a mixture of a natural inflation as well as a natural buoyancy. They trap air on the inside of the external shell and it weighs less than the displaced water surrounding it.
Regardless of which PFD type you prefer, you should consider what material you want it to be made from. The material will help to determine how comfortable the PFD will be, and you'll want one that has a comfortable and lightweight material.
Sizing
In order to find the right kind of PFD, make sure that you purchase one in the right size. They come in practically any size and the market for them is extremely diverse. But life jackets are practically useless if you don't have the right size. If it's too big, then you risk it falling off or not holding you up. Likewise, you'll be extremely uncomfortable if it's too small, and that's unsafe in itself.
The market for PFDs contains products for both adults and children, and many people think that your weight is what determines the size. This is problematic because your weight is a number characterizing your entire body, not the location of the life jacket on your body. You can get away with choosing a PFD according to children's weight, since their bodies have similar disparities. But you should choose a PFD for adults according to the chest size.
In order to get your chest size, you can measure the circumference of your chest at its broadest area. After that, you can check the PFD brand's sizing and choose the one that best fits your size. Essentially, a PFD with a good fit will give you enough room to freely move your arms and bend your body forwards and backwards.
How Tight Should it Be?
Most people end up getting a PFD that ends up being too tight, since they don't think about the clothes they'll be wearing or the specific position they'll sit in the kayak. Because of that, you may benefit from wearing the clothes that you're going kayaking in while you're measuring your chest and trying on certain PFDs.
Not only that, but you should also move your arms around to make sure that the PFD doesn't chafe your skin or make you uncomfortable. Since you'll be paddling a lot in the kayak, you won't want anything in the way of your arms while you're paddling. A good PFD should essentially move with your body, rather than move against it or hit against other things around you.
You should also try to do casting with your reel, since you'll be using your PFD the majority of the time that you're fishing. You'll want to make sure that you can comfortably cast your reel and move your arms around without the life jacket getting in the way.
To find out if it's too tight, there are a few steps you can follow. For one, you can start by putting the vest on and strapping/zipping all of the components starting from the bottom at the waist and working your way up. From there you can have someone pull the PFD upwards, and if it doesn't move at all past your shoulders, then it's too tight. But if it moves up past your nose, then it's too loose.
A good fitting PFD should fit snug onto your body like a glove while still allowing you to have the freedom for comfort.
Comfort
If you're not comfortable wearing the vest, then you'll focus on how uncomfortable you are the entire time that you're wearing it, rather than focusing on your fishing and kayaking skills.
There are a few factors that account for the comfort of a PFD. For instance, the material, the type of PFD and the size. There are five main types, including Type I, II, III, IV and V. Type I PFDs are bulky and have the highest amount of buoyancy. They're more suitable for rough waters, and they're available as inflatables, standard or hybrids.
Type II PFDs are for calmer waters and have a less bulky design. Less expensive, they may not be as comfortable as others. Type III PFDs are also a basic design that turn you face up in the water when your head is back. They provide the most freedom for movement.
Type IV PFDs don't necessarily get put onto your body. Instead, they can be thrown to people that fall overboard to help them stay afloat. Lastly, Type V PFDs are more for specific types of activities. They're designed so that you can still engage in certain water acts, ranging from kayaking, waterskiing and wind surfing. The best ones for fishing are usually either Type II or III .
Strap In!
As you're browsing the market for PFDs, you'll soon realize that the number of straps on each jacket differs. From there, you may question how many straps a safe jacket should have. This all depends on the certain type of PFD you have as well as the certain size that you have.
Straps keep the PFD strapped to your body, eliminating the risk of it falling off once you get into the water. A safe PFD should contain a zipper in the middle, regardless of what size it is. And ones with extra precaution will likely have both buckles and straps. Any PFD that has a larger number of straps is better. To be more precise, safe PFDs usually have shoulder straps, at least two chest straps and waist straps.
Proper Buoyancy
PFDs' main purpose is to keep you afloat if you fall into the water. That being said, you'll want to make sure the vest that you have is capable of keeping at least your head above the water if you do happen to fall in. You can check whether a PFD is capable of doing so by looking to the amount of buoyancy that each vest has.
The buoyancy is essentially the amount of force that is required to keep a person's head above water. It's measured in pounds, and the amount of buoyancy required depends on the weight and overall size of the person wearing the jacket. Most adult life jackets should have anywhere from 10 to 12 pounds of extra buoyancy in order to help them stay afloat.
The type of water that you're kayaking in should also be considered when you're choosing between different PFDs on the market. If you're in more touch waters, then you'll want a PFD with more buoyancy, since there is a higher chance of you going down under the water even more.
You should technically test the PFD's buoyancy before you use it in deeper or rougher kayaking waters. You can check this by going into a swimming pool or other deeper and calmer body of water. Once you can't touch anymore, place your head back and see if your chin is above the water. At the very least, your mouth should be up and out of the water to ensure safety.
Pockets
Most standard PFDs come with pockets located in the front. You have the option to store things in them that you can use throughout your trip, but you should keep in mind that not all pockets have waterproof properties. Given that, you'll want to refrain from putting electronic devices in the PFD's pockets unless the vest is advertised as having waterproof pockets.
You should consider whether you need a PFD with pockets first. And if you do, then you'll also want to consider the size of them. If you're using the PFD for fishing purposes, then you'll most likely want to have pockets. You can put tools, smaller lures and fake bait in them for easier access. From there, you'll want to consider what size pockets you want.
If you need a vest that has pockets, then you should refrain from purchasing an inflatable vest. They most likely won't come with pockets, and they likely won't have waterproof qualities.
Foam vs Inflatable
Before you choose a certain kayak PFD from the market, it's important that you're aware of the advantages and disadvantages of the two main types of PFDs. The main standard type of PFD is produced with a foam material. And the other type is classified as an inflatable PFD that you can blow up with air before you wear it.
Foam PFDs
Foam PFDs essentially look like a vest, and the foam is used to create a buoyancy effect. There are many advantages to using these types of PFDs, including the notion that they require less maintenance and they're inherently buoyant from the start. Not only that, but they're versatile for various different types of water sports, and they also have pockets and straps. You can put snacks, tools or even sunscreen in the pockets of foam-cushioned PFDs.
The downsides of foam PFDs are their bulkiness, since they can make you feel restricted while you're wearing them. Most of the time you may not realize the limited amount of movement that you may have, but you'll definitely recognize it when you try paddling or moving around a lot. Also, foam PFDs tend to get hot during the summer and when they're left in the sun for long periods of time. That can make them more uncomfortable to wear while kayaking.
Inflatable PFDs
Inflatable PFDs are relatively newer to the market, and they feature either a vest or a waist pack that can be inflated and deflated with a drain hole. Just like PFDs with foam padding, inflatable life jackets also have advantages and disadvantages.
For one, they're much more comfortable to wear than foam ones. Not only do they have a slimmer profile, but they're less restrictive. They can even be customized to fit your body in general, since you can control the amount of air that goes into them. In addition to that, inflatable PFDs don't make you as hot as foam ones do, since they cover less of your body.
There are some downsides to wearing inflatable PFDs when compared to foam ones, including the fact that they require more care. Since they're inflatable, you have to fill them with air and deflate them when you're done using them. Not only that, but they're less durable. Since they're filled with air, you have to be careful about certain debris around you popping the inflatable life jacket and ruining it.
If you still have trouble choosing the best kayak PFD for your fishing purposes even after reviewing this guide, then the above YouTube video may help you more.
Final Thoughts
Overall, each of these PFDs are especially beneficial for fishing purposes on a kayak. They each provide proper buoyancy and accommodate for your tackle storage throughout the entire life jacket. But some of the jackets help to accommodate for a larger variety of features, making the buying process difficult.
Because of that, you're most recommended to purchase product #1: Bassdash Strap Adjustable Fishing Vest. When producing this life jacket, Bassdash took the comfort, versatility, safety, adjustability and even the overall appearance of the jacket into account. The Strap Fishing Vest is available in multiple colors, has an adjustable suspension system, is produced with a lightweight material and it has 18 pockets for storage.
Not only that, but it even has a D-ring on the back that you can use to attach a fishing net. Given each of these beneficial features as well as its affordable price, you should purchase the Bassdash Strap Adjustable Fishing Vest from the market.