In this In-person Nixy Newport Inflatable SUP review, we will be testing out the 2021 edition from the Nixy line.
The Nixy Paddle Board Company kindly sent me the Newport G4 inflatable paddle board to give my unbiased review. For a 1 year updated overview of the Nixy Newport Review click here. .
I have also spent over 47 hour researching this board on top of testing its on-water performance all spring and summer. Below are my findings.
About The Nixy Sports Brand
Nixy Sports is located in Irvine, California founded by Nicolas and Ale Szczedrin. It started out as the family wanting to find a high quality lightweight board. However, they were left disappointed with their options, so they went and made their own!
Nixy's main goal is to share their passion for paddle boarding and influence others to take on adventure and boldness. Their main mission statement is "If we won't use it, we won't make it!".
Nixy Sports uses direct-to-consumer marketing to sell its products. So you know you will be in good hands when the product ships out, instead of it being in a random warehouse.
Who Should be Using the Nixy Newport G4?
Not every paddle board is perfect for every paddler, but this particular Nixy Newport G4 model certainly comes close! The Newport G4 is a great board that can be used across a wide range of skill levels. More on this below.
Folks Who Want a High-Quality Board
Let's face it if you are paying $895 for a paddle board you expect a high quality board and good presentation. Nixy has met and exceeded this expectation in my eyes. The board is made of dual-layer advanced fusion laminated woven drop stitch material with carbon side rails.
This helps increase the stiffness and durability of the board which gives you a more stable feeling while standing on the water. This could be instantly felt when I stood on the board for the first time.
Nixy also took the time to go into the finer details of the board, which I will go into below.
Beginners and Intermediate Paddlers
In terms of learning curves for beginners. The Newport G4 is probably one of the best models to learn paddle boarding on. I know this because when I started out paddle boarding years ago I bought an off-brand Paddle Board. It was pretty difficult to stand on the thing even in the calmest of conditions. I would jealously look on while my friend would be standing on his new IRocker All Around Paddle Board. Meanwhile, I would be forced to stay on my knees when any waves came to face me.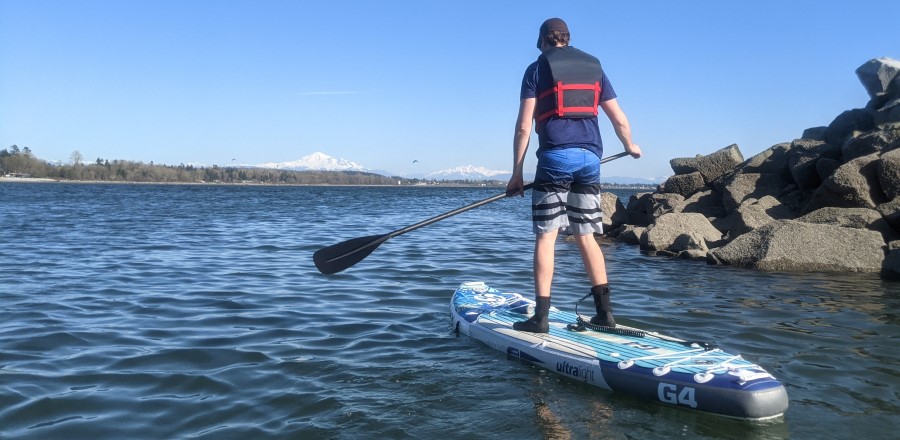 Where am I going with that story? Well, the G4 Newport felt much easier to stand on for the first time in calm water conditions. I felt like I never had to worry about a little wave knocking my stability off-kilter, which is usually the last thing beginners want to face.
One of the first things that intermediate paddlers will appreciate is the weight of the board. When I first picked up the board to carry it to the beach I couldn't believe how lightweight it was! Compared to my other board, the Newport G4 felt like it was twice as light as my previous board. So walking from the parking lot to the beach was much more enjoyable than I could have imagined.
Intermediate paddlers will also appreciate the high-quality accessories that come with the board. When it first arrived at my door I was shocked at the quality bag they used. It looked like a roller bag that the president would use to transport his golf gear! I also cannot state enough how much the wheels on the bag will help ease the burden of carrying a big bulky bag over to the water from the parking lot. I'll get into this more below in the accessories section.
People Who Want a LightWeight Board
Paddlers who spend time after time packing and unpacking their boards after a day appreciate the small things that board manufacturers bring to the table. One of the biggest hindrances when it comes to setting up an inflatable board (other than blowing it up) is carrying it too and from the water. This is especially key when you have come back from a long paddling excursion.
The Nixy Newport G4 is about as lightweight as you can get with a board of its quality. Weighing in at 21 pounds and paired a nice comfortable double nylon carrying handle. It does not take much effort to get to and from the loading station to the waterfront. This feature alone made me realize that I was in the big leagues compared to my previous board. Which just featured a nylon handle and felt like it weighed almost twice the weight.
For those who paddle in coastal conditions, it is also something to take into consideration. Especially when the tide is far out and you have to walk a ways just to get to the water.
A Board with High Customer Satisfaction Ratings
When looking for how well a product is built you always head over to Amazon for manufacturer reviews. As of April 2021 The Newport G4 has a 4.7 star rating on Amazon and 5-star reviews on the manufacturer's website. Which is a pretty impressive feat. Most of the hindrances about this board were related to the older models where you needed to use a screw and tools to install the fins. The models from 2020 onwards now feature a screw that you can easily fit in using just your fingers. It's always great to see a company that responds to criticism with innovation.
What Can the Nixy Newport Inflatable SUP be used for?
Many boarders paddle for a wide variety of reasons, some want to fish, others want to further their yoga practice while some want to paddle with their dog. Below we will show the activities that this board is best for.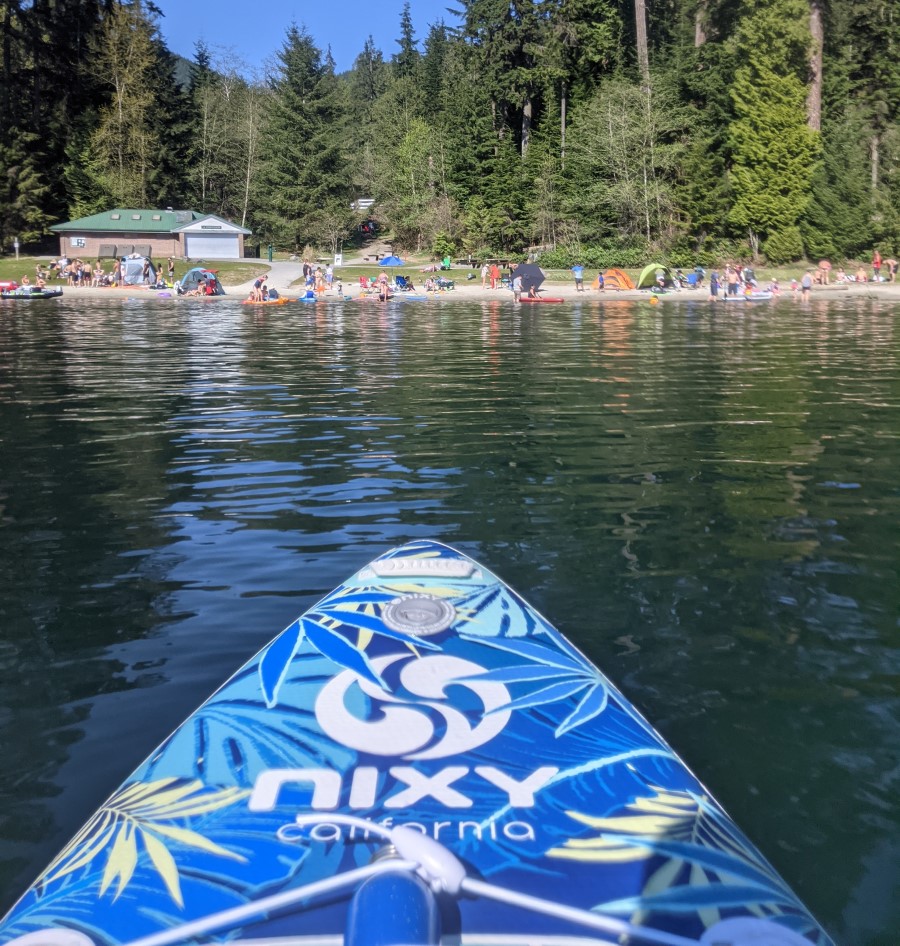 Yoga SUP
This board is actually a pretty underrated choice when it comes to yoga. Many reviewers often list specific yoga paddle board models but this board can probably do the job just as well as many of them. This is because of the board's stability thanks to its carbon side rails and 33" width. It allows you to have the confidence to challenge yourself to try new poses. Of course, I can't guarantee you won't fall off trying them! But the stable platform matched with its wide coverage deck padding gives you the confidence you need to stand on your head!
Nixy does have a specialty board for this which is the Nixy G4 Huntington. If you are big on stability check it out.
Casual Paddling
The one activity that this board is best suited for is causal paddling for a few hours. Because its an all-around board for beginner and intermediate paddle boarders it can handle calm to relatively wavey conditions. We will go into this in detail more below.
Paddling with Your Dog or Kid
The board has a 300 Lb maximum capacity but you can still fit your kid or furry friend on the board! When I tried out the board I specifically tried putting my weight on the nose to see how it responded to the weight transfer. Overall it was not too bad and if you look around at pictures on the internet the board can hold small to medium dogs. I'll need to find a well-trained dog to try this out on one day! Any volunteers?
Touring?
You can theoretically use this board as a touring paddle board in calm conditions. There certainly is enough deck bungees and space to do so. However, when I paddled in wavey water I was struggling to paddle against the water. In this case the 33" board profile did not do it too many favors in these conditions. More on this below.
Fishing?
The G4 could also be a good candidate to be an ample fishing companion. I wouldn't rate it as the best because, well, it's not specifically designed for it. However, should you have the need to plop some line in the water for a few hours there is enough deck rigging to store a small tackle box. Nixy does also sell different types of rod holders that you can install on the action mounts. Rod holder sold separately 🙂 .
Fishing Folks should take a look at the Huntington G4 due to its stability and added deck space.
Surfing?
It's in the same boat as the fishing category where its not specifically designed for it. However as I was paddling some swells, I found that you could travel a decent distance on the waves thanks to the board's lightweight profile. Unfortunately, I don't have much of a chance to try this out fully as I live closer to Vancouver. But if I get a chance to catch some waves at Tofino I may just try to give it a go!
On Water Performance
In case you haven't gotten the tone of this review you can probably tell I'm pretty obsessed with how the board handles in the water. I'll dive in even further detail below on how the Newport G4 did in some of these tests.
Below are some of the conditions that I paddled in with the G4, this will get updated as I take this board out on more excursions.
Calm Water
I had a chance to fully test the G4 Newport at Sasamat Lake just outside Coquitlam. The lake was crystal clear with just a slight hint of wind. Standing up on this board for the first time in these conditions was very straightforward and easy to do. As I paddled around, the board was responsive yet maintained stability, even after I did some aggressive sweeping turns.
The board tracked in about as straight of a line as you can expect from an all-around board. I was not expecting this for a board that was 33″ Wide but Nixy figured it out! For maneuverability, you did have to put in a bit of effort to make it turn compared to my previous board but this could probably be changed with the fin set up. The fin setup I had that day was the main fin and two smaller fins. I'm going to have to play around with these fin setups in more outings.
How it Handles in Wavey Conditions
My first test of the G4 board was at White Rock Beach B.C. . We chose a particularly windy day to go paddling but we wanted to get the first paddle of the year under our belt so we went for it. On our paddle south, we paddled with the waves. One of the characteristics I noticed with this board was the fact that it could be carried by the waves more. This meant you could paddle along with the wave for a bit of a boost. Not sure if you would call that surfing but it's something anyway!
Most of the time I was paddling on my knees until I started getting braver. After watching Kite surfers show off in front of us doing backflips and jumping 15 + feet in the air I decided it's time to give standing a go. Well, safe to say it probably went the way you expected. Falling into the water. Ohh dear. This is not a knock on the G4 at all but more me choosing to try standing while paddling against heavy wind and waves.
One of the things I did notice was the fact that the boards tracking was very much altered by these waves and I have to do more correcting while I paddled. It also took us about an hour and a half to get back to where we started paddling against these waves.
This is me nitpicking a bit as most inflatable boards you get will behave this way.
Tracking
In calmer water conditions, the Newport tracked very well, especially for an all-around board that is 33" wide and 10'6" long. I never felt like I had to keep correcting the board to go straight. I was actually surprised it tracked better than my original 11′ board that featured a pointier board profile. As mentioned above, in wavey conditions I did have to do a fair amount of correcting. Even if I did take a break the board would have a tendency to turn on its own.
Maneuverability
My movements while paddling also felt smooth and precise. If I wanted to make a sudden sweep stroke to turn the board around (like I had to do many times to get good pictures of myself on the board) the board felt stable, safe, and predictable to do so without any hindrance.
As a result of the board's great tracking ability, you do have to make a bit more of an effort for the board to turn swiftly. With paddle boards you usually have to choose between great tracking or great maneuverability You usually don't get both. If you do want the board to have more of a "loose" feeling you can always leave the main tracking fin off.
Stability
From the inflatable paddle boards, I've tried the Nixy G4 is one of the most stable inflatable boards I've paddled. Especially from the point of going from the kneeling to the standing position. The previous board I owned felt unsteady going from kneeling to a full stand which would lead me to get tossed in the water sometimes.
When I was paddling, I never felt any need to do any unnecessary jerks to counterbalance the board. The board's stable construction allowed me to paddle using fluid movements while gliding over the water graciously.
In choppy conditions it felt more difficult to stand on the board, but I believe that this is true for most inflatable boards. This is because they mostly sit on top of the water. And when the water is constantly moving it makes for an unforgiving surface. For beginners its best to be in the sitting or knelt position and keep your center of gravity lower to absorb some of the shocks the waves provide.
Speed
The Nixy Newport G4 featured a respectable speed on the water. Although I wouldn't put this board in any SUP races. It's not designed for speed but more for beginner/ intermediate paddlers who value stability. In my next few tests, I'll put together something that measures the paddling speed of this board.
I did like the glide of the board after each stroke. I found that because of its lightweight design the board was able to glide for a few meters per stroke. When I increased my paddling velocity the board also responded well to the increased velocity. All the while keeping its stability as I increased the pace.
The Nixy Newport G4 De-Constructed
In this section of the review, we go over how the Newport is constructed, what it comes with, and what you can add to the board.
Newport G4 Construction
The Nixy Newport Construction is a dual layer of advanced fusion laminated woven drop stitch technology with carbon side rails for increased rigidity. What does this all mean? It means that while most other SUP manufacturers use glue to keep the PVC together, Nixy uses the fusion process. To quote Nixy Exactly on the process:
"Fusion Laminated Drop Stitch is recognized as the industry's leading construction process for HIGH END inflatable stand up paddle boards.
The Advanced Fusion Technology uses only one base cloth layer that is sealed (fused) using Liquid PVC creating a reinforced material that is water and airtight. Thanks to this new process, less layers are required, eliminating the need of a hand-laid PVC layer to the outer cor fabric.
Lighter than traditional drop stitch material Fusion Laminated Drop Stitch allows for a smoother finish that you can see and feel. The Advanced Fusion Technology not only allows for weight reduction, but for a stronger and stiffer board that performs better even at lower inflated pressures."
The Carbon rails are built into the board so you don't have to worry about remembering to attach them before you go out. All of this construction allows for the board to be as lightweight as you can imagine at 21 pounds. Other comparables such as the iRocker All Around Cruiser 11' and the Tower Adventurer 2 weigh about 4-5 pounds more. The result of this technology is that it is easier to fold as well.
Newport G4 Features
Nixy has put a lot of effort into the thought and design of the board's onboard features. We will go over them in-depth one by one below but first here are some of the bulleted features for those who want to scan ;).
Grab Handles at the Nose and Tail
Middle grab handle
Inflation Valve at the front
Bungee System located at the front and the back of the board
D Rings On Each Side located at the Middle of the board for a kayak seat
A Traction pad that takes up ¾'s of the board (hint hint yoga enthusiasts)
Tail D ring for Ankle Leash and front D ring for days where you want a tow
Paddle holder located on the side of the board towards the nose (I was wondering what that was!)
Mounting brackets at the front and side for rod holders, go pro cameras, cup and phone holders
Carbon Side Rails inserted for stability
Inflation Valve and Folding
One of the first things I noticed that struck me as rather interesting was the inflation valve placement. Most of the paddle boards I have seen have the valve on the back but the Newport G4 actually places it on the front.
On first impression, I thought this might become a bit of a pain in the butt when you are packing the board up. I'm so used to leaving the valve open and rolling from the nose, making my way to the back of the board where the valve usually is.
This turned out to not be a problem though as long as you fold the board up instead of rolling it. If you start folding from the tail of the board and making your way to the nose it will work. Just line up the fold of the main fin compartment to the smaller fins and keep going along those folds.
Grab Handles
One thing I very much appreciated was the fact that the middle grab handle was covered by soft neoprene material. This neoprene cover is also removable which make it convenient to use if you are doing SUP yoga or you are just a sup enthusiast who likes to lay in the middle of the water (like I do!) .
The soft neoprene handle is ideal, talking from personal experience. I can't tell you how many times my fingers have seized up carrying my old board from the middle handle that is made of nylon webbing.
The front and rear handles are handy for carrying the board to and from the water. They would be especially handy if you had some sort of collapsible kayak cart. Or if you were in a sandy location and you just wanted to drag the board from the nose or tail. If given the choice I would use the tail grab handles as it lessens the chance of you scuffing up the fins, especially if there are rocks in the way. I usually like to use the middle grab handle to carry the board but if it's particularly windy out it may be better to drag it from the rear handle.
They are also handy for anyone swimming who just wants something to grab on to. Can't say I've had much use for them yet the two times I've been out but I'm sure I'll find a scenario for them!
Front and Rear Bungees
I really liked the fact that the Nix Newport G4 has turned their board into a board that gives you the capabilities of overnight travel. This is thanks to the front and rear bungees. The front is meant for smaller items such as water bottles, smaller dry bags while the rear bungees give you room to pack backpacks, hammocks, or even small tents.
4 D Rings
The Newport G4 features 4 D Rings that are located at the front, rear and two at the sides. The front D ring is meant for towing purposes, for both pleasure or emergency should you get too tired on your paddling excursion. The rear D ring is mostly for your ankle leash, although I lash it to the rear deck bungees myself.
The side D rings are for if you wanted to add a kayak seat. You can get a kayak seat from Nixy or any of the generic kayak seat attachments would work as well. You can find them on Amazon, Ebay and other retailers. Although I usually like to be safe and order company parts with the board just to decrease the worry of incompatibility.
The Traction Pad
If you are a yoga enthusiast don't sleep on this board as about ¾'s of its deck is lined with a non-slip traction pad. The traction pad area has actually increased slightly compared to it's previous models. When I wore my surf booties the traction pad felt grippy. I'll have to try it with my bare feet next time but here in Canada, the water is still a bit chilly!
The Nixy Logo on the tail of the board acts as a bit of a stomp pad for the board for more advanced paddlers who want to make a quick turn in the water. Probably not recommended to use this if you have some valuable gear in the back bungee section though.
Paddle Holder on the side of the board
I must confess I had no idea what this was at first. The side paddle holder is a good feature for when you just want to stow your paddle out of the way. This is more than ideal for folks who want to use this board for fishing and yoga purposes. You can also use this to tie up to other sups and make up your own flotilla in the water.
I must confess that it does get a bit in the way of my paddle strokes at times. I like to dip my paddle in the water close to the board to try to get more power per stroke. Sometimes it hits the paddle holder and makes a bit of a bizarre noise. I was not expecting to hear that when I was trying a more power-centric strokes!
Mounting Brackets
One thing I do love about this board is its use of mounting brackets. These brackets are great because they can hold phone holders, Action camera mounts, rod holders, cup holders and regular camera mounts. These are all sold separately at the Nixy shop. From the looks of it, the action mounts should be universal as it has a screw design but I'll have to ask the Nixy folks about this feature.
The Set Up.
I have set up the Nixy Newport G4 two times now. Once with an electric pump and once with the pump provided with the ISUP package. Unpacking and unfolding the board was easy enough. The thing that I do love about that Nixy bag is despite it being a bit bulky, it has room for everything including extra things you want to bring along the way. More on that below.
Setting up the Nixy with an electric pump was easy enough, just plug it in (don't be like me and forget to close the valve) and go! With the double pump, it was a bit more complicated. The one thing I forgot was the instructions. Luckily Nixy has some instructions on when to open and close the valves stuck onto the pump. Truthfully, I didn't notice them until halfway through when I was pumping the most inefficient way possible (only one valve open) but after I played with the valves and figured out what they did it was relatively straightforward.
The fin setup was pretty easy to figure out as well. I read in previous reviews that the previous models (G2 and below) required some tools and thought before installation. Since 2020, Nixy took note and feature a screw that locks all the fins in place. In total it took maybe a minute or two to do all 3 fins. Easy peasy.
The Boards Shape
The Nixy G4 is an All Around board, meaning its meant for a wide array of different purposes. Something interesting that struck me about this board is that it featured slightly different dimensions compared to other inflatable sup manufacturers.
The Nixy G4 Newport measures 10'6" and has a width of 33". Most ISUP board manufacturers have a board that measures 10' 11'' or 11'6" and their width usually ranges from 31" to 32". This little difference made me come to some premature conclusions that this board may not track as well or go as fast. Because of its slightly shorter length and wider width. Well, I was dead wrong about that. The Nixy G4 was more than a match for my friend's iRocker 11' All Rounder Board as I was able to paddle with him stroke for stroke and sometimes even got ahead. The Tracking of the G4 was also miles better than my old board which was 11' in length, 31" wide, and had a skinny nose. It just goes to show that construction really is everything with these ISUP's.
The All Around board name is true to its character as it is fast enough in the water while providing more than ample stability for anybody new to paddle boarding.
Accessories
One of the things where "you get what you pay for" with the Nixy G4 is the quality accessories that are provided. In fact I would confidently say Nixy provides the best accessories of almost any all-around board.
The Carry Bag.
If you were to put the carry bag of my old off brand SUP against the Nixy G4 the difference is considerable. The Bag that comes with the G4 was very well thought up. It's more like a giant suitcase/ hybrid backpack than a carry bag. The folks at Nixy really thought of everything when it comes to this bag. It features backpack straps with thick padded meshing for those who will be walking a ways along with hip and chest straps/ buckles.
A front pocket for extra gear you want to bring with you such as life vests, extra gear you want to bring along on your journey. It also features side pockets with vents as well as straps to hold your collapsible paddle in place. Inside the main compartment is loads of space for your board, pump and any other big item you plan to bring with you. Inside that main compartment are 3 smaller pockets where you can place the fins. I especially appreciated this as smaller items such as the fins of ankle leashes can become relatively easy things to lose. With these compartments, you can just throw the fins in there and go.
The best feature of this bag I saved for last. What I really loved about this bag was the 3 wheels at the bottom that makes it act like a suitcase. I cannot tell you how handy this feature is, especially if you have to walk long distances to the water with this bag. It is the ideal accessory to roll along in grass, or the pathway. If you are taking a beaten trail it's probably best to throw this bag on your back though. The Wheel at the bottom is particularly clever because it does not allow the bag to sag in the middle when being wheeled.
The Fins
Another feature that impressed me with this board was the fins. The fins looked to be pure quality, even when I just held them, they were a decent weight. As of now I am unsure of the material they are made of but I'll have to ask Nixy about this and get back to you folks.
As stated above the installation was seamless. Simply screw in the fins that you want and it's done. Something that has changed from the Newport G3 to the G4 is the fact that the center fin is compatible with other fins that are US/FCS make. FCS stands for fin control system which is a brand as well as a type of fin set up that you can experiment with different shapes and styles with.
The installation of these fins may be a tad bit longer than the clip-on kind that other boards like iRocker may have. But I feel that extra peace of mind when you have a screw that firmly has the fins in place. I will be updating this section when I play around with the fin configurations.
Nixy G4 Typhoon hand pump
The dual chamber hand pump is a great feature although in my mind, you should spend the extra money and get an electric pump. If you paddle a lot you will be thanking me later. Having said that this is a great pump, especially compared to my old single action pump which was a workout all in itself just to pump to 15 PSI.
Some of the features included with this pump include the hose, dials to control the air pressure, and screw in handles. When I was putting this all together I was a little bit confused with the handles at first. I have mixed feelings about these screws. On the one hand, taking the handles on and off makes the transition of putting the pump into the bag easier. On the other hand, it is an extra step that you have for assembly.
The pump also has a PSI gauge which helps you get to that recommended 15 PSI accurately.
Another thing I was initially confused with was that there were two places to insert the inflation hose. I took my best guess and installed it on the body of the hose (which was the correct one). I did some research and I later found out that the hose on the handle is the deflation hose. Meaning when you deflated the board you can actually pump the air out of it by attaching the hose to the handle. I was unaware of this but I will test it next time out!
The pump weighs about 4 pounds and can inflate up to 29 psi, although for this board Nixy recommends 15 (and so do I). The pump fits into the bag well. I recommend putting the folded board inside the bag before the pump, otherwise, things start to become tricky in terms of fitting everything in. The typhoon pump features low and high-pressure switches which comes with a depiction of how to use it.
Nixy G4 Carbon Fiber Hydbrid Paddle
The paddle that comes with the Newport weighs in at 1.54 pounds, is a 3 piece, and can range from 67" to 84" in length. When I paddled the G4 Newport I used the paddle that came with the board both times. The paddle felt nice! The T handle was nicely contoured to my hand and the paddle itself didn't feel too heavy. Of course I could feel the slight weight difference between this paddle and my full carbon paddle but this one is more than sufficient quality to use. For this G4 model Nixy made this paddle 15% lighter.
The shaft diameter on this paddle is 28.5 mm while the nylon blade measures up at 90 sq inches. It also has a floating capability which is handy in case you accidentally knock the paddle off your board or you drop it in the water. Nothing worse than jumping in after your paddle hoping it doesn't sink!
Nixy Hybrid Leash
The leash felt nice to wear and it did feel like an inconvenience like other leashes felt on my other board. The length of the leash is 10 feet with the cord made from polyurethane.
Helpful Add Ons You Can Buy
Below are Add-Ons from the Nixy Shop that you can include on the Nixy G4 Newport.
Nixy Ventus Universal Electric Pump
While you don't need this accessory. Talking from experience it's good to get one, especially if you go paddle boarding quite often. This is a universal pump so it can work on most inflatable paddle boards, kayaks, and dinghies. You have the option to power it up using a 12 V cigarette lighter plug-in or you can use it on your car battery using its 12 V battery cables. In my experience using it on the car battery is the best option as sometimes you can short the cigarette lighter.
Navigation Lights
While you don't need to have these during the day, at night (after dinner paddling till dusk) many countries require you to have navigation lights on while paddling. This is because it helps with visibility with other boats that come into the area. The mounting on these lights can be used on D-rings, bars as well as a kayak seat.
Premium SUP Kayak Seat
If you are a paddler who tends to like to sit while paddling a kayak seat is a great addition that will give your bum the comfort it desires. You don't specifically have to buy this particular kayak seat as there are plenty of universal ones you can find on Amazon or other retailers.
Mounting Accessories
When you first get your Nixy board you may be looking at those mounting brackets and wondering to yourself. "Hmmm, what can I do with these?"
Nixy has a few clever accessories that you can add to them. For those who like to document their paddling journey, Nixy features phone holders as well as action camera mounts for Go Pro cameras. As well as actual camera mounts for your waterproof cameras. The camera and phone holder are fully 360 degrees rotatable as well as tilt-adjustable. Helping you get the right angle you need for your newfound Instagram fandom.
If you are a fishing enthusiast, don't worry, you haven't been left out! Nixy has a fishing rod holder that can be screwed into the single mount screw. The Newport G4 features 4 mounts so if you are a proper fishing enthusiast you can have 4 rods going at the same time.
For those who just want to relax with the bevy of their choice. Nixy also has a cup holder mount. I'll just let that sit for a while as you dream of all the possibilities, especially with the 4 mounts available.
Warranty
By far one of the most overlooked aspects of any product is its warranty. Many off-brand inflatable boards that you may buy from Amazon do not feature much of a warranty. As you get into more respectable ISUP brands. You will find that they usually have warranties attached to all of their inflatable board models. Nixy is no different. Nixy features a 2-year warranty which is pretty standard against other competing models such as iRocker or Tower.
The Warranty does not cover the following:
Normal wear and tear and discoloration from environmental exposure
Damage caused by abuse or failure to perform normal maintenance.
Damage caused by hitting submerged objects, beaching, or dropping.
Damage caused by mooring or storing board in water.
Damage caused by alterations or modifications.
Any other consequential damage, incidental damages or incidental expenses, including damage to property.
Nixy also has a risk-free 30 day return policy on all of their boards. Although, some manufacturers such as iRocker do feature a 60-day return policy on their boards.
Where Can I Buy the Nixy Newport G4?
You can purchase the Newport G4 straight from their website or on Amazon.com. I personally like ordering straight from the manufacturer as I believe they take better care of their boards as opposed to them being stored at an FBA warehouse.
Other Board Comparisons
Here are a few boards that I directly compared in person to the Newport G4
iRocker All Around 11' Board
Priced at about the same price point as the G4 I thought that this comparison was fitting. Both being All around boards, similar price point,s and similar features. What are the main differences?
Dimensions: 11' X 32" 6" 26 Lbs
As you can see this board has 6 inches length on the Nixy Newport G4 but is an inch smaller width-wise and 5 pounds heavier.
What did this mean for on-water performance? Well when I tried it out the iRocker had a tendency to really want to go in a straight line while paddling, so great tracking. I did find that I needed to put in some extra effort for sharper turns compared to the G4.
Both felt stable in still water but I would give the edge to the Newport because of that extra inch width and the carbon-enforced side rails. Maneuverability wise I give the edge to the G4 as it took less effort to do sweeping turns and you didn't have to work as hard to make the board tilt more to the right or left. 
In terms of accessories the iRocker All Around 11' came with roughly the same with the hybrid carbon paddle, the double hand pump, bag, fins, and ankle leash. The main difference was the bag. I noticed that the 2020 iRocker bag did not feature the wheels on it like the 2021 model.
They must have taken notice of what Nixy was doing and put their own version onto the 2021 models. The installation of the fins was also a bit different in that they clipped on instead of screwed on. 
Tower Inflatable Paddle Board
I got the chance to try this board out a few times as this is also an all-around board offered by Tower. It's a carbon copy of the adventurer 2 but with a slightly different appearance. 
Dimensions: 10'4" X 32" X 6" 26 Lbs
Tower also has a tendency to always have their products look like they are on sale. While the specs are somewhat similar to the Newport G4 there was one area where the Tower Yachtsman lacked. That is the accessories that came with it.
The Yachtsman only came with a detachable center fin, repair kit and a stap to hold the board. No paddle, no bag, no pump no ankle leash. It is also listed at around $400 cheaper but even still, many budget Amazon board brands have accessories that come with it.
Not to say, I'm not comparing this to those brands as I still do believe that Tower is one of the better ISUP manufacturers. 
It's on-water performance felt a bit more unsteady compared to both the Newport G4 and the iRocker All-Around board. But I did manage. Tracking wise I felt that both the Newport G4 and the Irocker board had superior tracking over the Yachtsman. This is because the fins on both boards are higher quality and you have more customization you can do with the fin set-ups. 
Because of its shorter length, I did find that the Yachtsman was more maneuverable but its performance on the water did not feel as steady. When I was doing regular strokes there were moments from time to time where I had to adjust myself and counterbalance my weight a bit.
Should You Get the Nixy Newport G4?
In one word yes. After both testing the board and reviewing all the things from various reviews and tests have said the Nixy Newport is a great board to get. It's the finer details that paddle board enthusiasts will love.
You get a lot with this board, as it comes with a huge backpack/ bag (With wheels!), a Carbon Hybrid paddle,3 removable fins, the typhoon double hand pump as well as a leash. I especially loved the bag this Newport G4 came in. It was really well thought out with the location of the pockets, the extra padding on the back area as well as the additional waist strap as well as the room it gives you to put extra gear in
Not only does it come with all the accessories needed to go paddling (and more) but it's performance on the water is noticeable.
The beauty of the Nixy Newport G4 is the fact that it's a great board for both beginners and intermediate-advanced paddlers. Thanks to its 33" Width the stability on it gives beginners the confidence to have steady progression. While intermediate-advanced paddlers will like the fact that the board is no slouch performance-wise and is more than capable of hanging on with the other All Around inflatable boards.