If you are either new to paddle boarding or yoga you wouldn't expect both of these activities to be drawn into one. Those who try it cannot get enough of it simply because it helps build strength in areas that would be harder to do on a simple yoga mat.
Why SUP Yoga?
It develops core muscles and stability

It brings you closer to nature

The gentle rocking of the board gives off meditative benefits

It's easy to move from one location to the other (no mat to roll up!)

Increases your overall awareness and balance

SUP Yoga is something that you can do at your own pace

It's a great way to socialise and meet new people
Need more convincing? I recently wrote a piece on the benefits of SUP Yoga and why you should try it out on Book Yoga Retreats.
Inflatable SUP vs Hard Boards Which do I choose?
This comes down to board handling preference and how much storage space you have available. Hardboards typically sit lower in the water which makes them more planted while Inflatable SUP's sit on top of the water. If you are short on space the obvious would be to get an inflatable stand up paddle board as they roll up to the size of a small suitcase and can fit in closets, cars storage lockers and anything else that is around it's size.  Here a little Bullet List Guide to Help You decide. For a Full detailed explanation check out my inflatable paddle board vs hardboard Guide.
Choose Inflatable SUP's if:
You do not have a lot of room to work with

If you plan on traveling with it

on a budget

You are starting out

Want a more durable board

You plan on doing yoga in calm waters like small lakes

Safer because of softer material
Choose a Hard Board SUP If:
You want More Performance

You plan on paddling longer distances

You are doing yoga on wavy waters like ocean bays

You want a very yoga specific board

You have a space to put it somewhere

Initially Feels more stable
The main difference in terms of using the board for yoga is that an inflatable stand up paddle board sits on top of the water while a hardboard sits partially in the water. If you experience a bit of chop the hardboard will absorb it more because it is in the water while the inflatable board will but a bit more bumpy. This is why in waters with more chop a hard board is better but in calmer lakes it is just easier to get an inflatable SUP.
Best Inflatable SUP Boards for Yoga
These boards are ideal for SUP Yoga and come in a wide range of different price ranges so that folks like you can find at least one Inflatable SUP you can find reasonably priced. While there is a bit more of fa learning curve with inflatable boards they can be used as fantastic yoga paddle board once you get used to their behavior. It is recommended that you take your inflatable sup board for a paddle first before attempting yoga on it. This helps you get more accustomed to its behavior which you will be able to anticipate better when you are doing yoga.
Don't worry too much about falling in, it's bound to happen a couple of times and that's fine. As long as you have some kind of PFD and can swim you will be fine, just make sure you limit your paddle boarding yoga to calmer waters the first bunch of times.  
1. Isle Airtech Inflatable 
Features:
Board Weighs 20 Lbs and holds 240 Lbs
Wide Nose and Tail specifically for Yoga
6″ Thick Military Grade PVC
Includes Paddle, Backpack and Pump
60 Day Guarantee 
1 Year Warranty on Materials
The ISLE Airtech Inflatable SUP is a very unique board because it has a wide-nose shape. This gives it a tremendous amount of balance and you can do yoga on it on the choppiest water. It is very portable and you can fold it and carry it comfortably in a backpack.
The board is 10'4" so it is well suited for tall people to do yoga on. The board has a gripping pad which covers all the important parts of the board. The pad gives added grip. Though the two boards we have reviewed below have a complete surface pad, since the ISLE Airtech Inflatable SUP pad covers most of the areas which are needed when you do yoga, it is still worthwhile.
The ISLE Airtech Inflatable SUP has a net to store the things that you may require while doing paddling which may include your paddle or your sandals. It is also very easy to transport as it has a strap for carrying the board.
It has the capacity to carry a person of up to 255 pounds which should be good enough. Though it is made for flat water, you can also use it to ride small waves when you are doing yoga if the water gets choppy.
Best for: The ISLE Airtech Inflatable SUP has great design and stylish colors. This makes it a favorite in the market, especially for women. It is a stable board which is perfect for yoga and due to its versatility; it can be used by any yoga enthusiast.
See The Full Review of the Airtech Yoga Board
What We Liked
Lightweight at 18 pounds

As stable as a hardboard

Flatwater and small waves use
What We Didn't Like
The pressure doesn't give a reading below 8 PSI

Takes up to 10 minutes to inflate
2. Red Paddle Co-Ride 
Features
High Quality Monocoque Structural Laminate Fusion 
Three Fins
Comes with Pump, Wheeled Backpack, Repair Kit and Cellphone Case
Board Weighs 23 Lbs with a Maximum Capacity of 265 Lbs
The Red Paddle is a company which has been making inflatable yoga SUPs from the start of the industry and the great thing about the company is that they keep working on improving their boards. The Red Paddle Co Ride is a very good example of that commitment.
The board has a high-quality Eva pad. The company has not spared any cost and almost the whole surface of the board is covered by the pad. This gives you a firm grip regardless of the position you are in. Even when the board is cruising, you still get a firm grip on the board. The pad also makes it very comfortable for you to do yoga for a long period of time without making your hands and feet sore.
The Red Paddle Co Ride has a navigation system which is triple fin and dynamic. The central fin can go through the water smoothly. This makes maneuverability of the board very good. The side fins give you better-tracking ability.
The Red Paddleboard comes in two sizes i.e. standard 10'6″ long and 32″ wide, and 10'8″ long and 34″ wide. The features are same. You can choose the board depending on your height. Though both the boards will easily accommodate tall people, some people prefer a longer board so that they can move from one yoga asana to the other with ease.
The Red Paddleboard is expensive but it is well worth the money considering the quality of the board, the sizes available and the great navigation system. The yoga mat helps you balance well on the board even while it is moving fast and gives you a great grip.
Best for: It is perfect for a beginner who needs to improve on their balance.
What We Liked
Two size options so more variety when it comes to choosing a board of your height

High-quality, strong and durable

Very stable due to its wide size
What We Didn't Like
No paddle

Difficult to carry due to the side-mounted handle

Expensive
3. Solstice Bali SUP 
Features:
Made of 1000 Denier 3 Ply PVC
Includes Bag, Pump and Gauge
250 Lb Maximum Capacity
The Solstice Bali SUP is an affordable yoga board that is stylish and made of excellent material. It is perfect for a yoga beginner as the price is competitive and it still gives you great balance on the water. It is large and wide which makes it great for yoga.
You can inflate the board very easily and it is light so it is easy to transport. It is a no-fuss board which you can just inflate and take into the water.
The Solstice Bali is a high-quality yoga board. It is made of 1000 denier PVC material. This gives you a lot of rigidity once the board is properly inflated. It also makes the board easy to ride and gives you a lot of comfort. The company has an industrial drop stitch for the construction rather than using glue. This ensures that the board has a long life and is durable.
The Bali comes with a gripping pad which covers almost the entire surface. This gives you a better grip when you are doing yoga. It also makes it very comfortable to use the board especially if you are planning a long yoga session.
The yoga board also has 4 D-rings which you can use to connect a bungee cord and can use it as a cargo net. You can use the net to hold your essentials like a paddle, etc.
Best for: The board is a little narrower than most of the yoga boards in the market which makes the balancing a little more difficult. The length is great so it is good for tall people. Anyone below 200 pounds can comfortably work on it. It is great for beginners considering the price.
What We Liked
High-quality material and very durable

Lightweight and very portable

Easy to inflate and deflate

Full non-slip yoga mat

Stainless steel D rings for storing things

Competitively priced

Good length so great for tall people
What We Didn't Like
Not suitable for people over 200 pounds

The non-slip yoga mat wears off after multiple rolls

No paddle
The Best SUP Boards for Yoga (Hardboards)
If you have space and the budget then these boards are for you! Yoga hard boards are typically better for ocean conditions as they do not get pushed around by the waves. If you live by the beach and its a relatively calm day a hard board would be most ideal just because they are not pushed around as much by waves due to the fact that they are partially in the water.
When Looking for a Hard Board be sure to check it's maximum capacity and rider height recommendations so that you do not choose the wrong board.
1. BIC Sport Ace-Tec 
Features:
Keeled Nose for Better Tracking
Enhanced Stability 
Bungee Tie Down
Flat Deck
The BIC Sport Ace-Tec is an excellent blend of performance and price. It is an all-round, multi-purpose hardboard which has a lot of versatility. You can use it for Yoga as it is very stable and 10 feet in length.
You can use it as family hardboard. You can use it to cruise and have all round fun. Since it is an all-round, board it performs well great in every condition and it is perfect for all levels of ability right from a beginner to an expert.
It has a Keeled nose. This helps improve the glide and tracking performance. It has better stability compared to other hardboards as it has a rail-to-rail volume that is full. The deck is flat and stable which makes it perfect for Yoga and other fitness exercises.
When you have the hardboard on the water, especially when you are doing yoga, you need to store your accessories like yoga equipment, water, a paddle, and leash, etc. The BIC Sport Ace-Tec has 6 deck attachment points. This is great for storing and transporting your gear.
When you compare the BIC Sport Ace-Tec with other hardboards in the market, it is lighter, stiffer and has better performance with the same durability.
You should choose the Platinum version for yoga as it has an extended deck pad. This gives you more space for your asanas.  
Best for: The BIC Sport Ace-Tec hardboard is all-round which is perfect for any level from beginner to expert. It is great for all activities especially fitness and yoga. You can also use it to cruise or to spend an enjoyable day in the water with your family having fun.
What We Liked
Multi-purpose hardboard which can be used from cruising to yoga

Can be used by all levels from beginner to expert

Great glide and tracking ability

Very stable

6 deck attachment points for easy storage

Flat deck makes it perfect for Yoga

Very light for a hardboard
What We Didn't Like
No free extras like a paddle or leash
2. Ise Versa Epoxy
Features:
Ultra Durability
Comes with Paddle and Center Fin
Weighs 27 Lbs Max Capacity at 274 lbs
60 Day Return Policy 
The Isle Versa Epoxy is one of the best brands in the paddleboard market. Their paddleboards have excellent designs and are made of very high-quality material. The Isle products are manufactured in San Diego, California for the past 14 years and they have a very strong commitment to providing excellent quality, classy design water sport products.
The quality of this yoga board is great and it will last you for many years. Even the accessories that come with the hardboard are of high-quality. The paddle is made of nylon and carbon.
The Isle Versa Epoxy is wide at 32" which makes it easy for you to do yoga on it. The Isle Versa Epoxy board can carry a weight of 275 pounds which is good enough for most users.
The board as a classic long board shape which is very thick at 4.5 inches and has a width of 32 inches. This allows you to use it for a variety of activities in the water along with yoga. You can use it on flat water and in the surf. Since it is lightweight at 27 pounds, you can transport it easily unlike other hardboards.
The Isle Versa Epoxy Yoga Hardboard comes along with a traction pad and an adjustable carbon shaft. It has a nylon paddle blade and a center fin. It has a very durable backpack and comes along with a grooved carry handle which makes it very easy to carry. All the accessories are made of high-quality material.
Best for: The Isle Versa Epoxy board is perfect for a beginner and an intermediate paddle boarder who wants to use the board for yoga. You can also use it for fishing, surfing and taking your kids out in the water.
What We Liked
Very durable and made of high-quality material

Lightweight at 27 pounds

Wide and stable making it perfect for yoga

Stylish in design

Grooved carry handle helps you to transport the board easily

All-round board for yoga, fishing, and surfing

60 Days refund policy

High-quality accessories
What We Didn't Like
Slightly difficult to maneuver in the water due to its size
3. Ise Cruiser Soft Top
Features:
All Around Design
Soft Deck EPSS Core Triple Stringer System
Includes Adjustable Paddle and Centre Fin 
60 Day Garuntee
Board Weight 28.5 Lbs with a Max Capacity of 235 Lbs
The ISLE Cruiser Soft Top Stand up Paddle Board is an excellent hardboard from the Isle brand if you are looking for a SUP board for yoga. The Isle Cruiser Soft Top is positioned more as a beginner paddle board and has a soft top which gives you great grip when you are doing yoga. The price is cheaper than the Isle Versa Epoxy though the board is as durable and strong. It is made by the same excellent high-quality material.
The ISLE Cruiser Soft Top Paddle Board is heavier at 28.5 pounds due to the additional soft top but the soft top gives a firm grip to a beginner.
The weight capacity of the board is not as good as the above one as it can only accommodate up to 235 pounds comfortably but this should be fine for most boarders. You need to make sure though that your own weight and that of your accessories which you will take with you on the board doesn't exceed the weight.
Best for: This is an excellent stand up paddle board for a beginner. The price is competitive so you save a lot along with getting a high-quality board. The board has a soft top due to which you will get a firm grip and can do yoga easily.
What We Liked
High-quality material and very durable

Great for a beginner

Free accessories: Adjustable Paddle, 9″ Center Fin, Center Handle

The soft top deck gives you a better grip

Great guarantee at a 60 Days refund policy

Durable soft deck. Soft decks of other brands peel out with use.

Great price
What We Didn't Like
Board is slightly heavier at 28.5 pounds

It can't carry weight more than 235 pounds
Bonus: 5 SUP Yoga poses you can start off with on your board
Low Lunge:  
Once Stable and standing on your board, place one foot in front of the other and bend the knee of your back leg while planting your front foot on the board. Once you are in that kneeling pose keep your back straight and keep your hands raised in the air.
Child's Pose:
by simply kneeling, laying your torso between your thighs, resting your forehead on the board and keeping your palms flat on the board. This is a great warm up exercise that has great benefits for your digestive system, stretching your lower back and relaxing your muscles
Downward Facing Dog:
This is one of the more challenging poses of SUP Yoga, simply go onto the board with your hands and knees, , set you knees below you hips and your hands ahead of your shoulders. Next straighten your knees and draw your thighs back and lit your hips up high.  To insure you are doing this pose right make sure that your heels are planted on the board
Planks:
After Downward Facing Dog, simply lay your palms flat on the board, start using your hands to move forward and make it so your body is parallel to your board. Next place your shoulders back, engage your lower belly and hold that position from 30 seconds to a minute. The former if you are just starting out.
Savasana:
Probably the easiest pose to do for just about anybody, simply lie on your back in the starfish position and let your hands touch the water. This pose is more about being in a relaxed state then anything else, simply close your eyes and absorb that sunshine while letting your hands gently touch the water. This is about as relaxed as you can get!
What to look for when choosing a SUP Board for Yoga
There are a few factors we will talk about when looking for the best SUP board for yoga. Below is a video made by STand Up Paddle TV that illustrates the basics for those of you who like video format.
These are probably the most important factors. Unless you are a highly skilled and trained Yogi it is useless trying to do yoga on a board that unstable.  In terms of boards usually the wider the board is the more stable it will be. For Yoga I recommend that you get a paddle board that is at least 30 inches wide.  I would also make sure that the board is at least 9 feet and 8 inches length.
A rule of thumb for stand up paddle boards  for yoga is that the taller you are the longer your board will be so that it can sustain your length
Example:
12'6 board – Individuals that are 6'4 and over and 250 lbs

10' Board – Individuals that are between 5 feet and 6'3 and under 230 lbs
Before going ahead and buying a board take a look at the dimensions and look at the manufacturers recommendations as often times the weight capacities differ from board manufacturers.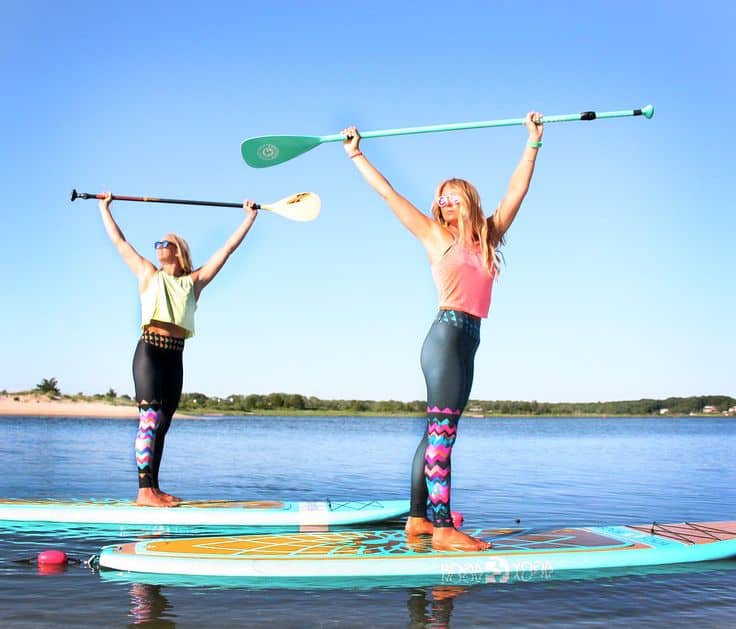 The right kind of paddle board is ultimately dependant on you. What you should first factor in is the size of your board, your weight and height will ultimately determine that. Next you have to figure out if you want an inflatable or hard board? Hard boards are better for performance and are a bit more stable but inflatable Yoga SUPs are  more budget friendly and a lot more transportable and storable. Where you will be paddling will also be a determining factor in all of this. If you have any questions feel free to comment or email me and I will be more than happy to answer any questions.
Tell us about your SUP Yoga Experiences here