If you are looking for the Best Baitcasting Reel it is the Lew's Tournament MB Speed Spool Casting Reel
Are you considering buying a bait-casting reel? These unique fishing tools sit on top of a rod. They perform well and are easy to master. Despite a reputation for being difficult, most anglers enjoy baitcasting. What's more, they enjoy the many benefits of this unique fishing style. 
Bait-casting reels are the tools you need to reel in tournament-winning bass and other big game. Of course, every great bait-casting experience starts with a premium reel. Most anglers argue that a reel is the heart of a good fishing pole setup. As such, we've compiled a comprehensive buying guide in hopes of making your shopping experience a little less daunting. 
The Best Baitcasting Reels go as Follows:
Baitcasting Reel Reviews
The following are the top rated baitcasting reels as rated by customers.
1. Lew's Tournament MB Speed Spool Casting Reel
Rated as the Top baitcasting reel, the Lew's Tournament MB Speed Spool Casting Reel may be light but it is one of the smoothest operators in its class. The Lew's one-piece die-cast aluminum frame serves as a solid piece of armor for the technology inside. Meanwhile, a U-style spool made from drilled and forged aluminum offers a light, reliable place to store ample amount of line. The gears inside are made from solid brass and contain ten double-shielded stainless steel ball bearings for consistently smooth line releases. If you experience any hiccups, an easy access external lube port lets you add the juice you need to get through a day-long session. 
In terms of tension and stopping power, the Lew Tournament MB has it all. A Zero-reverse stainless steel clutch bearing prevents your casts from traveling anywhere but out. Meanwhile, an adjustable multi-setting brake system provides you with a variety of casting control. All the while, the audible click of the spool tension knob and 14-pound drag lets you know when your line is a little tighter or more slack. Finally, a smooth zirconium line guide provides a smooth and silent line release. The Lew reel is even available in a variety of gear ratios, including 5.6-to-1, 6.8-to-1, 7.5-to-1, and 8.3-to-1. Not to mention, there are right-hand and left-hand options. As such, it's great for everything from crankbaits to spinners.
Customers agree that Lew's Tournament MB Speed Spool Casting Reel is an angling masterpiece. It's light, durable, and capable of some pretty impressive fishing feats. Most customers say they've owned their Lew for several years and haven't experienced any issues. It's also an excellent value, dramatically outperforming bait-casting reels in the same and higher price points. Not to mention, the dual brake system gives anglers ample control over their casts. If you're willing to oil this beast regularly, you can ensure that it will be with you through countless bait-casting sessions. 
Pros:
Weighs just 6.7 ounces 

High-quality stainless steel ball bearings 

The best baitcaster of it's class

Audible click with most major adjustments

Exterior is made from aluminum 

Features paddle handle knobs 

U-style spook 

Carbon composite drag system stay cool throughout sessions

Boats Lew's Lighter, Faster, Stronger technology 
Cons:
2. KastKing Brutus Baitcasting Fishing Reel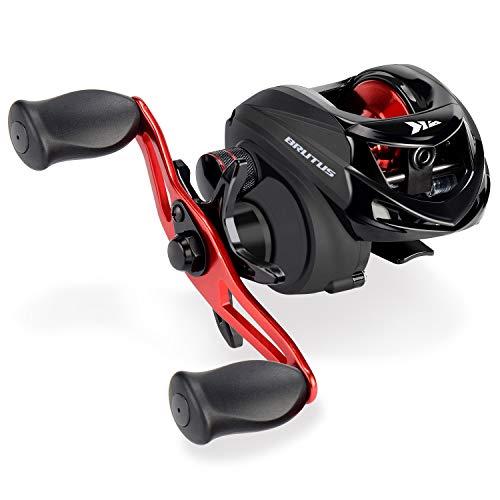 Rated as the best baitcaster fot the money, the KastKing Brutus Bait-Casting Fishing Reel's low profile doesn't give its internal technologies much justice. Inside the graphite walls of the reel, there is a V-shaped CNC aluminum spool and five precision-minded stainless steel ball bearings. One of the bearings is even an anti-reverse bearing that helps prevent birds nests and other backlash issues. On top of that, the KastKing reel boasts a reliable magnetic braking system. The system features five buttons that can be used to control backlash and overruns. The reel also features a synthetic washer drag system with 10 pounds of stopping power. These performance-boosting technologies make it easier for you to cast long distances and retrieve your line without any issues. 
On the outside of the KastKing Brutus Bait-Casting Fishing Reel, a solid aluminum handle provides anglers with ample cranking power. Meanwhile, rubber paddles provide a comfortable grip in an obviously moist and unpredictable environment. This reel has a 6.3:1 gear ratio, making it the perfect choice for a wide range of angling applications. Overall, this reel will help you to increase your creel on everything from large bass to tiny fish.
Customers are highly satisfied with the KastKing's performance. While the reel measures just 1.7 by 3 inches, it's strength is rarely pulled into question. Many customers say it is a solid reel for anglers on a tight budget. Most customers are that you can use the KastKing to easily send out and retrieve your bait. When it comes time to wrestle with big fish, the KastKing fine tuning is all that you'll need to come out on the winning side of a wrestling match. Overall, the KastKing supports dynamic angling without any backlash or snaps. 
Pros:
Five stainless steel ball bearings 

Lightweight graphite body with a solid aluminum crank 

Rubber paddles for a more comfortable grip 

Adjustable disc drag system for optimal control at all times

6.3-to-1 gear ratio is perfect for a wide range of fishing applications

Extremely low profile and lightweight build 

Reliable magnetic braking system with exterior controls

Boasts an anti-reverse ball bearing for preventing backlash

10 pounds of stopping drag power

V-shaped aluminum spool
Cons:
Some noise when line is released
3. Abu Garcia Pro Max Low Profile Baitcasting Fishing Reel
The Abu Garcia Pro Max Low Profile Bait-casting Fishing Reel features a single-piece graphite exterior with a dynamic casting system. The spool turns easy and lets out clean releases thanks to seven high-quality stainless steel ball bearings. Meanwhile, an eighth ball bearing prevents any accidental line reversals from ruining your day. A built-in Duragear brass gear further amplifies the smooth and sound-free performance of the Abu Garcia. Meanwhile, high-density EVA handle grips make this bait-casting reel a comfortable option for lengthy angling sessions. 
We love that the Abu Garcia spinning reel has a power disc drag system. As well as a MagTrax brake system. If anything is capable of eliminating backlash, these technologies are it. Just set the anodized aluminum spool with your favorite line and watch as it unwinds with ease. The 7-to-1 gear ratio is perfect for both spinner baits and buzz baits. As such, we have no problem recommending this reel to anglers looking for a one-stop solution to their big game goals. 
Customers agree that this isn't the most elite bait-casting reel on the market. Still, it's a solid and smooth performer that will last for several years if treated with a little love and respect. The adjustment points are easy to use, making quick line and lure changes a breeze. What's more, the reel's low profile and ergonomic design make it a great option for extended angling sessions and dynamic wrestling marches. 
Pros
Eight stainless steel ball bearings

High-density EVA handles

Duregear brass gear system 

MagTrax brake system

Anodized aluminum spool

Single-piece graphite frame

7.1:1 gear ratio

Removable graphite side plates 
Cons
Plastic release is not very strong 
4. Pflueger President XT Low Profile Reel.
Yet another solid bait-casting reel, the Pflueger President XT Low Profile Reel boasts a low profile and plenty of smooth action. The Pflueger features lightweight C45 side plates paired with a sleek, low-profile design. Meanwhile, nine corrosion-resistant stainless steel ball bearings help to spin the reel's durable aluminum spool. A magnetic braking system with external adjustable controls gives anglers full control of their spin while preventing backlash. All the while, an aircraft-grade aluminum handle gives users the torque they need to reel in a big catch.
We love that the Pflueger President boasts soft-touch rubber knobs. These minimize slippage and add to the ergonomics of this splendid fishing device. The aluminum crank also boats wide work paddles that give anglers more control over their line. 
Customers agree that the Pflueger President has a lot to offer. Most customers agree that backlash is a non-issue. What's more, experienced anglers enjoy the lightweight and easy to maneuver body of this low-profile reel. If you're looking for long-distance casts without any birds nests, the Pflueger is a solid option. 
Pros:
Nine stainless steel ball bearings 

Low profile and lightweight design 

External break adjustments

Aircraft-grade aluminum handle

Soft-touch rubber knobs 

Reduced backlash 

Suits a variety of line and lure weights

Magnetic braking system
Cons:
5. KastKing Speed Demon Pro Bait-Casting Reel
The KastKing Speed Demon Pro Bait-casting Reel has the highest gear ratio on our list, making it a great option for rapid-fire anglers. At 9.3-to-1, the KastKing offers one of the fasted retrieval times in the industry. Matching its speed, this reel boasts a bounty of precision technologies. For starters, manganese brass gears guarantee the smooth rotation of the machined aluminum spool. The star drag on this reel offers a whopping 13.2 pounds of fish stopping power. Meanwhile, the reel's trilateral magnetic brake system enables anglers to make endless adjustments. The system boasts a high-speed split main shaft. This element reduces noise while making long-distance casts a reality.
We love that the Speed Demon comes in right and left varieties. It's the perfect rod for experienced anglers looking for a new toy. This impressive reel lets out smooth, controlled portions of fishing line. Meanwhile, its slip-resistant polymer-lined handles and large gear ratio make reeling in a catch easier than ever. 
Customers love the KastKing's low-profile design. What's more, many anglers are blown away by its power and precision. This is definitely a reel that can last a lifetime. 
Pros:
Twelve double-shield stainless steel ball bearings 

One additional ball bearing for preventing backlash and nests 

Suitable for fresh and saltwater angling 

Magnetic brake system with exterior controls

Incredibly fast 9.3-to-1 gear ratio

Gears cut with reliable Japanese Hamai machine 

Polymer grip for a solid hand-feel in wet conditions

6-ounce carbon body with a carbon fiber frame, side plates, handle, and star drag

Machined CNC aluminum spool 
Cons:
Too speedy for some applications 
Best Baitcasting Reel Buying Guide
Baitcasting for Beginners
If you are familiar with bait-casting reels, feel free to skip ahead to different sections in the guide. Since bait-casting is so often misunderstood, we wanted to paint a picture of this angling style for fishermen who are new to the game. 
Bait-casting reels consist of simple spinning pools. These reels are intended to sit on top of a casting rod. A bait-casting rod features topside line guides and a trigger handle. Many anglers opt for bait-casting rods because of their accurate and long-distance casting capabilities. 
Style and Design
Bait-casting reels feature a variety of different designs. The look of the reels is determined by its materials, grips, and knobs. With that said, most bait-casting reels fit into two categories, which include round and low-profile reels. Low-profile reels are mounted on top of bait-casting rods. These reels are often referred to as teardrop reels. They are small enough to grip in the palm of your hand. As such, they are often preferred by anglers who use a two-handed grip. 
On the other hand, round bait-casting reels are bulkier. Some anglers prefer this type of reel because it holds more line and is capable of having a higher gear ratio. 
Bait-casting reels range in size from just 5 ounces to over 18 ounces. Check out this brief video for a comprehensive explanation of the differences between reel sizes. 
It's also important to consider the materials used in a reel's handles, knobs, and casing. Materials like carbon composite, magnesium, and aluminum are all chosen because they are extremely durable and lightweight. If you plan on using your reel frequently or expect that it will be exposed to salt water, you should purchase a reel that utilizes the most corrosion-resistant materials possible. If you're on a tight budget, opt for a low-cost alternative. 
The dumbbell-shaped handles on bait-casting rods usually boast soft rubber, EVA foam, or cork knobs. It's important that the knob material holds up well in wet conditions. What's more, the knobs need to provide you with a solid and comfortable grip.
Left or Right Alignment
Bait-casting reels come in right and left varieties. Most anglers use their dominant hand to crank while using their non-dominant hand to hold the rod. If you're not sure which setup to choose, it's a wise idea to experiment with the two options in person. 
Bait-casting Reel Sizes
A solid bait-casting setup often comes down to basic math. Low-profile reels usually hold between 100 and 200 yards of monofilament. What's more, they are usually labeled with numbers, such as 100, 200, 300, and 400. The smallest numerical sizes hold lightweight lines. Meanwhile, 400 reels can hold 20-pound monofilament. Rounded reels are sized in a similar fashion. However, the numerical sizes start in the thousands.
Gear Ratios
Bait-casting reels come in a variety of gear ratios. Bait-casting gear ratios contain two numbers. The first number represents the number of revolutions that the spool makes with each turn of the reel handle. A higher gear ratio, such as 7.1-to-1, means that more line can be cranked in with less effort. Of course, low gear ratios are ideal in situations where you want your bait to linger longer. When opting for a gear ratio that will do well in a variety of situations, a 6.4-to-1 or other mid-range gear ratio will do the trick. 
Drag
A small knob that is used to adjust the tension of the line. This drag knob is located on the side of a reel. Fishermen often adjust the drag when reeling in a fish. Check out this brief video for instructions on how to adjust the drag on a fishing pole. Many beginner fishermen use a scale to preset the drag on their line. A proper drag represents 20% of your line's breaking point. Don't worry about setting a perfect drag. You can always rest your thumb up against your line to instantly increase your drag. 
It's worth noting that fishing reel drag systems utilize a system of discs that are attached to the spool. The two main types of fishing drag systems are star drags and lever drags. Many beginners prefer the feel of a star drag. Keep in mind that both of these systems are susceptible to heat. To counteract this issue, premium reels often utilize heat-resistant materials and coatings in their drags. 
Braking System
Bait-casting reels come equipped with a built-in braking system. The braking system limits the amount of spin on the spool. If you're a first-time bait-caster, your braking system will keep you from letting out too much line too quickly. Without a reliable breaking system to back you up, your line has the potential to continue spinning even after your lure stops. When this happens, your line will tangle and create tangled nests.
Most modern bait-casting reels boast magnetic brake systems. Anglers have full control of their reel's brakes via an external dial. The dial can be turned to increase or decrease the distance of the magnets from the reel spool. When the magnets are placed close to the spool, the spool slows down. When the magnets are placed away from the spool, the spool speeds up. 
Other bait-casting reels boast centrifugal brake systems. This type of brake system enables the spool to release line at the same rate as a cast. These brake systems consist of a series of pads that are located inside of the reel. Anglers can switch any number of the pads on to maximize the time it takes for a spool to turn. In order to adjust a centrifugal brake system, you must lift up the side panel. As such, this type of brake system can be a bit burdensome to work with. 
Spools
Most bait-casting reel spools are made from machined aluminum. This material is used because it is lightweight, corrosion-resistant, and extremely durable. On top of that, spools come in different sizes and shapes. As such, you need to think about the type of line you'll be using before settling on a specific spool capacity. V-shaped and skirted spools are capable of holding longer, thicker lines. Meanwhile, small spools boast smoother releases. 
Ball Bearings:
Bait-casting reels utilize a combination of ball bearings to smoothly rotate the spool. The number of bearings varies dramatically between different models. However, the number of bearings doesn't really have a big effect on a reel's performance. As such, you should avoid manufacturers that bulk their reels up with inferior ball bearings. 
Manufacturers often use the same hype words to describe this part of a reel. Bearings are often described as being shielded or stainless steel. These materials are preferred because of their ability to stand the test of time
Spool Tension Knob
Anglers also use their spool tension knobs to adjust the amount of line that spins off of their spool. Less tension will give you more casting distance. If you tighten your spool tension knob, your line will stop as soon as your lure stops. If you are using a heavy lure, your spool tension knob should be completely tightened. 
Round or Low-Profile
Are you wondering whether you should opt for a round reel or a low-profile reel? Round reels hold thicker, more ample amounts of line. As such, they can also be used to hold heavier types of bait. Most experts recommend using round reels for big species, including steelheads, salmon, muskie, and pike. 
On the other hand, low-profile reels have a better palm and wrist feel. Their ergonomic build makes them ideal for chasing down bass, crappie, and other freshwater fish. Low-profile reels also come in handy when using spinner bait or working around waterway hazards. With most of their gears and knobs located on the side, these reels are easier to navigate. On the downside, these reels can only fit around 100 yards of line. 
Price
Are you wondering if it' worth it to spend more on a rod and reel? When you spend more on a bait-casting reel, you usually get a smoother action and a more durable build. In most cases, pricier rods are more reliable and will last longer despite regular use. Of course, the budget range of reels has come a long way over the years. You can still find plenty of quality bait-casting reels for under $100. Budget rod and reel combos are a good starting point for beginners.  
Understanding Bait-Casting Terminology
If you're new to bait-casting, it may be difficult to shop for gear without understanding the intricate slang used to describe different parts of the fishing experience. In the section below, we aim to eradicate any confusion surrounded fishing speak. 
Backlash
Backlash is the term used to describe the line that continues to spin after a lure has dropped. Backlash often results in knots or nests of line. A well-calibrated braking system will help you avoid backlash. 
Crank bait:
Crankbaits are large game that eat small fish. As such, it is also the name for a particular style of lure. These lures have a plastic lip that causes them to dive deep shortly after entering the water. Anglers who use crankbaits often look for reels with high gear ratios. After all, these types of lures require more line and cranking power. 
Spinnerbait:
Spinnerbait is a type of artificial lure that consists of metal blades. The bait gets its name from the spinning motion achieved by the lures when they are submerged in water. As the metallic discs spin, they bounce light off of them. In doing so, they fool big fish into thinking they are minnows or other small bait fishes. 
What to Expect from a Bait-Casting Reel
Your bait-casting reel is the control center for your line. It enables you to cast, lock, and crank your catch with the utmost precision. External elements, including the type of rod, tackle, and line you use has an effect on your reel's performance. With that said, a well-built reel with dramatically improve your chances of making a catch. 
To accurately cast a bait-casting reel, you'll need to shorten the slack of line between your pole and lure. The distance from the top of your pole to your bait should be between 6 and 12 inches. After that, you need to place your thumb on the spool. This will help you to control the release of line. When you're ready to cast, press the spool release button or bar. Follow this with an appropriate casting action. When your lure reaches its intended target, press your thumb down on the spool to stop the line from being let out any further. 
Why Use a Bait-Casting Reel?
Bait-casting reels are difficult to master. Yet, most experienced anglers will tell you that they're worth the initial hassle. That's because these reels give anglers full control of their casts. With increased accuracy, bait-casting setups are more likely to land you your target catch or a trophy-winning bass. 
For these reasons, bait-casters are a popular choice for anglers using heavy lures and lines. The smooth action of these rods reduces the amount of backlash, making for fewer nests and snaps. If you're still a bit perplexed by the differences between bait-casting and spinning rods, check out this short yet informative video. 
Unlike spinning reels, bait-casting reels are mounted on the top of a rod. As such, the line goes straight from the spool to the guides. As a result, the line makes a smooth transition. 
Bait-Casting Tips and Tricks
If you are apprehensive about bait-casting, it helps to have a few tricks up your sleeve. Experienced fishermen always leave a little extra room on their reel. While filling your spool to capacity may sound convenient, less bulk makes for a smoother action. It's also a good idea to set your brakes ahead of time. Switching your brake settings with the line out will inevitably result in a nest of tangled line. What's more, get in the habit of thumbing your line to prevent backlash. In doing this, you can accurately respond to intermittent changes in line tension. Thumbing will also allow you to let out more line to reach more distant targets. 
Final Thoughts
A quality reel is one of the most important purchases you'll make when building your own bait-casting system. Of course, with so many moving parts squeezed inside such a small, enclosed casing, purchasing a bait-casting reel can feel like a daunting task. Start by thinking about key your fishing goals, including the type of game after and the fishing holes you frequent. Then, use our buying guide to hone in on the perfect reel for your needs. 
After careful consideration, we found that Lew's Tournament MB Speed Spool Casting Reel was a good baitcasting reel, this affordable reel features a dynamic magnetic braking system and ball bearing-supported spool. It fits ample amounts of line and is suitable for handling heavy lures. Not to mention, it comes in a variety of orientations and gear ratios. It is also a great baitcaster for beginners. 
Of course, there are plenty of solid bait-casting reels in each price category. If you opt for high-quality drag and braking systems with a solid material foundation, you're sure to land yourself a reel that can pull in your ideal catch. Just remember, bait-casting takes some practice. Still, it's a great skill for anglers looking to take their fishing to the next level! We promise it is worth it!