You see them all the time on lakes in the summertime. People enjoying some jumps wakeboarding, you look in envy and decide you want to get involved! Looking at all the boards available you see terms like V spine, low volume rails and continuous rocker. What??
In this guide, we reveal our top beginner wakeboard picks that our staff has worked 25 hours to put together. We also explain these confusing terms and put them into real-life context. We do this by explaining how the board will feel on the water and which of our selected boards have what kind of properties.
Ready? Lets pop and look at the best wakeboards for beginners!
The Best Wakeboards for Beginners Individual Reviews
The Best Beginner Wake Boards go as Follows:
Best Beginner Wakeboard Picks
In this review we don't just give you options for a cheap wakeboard. We prefer to give you wakeboard brands that are easy to control and give you the option to continue with it as you increase your difficulty. Of course we did add some budget options for the kiddos but this guide is for the enthusiasts who really want to get started in the sport.
1. Connelly Pure Wakeboard – Best Midrange Option
The Connelly Pure is your quintessential best wakeboard for beginners. First-timers will have no problem carving out a path with this subtle three-stage rocker. The base is expertly crafted to offer a balance of stability, speed, and power and edge control.
Four long-base molded fins make the board a stable ride for beginners. Meanwhile, its System 80 core offers unmatched durability and rigidity. Two bolt-on 1.9-inch skater fins increase its cutting capabilities. It does this without imposing any drag or mobility issues. The wakeboard is available in sizes 130, 134, and 141.
Pros
The wakeboard is available in three sizes
Both molded and bolted-on fins
Rail channels and fins for increased stability
1.9-inch center fin can be added for better tracking
An excellent beginner set
Cons
2. Liquid Force RDX Wakeboard – Best Upgrade Option
If you're looking for a premium wakeboard that's suitable for a beginner, check out Liquid Force's RDX Wakeboard. This three-stage rocker's construction enables riders to make the most of the water and the air. Liquid Force has made some major improvements to this year's wakeboard model.
First off, the RDX features four molded-in fins for cutting through choppy wakes and dense flats. Its double-concave center makes for more forgiving landings. Plus, it has a removable center stabalizer for better tracking. Finally, a low-volume rail with beveled edge helps newbies find their toe-side balance.
Three-position M6 inserts make it easy for riders to find a comfortable foot position. Meanwhile, a precision-cut PU core and pro-glass combo give the wakeboard unmatched durability.
The diamond-shaped square tailboard is available in three sizes: 134, 138, and 142 centimeters. Bindings are not included.
Pros
Diamond square-tail shape
Progressive three-stage rocker
Three position M6 inserts
Precision PU core
Four V-tip channels for better water displacement
Cons
3. Rave Sports Jr. Impact Wakeboard – Best Budget Pick
Rave Sports' Jr. Impact wakeboard comes with a set of premium charger bindings. It does this for less than the cost of most wakeboards. However, this bundle's low price isn't the only thing drawing us in. It's a superior tool for teaching and learning this water sport. The RIM-molded PU board boasts durable fiberglass-reinforced edges and a high-density core. Which makes it sturdy for riding
As you can see in this video, this wakeboard makes it easy for children to find their center of balance. Since it is backed by a 90-day warranty, riders rarely have to deal with any post-purchase issues.
A set of removable fins increase this board's maneuverability and cutting power. It does this without infringing on its mobility. Meanwhile, lace-up bindings make for easy and well-adjusted entries and exits. You can also easily reposition the binding to accommodate different riders. Your kids will adore this wakeboard. If only they made an identical model for adults!
Pros
The Rave Sports junior features two adjustable Charger boots (fit most children)
122 centimeters in length
The wakeboard has a continuous design
RIM- PU with fiberglass edges
High-density laminate core
Cons
Only for young riders under 125 pounds
4. Ronix Vault Wakeboard – Biggest Confidence Booster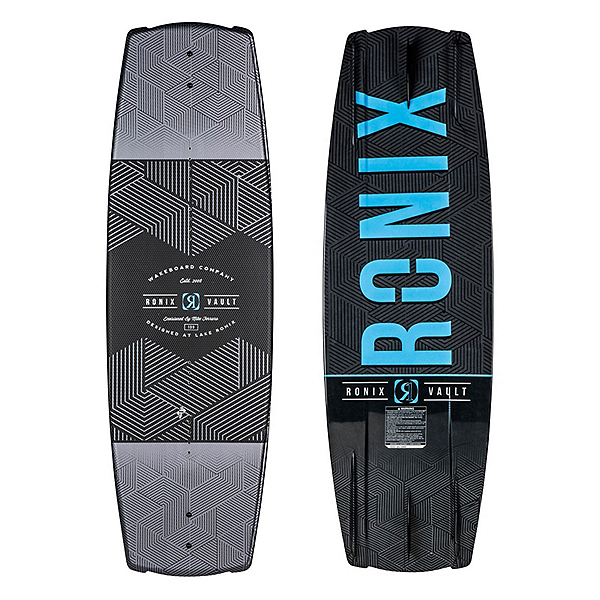 The Ronix Vault Wakeboard is one of the most versatile beginner/intermediate boards on the market. First off, the board's subtle three-stage rocker serves as a stable mounting surface.
As you can see in this video, the toe-side fins are a bit shorter than those on the heel-side. Plus, the toe-side rail is thinner and sharper. Meanwhile, the heel-side rail is full and raised. The well-balanced design makes it easier for newbies to build confidence and expand their skill sets.
The Ronix Vault is available in three sizes, including 134, 139, and 144 inches. The neon green logo and stark black colorway are also a nice touch.
Pros
The Ronix Vault features two fins
Three-stage rocker
Available in three standard sizes (134, 139, and 144 centimeters
1.-inch hook fins
Full, vertical heel-side rail
Cons
5. Hyperlite State 2.0 Wakeboard
The Hyperlite State 2.0 is an all-ability wakeboard with an abrupt continuous rocker. this gives riders plenty of speed and pop as they work on the foundations of wakeboarding. This kit comes with a set of black remix bindings. Plus, it has a unique monocoque construction. It combines the top and bottom pieces of glass into one to prevent delamination.
The board is available in four sizes, including 130, 135, 140, and 145 centimeters. The bindings are also available in three different sizes, each of which can accommodate four different shoe sizes.
Pronounced toe-side foot risers and long fins give newbie riders more grip when riding on their (often weaker) toe-sides. The asymmetrical design of this wakeboard also helps to reduce drag caused by uneven pressure. Every element is designed to make it easier for a beginner to progress to the intermediate level.
Pros
The wakeboard has molded-in fins and foot risers
Asymmetrical continuous rocker
Monocoque construction
Layered glass available in three weights
Consistent pop off wakes
Cons
Limited aesthetics (black and red)
6. Hyperlite Agent Wakeboard Package – Best Three-Stage Rocker for Beginners
This beginner-friendly Hyperlite package is an inspiring setup. The three-stage rocker offers explosive pops and plenty of drive. Plus, it comes with EVA-padded Destroyer bindings and slimmed-down M6 hardware. Thanks to its variable edges and Bio2 core. The board has no trouble transitioning between flats and wakes.
The Destroyers' speed lacing system makes it easy for boarders to make swift board exits. Meanwhile, their quick cinch lock makes for easier setups. The dual-density footboard and Low Pro Plate System serve as a seamless buffer between your feet the water. Plus, the board's layered glass fibers are not easily overcome by nicks and abrasions.
Unlike most entry-level wakeboards, the Agent has no troubles with drag. It simply glides over the water with the utmost precision and respect for its rider.
Pros
Four removable 8-inch fins
Three-stage rocker
Suitable for variable skill levels
Covered by a 1-year warranty
Big pop and plenty of speed
Cons
7. Connelly Lotus Wakeboard – Top Women's Pick
The Connelly Lotus is the perfect beginner board for the water-loving female rider. First off, this wakeboard has a full-length spine that displaces water evenly, sending it to both the toe and heel sides. Its closed-cell foam System 80 core lends to its lightweight yet durable body. Meanwhile, a subtle stage-three rocker gives boarders plenty of ability to climb waves, and pop.
An enhanced-edge channel further improves this board's toe-side stability. Plus, long base- fins give it plenty of drag-free traction. Meanwhile, a removable center skate fins increase this wakeboard's maneuverability.
You'll feel like a pro as soon as you strap on your boots. The abstract landscape images on the deck will only improve your on-the-water aesthetics. For such a low price, you'll have no trouble squeezing a reliable set of bindings into a conservative budget.
Pros
System 80 Core
Full spine for heel-to-toe support
Long, thin molded fins plus two bolt-on center skate fins
Subtle three-stage rocker
Enhanced-edge channel
Cons
Limited sizes (130 and 134 only)
8. O'Brien Hooky Kids Wakeboard – Top Kid's Pick
Your kiddo will love the psychedelic pattern on the deck of this blue and green wakeboard. Better yet, your young boarder will love the confidence they gain on top of this progressive rocker. Especially if this is their first wakeboard.
The wakeboard has a lightweight and narrow deck with a Feather core. Plus, it boasts a set of hybrid rails for better water displacement. O'Brien recommends their expert creation for cable park and boat-based training. This rugged beginners wakeboard holds up well to regular abuse.
These are the beginner wakeboards that your child needs to master the wakeboarding basics. The stable, poppy design will help them to build confidence as they speed along choppy water. In no time, they'll be moving on to triple flips and other difficult tricks.
Pros
Progressive rocker
Durarail for park rides
6-millimeter inserts
For young beginner and intermediate riders
Feather core
Three stance widths (20, 22, and 24 inches)
Cons
Riders must be under 150 pounds
How to Choose the Best Wakeboards for Beginners
When considering what's a good beginner wakeboard to choose. You have to first ask yourself a few questions that relate to length, setup, shape, and more. Below we make a wakeboard buying guide to help you decide how to pick the ideal wakeboard brands that meet your skills.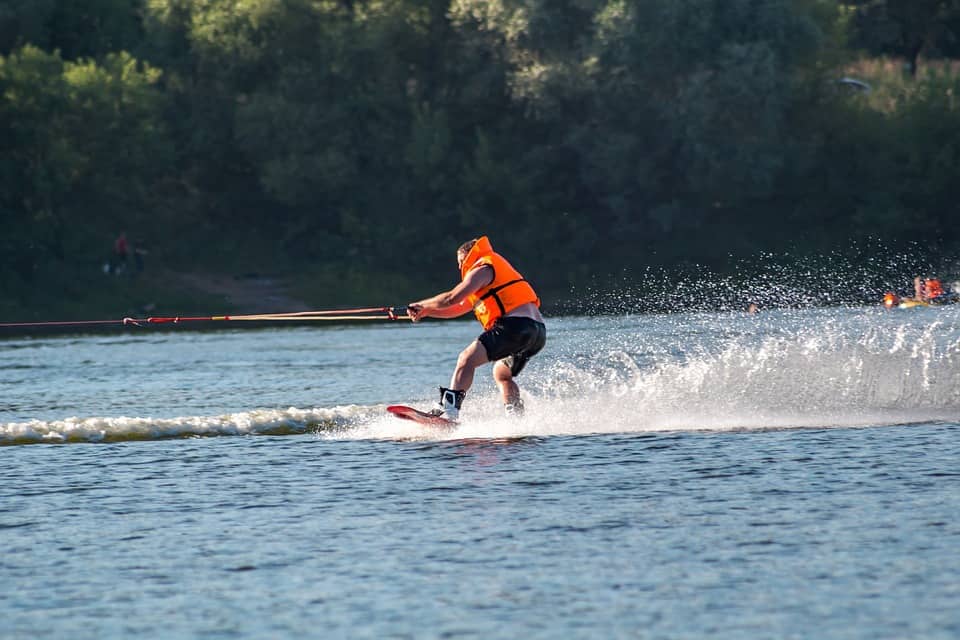 The Length and Weight
This is determined by the size of the rider or the rider who will frequent the board the most. Take a look at the below table to determine what size you need. Kids' boards usually range from 3.6 feet to 4.3 feet. So if you see yourself growing with the board aim for something on the longer range of the spectrum.
| Rider Weight (Lbs) | Wakeboard Length (feet) |
| --- | --- |
| 25 - 70 | 3.6 - 3.8 |
| 40 - 85 | 3.8 - 4.3 |
| 65 - 110 | 4.0 - 4.4 |
| 70 - 130 | 4.2 - 4.5 |
| 100 - 170 | 4.3 - 4.6 |
| 150 - 225 | 4.5 - 4.7 |
| 170 - 250 | 4.6 - 4.8 |
Fin Set Up
The Fin Set up determines the controlled movement of the wakeboard and what tricks you want to accomplish. As a rule of thumb, the more central the fins are to the board the quicker and more stable the board will feel. As the fins move to the tail and tip area the board becomes more maneuverable. As a result, this may feel more unsteady for beginners. As you advance you may upgrade your board to get more response and fin sit up. Many Wakeboard companies also come with removable fins that you can reconfigure. This allows you to grow with the board.
Edges
Edges or edging refers to how quickly the wakeboard responds to a turn. Typically sharper edges make you go faster but they are harder to control. So if you are just starting out look for a board that gives you round edges. These rounded edges are slower but they give beginners a much easier time controlling the board. If you are planning to keep this board for a while. You can also get a wakeboard with a variable edge where the sharper edges are in the back and front of the board while the middle is rounded.
Wake Board Shapes
Wakeboards come in a few different styles. You choose the shape and material of the board based on what tricks you want to learn and what style of wakeboarding you want to try. Most of our choices are used for being towed by a boat, so we will go over common boat tow models.
Concaves:
Concaves are special dents at the bottom of the wakeboard. These dents create lift which makes the board sit higher in the water as a result. When the wakeboard is positioned higher it allows you to do jumps more efficiently and get some serious air!
Channels:
Channels are long elongated along the length of the board at the bottom. These channels help break the water surface before the rest of the board giving it a softer landing. This helps lessen the impact on your knees as you land a jump. They are also used to direct water underneath your wakeboard. This breaks up the tension it holds against the water. Most of the wakeboards on this list have pronounced channels of some sort. Which makes it the ideal set-up for beginners.
V Shaped Spine:
V Shaped spines are very similar to channels in terms of their use. However, they are more modified to give the rider a better transition from one edge to the other. These feature on the 3 stage rocker wakeboards.
Featureless:
These wakeboards have nothing special on the bottom which puts extra emphasis on the performance of the board's rocker and its fin set-up. Because there is nothing to keep the wakeboard tracking it will require more skill on your end to keep it stabilized and straight. These boards are for people who are a bit more advanced.
Base material:
This is primarily used in wakeboard parks where there are things such as sliders to grind your board on. If you do this with a wakeboard that has channels you risk damaging the board.
Grind Base:
Very similar to base material except it is specialized for sliding. It is built to withstand the wear and tear of grinding on sliders far better than any of the above options.
Wakeboard Rockers
Rockers related to wakeboards are the angle that the board curves up. This is perhaps the greatest variable in what makes your wakeboard behave the way it does. The more pronounced it is out of the water the less traction you will have. Think of it like driving on snow versus driving on plain asphalt. Rockers will also be the determining factor as to how useful your fin set up is. It determines how much bite you have when gliding along the water, as well as when landing tricks/jumps as you progress. You can see clearly what rockers these wakeboards have when you look at them from the side.
Continuous Rocker
This is when the wakeboard has a smooth progressive curve upwards on the nose and tail of the board. These types of rockers are the ideal setup for beginners because they provide a smoother ride. They are also easier to use linking up your turns. They are ideal to use on calm lake conditions as they provide a lot of speed. This means you can get a lot of height when you do some sweet jumps. This is an all-around good design to learn the basics before advancing further.
Our beginner picks that have this type include the HYPERLITE State 2.0.
3-Stage
The 3 Stage rocker is more robust in profile, that is it does not contain any gentle curves but rather 3 distinct planes. It gives you a looser feel similar to that of if you were sliding on ice. Out of the rocker profiles we talk about it is the slowest. Many advanced wake boarders like it because it allows you to accelerate faster towards waves. As a result it gives you more height when launching off of it.
When landing jumps you will feel the impact and have a bit of a delay on land. This is due to the center of the wakeboard being kept flat. With these boards, you will be edging more as opposed to just going straight on. People who have more experience in wake boarding tend to use these kinds of rockers. But you can definitely start learning on these at novice-beginner ability levels as well. An example of these would be the Liquid Force RDX board and the Ronix Vault.
Hybrid
The Hybrid is basically the middle child of the 3-stage and continuous rockers. Some advantages to having the best of both worlds include having the rider friendly feel of the continuous mixed with the aggressive pop (height) you get from the 3-Stage. This profile is a great in-between board for those who want to hit jumps to those who just want to cut and have a tow by the boat.
FAQ's
The following are common questions that people have about wakeboards.
How Much Do Wakeboards cost?
A: The price range of wakeboards for beginners can be anywhere from $150 to well over $300. A good range to shoot for is between $200 and the $300 range.
Should You Opt For A Wakeboard With Or Without Bindings?
Keep in mind that wakeboard boots are not universal. Like shoes, they come in various sizes and styles. Since they are the main pieces of equipment connecting you to your wakeboard, you must always choose a well-fitted pair.
Beginners often opt for packages that come with bindings. Meanwhile, intermediate and advanced boarders tend to purchase these items separately.
If you opt to purchase a wakeboard package that includes bindings, go for one with one-toe boots that are available in a variety of sizes. Such as the bindings included with the Hyperlite State 2.0 or Hyperlite Agent.
Final Thoughts on the Best Wakeboards for Beginners Guide
Wakeboarding can sometimes be intimidating. After all, it typically involves someone balancing on top of a board or performing intense tricks as they are towed over a boat-made wake. Rest assured, this is a skill that almost anyone can master with a little bit of practice and patience. Of course, like most water sports, a good wakeboarding experience starts with quality, reliable gear. If you are in rush, check out our top pick, the Connelly Pure Wakeboard. Share your thoughts in the comment section below!