If you are in a hurry the Best Introductory Wakeboard is the Hydroslide Black Widow Wakeboard
Wakeboarding is one of the popular water sports that has attracted all sorts of people with different skill levels. In fact, this popularity has made many people develop an interest in joining the wake club. People's interest  in the sport grows more and more every time they visit the lake or coast and watch as others enjoy watching their friendshave a go on the board from the boat . After seeing this often enough one can't help but try it out!

As you go shopping for beginner wakeboard packages, however, it is important to first acquaint yourself with the various factors that you need to consider in order to get a good beginner wakeboard to kick-start your experience on the water. We have compiled this guide to help you find the ideal wake board for a beginner. Additionally, we have listed our best-rated wake boards for beginners that you might consider choosing.

Best Wakeboards for Beginners are:
Beginner Wakeboard Reviews
1. Hydroslide Black Widow Wakeboard (The Best Wakeboard for Beginners)
This is one of the wakeboards that are designed for both beginner and intermediate riders. It's versatility makes it one of the best wakeboards for beginners out there. It is a reliable wakeboard that comes at an affordable price. It features a good and comfortable fit that most adult beginners will find amazing owing to its adjustable bindings. It is also made with a quad channel that offers adequate stability.
With its forgiving design, novice riders will find it easier to control while intermediates and skilled riders will find it great and ideal for trying advanced tricks. This great learning wakeboard comes with a modified twin tip design that is highly rated for novice riders.
Pros
It perfectly fits a wide range of feet, both small and large

It is easy to adjust with its two-point adjustable chaser bindings

The modified twin tip enables you to maneuver easily

It is very forgiving which means that beginners will have an easy time controlling it

Best wakeboard for beginners and intermediate riders
Cons
The board's bindings are delicate and might not hold on securely. Most customers have complained about how they quickly got broken.

The board size is not as advertised, which means that you might end up receiving a different board size from what you ordered
2. Hyperlite Wake Board (State 2.0)
This wakeboard model from Hyperlite is specially made in mind for a quick advancment of your skills as you begin your journey. It comes with a continuous rocker design that offers you a predictable ride. It also simplifies your controls even as you try to catch up with speed. It is one of the top rated wakeboards for learning and trying tricks on.
It comes with elastic lace bindings that not only provide you with a quick entry and exit but also a snug fit in. They comfortably secure your foot without you feeling injured whenever you maneuver to make turns. It features an asymmetric design that offers you great stability as you wakeboard across the water. Moreover, the rear zone is flexible enough to minimize abrasion at the back of your leg while the molded EVA ensures your heel and toe enjoy ample cushioning. This makes it easier for a novice to try new tricks without being hurt or feeling uncomfortable.
Pros
Comes with molded EVA for cushioning your heel and toe hence comfortable

Has a continuous rocker for a straighforward ride

Has elastic lace bindings to comfortably secure your foot and quick entry and exit

Great sizing: 8-12 which accommodates a wider range of individual feet
Cons
3. O'Brien Baker Wakeboard
If you are planning to buy a great beginner wakeboard, then this model from O'Brien might be the best to start off with. It is made from a lightweight material to enhance your control and maneuverability and allow you to master tricks. It features a continuous rocker design that offers the much-needed straightforward and predictable ride that a novice wakeboard requires. Moreover, it comes with a squared edge design that will give you ultimate control and stability as you slowly start to get comfortable.
Its bindings offer an even greater comfort for smooth riding without having to compromise responsiveness as well as the required confidence of control. Moreover, it comes with a sharper edge that will deliver a good speed level whenever needed. Overall, this wakeboard is built with high-quality material and great features to fit an inexperienced rider who is just learning for the first time.
Pros
Constructed from high-quality materials for durability

It is made with a continuous rocker for predictable rides

Lightweight for easier maneuverability
Cons
Made for men only with one size-136cm

It is quite expensive
4. RAVE Lyric Wakeboard
This wakeboard from RAVE is solidly constructed with novice riders in mind. One thing I like about this wakeboard is the extremely comfortable fit that it comes with. The bindings are also as excellent as the boots. The board comes with a continuous 3-stage rocker design that truly offers trouble free and comfortable rides. The edges are used to ensure you ride both at slow and high speeds without a fuss. Even though it is slightly heavier as compared to most wakeboards, the deeper fins are responsible for delivering a easy going ride through the water. Equally, the edges are not that sharp, which means that a novice can still make efficient turn angles with a greater lean and form.
Pros
Comes with advantage bindings that provide a comfortable secure fit

The 3-stage rocker design delivers the stability needed for surface tricks

It is wide for a more stable performance
Cons
It is too heavy for beginners

The edges are not sufficiently sharp to deliver excellent speed
5. Hydroslide Helix
This wakeboard is used for both beginners as well as intermediate riders who are trying to master learning tricks. It is constructed from a carbon material that is reinforced to last for a long time. It features Brandon bindings that provide not only a secure fitting but also a comfortable one that is essential for learning new tricks and making great jumps. As such, if you are an adult wakeboard beginner, this might be your ideal pick since it comes with one adult size only.
It also comes with a forgiving design that is purely meant for beginners to board with ease and comfort. With the two-stage modified design, you will confidently ride on this stable and comfortable wakeboard.
Pros
All round performing wakeboard for adult beginners

It is very forgiving thus easier to ride

Fitted with Brandon bindings for a secure and comfortable fit
Cons
It is meant for adult rides only

It is a bit expensive; be ready to pay more
What to Consider when Buying a Beginner Wakeboard
Before buying a wakeboard, there are a few things you should know. The types of Wakeboards come in the following variations: beginner, intermediate, and advanced. The first thing to do, therefore, is to identify the beginner boards' category. These boards are often slower as well as more forgiving as compared to an intermediate wake board or even an advanced board.
Here are the other factors that you need to consider.
What Size Wakeboard do I Need?
Wakeboard Size Chart: A Rough Guide of How to Size a Wakeboard
| Rider Weight (Lbs) | Wakeboard Length (feet) |
| --- | --- |
| 25 - 70 | 3.6 - 3.8 |
| 40 - 85 | 3.8 - 4.3 |
| 65 - 110 | 4.0 - 4.4 |
| 70 - 130 | 4.2 - 4.5 |
| 100 - 170 | 4.3 - 4.6 |
| 150 - 225 | 4.5 - 4.7 |
| 170 - 250 | 4.6 - 4.8 |
You need a wakeboard that is right for your weight and height. You can check the wakeboard length against your weight on the chart provided by the manufacturer or the retailer you are buying wakeboards from. As a beginner, however, it is advisable to pick a slightly bigger board that will give you ample time to learn the art of standing on a board while being towed. A wider wakeboard will also give you plenty of pop for trying out a few tricks.
Rocker
This refers to the extent the wakeboard has curved at its ends. Most beginners come with a continuous rocker that will provide you with not only a smoother ride but also a predictable one. The less the rocker a wakeboard has the more controls you will have over it, which is great for a beginner.
Fins
The fins are responsible for steering the wakeboard. Longer and deeper fins are great at stabilizing the board, which makes them the best for beginners. Nonetheless, as you advance your skills, you will move to the shallow fins that will offer you a faster response as well as sharper turns.
Squared Edges
The edge is yet another important factor to consider when picking a beginner board. Beginner boards are designed and constructed with squared edges to enhance the control and stability of the inexperienced beginner who hasn't mastered tricks yet. A board with sharper edges or rails is bound to give you more acceleration and speed whereas the rounded ones are more forgiving and great for surface tricks for beginners.
Bindings
Having secure bindings is very important as a beginner. You should look for bindings that will ensure you feel comfortable as you wakeboard around. If you pick one with bindings that fit your feet tightly, you might risk breaking your ankle or leg.
Try Before You Buy
Certainly, this is the most important thing to do before you commit your money on a wakeboard. Even if you have done a lot of research, it will make no difference if you end up buying a wakeboard that does not work best with your ideal style and skill level. As such, make sure you do a demo and be sure it is the right item before paying.
Benefits of Wakeboarding
You will:
Improve your hand and feet flexibility since wakeboarding needs an agile approach.
Strengthen your legs and arm muscles. These are the two key areas from which wakeboards demands physical efforts.
Improve your response versatility and time owing to the sudden change of direction and position as you wakeboard
Enhance your eye coordination since you're required to stay focused and well-balanced
Improve your swimming ability since you will frequently fall into the water and be required to swim to safety
Enhance your mental concentration on your daily undertakings.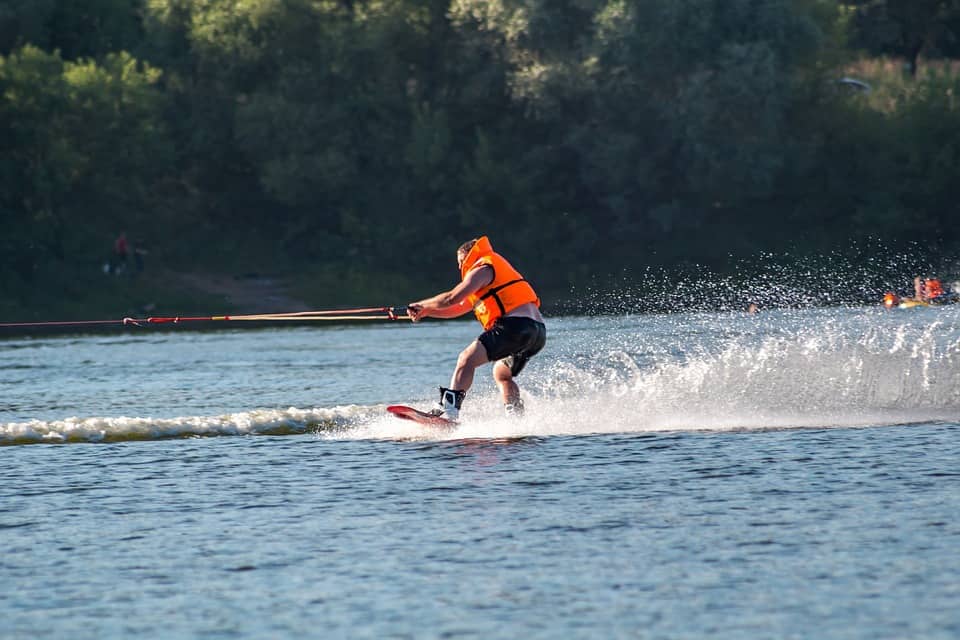 How to Get Started
Prior to starting, you must know how to use your wakeboard in the right way. With your beginner wakeboard, you also need a short rope that will get you near a boat. Don't forget to also have wakeboard safety items like a PFD. These can range from belt, vest of life jacket PFD's.
Footing
As you go out to start, your instructor will start by showing you which stance will be more comfortable and right for you. First, determine whether you are a left foot forward or right foot forward individual. Secondly, you will need to find the right angle on which your bindings ought to be set at. This is why you should have an instructor in the first place.
Hand Signals
Before hitting the water, learning some hand signals to the boat is crucial. Your instructor should get you through this since it is one of the safety requirements of learbing how to wake board. However, if you are not using a vessel to tow you around, then your hand signal will mean a different meaning such as when turning over.
Conclusion
As you begin and progress through your wakeboarding, you will start to figure out which wakeboard is best for you. But for now, this article reviews some of the wakeboards that you will greatly appreciate as you kick-start your  experience.Considering all the facts and research we have done, our clear winner in this wakeboard review is Hydroslide Black Widow Wakeboard. Apart from being available at a reasonable price, the wakeboard comes with a very forgiving design and chaser bindings that offer a secure fit, which are essential when learning wakeboarding tricks.
Last Updated on