Wakeboarding has swelled in popularity since its kickoff in the 1980s. If you own or have access to a boat, all you need is a board, some bindings, and a rope to enjoy this thrilling water sport. We've put together a list of the best beginner wakeboards.
The Best Beginner Wake Boards go as Follows:
Best Beginner Wakeboard Picks
1. Connelly Pure Wakeboard – Best Midrange Option
>>Check Price on Water Outfitters<<
The Connelly Pure is your quintessential starter board. First-timers will have no problem carving out a path with this subtle three-stage rocker. The base is expertly crafted to offer a balance of stability, speed, and power.
Four long-base molded fins make the board a stable ride for beginners. Meanwhile, its System 80 core offers unmatched durability and rigidity. Two bolt-on 1.9-inch skater fins increase its overall cutting capabilities without imposing any drag or mobility issues. It's is available in sizes 130, 134, and 141.
Pros
Available in three sizes
Both molded and bolted-on fins
Rail channels and fins for increased stability
1.9-inch center fin can be added for better tracking
An excellent starter set
Cons
2. Liquid Force RDX Wakeboard – Best Upgrade Option
>>Check Price on Water Outfitters<<
If you're looking for a premium board that's suitable for a beginner, check out Liquid Force's RDX Wakeboard. This three-stage rocker's premium construction enables riders to make the most of the water and the air. Liquid Force has made some major improvements to this year's model, including a hyper-modern black and white logo.
First off, the RDX features four molded-in fins for cutting through choppy wakes and dense flats. Its double-concave center makes for more forgiving landings. Plus, it has a removable center fin for better tracking. Finally, a low-volume rail with beveled edge helps newbies find their toe-side balance.
Three-position M6 inserts make it easy for riders to find a comfortable foot position. Meanwhile, a precision-cut PU core and pro-glass combo give the board unmatched durability.
The stunning diamond-shaped square tail board is available in three sizes: 134, 138, and 142 centimeters. Bindings are not included.
Pros
Diamond square-tail shape
Progressive three-stage rocker
Three position M6 inserts
Precision PU core
Four V-tip channels for better water displacement
Cons
3. Rave Sports Jr. Impact Wakeboard – Best Budget Pick
Rave Sports' Jr. Impact board comes with a set of premium charger bindings for less than the cost of most wakeboards. However, this bundle's low price isn't the only thing drawing us in. It's a superior tool for teaching and learning this powerful water sport. The RIM-molded PU board boasts durable fiberglass-reinforced edges and a high-density core.
As you can see in this video, the board makes it easy for children to find their center of balance. Since it is backed by a 90-day warranty, riders rarely have to deal with any post-purchase issues.
A set of removable fins increase this board's overall maneuverability and cutting power without infringing on its mobility. Meanwhile, lace-up bindings make for easy and well-adjusted entries and exits. You can also easily reposition the bindings to accommodate goofy or regular riders. Your kids will adore this board. If only they made an identical model for adults!
Pros
Two adjustable Charger boots (fit most children)
122 centimeters in length
Continuous rocker design
RIM-molded PU with fiberglass edges
High-density laminate core
Cons
Only for young riders under 125 pounds
4. Ronix Vault Wakeboard – Biggest Confidence Booster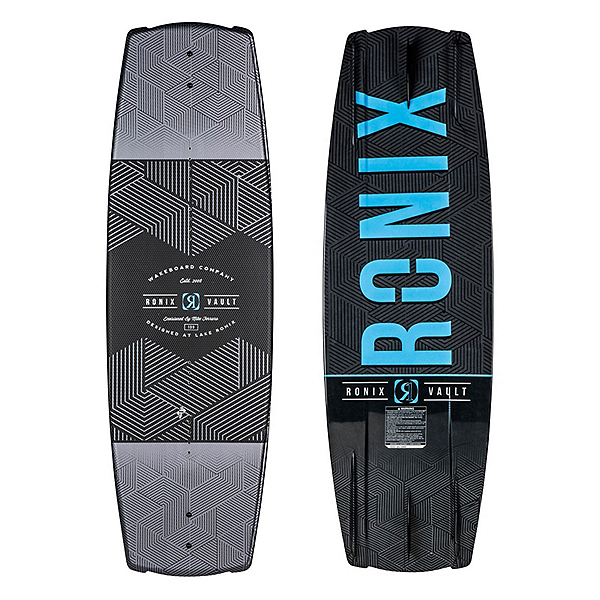 >>Check Price on Water Outfitters<<
The Ronix Vault Wakeboard is one of the most versatile beginner/intermediate boards on the market. First off, the board's subtle three-stage rocker serves as a stable mounting surface.
As you can see in this video, the toe-side fins are a bit shorter than those on the heel-side. Plus, the toe-side rail is thinner and sharper. Meanwhile, the heel-side rail is full and raised. The well-balanced design makes it easier or newbies to build confidence and expand their skill sets. After all, many beginners struggle to keep their shoulders and hips apart.
The Ronix Vault is available in three sizes, including 134, 139, and 144 inches. The neon green logo and stark black colorway are also a nice touch.
Pros
Two molded-in fins
Three-stage rocker
Available in three standard sizes (134, 139, and 144 centimeters
1.-inch hook fins
Full, vertical heel-side rail
Cons
5. Hyperlite State 2.0 Wakeboard
The Hyperlite State 2.0 is an all-ability board with an abrupt continuous rocker that gives riders plenty of speed and pop as they work on the foundations of wakeboarding. This kit comes with a set of black remix bindings. Plus, it has a unique monocoque construction that combines the top and bottom pieces of glass into one to prevent delamination.
The board is available in four sizes, including 130, 135, 140, and 145 centimeters. The bindings are also available in three different sizes, each of which can accommodate four different shoe sizes.
Pronounced toe-side foot risers and long, thin molded-in fin give newbie riders more grip when riding on their (often weaker) toe-sides. The asymmetrical design of this board also helps to reduce drag caused by uneven pressure. Nearly every element is designed to make it easier for beginners to progress to the intermediate level.
Pros
Molded-in fins and foot risers
Asymmetrical continuous rocker
Monocoque construction
Layered glass available in three weights
Consistent pop off wakes
Cons
Limited aesthetics (black and red)
6. Hyperlite Agent Wakeboard Package – Best Three-Stage Rocker for Beginners
This beginner-friendly Hyperlite package is an inspiring setup. The three-stage rocker offers explosive pops and plenty of drive. Plus, it comes with EVA-padded Destroyer bindings and slimmed-down M6 hardware. Thanks to its variable edges and Bio2 core, the board has no trouble transitioning between flats and wakes.
The Destroyers' speed lacing system makes it easy for boarders to make swift board exits. Meanwhile, their quick cinch lock makes for easier setups. The dual-density footboard and Low Pro Plate System serve as a seamless buffer between your feet the water. Plus, the board's layered glass fibers are not easily overcome by nicks and abrasions.
Unlike most entry-level boards, the Agent has no troubles with drag. It simply glides over the water with the utmost precision and respect for its rider.
Pros
Four removable 8-inch fins
Three-stage rocker
Suitable for variable skill levels
Covered by a 1-year warranty
Big pop and plenty of speed
Cons
7. Connelly Lotus Wakeboard – Top Women's Pick
>>Check Price on Water Outfitters<<
The Connelly Lotus is the perfect beginner board for water-loving ladies. First off, this board has a full-length spine that displaces water evenly, sending it to both the toe and heel sides. Its closed-cell foam System 80 core lends to its lightweight yet durable body. Meanwhile, a subtle stage-three rocker gives boarders plenty of speed, momentum, and pop.
An enhanced-edge channel further improves this board's toe-side stability. Plus, long base-molded fins give it plenty of drag-free traction. Meanwhile, a removable center skate fins increase this board's maneuverability.
You'll feel like a pro as soon as you strap on your boots. The abstract landscape images on the deck will only improve your on-the-water aesthetics. For such a low price, you'll have no trouble squeezing a reliable set of bindings into a conservative budget.
Pros
System 80 Core
Full spine for heel-to-toe support
Long, thin molded fins plus two bolt-on center skate fins
Subtle three-stage rocker
Enhanced-edge channel
Cons
Limited sizes (130 and 134 only)
8. O'Brien Hooky Kids Wakeboard – Top Kid's Pick
>>Check Price on Water Outfitters<<
Your kiddo will love the psychedelic pattern on the deck of this blue and green wakeboard. Better yet, your young boarder will love the confidence they gain on top of this progressive rocker.
The board has a lightweight and narrow deck with a Feather core. Plus, it boasts a set of hybrid rails for better water displacement. O'Brien recommends their expert creation for cable park and boat-based training. The rugged board holds up well to regular abuse.
Ultimately, this is the board your child needs to master the wakeboarding basics. The stable, poppy design will help them to build confidence as they speed along choppy water. In no time, they'll be moving on to triple flips and other difficult tricks.
Pros
Progressive rocker
Durarail for park rides
6-millimeter inserts
For young beginner and intermediate riders
Feather core
Three stance widths (20, 22, and 24 inches)
Cons
Riders must be under 150 pounds
FAQs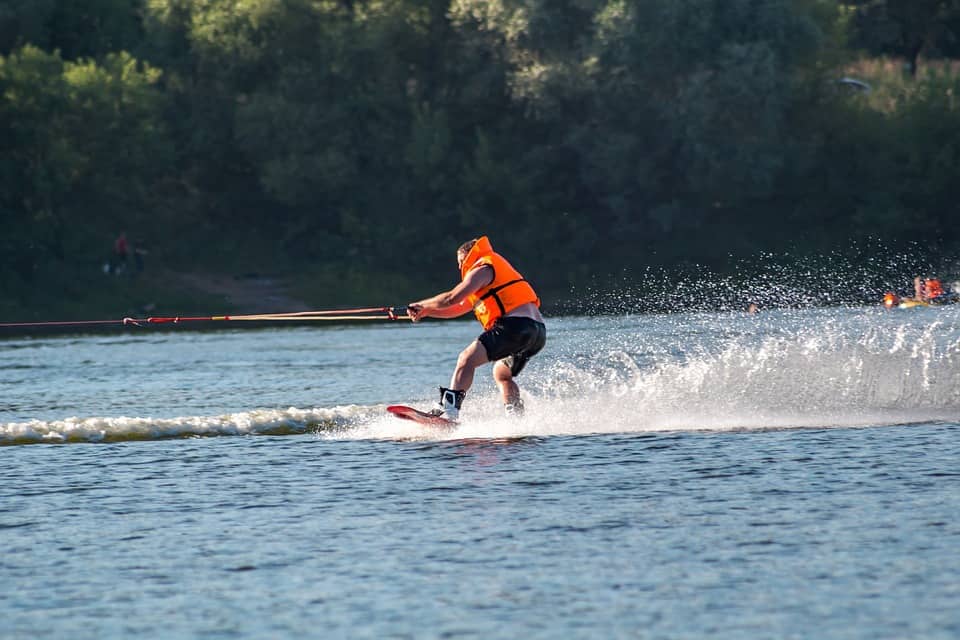 How should wakeboard bindings be set for newbies?
Before you set your bindings, you need to determine if you are more comfortable with your right (regular) or left (goofy) foot in the front. There are severe ltests that you can do to determine which foot should be your leader.
Next, you must determine the best positions for your bindings. You can determine the appropriate distance between your bindings by jumping up and landing on your board. Set your bindings where your feet land. Use the provided inserts to connect the bindings to the closest holes.
Many beginners prefer their bindings to be turned inward at 15- to 27-degree angles. For example, a beginner recreational stance consists of a back binding that is completely perpendicular to the board and a front binding that is tipped forward at a 15- to 27-degree angle. Other beginners prefer the duck stance. This stance consists of two outward-pointing bindings set at equal angles.
You may find the need to move your bindings a few holes in or out or adjust the angle of your bindings. Play around with the position of your bindings until you find a comfortable arrangement.
Should you opt for a wakeboard with or without bindings?
Keep in mind that wakeboard boots are not universal. Like shoes, they come in various sizes and styles. Since they are the main pieces of equipment connecting you to your wakeboard, you must always choose a well-fitted pair.
Beginners often opt for packages that come with bindings. Meanwhile, intermediate and advanced boarders tend to purchase these items separately.
If you opt to purchase a wakeboard package that includes bindings, go for one with one-toe boots that are available in a variety of sizes, such as the bindings included with the Hyperlite State 2.0 or Hyperlite Agent.
Final Thoughts
Wakeboarding can sometimes be intimidating. After all, it typically involves someone balancing on top of a board or performing intense tricks as they are towed over a boat-made wake. Rest assured, this is a skill that almost anyone can master with a little bit of practice and patience. Of course, like most water sports, a good wakeboarding experience starts with quality, reliable gear. If you are in rush, check out our top pick, the Connelly Pure Wakeboard. Share your thoughts in the comment section below!