Adding a marine stereo and subwoofers to already fun water sports like wakeboarding just enhances your fun summertime enjoyment. Getting a pair of good waketower speakers will also add value to your boating experience since everyone can enjoy their favorite music including those being towed behind. Getting a good pair of tower speakers will pay for themselves many times over so it is important to know what you are looking for when you shop. Here are a few tips on what to look for in the best boat tower speakers and a few reviews to help you start shopping.
The Best Wakeboard Tower Speakers go as follows.
Wake Tower Speaker Reviews
The top wake tower speakers as reviewed by verified customers.
1. Pair Rockville RWB65B Marine Tower Speakers
Featuring 250 watts each, the Rockville RWB65B Black Wake Tower Speakers are marine grade so they can withstand sunlight, water, and salt spray. Rated without any exaggerated power rating, the 150 watts RMS and the 250 watts peak are true ratings. This boss audio system measures 6.5 inches each and are ideal for installation on Jeeps and ATV's as well as boats.
Reinforced with steel, the Rockville tower speakers set includes new and improved mounting brackets that are made of durable and waterproof plastic. Steel and nylon are used to reinforce them creating an extra strong bracket that is also easy to adjust and able to withstand some of the harshest conditions. Capable of taking on moisture, salt water, and water, these tower speakers also include terminals made of stainless steel that are totally rustproof, plus the speakers include an added waterproof coating for protection. For a lifetime of worry-free use, the Rockville set are able to accommodate thick mounting bars thanks to the included ¼ inch mounting screws. They also come with a one-inch midrange tweeter and a two-way crossover network that is built-in.
Pros:
Works well and makes your whole system come to life
Look and sound great
Comes with all the accessorties needed
Cons:
Installation difficulty is based on where you mount them
Nuts embedded into plastic makes them hard to turn
2. NOAM NUTV5 Marine Bluetooth Stereo System
With unique features that make them one of the best on the market, the NOAM NUTV5 Black Marine Bluetooth Stereo System include the ideal sized pods with the loudest sound that is able to work in any type of weather condition. With a three-inch passive radiator and 5.25-inch speakers, this wake tower speaker can definitely beat out the larger speakers in the neighborhood. Delivering up to 360 watts, the amplifier only measures three inches by seven and a half inches.
The controller is capable of streaming Bluetooth with a CD-like audio quality that can also connect right to your MP3 player or your phone. It has two different mounting systems including a 3M surface mount and a flush mount that snaps-in. the NUTV5 black tower speaker set also features large buttons that let you operate the unit while wearing gloves.
The NUTV5 is also IPX7 waterproof rated giving the controller the ability to do its job under any type of condition. With the N5 mounting system, you can even rotate the speaker pod at 140 degrees giving you more mounting options so you can aim it the way you like. The mounting clamp also works on 2 inch, 1.85 inch, 1.75 inch, and 1.5-inch bars making it versatile enough to work on most UTV models available today and mounting your NUTV5 does not require tools and still gives you a super strong grip.
Pros:
Straightforward setup and ease of use
Comes with all accessories needed
Cons:
Bar sizes aren't the same as the mounting brackets
Hardware isn't good quality
3. Pyle Marine Wakeboard Tower
If you are looking for a good rugged sound system, the Pyle Marine White Wakeboard Tower Speakers is made with durable materials including stainless steel. This IP44 rated system is waterproof and resistant to other weather conditions like sun damage. These two marine tower speakers can be used on several types of vehicles thanks to its anti-corrosion feature making it able to withstand outdoor conditions as well as heavy splashes of water.
With two-way full-range audio, the Pyle Marine Wake Tower speaker system includes a dome tweeter made of titanium and long excursion subwoofers measuring 6.5 inches with a 300-watt max. Built-in LED lights help to light up the towers adding to their fun look while its stainless steel housing gives it a durable and rugged design. Engineered with ABS grills, they can also prevent sun damage that is caused by UV rays. With 360-degree mounting clamps, you can rotate your speakers to your desired position. The Pyle Marine White Wakeboard Tower speaker system includes hassle-free installation and easy to use clamps that are integrated for universal roll bar use.
Pros:
Great white asthetic
Clear quality
Easy installation that works on almost any roll bar
Easy to position and cool built-in lights
Cons:
Has design flaws with mounting brackets
Now wire post or connector for a speaker wire
4. MCM Custom Audio Marine Wakeboard Speakers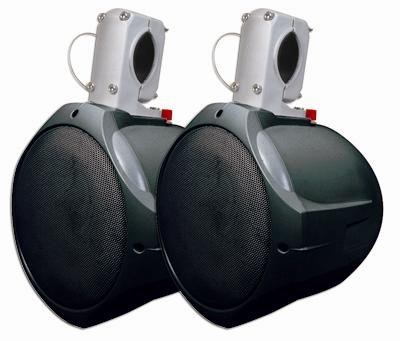 With a sensitivity rating of 90 dB, the MCM Custom Audio Marine Wakeboard Speakers are able to handle up to 100 watts RMS. Measuring 6.5 inches, these waterproof marine speakers are versatile enough to be mounted on a jeep, golf cart, or boat's wakeboard tower. Able to withstand extreme outdoor conditions, they are well-engineered and constructed of polypropylene with durable rubber surround giving them increased durability and stability.
With one-inch titanium dome tweeters, they are very lightweight and less resonant than aluminum. Capable of producing very accurate high frequencies, the design of the dome allows you to have a larger dispersion pattern. A great pair of speakers for the price, the MCM Custom Audio Marine Wakeboard Tower Speakers gives you great sound and frequency response. Easy to mount, especially on roll cages, the MCM Custom Speakers come with binding post connections and a heavy-duty ABS case and mount. They are perfect for those with a tight budget that still want great sound.
Pros:
Best product for the money
Great for mounting on roll cages
Good value for what you get
Straightforward installation
Cons:
Doesn't give you a lot of bass
Start to distort if you turn them up too loud
5. Rockville DWB65B Marine Wakeboard Tower Speaker System
Part of the always expanding line of high-quality marine audio equipment, the Rockville DWB65B Marine Wakeboarf Tower Speaker System deliver dual speakers that feature a one-inch titanium tweeter and a 6 ½ inch woofer. Able to handle 300 watts RMS and 600 watts peak, the Rockville speaker has true world RMS ratings that aren't exaggerated like other models on the market. These are totally waterproof tower speakers that feature marine grade material and components.
Designed with a heavy-duty molded ABS enclosure, the Rockville speakers are almost indestructible. One of the most durable ABS wakeboard tower available, these speakers have a clear and crisp sound that is very loud while long excursion woofer gives you great mids and low-end bass. The polypropylene woofer cone is incredibly reliable and the surrounding rubber is used to stop unwanted distortion.
With an improved mounting bracket made of strong and lightweight nylon, the Rockville tower speakers can take on the harshest conditions. Featuring a special UV coating, these speakers are protected from the weather and a 360-degree rotating mechanism that is built in allows you to position the speaker any way you want. The fitment inserts are made of rubber and give you the versatility to mount them on roll cage bars with different thicknesses.
The waterproof feature of these speakers is due to the marine grade materials and components that won't get damaged by moisture, salt water, or fresh water. For quick installation, the Rockville speakers also include quick connect terminals that are constructed of stainless steel and are totally rustproof. This is the perfect addition to your UTV, ATV, or Jeep.
Pros:
Impressive and don't require a subwoofer
Nice appearance, sound, and quality
Great lows and high with a crisp and clear sound
Cons:
A little bit big for some users
Need a better bass sound
Wakeboard Tower Speakers Buying Guide
What to Look for In The Best Marine Tower Speakers
Mounting and Hardware: Hardware for mounting can be different for each type of tower speaker. To some degree, they will be flexible in their sizing, but that doesn't mean they are universal. Pay close attention before buying wake tower speakers for your boat and make sure to double check your measurements. You want to make sure the tower speakers will fit where you plan to mount them since they won't do you a whole lot of good if they are not mounted correctly. Some of the newer tower speakers may need specific brackets for mounting while others may have a feature like 360 degrees swiveling for your boat.
Value: Depending on your budget, you want to make sure you get as much value as possible for what you can afford. Plus, it also depends on what things are most important to you in a tower speaker and where you want to put your money. Some people prefer something loud and impressive looking in size while others will want to invest their money in something that has impressive quality audio for the boat. Keep in mind that there are several lower priced sound systems out there that are a great value for what you are spending so make sure to do your research and see if you can find those hidden gems.
Power: The measurement that a manufacturer rates a speaker at is how much power it can handle and operate at. You will see two sort of measurements, Peak and RMS. The Peak rating tells you how much power that particular speaker can handle in short bursts while the RMS Power rating is how much power the speaker can handle continuously. Remember that the RMS Power is the more important rating to consider.
Speaker Sensitivity: This is a rating that is measured in the amount of sound the speaker cam emit from the amount of power that it is given. With higher sensitivity, you get a more efficient speaker. Keep in mind that if you have a lower powered system, you will want a higher sensitivity rating while higher powered systems a lower sensitivity rating is preferred. Wakeboard tower speakers with lower sensitivity ratings are intended to handle higher power.
Frequency Range: This is the range of frequencies that the wakeboard tower speakers will emit sound at. Typically measured in Hz, the ranges go from low to high frequency and will measure how high and low the speaker is able to emit sound within that set frequency.
Materials and Design
Woofer: The woofer is an important consideration when thinking about the quality and responsiveness of the wake tower speakers. With lightweight and stiffer materials, you get a more effective speaker. The most common material that is used for the cone is polypropylene,
Woofer Surrounding: Another important part of the speaker system that can affect the sound is the woofer surround. Free moving materials that are lightweight and durable are important to create a long-lasting speaker. The woofer surround can break and crack from age, use, wear and tear, and humidity levels. Typically, rubber that surrounds the woofer can help make a woofer that will be long lasting and high performing. Cloth and foam surroundings are usually found on cheaper car speakers and give you shorter life spans and lower performance.
Crossovers: A crossover is normally found as part of a package when you buy a component car speaker set. Used to reduce the amount of distortion that your speaker has, external crossover separate frequency inputs. Distortion is caused by signals crossing through coated wiring and an external crossover system will limit this.
Size
Having tower speakers that are too small or too large can be an issue, but when you are considering wakeboard tower speakers, this isn't as big a problem as you think. Since the speakers are attached to the wake tower, the size consideration is more visual and depends more on the size you prefer and what looks good to you as well as what aesthetics work well with your boat.
Flexibility is a unique feature for wakeboard tower speakers when considering size. Since tower speakers are up in the air. You are free to choose whatever size you want without worrying about the space it will be occupying. Keep in mind, that generally speaking, the frequency and bass of a tower speaker is better with a larger speaker while smaller speakers give you better mid and high frequencies.
Water Resistant versus Waterproof
Have you ever wondered what these terms really mean? Often used interchangeably, these terms actually have a real difference between them. Tower speakers that are water-resistant may resist water like rain or spray from the ocean, but you don't want to completely submerge them in water. While they may have the ability to be in contact on the surface with water, they aren't created to keep water out completely. Keep em on the boat!
Devices that are waterproof, on the other hand, are created to do exactly that. With high seals that do not let water in, these devices were built to be completely submerged in water and continue to work. Keep in mind though that even waterproof devices are only designed to be waterproof to a certain depth and you can't go beyond that and expect the same protection. When deciding between waterproof and water-resistant wake tower speakers, waterproof is usually the best decision. Although you may not intend to submerge your speakers, they just have better protection, especially in the event they are hit and covered with a wave. While water-resistant speakers may be able to handle this type of occurrence, waterproof speakers definitely will.
Marine Rating
When a speaker is marine-rated, you know it is fine to use them out on the water. The materials used in the speaker's construction are guaranteed since it has been chosen to specifically withstand the conditions found in a marine environment. Speakers that aren't marine-rated often tend to break and fall apart when used in a marine environment.
Protection
Speakers are housed in cans and to keep them protected from the marine environment, it is vital that the aluminum is anodized. If the cans do not have an anodized finish, the aluminum may become oxidized and eventually corrode. Speaker covers are also a good way to protect your wakeboard tower speakers but make sure they are made with an outdoor poly fabric which is three times thicker than other fabric that is typically used.
Single versus Double Barrel Speakers
Even though single and double barrel speakers may have the same anodized cans and quality parts, there can still be a few notable differences. With double barrel speakers, you often get a mount that swivels, plus you have the bonus of having two speakers instead of just one. The swivel mount is a great feature since you can then face the speakers in different directions to provide a surround sound stereo experience.
FAQs
How Do You Position Wakeboard Tower Speakers?
You will find that many speakers come equipped with their own fasteners and clamps so you can attach them to the boat. Some even feature clamps that are adjustable and waterproof. Make sure the clamps that you are using will withstand the water and elements as you don't want them breaking down and becoming loose. Remember that angle and height are important as you position your speakers and face the wake speakers in the direction where people will be. If your friends are out there wakeboarding, you want the speakers to be at the right angle so they can have the best experience while they are out there. Swivel clamps are also useful so that you can adjust your speakers when you need to.
When choosing where to place your speaker, keep in mind there is always a chance that people will bump into them. So, don't place them where people are walking back and forth or there is a chance you can bump your head or your elbow into them. You also want to make sure they are evenly spaced, but not too far apart so that they give you optimal sound. You can often get sub-standard sound when the spacing is off. You will also find that most towers come with hold where you mount them speakers which tell you where the best mounting position is. After you have secured your speakers to your boat, you can then focus on wiring if you need to.
How Do You Wire Wakeboard Tower Speakers?
When you are wiring tower speakers, there are several things you need to consider. Always keep in mind that you are going to be surrounded by water, a running boat motor, and a lot of people. All of these factors together create a lot of noise. Plus, noise tends to disperse quickly when you power your boat through the water. Having a lot of noise means that your speakers will need a lot of volume. To get a lot of volume, you will need a lot of power, so the more power you can give your speakers, the more volume you can get.
After finding the best place to position your tower speakers, you can then start to wire them. You will find that newer wakeboard towers are sometimes already wired, but, if it isn't, then you can attempt to wire the wires through your wakeboard tower. When the wake tower speakers that are already wired, you need to first position the tower speakers and then connect the end of each wire with one going to the amplifier or music player and the other to the speaker.
With towers that are not wired, you will probably have to find channels that will accommodate the wires. It is always a good idea to use the safety-light wires if you have them on your boat, that way you can attach one end of your speaker wire to an end of the safety wire and use the wire to pull the other wire through. Make sure to be careful as you do this. When finding resistance, you can make it easier by using some lubrication to the channel. Follow the nature channels and take your time pulling through the extra speaker wire. Once the wires are threaded, you can then connect them to the speakers and then attach your speakers.
Final Thoughts
The winner of the best boat tower speakers roundup is the Rockville RWB65B Marine Tower Speakers. Featuring marine grade construction, these speakers can withstand sunlight, water, and salt spray and are perfect for installation on Jeeps and ATV's. Rated without any exaggerated power rating, the 150 watts RMS and the 250 watts peak are true ratings. Featuring new and improved mounting brackets that are reinforced with steel, these brackets are durable and include an added waterproof coating for protection. These easy to adjust brackets are able to withstand some of the harshest conditions, plus the included terminals are made of stainless steel that is totally rustproof. You get a lifetime of worry free use with these Rockville tower speakers that are able to accommodate thick mounting bars thanks to the included ¼ inch mounting screws. Plus, they come with a one-inch midrange tweeter and a two-way crossover network that is built-in. The clear winner of the best wakeboard tower speakers roundup is the Rockville RWB65B Marine Speakers hands down.