There is not much that can be as fun as being towed behind a boat. This is because it allows you to get behind the boat easily as compared to wake boarding or water skiing. There is also not as much skill involved meaning its fun for both children and adults when you are spending time at the lake. Simply hold on for dear life and pump some toons!
Nonetheless, finding the right towable tube is a challenge since there are many brands and models in the market. If you don't know what to look for in a boating tube, you may just purchase the wrong one. Seelcting the wrong towable tube could open yourself up to getting a defective product. This will not give you as much fun as you could be having since you would just be sitting at shore frantaclly trying to repair the tube.
In this article, we review five of the best tubes for boats, give you valuable information about these tubes, and help you choose the right one for your sport's needs.
The Best Tubes for Boating Are:
Comfort Shell Deck – (Top Pick)
Sportsstuff Super Marbel – (Premium Pick)
Airhead Hot Dog – (Most Riders)
Airhead G- Force – (Best Budget Pick)
O'Brien Ultra Screamer – (Highest Maximum Capacity)
What are the benefits of Using Tubes to Pull Behind Boats?
Owning the best water tubes can take your present boating experience to the next level. You can either pick an affordable towable tube meant for one rider or pick a bigger one that can fit your entire family. This of course will be dependent on how many people you want on the boat tube.
Here are some of the unique benefits that you can reap from the best tubes for boating.
The best modern boat towables feature stable platforms that minimize the frequency of wipe outs that often happens with wrong and past tubes.
Towable tubes offer easy mounting with the best models allowing riders to keep their seats even for longer rides as they hold their safety straps for comfort.
Towable tubes offer several riders a chance to have a great experience on the water at a go.
Best Towable Tube Reviews
Below are some reviews of the best tow tubes that you can use for your boat.
1. Comfort Shell Deck Tube 3 Person Towable Tube (Top Pick)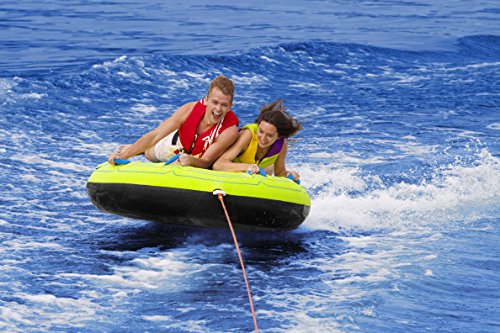 With 25-years of manufacturing water sports items, Airhead has made its name in producing some of the best rated towable tubes, the Comfort Shell Deck Tube is one of those best tubes. This product is a flat round shell manufactured from the softest foam so that the riders are cushioned enough to avoid tube rash or any kind of abrasion. The softest foam pads also makes the deck luxurious and one of the best 3 person towable tube for boating on the market.
It features a 30-gauge RF with an excellently welded PVC bladder. It is then wrapped with neoprene foam to not only make it durable but also super soft to touch.
Another feature that stands out is the heavy-duty Kwik-Connect that provides an easy hook-up. The patented Speed Safety Valve feature allows you to deflate and inflate the inflatable tube quickly.
With its comfortable foam-filled webbing kuckle guards with foam handles, you can be sure to climb and alight with ease. The boarding straps make it even easier. Once inflated, this comfortable shell deck becomes tubular enough to carry four riders and enable them to have an excellent water sporting experience.
Pros
It is very comfortable to ride on
It is big enough to accommodate up to four riders
It is durable with 30- heavy gauge PVC Bladder, RF welded
Cons
It is slightly expensive
It has no overhead cover, just flat
2. SPORTSSTUFF SUPER MARBLE Review (Top Budget Pick)
SportsStuff has been in the business of producing water sports products for 20 years now. It has gained enough experience to manufacture high-quality water tubes. SPORTSSTUFF SUPER MABLE is one of the best watersport products this company produces.
It features dual tow points that allow riders to enjoy a wild ride in order to utilize the comfortable backrest. You can also tow them in the opposite direction to enjoy a chariot style blast for a greater experience.
Since this product is built on quality and for fun, it comes with a patented speed safety valve and an aluminum Kwik-Connect tow point that is easy to connect to save you time. It also features cozy EVA foam pads for up to three riders to keep them comfortable when riding.
The air cushioned side walls is another excellent feature that keeps on board as the redesigned backrest offers you a uniquely shaped towable tube for boating. This Super Mable is constructed with a heavy gauge pvc  that is double stitched with a full nylon cover, which makes it long lasting.
With the self-bailing drain vents, water that comes on board is drained off to ensure the towable tube does not flood. It is backed with a one-year limited warranty that ensures you get the best experience on water sports. This is also one of the best towables for adults because of its full sized seats.
Pros
It is constructed with a heavy-duty K80 PVC bladder and nylon cover for durability
It has air cushioned side walls to keep you safe on board
It comes with aluminum Quick Connect tow point for easy connect
It has self-bailing drain vents for keeping onboard dry
Cons
The foam handles are cheaply made
3. Kwik-Tek HD-3 Airhead Hot Dog Review
This is yet another Airhead model that is constructed well to accommodate between one to three riders. This Hot Dog tube for a boat is manufactured from a heavy-duty K80 PVC bladder for durability. The bladder is then fully covered in a double-stitched nylon cover that is fitted with a zipper for easy changing.
The Hot Dog comes with handles that are ergonomically designed with neoprene knuckle guards. They are also wrapped with a deluxe nylon that makes it waterproof and durable.
This towable tube measures 103 inches long and 44 inches wide. This length is partitioned spaciously to carry a maximum of three riders comfortably. It also comes with three seats that are fitted with neoprene pads for enhanced comfort. The neoprene pads also ensure you stay on without sliding.
The rope hook-ups are well designed to ensure you can hook it up quickly and easily for towing. The Boston valve comes fitted on this towable tube for convenient inflating and deflating with an air pump.
Pros
It is constructed to be durable with heavy duty material
It is reasonably priced
It is easy to inflate and deflate with Boston valve
Cons
It does not stay inflated for long
4. AIRHEAD AHGF-3 G-Force Inflatable Towable Review
Despite its comparatively higher price, this inflatable towable tube from Airhead is constructed from the highest quality materials available. The tough 30-gauge virgin PVC bladder is completely covered with an equally durable 840-denier double-stitched nylon cover material that makes sure this model is truly durable.
This G-Force Airhead model is equipped with six deluxe and nylon-wrapped handles with neoprene knuckle guards to ensure they are comfortable to grip and durable as well. It comes with heavy-duty Kwik-Connect that provides an easy hook-up process that is also secure.
The speed safety valve is also one of the features that stand out in this towable inflatable. This gives you convenience when it comes to inflating and deflating this product. It comes equipped with a patented centrifugal force with G-Force's topside stabilizer fins to ensure the riders are stable when they are being towed.
Pros
It is constructed with tough high-quality materials for durability
It has a great Speed Safety Valve for quick inflation and deflation
It also comes equipped with easy to secure hook-ups
Cons
The rafts are not durable
5. O'Brien Super Screamer Inflatable Tow Tube Review
With a maximum of two riders, this Super Screamer from O'Brien is constructed to offer lots of fun on the water. It is manufactured with a single chamber, a 26-gauge bladder that is totally covered in 420-denier nylon to enhance its durability. This is one of the cheap towable tubes available as it can only hold up to two riders at a time. It is one of the best 2 person towable tubes because it gives you just the right amount of room.
For optimal comfort as you ride, the towable tube comes fitted with a maximum of six comfortably positioned handle grips that are equipped with EVA Knuckle guards. It is also equipped with two soft EVA body pads that improve your sitting comfort.
In order to have a towing experience worth remembering, this product comes with a Quick Connect Tow system that offers an effortless connection of the towing rope to the tube. The Pull Up Straps, on the other hand, provides an easier to board experience. With the lightning valve, it is easy to inflate as well as deflate your tube.
Pros
It comes fitted with soft EVA body pads for comfort
It comes with six handles that are ergonomically positioned
It is durable with a 26-gauge bladder that is covered completely by nylon
Cons
Loses air pressure with time
How to choose the Best Towable Tube for Boating – Buyer's Guide
When choosing cool tubes for boating to kick-start your favorite water sport, there are things to consider in order to find the best product in the market that will serve your needs.
Capacity
In order to find the best towables for boating, you must think about the number of individuals you are going to ride with. You wouldn't want to buy a tube with a 4 person capacity when you know you will ride with two people. In such a tube, it would be hard to have the ultimate experience because you are not so close to the water and won't experience that same adrenaline rush.
Tow Rope
You cannot tow your tube without a rope(duhh) . When buying a towable tube, it is important to know the length of the rope and its break-strength tolerance. Make sure to look for a quick-connection system that will allow you to connect easily and quickly.
Safety Flags
Safety on the water is not only paramount to you but also to your fellow riders. To ensure you are noticeable from a distance by oncoming boats and other water vessels, it is vital to have your flags well-displayed for easy visibility from a safe distance. As a result, look for flags that are stackable with suction cups on the deck to enjoy a stress-free display and takedown.
Material
The material that a towable tube if made from is crucial in determining it's strength, durability and life span. As such, look for tubes that are made from heavy duty materials to ensure you enjoy an extended service from your tube.
The anatomy of a good quality towable tube goes as follows:
PVC Bladder:
This is the part that is designed to hold air. The PVC material should be at least 30 gauge. This thickness will insure that the tube will hold up strong impacts against waves.
Nylon Cover:
This is the part that will be protecting the towable tube. Nylon covers are essential for a few different reasons. One it offers protection from pointy rocks and other "surprises" under the water. Too often the grab handles are attached to the cover. Without them the people on it will have a hard time hanging on which would mean short tube journeys and frequent stops.
The Valves:
A good quality valve to have for a good quality tube is a boston valve. These valves offer quick inflation and deflations. The smaller cap is for inflation and the bigger one is for rapid deflation.
The Tow Line:
The line itself is usually made of durable nylon and comes with a quick attachable/ detachable extension to hook onto the boat and the towable tube. Often time the attachment for the tube is a double plastic hook. Most manufacturers will have instructions on how to attach a towable tube but here's a small video to give you an idea of how it would work:
Comfort
You wouldn't want to ride on an uncomfortable tube if you want to enjoy the best tubing experience on the water. You, therefore, need to consider the comfort features that a tube comes with. Some come with well-cushioned and padded seats of EVA materials while others don't. Be sure to also pick a tube with easy to grip handles with knuckle guards to enhance your comfort when being towed, otherwise your hands will be sore from clamping with the "death grip" for a long period of time.
Safety Precautions to Check On
To ensure you have a top-notch experience and maximum safety, be sure to observe the following safety measures.
Wear a proper PFD(Life Vest) that is well sized and properly fastened. Keep in mind that accidents happen, even when the best swimmer is caught off-guard
Never pull two towable tubes at the same time since they might cross paths to collide, something that can be dangerous in water
You must always be aware of the docks, pilings, and other boats as you whip and tow your tubes to avoid suffering serious injuries
You and your driver should be cautious whenever riding or towing multi-person tubes so that you avoid colliding your heads or knocking your legs to the next person.
Final Thoughts
With this review, we hope that you now have what it takes to pick the best towable floats for boating from the many brands and models available in the marketplace. In case you still find it confusing, don't hesitate to come back to read and understand the things that go into the best boating tubes.
We can't wrap up without presenting the clear winner of this review. Owing to its durable 30-gauge RF welded PVC bladder, the super soft touch, and the extra-padded finish among other great features, Comfort Shell Deck Tube makes it as our number one product!