In this review, we have gone through some of the best towable tubes. I have spent 15 hours researching the 10 top picks for towing in a boat. I have tried a few of these on my days back at Shuswap lake. While the years have gone by, the designs have been relatively unchanged over the years. 
The top-rated towable tube is the Comfort Shell Deck by Airhead. This is due to its high ratio of 5 star reviews as well as its soft foam top which lessens the impact of wave bumps. The family pick would the Sportsstuff Super Mable. Due to its capability of being towed by either side transforming it into a different boating tube each time. The Budget pick would be the Obrien Super Screamer with its high capacity rating. 
Towable Tubes are the perfect companion to wake boards and tower speakers. For those who don't want the hassel of learning how to wakeboard, towable tubes are ussually the best option for fun on the water. 
Ready to read more about our research done on towable tubes? Let's get tubing! 
Best Towable Tube Reviews
Below are some reviews of the best towable tubes for boating. These are modern picks that have been chosen by our past experiences and customer reviews.
Tube
Durability
Capacity
Price
Rating


Great
Durability
2-4
People

$$



Great
Durability
1-3
People

$$$



Good
Durability
1-4
People

$$



Good
Durability
1-4
People

$$



Good
Durability
1-4
People

$



Decent
Durability
1-5
People

$$



Decent
Durability
1-3
People

$$$



Good
Durability
1-2
People

$$



Decent
Durability
2
People

$$



Ok
Durability
1-3
People

$$
1. Comfort Shell Deck Tube 3 Person Towable Tube (Top Pick)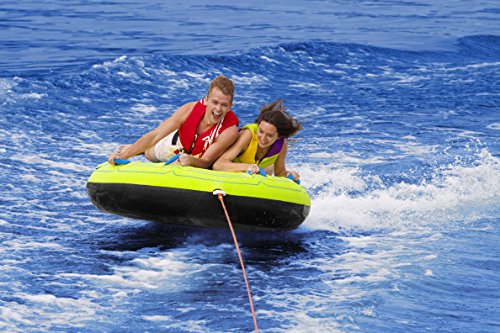 Features:
Great Durability
3 Rider Capacity
6 Double Webbing Foam Handles
1 Towing Point
With 25-years of manufacturing water sports items, Airhead has made its name in producing some of the best towable tubes available. This product is a flat round shell manufactured from the softest foam. This is so that the riders are cushioned enough to avoid boating tube rash or any kind of abrasion. Many customers really appreciated this fact. The foam pads also make the deck luxurious and one of the best 1-4 person towable tubes on the market. The deck can also be used as a makeshift floating island that you can hang out on by the dock.
It features a 30-gauge RF with a welded PVC bladder. It is then wrapped with neoprene foam. This not only makes it durable but also makes those landings easier on impact.
Another feature that stands out is the heavy-duty Kwik-Connect that provides an easy hook-up. The patented Speed Safety Valves feature allows you to inflate and deflate the towable water tube quickly.
With its comfortable foam-filled webbing neoprene knuckle guard. You will not feel the sting of the handle after a long period of time being out on the water. The boarding straps make it even easier. Once inflated, this comfortable shell deck becomes wide enough to carry four riders. Enabling them to have an excellent time bouncing on the water.
Pros
These towable tubes are very comfortable to ride on in the water
It is big enough to accommodate up to four riders
It is durable with 30- heavy gauge PVC Bladder, RF welded
These towable tubes are great for adrenaline seekers
Cons
It is slightly expensive
It has no overhead cover, its just flat
Features:
Great Durability
3 Rider Capacity
16 Handles
Dual Towing Points
SportsStuff has been in the business of producing water sports products for 20 years now. It has gained enough experience to manufacture high-quality towable water tubes. Sportsstuff Super Mable is one of the best towable tubes this company produces.
It features dual tow points that allow riders to enjoy 2 different riding positions and rides 3 people. You can utilize the comfortable backrest and enjoy having a seat while being towed. You can also tow them in the opposite direction to enjoy a chariot-style blast for a greater experience. You can either kneel or stand up with your knees bent with the chariot set up.
It comes with a patented speed safety valve and an aluminum Kwik-Connect tow point that is easy to connect and saves you time. It also features cozy EVA foam pads for up to three riders to keep them comfortable when riding.
The air-cushioned side walls are another excellent feature. These sidewalls keep you feeling safe and secure while you get a tow. This Super Mable float is constructed with a heavy gauge PVC. It's double-stitched with a full nylon cover, which makes it last a long time.
With the self-bailing drain vents, water that comes on board is drained off to ensure the towable tube does not flood. It is backed with a one-year limited warranty. This ensures you get the best experience without worrying about defects. Lots of customers also loved how long this boat tube lasted. A few of them reported it still holding up after 4-5 summers. 
Pros
It is constructed with a heavy-duty K80 PVC bladder and nylon cover for durability
It has air cushioned side walls to keep you safe on board
It comes with an aluminum Quick Connect tow point for easy connect
It has self-bailing drain vents for keeping onboard dry
Cons
The foam handles are cheaply made
Some complaints about customer service
Features:
Good Durability
3 Rider Capacity
6 Handles
1 Kwik Connect Towing Point
The Airhead G Force inflatable towable tube is constructed from high-quality materials. The tough 30-gauge PVC bladders are completely covered. It features an 840-denier double-stitched nylon cover that can take some abuse. 
This G Force Airhead model is equipped with six deluxe and nylon-wrapped handles with neoprene knuckle guards. This ensures that they are comfortable to grip and durable as well. It comes with a heavy duty Kwik Connect that provides an easy hook-up.
The speed safety valve is also one of the features that stand out in this towable inflatable. This gives you convenience when it comes to inflating and deflating this product. It comes equipped with a patented topside stabilizer fins. This is cleverly used to ensure the riders are stable when they are being towed. This also gives the float some tracking ability that stabilizes the tube while people are on it. 
Customers generally like this tube, some have even reported that it has been in use for over 10 years! They also stated that they felt the newer models were not as durable as older models. 
Pros
The G Force towable tubes are constructed with tough high-quality materials for durability
It has a great Speed Safety Valve for fast inflation and deflation
It also comes equipped with easy to secure hook-ups
Cons
The G Force has had a few reviewer complaints about it not being durable
Features: 
Good Durability
1-4 Rider capacity
8 – 16 Handles
Dual Tow Points
The World of Watersport Bingo is a towable tube that gives you the choice between a chariot ride or a cockpit design style run. This float actually gives you a choice between 2 to 4 riders. It is a similar design to the Sportsstuff Super Mable. So what are the main differences and why was this one rated below? To be honest the differences were very subtle.
The reality was the Super Mable was a bit better built and it had fewer comments about its material shredding or breaking. It also had more than 10 X the reviews. This float is no slouch, as it received a good majority of positive ratings. 
For people who like that enclosed feeling, the bingo may be more your style as your feet are more protected. However the fact that the padding is not as thick where you sit. Meaning you may feel the impact more when riding this float. 
While many customers seemed to like this product there were a fair few complaints directed to the materials of this float. There are a few that have gone on to state that they have only used it a few times with a light load and the protective nylon just ripped. 
Pros
These towable tubes give you the variety to choose between 1-4 people
There are 2 towing points on this towable tube
The tubes design gives it high visibility in the water
Cons
There are a decent amount of complaints about the protective nylon cover
Some complaints about the quality of the speed safety valves
Features:
Good Durability
1-4 Rider Capacity
4- 8 Handles
1 Kwik Connect Towing point
The Airhead Super Slice is a circular water tube made of 840 denier nylon which is one of the highest grades you can get for water toys. This circular tube has room for 1-4 people with its 3 different sizes and color schemes. The closest comparison we have to this tube is the Airhead Comfort Shell rider. The Comfort Shell Rider towable tube got the nod over the Super Slice because it has a layer of padding inside the tube while the Slice features Eva padding on the outside (similar to the material found on paddleboards). As a result, the impact of landing on this tube on certain waves could be a bit more painful. 
On the flip side, many customers were happy with its durability. In fact, very few of the complaints were about rips in the nylon. On the flip side, some customers may have commented about the towable tube submarining while being pulled. There is a way to combat this though. If you center your body more to the middle of the tube it should glide more freely over the water. 
A lot of the main complaints on this tube had to do with valve leaks due to their Speed Safety Valve. Some people even say that this tube will only last a season. Despite some of the complaints though this tube still got a good satisfaction rating. 
Pros
One of the better nylon covers for towable tubes
3 different sizes of boating tubes to choose from
These tubes have a good ratio of good reviews
Great towable tube for teenagers to use
Cons
A bunch of reports on speed safety valves leaking
Not as much padding as the Comfort Shell Rider
Some complaints on how it only lasted them a season
Features:
Decent Durability
1-5 Rider capacity
3-5 Large Handles
1 Kwik Connect Towing Point
You can't go down a towable tube review without including a hot dog towable tube! Puns and insider jokes aside you can get this thing up to some pretty good speeds. One person managed to get this thing up to 75 mph (we don't recommend this unless you want to be in a wheel chair next to Steve O ) but it certainly can take the beating of the waves. The main reason why you can go faster with this than other tow tubes is hydrodynamics. Similar to a race car cutting through air with its pointy shape this does the same thing but with water. It will also stay planted because it's not on a circular plane that could give you lift. 
Despite the speed and cool shape this weiny has garnered some complaints, especially by one gentleman who owns a boat rental business. He says that the plastic tube needs to be more durable with better-constructed seams. Other people say that the tube shouldn't be rated for more than 3 people as it starts to submerge with more weight. 
If you are looking for a weiner float this is the best quality one to get as it has the most positive reviews from boaters. 
Pros
This is the Towable Tube built for speed
Its a weenie! 
Padded seats make ride a bit more enjoyable
Ideal for kids to medium sized adults
Cons
Submerges with more than 3 people
Seams tend to get leaks 
Hard to repair bladder if leak springs
Features:
Good durability
1-3 Rider Capacity
13-16 handles with knuckle guards
2 Towing points
Similar to the Mable and Bingo towable tubes, the Sportsstuff Chariot Warbird allows you to get pulled by chariot or cockpit configuration. For those who want a safe ride for their kids, this is about as stable a ride as you can find. The Chariot Warbird has been quoted by customers as being unflippable. This is due to its sturdy base and the fact that it's a heavy float! Despite its inflated weight it still is portable enough to fit into one of those large Rubbermaid containers. 
Overall customers seemed to really like this Sportsstuff tube but, there were some flaws with it. One of the things pointed out was how this float only has one draining point at the chariot end. This means it fills up with water when you have it in the chariot configuration. Which causes more drag while on the water. 
A customer pointed out something interesting about this tube. If it's not folded up after a day of use it can get a bit messed up inside which makes it ride awkwardly on waves. 
Pros
A great sturdy pick for those not wanting to get flung into the water
Great for 1- 3 riders. 1-2 for the smaller set up
Can be fit into a tote when folded up
Cons
The Sportsstuff Chariot Warbird has an expensive price tag
Slower in the water then a lot of floats
Some complaints about build quality
Features
Good Durability
1-2 Rider Capacity
6 Handles
1 Towing Point
With a maximum of two riders, this Super Screamer from O'Brien is constructed to offer lots of fun on the water. It is manufactured with a single chamber, a 26-gauge bladder that is totally covered in 420-denier nylon to enhance its durability. This is one of the cheaper towable tubes available on the market. It is one of the best 2 person towable tubes because it gives you just the right amount of room.
For optimal comfort as you ride, the towable tube comes fitted with a maximum of six comfortably positioned handle grips. These grips are equipped with EVA Knuckle guards. It is also equipped with two soft EVA body pads that improve your sitting comfort.
In order to have a towing experience worth remembering, this product comes with a Quick Connect Tow system. The Pull Up Straps, on the other hand, provides an easier-to-board experience for those climbing back on. With the lightning valve, it is easy to inflate as well as deflate your tube. Which takes a lot of the hassle out of your experience. 
Pros
It comes fitted with soft EVA body pads for comfort
It comes with six handles that are ergonomically positioned
It is durable with a 26-gauge bladder that is covered completely by nylon
Cons
Loses air pressure with time
Features:
Decent Durability
1-2 Rider capacity
4 handles
1 towing point
The Airhead Viper is a similar style to the Airhead Mach Series in that it has a cockpit setup. This one got the higher rating though, as it is without that major "partially covered" design flaw. This tube is completely covered with double stitch nylon cover. Its bottom is also inspired by a boat design so it is stable when it hits the wake.
There are some complaints about its design though. Some customers have complained about the cheap plastic zipper and how it constantly gets undone. There are also complaints about the fact that you have to top up the air because it's susceptible of leaking air. These could have been a few select cases though as the majority of the ratings are mostly positive. 
Pros
Fully covered with double stitched nylon
Lots of customers seemed to like how it rode the waves
Its hard to flip over
Cons
Many complaints about slow leaks
The zippers are cheaply made
Features:
Good Durability 
1-3 Rider Capacity
4 Handles
1 Towing point
The Airhead Mach 2 was picked for a few different reasons. It gives you the choice between how many riders you want and it gives you that cockpit seating feel of safe and secure riding. This is great for people who have never ridden a towable tube. Personally, I like this type of configuration the best. I was going to rate this product higher but I read some rather troubling reviews about this float.
For one there have been some injuries reported with this tube by reviewers which is never a good start. The big design flaw seems to be with the lining and the fact that the whole tube is only partially covered. The cockpit area has no covering which has resulted in cuts. One child managed to get his head stuck in it when it flipped. Despite that, only two of the people had those injuries that was reported. Overall it still has a decent rating but I would be wary of this towable tube as it seems to be a very polarizing pick. 
Pros
Cool design
3 different tubes available that can hold 1 to 3 riders
Cheaper than many on this list
Cons
Some reported injuries 
The partially covered cockpit is a massive design flaw
Fills up with water due to partially covered cockpit
How to Choose the Best Towable Tube for Boating – Buyer's Guide
When choosing a towable tube for boating to kick-start your favorite water sport, there are factors to consider. We go through the most important below. 
Capacity
To find the best towable tubes for boating, you must think about the number of individuals you are going to ride with. You wouldn't want to buy a tube with a 4 person capacity when you know you will ride with less than two people. Get at a tow tube that will fit as many people as you plan to fit and pay close attention to customer reviews. If more than a few people say that a certain tube is only good for a certain type of a person it's best to listen to them. 
Tow Rope
You cannot tow your tube without a rope or towing system (duh) . When buying a towable tube, it is important to know the length of the rope and its break-strength tolerance. Make sure to look for a rope connection (or kwik connect) system that will allow you to connect easily and quickly to the tube from the boat. I would also recommend getting a booster ball to heighten the performance of your tube. Look in the FAQ's below to see what the ball does.
Material
The material that a towable tube is made from is crucial in determining its strength, durability, and life span. As such, look for boating tubes that are made from heavy-duty materials. 
The anatomy of a good quality towable tube goes as follows:
Heavy Duty PVC Bladder:
This is the part that is designed to hold air. The PVC material should be at least 30 gauge. This thickness will ensure that the tube will hold up strong impacts against waves while boating.
Heavy Duty Full Nylon Cover:
This is the part that will be protecting the towable tube. Heavy duty full Nylon covers are essential for a few different reasons. One it offers protection from pointy rocks and other "surprises" under the water. Too often the grab handles are attached to the cover. Without them, the people on it will have a hard time hanging on which would mean short tube journeys and frequent stops. From what I saw, 840 denier nylon coverings seemed to have less complaints about manufacturing defects. It's also recommended that you get a tube that has a heavy duty full nylon cover and not just a partial one. I've heard of a few issues that have happened with these nylon covers. 
The Valves:
A good quality valve to have for a towable tube is a Boston or Speed Valve set up. These valves offer quick inflation and deflations. The smaller cap is for inflation and the bigger one is for rapid deflation. Probably one of, if not the most important things to do is to check customer ratings. See how many people complain about the speed valves inflating and deflating. There will always be these problems with inflatable so look for tubes that have the least amount of complaints in this area. 
The Tow Rope Material:
The tow rope itself is usually made of durable nylon and comes with a quick attachable/ detachable rope connection to hook onto the boat and the towable tube. Often the attachment for the tube is a double plastic hook. Most manufacturers will have instructions on how to attach a towable tube to the tow rope but here's a small video to give you an idea of how it would work attaching it to your boat.
Comfort
You wouldn't want to ride on an uncomfortable tube while going along at 20 mph. You, therefore, need to consider the comfort features that a tube comes with. Some come with well-cushioned and padded seats of EVA materials while others don't. A good example of a comfortable tube is the Comfort Shell Deck Tube. Be sure to also pick one with easy to grip handles and knuckle guards. This will enhance your comfort when being towed. Otherwise, your hands will be sore from clamping with the "death grip" for a long period of time.
FAQ's
The following is the most common questions that people havewhen in the buying process of getting a towable tube. Take a look and see if any may answer your questions. 
Q: How fast should you tow a tube behind a boat?
A: A good speed for boating is usually 10- 25 mph. If you have younger kids in your family then you want to keep your speed lower by 5 mph depending on their tolerance. The younger your kids are the slower your boat should go. Always double-check the rope connection to the tube before heading out.
Q: What is a Booster Ball and what does it help the towable tube?
A: A booster ball helps keep your rope out of the water which lessens the drag from the rope. This, in turn, helps the tube become hydrodynamic and allows its handling to be smoother in the water. It also will create less resistance for the tow system as its getting pulled by the boat.
Q: What are Safety Precautions Needed for Towable Tubes?
To ensure you have a top-notch experience and maximum safety, be sure to observe the following safety measures.
Wear a proper PFD(Life Vest) that is well sized and properly fastened. Keep in mind that accidents happen, even when the best swimmer is caught off-guard
Never pull two towable tubes at the same time since they might cross paths to collide.
You must always be aware of the docks, pilings, and other boats as you whip and tow your tubes to avoid suffering serious injuries.
You and your driver should be cautious whenever riding or towing multi-person tubes. Keep the boat speed lower so that riders avoid colliding their heads or bowling into each other.
Q: How Much Horse Power do you need to pull a tube?
A: Technically most outboard motors can do the trick but the ideal range is within the 90 to 150 hp range. This is because this type of engine has more torque which lessens the strain on the engine. It also depends on the size of the tube you get. The bigger tube you have the more horsepower you will need.
Q: Can You Patch a Towable Tube?
A: the long and the short of repairing a tube is the following:
Take the Nylon Covering off
Place inflated tube in a mixture of water and soup, if you see a squirt of a few bubbles that's probably the location of the tear
Dry and clean the damaged area
Put some drops on the hole to repair adhesive and cover the entire hole or tear (should come with your towable tube)
Allow for 24 hours to dry
For detailed steps take a look at the video below
Q: How do You prevent a Tube from "Submarining"
A: Ways to prevent this deck tube from going under the water is by shifting your weight towards the back of the tube. If you lean away from the front of the tube it will get it into a "planning position" which will allow it to glide over the water instead of into it. Its also important to note that if you accelerate the boat faster it will give the tube more lift.
Q: What can you do to increase the Lifetime of your towable tube?
A: The most important thing you can do to increase the durability of your towable tube is by drying it, and storing it away after use. From what I've seen the most common hazards for these towable tubes are:
A) leaving it out in the sun too long
B) not keeping it in a shaded and sealed place.
In the past I've seen everything from the sun wearing down the nylon material to rodents taking giant bites out of the heavy gauge PVC bladder.
Also, take a close look at the manufacturer's instructions. Make sure not to go over their inflation recommendations.
Final Thoughts
With this review, we hope that you now have the information handy to pick the best towable tubes for boating. This round up was based on customer reviews as well as my first-hand experience. A few of the older models I have tested but I ensured that I backed up my research with modern customer reviews.
The clear winner of this best towable tubes review is the Comfort Shell Deck Tube. This is due to its manufacturing. Its durable 30-gauge RF welded PVC bladder, wrapped with foam padding gave it some of the best 5-star ratios. It also had the least amount of complaints regarding its durability and rideability. 
What do you think? Feel free to share your family tubing experienced below.