In this review, we will be going over the best fishing float tubes as rated by anglers who use these regularly. I first heard about these float tubes a few years ago when I ran into a fisherman floating in this small lake outside Whistler. The lake itself looked far too small to even bother with a kayak so when I saw this a big lightbulb came on in my mind. Ping!
This is where Fishing float tubes come in! For those smaller bodies of water where you cant reach the full length with a full cast but would be overkill to lug a kayak into. I first borrowed a buddy's float tube a year ago and I loved it! For those who know me, they know that I love floating (heck I made an entire website about it!). Add that with fishing and you know you I am going to have one heck of a great day!
From our 18 hours of research we have compiled we found that the Cumberland Inflatable tube was the best option available just because it is a great jack of all trades float tube with one of the best customer ratings you can find! It also features a teardrop shape which makes it easier to maneuver in over the U shaped float tubes. Our premium pick would be the Outcast Fish cat 5 Max. This is the tube you pick if you are the type of fisherman who takes everything with them. This is due to it's bigger side pouches and its plentiful storage space behind the seat.
Ready to read about some fishtastic (is that even a word?) float tubes? Grab your fishing rod and let's dig in!
The Best Fishing Float Tubes are:
1. Cumberland Fishing Float Tube (Best Value)
Storage:2 Main Storage Compartments
Maximum Load Capacity: 350 Lbs
Weight: 14 Lbs
Assembled Dimensions: 56" X 44" X 19"
Shape: Tear Drop
The Cumberland gives you the option to buy it with a pump or with the fins. We recommend getting it with the pump if you don't have any inflation pumps lying around. As an owner of various inflatable crafts, I can tell you firsthand from experience that having a pump handy is key!
The Cumberland float tube inflates within minutes. Extra-large storage pockets on this float tube are large enough to hold fishing gear and other essential items and are very ergonomically placed, making it easy to reach while you are seated.
The seat on this float tube is plush and comfortable, allowing prolonged use without any discomfort. The seat is higher in height, so you can enjoy a better view and cast without anything getting in the way. The backrest is adjustable to suit the user's ideal positioning.
The Cumberland float tube has detachable shoulder straps at the bottom of the seat. These backpack straps can be used to hold the float tube around like you would when you carry a backpack. Even when inflated, this float tube is incredibly light to hold. This tube is made with high-quality premium material that can withstand harsh weather and strong currents.
The Cumberland Float Tube is one of the most popular models of tubes. We had hundreds of reviews to go off of. With those hundreds of reviews came a very favorable rating, which is pretty rare, especially when you get the volume of customers getting this product.
Online reviewers have said the Cumberland float tube is an absolute steal at the price it is offered at. This float tube has endured rough handling over years and is still working fine with no tears or leaks whatsoever. Users have said, the seat is so comfortable that it almost feels like they are in a lounging chair.
They have found the float tube extremely easy to carry around, as it is lightweight. Although as one user noted, if you add the gear that you include with it the float tube, the weight does begin to add up. A lot of the complaints about this float tube are directed towards the rod holders. The "rod holers" are actually velcro straps on the side of the storage pockets. This is a bit less than ideal as you do not get the sturdiness that you would get from proper rod holders. It also comes with a safety flag pocket which will help you get seen should you be in distress
The seat on Cumberland float tube is designed to be higher, ensuring you get a better view, cast well and also stay dry.
Comfortably carries heavier individuals.
This float tube features is made with quality material that can withstand harsh weathers.
Has ample storage area and storages are within reach while seated.
Features hydrodynamic hull shape
The backrest isn't comfortable for tall people as it can cause discomfort after using for 4-5 hours.
Storage: Two Large side pockets and lots of room behind the seat
Maximum Load Capacity: 300 Lbs
Weight: 15.5 Lbs
Assembled Dimensions: 64" x 47"
Shape: Hybrid Tear Drop
The Outcast FishCat 5 is the fishing float tube that the big boys use. As stated on its website it is 20% larger than the Fish Cat 4 so if you are a bit on the big and tall section this is the float tube to use.
It also features lots of room to store fishing gear as there is a whole section in the back where you can put smaller bulkier items such as tackle boxes, jackets and a lot of other paraphernalia. For smaller items, you can use the two side pockets that it comes with for gear like gloves, loose tackle as well as line etc.
If you are the kind of fisherman who likes to have lots of fishing accessories around at all times, this is a great pick to have! The only issue I have with this is the fact that it doesn't come with any proper fishing rod holders which makes it less than ideal to have more than one rod going at a time.
In terms of shape this vessel has a hybrid u shaped/ tear drop design which still makes it pretty respectable to move around in the water. It is a bit wider though, meaning maneuverability will be a preference over tracking so it's best to get some fins with this tube.
Overall customers seem to really take a shining to the Outcast FishCat Max 5 float tube. The most common compliment was from bigger fisherman who liked the spacious room that this fishing float tube provided.
Further compliments were directed towards the seat of the float tube in which one customer stated he was on it for 4 hours and it was comfortable the whole way through. A few customers were also super appreciated about the fishing bib that it came with as its upward stance provided more than enough leg room for them. This product also comes with a 5-year limited warranty which exceeds most of the other picks on this list.

Pros:
Great for bigger and taller folks

Roomy

Lots of storage options and room to put gear

Compliments on the bib and how its positioned higher up

Easy to inflate
Cons:
Does not come with a pump 

Maybe too roomy for fisherman of a smaller build
3. Classic Accessories Togiak (Most Armrest Storage)
Storage: Two side compartments with many cargo pockets and room behind the seat
Maximum Load Capacity: 300 Lbs
Weight: 15 Lbs
Assembled Dimensions: 55.25″ X 47″X 19″
Shape: Tear Drop
The Togiak inflatable fishing float tube from Classic Accessories is made with high-quality premium material. Customers state that it performs season after season without tearing or leaking. This float is specially designed to ease tracking and steering. It does this by having two separate bladders extend into the water like a pontoon boat. This creates less drag when peddling.
Togiak inflatable fishing float tube from Classic Accessories has a padded seat that keeps you dry and well above water. The foam seat also provides a stable base making it easier to cast and reel. Lush and spacious armrests on this fishing float tube double up as storage, so you can hold fishing gear and other items.
Multiple zipped storage flaps help organize your gear better so there isn't a tangled mess when you are out fishing. The backrest on this tube is adjustable as per the users convenience, facilitating extended use for hours. Although you need to play around with the straps of the backrest. Some customers have used it as is and complained about how uncomfortable the seat was.
This is like the Classic Accesossories version of the Fish Cat 5 Max in that it's great for people who are big and tall. Plus-sized users said they absolutely loved the experience of using this float tube as it can support up to a 300 pound weight capacity. Online reviewers mentioned how happy they are with the thoughtfully ergonomic design as everything they need while angling, is comfortably within reach.
Some customers have been using this fishing float tube for over five years and are impressed with how easy it is to maneuver the tube when in the water. One customer was ever surprised at how they were able to paddle against the wind with not too much effort.
Strength and durability – this tube delivers top-notch performance year after year, regardless of the weather conditions it is brought into.
Prolonged use does not cause discomfort or backache, owing to the plush seat as well as adjustable backrest.
Storage is made accessible and easy with multiple zipped pockets on the armrest.
It is slightly heavier to carry when inflated.
4. White River Fly Shop Lost Lake (Budget Pick)
Features:
Storage: Four side compartments with many cargo pockets and room behind the seat
Maximum Load Capacity: 225 Lbs
Weight: 15 Lbs
Assembled Dimensions: 55.25″ X 47″X 19″H
Shape: U shaped
The White River Lake Float Tube is one of the cheaper budget options on our list but it features glowing reviews from a good amount of anglers. Perhaps it is a bit unfair to judge the White River Lost Lake Float to other fishing floats that are almost $100- 200 more than its price tag but it does punch well above its class.
Unlike a lot of the other tubes we have reviewed, this fishing float tube has a U shape. You should take note of this because U shape fishing float tubes create more drag while in the water. This is because it sits flush while other tubes that the pointed end of the teardrop coming out of the water.
Meaning I would use this is calmer still water conditions such as lakes on a calm day, or smaller bodies of water. The advantages of using a U shaped float are that it does feel more stable because you have more of the float that sits above the water.
Customers mostly had good things to say about this tube, with the majority of the positive reviews referring to the good value the belly boat provides. Others liked how much storage was available and really appreciated the comfort that this little watercraft provided. One of the downsides was the fact that some said when in the boat you had a tendency to slouch forward so you would have to re-position yourself.
*Note: When you get this belly boat get some PVC piping so that you can slide it in the bib. This will allow it to be positioned upright and it won't sag down on you. This is what some handy customers used to combat the sag problem that this vessel may have. But this may have also been because they exceeded the capacity.
Pros:
Fantastic Price

Great value for what you get

Can be inflated both manually or by pump

Good for taller people
Cons:
You may have to readjust every once and a while depending on your body type

Slower in the water due to it's "U" shape
5. Classic Accessories Bighorn (Comfort Pick)
Features:
Storage Capacity: Two Big Side Compartments with pockets Back Pouch pockets and d rings
Maximum Load Capacity: 300 Lbs
Weight: 11 Lbs
Assembled Dimensions: 54" X 50" X18.5"
Shape: U Shape
This fishing float tube is a bit of a behemoth in terms of width but believe it or not it is actually the lightest of the float tubes that we review! The armrest is spacious and has multiple zipped storage compartments so you can hold extra fishing gear and other essential items comfortably without getting the items tangled.
The u design of this float tube offers better stability thanks to the inflatable seat and backrest but it does not offer as much in the way of on-water performance. In other words, It's a good pick for calmer water conditions where you won't have to fight wake from approaching boats and wind.
The Bighorn inflatable fishing float tube has a mesh stripping apron with fish ruler fashioned so you can instantly check the size of your catch. Made with heavy duty rip-stop material, this float tube holds up in the toughest weather conditions without a tear or leak. The sturdy build of this float tube ensures that it serves you season after season with the same efficiency.
Customers, who have used the Bighorn inflatable fishing float tube, say that they would definitely recommend it to their family and friends. Online reviewers have said that they find this float tube, absolutely comfortable to sit in for hours together. If you were to think of Classic Accessories Float tubes as cars this would be the roll Royce of tubes. It won't win any races but dang is it ever comfortable!
The comfort offered in this float tube allows users to cast easily and makes their overall experience better as they can fish for a longer amount of time. Plus-sized and heavyweight users have said the Bighorn inflatable fishing float tube held their weight well. Users also said that they have been using this float tube for years and have had no complaints with regards to durability.
Multiple zipped storage compartments designed to hold gear comfortably without getting things mixed up in a tangled mess.
Sturdy and heavy-duty to withstand a wide range of weather conditions.
Bighorn inflatable fishing float tube can hold weight up to 300 pounds, making it suitable for almost everyone.
This float tube is remarkably lightweight and absolutely easy to carry around even when inflated.
There is less space to sit if the auxiliary bladder is pumped to optimal capacity making it very uncomfortable.
6. Caddis Float Sports Premier Plus (Heavy Duty Pick)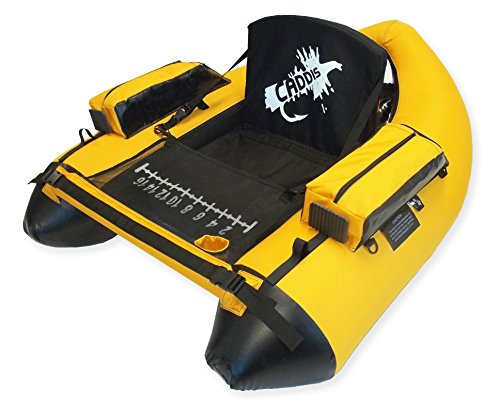 Storage: Two Big Side Compartments with pockets, room in the back
Maximum Load Capacity: 300 Lbs
Weight: 17 Lbs
Assembled Dimensions: Unknown
Shape: Tear Drop
Caddis Sports Premier Plus fishing float tube has been made with durable, heavy-duty material that prevents rips. Front ends and bottom are lined with sturdy tarpaulin as those parts have maximum surface contact with water.
The Caddis float tube holds 2 ergonomically placed pockets for easy access to equipment and 2 additional small pockets to store other essential items. It also features a cup holder on the bib. This is a great feature for those of you who want a nice beverage handy at all times. It could theoretically be used as a horizontal rod holder but it is too shallow to risk it in our humble opinion.
This float tube has an impressive load-bearing capacity of up to 325 pounds. Caddis Premier Plus float tube offers fantastic buoyancy even with plus-sized users. This float tube performs ok in the water although many customers have openly stated that it's not the best float tube to use for those serious about fishing.
The thickly padded seat of 4 inches makes for a firm, stable platform to cast and reel. 2 inches thick foam backrest is adjustable as per convenience for prolonged use. The stripping apron comes with a fish ruler so you can measure the size of your catch instantly.
Online reviewers find it great that this float tube seats them higher offering a better view. The chair on Caddis Premier Plus float tube is so plush that users said they felt as if they were fishing from the comfort of a recliner chair. Heavyweight users are pleased to use this float tube due to its capacity.
Overall users had mixed reviews about this float. While many appreciated its comfort a lot of users thought it was slower and more difficult to manage in the water. They also were not a big fan of the lack of room this vessel had.
Good load-bearing strength, making it suitable for use even for plus-sized individuals.
Lightweight and easy to carry even when inflated. Heavy-duty material prevents rips when walking down trails to get to the water.
Caddis Premier Plus fishing float tube inflates easily and is equally easy to air down.
This float tube would have trumped on the convenience parameter had it been provided with adjustable shoulder straps to carry it like a backpack.
Accessories To Consider for Fishing Float Tubes
Ok, you have your fishing float tube so now what? Below we have listed some accessories that will make your fishing life easier. We categorize these by how necessary they are to your fishing experience.
Waders
These are best to have to keep your waste and legs high and dry, especially in the spring and fall seasons. Waders are usually used for fly fishing but are equally as important for float tubes just because they keep you dry.
Some common materials include neoprene, rubber, and polyester. If you are sitting on a tube all day typically you will be looking for breathable waders which would be either neoprene or polyester/ nylon.
Pumps
The best fishing float tube on this list (the Cumberland), gives you the option to buy a pump with the float tube. In case you don't have one you should consider getting one! A hand pump is usually fine but if you want something that will give you the least amount of hassle get a portable electric pump! These are particularly handy. Especially if you just went on a hike and don't want to spend an extra 10 – 15 minutes manually pumping.
Float Tube Fins
You don't really have to get them but they are strongly recommended. Especially if you are in moving rivers. While kicking your feet can be a way to move, some extra propulsion always helps matters and allows you to become a more versatile float tube fisherman.
Float Tube fins differ from your snorkeling and scuba diving fins in that they are shorter and they can fit most fishing boots. If you have your fishing equipment all ready to go and just require the fins, I would recommend getting a one size fits all model.
These range anywhere from about $50 bucks all the way to almost $200. Unless you are a hardcore fishing enthusiast you can get a good $60 pair and be more than happy with the extra propulsion you get.
Fishing PFD
I'm already on a floating device why do I need a fishing PFD I hear you ask? Touche, however many people on kayaks and paddleboards say the exact same thing and yet 86% of their fatalities could of been prevented by wearing one. While the danger is lower on tubes due to the fact that you are closer to shore, it is still good to have one just in case you drift off further than you want to.
Besides the safety element, why else should I get a fishing PFD? Well, you have more room to store gear! While a lot of the float tubes on this list feature ample enough room for gear you can still always use more space.
You can use it for smaller little bits and bobs like lures, extra hooks, tackle pliers etc. Plus if you're already wearing a lot of the stuff you need you to take up less storage space for your float tube. Win-Win.
Fish Finders
This is definitely not something that you have to bring but it certainly is nice. Especially if you are a data-driven angler who likes to know exactly where to go! There are a variety of different makes that range from bobers that hook up to an app on your phone, all the way to handheld fish finders.
Spare Oars
Depending on the tube you get these may just help you paddle to shore quicker if the urgency is there. Oars are typically reserved for one-man pontoon boats but some people may prefer using them over the fins. Oars would work better with Teardrop pontoons over the U-shaped ones because the tear-shaped models have better tracking ability.
How to Choose a Float Tube
Below we have set about a bunch of different criteria as to how to choose the best float tube that works for you.
Types Of Float Tubes
Fishing Inner Tubes come in a few different designs and shapes, they come in round, U shaped, Pontoon and Teardrop forms each has its pros and cons
Round Tubes are among the most popular and were one of the first to come into market circulation. They are, however, becoming less popular for a few reasons. As the Fishing Industry grows bigger there are more innovations that come about it. Many fishing companies have come to realize that round tubes are harder to maneuver the hull and steer across a lake because there is no keel to them. They can also be quite cumbersome in terms of getting the right position to cast because you are surrounded by rubber barriers. One of their advantages is that they are very buoyant which means you sit further up in comfort.
U shaped tubes are the evolution of round tubes that first came into production. They are easier to get in and out of because unlike round tubes, your legs actually hang over. You also have a platform/bib by your knees where you can prepare tackle and fly fishing line. Some of these even have numbers on them where you can lay your fish down and see exactly how big it really is. These tubes often have small mesh pockets on each side of the tube where you can store various different fishing accessories like tackle, bait, and replacement reels. These tubes are easier to maneuver than their round cousins but some models lack back support. Keep this in mind if you are thinking of fishing for a long time in comfort.
Pontoon fishing float tubes are pretty much like miniature pontoon boats, instead of being surrounded by a tube you simply just have one hull on each side. This gives you better tracking and maneuverability when you are foot pedaling to your favorite fishing spot. In these tubes, you sit higher out of the water which makes them ideal fly fishing vessels. Compared to u shaped tubes you have a lot more room available to you as you are not squished into a corner. This helps get in and out of the pontoon boat with relative ease.
Teardrop shaped float tube combine the best of the pontoons and u tubes and really they look like a hybrid because of their hydrodynamic hull. essentially the tracking you get is that of the pontoon tubes because the back part is mostly out of the water. This means you can paddle across to your honey hole without doing too much correcting in the process. These are designed similar to a dinghy boat. You also get more backroom as the seatback is not connected to the teardrop part of the float. These teardrop-shaped floats are great for those who want to go out and fish longer This is a newer tube design that has entered the fishing market.
Maximum Weight Capacity?
One of the more important steps in the process, what kind of float tube you get should reflect your weight. If you are a bigger guy or gal then you are best to look at a float tube that has a 300 – 350 lb weight capacity.
I always like to give a 40 lb lee-way in terms of which tube to pick. This is because you also have to consider what kind of gear you will be bringing with you. If you are 250 lbs I would be looking at a 300 lb + maximum capacity, especially if you are bringing more gear with you.
Comfort
Each style and model of fishing float tubes have different levels of comfort. This is a pretty crucial step when choosing which tube will best fit you. Unlike sitting on a fishing paddle board where you can change positions and stretch. You are stuck in the seated position for a while, especially if you are a more hardcore fisherman. If this does sound like you, choose a model that verified customers say is comfortable. Use those Amazon/ Bass pro reviews to your advantage!
Storage
How much storage room refers to how much you tend to bring with you. Typically there are two kinds of fisherman: The ones that are minimalists and the ones that bring everything including the kitchen sink with them (ok that may not be viable). The more gear and gadgets the bring the more storage options you will need which would be in the forms of mesh storage pocket flaps and rod holder.
If you are minimalistic then you don't have to worry too much about this as you only need some rods, tackle or bait and some waders. Some fishermen that use these tubes like to bring fishfinders, multiple rods, lots of tackle, gloves, food, snacks, beer, fishing line, and much more.
If you are the "kitchen skink" fisherman then you will especially have to keep this in mind. Another tip is to imagine what you are bringing with you on this fishing trip and try to imagine if everything would fit in the model you are looking for.
Portability Is Key
The portability of a fishing tube refers to how big the fishing tube is, how heavy it is and what kind of case it comes in. If you are a ways away from the water and you have to hike a decent distance to get there, then you will want a float tube that is lightweight. If the fishing hole you want to go to is easily accessible by car then it would not make too big of a difference either way. The weight range of these fishing tubes ranges from around 7 lbs all the way up to 44 lbs. The norm being around 14 to 15 pounds.
I mean what's the big deal? Can't you just grab a regular Inner tube, grab your fishing rod and head out? Well I mean yes, nothing is stopping you. But before you roll your eyes at a review site trying to sell you something, take a look at my top 5 reasons I have listed below!
Location
Truth be told there are many ways that you can get into the water and fish. In environments like bigger lakes or even coastal oceans float tubes probably would not be your best bet as you can cover more distance with fishing kayaks.
There are much better vessels you can use to get where you need to go. I would also not particularly recommend using a float tube for bodies of water that are constantly moving. This includes quicker flowing rivers or coastal rivers that are susceptible to the tide. Reason being that you can only go as fast as your feet/oars can paddle and float tubes are typically not designed to go long distances. This is especially key incase you run into a puncture.
Where tubes shine, however, is when you are in a smaller body of water that may be harder to access by boat or even kayak for that matter. Fishing float Tubes are often a favorite for anglers who have a smaller pond or lake that has little to no water movement.
While fishing kayaks are all the rage right now there are some instances where it makes no sense to portage a kayak for a mile only to paddle on a half-mile lake. With float tubes you simply just have to take a few minutes to blow it up and set it up (electric pump anyone?) and you are ready to paddle to a potential fishing spot.
They are also a great compromiser when it comes to not being able to reach the desired casting point by shore. It is also easier to cast into the weeds from a point in the lake as opposed to from the shore as there will be a lesser chance that your lure will be snagged. They also allow you to get into that sweet spot that fishing boats just can't reach which widens your scope of fish you can potentially catch.
Cost Effective
Everyone these days loves their inflatable and fishing kayaks but these options can start becoming expensive, especially if you are located up north. Where regular fishing is only good for 5 or 6 months a year. Not everyone has $500 + sitting around to spend on something they will realistically use 10- 15 times per year.
With a fishing float tube, you can realistically spend between $90 and $300 and get good quality float tubes that can last you for years.
Less Space, More Transportation!
One of the key reasons why fisherman like their fish tubes is that they don't take up a lot of space! This allows you to skip the roof rack and go about worrying less about transportation and set up and more about fishing and what you are going to catch. You also do not need a designated launching area, you simply can just launch you and your tube from wherever you desire! A lot of these float tubes easily fit in a backpack which means you can hike to where you need to go and then set up once you hit the desired body of water.
Silent but Deadly
One of the things that makes inflatable fishing tubes so popular is that they do not make any noise when you are in the water. This is often a very important but overlooked aspect for many fishermen who do end up investing in boats or even hardshell kayaks.
They make noise and fish tend to scare easily, a sudden start-up of the motor or even thunk against a kayak can completely ruin your element of surprise reduces your chances of catching any fish, to begin with.
Hands Free
Unlike motorboats or even many models of kayaks, you can actually move while you are fishing. With many kinds of fishing float tubes you simply need to wear a pair of fins and kick in the water to propel you along. It is best that you do not kick frantically but rather slowly so that you do not make too much noise on the surface.
Some tubes (mostly the pontoon ones) do come with oars that you can use as well if you did prefer paddling over kicking. Some are even compatible with trolling motors as well for those who do not want to exert any effort at all!
FAQ's
Below are some common questions that anglers have.
What's Better a Float Tube a Pontoon Boat or a Fishing Kayak?
While I cannot give you the answer outright which is "best". I can give you scenarios when to use each.
Float Tube Fishing: Use it when you are in smaller fishing areas like I mentioned in the intro of this article. Floating Tubes are perfect for areas where you need more maneuverability but less speed. I've seen a lot of videos where people use float tubes for winding moving rivers. In that case, its definetly a good idea to bring a pair of fins!
Pontoon Boat: Use this whenever you are in smaller to medium-sized lakes. Because a lot of these crafts come with oars it gives you the option to travel around a bit more. I would not use these in the ocean though just because it lacks the padding speed of a kayak.
Fishing Kayak: Use this whenever you are in larger bodies of water such as medium to large sized lakes and ocean conditions depending on the type of fishing kayak you choose. Fishing kayaks give you room to store more gear then you would be able to with a float tube or a pontoon boat so they are the better option for longer fishing excursions.
Final Thoughts
For activities like trolling the best fishing float tubes are the Classic Accessories Cumberland. It is comfortable, tracks well, offers great stability, and gives you many options in terms of where to put lures and other tackle. While other tubes seemed to be more specialized in certain areas but fell short in others. One of the biggest reasons why is the Cumberland allows you to sit higher than other tubes which is essential, especially when fly fishing. It also features a good higher weight capacity for those who want to carry more gear such as fish finders, nets, and multiple rods.