One-man pontoon boats like fishing float tubes, are an angler's passport to freedom. Not only do these own-man flotation devices enable fishermen to get away from the crowds, but they empower them to reach remote fishing locations with untapped potential.
First, take a look at our comprehensive one-man pontoon buying guide for helpful shopping tips. Then, check out our top five favorite one-man pontoon fishing boats for unbeatable unaccompanied angling. These tiny boats have a lot to offer. We'll show you just what to look for when acquiring one of your own.
The Best One Person Pontoon Boats for Fishing Go as Follows:
If you're looking for a 1 person pontoon boat, you probably already have a good idea of what type of craft you are after. Yet, you're probably wondering what to focus on as you narrow down your search for the perfect personal pontoon fishing boat.
One Man Inflatable Pontoon Boat Reviews
The following are our best rated Pontoon Boats that we have found based on user ratings.
1. The Sea Eagle 285 Frameless Pontoon Boat Inflatable Fishing Boat
Looking for a durable frameless 1 man pontoon boat? The Sea Eagle 285's U-hull configuration is a stealthy inflatable pontoon that you can take virtually anywhere. This pontoon boat's large air chambers allow for an impressive 450-pound load limit. Not to mention, they enable floatation in water as shallow as 4 inches. On top of that, the 285 is NMMA- and CE-certified, giving anglers the confidence they need to traverse unchartered waters. With glued seams that have been overlapped four times and 1,000-denier 36-mil fabric, it'd take an angry shark to puncture this impressive flotation device.
The 285 single person pontoon boat is also super easy to transport from land to water. In fact, its frameless build enables anglers to fold it up into a small bundle for easy storage and transportation. It also boasts four reinforced carrying handles for easy handling on all sides. Not to mention, it enables users to leave their trailers at home.
Customers love the low-key look of the hunter green fabric. Not to mention, most anglers are big fans of the 285's universal Scotty™ Mounts. In fact, they make it easy to customize the vessel with specific angling adventures in mind. As a matter of fact, accessory options include everything from rod holders to cutting boards. The boat also has a super comfortable padded swivel seat with a quick-release mount. What's more, it has a resilient polymer-coated fabric floor that enables still water casts from the standing position. On top of that, customers say the pontoon boat provides an impressive line of vision.
The 285 has a 3-horsepower motor capacity, enabling trolling as fast as 4 miles per hour. It also has an inflation pressure of 3.2 psi. With a pressure gauge, you can easily hone in on the precise bladder capacity and optimize this pontoon boat's floatability. The 285 is covered by the 2-year Minn Kota Endura Warranty which boasts a lifetime guarantee on the composite shaft. Of course, the Sea Eagle's polymer-coated fabric pontoons can handle exposure to tough elements and sharp objects. As such, there's no question about this craft's longevity.
Pros:
450 pound weight capacity
Quadruple overlapping glued seams
Made from 1,000-denier 36-mil hunter green fabric
Folds up for easy storage and transportation
Water-ready in 5 minutes
Makes a great fly fishing pontoon boat
Can skim 4-inch deep water
Universal Scotty™ Mounts
Two build-in rod holders
Rated Best inflatable one man pontoon boat
Cons:
Must purchase electric motor, wood floor, and accessories separately
Pricey
2. Classic Accessories Colorado XT Inflatable Pontoon Boats With Transport Wheel & Motor Mount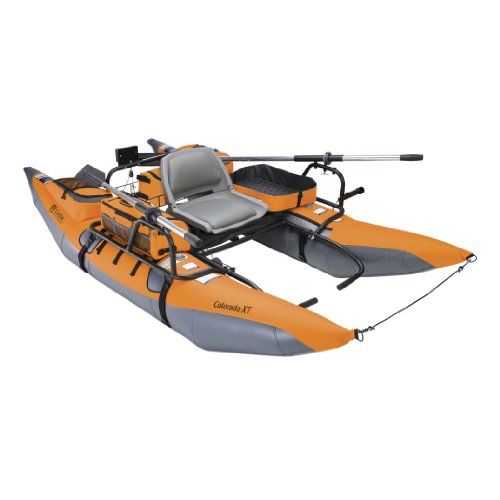 Want a one-man pontoon boat that won't break the bank? The Classic Accessories one-man Colorado XT pontoon boat is a 9-foot framed flotation device with loads of accessories and storage options. The boat features an abrasion-resistant PVC bottom and a durable nylon top. It also boasts a padded plastic swivel seat for unmatched comfort the whole day through. The boat also has a powder-coated steel tube frame that can be detached for hassle-free storage and transportation.
Classic Accessories has gone out of their way to make this boat comfortable for all anglers. They've added removable gear backs with customizable storage. In fact, the onboard storage containers boast a total of 20 durable pockets. Eight of the pockets are mesh, while 12 of them are zippered. On top of that, the boat has two insulated drink holders and two detachable micro-slit foam fly patches. Moreover, the XT has a rear wire basket platform.
According to customers, the Classic Accessories boat rides high, enabling a better vantage point. What's more, it comes with a transport wheel for easier one-man launches. It also comes with 7-foot aluminum oars, making it one of the most affordable and inclusive pontoon boat packages we've come across in our search. On top of that, it has a fillable mesh bag anchor system that's super easy to use.
This inflatable boat even comes with a removable stripping basket that can be mounted on your lap or to your side. This complimentary feature makes it easier to handle your fishing line. The basket even has an integrated ruler for clip-free entrances and exits. The boat also has several unique safety features, including non-slip footrest, tow rings, and rapid deflation valves. Finally, the Colorado XT comes in pumpkin or sage colorways, both of which feature grey highlights.
Customers seem overly pleased with the Colorado XT's on-the-water performance. Most customers said that it was easy to maneuver and extremely agile. Not to mention, most people found it easy to assemble, especially with the help of an electric pump. Not to mention, most reviewers raved about the benefits of the surplus onboard storage. On the downside, some customers complained that the anchor pullies were difficult to access and maneuver when out on the water. Still, with a 2-year warranty and astounding reputation, this impressive one-man pontoon is one of our favorite pontoon fishing raft.
Pros:
9-foot one-man pontoon
Durable powder-coated steel frame
Comes with two 7-foot two-piece bronze oars
20-pocket removable gear bags
Adjustable non-slip foot rests
Dual-mounted stripping apron with built-in ruler
Mesh bag anchor system
oark lock
2-year warranty
400-pound weight limit
Motor mount (Motor sold separately)
Features transport wheel
Gear bags combine to create messenger bag-style carrying case
Cons:
3. Classic Accessories Colorado Inflatable Pontoon Boat With Motor Mount
If the aforementioned product appealed to you but was a bit to steep for your budget, you'll want to check out Classic Accessories' standard Colorado one-man pontoon boat. For around $100 less than the alternative, you can have this trimmed-down version of an amazing and well-loved pontoon boat. Like the XT, the Colorado comes with removable storage containers with over 20 pockets (10 mesh and 12 zippered). On top of that, the Colorado has a durable rear wire storage basket that can serve as a battery platform or cooler shelf. It also has two insulated cup holders and two removable micro-slit foam fly patches. On top of that, this amazing pontoon boat has built-in non-corroding oar locks and rod holders that enable anglers to sit back and enjoy the wait.
Customers love the Colorado's padded stationary seat, often stating that it provides a solid sightline and long-lasting comfort. On top of that, most people seem to be pleased with the boat's stealthy sage green and black colorway. Moreover, people seem to agree that, despite its low price, the Colorado is far from flimsy. Of course, every seemingly perfect product has a least one minor pitfall. In this boat's case, the absence of a solid floor creates a deathtrap for easily fumbled objects, like cell phones and keys. Still, it's nothing a floating phone case and foam key chain cannot solve.
In terms of assembly, the Colorado is extremely easy to put together. It boasts combination quick-fill/quick-deflate valves. What's more, the boat has conveniently located tow rings and a removable transportation wheel. It's worth noting that the Colorado has a rugged steel frame. As such, folding it up is out of the question. Still, it's extremely versatile and well-made.
The 9-foot Colorado pontoon boat can hold a maximum of 400 pounds. As such, even a larger passenger can tote a copious amount of gear without having to worry about plummeting below the surface of the water. With a large onboard storage capacity, it's also easy to pack a day's worth of supplies. The boat also has a durable PVC bottom and tough nylon top. As such, the Colorado is known for its durability and seaworthiness.
We love that the Classic Accessories rod holder can be mounted in three different positions. What's more, we love the boat's fillable mesh anchor system parking mid-float. The Colorado even has a two-position motor mount for those who wish to engage in some slow-motion trolling. Overall, this is a great boat for most rivers or lakes. It's highly favored in the fly fishing community. Not to mention, it's extremely easy to row.
Pros:
Durable PVC bottoms and nylon tops
Padded stationary seat
Removable storage bags with over 20 pockets
7-foot aluminum oars
Rear wire rack for extra storage
Two insulated cup holders
Fold-away transportation wheel
Sage green and black colorway
Fillable mesh anchor system
Powder-coated steel tube frame
Detachable micro-slit foam fly patch
Cons:
4. Classic Accessories Roanoke Inflatable Pontoon Boat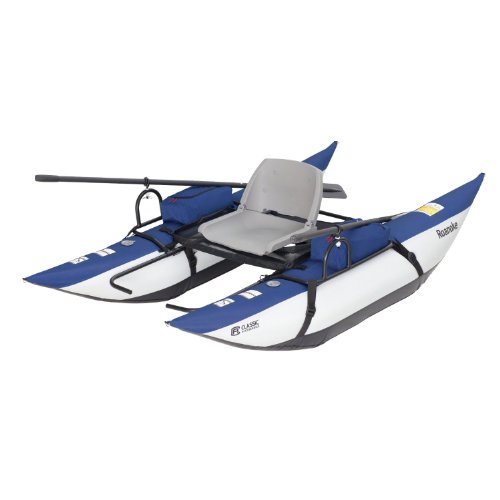 Next up, we have an even more affordable one-man pontoon boat. Classic Accessories stripped-down Roanoke Inflatable Pontoon boat doesn't cost much, but it's an impressive fishing vessel with, dare we say, boatloads of features. This 8-foot framed pontoon boat has a 350-pound weight capacity and a Class II river rating. While it weighs just over 43 pounds, it is an extremely durable and well-built flotation device.
The Roanoke offers anglers plenty of onboard storage. In fact, it has two large zippered arm pouches that are equipped with several mesh storage pockets. On top of that, it features a large fabric storage platform behind the seat. The boat also comes with two 6-foot two-piece aluminum oars for navigating a wide range of waters.
The Roanoke is built atop an exceptionally durable powder-coated steel frame. Meanwhile, the inflatable pontoons are made from abrasion-resistant PVC and nylon. As such, you can run this boat over coarse terrain without risking being punctured. The boats durable bladders are also cold- and heat-resistant, making them ideal for varying water conditions.
This impressive one-man pontoon boat has a stationary plastic seat. It lacks cushioning and does not pivot, making it a bit unsatisfactory for extended trips. Still, we love that it rides high, providing a good sightline. Keep in mind that there's no place to stand on this mesh-bottomed watercraft. Adjustable non-slip footrests are a great option for anglers looking to elevate their feet. The footrests can be adjusted to accommodate passengers of varying heights. The boat also features a convenient stow-away work area consisting of an under-the-seat stripping apron with an integrated line ruler.
This is definitely a bare-bones version of your classic pontoon boat. Still, it's well suited for young or lightweight anglers. While some customers complained that the boat drifted easily in high winds, we found that this was the case with most pontoons. We recommend investing in a small aftermarket anchor to avoid this sort of issue. While you're at it, you may want to purchase an inexpensive chair pad. While this one-man pontoon boat is water-ready, a few inexpensive modifications will make all the difference. Overall, this is a great boat for the price.
Pros:
8-foot framed pontoon boat
Features powder-coated steel frame
350 -pound weight capacity
Durable fold-down seat and adjustable footrests
Under-the-seat stripping apron
Made from abrasion-resistant PVC and nylon
6-foot two-piece aluminum oars
Combination quick inflation-deflation valves
High riding seat
1-year limited warranty
Budget-friendly
Lightweight
Cons:
Not rated for a motor
No integrated rod holders
5. Wilderness SE 9-Foot Inflatable Pontoon Boat
Need a reliable riverboat for trolling? The 9-foot Wilderness SE inflatable pontoon boat offers smooth sailing with plenty of added accessories. The lengthy watercraft boasts an extremely durable powder-coated steel frame with heavy-duty pontoons. With abrasion-resistant PVC bottoms and durable nylon tops, this boat is made for rugged adventures. In fact, the inflatable pontoons even have cold- and heat-resistant bladders.
Customers love how easy it is to inflate or deflate this one-man boat. What's more, many customers have raved about the seemingly endless storage. In fact, the boat has several removable storage panels. Together, they feature a total of six zippered pockets and six mesh pockets.
If you're planning on spending hours on the water, you'll appreciate the padded swivel fold-down seat. With a little extra cushion and non-slip adjustable footrests for support, this pontoon boat offers improved waiting sessions. Of course, with nothing but a mesh floor panel, it's worth noting that an absence of a floor leaves you and your onboard possessions pretty exposed.
Traversing the water is also extremely easy thanks to the onboard anchor system and oars. The boat even has rust-resistant oar holders for when you need to stop and take a breather. What's more, this craft comes with a handy transport wheel for impressive single-handed maneuverability. Better yet, it has a motor mount for fast-paced trolling. With that said, nearly every one of the Wilderness SE's reviews are boiling over with positivity.
The Wilderness SE has an impressive 400-pound weight limit. As such, it's a suitable fishing platform for large adults. It's also super easy to assemble thanks to the rapid inflation valve. Finally, with a luxurious hunter green and grey colorway, this boat looks great out on the water. The boat even has a motor mount for trolling.
Most customers agree that the Wilderness pontoon boat is extremely easy to navigate. In fact, the heavy-duty oar system made it easy to steer in mildly turbulent water. Meanwhile, an onboard anchor system enables easy and efficient stops. The craft is 9 feet long and 57 inches wide. It weighs around 80 pounds.
Pros:
Impressive 400-pound weight capacity
Padded plastic swivel seat
Attractive hunter green and grey colorway
Features transport wheel
Comes with metal oars
Integrated anchor system
Generous onboard storage with a total of 12 pockets
Adjustable foot rests
Inflatable pontoons from PVC and nylon
Cons:
Made exclusively for Costco
Features Phthalate warning label
What to Consider When Purchasing a One-Man Pontoon Boat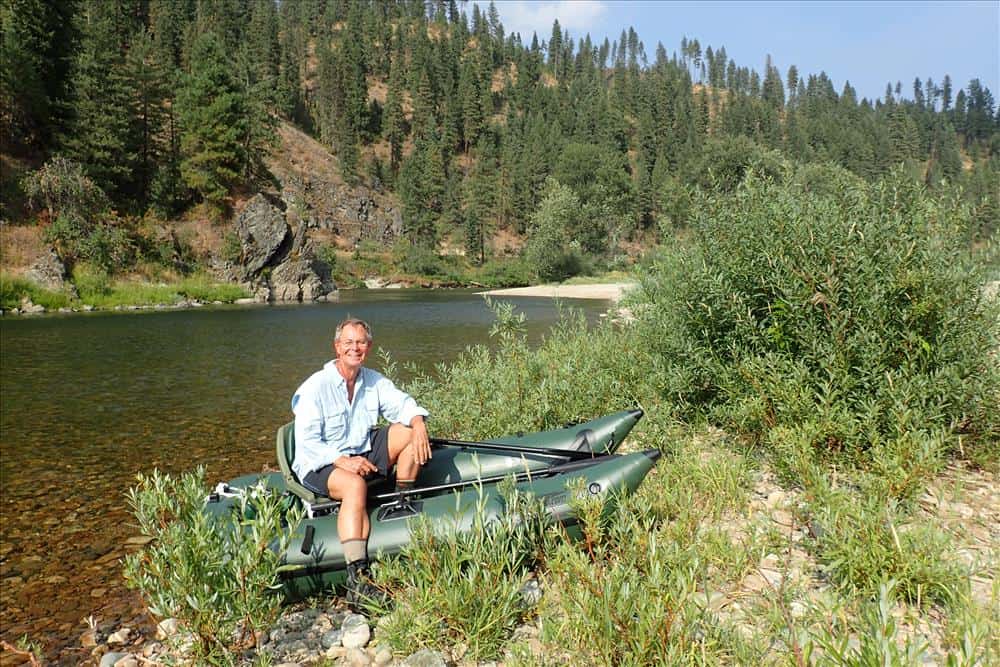 Read along to learn more about the main elements of a one-man fishing pontoon boat,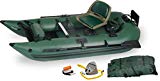 Material
Starting things off, most one man pontoons boast a large floating base that consists of either two side-by-side inflatable pontoons, or bladders, or a single U-shaped bladder. These bladders should be made from heavy-duty materials that can withstand a rugged adventure while remaining inflated. Manufacturers typically use PVC material on the bottom of the bladders and heavy-duty nylon on the top and sides.
Pay close attention to the quality of the seams and valves. We prefer fabric that has overlapping seams that are reinforced with glue. After all, a tighter seal ensures less air leakage.
In addition to the fabric pontoons, some one-man fishing pontoon boats feature metal frames. These frames are typically made from durable HOLLOW metal tubes. They typically feature a powder coating that is resistant to corrosion. Many manufacturers also use powder-coated metal to create storage shelves in the back of a pontoon boat.
Weight Limit and Size
All of the one man pontoon boats we came across had a maximum weight capacity between 300 and 400 pounds. With room for just one passenger, these copious weight limits invite passengers to bring along large amounts of equipment such as a fishing backpack and, perhaps, even a cooler of beer.
Keep in mind that pontoons range in length from 6 to 9 feet. It's important to choose a pontoon that can accommodate your body size without feeling cramped. Keep in mind that most pontoons have adjustable seats and footrests.
Durability
It's important that you choose a one person pontoon boat that is exceptionally durable. Focus on finding a craft made from durable, long-lasting materials. Most boats feature layers of PVC and nylon. While you want the boat to be lightweight, the denser the fabric the better. On top of that, look for models with weather-resistant metal elements. While aluminum and steel features are usually pretty strong, without a protective layer of paint, they quickly succumb to rust.
Seat and Footrest Design
1 man pontoon boats provide seating for a single passenger. The seat should be positioned in the middle of the boat to optimize the craft's center of balance. We highly recommend opting for a swivel seat that rides high (sits atop a pedestal). This type of seat is ideal for fly fishermen who need a good line of vision to cast accurately. We also recommend a seat with a supportive and adjustable backrest. What's more, look for seats with an additional layer of padding. On top of that, the footrests should be easy to adjust and comfortable. Choose a model with a slip-resistant coating.
A seat doesn't have to be a deal breaker. Many fishermen choose to modify their pontoon boats by adding an aftermarket seat of their liking. This is a perfectly acceptable option. Just make sure that your replacement seat provides a solid sightline and plenty of cushioning.
Accessories and Mounts
Pontoon boats feature loads of specialty accessories fit for fishing. These include:
Supply Storage
It's important that your pontoon boat provides space for onboard storage. After all, you'll need to bring along a large number of supplies, including your rods, gear, personal items, and food. We prefer boats that have a large number of individual storage pockets. These help anglers to stay organized when out on the water.
While they aren't 100-percent necessary, I wouldn't dream of purchasing a single man pontoon boat without cup holders. After all, there's nothing more frustrating than having to death grip a drink while reeling in a big catch.
Some pontoon boats also have integrated fly patches. These handy storage units are an ideal stand-in for traditional sheepskin or fly fishing vests. They tend to have micro-slits and built-in magnets for easy fly storage on the go.
Oar Locks
Most anglers prefer pontoons with built-in oarlocks. These enable you to change direction and maneuver with eases. Not to mention, they allow you to stop and fish without having to worry about losing control over your ship.
Rod Holders
Rod holders help facilitate a more comfortable hands-free wait process. Look for a boat with multiple built-in rod holders. While you can purchase aftermarket rod holders, there should be no reason to spend extra money on an essential pontoon boat accessory such as this.
Stripping Apron
A stripping apron enables fly fishermen to maintain their line without worrying about it trailing behind them or tangling. Stripping baskets may be mounted on your lap, to your side, or even under your seat.
Motor Mount
Many anglers prefer pontoons with motor mounts. This enables them to attach a small outboard motor that can be used for slow trolling. Users can expect to travel no faster than 5 miles per hour when using a trolling motor.
Standing Platform
Some pontoon boats have a standing platform. A standing platform enables anglers to cast streamers from a standing position. Standing platforms also enable anglers to get a better view of the water ahead of them. If you are a fly fisherman who's determined to cast without snagging your line on your boat, a standing platform should be one of your number-one priorities.
Air Pump
Most inflatable pontoons do not include an air pump. Nevertheless, this is an essential element of these boats. You may choose to purchase a manual or electric air pump. Keep in mind that electric air pumps save you time. Nevertheless, they often lack the amount of pressure needed to fill a pontoon to capacity. What's more, they typically require access to a power outlet. Unfortunately, outlets are pretty hard to come by in the middle of a waterway.
Frame or Frameless
One-man pontoons either boast a metal frame or fully inflatable foundation. Frameless boats tend to be easier to assemble and transport. In fact, the frameless models typically fold up to fit in a small carrying bag. The downside is that they also tend to have a lower weight limit than the framed alternative. With that said, the choice between a frameless and framed pontoon often boils down to convenience.
Versatility
When you're embarking on a one-man fishing trip, it's important that you can transport and assemble your pontoon without assistance. First off, you need to think about how you're going to carry your boat from your vehicle to the water. Small frameless pontoons foldup for easy transportation, but larger framed models cannot. A single transport wheel can help you launch your boat without puncturing it before it hits the water.
You'll also need a pump with an adapter that fits your pontoon boat's valve system. We recommend an electric pump. This will inflate your pontoon bladders in a matter of minutes, enabling you to spend more time on the water. Many electric pumps are designed to connect to a vehicle A/C input for easy on-the-spot power. Still it's also a good idea to keep a manual pump on-hand when you are in the water.
Where to Use Your Pontoon
Most one-man inflatable boats can be used in lakes, streams, and swamps. However, very few of them are suitable for white or salt water. Since a pontoon is made from inflatable bladders, it is especially important that you avoid obstacles, shallow water, and intense currents. Keep in mind that oars are often the only system of steering the boat. Familiarize yourself with different oar strokes before heading out to a remote location. Finally, always wear a lifejacket, and let someone know where your headed and for how long.
Benefits of Using a One-Man Pontoon
While fishing kayaks, inflatable kayaks, dinghies, and canoes are great for recreational floating, one-man pontoon boats are the ideal craft for float fishing. Their unmatched stability and onboard accessories are designed to meet the needs of nearly any fishermen.
In fact, these amazing little boats enable anglers to reach remote fishing spots with ease. While solo fishing isn't for everyone, there are some obvious advantages to stepping away from the crowd. With fewer shadows and water movements to spook fish, pontoon boats are also one of the stealthiest ways to creep up on a catch.
While float tubes are a popular alternative to one-man pontoons, these boats require you to pedal your way through the water. Constant kicking can be thoroughly exhausting. Not to mention, it has the potential to scare away fish. A pontoon boat's speed and maneuverability make it a top choice for river fishing and, in particular, fly fishing. What's more, these boats are more apt to handle adverse and/or windy conditions.
Final Thoughts
Do you have what it takes to enjoy a full day of solo floating and trawling? If so, then a one-man pontoon boat may be your ticket fishing freedom. After careful consideration, our top pick is the The Sea Eagle 285 Frameless Pontoon Boat Inflatable Fishing Boat. This amazing frameless watercraft enables enjoyable float fishing for hours on end. Of course, the Wilderness SE 9-Foot Inflatable Pontoon Boat is also a great option for fishermen on a tight budget. In fact, this stripped-down one-man pontoon offers all the comfort and convenience of a premium pontoon for nearly half the price.
As you can see, there are plenty of pontoons to choose from. In fact, we've got an option for nearly every budget and preference. We hope you enjoyed our review of the top five one-man pontoon boats. As always, stay tuned for more fishing-friendly flotation devices!