If you are in a rush the best inflatable boat is the Sea Eagle Sport Runabout 14SR
I had a boat in the past, but I found that I only used it a few times a year, and that was only during the warmer summer months. I sold my boat to someone who will use it a lot more, but I find myself wishing that I still had my boat to go fishing from time to time or just get out on the water and enjoy it. With that said, I have found that an inflatable option will give me what I need, and it is easy to store. I recently scoured the market to find some of the best inflatable boats available. In this guide, we will review five different models that I really liked, but before we dive into the reviews, let's take a deeper look into inflatable boats and answer some questions about them.
The Best Inflatable Boats goes as Follows
Best Inflatable Boat Reviews
The Best inflatable boats as agreed upon by customers go as follows.
1)Eagle Sea 14-Foot Sports Runabout Inflatable Boat – Best Overall
Features
25-minute inflation time
2,000-pound weight capacity
14 feet in length
129 pounds with the inflatable floor option
Five separate air chambers
This eagle Sea model is a great option that is can easily be spacious enough for seven adults. The material that the unit is made out of is 1000 denier reinforced, and they do not have an aluminum floor that will make it more difficult to stow away. In fact, the drop stitch on the flooring will make it much lighter to carry and easier to set up than other models on the market. The drop stitching in the keel also makes the inflatable boat perform better. It creates extra buoyancy at the bow so that the boat goes over waves instead of crashing into them. It can turn more easily with this design, which can help you dock the boat when you need to. You also get more storage space in this boat than similar ones that are the same size.
In addition, the floorboards, which are made from a durable plastic material, are very sturdy. This makes fishing on the boat convenient because you can easily stand up without losing your balance. This inflatable boat can come with a swivel seat, a canopy, or a motor if you would like to spend the extra to get them.
Pros
It is a great inflatable boat for fishing.
It is a very easy boat to transport and set up.
The paddles that come with the boat are quite durable.
The durable stitching makes it nearly puncture-proof.
Cons
Though it is a lightweight model, it is still too heavy for one person to carry when it's inflated.
This model can take a bit of time to inflate before you are ready to go out on the water.
2)Eagle Sea 9 Inflatable Boat – Best Value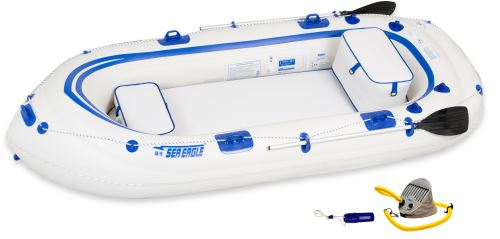 Features
15-minute inflation time
1,200-pound weight capacity
11 feet in length
50 pounds with the inflatable floor option
Four separate air chambers
Though this is a lightweight model, it still has enough space for up to four adults. It is also a great option that will not break the bank, which means that you are getting a lot for the money that you will pay for this model. The floor of this model is made out of a lightweight I-beam construction that has an external sheath wrapped around it to protect the boat. This floor is great for stability, and it is one of the main reasons that this model is so popular. The hull is high in this model, which makes it even safer than a lot of its competitors. There is an air chamber that encircles the boat, which makes it even safer to ride in. Because of this design, it is nearly impossible for both of the air chambers to be punctured while in the water.
This option also has a motor mount that is compatible with both gas and electric motors, so if you would like to crash through the waves with a bit of speed, you can do so. They can also be fitted with comfortable seats that will give you a place to relax while you are fishing. If water gets inside the boat, there are two-floor drains that can be used to let the water out.
Pros
It folds up into a small bag that is ideal for travel.
Setting up the boat does not take long.
The inflatable boat is quite comfortable.
The material of the boat is quite durable.
Cons
It has a smaller capacity that is not made for more than four people.
3)Killer Whale 10.8-Foot Inflatable Sports Boat – Best Durability
Features
15-minute inflation time
1,268-pound weight capacity
10.8 feet in length
80 pounds
Four separate air chambers
This is an inflatable boat that is designed with a motor and oars that you can use to navigate the water. The boat is made out of PVC material, but there is an option to upgrade to an aluminum floor that will be more stable for those using it. All of the seams in the material are heat welded, which means that they will not be damaged by high heat, humidity, or saltwater. The fact that the seams are heat welded gets rid of the need for glue along the seams. The material is designed for hitting the waves, so if you would like to try white water rafting, this inflatable boat is an option.
To make sure that the color of the boat does not fade and the material stays durable in the sun, the material is UV-resistant. The boat is designed with two aluminum bench seats, one of which has a storage bag attached to it. These seats can easily be removed, and the oars are designed to fit snugly into the holders on the top of the boat. There are also rope handles at the front of the boat that can make it feel safer to ride in the boat.
Pros
Riding in the boat is quite comfortable, especially if you get a seat with the boat.
The boat is simple to inflate and set up.
The welded seams make this a well-made boat; it is very durable.
This boat is straightforward to fold up and pack away for travel.
Cons
The connectors on the floor can be very sharp, which can be dangerous.
If you over-inflate the boat, the seams can become weak.
4)Intex Mariner 3 Inflatable Boat – Best Budget-Friendly Option
Features
12-minute inflation time
800-pound weight capacity
9.9 feet in length
68 pounds
Three separate air chambers
This Intex model is an inflatable boat that is designed to comfortably accommodate three people. It is designed with a durable three-ply design that is not going to be punctured easily in the water. It also has a plastic floor that has a design that pops up from the base of the boat. This makes it a heavy-duty option that will last for years. It also gives you added stability for when you need to stand up in the boat, which can be great for fishing. This boat is designed to come with everything that you need, so it has a pump that you can use to inflate it as well as a set of oars. The ores lock into place in the wielded locks that are located on the rim of the boat.
There are two seats in the boat that are quite comfortable to use. These seats are inflatable as well, so they will be comfortable to sit on. There is plenty of space for storage so you can take some water with you or some snacks if you plan to be on the water for a while. This inflatable boat also has two fishing rod holders that can be very useful out in a lake, and a gear pouch that you can use to keep your things dry when you are in the boat.
Pros
The design of this inflatable boat is very durable.
You can add a trolling motor to the boat, which is excellent for fishing.
This Intex model is very reasonably priced, so you will not have to save for a larger budget.
This model is straightforward to inflate.
Cons
The oars that come with the model could be more durable and well put together.
This boat only comes with a hand pump that requires you to actually pump up the boat to use it.
5)Intex Excursion 5 Inflatable Boat – Best Lightweight Option
Features
15-minute inflation time
1,000-pound weight capacity
12.5 feet in length
57.6 pounds
Three separate air chambers
This is a large inflatable boat that is designed to accommodate up to five full-sized adults. The boat is grey and blue, which will look attractive on the water, and it has a weight capacity of 1,000 pounds, which is more than enough for a few friends and some gear. The floor is an I-beam model that is inflatable, so it should be quite durable and capable of lasting for years. The vinyl on the boat is welded for additional durability, and there is a grab line that goes the entire way around the boat that could make you feel more secure while riding in it.
The boat comes with two seats that can be inflated, and each one has a backrest that is designed to add comfortability to the boat. There is also a gear pouch in the center of the boat that can be used to secure small things that you do not want to lose on the water. The oars that come with the boat are made out of aluminum to make sure that they last in different types of water. It also comes with a pump that you can use to inflate the boat as well as a repair kit that may be important to have on the water.
Pros
This is an inflatable boat that packs up into a compact size that will fit into any trunk.
This model is easy to inflate and deflate.
The floor of the boat is pretty sturdy.
The seats in the boat offer great back support, which is great for a long day out on the water.
Cons
The oars that come with the boat seem short.
The grab line is too thin to hold for long periods of time.
A Dinghy or Raft: Which is Better?
Well, the answer to this will depend on why you need the boat. A raft is a boat that is designed to float on top of the water. It can be great for fishing and drifting to where you need to go, but it is not going to have oars or be great for simply taking a ride in the water. A dinghy is a boat that has oars, paddles, or a small motor that will make moving on the water much more convenient. They may be smaller, but they are lightweight and easier to control. Dinghies are not designed to be on water for an extended period of time, so in a survival situation a raft may be the better option.
What are You Using the Inflatable Boat For?
When you get an inflatable boat, you are most likely going to have some specifics that you will want to do with it in the water. This could be fishing, white water rafting, exploring the shore, or simply floating on a lake. For fishing, a raft, kayak, dinghy, or a pontoon can be a great option to try, depending on where you are going to take your rod out and look for fish.
Material Construction
Most of the inflatable boats that you will encounter on the market will be made from PVC material. It is a strong, durable option that makes the boat more cost-effective than it would be with other material. It also folds down well, so the boat will still have a compact size that makes it easy to travel with. Other options to consider will include hypalon, which is a heavier material that will cost more. With that being said, it also goes through the water easier, and it tends to last a bit longer than PVC. Aluminum is another option, and if you are getting a boat with a rigid bottom, then this is going to be the best option to consider because it is lightweight and durable.
Kind of Floor
When you consider an inflatable boat, the most important part of the boat to consider is the section that you will be sitting in and the part that will need to have enough strength to keep you and your friends afloat. A durable floor is critical to have in your inflatable boat, and there are many different kinds of decks available, but the ones that you are likely to consider include:
An Air Deck – An air deck is an option that is fully inflatable. The bottom is made up of high-pressure tubes that are filled with air to provide enough structure to the boat to feel safe. These floors can feel a bit on the squishy side when you first use them, but the floor is made of air, and over time, it will be much easier to manage. This type of floor will have a protective layer on the bottom so that it does not easily get punctured in the water. These types of floors will also absorb the impact when you hit a wave in the ocean.
A Solid Deck – A solid deck bottom is typically made out of a solid, lightweight material such as aluminum. The aluminum can be in slat form or tube form, but they are both designed to give a bit of rigidity to the base of the boat. These are better for unstable individuals who may have trouble walking on a surface that is mostly air.
How Many People?
One of the first things that you will need to consider when you are thinking of purchasing an inflatable boat is the number of people that will be riding in the boat with you. In most cases, an inflatable boat will not be able to manage as much weight as a regular boat, so the number of people that will be riding with you will affect the type of boat that you can get. In addition, some of these inflatable boats have seats that will limit your capacity even more.
The boat that you choose will need to be able to hold you and your friends but also any gear that you may be taking with you on the trip. For fishing and camping trips that are going to be a day or more, it is best to add 20% to the weight of the passengers for any additional gear that you will need to take. When packing your gear, make sure that it is packed evenly on both sides of the boat so that it is well-balanced during the trip.
Features to Consider Before Making a Purchase
Before you select a boat for your next trip, there are a few things that you will want to consider to make sure that the trip can be your best one yet. These considerations have to do with the boat, and some of the features that you should look for include:
Durability
The more durable your boat is, the less chance you will have of getting a puncture in the boat while you are on the water. Inflatable boats always present a risk of puncture when they are in the water. A stick could jab into the boat, or a rock could scuff up against it. To help prevent this from happening, look for the most durable material that you can afford to get for your boat. PVC is a great option that does not cost a lot, but typically, the more durable the material that the boat is made out of is, the more durable the unit will be. Some boats offer bottoms that have different compartments for the air, so if one section gets a hole, there will be plenty of air remaining to keep you afloat until you can get to shore.
Stability
Since these are inflatable models, they do not always offer the most stability. Thankfully, with modern technology, these types of boats are stable enough to use on the water. If the boat is inflated correctly, the boat may seem soft to walk on, but it will be stable. Ideally, it is vital to have an air pump that has a pressure gauge built in so that you can easily check the air pressure of the inflatable boat while you are out. Having the proper inflation can be a safety concern, especially if you have a lot of people on the boat with you.
Size and Weight
The size of the boat will help to determine how many people can be on the water with you. The boat will need to be large enough to fit all of the people that you want to take with you comfortably, but it cannot be so big that it will not fit in your vehicle or your storage unit. Also, even though you are going to want a sturdy oat, you will need to remember that you will also need to carry the boat to get it in the water and in your vehicle. If you purchase a boat that is too heavy to carry alone, this may become a challenge that makes it difficult to go to the lake. If you want a larger boat simply for space, then you may want to consider how easily you will be able to maneuver the boat before you buy it.
Seats
When you are considering how many seats an inflatable boat has, you need to take inventory of the amount of space that the boat actually has yourself. Some manufacturers of these types of boats may say that the boat can accommodate six individuals when, in actuality, it can only accommodate six children, not six full-sized adults. Also, some of the boats on the market will have inflatable seats, while others can have seats that are made out of a harder material.
Make sure that you consider your comfort level when you make a purchase because a comfortable seat with some back support may be better than not having any back support at all for hours at a time. Also, make sure that you have enough legroom in the boat because nothing can give you leg cramps faster than having your legs pinned up in a boat for hours without the ability to move.
Easy to Set Up
The object when you purchase a new inflatable boat is to get it in the water and ready to go on your day excursion as quickly as possible. Ideally, you will want to find a boat that can easily be set up if you take it to the water alone. It should be easy to inflate, and it should not require you to use additional tools when you get to the water.
Additional Features
There are endless options that you can consider for your inflatable boat, and whether you get them or not will depend on the reason that you want the boat. You may want padded seats in the unit to be more comfortable on the water. If you are going to be using it for fishing, then a device to hold the rod could be a welcomed addition. Built-in cup holders that can be used when you have a few friends out on the water with you could be an excellent addition to consider as well.
No matter which type of boat you are going to get, you are going to need a way to get the inflatable boat moving on the water. If you get a boat that comes with paddles, make sure that you look for durable ones that are made of aluminum. Aluminum is a material that is not going to wear too much in the water and will be light enough to row with for hours. Also, an air pump with a pressure gauge could be a great addition to consider having. Obviously, the pump will not be attached to the boat if you want one that is high in quality, but if you do not wish to spend any additional on the purchase, the one that comes with the boat is going to be sufficient.
Storage
When you get a new inflatable boat, you are going to need to make sure that there are pockets and storage spaces where you can put your things (like a cooler) while you are out on the water. This will make sure that your items are safe, and they do not run the change of putting a hole in the bottom of the boat.
Price
As always, when you purchase a new item, make sure that you calculate how much your budget will allow you to spend. If you have a little extra to spend, make sure that you get all of the features that you really want your new inflatable boat to have.
Safety and Precautions
Some of the safety precautions that you should take before you take your boat out on the water include:
Make sure that you have everything that you are going to need for the trip, which will consist of life jackets for every person on board, first aid kits in case someone gets injured, and a repair kit so that you can fix the inflatable boat if it gets a hole in it.
Always tell someone who is not going with you on the trip where you are going to be going on the water and who will be with you. If you have not returned by the expected time, they will at least have a place to start looking for you.
Do a test run with the boat to make sure that you know how it works and you are not caught off guard by something unexpectedly when you are out on the water. You can even take a boat safety course to make sure that you know how to handle the boat.
Make sure that you are always fully alert when driving an inflatable boat so that you have the reaction speed that you will need if something happens on the water.
If you are going into the ocean, make sure that you consider the tide before you go out so that you can get back easily.
Make sure to leave the dock slowly so that the boat does not get damaged.
Always have someone acting as a lifeguard if people are swimming in the ocean.
Bring lots of sunscreen to protect you from the sun if you are going to be on the water for a while.
Make sure that you bring lots of water so that no one gets dehydrated in the sun.
Never drag the boat to the water; always make sure to lift it.
Make sure to be aware of boating laws in your state or the state that you will be boating in.
General Maintenance
The first step to keeping your inflatable boat well maintained is to keep it clean. Use a little bit of liquid soap and a soft-bristled brush or a wet cloth to remove the dirt and the water residue that is on the bottom of the boat. There may be tougher spots to clean; for these, you can use a tiny bit of bleach spray to scrub the boat. Make sure to rinse the boat off thoroughly when you are done cleaning it and then dry it. Add a UV-protectant to the surface of the boat to add some protection the next time you take it out into the water. When the boat is not being used, always make sure to store it out of the sun so that weak spots do not form in the material.
If you encounter a leak or a tear in the fabric, you can repair it yourself temporarily, but make sure to always take it to a certified dealer to have it repaired permanently; in fact, many of these dealers will provide you with a free estimate of how much the repairs will cost you. Over inflating the boat can cause wear at the seams, which can cause the water to seep into the boat when you least expect it. If you are having issues with the seams, get them repaired, and then be cautious about overinflating the boat before you go out on the water.
Personal Preference
When it comes to boats, everyone is going to have a personal preference for the one that they like the most. With that being said, you can most likely find one that has all of the features that you like and fits your style as well.
FAQ's
Q: Will My Inflatable Boat be Able to Sink?
A: Well, no boat is designed to be unsinkable. In fact, the one boat that was called unsinkable, did in fact, sink at sea. With that being said, some of these boats are designed to be more difficult to sink than others, and most of the boats that we are going to review in this guide can hold their own against similar boats.
The reason that these inflatable boats are so difficult to sink is because they were designed with multiple air chambers. So, even if one chamber gets damaged and begins to leak, the others will still hold air and keep the boat afloat. In fact, many of these boats have at least two or three chambers that will be able to keep the boat buoyant in the water.
Q: Are Inflatable Boats Safe?
A: Because inflatable boats are so difficult to sink, they are known to be extremely safe. Typically, the only thing that can help you when your boat goes down is your life jacket or another boat, but if an inflatable boat gets a hole in it and takes on water, the other chambers of the boat can keep you afloat. In fact, you may not end up getting wet at all. In addition, if a swimmer gets too close to the boat, they are not going to get knocked unconscious with the material that the boat is made out of, so having an inflatable boat can even prevent serious injury from occurring. Don't forget a Bilge Pump!
Q: How Long Can I Expect My Inflatable Boat to Last?
A: Depending on how well you care for and maintain your boat, it can easily last for a period of 10 years. Make repairs when they are needed and always keep the boat clean and out of the sun when storing it for it to last longer.
Q: What is the Best Way to Store an Inflatable Boat?
A: When storing your boat, there are a few things that you will need to keep in mind. Roll the inflatable boat up and wrap it in plastic to help protect it when it is not in use. Store it in a cool location like a shed or a basement.
Never store an inflatable boat in the water because of algae and bacteria build-up.
Temperature changes will cause the material to deteriorate.
Make sure to clean the boat before storing it.
Wrap the boat in a protective layer of plastic to keep it safe from pests and rodents.
Excessive heat and humidity can prevent the adhesives from working correctly on the boat.
Storing the boat in the sun can degrade the material.
Q: Can I Attach a Motor to my Boat?
A: You will not be able to attach a motor to any inflatable boat, but some are designed to be compatible with them. Make sure that the boat that you get has a motor mount if you want to use a motor to traverse the water without doing damage to your boat.
Q: How Do You Repair an Inflatable Boat?
A: Since the most common material for an inflatable boat is PVC, here are the steps that you will need to take if you notice that your boat needs to be repaired:
Locate the hole and mark it so that you do not lose it.
Cut a piece of PVC that is about two inches larger than the hole.
Sand down the PVC around the hole and on the patch where it will adhere to the boat.
Clean the area and allow it to dry.
Apply adhesive around the hole and place the patch over the area so that it is secure and without air bubbles.
Allow the adhesive to dry for 24 hours before inflating the boat again.
Q: How Long will Inflating My Boat Take?
A: Depending on the type of pump that you are using to inflate it, the entire process should be quick and easy to do. Even if the boat has a lot of chambers that need to be filled with air, it should only take about 10 minutes in total.
Q: How Can I Locate a Leak in an Inflatable Boat?
A: Look for signs of wear and tear on the boat where you think the hole may be. Then add a drop of soap to a spray bottle of water and spray the boat in the same area. Look for bubbles to form where you sprayed. This is the air coming out of the boat. Mark the location where the bubbles have formed, then rinse off the boat and allow it to dry completely.
Final Thoughts
All of the inflatable boats that we have looked at in this guide can be great options for you to choose for your new boat. Before you select one of the featured products, make sure to take a look at all of the key features of each one to see which option best suits your needs. If I were to select one option that stood out above the rest of them,the Eagle Sea 14-Foot Sports Runabout Inflatable Boat would be the winner of this roundup. It is a durable option that can hold up to seven people. It has a large weight capacity, sturdy floorboards that are made out of plastic, and a motor can be attached to the unit if you would like.