If you don't have a lot of time, the Best Inflatable Fishing Kayak is the The Sea Eagle 385 FTA Fast Track Angler
For anyone who likes to fish, investing in an inflatable fishing kayak can allow you a comfortable way to fish without the cumbersome heavy lifting of a solid construction kayak. To help you find your best fit, we have comprised a list of what we consider the best inflatable fishing kayaks. These crafts are ideal for fishing and provide you with a comfortable and durable design, plenty of storage and accessories as well as providing a safe and stable experience on the water. Click here for more inflatable kayak insights.
The Best Inflatable Fishing Kayaks Go as Follows:
Best Inflatable Fishing Kayak Reviews
The top inflatable fishing kayaks as agreed by fisherman go as follows.
1. The Sea Eagle 385 FTA Fast Track Angler – (Best Tracking Fishing Kayak)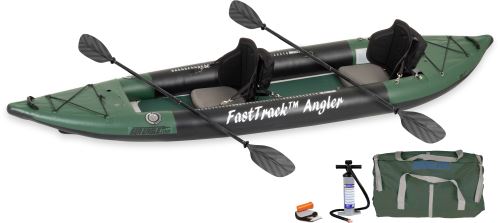 Features
Front and rear of the craft each contain custom spray skirts that includebuilt-in rod, hooks, lure and tool holders
Space under each of the spray skirts, as well as a bungee rope lacing on thetop, provide extra storage options
Constructed of 29% thicker 1000 denier tough as crocodile hide hull materialmaking it extremely durable
As an added protection, the tubes and bottom are double layered and theseams are double reinforced welded and glued
Eva foam padding on the floor helps to prevent slipping while also providingresistance to punctures from fish scales and fishing equipment
Additional safety features include 2 open and close drain valves as well as18 D-rings that enable you to keep your gear and the seats secure at alltimes
Contains an inner High-Pressure drop stitch floor that is separate andprovides more stability while creating a smaller chance that it will bebent or become misshapen in any way
Swept back skeg that is removable to provide faster speeds and better control
Features a state of the art inflatable NeedleKnife™ high-pressure drop stitchkeel at the outside of the bow; enabling great tracking
The carry handles are center balance and ergonomic allowing for morecomfortable and easier transport
Includes a hunter green color for better camouflage, carry bag made ofdurable, waterproof nylon, a repair kit, built-in fish ruler and printed instruction manual
Hull Weight: 45 lbs.
Product Dimensions: 12 feet, 6 inches x 3 feet
Load Capacity: 3 Persons or 635 lbs.
The FastTrack™ Angler series inflatable fishing boat provides all of the advantages of a small fishing boat without the large investment of time or money. Designed with the avid fisherman in mind, this kayak provides an easy way to get into the perfect fishing spot without the noise or smell scaring any of the fish away. It is able to maintain stability in calm or rougher waters. You will also be able to get more time on the water with its easy set up and take down capabilities. This 385fta fishing kayak will provide you with the best tracking capabilities while pursuing your catch. That is why we give this kayak a five star rating.
Pros
This kayak will provide extreme stability while afloat as well as excellentntracking when on the water
The durable design is tough enough to withstand various types of water
Fishermen have commented at the excellent stability and security they felt when navigating this kayak in rougher currents and winds
Cons
-The design of this kayak may make it difficult for some people to paddle from fishing seat
Some people have commented about the weight of this kayak, stating that they had wished the boat was a bit lighter so that it was easier for one person to move around on their own
2. The 350fx Fishing Explorer (Most Durable Kayak)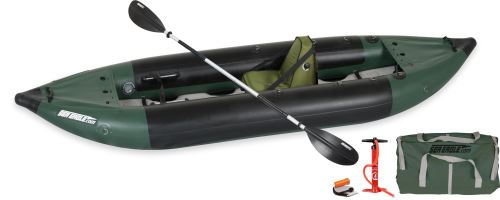 Features
Structure is built with a double layer of 1000 Denier reinforced protective layers on both the bottom and the tubes, making it almost indestructible
Comes with two spray skirts—each with three rod holders and accessory belts that hold tools, hooks and lures
An added feature is a conveniently accessible forty inch fish ruler
Designed with a fully adjustable foot brace to allow for supreme comfort with each paddle stroke
Its anchor system quietly locks into place, enabling you to reach your position without disturbing the waters around you
Includes self-bailing drain valves that enable you the versatility to be able to fish in moderate whitewater conditions all the way down to calm, flat waters
Flatwater tracking abilities are increased with the removable skeg that is included
Hull weight: 51 lbs.
Product Dimensions: 11 feet, 6 inches x 3 feet, 3 inches
Load capacity: 575 lbs. or 1 person
The 350fx Fishing Explorer inflatable boat has been created specifically for the avid fisherman. This kayak is an excellent way to get all of the gear and equipment you need to your favorite fishing spot. You will arrive quickly and without any warning to the fish in the waters below. Easy to break down and travel with, this craft will allow you to be ready to fish anytime and anywhere you choose. We give this kayak a four and a half star rating.
Pros
Constructed with double layered reinforced protective layers that are extremely durable and allow for optimal support through a variety of fishing treks
Includes a long list of accessories that allow for every fishing desire or need to be attended to in an instant
The self-bailing feature provides a quick and easy way to deal with any water that has been taken on board during your trip
Cons
This design of this craft may not be conducive to achieving high levels of speed on the water
Although able to be carried fairly well by two people, this kayak is very heavy and may be difficult to carry by a single person
3. The Sevylor Coleman Colorado fishing kayak – (Most Accessories Included)
Features
Constructed with 8 gauge PVC to hold up to any rugged use you can think of
Durable protection from damage with its 840 D nylon cover and a 1000 D tarpaulin bottom
Designed with multiple air chambers allowing full buoyancy even if one chamber should sustain a puncture or lose air
Guaranteed not to leak as a result of its airtight system
Rod holders are adjustable allowing for a hands-free fishing experience
Sevylor trolling motor fittings so that you can cover a broad range of fishing capacities
Holders for paddles are designed to store your paddles so that they are not in your way while fishing
Double threaded Boston valve allows for this craft to be easily inflated and deflated, providing you with more time to fish
Equipped with mesh storage pockets that will drain any water and keep it away from extra gear or snacks you bring on board
D-Rings included that enable easy attachment of supplemental equipment to the kayak
Includes a carrying bag as well as a pressure gauge
Hull weight: 41 lbs.
Product Dimensions: 10 feet, 9 inches x 3 feet, 3 inches
Load capacity: 470 lbs. or 2 people
The Sevylor Coleman Colorado fishing kayak is as durable as it is comfortable. It is able to hold one or two people at a time, and provides tremendous stability even in choppy water. The side handles allow for it to be easily pulled out of the water while the fishing rod holders provide a relaxing experience with a friend or loved one. This kayak gets a four star rating from us.
Pros
The large capacity that accompanies this craft allows for a larger amount of gear to be stored on board without effecting the comfort of the passengers
This kayak is a great choice for those fishermen who a looking to stalk fish as silently as possible
The seats on this kayak are adjustable, so each person has the ability to find the own individual comfort level
Cons
This craft has a lack of speed as compared to other inflatable fishing kayaks
People have noticed that this kayak is not ideal for those looking for a well-tracking craft
4. Sea Eagle SE 370 – (Most Popular Kayak)
Features
Includes an open and close drain valve as well as five deluxe one-way valves
Hull constructed of heavy duty material that will withstand prolonged exposure to sun and saltwater
Floor is I-beam construction for durability
Speed and trackability will not be a problem with the two skegs located on the bottom of this kayak
A grab line included at both the bow and the stern of the craft allowing for easy maneuverability while getting in and out of the water
Hull weight: 32 lbs.
Product Dimensions: 12 feet, 6 inches by 2 feet, 10inches
Load capacity: 650 lbs. or 3 people
The most popular kayak on our list is the Sea Eagle SE 370. This inflatable kayak provides amazing comfort and durability while still encompassing plenty of room to store gear and up to 3 passengers. A fantastic craft for calmer water, this boat will enable fabulous fishing with its easy maneuvering, fast set up and minimalistic storage.
Pros
This kayak is quite light and will be easy for anyone to maneuver when it is inflated
The construction and design of this kayak makes it ideal for anyone looking for a relaxing trip on calmer waters
Although this craft encompasses a simple design, it is still able to produce a high end performance with decent tracking capabilities
Cons
Some people have expressed difficulty with getting in and out of this craft
The seats on this kayak may shift while in use, which may not be ideal for more than one passenger
5. Sevylor Tahiti hunt and fish kayak- (Best Budget Pick)
Features
Constructed of 21-gauge PVC for use in just about any body of water you care to fish in
Designed with several air chambers, allowing you to stay afloat safely even if one has become damaged during your trip
Includes an airtight system that is guaranteed to prevent leaks
Double lock valves lock in two separate points that enable easy inflating and deflating
Seats are adjustable and include back rests, allowing you to move them around to find your ideal level of comfort while on the water
Getting wet will not be a problem as the spray covers on this craft block splashes and keep you and your gear dry
Includes handles on each side enabling simple carrying in and out of the water
Base is ribbed and the tubular I-beam is reinforced allowing for a sturdy bottom of the boat
Purchase includes a carrying bag for an added layer of protection during transport and storage of the kayak
Hull weight: 19 lbs.
Product Dimensions: 10 feet, 4 inches x 3 feet, 1 inch
Load capacity: 360 lbs. or 2 people
Finally, we have the Sevylor Tahiti hunt and fish kayak. This inflatable kayak is the best purchase for those looking for durability and performance on a budget. Ideal to be used for hunting as well as fishing, this craft has the capability to handle the stronger currents that experienced fisherman love to tackle. It has an extremely lightweight design, making it very easy to transport while deflated and maneuver while inflated. We give this kayak at three and a half star rating.
Pros
Purchase includes a 90 day limited warranty from the manufacturer, providing you peace of mind if anything goes wrong with your device
Constructed and designed for use in deeper water
Balance is never an issue with this craft, as it contains side panels that
are both thick and filled with air allow for additional buoyancy and stability while in use
Cons
Ideal for two people at a time and may not be comfortable for only one person to use
Some fishermen found this kayak difficult to guide in some instances
Inflatable Kayak Fishing Guide
Being Stable is a Staple
As with anything that you use on the water, stability of your inflatable kayak is the number one key factor. You need to feel confident that your watercraft will stay afloat no matter how many people and how much gear you carry. You want a craft that is fairly low to the water line without going under, but still allows play for movement and activity inside of it. Flatter kayaks are generally more stable. The bottom surface should consist of a rougher shaped plastic. This bottom is still filled with air but is also sturdy enough that it will not tilt easily or with little effort. This design will decrease the probability of sinking or swaying while paddling, fishing, grabbing for gear or any other movement throughout the kayak's interior.
Keeping it in Budget
As is true with any product that you purchase, your budget will have a great influence on the product you end up purchasing. Inflatable kayaks have a large price range, which can be intimidating at first. However, consider that this large range of product as a confidence builder instead. There is sure to be a kayak that fits your purpose as well as your budget.
It can be tempting to spend more than you thought with the idea that you are getting a better quality product, Less expensive kayaks may not have as much storage space as the more expensive ones. In addition, the more expensive versions will typically have a stronger plastic material that it is constructed out of, thus adding a bit more durability. However, it is still possible to find a functional and durable product at the lower end of the spectrum.
Consider reviewing all of the features that are offered by each and are valuable to you as an individual. Then, conduct a side by side comparison with more expensive models to ensure the additional money spent is bringing you additional value. This will enable you to feel confident that you are getting a great product for your money.
How Comfortable are You
When on the water, comfort will be key. First, you will need to know how many people will be in the kayak on any one giving trip. There are kayaks that are specifically built to hold only one person. Therefore, if you intend to have a companion or two along for your trip, it may be best to consider purchasing a kayak that provides extra seating as well as space for additional gear.
Secondly, you will want to consider the construction of the seats themselves. You should ensure that they are comfortable for your specific body type to sit in. Also, you may want to consider the leg room that is provided, particularly if you are on the taller side.
Finally, think about the desired amount of catch you will have at the end of the trip along with how much equipment you will be able to store while on board. Inadequate storage may pose problems with comfort during your trip if your items will need to be stored close to the seats. Many inflatable kayaks are designed with space around or underneath the spray skirts for storing items. Some even have rope-type or mesh pockets for storage of gear and equipment. Thinking about these things now will save anguish and stress in the future.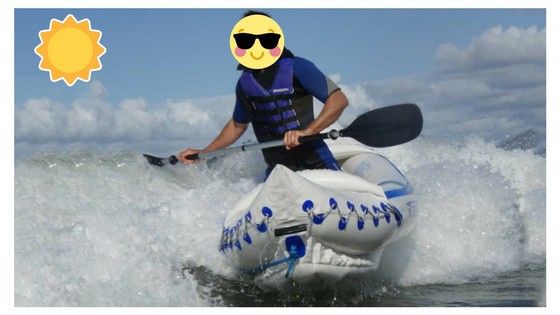 Durability- it is all about How it is Made
Second to stability, your kayak needs to durable. Your craft will face several natural elements throughout its lifespan and how it holds up to these elements will have a significant impact on your overall satisfaction with the craft. For example, if kayaking in more shallow areas, consider if the bottom of the kayak will sustain contact with rocks or the scuffing against the bottom of the body of water. Ensure that your kayak is constructed of strong materials that will be resistant to tears and punctures. This will provide a higher standard of construction that is more durable.
Most inflatable kayaks are made of PVC; which is quite strong while still being lightweight. Many inflatable items are made of this strong plastic material, and typically hold up fairly well. Other materials that can be used to construct inflatable kayaks include Hypalon and Nitrylon.
Hypalon is a very strong material that is very inflexible, which makes it ideal for use in construction items that will be used outdoors. However, it is less commonly used for inflatable kayaks as it tends to be quite heavy and consequently extremely difficult to move around.
Nitrylon is an eco-friendly plastic that also has a tendency to be very heavy. Consequently, it is more common to see this type of plastic being used in combination with PVC. The Nitrylon would be used for the bottom of the inflatable kayak while the top and sides are constructed of the more lightweight PVC plastic material
Maneuverability- How You Move
As with any canoe, boat or kayak, some inflatable kayaks will be easier to control than others. As a rule, shorter watercrafts are often easier to maneuver as compared to a longer one. In addition, the narrower the kayak, the faster it tends to be. In order to determine which design works best for you, think about what types of water you will be using your fishing kayak in.
Consideration should be paid to whether you will be fishing in areas where there will be encountering large amounts of vegetation while you are afloat. Another thing to think about would be your own paddling skill level, as this can greatly affect the type of boat you choose. For example, a more experienced paddler will be able to maneuver the kayak more easily than a novice and consequently may be able to get away with a more narrow design in their craft. Where as a recreational fisherman who uses their inflatable kayak less regularly may not be able to paddle as hard and as long, in which case a more level and flat device would be more appropriate.
Finally, you should consider what type of water you will be using the kayak on in most for your fishing trips. Tougher, more choppy waters that have more rapids or swells will need a far different design than one that will be used on a small lake that is quite calm. The context you plan to maneuver your boat will have an impact on the features you want to include on your inflatable kayak.
Do the Accessories Match the Design
Several inflatable kayaks include packages of accessories with their purchase that will provide convenience and comfort for your fishing trip. Consider what accessories are included with the product you are thinking about purchasing. Take note and compare each one with similarly priced options. Also, it may be best to take into account whether the accessory items that are being provided are things you will actually need or use on your fishing endeavors. Upgrades such as pump, paddles, and repair kits that are included could be quite useful where as a carrying bag may not matter to you.
One particular item you should be on the lookout for is whether or not this inflatable kayak has a removable skeg. A skeg is a fin at the bottom of your kayak that enables you to better navigate the craft through the water. More often than not, the skeg can be removable to make your kayak more appropriate and functional for different types of water excursions.
Also, consider if there are any accessory storage options that come with the design of your inflatable kayak. While the specific items themselves may not be included, features such as built-in rod holders and other gear can help with storage of your equipment while paddling throughout your entire trip. These holders and other included upgrades could make your fishing adventure easier and more enjoyable in the long run.
Cand you Take it With You
A great feature of the entire category of inflatable kayaks is their portability. This is because they can easily be inflated when you want to use them and then deflated when you are done, these kayaks are much easier to store. Also, in contrast to their hard construction peers, these features also allow for simple and hassle-free transport. With these inflatable crafts, you do not need any additional equipment installed onto your vehicle as the deflated kayak can easily fit in the trunk of your vehicle.
Also, inflatable kayaks typically fold down and become pretty compact in their deflated form. This enables them to be packed up into a back pack and taken along for a hike, if you are into that sort of thing. The PVC plastic makes these inflatable kayaks much more lightweight, typically providing great ease when moving them about, even when fully inflated.
Making it Personal
Along the lines of ensuring the craft is comfortable, you should consider your personality and personal preferences when deciding which inflatable kayak will best suit you. Think about what times of year, how often and where you intend to use your kayak. You should also take into consideration what type of paddling you prefer, and purchase your inflatable kayak as a compliment to your personal style and preference.
With fishing kayaks in particular, it is often a good idea to consider the seating and storage that is provided with the kayak you have in mind. If you are like me, and hate having equipment that is on top of you while you are trying to cast your line, you will want to opt for a version that offers plenty of storage that is easy to get to without compromising the integrity of your craft.
Frequently Asked Questions
#1 Are inflatable kayaks slow when paddling?
While the final answer to this question is dependent upon the model and overall design of the item you choose, performance will ultimately depend upon the quality and size of your kayak. Several available options enable high levels of trackability and have the ability to be paddled fairly quickly. However, on a whole, inflatable kayaks tend to be much wider in design. This is intentional in order to provide more stability while in use on the water. However, even with this element of design, many people tend to be quite impressed with an inflatable kayak's performance as long as the quality of the craft is intact and of high standard.
#2 Will my craft sink if it begins to leak?
Many inflatable kayaks are designed with several separate air chambers. The majority have three in total, one for each side and separate chamber for the floor area. This design allows the craft to be virtually unsinkable, as a leak in one chamber will only compromise that portion of the structure rather than the entire kayak.
If a leak does occur, there is no need to panic. Most leaks tend to be very slow and you should not have any issues staying afloat until you get to safety. If you do somehow incur a larger tear in your kayak, resort to your repair kit. This kit should be a staple piece of equipment present on every trip you take with your kayak. I like to think of it as a first aid kit for my kayak. This way you are able to do most necessary repairs without having to go ashore. While there have been cases of larger tears inhibiting the overall performance of the inflatable craft, it is very unlikely that you will sink from it.
#3 Is an inflatable fishing kayak really safe?
The short answer is yes, inflatable fishing kayaks are very safe to use. This will be the case as long as the kayak is stable and made of durable material. Ensure that your craft has been constructed with quality material and in a caliber fashion, and you should be fine.
With that being said, it is still imperative to exercise basic water and boat safety on every trip you take. Always wear a life jacket, avoid any water that has been spilled onto the floor of the kayak to prevent slipping and steer clear of any item in the water that can significantly damage your craft should. By adhering to these basic safety tips and using a quality kayak, you should not encounter many problems and you should be perfectly safe in your inflatable kayak.
Final Thoughts
Overall, we consider the best inflatable fishing kayak is the FastTrack™ Angler series inflatable fishing boat from Sea Eagle. It provides amazing tracking capabilities, while still providing plenty of storage for your gear and your catch. Extremely durable and stable, this kayak allows for great maneuverability even in less than ideal conditions. This craft includes safety devices to help you if you take on water, as well as providing storage options that were specifically designed with the avid fisherman in mind. This FastTrack™ Angler kayak from Sea Eagle keeps you blending in with your surrounding while keeping you comfortable through every aspect of your fishing journey.