Whitewater kayaking makes for thrilling outdoor adventures, but you really cannot afford to use inferior equipment when freestyling over large swells. The best inflatable whitewater kayaks are engineered to handle the abuse of class IV and class V rapids and keep you safe on your journey down. We've brought you seven of the most trustworthy inflatable kayaks that are for white water use.
Best Inflatable White Water Kayaks
1. Aquaglide McKenzie 125 (Top Pick)
>>Check Price on Outdoor Play<<
Features:
Capacity: 1-2 people/600 lbs.
Material: Reinforced polyester fabric
Length: 12'2"
Width: 34.5"
Weight: 30 lbs.
If you're getting serious about your whitewater kayaking hobby, then you might want to check out this Aquaglide offering. The Mackenzie 125 is an inflatable two-seater with a cross-over design that is suitable for both whitewater and flat water. Built with hardcore adventurers in mind, the 125 has a planing hull that sets the stage for excellent tracking and stability. The floor of the kayak is made up of rugged EVA beams for better tracking, maneuverability, and overall paddler comfort. Meanwhile, the boat's high rocker is built to boof! We are happy to name it the best inflatable kayak for whitewater.
The boat's extra-large bladderless EVA and Duratex beams can be inflated and deflated through three easy-access Halkey-Roberts type valves. Meanwhile, four strategically located mesh scupper holes make this a self-bailing boat that is perfectly suitable for rapids.
The McKenzie's adjustable seat and footrest systems offer paddlers enhanced comfort during elongated cruises. The Core 2 SEATS also feature easy-to-release loops, floor clips, and back straps for a more ergonomic and secure seating arrangement during whitewater adventures. The seats can be configured for solo, tandem, and face-to-face paddles, the latter of which is ideal for tandem fishing and on-the-water engagement.
Paddlers can use the ample onboard D-rings to clip down various gear bags, coolers, and accessories. Meanwhile, the kayak's front, rear, and side grab loops make for easier launches, landings, and portages. There are also 22 webbing loops along the sides of the boat for seats, towlines, and aftermarket accessories.
Other perks include a flexible vinyl touring fin, a universal fin box, and a backpack-style storage pack. We're happy to note that this inflatable performs well in whitewater, calm bays, and gentle lakes. At just 30 pounds, the McKenzie is rather light for a tandem kayak.
While there is a lot to love about this whitewater kayaking package, we wish it included a pump. You'll just have to set aside some cash for this extra purchase.
What We Liked
Easy-to-release mesh scupper holes
Halkey-Roberts type valves for simplified and secure inflation/deflation process
Backpack-style storage bag for enhanced portability
Removable fin with universal fin box (excellent tracking and replacements are easy to find)
Two adjustable seats for solo, tandem, and even face-to-face paddles
What We Didn't Like
Pump is not included (sold separately)
2. Driftsun Rover 220 (Premium Pick)
Features:
Capacity: 2 people/ 600 lbs.
Material: 1000-denier Reinforced Layered PVC
Length: 12'6"
Width:38"
Weight: 28 lbs.
The Driftsun Rover 220 is yet another inflatable tandem kayak that is well-suited for whitewater. The 1,00-denier layered PVC side tubes and heavy-duty PVC-tarpaulin bottom offer the utmost protection from river bottom abrasions and punctures. Meanwhile, a rigid high-pressure drop-stitch floor provides paddlers ample stability in both whitewater and flat water. The removable tracking fin gives paddlers the utmost control in both turbulent and calm water. Finally, the high rocker bow and high rocker stern keep big swells from weighing down the nose of the boat.
With eight self-baling vents, it comes as no surprise that the Rover is rated for both class III and IV rapids. You can leave the ports open when you are navigating whitewater or close them completely to eliminate leakage on calm waterways. The kayak also boasts ample tiedown points for accessories as well as a front action camera mount, should you wish to document your adventures.
The set also includes a boatload of accessories, including two adjustable aluminum paddles, a deluxe hand pump, a removable rear tracking fun, and a backpack-style travel bag. The removal and reconfigurable EVA seats feature adjustable high backs for a more comfortable whitewater paddling experience. Both seats are equipped with adjustable footrests.
We were pleased to find a tandem inflatable that could withstand as even more abuse than the hard-shelled alternatives. However, if you're in it for the long haul, you might want to invest in a set of more durable paddles. Multiple customers have experienced issues with the stock ones.
What We Like
Includes a travel bag
High rocker bow and stern rated for Class IV whitewater
100D polyester is enough to resist most abrasions and punctures
Roomy, open cockpit with tandem chairs and footrests
Features numerous accessory tiedown points and front action camera mount
What We Didn't Like
Tracking fin is difficult to remove
Stock paddles are inferior
3. Sea Eagle Explorer
Features:
Capacity: Up to three people/750 lbs.
Material: 1000-Denier Reinforced
Length: 12'6"
Width: 3'3"
Weight: 40 lbs.
As you can see in this video, the newly redesigned Sea Eagle Inflatable kayak performs excellently during both whitewater adventures and more relaxed flatwater tours. This boat can be configured for both solo and tandem adventures. It's large and rigid enough to hold several days' worth of gear and provisions.
Sixteen high-capacity self-bailing scupper valves prevent this boat from being overloaded by water. Paddlers also have the option to plug the holes when they are traversing flat water. Meanwhile, the boat's removable skeg gives paddles flexibility when it comes to steering and maneuverability.
The Explorer's drop-stitch floor provides it with the utmost rigidity and durability in turbulent water. You can rest assured that the 1,000-denier nylon can withstand the impact of rocks, sticks, and other river-bottom protrusions.
While the Explorer maneuvers exceptionally well in calm water, it can get a bit tippy when up against intense wind and powerful swells. Our only other complaint about the Explorer is that the drain plugs are quite difficult to open and close. Other than that, the Explorer is a rugged and comfortable boat that performs excellently in whitewater.
What We Like
16 high-capacity self-bailing valves
Large removable skeg for flat water touring
Drop-stitch floor for enhanced rigidity
One-way air valves make for easy inflation
Easy to transport
What We Didn't Like
Tippy in windy conditions, open water
Drain plugs are difficult to open
4. Airhead Montana Tandem Kayak
Features:
Capacity: Two people/500 pounds
Material: 840-denier nylon
Length: 12′
Width: 3′
Weight: 36 pounds
Airhead Montana Tandem Kayaks are perfect for two-person rapid trips and flatwater touring expeditions. These powerful and highly visible boats add an extra level of excitement to camping, hiking, and other outdoor adventures.
At just 36 pounds, this boat is super easy to transport. The 840-denier nylon has no trouble withstanding the push, pull, and unexpected hazards of fast rapids. The bow and stern even boast neoprene covers. There are also neoprene pads for added comfort and reduced wear.
Airhead has made onboard storage easier by installing a set of six D-rings and bow and stern bungee rigs. The seats are set back, offering the boat much-needed rear weight when heading over steep falls.
Overall, this tandem kayak tracks and maneuvers easily. The generous onboard grab handles make emergency portages and quick put-ins all the more possible.
What We Like
A set of adjustable padded seats
Ample cockpit with plenty of room for gear
Bungee rigs and D-rings for accessories
Easy portages
Rigid enough to withstand the weight of two different paddlers
What We Didn't Like
Leaky bladder
Vinyl can be sticky in summer sun
5. Sea Eagle 330 (Best Budget Pick)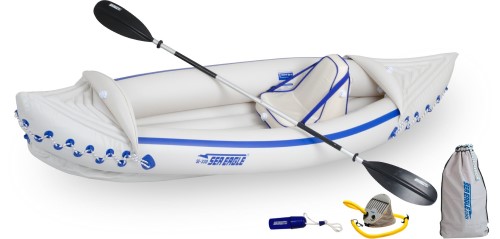 Features
Capacity: Up to two people/500 lbs.
Material: 33 mil Polykrylar (K80 PVC)
Length: 11'2"
Width:2'10"
Weight: 26 lbs.
This review wouldn't feel complete without an amazing budget inflatable. In this case, we felt that the Sea Eagle 330 offered better specs that some of the more pricey alternatives. At first, we weren't sure what we were going to get from this 26-pound inflatable. A quick test run revealed that two people could comfortably and safely navigate anything from flat water to class III rapids in the 330.
This sporty watercraft features an ultra-durable PVC hull with a welded l-beam floor. Poor quality air valves are often the biggest setback of budget inflatables. However, the Sea Eagle has five premium one-way valves. Meanwhile, the unique curvature of the hull ensures that this boat doesn't face resistance when moving over large swells and boofing off rapids.
We only wish that this boat was self-bailing, as water accumulates fast when you're paddling down fast-moving rivers and eddies. Of course, all Sea Eagle inflatables are backed by the company's impressive 3-year warranty and 180-day risk-free trial period.
What We Like
High rocker does not face much resistance
A great boat for an adult and child paddle team
Compact and lightweight with an included storage/transportation option
Durable enough to withstand repeated abrasions
Stable, rigid floor
What We Didn't Like
Not self-bailing
Not enough storage space for overnight adventures
6. Advanced Elements Attack Pro (Best Single Seater)
Features:
Capacity: 1 person/225 pounds
Material:
Length: 9'9"
Width: 35"
Weight: 25 lbs.
Here we have a squat little boat that's perfect for solo whitewater paddles. The Advanced Elements Attack Pro is a single-seater inflatable that can take a hard beating. Its PVC and tarpaulin hull consists of three air chambers and abrasion-resistant rails. At just 25 pounds, this boat is perfectly attainable for one-man launches and portages. The set of bow and stern rubber grab handles might even make the job a little easier. It even comes with a backpack-style duffel bag for easier off-the-beaten-path portability.
The Advanced Element's full-time self-bailing system works hard to prevent the need for mid-paddle bailouts. However, given the free flow of water, we don't recommend this single-seater for calm waterways.
Customers love the onboard D-rings and storage compartment, which makes it possible for paddlers to store a few days worths of gear without the need for float bags. Of course, the 12-inch high bow and stern rockers do well when coming down from steep falls.
With all that said, the boat's tracking abilities leave something to be desired. The set doesn't include a skeg or a universal fin box. While the Attack Pro doesn't have much potential as a touring craft, it is the perfect river runner for day trips and brief overnight expeditions. You don't need to be an intermediate whitewater paddler to get a grip on this inflatable boat.
What We Like
Full-time self-bailing scupper holes
D-rings and storage compartments for gear and accessories
Two-way military-grade air valves help you maintain that psi
Weighs just 25 points
Durable high bow and stern rockers
What We Didn't Like
Poor tracking capabilities
Low weight limit
7. Star Raven II
Features:
Capacity: Up to two people/400 lbs.
Material: PVC
Length: 12'2"
Width: 38"
Weight: 44 lbs.
The Star Raven II is one of this year's most impressive solo/tandem whitewater kayak. First off, we cannot stop raving about this platform's unmatched stability. The 4-inch drop-stitch floor inflates to 8 to 10 PSI, making this watercraft feel as similar to a hard-shell kayak as possible. Hook and loop fasteners keep the floor insert in place. Meanwhile, after the floor is installed, you just need to pop the padded seats onto their designated D-rings.
Like most Star inflatables, the Raven II is made from ultra-durable PVC. It boasts welded seams and strategic reinforcements for an overall abrasion and puncture-resistant ride. You can trust this boat in steep, rocky river environments and may even consider taking it on technical paddles.
The boat weighs just 44 pounds. Plus, it features bow, stern, and side grab handles for enhanced portability. Of course, these thoughtful elements make it easier for paddlers to carry the Raven to and from the water. Leafield™ C7 valves make fast and reliable inflation and deflation possible.
Two riders will have no trouble traversing modest rapids in this lengthy inflatable. There's even enough cockpit space to accommodate enough gear for an overnight adventure. The floor is self-bailing, though the vents can be plugged up for flatwater tours. You can use the onboard D-rings to rig your gear and cooler.
The kit includes a carrying bag, pump, and repair kit. The boat and accessories are backed by a fairly generous three-year retail warranty. We only wish we had the option to add a spray skirt. Until Star resolves this, we'll just have to reserve the Raven II for fairweather whitewater paddles.
What We Like
Rocker bow and stern for better maneuverability
Enhanced PVC floor offers hardshell-like stability
Can be used on both flat water and whitewater
Self-bailing vents
Ample grab handles and tiedown points
What We Didn't Like
Only available in blue and green
No option for spray skirt
How to Choose an Inflatable Whitewater Kayak
Let's go over the basic considerations you need to make when purchasing an inflatable whitewater kayak.
Durability
Most inflatable whitewater kayaks are made from durable, reinforced materials. These materials, which include PVC and rubber, are generally resistant to river-bottom punctures and abrasions. Meanwhile, drop-stitch floors and fused seams offer an extra layer of protection against rough river bottoms and unforgiving swells.
Kayak Performance
Boats may be suitable for use in either class II, III, or class IV rapids. A boat's shape, dimensions, and overall construction all impact its performance. For example, a long, thin boat with a curved hull is going to perform best in flat water. Meanwhile, a short, wide boat with high hull and bow rockers is going to perform best in turbulent water. Of course, there are also different types of whitewater paddling, including casual downriver paddles and more technical paddles.
Whitewater kayaks are generally divided into three categories, including creek boats, river runners, and play boats. Creek boats are intended for non-technical downriver excursions. Meanwhile, river runners are designed for somewhat technical rapid-based paddles. Finally, play boats are engineered for the most technical whitewater expeditions.
Stability
Inflatable kayaks with pronounced front and rear rockers, or curved bows and sterns, offer the most stability in whitewater. Arched boat bottoms slide over rapids expertly and make abrupt turns with ease. Meanwhile, high bow rockers prevent kayaks from diving deep underwater when coming down from a drop. High stern rockers also make it easier to boof.
Hull shape also plays an important part in a boat's stability. For the most part, planing gulls, or flat hulls, are the most forgiving platforms in flat water. Meanwhile, curved displacement hulls offer better secondary stability, or stability at an angle.
Self-Bailing
A self-bailing kayak has several drainage holes built into the floor of the cockpit. These holes prevent paddlers from having to manually remove water, which tends to accumulate in whitewater. Some self-bailing drainage holes are automatic. Meanwhile, others can be plugged during calmer aquatic pursuits.
Capacity
Another important kayak buying consideration is boat capacity, both in terms of seating and storage. Take a hard look at a boat's weight capacity and cockpit design to ensure that there is enough room for all your prospective gear and passengers.
FAQs
Which inflatable kayaks are best for rivers?
Despite popular misconceptions, inflatable kayaks are perfectly suitable for river rapids. A combination of durable materials and design features makes these boats incredibly rugged and versatile. For the most part, wide, short kayaks with high hull and bow rockers perform the best in river rapids.
How does an inflatable kayak compare to a hardshell in whitewater?
Many people are drawn to inflatables because of their low prices and ease of transportation. However, many high-quality inflatables rival hard shells in terms of stability and maneuverability. Their unmatched flexibility makes them an ideal option for turbulent waterways, including rapids and surf. On the other hand, hard-shell kayaks tend to be faster and better at tracking.
Is an inflatable kayak worth it for whitewater kayaking?
What inflatables lack in performance, they make up for in accessibility. While these air-filled boats might not be as stiff or fast as their hard-shell cousins, they also tend to be less expensive. It is easy to dodge rocks, logs, and other obstacles in these little, flexible boats. You'd be hard-pressed to find a more portable watercraft. What's more, a well-constructed inflatable is likely to last just as long as a hard-shell boa. So, don't hold back when considering inflatables for your future whitewater expeditions.
Final Thoughts
Whitewater kayaking is always a thrill, but its also risky business. A quality inflatable kayak will protect you from waterway dangers while maximizing your downstream efficiency. We were thrilled to find so many high-quality inflatable whitewater kayaks. If you found this information helpful, feel free to share it with a fellow float enthusiast. Be sure to check the Floating Authority for more product reviews, tips, and tricks!