Whether you're planning a recreational kayaking trip or you're an avid kayaker, there are certain accessories that you'll need on your kayaking trip. There are some things that you may be required to have in order to maintain your safety while on the water, and there are other accessories that you should have to simply make your life easier. Regardless, here are all of the best kayak accessories that you should consider keeping on your kayak before setting out on your trip.
Necessary Accessories
Even though kayaking is mainly a fun and recreational water activity, there are some precautions that you'll have to take. It can potentially be a dangerous water sport, requiring that you have knowledge of the sport prior to boating. More specifically, you'll need to have knowledge of the skills required for successful kayaking, and you'll also need to have the right resources to ensure your safety while kayaking.
Each of these items is considered a necessary accessory that you must have before going on your kayaking trip. To comply with the requirements made by the US Coast Guard and Transport Canada, you must have each of these six items before heading out to kayak. Here you'll find each of the required items and why you need them as well as a list of the best places to buy the items.
1. Kayaking PFD
Features:
Provides a comfortable fit while you're kayaking in all-day trips
Keeps you afloat if your capsize, potentially saving your life
Perhaps the most important kayak accessory that's required by many lakes and water systems is a Kayaking PFD. Classified as a personal flotation device, PFDs are responsible for keeping your body afloat if you were to capsize in the water. Not only are PFDs required for kayakers, but many water systems make PFDs mandatory for all individuals engaging in water activities.
PFDs come in a range of sizes, designs and functions, so you should consider all of your options. But this Kayaking PFD from REI is the most recommended for a variety of purposes. More specifically, this Stohlquist PFD is perfect for kayaking activities because of its ergonomic, durable and comfortable design.
The overall PFD is constructed with an ergonomic wrapture around a 400-Denier shell and provides many ventilation points to ensure your comfort. It's lined with 200-Denier material, making it extremely durable for any type of kayaking trips. And it even has a mesh-back design that allows you to comfortably sit back on your kayak seat when needed.
Pros:
Approved by the USCG
Features graded sizing to fit a range of body types
Constructed with many ventilation spots throughout
Cons:
Only available in 1 color: green
2. Kayaking Paddle
Features:
Lightweight carbon fiber construction makes it easy to use for long kayaking trips
The paddle's length can be adjusted to fit your body in particular
The most vital accessory that every kayaker needs before their kayaking trip is a kayaking paddle. The paddle is responsible for providing you a way to navigate your way through the water. It's structured with two blades on either end of a long oar, and the blades are capable of pushing the water in whichever direction you control the paddle with. Some kayaks come with a paddle already, but it's important that you have a high-quality one that offers you comfort and controllability.
This kayaking paddle from Best Marine Kayak offers the best features for a variety of different kayaking purposes. Not only does it offer lightweight construction, but it's also easy to control and comfortable to use. The shaft of this paddle is made out of a carbon fiber material that's both lightweight and durable, and the blades are made from a stable ABS construction.
Pros:
Adjustable
Carbon fiber construction only weighs 34oz
Includes a 5ft leash to prevent you from losing the paddle
Cons:
A bit more expensive than other necessary accessories
3. Coast Guard Approved Whistle
Features:
Ensures an effective form of communication between you and other kayakers
Adjusted lanyard lets you place the whistle on your vest for easy access
Adding to the list of things that you're required by law to have with you in your kayak is a whistle, but not just any whistle. To legally ride in your kayak, you have to carry with you a whistle that's approved by the USCG. These types of whistles have been tested and are provided to release a sound loud enough to hear from long distances and over the sound of most boat motors.
Having a USCG-approved whistle is vital to ensuring that you're safe and comfortable in the water. You may need it to let other boats know something is wrong or simply to get the attention of others around you. The whistle of a kayak essentially acts like a car's horn. This whistle from LuxoGear is highly recommended for you because of its convenience, high-quality design and its features.
More specifically, this whistle comes with two in one pack and both are constructed with a durable ABS plastic construction that's both waterproof and scratch-resistant. They come with an adjustable lanyard that you can alter to fit comfortably around your neck, and they're also reflective so that you can easily find it if lost.
Pros:
Includes two whistles
Adjustable lanyard clip
Affordable
Cons:
May be loud when the wind blows the sound back into your face
4. Dry Bags
Features:
Keeps your belongings dry and protected
You can choose the particular dry bag size to fit all of your accessories
Another convenient necessary accessory that you'll need for your trip is a dry bag. Dry bags are essentially bags made from waterproof materials that can effectively keep your belongings on the inside dry and safe. They're vital for kayaking trips because you'll need to make sure some of your belongings remain clear and safe from the water around you. Even if you don't capsize, water frequently gets into the boat from the paddle splashing through the waves. So having a dry bag can prevent any of your electronic devices, clothes, snacks or other important items from developing damage.
These dry bags from REI are highly suggested for you because they come in a variety of different sizes that are suitable for your various uses. For instance, you can choose between a small, medium, large or even an x-large dry bag. Each of the bags is constructed with a 70-Denier RipStop nylon material that has a protective waterproof coating. The bags even have fabric that's air-controlled to help prevent a buildup of air on the inside.
Even more, the seams are taped up and sealed with a waterproof tape to ensure even more protection for your belongings. Given that they come in a variety of different sizes, you can choose the one that best fits your needs while on the water.
Pros:
Available in a variety of different sizes
The fabric and seams are protected with a waterproof coating
Has AirControl fabric to keep air out of the internal bag's construction
Cons:
Aren't able to offer prolonged protection from water when the bag is submerged
5. Kayak Touring Kit (Essential for Long Treks)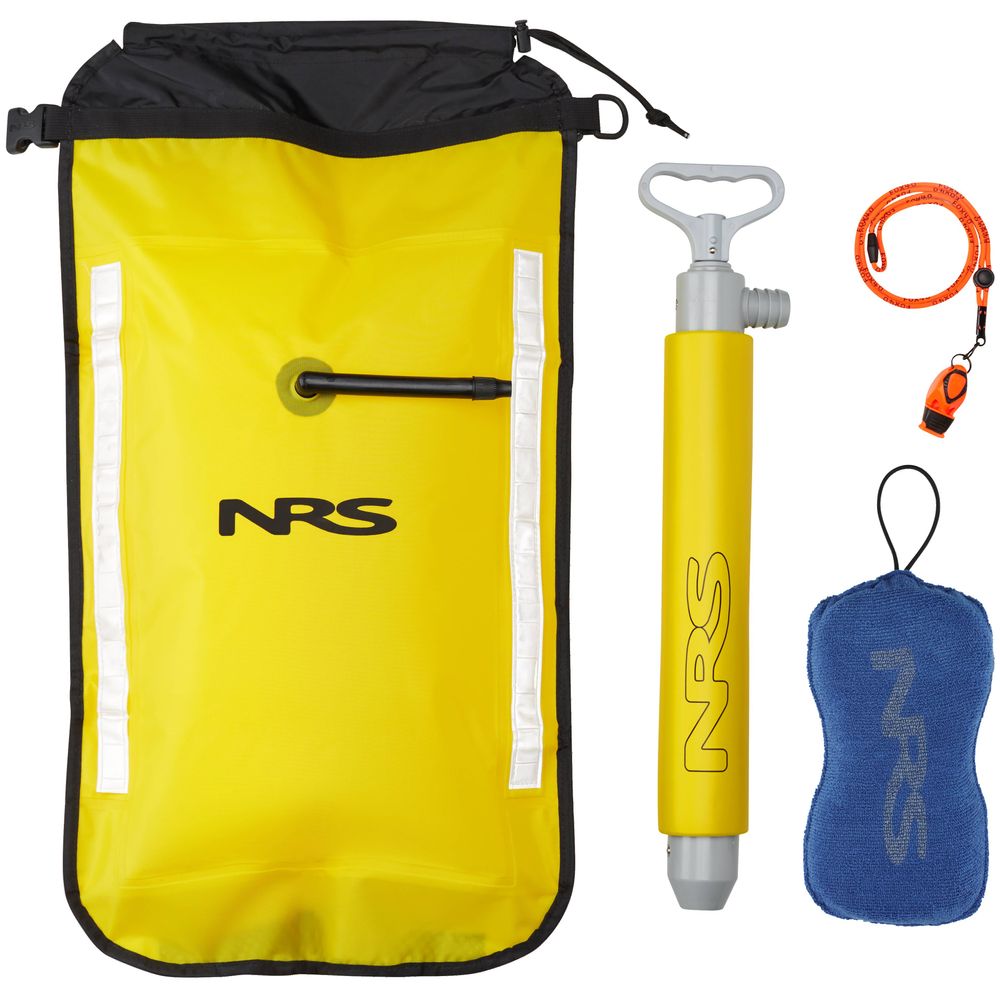 Features:
Includes all the safety features you'll need on your touring kayak trip
Each item in the touring kit could save your life
For those of you that are planning an all-day touring kayak trip, it's vital that you bring all of the required safety elements that you may need while kayaking. Touring kayaks don't come with the necessary safety features that you may need, but touring kayak trips tend to be longer. That being said, the risk that you may end up in an emergency situation increases on touring trips.
This kayak touring kit comes with all of the necessary items you may need while on your all-day kayak trip. It includes a whistle, paddle float, bilge pump and a boat sponge. The whistle is approved by the USCG to deliver a loud signal while also offering a cushioned mouth grip.
The paddle float is to ensure that you don't lose the paddle and can even help to keep you afloat if your kayak were to capsize. The bilge pump is heavy-duty and can pump out up to eight gallons in one minute, ensuring that you remove all of the water from your kayak as soon as possible. And the boat sponge helps to remove any water or debris that may be in your kayak.
Pros:
Easy to carry with you on your touring kayak
The whistle has a cushioned mouth grip for comfort
The bilge pump can pump out up to 8 gallons of water per minute
Cons:
Previous customers say that the sponge isn't as absorbent as others that they've used on the market
6. Throw Rope Rescue Bag
Features:
Floating rope is capable of saving people up to 50' away
Can be used for kayaking, paddle boarding or a variety of other water sports
The last necessary accessory that you'll want to have for your kayaking trip is a throw rope rescue bag. It consists of a bag of floatable rope that can be thrown out to other kayakers, swimmers or nearby individuals that are in need of help. They're helpful in helping another person stay afloat even if they're out of your reach since you can simply throw the floatable rope out for them to grab onto and stay above the water's surface.
This particular throw bag from Scotty is recommended because it features a rope made out of braided MFP polypropylene material. The rope measures 50-feet long, so you can cast it out to someone that's gone overboard further away. Conveniently, it comes in a bag that's made out of nylon and polyester material, so it's water-resistant and compact to keep in your kayak.
Pros:
Made out of a durable braided polypropylene material
Tested to support up to 550lbs
Comes in a compact, water-resistant storage bag
Cons:
It's more recommended for people that are kayaking in lakes with slower water currents
Accessories That Make Your Life Easier
Aside from the necessary accessories required for your kayaking trip, there are also some things that you may want to consider bringing along just to make your life easier while on the water. These accessories range anywhere from items that any universal kayaker may need to things that specifically touring or ocean kayakers would benefit from.
1. Roof Rack (Best for Transportation)
Features:
Safely secures any size kayak onto the roof of your car
Comes with all instructions and parts needed to easily assemble the kayak rack
If you don't have a larger vehicle or a truck that can simply fit a kayak inside, then you'll have to utilize some other method for transporting your kayak to and from the water. Most smaller vehicles would benefit from using a roof rack to haul their kayaks around. Roof racks come in a range of sizes, designs and functions, so you'll have to consider which one would be right for you.
This particular roof rack from TMS is greatly suggested because of its overall convenience, affordability and its easy-to-use features. This roof rack comes with all of the parts needed to assemble the racking system to the roof of your car. It's made out of steel material that has padded cushioning to prevent any damage from developing on your kayaks.
You don't even have to remove and re-install the roof rack whenever you need it since it's coated in a rust-resistant protective layer that lets you keep the rack on your car as long as you need. Even more, this roof rack for kayaks is capable of supporting up to 75 pounds and a maximum of 36 inches wide. That being said, you can virtually carry most standard-sized kayaks with this roof rack from TMS.
Pros:
Made with a durable steel construction and a rust-resistant material
Comes with the hardware to install and carry 2 kayaks at the same time
Can be used for either kayaks, skis or other small boats
Cons:
Doesn't come with the ladder rack bar or the crossbars for hauling multiple kayaks
2. Kayak Cart (Easier Treks to the Water)
Features:
More conveniently and safely hauls a kayak into the water
Capable of lowering a boat into the water on any type of shoreline surface
Similarly to the mechanisms of a boat trailer, a kayak cart is responsible for more easily allowing you to bring your kayak into and out of the water. With a kayak cart, you don't have to worry about finding a flat, smooth shoreline to lay your kayak down on to then be pushed into the water. Instead, the kayak cart gives you the ability to safely and effectively lower your kayak into the water on practically any surface, whether that be a boat ramp, rocky shoreline or sand.
This kayak cart from Suspenz is suitable for practically any type of kayak on the market, as it features two airless tires that measure 10 inches. Since the tires are airless, you don't have to worry about them becoming flat over time or from popping on rocky surfaces. The cart's aluminum frame is powder-coated with a water-resistant and rust-resistant layer. And there's even stainless steel hardware keeping the assembly together.
Because of that, this kayak cart can more easily haul larger-sized kayaks for longer distances. Even more, there is a padded surface that acts as the boat rest to prevent your kayak from developing any scratches or other imperfections when hauling the kayak. You can easily carry this kayak cart inside of the mesh carry bag that comes with it, and it's capable of holding up to 125 pounds.
Pros:
Holds up to 125lbs
Made with a durable powder-coated aluminum construction along with stainless steel hardware
Includes rubber pads to eliminate the risk of damaging your boat
Cons:
More expensive than some other kayaking accessories
3. Kayak Seat Cushioning (Comfort Upgrade)
Features:
Provides comfort for longer kayak trips
Can be used for a variety of different purposes and a range of kayaks
Especially for those of you planning on taking all-day or longer kayaking trips, you'll want to make sure that you have a comfortable place to sit within your kayak. Some kayaks already come with a comfortable seat cushion that offers both bottom and back support, but others don't seem to provide the same convenience. That's why you may want to consider investing in a high-quality kayak seat cushion.
This Kayak Seat Pad from Northeast Products features a Softek closed-cell foam construction that delivers both comfortable paddings as well as a ventilated airflow. Since the fabric is a closed-cell foam material, you don't have to worry about the seat soaking up any water that comes into the boat. Instead, the foam material will resist moisture and remain soft even through the cooler months.
Additionally, this seat pad can easily be used for both kayaking as well as a variety of other uses. More specifically, you can take this seat pad with you to long sports games, on bleachers or in other uncomfortable chairs. This is because the pad is easy to install since all you have to do is place the padding onto the chair that you're planning on sitting in. There's even an easy-to-grip handle that makes the pad convenient to carry along with you.
Pros:
Comes with a convenient carrying handle
Made with a closed-cell foam construction for optimal comfort
Doesn't absorb moisture
Cons:
The seat pad may move on the kayak seat easily, as the bottom of the pad is soft and doesn't have grip
4. Kayak Anchor (Stay in One Spot)
Features:
Let's you sit it one spot for longer periods
Can be used for kayaks, canoes and other larger boats
Having a kayak anchor for your kayaking trip could be helpful if you're planning on paddling out and sitting to either sunbathe, relax with friends or to fish in the kayak. By having an anchor, you can be able to rest in one spot for long periods of time without the waves or water currents pushing you around. This is especially beneficial for those of you planning on all-day kayaking trips or to go fishing in your kayak since you don't have to use your paddle to remain in the same spot for long periods.
This kayak anchor from Airhead is beneficial because it weighs 3.2 pounds and is designed to be used for a variety of different boats. It comes with a marine-grade rope that extends out 25 feet, making it suitable for a variety of bodies of water.
Pros:
Comes with a 25ft rope
Compact size fits into kayak storage compartments
Includes a nylon storage case
Cons:
Some customers say that you should retie an additional rope to another area on the kayak to prevent it getting lodged somewhere
5. Kayak Bilge Pump (Don't Sink the Yak!)
Features:
Quickly pumps out water from your kayak
Saves your kayak from sinking or your belongings from developing damage
A bilge pump is helpful for kayaking especially in waters with rougher currents because it's capable of pumping out water that splashes into your boat. It's natural for some water to come into your kayak while you're paddling, but having large amounts of water for long periods can be scary and even risks your kayak sinking.
That being said, you should always have a bilge pump in your kayak. This bilge pump is extremely lightweight and offers a small, compact design that can easily fit into your kayak's storage containers. It only weighs 0.76 pounds, and you can use it to quickly pump out excess amounts of water that come into your kayak.
Pros:
Weighs less than 1lb
Features a comfortable foam sleeve
Resists corrosion and rust
Cons:
Doesn't come with a hose, which may be helpful for some larger kayaks
6. Paddle Leash (Don't Loose Your Paddle!)
Features:
Prevents you from losing your paddle if you drop it into the water
Offers a safety method for rougher water currents or beginner kayakers
Using a paddle leash can be helpful for kayakers with any experience level, but they're especially beneficial for beginners because they prevent you from losing your paddle should you drop it in the water. This leash from Neolife features a durable and flexible construction that can withstand large amounts of wear and tear, and it can stretch from 49 inches to 75 inches.
Pros:
Bright green color makes it easy to spot
Only weighs 0.22oz
Made with a durable and flexible material
Cons:
Can be difficult to install correctly onto your kayak without getting in the way of your paddling
7. GPS Device (Highly Recommended for Long Treks)
Features:
Helps you to more easily navigate through large bodies of water
Prevents you from getting lost
Especially if you're planning on kayaking in larger bodies of water, you'll want to make sure that you're prepared for the possibility of getting lost. Even when kayakers travel through water that they're familiar with, it can be easy to lose track of where you are. And you can prevent this from happening by investing in a GPS tracker.
This Garmin eTrex GPS features a waterproof and durable design that's constructed with the ability to maintain a reliable signal throughout entire bodies of water. It comes with many features that you can use to better understand where you are in the water.
Pros:
Handheld design is easy-to-use and compact to haul around
Waterproof
Features a monochrome display screen
Cons:
Doesn't come with batteries
8. Kayaking Shoes (Best For Grip)
Features:
Protects your feet from getting injured while walking on rocky surfaces
Gives you a good grip to control more of the kayak
Offering safety and comfort, kayak shoes can protect your feet from stepping on sharp surfaces in the water while also giving you more control over your kayak. These shoes from Mishansha have rubber soles that can grip onto the plastic surfaces of your kayak in order to give you more control with your legs. They're water-resistant and have exceptional drainage properties.
Pros:
Made with a spandex fabric that resists salt water and provides ventilation
Features Quick Dry drainage holes
Comes with elastic straps to ensure a tight fit
Cons:
9. Kayak Scupper Plugs (For Sit-On-Top Kayaks)
Features:
Safely drains water out of your kayak
Prevents too much water from collecting and risking the kayak sinking
Specifically designed for sit-on-top kayaks, scupper plugs provide an additional safety feature that you'll want to utilize. As you're traveling through any body of water, splashes from the paddling and waves cause water to collect inside of your kayak. As the water collects, more weight is placed inside your boat, causing a safety caution over time.
Scupper plugs can prevent too much water from collecting by draining water out of the kayak from top to bottom. These scupper plugs from Essential Marine Products feature a durable rubber design that's easy-to-use and offers a universal fit for most kayaks. You get four plugs in this package.
Pros:
Comes with four scupper plugs
Measures 1.5in to offer a universal kayak fit
Made with a durable rubber construction
Cons:
Some customers say that the plugs are a bit large
10. Kayak Wall Storage Sling
Features:
Offers a safe and compact way to easily store your kayak
Holds practically any kayak onto any wall for storage
Kayak storage slings offer a more convenient method to store away your kayak when you're not using it. If you don't have a garage or other larger space for your kayak, it can be difficult to properly and safely keep your kayak out of the way. But a storage sling can be mounted to practically any wall to save you space and keep your kayak from developing damages.
This wall sling is made with a flexible, padded nylon material that can effectively keep any size kayak up against the wall. It's easy to install and comes with three anchors to offer stable support.
Pros:
Easy to install
Takes up less space than other bulky kayak storage designs
Comes with an adjustable strap to store any type of kayak
Cons:
May not work for storing other types of boats, like canoes
11. Kayaking Gloves
Features:
Protects your hands from developing wear and tear from paddling for long periods
Offers a tight grip on the paddle even when the paddle gets wet
Having a high-quality pair of gloves can protect your palms from developing blisters when you're kayaking for long periods, and they can also give you more control over your paddling skills. These gloves from NRS feature a synthetic leather material on the palms to prevent blisters, and they even have a ventilated fabric to offer more comfort for long kayak trips.
Pros:
Features a longer material to cover your entire wrist
Offers ventilation for comfort
Constructed with synthetic leather for protection from blisters
Cons:
Only available in 1 color
12. Kayak Cooler
Features:
Keeps drinks, snacks and even fishing bait cool for long periods
Ensures that you can keep things cooler for longer
For those of you that plan to go on longer kayaking trips, investing in a cooler may be beneficial so that you can have all-day access to cold drinks and food. Kayaking is a water sport that sometimes requires quite a bit of exercise and endurance, meaning that you'll have to remain hydrated. This Yeti cooler is compact enough to fit on your kayak, and it features a high-quantity construction that can keep your things cool for hours.
Pros:
Made with a Dryhide shell that's waterproof and mildew-resistant
Features a closed-cell rubber foam that offer optimal insulation
Comes with a leakproof zipper
Cons:
It's a bit more expensive than most other coolers
13. Electric Air Pump (For Inflatable Kayaks)
Features:
Quickly and safely pumps air into inflatable kayaks
Doesn't require that you wait 30 minutes to set out on your trip
Catering specifically to inflatable kayaks, you'll need an air pump that can safely and quickly pump up your kayak before you set out on the water. Some air pumps can take up to 30 minutes to inflate your kayak, taking up a large amount of your time. This electric air pump from Tuomico is highly suggested for you because it can inflate a nine-foot kayak in under 10 minutes. It features an LCD display screen and operates quietly.
Pros:
Includes 6 different nozzles
Operates with 20 PSI
Comes with 2 air ports that both deflate and inflate your kayak
Cons:
Has a larger design that may be bulky to carry around
14. Kayak Rudder System (For Sea/Touring Kayaks)
>>Check Price on Austin Kayak<<
Features:
Gives you more control over your speed and direction
Prevents you from fishtailing or potentially hitting other kayaks and boats
Rudder systems are capable of providing an easier tracking for your kayak. They're mostly used for sea or touring kayaks. This rudder system from SmartTrack features a rear rudder peg that creates a drag in the back of the kayak. This makes the rear part of the kayak slower through the water than the bow. Even more, you can easily control this rudder system with the adjustable foot pedals and braces.
Pros:
Includes the mounting hardware and instructions for easy assembly
Comes with adjustable foot braces
Even fits kayaks with flat backs
Cons:
Doesn't come with a certain adjustment kit to align the foot pegs
15. Spray Skirt (For Sit-Inside/Touring Kayaks)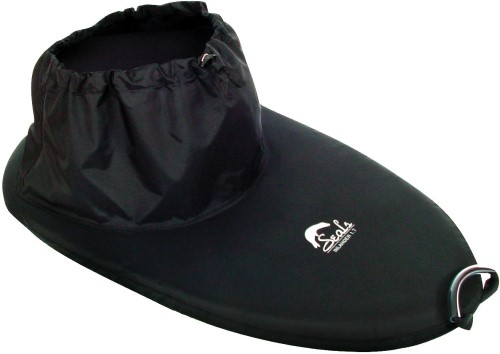 >>Check Price on Austin Kayak<<
Features:
Keeps excess amounts of water out of your cockpit
Eliminates the possibility of your kayak collecting too much water
Having a spray skirt helps to keep excessIve amounts of water out of your kayak. You can wear it around your waist as it extends out over the edges of the cockpit, and this eliminates the need to carry a bilge pump or sponge. This spray skirt from Seals features high-quality construction that's suitable for anyone traveling in rougher water currents or engaging in faster kayaking. It's specifically beneficial for sit-inside and touring kayaks.
Pros:
Features an adjustable waistband
Constructed with double-stitched seams
Suitable for light-duty conditions
Cons:
Only fits a limited number of kayaks depending on the cockpit size
16. Water Proof Case for Phones
Features:
Protects your phone from water damage
Ensures that you can use your phone when needed while on the water
Even though you may not need your phone while you're out kayaking, many people still feel more comfortable when they at least have their phone with them just in case they need to contact someone. You'll want to make sure that you keep your phone in a protective case to prevent the possibility of it developing water damage. This protective case from Mpow features a transparent design that lets you see through the material and still use your phone while it's in the case.
Pros:
Fully submersible and waterproof
Can fit your phone along with other accessories, like money, cards and keys
Simple to use and seal into place
Cons:
Only suitable for smaller phones, and none with an Otterbox case
How Do You Choose Which Accessories You Need?
What Kind of Kayaking Are You Doing?
The specific accessories that you'll need for your kayaking trip depend solely on the type of kayaking that you're doing. There is a range of different kayaking activities that you can engage in, ranging from recreational kayaking to ocean or touring kayaking. Each different type of kayaking style requires that you have certain accessories, and there are other accessories that can make each style easier.
For instance, if you're using sea or touring kayaks, then you'll usually need more safety gear because you'll be kayaking on larger bodies of water. On the other hand, you'll only need minimal gear if you're thinking about kayaking recreationally or only for an hour or two.
Water Resistance
You should also consider which kayak accessories you'll need by thinking about water-resistant features. Most, if not all, of your kayak accessories should have water-resistant or waterproof features. This is to ensure that they don't absorb any of the water that they become exposed to in your kayak and on your trip.
For instance, you'll want water-resistant seat cushions, paddle leashes, shoes, gloves, spray skirt and more. Water-resistant properties ensure that your accessories won't be damaged when they get wet or if they're submerged in the water.
Size and Storage
Another factor you'll want to take into consideration before you purchase kayak accessories is their size and the amount of storage space you have for it. This doesn't necessarily matter for smaller accessories, like the bilge pump or the GPS, unless you have limited storage space in your bag. But you should also consider how many accessories you bring on board, as this will weigh down the kayak and affect the weight capacity.
You should more importantly consider how much storage space you have for your kayak and the larger accessories. Where are you going to store your kayak? How much space do you have at home for your boat, and how much space do you have inside of your kayak for all of your accessories? Make sure that you have the space for all of your accessories before you buy them or consider bringing them along on your trip .
Mounting and Installation
Lastly, you'll want to consider whether and how you're going to mount or install certain accessories. Certain accessories, like the roof rack, paddle leash, storage sling, rudder system and spray skirt all need to be installed and mounted properly onto your kayak before you set out to use them on the water.
More specifically, you should also think whether or not your kayak can support each of the accessories that you're thinking about purchasing. If you have a sit-on-top kayak, then you won't be able to install a spray skirt. Similarly, your kayak may not be suitable to have a rudder system installed. For assistance with installing a rudder system specifically, you can watch this Rudder Installation YouTube video.
FAQs
How do I keep my stuff dry?
There are various different methods that you can take to ensure that your belongings stay dry, but you should make sure that you choose particular methods that work best for the size and functionality of each of your belongings. For instance, you can keep more important things dry, like your phone, cards and keys, by using a sealed waterproof case.
If you have larger items though, you can more effectively keep them dry by placing them inside of a dry bag. Dry bags are specifically designed to keep water out of the internal space in the bag while also keeping water off of the bag's fabric itself. Dry bags come in all shapes, sizes and designs, so you'll want to browse the market and think about which size and style are the best for you. This DryBag YouTube video will help you to learn how to rig your kayak with dry bags.
What about accessories for kayak fishing?
Kayak fishing requires a larger number and variety of accessories than other types of kayaks, simply because of the nature of the sport. Aside from your personal accessories in your tackle box specifically for fishing, you'll want to have a fishing rod holder, a fish finder, anchor, dry bag and a paddle leash if you're going kayak fishing. Since you'll need more accessories for fishing, make sure that the kayak is able to support all of the gear weight. We have a separate page on kayak fishing accessories here.
Final Thoughts
Overall, having the best kayak accessories with you for your kayak trip can make your experience much better. But finding the right kinds of accessories to use for your purposes can be difficult, so you'll want to review all of the items on this list. Some of them are required to have before you set out on the water, while others are simply beneficial. Pick and choose the ones that make your life easier and think about how you'll most benefit from having each of these items.