If you are in a rush the best kayak paddle is the Aqua Bound Tango Paddle 
Choosing the right kayak paddle is a crucial step towards finding the right speed and power behind your journeys. When reviewing the various paddles that are available, you should look at the material that the paddle is constructed of, its dimensions, and overall design and construction of the item. With all of the products that are available, this process can be a bit daunting. Fear not, we have created a list of the best kayak paddles available to help you find the perfect item to allow you to enjoy each and every kayaking experience with comfort and peace of mind. You can also take a look at budget kayak paddles on our other page.
The Best Kayak Paddles go as follows:
Best Kayak Paddle Reviews
The Best kayak paddles as rated by experienced paddlers go as follows.
1. Aqua Bound Tango Paddle
Product Summary
The Aqua-bound Tango kayak paddle is the best lightweight paddle that you can purchase. It is adjustable which provides tremendous versatility allowing it to be used for several different types of kayaking. It features drip rings, feathering options, ferrule adjustments and breaks down into two pieces. With its long list of features, as well as its quality of performance, this paddles gets a five star rating. We consider the Aqua-Bound tango paddle to be the best overall paddle on the market today.
Features and Benefits
Fiberglass blade with a T-700 carbon shaft built to withstand choppy waters as well as anything mother nature throws at it
Lightweight design enabling you to paddle longer, a perfect design for longer kayak trips of any kind
Two feathering options that allow you to tailor the paddle for your specific needs
Intuitive ferrule systems enables you to adjust between the different feathering angles with ease
Shaft breaks down into two separate pieces, allowing for easy storage when not in use
Blade size: 17 cm wide x 45.5 cm long
Length of Shaft: Ranges from 210 cm to 250 cm
Weight: 26 ounces
Pros
Ideal length for those individuals that are on the taller side
Extremely light, consumers find this paddle easy to use for extended periods of time
Individuals are quite pleased with the overall balance of this paddle
Cons
-Some consumers felt that the exit of this paddle was not as clean as some other paddles on the market
2. Bending Branches Angler Scout Kayak Paddle
Product Summary
The Bending Branches angler scout paddle is designed for sport kayaking. It boasts features like a built-in tape measure and retrieval notch that make it perfect for fishing. However, this paddle's lightweight and versatility allow it to be used for the avid kayaker as well. Easily earning four stars, this paddle is the best budget kayak paddle on our list.
Features and Benefits
Built-in tape measure on the shaft providing a convenient way to measure your catch
The shaft breaks down into two pieces allowing for easier storage and transport
Three hole snap-button ferrule has adjustable feathering angles enabling left or right hand control of the paddle
Fiberglass reinforced blades are durable and lightweight
Features a hook retrieval notch providing you with a simple way to gather your line and hooks
Aluminum shaft is lightweight but still provides strong strokes
Blade size: 18 cm wide x 44 cm long
Length of Shaft: Ranges from 220cm to 260cm
Weight: 36 ounces
Pros
A great paddle for even rougher waters
The fiberglass reinforced bade provides durability while still enabling a lightweight performance
Consumers love that way this shaft feels like it is one piece while paddling
Cons
Some people have complained that the measurements on the shaft easily wore off with exposure to sunscreen
This paddle is a bit on the heavier side
3. Bending Branches Angler Classic
Product Summary
This product is a high end paddle that is the best paddle for kayak fishing. Easy for anyone to use, this paddle is smooth through the water. In addition, this two piece has lightweight paddle blades that are fiberglass reinforced. This feature can assist you with your catch, while the hook retrievable notch allows you to rectify those less than ideal casts and enable to create a more enjoyable fishing experience.
Features and Benefits
Two piece fiberglass shaft construction that allows for easy transport and storage capabilities without compromising its endurance
Three hole snap-button ferrule that is adjustable for feathering angles from 0 degrees up to 60 degrees
Nylon blades that are light as a feather with reinforced fiberglass for durability
Oval shaped grips for added comfort with every stroke
Hook retrieval notch built right into the blade
Blade size: 18 cm wide x 44 cm long
Length of Shaft: Ranges from 220cm to 260cm
Weight: 36 ounces
Pros:
The shaft is very sturdy and resistant to the elements
The durable blade is effective even in muddy and icy waters
Fishermen are quite impressed with the high level maneuverability and power strokes this paddle provides
Cons:
The hook retrieval may get stuck on pieces of rope or cords in your kayak or on the water
The drip rings can be relatively ineffective
4. Carlisle Magic Plus Kayak Paddle
Product Summary
Built for the recreational kayaker, this paddle is the best for long distances. Created to provide extremely efficient strokes with minimal effort, the Carlisle Magic Plus kayak paddle had slightly curved blades that provide power with every stroke you make. The shaft is made of fiberglass, combing durability with flexibility for an extremely comfortable paddle. We give this paddle a three star rating for its durability and overall pleasing design.
Features and Benefits
Blades are asymmetrical with a slight spoon shape for a better flow in the water
Blade construction is plastic with reinforced fiberglass, allowing it to stand up to above average wear and tear
Oversized grip area on shaft enables better control and a more comfortable position, enabling you paddle for longer periods of time
Shaft is made of fiberglass, making lightweight without compromising its sturdiness enabling a long lasting paddle
The shaft breaks down into two pieces while its push button controls allow you to choose from three different locking positions
Blade size: 17.78 cm wide x 44.45 cm long
Length of Shaft: Ranges from 220-240 centimeters
Weight: 35 ounces
Pros:
Designed to allow power with every stroke
Shaft's fiberglass construction will not be effected by elements, allowing for a cool touch in the sun and a warm touch in cooler weather
A perfect paddle for most average size kayaks and average skilled paddlers
Cons:
Made for smaller to average size kayaks and may buckle if used for larger kayaks
The overall weight of this paddle is a bit heavier than you may expect
5. Aqua Bound Sting Ray Kayak Paddle
Product Summary
The Aqua Bound Sting Ray paddle was designed by paddlers for fellow paddlers. Created with performance in mind, this paddle will require less effort and enable you to paddle for longer periods of time. This product is the best overall value paddle on our list.
Features and Benefits
Blades are made of carbon abX resin, allowing them to be much more lightweight without compromising durability or performance
Shaft is made from carbon fiber and has an oval grip area to provide a more comfortable grip
The shaft breaks up into two pieces with the push of a button
Blades can be adjusted up to 60 degrees to provide feathering if so desired
Features drip rings to avoid water from dripping down the shaft to your hands
Blade size: 18 cm wide x 44 cm long
Length of Shaft: Ranges from 210cm to 250cm
Weight: 28.8 ounces
Pros:
Push-button design provides easy assembly and break down of this paddle
People love how easy that angle is to control with this paddle when in use
The blades on this paddle do not flex while in the water
Cons:
Consumers may find water trapped inside the shaft of this paddle
The paddles are only carbon fiber reinforced, which disappointed some individual
Factors to Consider when Purchasing the Best Kayak Paddle
What Type of Kayak are You Paddling
Finding the right kayak paddle is greatly affected by the type of kayaking you intend to use it for. Generally, the types of kayaking include recreational, touring, whitewater, sport and performance. How you intend to kayak greatly affects the type of kayak you will use and furthermore, what kayak paddle will be best for your to purchase.
Recreational kayaking is generally pretty basic that is usually done on safer,less active bodies of water like lakes. These types of kayaks are generally quite wide to offer better stability for those who do not kayak regularly and are only embarking on a kayak trip for a bit of fun. Paddles for these types of kayaks are generally heavier and tend to be much less expensive.
Touring kayaking is generally taking much more seriously and for long, journeys. These kayaks are designed to have one sealed bulkhead that is located behind the paddler. However, the front of the kayak is not sealed and will take on water if capsized. Therefore, they are generally used in calm, protected bodies of water. Paddles for touring are generally very lightweight and ergonomic to provide comfort for the paddler to embark on much longer trips.
Whitewater kayaking is generally done on bodies of water where there are rapids, typically streams and rivers. While very exhilarating, kayaking in these waters can be extremely difficult. Thus, paddlers need a paddle that is specifically made to be highly durable. These paddles also need to be able to withstand obstacles such as boulders as well as very strong currents. Also, this paddle will need to be very easy to maneuver through rough waters and tight spaces.
Performance kayaking generally refers to those individuals that are looking for speed and power when they are kayaking. The paddles that work best for this type of kayaking are very durable, but lightweight.
What Length Kayak Paddle Do I Need?
When shopping for a kayak paddle, length of the paddle is something that will need to be determined. To find a paddle with the proper length, you will need to know the width of the kayak that you intend to use. There are sizing charts available that can help you figure out what length will work best for the type of kayaking you intend to embark on. Your personal height will also be a consideration when choosing a kayak paddle, in order to provide comfort while paddling as well as proper navigation and control over the kayak itself.
Wider vs Shorter Paddles
Generally, wide kayaks and those longer than 12 feet require longer paddles as you will need to put forth more effort to move and maneuver these kayaks. On the opposite end of the spectrum, with shorter kayaks you will be able to use a shorter, lighter paddle that you will be able to stroke much faster.
How Wide is your Kayak
Wider kayaks are typically built to be more stable and are used in calmer waters that do not require much effort to navigate through. Recreational kayakers use wider kayaks, and consequently the paddles can be a bit heavier. More narrow kayaks are used for touring, performance and whitewater journeys and will generally need more lightweight paddles.
How Tall are You Form Lower Waist to the Top of Our Head
The length of your torso has a lot to do with the type of paddle you need to properly kayak. The longer your torso, the longer a paddle you will need to use. This will ensure maximum comfort while paddling and allow you to created better strokes overall. There are size charts that suggest paddle sizes based on your overall height. However, people carry their height differently and a paddle that is comfortable for someone with a longer torso may not be appropriate for someone of the same height that has a smaller torso but longer legs.
The Basics of Paddling
The first thing you need to know is the proper way to hold the kayak paddle. Holding the paddle incorrectly can result is a more laborious journey that cannot last for extended periods of time. To find your correct grip, hold the shaft over your head and adjust your arms to represent a 90 degree angle. Then bring the paddle in front of you and lay it over the kayak. If your position creates a "box", you are holding the paddle correctly.
Other basic items include learning what type of paddle blades you have as well as how to orient them if necessary. Most beginner instructions include these basic elements. They are very easy to pick up on for most people and enable more efficient and less tedious paddling, allowing you to paddle longer and in more difficult waters as your skill level and experience begins to improve.
Is your Paddling Style at Steep or Shallow Paddling Angle
Paddling styles tend to be either relaxed/shallow or aggressive/steep. For a more relaxed paddling stroke, you should be paddling at a more horizontal angle. This results in the paddle blade being submerged is more shallow water that is typically close to the surface. Used most often for touring kayaking, this angle will tend to take a bit less effort and strength and will create a slower motion through the water. This technique is often a beginner level and used for kayaks with a wider footprint.
A more steep or aggressive style means that you are holding the paddle at a more vertical angle. This allows the blade to be submerged more deeply into the body of water. A steep paddling style is typically used for whitewater or oceanic kayaking, where waters are much more harsh. In these instances, narrower kayaks would be most often be used and the paddle will most likely be much smaller. This method of paddling will produce much more speed but also requires a larger amount of strength and power to be used effectively.
There are instances where the angle of your paddling can warrant adjustment while in the thick of your kayak journey. This can be particularly necessary if you find yourself paddling against the wind for any reason.
If this is an option that is appealing to you, you must make sure that you choose a paddle that has been designed with this capability. If not, you may want to consider bring a second paddle along with you on your trip that has an alternative design that allows for better control and power against more resistance. The question of whether or not to adjust the paddle while you are kayaking will be dependent upon the specific dynamics of of your trip, such as if the body of water you find yourself in has suddenly become faster or rougher.
How Strong is Your Upper Body Strength
You will require upper body strength to paddle your kayak. You will be required to paddle on both sides of the kayak, thus working your core muscles. In addition, the water offers a natural resistance level that helps to strengthen your back, arms, chest and shoulders. You can increase your upper body strength outside of kayaking, which will enable you to paddle in rougher bodies of water. A gym membership is always handy!
Low Angle vs High Angle Paddles
Kayak paddles are designed with angles. The different types of angles are used to apply to different types of paddling. A paddle with a low-angle is more frequently used for recreational kayaking in calmer waters. When using these paddles, the hand is most often below the shoulder using less effort to push the kayak along. For kayaking in waters that require more power and precision in paddling, paddles that are designed with high-angles are preferred. These paddles have blades that are closer to the boat with a broader edge. These paddles allow you to paddle in rougher waters for longer periods of time without tiring out as quickly as if you used a low-angle paddle.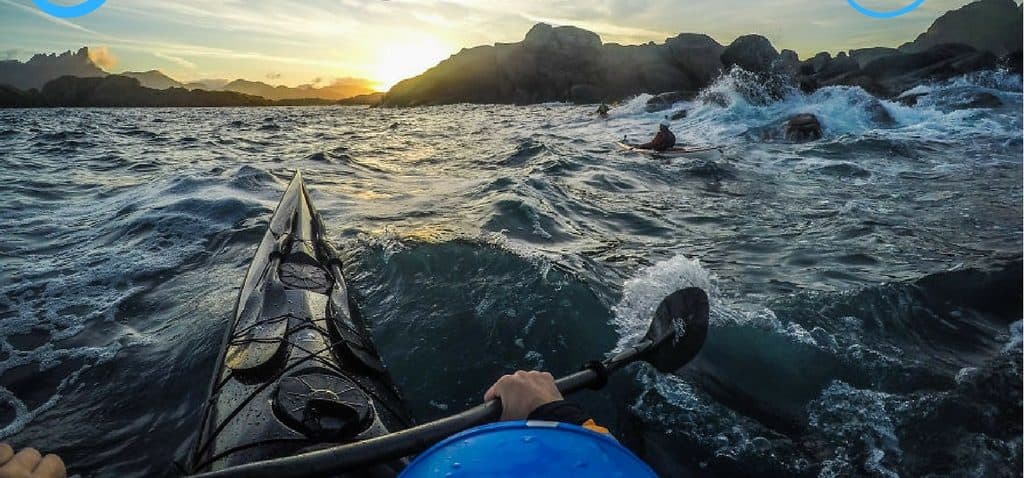 Blade Materials
The material that the blade is made from will effect the amount of effort you need to put into each stroke. You are looking for how the material the paddle blade is constructed from effects the weight and balance of the paddle.
Plastic paddle blades are inexpensive and typically used for those paddles that are designed for recreational kayaking or those new to the sport. Plastic provides flexibility but requires more energy to be placed while paddling.
Fiberglass paddles are generally lighter but a bit more rigid and durable. These paddles are highly efficient. These paddles are often used for recreational and touring kayakers.
Carbon-fiber are higher grade blade materials that are very light, extremely stiff and provide the best efficiency in getting the most out of each and every stroke. Paddles with these types of blades are often more expensive and sought after by those looking for higher-performance paddles for whitewater kayaking.
Blade Designs
The design of the paddle blade will affect the amount of drag or force for the paddle. Most blades will be short and narrow on one side which allows the surface of the blade to be flush with the water when pushing through. Smaller leaves will be better for long-term paddling, recreational and touring kayaking. For more quick strokes that will be more powerful, full bladed paddles are preferred to be used and provide more efficiency for whitewater kayaking or those who are much more experienced with the sport.
Paddle blades can also be feathered, those at offset angles to one another, or un-feathered which are parallel to each other. Feathered blades are designed as such to reduce fatigue while paddling by creating a reduction in wind resistance. In addition, feathered blades tend to contribute to better overall technique in your paddling.
Shaft Designs
Shaft designs typically come in one of two types, straight or bent. Those paddles with a bent shaft are designed to be more comfortable. Shafts most often will have the ability to be broken down into smaller pieces. They often contain either two or four parts in total.
The material that is used to construct the shaft is also something to be considered. As a general rule, aluminum is the material that most paddle shafts are made out of. These will get hot or cold depending upon the weather conditions and should be contemplated when reviewing for purchase. The most efficient and effective paddles will pair blades made of fiberglass or a carbon fiber with shafts made of the same materials
Some paddles that are available will have a twistable shaft known as a ferrule. This feature allows the shaft to be adjustable so that you can lock it into several different positions. This shaft allows you to offset your blades (otherwise known as feathering).
Paddle Weight
The weight of your paddle has a great effect on the amount of effort you will need to put forth when paddling. Paddles with lighter weights will enable you to paddle over longer periods of time without tiring. Heavier paddles require more effort to use and will generally result in your getting more fatigued much more quickly.
Single vs Two Piece Paddle
Many paddles for kayaking are designed to break down into several pieces to assist with easier transport and storage. The more pieces your kayak paddle can break up into, the easier it is to store. This can be particularly useful if you intend to camp or hike with your kayak.
Bring a Spare
It is always best to bring a spare kayak with you on a tour. This is never more true than if you are whitewater kayaking, or plan to bring your kayak along on a trip that will last a several days. Kayak paddles can be broken, lost or damaged while being used. While it is possible to get back with subpar paddles, it will require a great deal of additional effort. And if you only have one paddle that becomes damage while you are on the water, you have an even tougher time. Bringing a spare paddle is just a bit of insurance for your peace of mind while kayaking. Spare kayak paddles should be stowed on your kayak deck securely and in a place where they can be easily accessed while in a seated position. Also, there are paddles that can be broken down into two or more pieces that can be used as spares. These pieces are typically able to be stored in the hull of the kayak, allowing them to be secure and easy to access should the need arise. You can always have a spare Cheap Paddle with you for emergency circumstances.
Personal Preference
Kayak paddle specifics such as shaft design and blade angle often have to do with personal preference. This would also apply to finishing touches such as colors and other design elements. The most important factors in kayaking are safety and comfort. Therefore, as long as you are purchasing a paddle that is comfortable for you to use and is appropriate for the type of kayaking you plan to pursue, you will be able to enjoy your kayaking experience. Personal preferences tend to change and adjust as you become more educated in the sport and gather more personal experience with kayaking in general.
Frequently Asked Questions
How Much Does my Height and Weight Affect my Kayaking?
A person's stature affects the overall balance of the kayak. The taller you are, a longer kayak is needed. Furthermore, a longer paddle is required to be to ensure comfort and effectiveness when paddling. The heavier a person is, the heavier the kayak will be on the water and thus the more effort it will take overall to get it gliding along. The more a person weighs, the less stable a kayak is. This is especially true for narrower kayaks. An unstable kayak is more prone to capsizing, thus causing more potential harm to the person or people in and around the kayak.
How do I Determine What Length of Paddle is Right for me?
For a quick determination, hold the paddle vertically with one of the blade touching the ground. Raise one of your arms towards the top of the paddle while holding the paddle stable with the other. If you are able to cup the top blade with your fingers, the paddle will generally be a good fit for your height.
Is there any way for the Kayak Paddle to be Extended or Reduced?
Kayaks that have a shaft that is able to be broken down into two or four pieces can have their lengths adjusted. In addition, there are several products on the market that you can purchase separately which enable you to extend your paddle length. However, those paddles that have a solid, one-piece shaft are not typically able to be extended or adjusted in any way.
What are Some Ways that I can Take Care of my Kayak Paddle?
To ensure the lifespan of your kayak paddle, it is import to properly care for it. After each outing, you should rinse your paddle with fresh, clean water. Once you are done rinsing, wipe it dry. Some people prefer to spray a lubricant onto any connections on their paddle to prevent rust from developing.
Once clean, you should store your paddle in a cool, dry place where it will not be exposed to light for prolonged periods of time. In addition, it is advisable to resist the urge to use your paddle to push off the shore. This will prevent your blade from becoming more weak and resist chipping or cracking.
Final Thoughts
No matter what type of kayaking you are about to embark upon, having the correct paddle can make all the difference in the world. For our money, the best paddle is the Aqua-Bound Tango kayak paddle. The most lightweight option on our list, this paddle is more durable and easier to use for most skill levels than the other options. It has plenty of features that improve comfort and functionality. It is easy to assemble and break down, making it the perfect option for most avid kayakers. Kayaking can be a truly rewarding experience and one that can easily be discouraged when using the incorrect equipment. Do not let the wrong paddle prevent you from embracing the kayaking experience and all of its wonderous possibilities.