With tons of coolers on the market today, you have a lot of options when shopping for a kayak cooler from backpack coolers to the popular YETI coolers. As you shop, remember that you will have limited space on your kayak to keep your beverages and food cold without very much shade. If you throw in a 12 pack and some freshly caught fish, you have a lot of requirements for a little cooler. Here are a few tips on what to look for in a kayak cooler and a few reviews to help you start shopping.
The Best Kayak Coolers and Cooler Bags go as Follows:
Best Kayak Cooler Reviews
The following are the best kayak cooler and cooler bags as voted by customers.
1. YETI Hopper Portable Cooler – Best Waterproof Kayak Cooler
Completely leakproof, the YETI Hopper Portable Cooler will keep ice cold for days. This is a durable and tough cooler made out of the same materials used to construct whitewater rafts and HazMat suits. Made to work for any type of trip or adventure, you can take the YETI Hopper to remote streams or kayaking on a wild river.
With high-density fabric, the YETI Hopper is not only waterproof but resistant to UV rays, puncture, and mildew. It also features an interior liner made of an anti-microbial and FDA approved food-grade material. With the closed-cell rubber foam, you get outstanding cold retention in comparison to typical coolers on the market. 
The YETI Hopper also will attach easily to almost anything with the included hitch point grid. And, not only is the hydro lock zipper leakproof and waterproof, it is one of the highest-performing and toughest cooler zippers out there.
Pros:
Nice smaller sized cooler for one person

Quick and easy to load

Well-made and keeps ice from melting on hot sunny days
Cons:
The zipper is hard to open and close

Uncomfortable to carry
2. Engel Dry Box Cooler – Most Versatile Kayak Cooler
This versatile kayak ice chest can keep items hot, cold, and dry. The Engel Dry Box Cooler is lightweight and airtight keeping cold air in and hot air out. Perfect for any adventure including being a canoe cooler. The Engel is waterproof up to three feet keeping food fresh and dry, plus you can also use it to store sensitive equipment including safety equipment, medical supplies, and cameras.
The Engel Dry Box Cooler features a non-absorbent surface that won't stain or retain odors and is constructed with a PP Copolymer and high-grade polystyrene insulation with marine grade hardware that include self-stopping hinges. It also includes an ergonomic handle that is recessed and an integrated shoulder strap that makes transporting and storing the cooler easy and hassle-free. 
This is a spacious cooler that features 45 quarts of storage capacity. This basic but heavy-duty cooler is perfect for hunting, fishing, and camping that works well on group outings or multi-day rips since it can hold up two cases of beverages and comes equipped with two built-in bottle openers. Durable and features filled, the outdoor lover will appreciate its robust handles for easy transportation and its handy integrated fish ruler.
Pros:
Very solid cooler and not as heavy as a Yeti

Holds ice most of the day and keeps drinks very cold

Comes with handy rod holders which are great when fishing from the beach
Cons:
Need a padded shoulder protector on the strap

Needs more insulation and not that airight
3. CreekKooler Outdoor Insulated Floating Cooler – Best Floating Kayak Cooler
A convenient cooler that you can float, pull, or drag, the CreekKooler Outdoor insulated Floating Cooler features a reinforced, streamlined hull and up to thirty quarts of storage area. The plastic hull is foam filled so your drinks will stay cold for days, plus it will also keep your items dry with the 1/8 turn lid. The high-quality insulation in the CreekKooler results in incredible ice retention for up to 48 hours, and it can hold up to twenty pounds of ice and thirty cans making it handy to have in the water or out home at a barbeque.
The CreekKooler features an insulated design that includes two inches of injected insulation into the deck and hull. This is a patented design that uses a dual-wall, blow molded construction with a watertight lid that locks using an O-ring configuration. The water-tight lid locks to keep your items secure while the built-in drink holders keep your drinks handy as the cooler floats beside you. 
Including two towable handles, it lessens the effort needed to carry the cooler to your campsite. With the ability to float as you travel by boat or simply float by your side as you relax at the lake, this cooler helps save space in smaller watercrafts like paddle boards and lightweight kayaks. The CreekKooler is capable of gliding across any surface and can easily navigate behind a raft, SUP, canoe, or kayak with included tow points that let you tie it your boat so your food and beverages are in within arm's reach. This is definetly the best floating cooler for kayak excursions as it creates less drag which saves you energy in the long haul.
Pros:
Has double-wall insulation

Is all terrain full-sized cooler so you can take it anywhere

Great for sensitive electronics on a trip too
Cons:
On the expensive side

Would be nice if it had handle attachments so you can tie it to your kayak
4. Vibe Element Rotomolded Hard Shell Cooler – Best Kayak Cooler
The perfect size for a multi-day trip, the Vibe Element Hard Shell Cooler is a durable 75-quart rotomolded cooler. Great for group outings or for personal use, the Vibe Element was created for hunting, camping, and kayak fishing. It also features built-in bottle openers, heavy-duty handles, a metal lock plate, and a pressure-release valve.
With three-inch insulation, it can handle any shocks that come with transporting a cooler to a campsite or on a fishing trip. Typically found in high-end cooler, rotomolding will keep your drinks cold several days. The Vibe Element uses this design well with rigid walls that are durable due to their thickness, plus you can see their attention to detail in the compact and aesthetically pleasing design.
The Green The Vibe Element also provides cutting-edge technology with its UV protection feature while the durable and effective lid gasket keeps the temperature inside the cooler from becoming compromised. With its smart airlock system, it actually creates a completely separate environment inside the cooler so your beverages stay colder longer. It also includes a pressure release valve that makes it easy to open on warm days and the handy metal bottle openers are found diagonally from each other on opposite corners. 
Functional and large, you need strong handles to transport the Vibe Element that also needs to be comfortable as well. Nylon straps that are wrapped in rubber give you the most comfort making it convenient and easy to carry around. The Vibe Element also features a handy fish ruler, heavy-duty rubber T-latches and a freezer-style lid gasket. Based on a half ice and half drink ratio, this cooler can fit up to 28 cans and includes non-skid rubber feet so you can keep it off hot surfaces and a rapid flow drain spout.
Pros:
A nice durable cooler that is unmatched in the market

Has a hinge all the way across the back so ice won't get stuck in it

Great price for a great heavy-duty cooler
Cons:
Plugs loosen easily allowing for water to leak out

Ice melts pretty quickly considering the price
5. Seattle Sports Roll Catch Cooler – Best Kayak fishing bag Cooler
If you use your cooler to hold fish as well as beverages, the Seattle Sports Roll Catch Cooler is perfect for your next fishing trip. With a top closure, you can keep your fish fresh until you get home with an efficient thermal, reflective exterior. It also features removable, zippered insulation that has two layers, and seams that are welded.
A thin fish bag made specifically for kayak fishermen, its deck-top design is meant to fit perfectly on your kayak's bow but you can also easily secure it behind your seat as well. The reflective exterior materials help to lessen heat absorption so the food and drinks inside the bag stay nice and cold while the zippered insulation chamber inside chills your beverages and fish and is easy to remove for cleaning. The standard closure is pretty typical to other dry bags requiring a simple roll at the top and then snapping the two buckles closed. 
Available in either a 20- or 32-inch size, this kayak fish cooler has a slim design that can carry a wide range of fish sizes and has simple attachment points that make it easy to take on any trip. This deck-side cooler is really convenient when it comes to storing your fresh catch and is available in two sizes to easily fit your fish storage needs. This is a great size cooler for kayak and SUP anglers. Since this cooler ties onto the deck of the kayak it is also a great ocean kayak cooler. 
Pros:
A great cooler that keeps things cold for hours

Includes tie downs on each size to hold it down

Holds ice, fish, and water bottles well
Cons:
The inner shell can become a leaky mess

It's a real pain to clean
Kayak Cooler Buying Guide
Why Use a Cooler When Kayaking?
A great cooler can make a difference between a good or bad day when you are hanging out on your kayak, fishing, or on a multi- day kayaking trip. When fishing, a great cooler is also a convenient place to keep your fresh catch cold while you are out on the water without having to worry about getting back home. You also don't want to have to deal with the smell of rotting fish on the deck of the kayak on your paddle home.
When you're not kayak fishing, having a cooler is a great place to keep your drinks and food nice and cold until you are ready to take a break from paddling. They are also a good place to store water if you are out paddling in the heat and need to stay hydrated. High temperatures can quickly become a safety issue if you aren't making sure to drink plenty of water.
This video will tell you more about how to use a cooler when you are kayaking and which options are the best for your needs.
Types of Kayak Coolers
Bags: Usually more versatile, bags can adjust their size depending on what they are carrying for your outing. You can easily shrink several bags down if you only need to carry some sandwiches and bottled water for a couple of hour trip on the lake. If you are going all day and need to take a lot of water and a couple of meals, you can extend the bags to fit your load. Once you are done, they are also easy to pack away for storage. Some bags can also be worn as a backpack making them ideal if you kayak to land and hike afterward. The right bag can actually be well worth the money if you can use them for more than just kayaking.
Fish bags: also known as a kayak cooler bag,  fish bags are specifically designed to store fish and only weigh about as much as a hiking backpack, even when they are weighed down with fish and ice. These are typcially the best cooler for kayak fishing. They are also specifically designed to be easy to lash onto a kayak and come with tie-down points that allow you to secure the fish bag to the stern or bow of the kayak. You can also purchase kayak cooler bags that come in extra-long sizes in case you typically catch larger fish like small sharks or Tuna.
Follow this video for more information on fish bags and their benefits.
Cooler Dry Box:  More rigid and robust, boxes are great for keeping drinks and food cold and for storing fish. If you have heavy duty storage needs and plan to go camping or on a multi-day fishing trip, a box is probably a better choice.
Features to Look for in a Kayak Cooler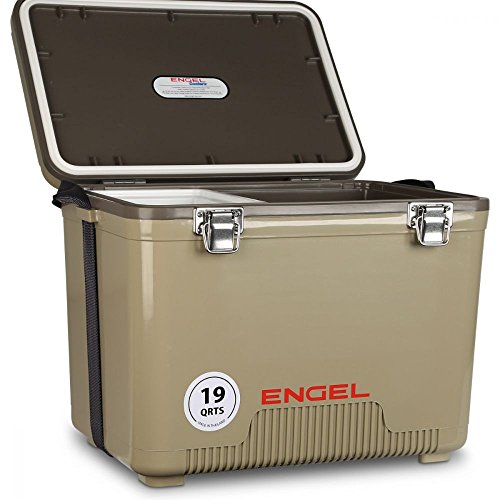 Capacity: One of the first you should think about is how much you want to bring along on your trip. If you are just taking a sandwich and a few cans, a smaller cooler should be fine, but if you need enough food for a couple of nights, you will need something more substantial.
Also, if you are planning to fish, you will want a way to keep the fish you catch as fresh as possible. Some coolers will have separate fishing compartments that allow you to carry the fish you have caught away from the prepared food you have brought along so everything doesn't end up smelling like raw fish.
You will notice that the capacity of coolers is referred to by quarts or by the number of liters or cans it can hold. Capacity will vary a lot from cooler to cooler with the average size cooler having a ten-quart capacity which fits pretty well on most kayaks and will cover your needs nicely. Remember to consider storage area in or on your kayak as you shop for a cooler and always make sure to take measurements beforehand to make sure the size you choose fits the area you have.
Material: The materials used in a cooler also vary a lot. Your largest difference will be whether the cooler is soft or hard. Each style has its advantages and disadvantages. A soft cooler will be made out of a cloth material that is insulated and laminated. They will have  flexible material which helps them fit into a range of spaces, plus they are perfect on kayaks because they are light weight. However, they are not as durable and won't contain the same thermal mass you will find in a hard-sided cooler.
Hard coolers are made of a firm rubber or plastic materials that are perfect for those that want a more watertight cooler that will protect the items inside. Just remember to consider the shape and size of the cooler you are considering and that it will fit into the area you have.
Keeping Temperature: Keeping things cool is the most important job that a cooler has and if it can't do that than it is useless. Make sure there is enough insulation to keep ice and other items cold. Typically, coolers will state their quality by how many hours it is rated to keep items cool. A good quality cooler should keep things cool from 24 to 72 hours.
Even if you don't need your cooler to stay cold that long, it is still an important consideration, especially if your cooler will be sitting outside in the direct sunlight for hours which will decrease its lifetime. Always choose a cooler that has a higher hour rating when planning for multi-day trips or when you will be using the cooler for a long time. Having the maximum ice retention time possible can make a difference in how well your trip turns out.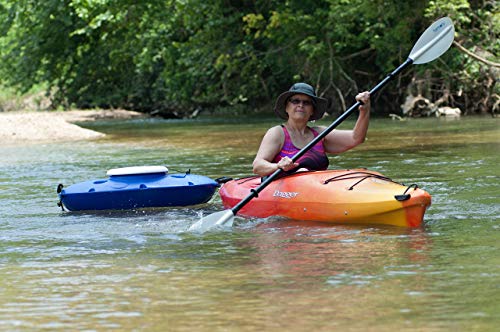 Waterproof:  Not everyone needs a waterproof cooler, but if you are planning to take one on your kayak, it definitely should be. You will find that most coolers on the market are waterproof, but higher quality coolers will also be leak proof and airtight. If you are kayaking and find yourself in a situation that you didn't predict, an airtight cooler can be very handy to have along with you.
Drain plugs are also important, especially for anglers, and you want to make sure it is not going to leak. As you maintain and care for your cooler, you will want to make sure the gaskets and O rings are intact and clean. These are easy to replace parts but if they have issues, they can be very messy.
Color:  Always look for a light-colored or white kayak cooler since dark colors tend to absorb more heat. You will find that a lot of bags and coolers come in a gray color which is a nice balance between resisting stains and staying cool.
Purpose:  When you think of a cooler, most people think about a great way to keep their beer cold. The purpose of a cooler can vary from person to person with some needing a place to keep beverages and sandwiches cold as they fish, while others want to have fun items along to enjoy once they hit their campsite.
There are also fish bags that are made specifically to carry the fish you catch. These bags are usually longer than their height and will sit conveniently in the storage area of your kayak although you will find some that are the same shape as cheaper plastic cooler bags. Depending on your plans, though you may want to consider purchasing both.
Closure: When considering a cooler, it is important to have a good closure. When buying a cooler bag, zippers are always a good choice as long as they are made of good quality. Box style coolers need a latch that is durable, very secure, and not a nuisance to deal with all day long.
Transportation:  Always consider how you will have to transport the cooler, either floating alongside you, on top of your kayak, or getting to your campsite once you've hit the beach. You want something that will be easy to move from location to location that doesn't become a hassle.
Multi-Usage:  A cooler or bag that is versatile and can be used for different things is always a benefit. Some coolers will keep your items dry and other times keep your beverages and fish cold. A lot of bags are also waterproof so they can be used as both a cooler and also a safe way to keep important dry items.
FAQs
Q: What size cooler should use on a kayak?
A: This will depend on your use, personal preferences, and the size of your kayak. You also want to consider how long your trip will be and how many days you will be using your cooler. If you are camping overnight, you will need a larger cooler than if you are just going to hang out at the lake for a few hours. Also, measure the storage compartment of your kayak before you buy anything to make sure it will fit well.
Q: How do you attach a cooler to a kayak?
A: Conforming to a space that is limited, a soft cooler is the easiest choice. A larger cooler can sometimes bend to fit a tight space but rigid coolers need to be rigged or strapped to your kayak.
Q: How do you get a cooler to sit on a kayak?
A: Coolers will actually fit very easily onto top of kayaks that have a flat area making it simple to sit on your rig. Remember though that will a higher center of gravity you need to be careful about the height of your cooler as it can you to tip over in rough water.
Final Thoughts
There are many options on the market when you decide to find the right cooler for your kayaking needs. Remember to think about the material and capacity of the cooler you are considering as well as if it has a waterproof feature and how well it holds a cold temperature. Once you are aware of your requirements for your planned trips, you should have no problem finding the right kayak cooler for you and your needs. In this case, we found the best kayak cooler to be The Vibe Element Rotomolded Hard Shell Cooler