Last year, you had a chance to go kayaking with a friend. Summer is just around the corner, and you were thinking of purchasing a lightweight kayak so that you can make the most of this summer. You would like to have the freedom to go out on the open water and enjoy the calmness that comes with being out in nature. You have found that being on the open sea makes you feel free, but you are unsure which lightweight kayak is going to be best for you.
In this guide, we will take a look at the different types of kayaks to see which one fits your needs as well as some of the features that you're going to want to look for before you make a purchase. We will also review five of the best lightweight kayaks to help point you in the right direction.
The Best Lightweight Kayaks Go as Follows:
Best Lightweight Kayaks Reviews
The most lightweight kayaks according to verified customers goes as follows.
1) Oru Kayak Foldable Kayak
When it comes to portability, the Oru Kayak really provides a top-notch performance for those that need a product that is easy to deploy. This is a folding model, and getting it from box to boat only takes a few minutes of time. Despite its ability to be folded, the Oru kayak is very durable and will remain shipshape for years to come. This is because the kayak is made of relatively tough polypropylene.
When it comes to the interior, the kayak has some relatively impressive dimensions; most adults can fit inside, and there's even a little room for your belongings. The exterior also is designed to withstand years of sun exposure, so it's here for the long haul. If you're wondering about the internal capacity of the Oru kayak, you'll be pleased to know that it can accommodate a total weight of 300 pounds. This includes the kayaker and his or her gear. This is reasonably impressive considering that the kayak is small enough to be stowed on an airline flight potentially.
Pros
The product is rated to remain durable, even after 20,000 folds.
It has a sleek white design that's aesthetically pleasing.
It folds down very compactly; it'll easily fit in a trunk.
It only weighs 26 pounds.
Cons
The snaps can be tough to engage at first.
The wind can easily blow this kayak off course.
See Full Review on the Oru Bay Kayak Here:
2. ADVANCED ELEMENTS AdvancedFrame Sport Kayak
What makes the Advanced Elements AdvancedFrame kayak a good option is the fact that it's actually an inflatable kayak with a good level of reliability. When in use, the product has a high level of durability and can manage a kayaker that's kayaking with a combined person and gear weight of 250 pounds. The product also stands out because it is very quick to inflate; it only will take a few minutes to inflate the main chamber, deck lifts, and the floor of the kayak.
The seat that sits within the cockpit of the kayak also has an adjustable design, which will allow you to adjust the level of back support that you need during your kayaking trip. Once inflated, the interior is quite spacious, and you shouldn't have any issue fitting in a relatively large amount of your stuff. Once you're ready to come ashore, deflation is easy, and when the air has been removed, you can roll it up and put it back in its carry bag.
Pros
This is a versatile kayak that can manage most water conditions.
The paddles have a very high-quality design that you wouldn't expect from a product at this price point.
It doesn't take long to inflate this product at all.
The cockpit feels very spacious and supportive.
Cons
It can be tough to paddle upstream thanks to the squat design.
It can be hard to clean.
See Full Review of the Advanced Elements Kayak:
3. Sea Eagle 330 Inflatable Kayak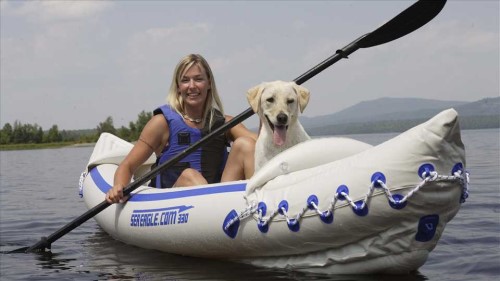 Another inflatable kayak, this product, which is manufactured by Sea Eagle, can actually accommodate two kayakers at a time. While it isn't quite as slim and sleek as some other kayaks, this is a great product to consider if you're just out to have a fun time on the water. When it comes to design, this product also stands out for durability; the material that Sea Eagle used is K-80 polykrylar, which is ultra-strong and resistant to punctures. Despite this rigidity, the kayak has a good level of springiness, and it is also very straightforward to inflate.
When it comes to the internal dimensions, this kayak is designed to provide you with a good amount of space. When you're ready to disembark, there's more than enough room to store essentials as well as the foot pump that you need to inflate and deflate the product with ease. The paddles are also very easy to store; they break down into four pieces, which will allow you to store them within the kayak when you're just resting on the water.
Pros
This is a two-person kayak that will allow you even to bring a family dog.
It's made of super-durable material that won't puncture easily.
It comes with patches should a leak occur.
You can adjust the seats for a better level of comfort.
Cons
You'll have to manually stretch the valve hangers, which can be a bit annoying.
This is not the most aquadynamic kayak on the market; kayaking upstream or through chop will be tough.
See Full Review of the Sea Eagle 330
4. Intex Challenger K1 Kayak
If you are looking for a small kayak that has a little bit of color to look good on the water, then this Intex option is a great one to consider. It is designed with fantastic graphics that are green and blue in color. The inflatable kayak is nine inches in length and two and a half inches wide. The unit weighs just over 23 pounds, and it is rated to hold a maximum weight of 220 pounds.
Designed for comfort, the cockpit has an inflatable seat that can be adjusted and removed. There is a cargo net on the front of the kayak that you can use to store your gear, and it comes with an aluminum paddle to make moving easier. This short kayak comes with two separate air chambers, and the vinyl material that it is made out of is designed to be puncture-resistant. To make the process of inflating and deflating the boat easier, the kayak is fitted with Boston valves. In addition, this kayak also comes with a pump that will make the inflation process go quickly.
Pros
A PDF is included in the kayak.
It comes with a carry bag that makes it easy to fold down the kayak and store it in any vehicle.
Assembling and inflating the kayak is very simple to do, especially because of the Boston caps.
It is made out of a very durable plastic material.
The lightest kind of kayak on this list
Cons
The paddle that comes with it is a bit flimsy.
There is not a lot of leg space in the cockpit, especially for a taller individual.
See The Full Review of the Intex Challenger K1
5. SUNDOLPHIN 10-Foot Sit-on-Top Fishing Kayak
The final kayak that we are going to review is from SUNDOLPHIN, and it is a 10-foot option that is great for fishing. It is a very lightweight sit on top kayak option, which makes it easy to carry, and it is made using durable polyethylene, which is also designed to be safe in hours of sunlight while you are on the water. The seating area is designed with a padded back that is comfortable and can easily be adjusted. It is a kayak with a self-bailing design, so the water will drain out with ease if it gets into the cockpit.
There are plenty of storage compartments on the kayak that you can use to secure your personal objects. There are two rod mounts that are flush to the boat on the sides as well as a swivel option that is positioned between your legs in the cockpit. In addition, there is a storage space behind the seat, which gives you a place to store some drinks to keep you hydrated while you are fishing.
Pros
This is a kayak that is very simple to get in and out of.
There are a lot of storage options that you can use to keep your personal items secure.
This is an ultra lightweight kayak that is easy to transport.
It comes with three options to hold your poles on the water.
Cons
This is not a very stable kayak, especially if you shift too much when you are fishing.
The dry storage box fills up with water.
Types of Lightweight Kayaks
There are more than just a few different types of kayaks that you will want to consider. Each one is designed to work with different types of water conditions as well as varying recreational activities. Here are some of the different types that you are likely to look at before making a purchase:
Sit-On-Top Kayaks
These kayaks are an option that has a seat on top of the kayak. Most people find that these tend to be easier to out of, which makes them an excellent choice for people who like to get out in the middle of the water to go fishing, swimming, or even diving. With these kayaks, you will need to make sure that it is easy to get what you need on the water, and before you make a purchase make sure that there is enough space in the kayak to store coolers, fishing equipment, and tackle boxes. This is a great option that you can use if you're claustrophobic because you will not feel closed in.
Recreational Kayaks
Recreational kayaks are designed to be used in calm waters. Typically, they do not have a lot of storage space because your legs are designed to fit into the kayak. Since the lower half of your body will be inside the kayak, you will experience less wind resistance. This means that paddling kayak will be easier but getting in and out of the seat may be more difficult. In addition, if water gets into a kayak, it will stay there until the kayak is flipped over to be drained. Most of the lightweight kayaks we have reviewed fall into this category.
This is a type of kayak that is designed for multi-day touring. It is designed with comfortability in mind since you will be spending quite a bit of time in the seat as well as plenty of storage space for all of your daily needs while you are on your kayaking trip. Typically, this specific type of kayak is going to have longer, sleek design so that it can speed through the water without an issue. In addition, to help make turning and paddling the kayak easier to manage, most touring kayaks have a rudder or a skeg, which is basically a fixed rudder that will make it easier to navigate and maneuver the kayak. Some of these kayaks are indeed lightweight but typically range in the $1,000 to $4,000 range.
Sea Kayaks
This is a type of kayak that is designed to be used in open water. These are typically salt-resistant models that have a UV-resistant coating on the surface to help protect the material. They are designed with a smaller cockpit so that a lot of excess water from the waves cannot get into the boat. They are also designed with self-bailing valves that will allow the kayak to drain when it gets overrun amongst the waves and the choppy waters of the sea. These kayaks are also the longest type that you will find, typically ranging in between 16 and 19 feet in length, and the seat is going to be positioned closer to the water so that you have better balance when you are steering the kayak in the ocean. These kayaks, like the touring kayaks are typically more expensive and are meant for more advanced paddlers.
Whitewater Kayaks
Whitewater kayaks are explicitly designed to be used in white water rapids. This type of kayak is designed to be more compact to give you more stability as you travel down the river. With a length of only between four and 10 feet in length, this is an option that is easy to maneuver when you need to, which makes it ideal for avoiding rocks and tree branches that can be found in the water. These are some of the lightest kayaks there are but have a longer learning curve to master. Typically you need to take courses to be able to kayak in whitewater
This is a model of kayak that is designed specifically for anglers to use. It typically comes with a lot of extra space so that you can store your fishing gear with ease as well as a rod holder where you can set your pole down while you are fishing to enjoy the time that you are spending on the water. Many people find spooling a spinning reel to be more difficult when they are in a kayak, and with a fishing kayak, you will not have any trouble spooling your line that same way that you would on land. If you are unsure of how to do this, check out this video that demonstrates the process. Fishing kayaks tend to be a bit heavier and often require a kayak cart to transport them.
What to Consider When Choosing a Lightweight Kayak
Before you make a purchase decision on which lightweight kayak is best for your needs, there are always a few factors that you will want to consider. Some of the most important things to consider include:
Length
One of the considerations that you will need to make before making a purchase is the length of the kayak that you want. As a beginner, this may not seem extremely important to you, but you will definitely want to pay attention to the length of the kayak when you are interested in exploring different types of water. Short boats, which tend to be between eight and 10 feet in length, are often more agile. This means that they are easy to maneuver, but they may lack the speed that you need for specific bodies of water. Short kayaks are designed to be used in rivers and lakes where they may need to turn quickly with very little notice.
Longer kayaks are typically designed to go straight for a long period of time; they have an arrow design that can help them pick up speed quickly. The downside of longer boats is that they do not turn fast, which means that avoiding rocks in a river may be more difficult. Another reason to consider the length of your kayak is to make sure that it fits your vehicle. Otherwise you need a kayak trailer.
Width
When it comes to kayaks, another important consideration to make is the width. Typically, the wider a kayak is, the more stability it will have on the water. This makes it easier to get in and out of the kayak, but this wider design can also create more drag in the water. This will slow you down and make it harder to paddle. This additional drag can also make it more challenging to maneuver the kayak in the water. The narrow where the kayak is, the more responsive it will be. Narrow kayaks pick up speed very well because there is less resistance from the water against the kayak.
Weight
The weight of the kayak that you choose is going to be very important, especially if you plan on taking the kayak out on the water. You will not need additional help to maneuver a smaller, lightweight kayak; however, you may need assistance with a larger model. A kayak that is heavier will be more stable in the water, especially when you encounter waves during your journey. A kayak that is lighter may even be too difficult to manage in the same waves; in fact, a light kayak is likely to tip over.
Materials
Most of the kayaks that you find on the market are going to be made out of plastic. There are also kayaks that are made out of composite fiber or wood, but these two options tend to be a little more expensive, so only advanced kayakers will choose this type of material. The two different types of plastic that you are most likely to find on the market include:
Polyethylene – This is a type of material that is very inexpensive, which makes it ideal for beginners. It is an affordable option that can take a lot of wear and tear from the water, and it is also designed to be abrasion-resistant, so it does not get damaged if the plastic surface rubs against the bottom of the bed of water. Though, if you do encounter a sharp rock, the plastic can be punctured. This is the type of kayak that you are most likely to see in most sporting goods stores, but this type of plastic can also be weighty. In addition, this plastic is designed without UV protection, so you will have to store your kayak in the shade to protect it.
ABS – This is another common option for kayaks; in fact, it is the second most common type of construction. In general, this design will weigh a little less, but it will have a little more UV resistance, which will make it easier to protect.
Comfort Level
When you are considering which kayak you want to purchase, it is essential to sit in the seat and test out how comfortable it actually is. In most situations, you are likely to spend a good bit of time in the seat, which means that comfortability is very important. If you are tall, a smaller cockpit may not work well for you. Ideally, you will want something that is somewhat adjustable so that you can adjust the seat and the footrest to what makes you the most comfortable. If the seat is not as comfortable as you thought you can always get a specialized kayak seat.
Storage Space
Many canoes have storage space that you can Use while you are out in the water. This may be a storage space that is located behind are under your seat, but it can also be bungee rope that is positioned on the top of the kayak to secure your personal items while you are on the water. Think about how many days you would like to go on a kayaking trip, then make sure the kayak that you choose can accommodate supplies for that many days.
Price Point
As with any new purchase that you make, you will only be able to work within your budget. Kayaks can vary quite a bit in price, so decide what your budget is, and then choose the materials and the features that are most important to you.
Frequently Asked Questions
Is an inflatable kayak worth considering?
Yes, an inflatable kayak is an option that you can easily consider for your purchase. It will be easier to carry, and since it can deflate when you are done, it can save a lot of space. Many people worry that the material is not going to be durable enough, but this type of kayak is designed with multiple are chambers, so if one gets punctured while you are in the water, the remainder of the kayak will remain inflated. You will want to make sure that this type of kayak is always fully inflated so that you can have enough stability on the water. Colder water can slowly deflate these kayaks, while too much sun can make up the air expand inside the kayak. In addition, an inflatable option is going to be very lightweight; in fact, some models even weigh less than 20 pounds.
What is a tandem kayak?
a tandem kayak that is mean specifically with two paddlers in mind. Any size kayak can be a tandem, so if you are planning on always going out with a friend, then this option may be worth considering.
What are the little black discs in the deck of the kayak?
If you see a black plug that is about six inches in size in the deck of your boat, it is most likely a built-in storage location that is designed to be waterproof. The storage hatches can also be between your feet or behind you on the floor of the kayak, and they will keep small essentials like your keys, phone, and wallet safe and dry. In addition, if the boat happens to flip over, anything stored in this location will be protected.
How can I transport my kayak?
If you have a roof rack that your kayak can easily fit on, then this is going to be the best way to transport your kayak. Some models will fit inside of a larger vehicle, but larger models may not. You can also purchase a kayak trailer to haul your kayak, which is especially great when you need to haul multiple kayaks with the same vehicle.
Should I wear a personal floatation device?
This is something that you may want to always wear to protect yourself when you are in the water, though it may not be required that you wear the PFD in the area that you live. Some states and provences only require you to have the PFDs on the kayak, so even though it is smart to wear one, you may not be required to legally. We do highly recommend you wear one though as a study determined that of the 70% of boaters who drowned 86% of incidents could of been avoided by wearing a lifejacket. Make sure to check the laws in your state before you go out on the water.
Will the paddles that come with my new kayak work?
When you purchase a kayak, you are going to want to find one that comes with reasonable paddles so that you can move with ease in the water. Cheaper kayaks tend to come with paddles that are not good quality, or they may even come without paddles at all. Sometimes, you will find a lightweight kayak paddle that is made from carbon fiber that will work for your needs.
Final Thoughts
Finding the best light kayak for your needs is essential, and all of the options that we have discussed in this guide are viable choices that will most likely work for your needs. If we were to select one option that stands out above the rest, it would be the Oru Kayak Foldable Kayak. It is a very durable model that can be used on nearly any type of water, and it folds down to a very compact size that allows you to simply pop the kayak in your trunk and drive to the water.