It's warming up outside, which means many kayakers are preparing to get on the water. If you're looking to bring your pup along, consider one of the best kayaks for dogs by following the suggestions and buying guide below.
Best Kayak for Dogs Guide
I researched nine kayaks and found the Coleman Colorado 2-person inflatable kayak to be the best kayak for dogs.
After over 20 years of life experience with watersports like fishing, kayaking, and paddle boarding, I've gotten to know the criteria that make (or break) your experience out on the water.
Because of this, I felt that the Coleman Colorado was ideal for dog-loving paddlers.
This model boasts all sorts of amazing features, from its convenience as an inflatable type to its impressive durability, thanks to the 18-gauge PVC and puncture-resistant floor, composed of 1000D tarpaulin and 840D nylon. The 470-lb weight capacity doesn't hurt either.
Still, this doesn't mean that it's ideal for all kayakers and their canine companions. See the reviews and guide below to learn more about the best kayaks for dogs and their human paddlers, anglers, and even stand-up paddleboarders.
Kayak
Max Capacity
Material
L X W
Rating


470 Lbs
PVC construction,
840D nylon cover
10'8" X 36.5"


617 lbs
Polyethylene
13'1" X 34"


275 lbs
Drop-stitch PVC
10'8" X 38"


500 lbs
Polyethylene
13'4" X 34"


500 lbs
HD polyethylene
13'5" X 34"


500 lbs
33 mil Polykrylar
(K80 PVC)
11'2" X 34"


400 lbs
Heavy-duty vinyl
10'3" X 36"


300 lbs
Drop-stitch PVC
11' X 33"


275 lbs
HD polyethylene
10' X 31"
1. Coleman Colorado – Best Overall
Specs
Length: 10′ 8.25″
Width: 36.5″
Materials: 18-gauge PVC construction, 1000D tarpaulin bottom, 840D nylon cover
Weight Capacity: 470 lbs
Number of Passengers: 2
This is one of the best tandem inflatable kayaks for you and your pooch. It features two seats, so you and your dog will fit comfortably in your own designated spaces on the boat.
It's composed of 18-gauge PVC, excellent for standing up to those canine claws. The floor is made up of 1000D tarpaulin and 840D nylon, allowing for optimal puncture resistance.
Sevylor integrated several air chambers into this design as well, so the others can compensate if one chamber's structural integrity is compromised.
This kayak measures slightly over 10.5′ long, with a 36.5″-wide beam, an excellent length-to-width ratio for optimal stability.
The only drawback is that a kayak of these dimensions will move more slowly than one that's longer and narrower. Plus, you sacrifice a bit of tracking efficiency with such a shorter design.
What Customers Think
Many paddlers praise this kayak model. Hundreds have attested to its durability and comfort, above all. However, numerous people experienced issues with the air chambers, reporting deformities after only a few uses.
Pros
Certified by the National Marine Manufacturers Association (NMMA)
Highly durable, puncture-resistant materials
Works for large breeds due to high weight capacity (470 lbs)
Cons
Many customers reported deformed air chambers after only a few uses
2. Feel Free Corona Tandem – Best for Giant Breeds
Specs
Length: 13′ 1″
Width: 34″
Materials: Polyethylene
Weight Capacity: 617 lbs
Number of Passengers: 2
This sit-on-top hardshell kayak is great for paddling duos who may want to bring a small pooch along or individual kayaking with one medium or giant dog. Speaking of giant breeds, this model promises outstanding support, given its 617-lb weight capacity, complete with prime stability thanks to the 34″ width.
The tandem kayak design features two separate seats with space in the middle with plenty of room for your legs.
This model is all about convenience. There are several storage compartments, including the two hatches, three cup holders, and tie-down deck storage at the bow and stern.
Paddling in this kayak should be a generally good experience. It's going to track well since it's 13′ 1″ long. Plus, it's made of polyethylene, so it'll be just fine against your dog's nails.
What Customers Think
Most kayakers who've used this model appreciate the durability and stability above all. It's important to note that many have attested to its surprising maneuverability, given its length.
Pros
Features a wheel-in-the-keel for added ease when launching your kayak and pulling it onto shore
Amazing carrying capacity at 617 lbs
Durable polyethylene material is resilient against dog nails
Cons
It is quite heavy, so be prepared to ask someone to help you load it onto the car
3. STAR Challenger – Best for Small Breeds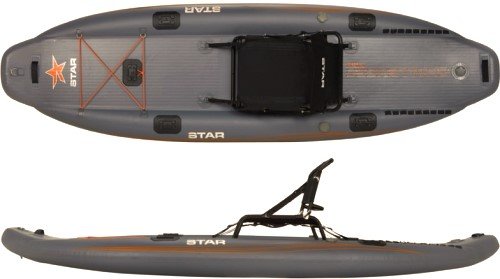 Specs
Length: 10′ 8″
Width: 38″
Materials: Drop-stitch PVC
Weight Capacity: 275 lbs
Number of Passengers: 1
The STAR inflatable sit-on-top kayak is made specifically for anglers with small dogs, as it can only support up to 275 lbs. Its dimensions offer exceptional stability, at 10′ 8″ long and an impressive 38″ width. The 9″ side tubes add a boost of buoyancy and balance as well.
Even if your four-legged best friend decides to walk around on the boat, it won't be sinking you two anytime soon due to accidental punctures. The kayak is made up of 6″ thick high-pressure, drop-stitch PVC. Yet, in case anything does happen, it comes with a repair kit and air pump.
The deck is self-bailing, so you won't have to worry about draining anything yourself.
To ensure a desirable performance, STAR integrated a stern fin plate and All-Water fin, improving its tracking efficiency. The aluminum-framed seat will sit you up high for ideal visibility and ease of standing up if needed.
What Customers Think
Kayakers say that this model is best suited for flat water with no current, perfect water conditions for bringing dogs along. Some anglers prefer to use it for fly-fishing, mainly.
Pros
Excellent durability thanks to the 6″ thick high-pressure, drop-stitch PVC
Impressive stability thanks to the 38″ width and 9″ side tubes
Self-bailing deck is highly convenient
Cons
Many paddlers complained that this kayak's tracking is not great
4. Ocean Kayak Malibu – Best for Families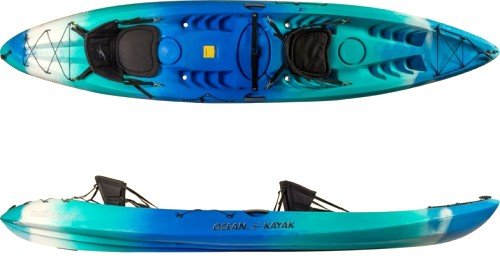 Specs
Length: 13′ 4″
Width: 34″
Materials: Polyethylene
Weight Capacity: 500 lbs
Number of Passengers: 2
This Ocean Kayak Malibu Two tandem sit-on-top kayak has enough room for two adults and a child, so rest assured that you and your canine pal will have plenty of room to move around and sit comfortably without invading each other's space.
This hardshell kayak is composed of polyethylene, ensuring great strength and resistance against the pitter-patter of dog nails. It doesn't matter if it's large or small, as the kayak can carry up to 500 lbs.
The bungee deck rigging on the bow and stern provides additional space for gear, so you can store your dog's accessories without taking up space for your own dry bags.
Apart from its dog-friendliness, this kayak maintains an amazing performance on the water. The rocker enhances turning efficiency, while the keel ensures optimal tracking. Combined with its 13′ 4″ length, rest assured that it'll keep straight lines at great speeds. At the same time, it boasts exceptional stability at 34″ wide.
What Customers Think
Most kayakers are overwhelmingly happy with the Ocean Kayak Malibu Two tandem model. The most often praised features include the impressive durability and abundance of room for adults, kids, and pets. In short, this kayak is ideal for small to giant breeds, especially energetic pups that may need a bit of extra room to move around onboard.
Pros
13′ 4″ length and keel ensure great tracking and speed
Hardshell; polyethylene material is resistant to scratches or punctures from dog nails
Excellent for large breeds due to massive weight capacity (500 lbs)
Cons
It's pretty heavy at 68 lbs, so you'll need to keep your pup out of the way while you're loading it onto the vehicle
5. Perception Tribe 13.5 – Best for Comfort
Specs
Length: 13′ 5″
Width: 34″
Materials: High-density polyethylene
Weight Capacity: 500 lbs
Number of Passengers: 2 with additional mold-in center seat
This tandem sit-on-top kayak is similar to the Ocean Kayak Malibu model described above. It features two seats so you and your furry friend can have your own dedicated seating positions. There's also an extra mold-in center seat, in case you want to bring a small dog along with you and a fellow paddler.
There are several storage options for your and your dog's gear, thanks to the tie-downs on the bow and stern. There's also a center hatch for storing small items, helping to maximize your space use.
This kayak also displays remarkable strength and durability, given its high-density polyethylene construction and one-piece roto-molded construction.
It'll maintain good stability during use, thanks to the ideal dimensions: 13.5′ by 34″. Plus, it can carry up to 500 lbs, so it's great for dogs of all sizes.
What Customers Think
This model has received consistently positive reviews from families and solo kayakers. However, since it's so heavy, nearly everyone recommends getting a friend to help you load it on and off your vehicle for transportation and launching.
Pros
Great carrying capacity at 500 lbs, ideal for large breeds
Highly durable thanks to the high-density polyethylene composition
Maximizes comfort with thigh and knee molds and ventilated seat cushions and backrests
Cons
The kayak is very heavy at a whopping 79 lbs – you probably won't be able to move it on your own
6. Sea Eagle 330 – Best for Durability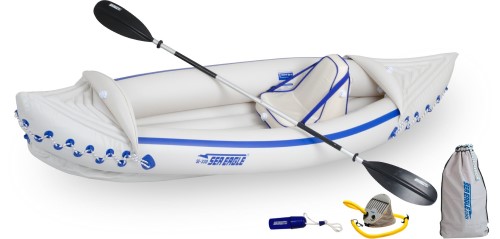 Specs
Length: 11′ 2″
Width: 34″
Materials: 33 mil Polykrylar (K80 PVC)
Weight Capacity: 500 lbs
Number of Passengers: 2
This Sea Eagle 330 is one of the most lightweight inflatable tandem models available at only 26 lbs. Despite that, it can carry up to 500 lbs, so feel free to bring your big dogs along. It's about 11′ 2″ long and 34″ wide, so it offers ideal stability as well, in case you've got an energetic pup that wants to walk around.
It features high-frequency welded seams with inflatable l-beam construction on the floors, so rest assured your dog won't be poking any holes in this for a while. The material is 33 mil Polykrylar (K80 PVC), so be confident that it'll stand up to abrasions and potential punctures. Plus, for added security, there are three separate air chambers.
Additionally, Sea Eagle integrated two kegs to improve tracking efficiency. You'll be able to control this kayak with ease, even as you share space with your beloved best friend.
What Customers Think
Paddlers feel almost entirely positive about this Sea Eagle kayak, though opinions on its tracking are split. Some think it tracks well, while it left more to be desired for others. Its ease of use and durability are crowd favorites, although some wish the seats were more comfortable.
Pros
NMMA Certified
Excellent durability thanks to the K80 PVC material, l-beam floor construction, and high-frequency welded seams
Can carry up to 500 lbs
Cons
The seats could be more comfortable
7. Intex Explorer K2 – Best for Visibility
Specs
Length: 10′ 3″
Width: 36″
Materials: Heavy-duty puncture-resistant vinyl
Weight Capacity: 400 lbs
Number of Passengers: 2
This kayak was designed with durability and safety in mind. Not only does it feature heavy-duty puncture-resistant vinyl, but it includes an l-beam floor construction and three separate air chambers for added assurance in case of a puncture from dog nails.
Plus, it comes in a bright yellow color for boosted visibility, ensuring that other kayakers and boaters can spot you on the water.
There are two seats for you and your pooch to have your own private sitting space, and it can support up to 400 lbs, ideal for large – but not giant – breeds. However, if you do want your dog to snuggle with you while you paddle, feel free to take one of the removable seats out.
No matter how you decide to sit, it'll keep you stable, thanks to the 36″ width.
The kayak also features a removable skeg in case you need temporary help with tracking.
What Customers Think
More than 16,000 people have attested to this kayak's quality. Many people have mentioned that they're impressed with how long this model retains peak air capacity, having performed perfectly for as long as six hours for some.
Pros
Includes removable seats so you can set up the kayak as you and your dog prefer
It can carry up to 400 lbs so that you can bring large – but not giant – breeds
Durable vinyl and l-beam floor construction
Cons
Only 10′ long, so tracking and speed may be a challenge
8. Botes Dues Aero – Best Inflatable Model for Dogs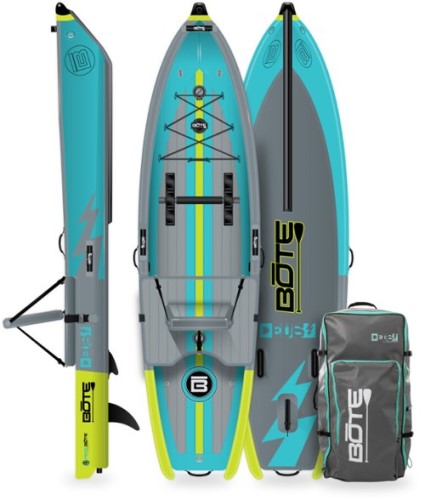 Specs
Length: 11′
Width: 33″
Materials: Drop-stitch PVC
Weight Capacity: 300 lbs
Number of Passengers: 1
This Bote sit-on-top kayak (and paddleboard) is one of the best inflatable models available for dog owners.
Although the kayak is composed of military-grade, drop-stitch PVC construction, the extra chambers (4 in total) can give you peace of mind in case one is somehow punctured by your dog's nails.
The BVA multi-textured deck pad is also ideal for slippery paw pads, as it provides non-slip traction and helps ease the effort of walking on board.
There are several bungee straps and D-ring tie-downs on the kayak's rail system. This is perfect for maximizing your vessel's storage capacity, adding just enough extra space for your pup's gear essentials.
Keep in mind that this kayak is ideal for folks who will be flatwater kayaking with dogs, given its dimensions, 11′ by 33″. Although this will provide a good amount of stability, it's not going to keep you as balanced as the Coleman Colorado 2-person fishing kayak, for example. The Coleman has a wider beam at 36.5″, so it offers more support.
Also, it's not suitable for large breeds for two reasons: First, the kayak is designed only for one person. Secondly, its carrying capacity is slightly lower than other models listed here, maxing out at 300 lbs.
What Customers Think
Paddlers' opinions of this kayak are generally good, although there's more to be desired regarding its movement through the water. It catches on the wind pretty easily, which can slow you down.
Pros
Highly durable, thanks to the drop-stitch, military-grade PVC
Includes a tracking fin to help keep you in a straight line since it's only 11′ long
4-chamber system plus the self-draining cockpit ensure optimal buoyancy
Cons
Relatively low carrying capacity for dog owners, may only support up to medium-sized dogs
9. Lifetime Tamarack Angler 100 – Best Storage Capacity
Specs
Length: 10′
Width: 31″
Materials: UV-protected high-density polyethylene
Weight Capacity: 275 lbs
Number of Passengers: 1
This hardshell, one-seated Lifetime sport fisher single kayak is great for solo riders with small dogs. It has the lowest weight capacity in this line-up, maxing out at 275 lbs like the STAR Challenger. (However, the STAR has much better stability, given its 38″-wide beam.) So, it's not for anyone who wants to bring larger canines on the water.
Although little pups may not present as much of a puncture hazard, rest assured that the kayak will maintain its resilience, thanks to the high-density polyethylene material.
The stability provided by the 31″ width is good considering its length, which tops at 10′.
There are two hatches and bungee-secured tankwell storage, providing ample room for your gear and accessories for your pup.
Lifetime integrated several features to ensure your efficiency and ease while paddling. For one, the hull design includes deep hull channels to improve tracking. It also has an adjustable fishing rod holder, so your hands are free to pet your pooch.
What Customers Think
In general, kayakers say that this is a good, smooth ride for a beginner angler or paddler, especially. They're durable and easy to maneuver, and best used for casual kayaking.
Pros
Offers great convenience with the mounted fishing rod holders
Various storage solutions available, including two 6″ hatches in the center and rear
The hull design includes stability chine rails and deep hull tracking channels for improved performance
Cons
Very low weight capacity at only 275 lbs
A Guide to Woof-Approved Kayaks
Kayaking with your dog is such a fantastic bonding experience. To ensure everything goes smoothly and safely, you'll need the right gear – starting with your kayak. Here are some critical tips that'll help you decide which of the best kayaks for dogs is right for you.
Types of Kayaks that are Dog-Approved
There are many types of kayaks out there, but not all are suitable for kayaking with your pooch. Here are the kinds to keep an eye out for if you're bringing your pup on the water.
Sit-on-Top
Many paddling dog-lovers appreciate this type of kayak. They offer tons of room for your pup to move around and enjoy its time out on the lake, river, or wherever you might be. Even if your dog isn't interested in walking back and forth or standing as you paddle, it'll have plenty of space to lounge however it might prefer.
However, this is precisely where sit-on-top kayaks' primary drawback lies. When you're kayaking with a dog in a vessel like this, you need to be more than sure that it won't jump out and that it can maintain its balance.
Fortunately, sit-on-top dog kayaks are often considered one of the most stable styles available. These tend to be quite wide, lending them more stability than alternatives.
Inflatable
It seems a bit counterintuitive to prefer an inflatable kayak for dogs, but it can truly be the best option in some cases.
First, inflatable kayaks are transport-friendly, as they're typically lightweight and can be deflated and folded.
Second, inflatable boats can still hold their own in the water with a canine companion. You'll hardly have to worry about your dog's claws puncturing the material, as these are often made of some pretty hardy material, including:
Hypalon (chlorosulfonated polyethylene)
Nitrylon
Neoprene (polychloroprene)
Polyethylene
Polyvinyl chloride (PVC)
Textiles
Manufacturers specifically design inflatable models to stand up against punctures and abrasions. So, you can rest assured that your dog won't poke holes in your vessel while you're out and about.
Tandem
Tandem kayaks are an obvious choice for bringing your pupper along on your kayaking trip. In this style, your dog will have its own designated cockpit, so you don't have to wrestle for space for both of you to get comfortable while on the water.
These tend to be narrower than sit-on-top kayak models and may have less stability. You can make up for the lost balance by ensuring you and your dog stay seated in your designated positions on the kayak. Note that your dog should always sit in the front seat of a tandem kayak. This way, you can always keep an eye on it, and it'll be easier for you to steer.
Some Fishing Kayaks
Fishing kayaks can either be sit-in or sit-on-top. However, most people prefer the latter, as they provide a much better experience in gear accessibility and movement. As mentioned earlier, sit-on-top kayaks tend to be much more stable than sit-in kayaks for dogs, since they're often much wider.
Plus, they're much easier to get into and out of. So, if you or your dog does happen to fall off the kayak or jumps out intentionally, it won't be too challenging for you to get your pup back in the boat.
Of course, if you intend to fish on your fishing kayak, it's unlikely that you'll allow your pup to rustle around in the water. In this case, you'll be better off with a sit-inside design to ensure your dog stays still while the line's out.
Recreational Kayaks
A recreational kayak is an excellent choice for dog owners with clingy pups. Further, these work well for small- to medium-sized breeds, as they can sit in the cockpit right beside you. Recreational kayaks' cockpits are relatively large, compared to many other types of kayaks. So, you and your pup can snuggle comfortably.
Keep in mind that you will be sacrificing a bit of speed and tracking efficiency by choosing a recreational kayak. This is because they tend to fall on the wider end of the available kayak types.
Generally, the narrower and longer a kayak is, the faster it will go. By increasing the width, you're effectively compromising the vessel's hydrodynamics. Additionally, recreational kayaks tend to max out at about 10 feet long, which some consider to be relatively short.
Comparatively, these are underperformers when it comes to tracking, so you might want to invest in a skeg or rudder.
Which Kayaks are Not Dog-Approved?
Some kayak types are not suitable for dogs at all, no matter how well-trained your pooch might be or how confident you are in your kayak handling and paddling skills. It's best to avoid the kinds of kayaks listed below to prevent any unnecessary safety risks:
Whitewater Kayaks 
These are not suitable for kayakers with dogs because of the snug fit. It's meant to keep you seated and secure in volatile conditions. Further, these types of kayaks are very sensitive to movement since it's supposed to respond to the whole body for optimal steering. Slight moves from your pup can send you flying into the water.
Sea Kayaks
This configuration is not recommended for dogs as it prioritizes speed, apparent in its design. These kayaks tend to be long and narrow, sacrificing a bit of the enhanced stability you'd get with a recreational or fishing kayak, for example. Plus, sea kayaks often have very small cockpits, so it'll be a tight fit for your pup.
Find a Stable Kayak with a Wide Width
It's been mentioned a few times now, but it stands repeating: One of the most important features you need to keep an eye out for when shopping for kayaks suitable for dogs is the width. The width is critical to the level of stability you're going to have. However, this feature doesn't exist in a vacuum. It operates in tandem with the kayak's length and your height.
To start, think about what the best kayak length would be for you. Some kayakers use 12 ft as the cutoff point, separating people who are 6 ft tall and shorter. If you happen to fall in the taller half of this comparison, your center of gravity will be higher, and the ratio of the kayak's length-to-width might not be as beneficial.
Once you've considered your height, you can finalize your decision on the optimal width for you. Fortunately, these dimensions remain pretty consistent across design categories so that you can shop with the following guidelines in mind:
Recreational kayaks: 26-30″ wide, 6-12′ long
Touring kayaks: 22-25″ wide, 12-15″ long
Performance kayaks: 19-22″, 15-18′ long
Keep an Eye Out on Weight Capacity
You, your dog's, and your gear's collective weight is an essential detail to consider when shopping for dog-friendly kayaks. The most obvious reason is that exceeding the vessel's weight limit can increase your risk of sinking.
Still, it's crucial to understand that a kayak's weight rating isn't set in stone. Different manufacturers use varying standards to determine how much their products can carry. Some intentionally underestimate what the kayak can support, even up to a whopping 100 lbs.
In an interview with Men's Journal, various manufacturers explained what details they consider before deciding how much weight their kayaks can support. These factors included:
Literal weight capacity: Some manufacturers place weights in the kayaks to test them before distribution. Some put them in the rear well specifically, as this plays a crucial role in the kayak's load-bearing capabilities.
Environmental context: A kayak's performance levels may change, depending on whether it's in whitewater or flatwater.
Possible water in the floor: Some kayaks have lots of freeboard compared to others; so, a manufacturer may consider the amount of water that might accumulate on the floor and incorporate that into the weight capacity.
Self-bailing capacity: This is included for similar reasons as the above factor. Water may collect on the floor, so the makers consider the self-bailing functionality in its design.
Find a Kayak that Can Endure Nails
A critical factor in determining which kayak type will work best for you and your dog is whether its nails can pierce through the boat's material.
This is one of the primary reasons why so many paddlers mistakenly refuse to consider inflatable kayaks as a viable option for their canine-friendly excursions. Still, rest assured that you and your furry friend will be just fine on one of these.
As mentioned earlier, inflatable kayaks are often made of very durable materials. Take Nitrylon (also spelled "nitrilon"), for example. Many kayak manufacturers, including Innova Kayak, are transitioning to using this instead of PVC as it's highly resistant to punctures and abrasion damage.
Nitrilon isn't the only durable material that would suit you and your dog well, though. Neoprene is also an excellent option, as it's more robust and tear-resistant than natural rubber.
The Coleman Colorado 2-person fishing kayak is an excellent example as well, as it features 18-gauge PVC, 1000D tarpaulin, and 840D nylon. Like the Sea Eagle 330, others are complete with other strong materials and design methods, like K80 PVC material, an l-beam floor construction, and high-frequency welded seams.
If you're not shopping for an inflatable kayak for dogs, your hardshell alternatives include the following, all of which will remain structurally sound, no matter how sharp your dog's nails are:
Wood
Polyethylene
Thermoform
Composite
Find a Boat with Lots of Legroom
Whether you plan to sit with your dog in the cockpit or alone in your own little vestibule, you'll need to ensure that both of you have enough room to be comfortable. The cockpit's dimensions determine how well you can control the kayak as a whole.
A cockpit that's too large will have you sliding around, reducing the efficiency with which you can control the vessel with your lower body, specifically. This is because you need to brace your body at the following contact points:
Feet
Thighs
Knees
Hips
Butt
Make sure that when you select your kayak, these body parts are in contact with the cockpit's inner surface while still allowing enough room for your dog. If possible, test out the model before your purchase by sitting inside, and if necessary, having your pup jump in with you as well.
Keep in mind that the cockpit's dimensions include the rim as well, so you may need to increase your ideal circumference by about 1-2″ to ensure it's a perfect fit. Typical kayak cockpit sizes are as follows:
Medium: 80-84″ circumference, ~25-27″ diameter
Large: 84-90″ circumference, ~27-29″ diameter
XLarge: 91-95″ circumference, ~29-30″ diameter
XXLarge: 95-100″ circumference, ~30-32″ diameter
Remember, the kayak's length and configuration (sit-inside vs. sit-on-top) will directly impact the available legroom. Think about whether you want your dog sitting beside you or in its own cockpit to make the correct choice.
Keep the cockpit's volume in mind, too, as this will inform you of the specific heights the boat can accommodate. Guidelines for selecting the ideal kayak cockpit size are below:
Low volume: These are best for paddlers measuring 5'6″ or shorter. Your weight will also play a part in how well this type works out for you. Typically, 140 lbs or lighter is best in low-volume kayaks; however, you can refer to the manufacturer's description for a more accurate weight capacity.
Medium volume: Paddlers that are between 5'7″-5'10" and 140-190 lbs would do best in these kayaks.
High volume: Individuals who are 5'10" or taller and 180+ lbs will feel most comfortable in these boats.
Optional DIY Platforms to Add
You can customize your kayak further to make the vessel much more canine-friendly by adding a "dog platform." This is a component that helps retrieve your canine friend from the water with greater ease. With that said, the exact design will vary depending on your dog's size.
The style of the kayak dog platform will also change based on your preferences. For example, when some paddlers refer to a dog platform, they mean a board that's specially made for the dog's seating on the boat's rear. It's not necessarily made for helping your pet out of the water but intended for relaxation and maximizing surface area.
Here are two examples of DIY kayak platforms for dogs:
Rescue ramp: This is a ladder that you mount on the kayak's front deck, toward the bow. You can use the scupper holes to hold the platform in place, depending on where they're located. (This may be easier in a sit-on-top kayak.) All you need to build this DIY platform are various PVC components.
Seating platform: A platform of this style would be secured to the rear deck, toward the stern. This would work best for a sit-inside design, as it allows your dog to sit comfortably without having to share the cockpit with you. If you choose to use wood, like this example, be careful about how much weight it adds to the boat.
How to Kayak with Your Dog
Now that you've assessed all the most crucial details of your dog-friendly kayak's design, it's time to get your boat on the water and have the time of your life with your best buddy.
Although this is a leisurely activity, there are still some safety guidelines and general tips you should follow, especially if it's your or your dog's first time on a kayak. Below are some key pieces of advice on how to kayak with your dog:
Get a life jacket for your dog. No matter how confident you may be in your dog's swimming abilities, you must purchase a life jacket if it'll be on the kayak with you. This is non-negotiable, as many things can lead to your dog drowning, including intentional swimming.

Note: Keeping your dog afloat and monitoring their time in the water while kayaking is essential. Dogs can drown or suffer from the effects of "near-drowning," or inhaling water to the point that it causes inflammation or infection.

Check the current beforehand. Don't go to a water body that has too strong of a current. Your pup might get swept away if it hops off the boat.
Steer clear of algal blooms. The two main types of algal blooms to be wary of when kayaking with a dog include red tides and blue-green algae. These release toxins that can be harmful to your pet.
Here's what you'll need to bring on your trip to make your pup as comfortable as possible:
Treats
Water
Poop bags
Leash
Chew toys
Towel
Once you've got all this down, you can begin helping your dog acclimate to the kayak and build up to the moment you launch on the water. Follow these tips below to get started kayaking with your dog:
Let your dog get familiar with the kayak. Before your dog ever steps foot into the kayak, it must get comfortable being near it. Famous dog-loving outdoorsmen, Joe Robinet, gave his dog Tripper weeks to get used to the canoe before he ever took him to the water. Create a positive association with the kayak by showering your pup in treats.
Practice commands. While you give your dog opportunities to explore the kayak on dry land, it's best to practice relevant commands. The most important behaviors to train include "sit" and "lie down," as these will ensure that your dog stays under control when you're out on the water.
Launching the kayak with your dog. Don't rush this step. You can give your dog a few weeks or as long as it needs to build confidence before you attempt to launch. When you're ready, give your dog the command to sit or lie down to keep it still as you push the boat into the water. Ensure you are both wearing your flotation devices.
FAQs
You have to juggle several factors when preparing to go kayaking with a dog. Understandably, you might still have questions on how to manage it all. If so, see the FAQs below.
What happens if your dog jumps off?
To prepare for this possibility, make sure you've taught your dog the command, "Come." It should return to you immediately, guided by you pulling an extra-long lead. Make it easier for your dog to get back onto the boat by adding a DIY platform described above.
Does Rover prefer hardshell or inflatable kayaks?
Whether your dog prefers a hardshell or inflatable kayak depends on its size and the fabric's traction. Inflatable kayaks' floors may be more comfortable for a dog's paw pads. However, a hardshell kayak has a better chance of resisting damage from sharp nails.
Further, consider your dog's size when deciding between a hardshell or inflatable kayak. Larger breeds would be better supported by a hardshell kayak, while the alternative better suits small dogs. Still, some inflatable kayaks can have higher weight capacities than hardshell models.
What accessories do you need for your dog?
You don't need to bring too many things along when taking your dog kayaking. Above all, you need a life vest for your pup. Other things you can bring include:
Water
Leash
Treats
Poop bags
You can also bring toys to keep your dog occupied while you paddle.
Do I bring my dog's leash with me while kayaking? 
Some people prefer to bring a leash while kayaking with a dog, as they can use it to guide their dog back to the boat if it jumps out. However, if you decide to bring one along, do not secure the leash to the kayak. If it were to capsize, your dog could get tangled and pulled underwater.
Final Thoughts
The Coleman Colorado 2-person inflatable kayak is the best kayak for dogs, thanks to its impressive durability, high weight capacity, and exceptional stability, thanks to the 36.5″ beam. Still, this might not work for everyone, especially if your dog's not that big or you don't want a tandem design.
Using the buying guide and suggestions above, you'll be able to choose the perfect model for you and your pup. Once you've made your choice, click any of the links here to purchase your kayak and drop any questions you have in the comments below.