If you are looking for the best beginner kayak it's the Pelican Premium Sprint 100XR Kayak.
Do you want to paddle your away across scenic rivers, lakes, and coastlines? Kayaking is an excellent way to lose weight, gain muscle, reduce your stress load, and explore the great outdoors. Maybe you've already tested the waters on a rental or friend-owned craft. Perhaps, you've never even mounted a kayak. Something has you itching to discover the best beginner kayak. We are here to share the top contenders and a few pointers. On one side, we have a solo sit-on craft that's fit for most waterways. On the other, we have a blow-up kayak with room for two adults and a child. Coming in for all angles are budget-friendly, confidence-spiking kayaks that will have you cruising across your favorite waterways.
The Best Beginner Kayaks go as follows:
Best Beginner Kayak Reviews
The following are the top rated beginner kayaks as judged by customers.
1. Pelican Premium Sprint 100XR Kayak – 10 Footer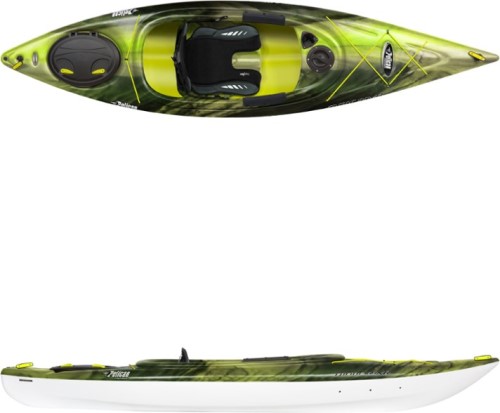 The 10-foot Pelican Premium Sprint 100XR is a budget-friendly kayak that comes with ample onboard accessories. The hull boasts a deep V-shaped chine that gives the boat excellent primary stability. The polyethylene base is rigid and rugged. Despite its ability to hold a combined weight of 300 pounds, the Pelican only weighs 41 pounds. On top of being light enough to lift, it comes equipped with durable bow and stern handles.
The Pelican also features a premium cockpit. The recessed area boasts a proprietary Ergoflex seating system with adjustable footrests and knee pads. Nearby, there is a day hatch and water bottle holder. These elements enable inexperienced paddlers can access essential equipment while they are floating on the water.
While the Pelican isn't prone to pooling, it has a screw-in drain plug for easy water releases. A rear bulkhead also prevents the boat from taking on water in the case of a capsize. The boat also has a quick-lock hatch in the back. This extra storage space enables a boater to back a day or two worth of food and water.
All these features lend themselves to a premium beginner boating experience. For one, you can sit in this boat for hours without feeling cramped or confined. In addition to that, this boat moves fast and efficiently. Overall, it offers a fabulous return on paddler output. Not to mention, it can hold its own in choppy, energetic water. With all that said, we highly recommend this buoyant craft for flatwater excursions and fishing trips.
Customers feel at ease in this stable watercraft. Many were impressed with the generous amount of onboard storage, which includes watertight bulkheads, bungee rigs, and a drink holder. Most consumers agree that the hull is rugged enough to withstand most beginner blunders. The boat's wide cockpit also makes it a hard vessel to tip. Still, the boat is light enough that a solo paddler can mount it on their vehicle without a struggle.
Pros
Deep V-chine hull for optimized stability
Suitable for saltwater conditions
Made from proprietary RAM-X PREMIUM high-molecular-weight polyethylene and resin
Rear bulkhead to store extra gear and supplies
Bungee cord rigging
Cockpit table with 4-inch day hatch and water bottle holder
Ergonomic flexible seating
Knee pads and adjustable foot rests
Screw-in drain plug
300-pound weight capacity
Cons
Heavy
Some surface blemishes
2. Sea Eagle 330 Inflatable Kayak – 11 Feet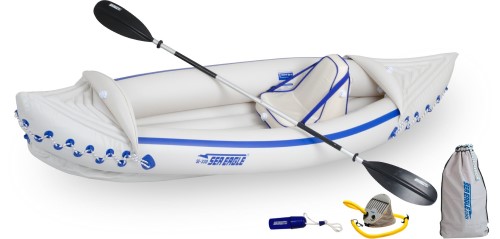 Many people stray away from boating because they don't want to invest in roof racks and trailers. However, inflatable watercrafts can be stuffed into the smallest crevices in your trunk. The Sea Eagle 330 is an 11-foot kayak that can be transformed into a petite 26-pound parcel. Despite its small size and reliance on air, this impressive floatation device can hold up to two passengers or 500 pounds of cargo.
The boat's polykrylar hull is durable and resilient. It's even engineered to fend off the sun and salt. Not to mention, it can survive collisions with rocks and other unforgiving waterway debris. The one-way air valves allow for rapid and sustained inflation. They do not crack or wear over time. With the right pump, you can have this impressive ready within minutes.
We love that this boat boasts a five-piece I-beam floor. The individual tubes help distribute the weight of the passengers, offering more stability and better tracking. Two rear skegs further improve this kayak's ability to plane across rough water. Each stoke of the paddle offers generous returns.
The cockpit also offers comfortable seating and onboard accessories. The inflatable seats come with adjustable, supportive backrests and ample bottom support. There is also plenty of space for both paddlers to stretch out their legs. The cockpit measures 9 feet 6 inches by 15 inches. All the while, the boat is nearly 3 feet wide and over 11 feet long.
The boat is also equipped with ample safety features. For one, the bottom of the boat features several 10-inch diameter tubes. There are also three individual air chambers, including one for the port, starboard, and floor. The watercraft also carries a NMMA certification.
The Sea Eagle enables beginner boaters to reap all the benefits of a traditional kayak without spending an arm and a leg. This boat offers unmatched portability and convenience for the fraction of the price of a hard-shelled polyethylene alternative.
Many customers said that they were concerned about investing in an inflatable floatation device. However, most consumers have said that the Sea Eagle exceeded their expectations. With the help of an air pump, you can have this kayak on the water in less than 10 minutes. The boat is surprisingly rigid and well-balanced. Not to mention, the material can withstand some pretty intense scrapes and blows. Most customers agreed that this boat was easy to transport. If you're someone with limited upper body strength or mobility, this kayak is worth a look!
Pros
500-pound weight capacity
Drain valve
Five one-way air valves for a impressive 6-minute inflation
Lashed-down inflatable spray skirts
I-beam boat floor
Dual skegs
Bow to stern bungee line
11 feet 2 inches long
2 feet 10 inches wide
Three isolated air chambers
High-frequency welded seams
Cons
Air pump is sold seperately
3. Ocean Kayak Malibu Two XL Tandem Kayak – 13 Feet 4 Inches
Make the most of your boating experience by sharing it with a friend or loved one. The Ocean Kayak Malibu Two XL is a budget-friendly tandem boat that's perfect for beginners. This 13-foot kayak offers overlapping footwells, padded backrests, and flexible seating. The pivoting seats provide paddlers with the opportunity for face-to-face kayaking lessons and floating picnics.
The Malibu Two features an extra-stable tri-hull that's stable enough for Stillwater fishing. While this boat will toss you around if it hits heavy surf, it's perfectly suited for saltwater excursions. The sealed polyethylene hull makes it easy to recover from capsizes. On top of that, the boat's wide, flat deck offers the same flexibility as a standup paddleboard.
While most newbies won't be taking off on week-long excursions, the Malibu offers ample onboard storage. Onboard paddle holders and bungee rigs enable boaters to take a break and enjoy their view from the water. What's more, molded side handles and bow and stern toggles make it easy to lift and move this oversized boat. That said, we recommend that owners invest in a small trailer.
Customers can't believe how easy it is to get around in this two-person kayak. While the boat is a bit heavy, it glides through the water with natural elegance. While there's room for two or more, the cockpit can also be manned by a solo paddler. With a 34-inch hull and a 500-pound weight capacity, there's no reason to limit your gear or leave behind your water-loving pet. This watercraft is built for those who want to share their aquatic experiences.
Customers also love that the Malibu is available in several bright colorways. The tie-dye-inspired blends look fabulous on the top of a lake. If you want a boat that will boost your Instagram likes, the Malibu may be the one for you.
Customers were also pleasantly surprised by Ocean Kayak's customer service skills. The company is generous when honoring their limited lifetime guarantee. What's more, they offer phone-based customer service.
Pros
Suitable for one to three passengers
500-pound maximum weight capacity
Overlapping foot wells
Sit-on-top design that doesn't pool water
Screw-in drain plug
Limited lifetime warranty
Onboard bungee rigging system
Bow and stern toggle handles
Molded side handles
Adjustable seating positions
Cons
4. Sun Dolphin Aruba SS Sit-in Kayak – 10 Feet
Next up, we have the perfect beginner boat for paddlers who want to stick to the lake or river. This compact and budget-friendly kayak helps inexperienced paddlers develop confidence in the water. At just 43 pounds, it is hard to believe that the Aruba SS can hold a combined weight of 250 pounds. However, we were able to test this water beast and confirm its capacity.
The boat's square stern makes for a perfect entry-level design. What's more, its rugged polyethylene construction can withstand common beginner mistakes, including run-ins with rocks and branches. A hands-free electronic console enables paddlers to keep their cell phone or fish tracker at arm's length. What's more, a molded water bottle/drink holder ensures that paddlers can stay hydrated on the water.
While we don't expect excess speed and control from most entry-level kayaks, the Sun Dolphin was a superior performer. With each stroke of the paddle, the Sun Dolphin offered a generous response. A boat such as this enables inexperienced paddlers to make it across vast stretches of still water. However, we suspect that its sunk-in cockpit would become quite damp in heavy surf.
While rather squat, the Aruba still manages to pack plenty of onboard and internal storage. The removable accessory carrier and shock cord deck rigging provide enough space for picnics and camping gear. The boat is even equipped with paddle holders.
The boat weighs roughly 42 pounds without any passengers. While it can be quite cumbersome to move, retractable hull and bow handles make transportation easier. Despite its weight, the boat is only 10 feet long and just under 3 feet wide. What's more, it has a 250-pound weight capacity. This makes it a bit cramped for big and tall adults. However, it's a great option for children and teens.
Customers found it easy to get acclimated in the Sun Dolphin. While sit-in cockpits are often cramped and confining, the Aruba offers plenty of onboard amenities. The flexible, padded seat and adjustable backrest enable users to sit comfortably for extended periods. Meanwhile, footrests and knee pads provide much-needed support for paddlers' lower extremities.
Many people were also pleased to discover that the Aruba comes in four unique solid colors. The options are green, blue, red, and orange. All of which offer heightened water visibility.
Pros
Features a removable portable accessory carrier
Adjustable foot braces
Protective thigh pads
Electronic console and water bottle holder
Bungee rigging on deck
Paddle Holders
Available in a variety of solid colors
Cons
Must call toll-free number to arrange delivery
5. Intex Explorer K2 Kayak – 10 Feet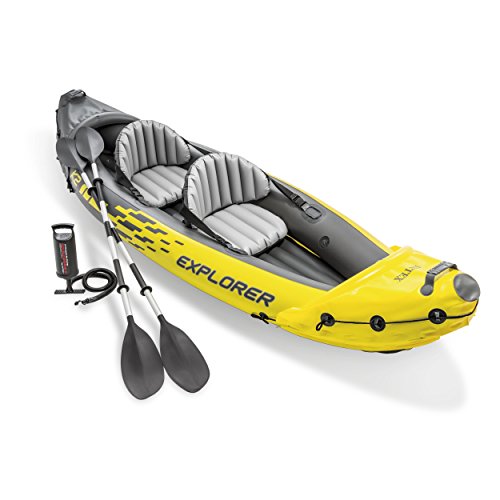 The Intex Explorer K2 Kayak enables inexperienced kayakers to bring along an experienced coach. This inflatable tandem kayak comes with everything you need to dive headfirst into this popular boating activity. However, at just under $100, you can test the waters without making a full-time commitment to the craft.
At 10 feet long and 3 feet wide, this inflatable boat offers ample stability without compromising steering. The boat has a maximum weight capacity of 400 pounds, offering enough room for two adults and some gear. The boat features a bright yellow exterior. This optimizes the visibility of craft in crowded waterways and emergencies.
While the Intex kayak is surprisingly sturdy, we don't recommend taking anywhere but mild rivers and lakes. According to the manufacturer, this craft is only designed for small waterways. The Intex boasts all sorts of safety reinforcements, including a puncture-resistant vinyl hull, dual air chambers, Boston valves, and an inflatable I-beam floor. To top of its safety credentials, the craft is certified by the National Marine Manufacturers.
The boat takes under 10 minutes to inflate. Once it is inflated, it can be dragged into the water with the help of the stretchy bow to stern pull lines. When you're finished kayaking, you can delate the boat and store it in its complementary carry bag.
Customers love that the Intex kayak package comes with all sorts of essential gear. You get a pair of 86-inch aluminum oars, a high-output air pump, a carrying bag, and a removable plastic skeg. Many consumers were also surprised to find that the Intex cockpit is roomy. What's more, the seats were soft, supportive, and flexible. They can even be removed and adjusted to improve the ongoing comfort of individual boaters.
This kayak is perfect for beginners who want to dabble in the art of paddling. It's also a tried and true option vacations and weekend excursions. With no need for outdoor storage or transportation tools, you can keep costs down and make the most of your boating experience. With all the money you save, you may even want to purchase a few beginner kayaking lessons.
Pros
Two-person inflatable watercraft
Includes aluminum oars and a high-output air pump
Bright, noticeable color
400-pound weight capacity
Spacious inflatable cockpits with padded seats and backrests
Suitable for lakes and rivers
3 feet wide
Includes carrying bag
Removable plastic skeg
Bow and stern grab lines
Seats can be removed
Budget-friendly price
Cons
Inferior and sometimes leaky air valves
What to Look for in a Beginner Kayak
Water Conditions:
It is not always easy to determine where a kayak can be used. While most manufacturers make mild suggestions, the design of the boat is usually a more obvious indicator. Some kayaks are engineered to float gracefully over the surf, salt, and currents. Meanwhile, some boats can only maintain their stability on still water.
If you're looking for a boat that can hold its own on the seaboard, make sure it's qualified to handle waves. Most saltwater kayaks have long, slim, pointed hulls with sharp fins (skegs) on the bottom. On the other hand, freshwater kayaks tend to be far flatter and stubbier than their salt-loving cousins.
With that said, most beginner kayaks are best-suited for shoreline excursions and recreational activities. Touring vessels, which offer faster tracking and more dynamic steering, are almost always reserved for experienced paddlers.
Keep in mind that both sit-in and sit-on-top kayaks are suitable for beginners. Sit-on-tops are perfect for fishing, floating, and general water play. Meanwhile, sit-ins are preferable for long-distance and cold-weather excursions. It's essential to think about your kayaking goals, as the best beginner kayak could be a sit-in or sit-on-top variety.
Material:
Kayaks can be constructed from a wide range of materials, including polyethylene plastic, ABS, fiberglass, and more. When shopping for the best beginner kayak, opt for a durable, inexpensive option. Polyethylene is abrasion-resistant and can handle quite a few blows. Kayaks made of this material have a better chance of surviving beginner blunders.
Inflatable kayaks are also great beginner options. If you opt for an inflatable kayak, ensure that it is made from something a bit more durable than run-of-the-mill PVC. Look for inflatables with multiple air chambers and one-way air valves. These essential add-ons will keep you afloat in the event of a small puncture.
Seating and Cockpit:
One of the most essential elements of boating is posture. As such, we cannot help but stress the importance of purchasing a vessel with a comfortable and supportive seat. We prefer seating options with soft padded bottoms and adjustable backrests. It's also important that a seat will not fade or tear when exposed to harsh elements. Most kayak seats are made from a woven nylon or other synthetic materials. Many are suspended by straps. Most seats can be moved in multiple directions, enabling a paddler to make momentary adjustments on the water.
Kayaks should also provide paddlers with minimal some sort of lower body support. Sit-on-top vessels permit paddlers to stretch out their lower extremities. In some cases, paddlers may even opt to hang their legs over the sides of the boat. Still, these kayaks should feature molded or adjustable footrests. These components enable paddlers to keep their legs in a slightly bent position.
Sit-in kayaks should also offer a combination of lower body supports. Cockpits should feature molded or adjustable foot, knee, and thigh rests. These essential elements prevent paddlers' legs from crapping.
Storage:
We're huge advocates for kayak storage. Most kayaks are long and spacious, with plenty of cavities just waiting to be filled with gear. Ideally, a boat should boast a mix of watertight bunkers and deck-top rigging. This way, paddlers can store on-demand objects and nonessential items in different places. While overnight kayak trips aren't popular with first-time boaters, it pays to have enough storage space for elongated excursions. Large storage compartments are a great excuse to plan island-based picnics. If you're planning on using your kayak as a fishing vessel, your extra storage can be used to store poles, tackle, and fish.
Onboard Amenities:
Skegs:
Skegs are the small plastic fins that are often attached to the base of a kayak hull. In most cases, these rudders retract or disconnect for easier transportation. Skegs help kayakers to track across the water, making them an essential element in rough water. If you're a beginner boater, it's wise to invest in a boat with an indestructible or easy to replace skeg. Lack of control and poor foresight can send your skegs straight into the bottom of a lake, leaving it worse for wear.
Bunkers:
Bunkers are the sealed storage spaces located in the centers of the stern and bow. While these spaces aren't aboard every kayak, they are great assets for beginner boaters. After all, they prevent moisture from creeping its way into gear bags and electronics.
Deck Lines:
Deck lines are the stretchy or static ropes that are strung over or around the hull. These elements provide boaters with easy to reach storage. If you're someone who snacks often or wants to keep your phone on hand, deck lines are an essential onboard accessory.
Consoles:
Many modern kayak manufacturers have taken it upon themselves to include onboard storage for drinks, snacks, and electronics. Many also offer storage space for fishing rods. While many of these accessories can be purchased separately, it pays to have them packaged into your initial boat bundle. If you're new to boating, why not make yourself more comfortable by opting for a boat with ample onboard accessories?
Cup holders:
Don't underestimate the physical demands of paddling. It's easy to work up a thirst while out on the water. Having so much water and so little to drink can mess with a first timer's heads. That, dear reader, is why we always recommend keeping a hydrating beverage within arm's reach. Make hydration more convenient by opting for a boat with a built-in cup holder!
Paddle Holders:
A lost paddle can reap chaos for a first-time paddler. For this reason, we always recommend opting for a boat with onboard paddle holders. These invaluable accessories provide paddlers with a place to rest their most precious assets.
One can easily get lost in the world of paddle holders. There are fixed, hanging, and clip-on varieties. Ensure the paddle holders on your boat are outfitted to handle your particular paddles. The holders should keep the paddles tight against the edge of your boat, with no chance of them popping out while you are floating.
Steering and Stability:
Many inexperienced kayak buyers are fixated on prices and aesthetics. As such, they often neglect to observe the most important design elements. For those that are just starting, steering and stability are of the utmost importance. In this section, we'll explore some of the key elements that affect a boat's stability and steering.
The Dimensions of the Boat:
The length of a kayak has an impact on its maneuverability. Long, thin kayaks are better at tracking, or traveling along in one direction. Meanwhile, short kayaks are easier to turn. Most first-time boaters find short kayaks (under 10 feet) easier to control.
It's also essential to consider a kayak's width. Kayaks with wide hulls tend to be more stable in the water. Many newbie boaters prefer wide, flat hulls. Designs such as this reduce the risk of flips.
Consider the size of your body before settling on the stubbiest kayak on the market. While you may want to optimize your maneuverability, your boat needs to have a high enough weight capacity to hold you and your gear. The cockpit also needs to be long enough to fit your entire lower body.
When it comes to size, you also need to consider how you will be transporting your new boat. While many people keep their kayaks a few feet from the water's edge, others need to haul their boat to the water for each individual excursion. Protracted kayaks need to be mounted on top of vehicles or stowed in towable trailers. However, blow-up boats can be reduced down parcels that are small enough to fit in the back of a sedan.
The Shape of the Hull:
The bottom of kayaks, or the hulls, vary dramatically. These elements may be rounded, V-shaped, flat, or indented. The various hull shapes are engineered to handle specific water conditions. Only a few hull shapes are ideal for beginners.
V-shaped hulls are perfect for tracking. However, they lack stability. Flat hulls offer the most stability. However, they are also the most difficult hulls to maneuver. Therefore, they are often used for recreational activities, such as fishing and kayak surfing. Hulls with hard, or sharp, chines are tippy when still and stable in motion. This floating phenomenon is referred to assecondary balance.
Portability:
While traditional hard-shelled kayaks offer unmatched durability and ample storage, inflatable kayaks are close runner-ups. These cost-effective, space-saving alternatives are perfect for travelers and those with limited storage. If you opt for a hard-shelled boat, make sure you can transport it from your home to a nearby waterway. Most people choose to use a kayak roof rack and beach trailer. No matter what method you use, we strongly advise against dragging your kayak. This careless behavior can cause unnecessary punctures and scratches to develop on the bottom of your boat.
How to Take Your Kayaking to the Next Level
Are you wondering how you can improve your paddling skills? Improve your chances of success by purchasing the best kayak for beginners. Then, up the ante by making the following moves:
Take a Lesson:
While kayaking is a simple and monotonous pastime, there are plenty of pointers that only a professional can offer. We advise all first-time paddlers to invest in kayaking lessons. Most kayak instructors teach proper paddling techniques, maneuvering skills, and recovery protocols. These essential skills can help you (pun-intended) paddle your way out of a dangerous situation.
Kayak lessons are also a great way to connect with local kayaking enthusiasts. Kayaking with an instructor or group can help you develop confidence and master essential boating skills. By the time you wet your feet, you'll be able to speak like a professional boater. You may even be able to teach your fellow kayakers to perform draw strokes. low braces, and self rescues.
Learn Essential Maneuvers:
If formal lessons aren't up your alley, consider practicing essential maneuvers on your own. Start with basic paddling techniques and work your way up top unassisted rescues. Don't stray too far from the shore until you have mastered a standard skill set.
Partner Up:
Make the most of your learning experience by partnering with an experienced kayaker. Tandem kayaks enable couples and families to boat together. You need to be totally in sync with your partner to make the most of your shared boating experience. While tandem paddling isn't for everyone, it's a great way to bulk up your boating skills in a short period.
Tips for Beginner Kayakers

Always Prepare Yourself for the Worst Case Scenario:
One of the biggest mistakes that inexperienced boaters make is lack of preparation. If your kayak boasts onboard storage, take advantage of this extra space by packing it with plenty of safety essentials. We recommend bringing extra water, food, first aid equipment, clothing, and a cell phone. Keep this gear in a water-tight space to ensure that it is not spoiled. Purchase yourself a Coast Guard-approved floatation device. Better yet, wear it. Even experienced swimmers are susceptible to drowning!
Purchase the Right Paddles
Many people cut corners when purchasing essential boating accessories. Choose paddles with blades that are made from durable materials, such as fiberglass, nylon, or plastic. Make sure that a paddle's shaft is lightweight and easy to handle. Use your kayak's width and your height to determine your ideal paddle length. Keep in mind that some paddles can be adjusted to better accommodate individual boaters. What's more, some paddlers have angled or feathered paddles that are suited for specific strokes.
Limit Your Exposure:
While boating is a great fitness activity, it's important to approach it with caution and restraint. Paddling forces individuals to use a unique set of muscles. Many people assume that they can paddle for long periods. Many first-time paddlers fail to pace themselves. Over exerting yourself on the water is extremely dangerous. You can land yourself in deep water, with little to no energy to guide you back to your base. When just starting out, it is a good idea to keep your paddling sessions short and sweet.
Work with a professional trainer or experienced kayaker. Take the time to practice paddling techniques and perfect your boating posture. Familiarize yourself with local water restrictions. Better yet, stay up to date on weather changes. Only experiment with new techniques when you are close to the shore. What's more, always let someone know when and how long you plan to be out on the water.
Check the Weather:
Make a habit of checking the weather before you head out on your kayak. Adverse weather can put a damper on your enjoyment and safety. Wind, rain, fog, thunder, and lightening should be avoided at all costs. Weather patterns can change at the drop of a hat. Pay close attention to atmospheric changes. Head to shore as soon as you observe signs of approaching storm fronts. Always refer to reliable weather resources for up-to-date forecasts. The National Oceanic and Atmospheric Administration (NOAA) is a great reference for local weather highlights and water conditions.
Kayak in Groups:
While a solo trek across a lake may seem like a welcome retreat from reality, it's also a recipe for disaster. If you are an inexperienced kayaker, a seasoned partner is your best asset on the water. Stay close to your comrade. If you take on water or flip over, your experienced advocate can always come to your aid.
Use Old Fashioned Navigation Tools
We know what you are thinking… Google Earth has all the answers. However, even the most luxurious smartphones are not impervious to destruction. When service is poor, batteries run low, and water does its damage, a map and compass have your back. If you don't already know how to utilize these tools, boating is a great excuse to learn them.
Learn How to Rescue Yourself:
We don't care if you google it or hire a professional. However, don't even think of leaving the shore without a basic self-rescue skill under your belt. There are plenty of YouTube videos on how to perform these basic maneuvers. However, the best way to master this skill is to act it out from start to finish.
While intentionally turning over a kayak may not be your idea of a good time, it will help you develop the muscle memory and confidence you need to get yourself out of a precarious situation. You don't need to venture beyond knee-deep water. Just pick a warm, sunny day to do the deed. Don't forget to pack an extra set of clothes. You are guaranteed to get wet during this exercise!
Final Thoughts
We hope you enjoyed our top five beginner kayaks. If you're looking for the best beginner kayak, we recommend investing in the Pelican Premium Sprint 100XR Kayak. While this hard-shelled boat is a bit pricier than some of the inflatable alternatives, it is destined to out-live most blow-up and budget-rate boats. Not to mention, it offers an impressive return on paddling output. Of course, the Sea Eagle 330 is a great option for entry-level boaters who want to bring along a friend. After all, where else are you going to find a two-person boat that rolls up into a handheld parcel? Kayaking is a rewarding outdoor activity. We're confident that the right beginner kayak will make this activity a permanent part of your life!