If you are in a hurry and want to find the best kayak seat, go for the Brooklyn Kayak Company Professional Universal.  >>Check Price on Amazon<<
You have bought a kayak that is the most appropriate for you. You take it to the lake or the sea for a paddle and thoroughly enjoy it. You are very satisfied and relaxed. The problem is that on your way back home you realize that your neck and spine are sore.
Have you ever experienced that? I have and when I did, I realized that I needed a better kayak seat for my sit on top kayak.
If you are planning to take your kayak out in the water for many hours at a stretch, you need a kayak chair that is comfortable. Most kayaks are made of excellent material that is very durable. This includes the kayak seats that you may get free with the kayak. However, not all seats are comfortable and the few extra dollars that you spend buying a  seat is well worth its price for hours of paddling.
We have mentioned below the best kayak seat pads:
Let's get started on what you need to look for in a kayak seat.
The Ultimate Guide to Identifying the Best Kayak Seat for You
Before you go out to buy a kayak seat, you need to check that you can modify your kayak to accommodate the kayak chair. There are many kayaks in the market that come with their own seats which you can't remove. This is more common with sit in kayak seats, so do you research and due diligence if you were to go down that route.
Most advanced or high-end sit-on-top kayaks will give you an option to install your own kayak seat.
There are a few important features that make a great boat kayak seat stand out from a normal one:
Comfort
The most important reason for you to buy a separate kayak seat rather than make do with the one provided along with the kayak is to ensure that you have a seat which is comfortable. If the seat is not comfortable, it doesn't make sense to buy it.
When you are buying online, you may not understand what the most comfortable kayak seat is so we have reviewed the top 5 kayak seats below for you. In any case, if you don't find the seat comfortable, you can return it. Make sure that when you get the kayak and its seat, you take your kayak out in the water as soon as you can and for as long as you can so that you understand how comfortable you find it.
Cushioning and padding
Another important aspect of your kayak seat is how much padding and cushioning is there in the seat. Cushioning and padding are important when it comes to the performance of the seat and its comfort level.
If the padding is enough, you will be warm and it will help ensure that your legs don't freeze.
Stability
If you are a kayak angler, then the kayak seat needs to be very stable. A good seat will give you a lot of stability. You shouldn't be able to wiggle in the cockpit. This will reduce the chance of you flipping over.
If you are using the kayak for fishing, make sure that the seat is stable so that you can focus on casting and fishing rather than on your balance, especially if you are reaching over to grab your fishing rod from one of the rod holders.
Durability
When you buy a kayak, most likely you will use it for many years and even for decades. You need to check that your kayak seat pad has the same level of durability. It doesn't make sense that you take the seat out with you when you are fishing for two seasons and then it starts to wear off.
If you are a frequent paddler or if you go fishing frequently then having a fishing kayak seat that has a high durability rating is very important. You definitely don't want to go out every month to buy a new one.
Additional Storage/ Kayak Seat Pockets
It is not very important but having a boat seat which has a bit of additional storage space helps especially if you need to store essential stuff. Some kayak seats come with extra add on cargo space and you can store extra things such as bait, drinking water, a flashlight, etc.
Price
Most people use price as a deciding factor when it comes to buying a kayak seat. You should get a kayak seat that is made of high-quality at a very reasonable price especially if you buy it online. The higher the price, the more ergonomic and comfortable your kayak will be. So if money is not an issue, you can check one of the higher priced kayak seats that we have reviewed below.
Performance
Your performance in the water depends on your skill and the kayak. However, if you have an uncomfortable kayak seat, it will definitely impact your performance. If your kayak seat pad is not proper, even though you may paddle well, the amount of strengths for which you paddle may not get transferred completely to the body of the kayak. There are many reasons why the performance may be affected due to the kayak seat. Sometimes it is because the material used in making the seat is low-quality or too soft. Sometimes it is the construction or design of the seat. If your seat is designed properly and is made of high-quality material, you can transfer your strength from the paddle to the kayak with minimum wastage of energy. This allows you to paddle at high speed and maintain that speed.
Maneuverability
Another important aspect that you need to keep in mind is how easy it is to maneuver your kayak when you are sitting on the kayak seat. If you are in a small kayak and you approach whitewater rapids, your legs and hips should have space to maneuver. If the seat is not flexible, you may risk getting hurt. The seat should be a perfect balance of being stiff enough to transfer strength and soft enough to give you comfort.
Support
The other important thing about kayak chairs is that you find kayak seats with back support and lumbar support. A well-made, high-quality seat will give you excellent lumbar support, which is very important if you want to avoid back issues, both now and in the future, and let the lower back do its job, pain-free. Lumbar support will target the lower back, at the point where your spine curves inward in a natural way.
A good seat will provide an adequate support cushion, and help maintain the curve of your back, as well as the muscles that are surrounding it. This is crucial, especially for paddlers that sit for long periods of time on the water, on a regular basis, because the human body isn't actually designed for long periods of sitting. If, however, a seat fails to provide this kind of support, it doesn't only damage your back muscles, but the spine as well.
Materials Used
Finally, the material used to make the kayak seat is very important. The material should be strong enough to be durable and last long and should also be able to provide comfort and breathability. This ensures that you will be happy and comfortable when you are paddling in the water and also won't need to buy new seats frequently.
The main types of material that are used when making a kayak seat are:
Neoprene Fabric
Neoprene fabric is a type of rubber that is synthetic. It gives your kayak seat a lot of flexibility along with stability. You can use the kayak chair which is made of this material in a variety of temperatures. This material is also used to made fan belts, knee braces, and laptop sleeves as it is durable and flexible.
Molded or Layered Foam
The creation process of layered foam material is very interesting. Many different soft foam types are taken and this foam is created. The process is known as expanded foam direct injection molding. It gives the seat a very soft and comfortable molding. It is very flexible and comfortable but since it is made of foam it is not as durable as Neoprene above.
EVA Foam
EVA which is also called Ethylene Vinyl Acetate is foam which is used in the padding of objects. It is light in weight and yet very durable and strong. It is used in boxing gloves and hockey sticks. EVA foam allows your kayak seat or kayak fishing seat to be strong and durable while giving you a comfortable feeling.
Polyester
This is the most common material which is used to make kayak seats. The reason is that polyester is very strong and durable. It can endure harsh weather conditions. The kayak chair won't be made of polyester. Most of the time, the final layer over the kayak seat will be made of polyester to ensure that it has strength and durability.
Tekpad® Fluid Gel
This is a very new and interesting material which we have come across during our research. The fluid gel is directly made into a kayak seat as its padding. This ensures that the seat is very comfortable. We are not too sure of how durable the seat is though. These seats are made by Skwoosh.
As you can see above, there are many factors which you need to keep in mind when you are looking for a kayak chair or seat. We have considered all the above factors and made a list of the best kayak seats for you. Let's check them below.
The Best Kayak Seats Reviews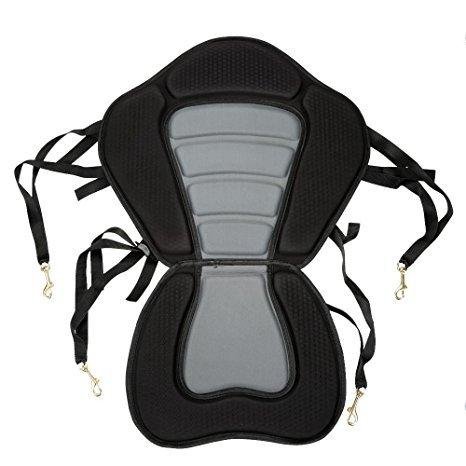 The Brooklyn Kayak Company has one of the best sit-on-top kayak seats in the market. It is our favorite and we consider it an excellent overall kayak chair for its price. It can be versatile as it can act as a sit-on-top kayak seat or a sit in kayak seat.
The main feature of the BKC Professional Universal Pro is its level of comfort. It has a very large seat cushion making is one of the best kayak seat cushions available. It's the most comfortable kayak seat, even for larger folks.
The BCKC Pro is designed to provide comfortable lateral wings which are on the backrest. These wings support and cup your back when you recline on the seat. This ensures that your back gets support and won't ache even if you are out the whole day on the kayak.
The seat is a high back kayak seat but this also helps as it gives your back more support.
You can directly clip the BKC Pro to the kayak at whichever height you want. The higher you clip it, the better support you will get. The  seat has brass clips and customizable webbing straps to attach the seat to the kayak. The straps allow you to adjust the seat as per your preference. Since the clips are made of brass rather than stainless steel, it made corrode over time if you are using it in saltwater.
Your kayak will need to have D-rings so that you can set up this seat. If your kayak doesn't have D-rings, you can set up D-rings on your kayak.
The BKC Professional Universal Kayak Seat is made of molded foam. This ensures that your seat is very comfortable. Even though it is made of molded foam, the seat is very durable.
The price of the kayak seat is very reasonable.
Pros
Reasonable price
Good quality
Very comfortable
Perfect for large people
Easy to set up
Very large and comfortable cushion seat
Excellent reviews online
Excellent back support due to lateral wings
Cons
Clips corrode over time when used in saltwater
Needs D-rings on the kayak
The Ergo-fit seat by OceanMotion is a very comfortable kayak seat. It has 2.5-inch padding so that you get extra comfort and even if you are on your kayak for many days, you still will be comfortable. It is one of the best kayak seats out there for a bad back. This is because the back support of the seat is made so that it is rigid. This is since it is structurally reinforced. It will benefit you a lot as it reduces fatigue and back pain.
The thick padding of the OceanMotion Ergo-Fit high back Kayak seat is designed to provide you comfort while paddling for extended periods. Since the foam is firm, it won't bottom out after use. That is a common issue with many seats that come with the sit-on-top kayaks especially if heavy people use them for an extened period of time.
The kayak seat bottom is very wide at 16 inches. This is one of the widest and most comfortable in the market. The seat back of the kayak seat is 19 inches wide so you get enough backrest. This makes it an excellent kayak seat for people who have backache problems.
The cover of the kayak seat is made of a neoprene fabric type of material. The foam is made of closed cell foam of high density.
Another excellent feature of the OceanMotion Ergo-Fit Kayak seat is that it is very easy to install. The nylon straps which come with the seat can be directly attached to the existing points of your kayak. You can adjust the straps so that you can get it to a size between 6 inches to 22 inches.
You get an additional storage bag which you have an option to remove if you wish. You can stow any extra gear which you have in it. It helps a lot when you want to stow away essentials.
The seat has an anti-slip feature that allows your kayak seat to be firm on the kayak and not slip. This helps a lot especially if you have not strapped your kayak seat in properly or if you are kayaking in rough water.
The connectors are made of high-quality brass. They are good but would have been better if they were made of steel that is stainless,  as brass can corrode over time in saltwater.
The cushion is of 2.5 inches in the middle and tapers towards the end where it is of 1.5 inches. This ensures that the cushion doesn't bottom out with use over time. The only issue with the cushion being so firm is that it gets a bit uncomfortable if you are a light person.
Pros
High-quality
Very comfortable
2.5-inch cushion
Great for heavy people
Easy to install
Durable neoprene fabric cover for the seat
Excellent customer service by the seller
Cons
Dense foam so not too comfortable for a person under 200 pounds
Brass connectors which may corrode with time in saltwater
The Ocean Kayak Comfort Plus  is an excellent kayak seat when it comes to tall people. The height of 23 inches of the backrest of the kayak sat is excellent. You get great back support with the Ocean Kayak Comfort Plus.
The Ocean Kayak Comfort Plus has extra padding so it is more comfortable than normal  seats that are made for kayaks.
The Comfort Plus comes with adjustable straps. This makes it easy for you to strap the seat to the option that is most comfortable for you. The straps clip onto your kayak eyelets. In case your kayak doesn't have eyelets you will have to buy them and install them. This ensures that your kayak chair is properly positioned. It  comes with 4-way mounting straps that are adjustable. This gives you a lot of room for adjusting it to your body type. You get additional back support from its reinforced stays.
Even though the kayak seat pad is made of tough nylon material, it has a built-in ventilation system. This ensures that you are dry and cool on the seat. Most of the time, seat covers that are made of nylon are strong but are uncomfortable and you start to sweat where your skin touches the material. This isn't the case when it comes to this seat since it has a built-in ventilation system.
You get brass swivel buckles to attach the seat to the kayak. You may have seen the seats on Ocean Kayak Trident Ultra kayaks. The kayak pad by Ocean Kayak is made of nylon pack cloth which is UV-resistant and very durable. You don't have to worry about the seat cover tearing or getting affected by the sun.
Though the Ocean Kayak Comfort Plus has springs made of steel that is stainless, the clips are made of brass and may corrode over time especially if you use the kayak in saltwater. Also, there were reviews online that the brass connectors were hollow and they break easily so you will need to be careful when you tighten it or put too much pressure on it.
The kayak seat is great when it comes to back support, especially for tall people. However, the cushioning of the bottom seat is not great and could be improved. You can use a thin cushion as additional support if you wish.
Pros
Excellent for tall people
Extra padding for increased comfort
Very durable, nylon pack cloth which is UV resistant
Reinforced stays in place
comfortable seat construction
Easy to install
4-way adjustability to fit a person of any body type and size
Reflective logos that glow in the night after it is exposed to sunlight
Stainless steel springs and solid brass clips to clip the seat on to your kayak
Excellent reviews online
Cons
No storage unit
The seat can do with more cushioning
One of the highest rated kayak seats on the market today, the BKC Universal Kayak Seat is an excellent pad for a low budget. The BKC Universal is a high-quality comfortable seat which is made of very durable, high-quality material and is very reasonably priced. For the price, the BKC Universal is literally a steal. It is priced at a significant discount as compared to the competition.
It has a lot of the features that are mentioned above in the BKC Professional Universal kayak seat review.
The BKC Universal Kayak Seat is very comfortable and you get to rest for your back. It gives 6 to 8 inches of additional support to your back when you compare it to other kayak seats in the market.
The BKC Universal is adjustable and you can adjust it to your body type. The seat has stays and straps that ensure that the kayak seat is secure on the kayak and won't fall off regardless of the weather.
You get a small storage pock in the kayak seat. This helps a lot when you want to store essentials like bait, a small snack or drink. The storage unit ensures that your equipment is dry and is within arm's length. One issue with the storage pack is that it is on the back side of the seat. If your seat is pressed against anything, it will be difficult to store and retrieve the items when you are in the water. The pocket is placed rather low on the back so unless you stand and bend or have long arms, it will be difficult to access it.
BKC Universal is very well built. The construction is great and the material used is of high-quality. The bottom of the seat is of the same nylon material as the top and the backrest. This makes it a bit slippery so you may have to pop-rivet it to your kayak. This will make sure that it won't move around. Some online reviewers also cut small holes in the material where the seat and the backrest meet. They then riveted the seat to the kayak. They used a washer between the kayak seat and the rivet so the rivet doesn't pull through the seat. This ensures that the seat is tightly secured.
Pros
Designed keeping comfort in mind
Reliable and from a reputed brand
Excellent price
Pocket storage for essentials
Easy to install
Secure lock via the adjustable straps
Durable and high-quality material
Great back support
Cons
The clips on the seat are brass and may corrode over time
You need D-rings on your kayak to attach it
The pocket is at the back and very low which makes it difficult to access in the water.
Another excellent budget kayak seat is the Vibe Kayaks Deluxe Padded Kayak Seat. It serves all the purposes of a great kayak seatpad. It is very comfortable, has a great backrest and is easy to install. It comes at a very competitive price.
The Vibe Kayaks Kayak Seat is stylish. This is another feature that we like about the seat. It is very comfortable and you won't feel sore even after a full day out in the water.
The Vibe Kayaks Deluxe Padded t has many adjustable straps so you can secure it as per your body type. There are front and rear straps and the straps are made of high-quality UV protected material. The connectors are made of marine grade solid brass. This ensures that the connectors won't corrode.
The Vibe Deluxe is very easy to install. The Vibe Kayaks Kayak Seat will fit with any kayak which has d rings or deck loops. If your kayak doesn't have them, it is very easy to install. You can buy additional steel d-rings and install them so that you get more options to attach the straps and secure the kayak seat.
The kayak seat is very comfortable and spacious. It has a back height of 18 inches, back width of 19 inches and a seat length of 12 inches. This makes it very comfortable for an average sized person. An online reviewer weighing 200 pounds mentioned that it was very comfortable for him.
You also get a clip on the bag at the back. This makes it great to store lunch tackle or any other personal item. This gives you a lot of extra storage. The bag is waterproof so you don't need to worry about it getting wet. You can keep your mobile phone or any other sensitive electronics in it. The pouch is coated with wax so that water can't enter in.
Though the overall quality of the kayak pad is good and there are no complaints online about it, it may not be as durable as the other kayak chairs that we reviewed. Also, it is better to buy additional tie-downs and rivest to secure the kayak seat to your kayak.
Pros
High-quality marine grade brass connectors
Very reasonably priced
Stylish look
Easy to install
Comfortable
Excellent customer service
Cons
Quality may not be great
No setup instructions
Tie-downs and rivets are advised
Conclusion
As you can see, buying a kayak seat is a good decision especially since a small expense will tremendously increase your comfort level when you are kayaking.
If you want a sit-on-top kayak which has a large seat cushion, very comfortable, flexible, durable and is reasonably priced then go for the BKC Professional Universal . If you are a large person or have back issues then this kayak pad is perfect for you.
The OceanMotion Ergo-Fit is a perfect seat if you are looking for comfort in your kayak seat. With a 2.5 inch cushion, it is great for heavy people.
The Ocean Kayak Comfort Plus is a perfect seat for tall people. With a 23 inch backrest, you get ample support for your back. The seat cover is made of high-quality nylon which makes the seat very durable. If you are looking for a high-quality kayak seat which comes at a reasonable price then go for the
Brooklyn Kayak Company Universal Kayak. It is an excellent kayak seat and has many features of the Professional Universal which is our favorite. It is very reasonably priced considering its high-quality and features. It is great when it comes to the backrest and it gives a lot more support to your back especially when you compare it to other kayak seats in the market of the same price point.
Another great budget kayak seat is the Vibe Kayaks Deluxe Padded . It is a great budget kayak pad which is stylish and easy to install and use. It is very comfortable and perfect for an average sized person.
Last Updated on