Though they're one of the last things that most paddlers think about, getting the best kayaking gloves plays a key role in long kayaking trips. Whether you're hitting the water at the height of summer or in the winter, a sturdy pair of gloves act as excellent protection against the elements. The right pair could save you from a nasty sunburn, uncomfortable blisters, and frigid water exposure.
Below, we've drawn up a shortlist of the most popular kayaking gloves on the market. Each glove has been highlighted for its unique features and best use cases. We'll also touch on some of the most important features you should watch out for when choosing between gloves. Let's jump right in!
Kayaking Gloves Review
The top kayaking gloves go as follows below.
1. NRS Boater's Mens andWomens: Best Overall Pick
Features
Best overall kayaking gloves
Material: Nylon-Spandex blend
Wrist Closure: Stretch
Design: Open finger
No matter where or how you paddle, the NRS Boater's gloves are built to provide protection against adverse weather conditions. Constructed with a quick-dry rashguard core, the material offers 50+ UPF sun protection while vegan leather palms protect against blisters.
Best of all, the fingerless design leaves your hands free for tasks that require dexterity. Vent holes integrated along the palm increase cooling and naturally wick away sweat.
For both men and women, these gloves are ideal for warm-weather boating and kayaking.
Pros
Provides 50+ UPF sun protection
Available for both men and women
Nylon-Spandex blend provides warmth, water protection, and enhanced dexterity
Cons
May not be best for winter or late Fall paddling
Some users state that it's difficult to choose the proper size
Only available in one color
2. Kokatat Neo Kayak Mitts: Best Cold Water Pick
>>Check Price on Outdoorplay<<
Features
Best gloves for cold water kayaking
Material: 3 mm Neoprene
Wrist Closure: Hook-and-Loop closure
Design: Closed gauntlet
The Kokatat mitts offer 3 mm of smooth skin neoprene and are reinforced with two-sided neoprene for the palm. A comfortable, wide-opening gauntlet allows wearers to get the best grip on their paddle.
Even on the coldest days in the roughest conditions, these gloves offer excellent durability and warmth. Built with roll-up closure and a watersports-grade hook and loop closure, you can remain gripped to your paddle with confidence.
Pros
Provides most warmth for the coldest conditions
Allows for enhanced grip to kayak paddle
Comfortable, wide opening suits many different users
Cons
Significantly reduces dexterity and mobility
May make hands too hot on less cold days
3. Camaro Seamless Bonding Gloves: Best Premium Pick
Features
Best premium-quality kayaking gloves
Material: 5 mm Neoprene
Wrist Closure: Stretch on
Design: Seamless closed finger
Crafted with 5 mm of high-density neoprene, the Camaro seamless gloves provide both flexibility and warmth. The use of a seamless bonding process means that the gloves are totally watertight – that's right, no stitches!
Moreover, non-slip silicone print on the palms enhances grip while providing for better dexterity. In addition to a 95 percent neoprene construction, the gloves stretch is improved through the inclusion of 5 percent nylon.
These full-finger gloves are best for paddling in cold water and chilly weather conditions, especially when remaining dry is of utmost importance.
Pros
Seamless design makes gloves completely watertight
Non-slip silicone print on palm improves grip
Designed to last for years without getting stretched out
Cons
May be hard to find proper fit
Not best for situations that require finest degree of dexterity
4. Level 6 Gritsone Paddling Mits: Best Winter Pick
>>Check Price on Outdoorplay<<
Features
Best gloves for cold winter paddling
Material: 3 mm Neoprene
Wrist Closure: Tapered entry
Design: Liquid-sealed stitch mitt
Considered one of the toughest mitts out there, the Level 6 Gritsone gloves utilize three distinct forms of neoprene to provide warmth for all-day-long trips. The gloves feature 3 mm of neoprene while each seam is reinforced with a sturdy liquid seal – that means these mitts boast a watertight construction.
With a tapered entry cuff and pre-curved fingers, the gloves will keep you dry and warm in the coldest conditions. The knuckles are secured with an additional Armortex neoprene layer, providing enhanced durability for years of paddling. These gloves are especially recommended for white water paddling and rough coastal conditions.
Pros
Provides excellent warmth in cold conditions
Completely watertight
Certified by a 100 percent lifetime guarantee
Cons
Hampers dexterity and mobility significantly
Tapered entry may be too tight for some users' wrists
5. NRS Guide: Best Mid-Season Gloves
Features
Best kayaking gloves for early to late Fall
Material: 1.5 mm Neoprene
Wrist Closure: Hook-and-Loop closure
Design: Open finger
The NRS Guide gloves are constructed with 1.5 mm neoprene, providing excellent insulation against cold weather. Unlike other materials, neoprene won't hamper your dexterity, yet will provide warmth for cool Autumn days.
The neoprene-reinforced palm protects against blisters, providing long-term protection to your hands. A silicone pattern on the palm allows for even better grip and fluidity of motion. The gloves are sutured with high-tenacity thread that won't snap, even after years of consistent use. At more than half the price of other neoprene gloves, it's hard to go wrong with the NRS Guide.
Pros
Hook-and-loop closure provides excellent fit for multiple wearers
Thin neoprene construction offers insulation yet enhanced mobility
Silicone patterned palm provides better grip and durability
Cons
Fingerless design may not be protective enough for winter
Best for narrow range of time in between changing seasons
Doesn't feature seamless design for watertight performance
6. Kokotat Lightweight Gloves: Best Touring Pick
>>Check Price on Outdoorplay<<
Features
Best gloves for touring and light recreation
Material: Nylon-Spandex upper & synthetic suede palm
Wrist Closure: Hook-and-Loop closure
Design: Open finger
Lightweight and meant to stay out of the way, the fingerless Kokotat gloves offer sun protection for your hands yet remain cool at the height of summer. The synthetic palms are reinforced with synthetic suede that keeps the highest points of contact from wearing down.
With a hook-and-loop adjustable closure, these gloves are ideal for sharing. Users should keep in mind these gloves provide minimal protection from the water, so they should only be used in calm conditions or during the summer.
Pros
Very lightweight and breathable
Wicks away sweat and water
Offers excellent sun protection
Cons
Will not be protective enough for cool water conditions
7. NRS Mens Hydroskin Gloves: Best for Fall
Features
Best gloves for Fall
Material: 0.5 mm Neoprene core, thermal inner lining
Wrist Closure: Wrist pairing snaps
Design: Closed finger
The NRS Hydroskin gloves are great for cooler weather. Insulated with an ultra-thin 0.5 mm neoprene core, the gloves insulate well without adding extra fabric. The neoprene covers a thermal inner lining that further repels moisture and dries quickly.
The PowerSpan shell allows for unhampered use of your hands or fingers, making it surprisingly easy for kayakers to tie knots with the close-fingered gloves. The shell is coated in a durable water repellant that further reduces evaporative cooling. The Hydroskin gloves are perfect for "in-between" days in Autumn and early Winter.
Pros
Thin, lightweight gloves provide enhanced dexterity
Thermal plush inner lining improves natural insulation of neoprene exterior
DWR coating enhances natural water-resistance of the gloves
Cons
Gloves expose users to chloroprene, which is known to cause birth defects and cancer
Some state that the grip palm material wears off over time
Hard to put on when gloves or hands are wet
8. Fishing Tree Fingerless Gloves: Best Budget Option
Features
Best budget-friendly kayaking gloves
Material: Spandex back with faux leather grip
Wrist Closure: Wrist pairing snaps
Design: Open finger
The Fishing Tree fingerless gloves are unisex, offering up to 50+ SPF protection and featuring no artificial spray-on chemicals.
With faux leather palms, the gloves provide adequate protection against the elements and help keep your hands dry in cool weather conditions. And unlike so many other gloves, this pair is completely machine washable and still retains its sun protection after each wash.
Available in shades ranging from navy blue to beige, the gloves help prevent blisters and calluses. The gloves have been independently verified for sun protection by the SGS Group.
Pros
Available at low price point with high-quality construction
Blocks sunburn damage
Perfect for variety of watersports and outdoor activities
Cons
Will not be protective enough for cold or cool water kayaking
Spandex may get stretched out over time
9. Sea to Summit Eclipse Paddle Gloves: Best Performance
Features
Offers best performance guarantee over time
Material: 2 mm Neoprene
Wrist Closure: Hook-and-Loop closure
Design: Open finger
Offering up to 50+ UPF sun protection, the Sea to Summit eclipse gloves are constructed with 2 mm of neoprene. The protective gloves help prevent blisters and offer enhanced grip through a rubberized silicone textured palm.
The synthetic gloves are stretchy and breathable, working for multiple different paddlers that want to share a pair. Additionally, the cuff allows for a snug fit and comes with a rubberized tab closure.
Both the palm and thumb area is reinforced with a double layer of neoprene, offering enhanced durability on the portions that paddling wears down the fastest.
Pros
Certified with UPF 50+ sun protection
Easy to fit
Features stretchy and breathable material
Cons
Runs on the small side
Palms of the glove dry slowly
How to Select the Best Kayaking Gloves for You
Before you purchase kayaking gloves, you'll want to consider what type would best suit you all year round.
Material
Most kayaking gloves are offered in nylon, lycra, spandex, or neoprene. The best material will differ depending on the season you're kayaking and the current water conditions.
For the most waterproof and durable performance, we can't recommend neoprene enough. Neoprene is a thin rubberized fabric that's somewhat stretchy, provides insulation, and wicks away water. By contrast, many summer kayaking gloves value breathability and sun protection. Great summer gloves are usually made of a nylon-spandex composite.
Fit
The last thing you want to do is buy gloves that don't fit. Whatever you do – never buy a pair that's too snug and ends up restricting circulation. Too-tight gloves could actually make you colder, while loose gloves make you more blister-prone.
Most gloves are sized based on the palm. However, many manufacturers release measurements about the wrist, knuckles, and fingers so that you can find the perfect fit.
Types of Gloves
The glove you'll need with vary significantly based on the season.
Summer
For summer, you'll likely need an open finger (or fingerless) glove that provides better dexterity. Summer gloves usually feature sun protection and thinner, sweat-wicking materials.
For instance, the fingerless NRS Boater is made from synthetic leather and includes vent holes that increase palm cooling. Its nylon-spandex blend helps keep wearers cool during the height of summer.
Spring and Fall
It can be difficult to select the right pair for those "in-between" seasons. Depending on your location, you'll either want a fingerless or full-finger fit.
The best gloves in this category are ultra-thin, usually consisting of 0.5 mm neoprene with minimally sized inner thermal linings. This allows for the right amount of insulation without excess bulk.
Winter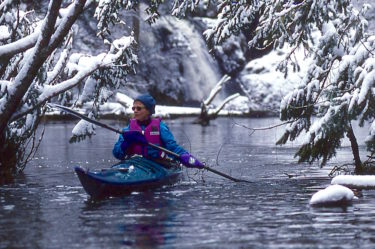 It's most important to include kayaking gloves on the kayaking clothing checklist during the winter when cold and water exposure can put you at serious risk. You'll need a full-glove, mitt, or gauntlet fit, depending on how long (and cold) the trip is.
Mitts and gauntlets provide the best warmth guarantees and are usually made from 3 to 5 mm of neoprene. All high-contact points, like between the thumb and the pointer finger, are reinforced. Most winter gloves are seamless, providing completely watertight performance.
F.A.Q
Do I need kayaking gloves?
If you kayak frequently, you may want to consider investing in a pair of gloves. Over time, paddling can cause blisters and leave your hands open to sun damage. Gloves are especially necessary for those that kayak year-round.
What gloves do I need for white water paddling?
As you bounce from one rapid to the next, you'll likely get very wet when white water paddling. Keeping your hands dry will help to stave off the chill and improve grip to your paddle.
We recommend seam-reinforced, closed finger neoprene gloves for the best performance during white water trips.
Final Thoughts
Ultimately, it's hard to go wrong with the NRS Boater gloves. Constructed with a premium rashguard and sun-protective materials, these all-season gloves leave your fingers free for situations that demand dexterity.
Yet, for the coldest possible conditions, you'll want to go with the Kokotat Neo-Kayak mitts. Providing an easy entry-and-exit system, this completely watertight gauntlet offers the best performance in the chilliest waters.