Ocean fishing kayaking is having a major moment. This thrilling activity gives paddlers a solid upper-body workout, unmatched access to the ocean, and a unique angling advantage. We love the idea of taking a small boat on big water. Why not reel in dinner while you are enjoying the water?
We have made it our goal to find the top ocean fishing kayaks. These incredible boats are made to handle rough offshore currents, briny ocean water, and powerful patches of surf. Unlike traditional kayaks, ocean fishing kayaks usually provide storage space for everything from bait batches to big catches. These boats also tend to be extra stable and super fast. Read along to discover our five favorite ocean fishing kayaks. Before you do, check out our in-depth buying guide. As you're taking in all the awesomeness of ocean fishing kayaks, remember that angling and kayaking tend to be matters of preference. What works for you might not work for your best friend and vice versa. Ultimately, choose a watercraft that is safe, comfortable, and fishing-ready. Onward!
The Best Ocean Fishing Kayaks Go as Follows:
The Best Ocean Fishing kayak Reviews
#1. Jackson Kayak 13.5-Foot Kraken Kayak – Best Overall
>>Check Price on Water Outfitters<<
Features
Type: Light Touring
Length: 13 feet 3 inches
Material: Molded Polyethylene
Width: 30.5 inches
Hull Design: Sit-On
Weight Capacity: 350 pounds
Jackson Kayak's 13.5-foot Kraken Kayak is the ultimate boat for ocean fishing. This sit-on kayak offers very good speed and stability. It is 13 feet 3 inches long and 30 ½ inches wide. It weighs just 72 pounds without a seat and 76 pounds with a seat. As such, it falls into the light touring category. This incredible vessel glides easily over strong currents and high surf. Ultimately, the design enables paddlers to conserve their strength for moments when they need to reel in big catches.
Passengers have the freedom to move their legs when they are seated on top of the hull. Jackson's ergonomic seating system provides adequate back support. Nevertheless, the sit-on-top design does not offer much protection from the elements. Still, riders get lots of little luxuries, including holders for beverages, rods, RAMs, and GoPros. Adjustable footpegs provide riders with lots of lower-body support. The seat is not included. However, the kayak is equipped with a heavy-duty seat attachment buckle
Anglers have a wide range of storage options for fishing gear and other essentials. The Kraken has bow and center hatches. Not to mention, there are bow and stern deck rigging for quick access to coolers and other bulky items. Transducer and bait pump scuppers serve as discreet live wells. There's no need to change your fishing style when you are on open water. There is also room for specialized gear attachments. Not to mention, the multiple flush-mounted mounts provide a safe space to rest your fishing poles.
The Kraken is an exceptionally stable platform for fishing. It's a dynamic tracking system, which includes a rudder mount. It tracks excellently in adverse water conditions. Despite its many distinct features, the Kraken fits into the budget kayak category. If you can obey the 350-pound weight limit, you will feel free and easy on the water.
Customers love this platform for saltwater fishing. They rave about the boat's exceptional tracking capabilities and ample storage. Most people have no trouble cutting through offshore swells, rough currents, and other adverse conditions. The wide range of angling accessory mounts makes it a preferred choice for serious and amateur saltwater fishermen.
Pros
Rudder attachment and tracking hull promise smooth sailing
-Heavy-duty buckle for attaching ergo seating system
Ergonomic side handles for easier lifting
Rod holders as well6 as track-mounted rod system
An abundance of closed and open hull storage
Bait pump and tranducer scupper
Cons
Can be on the slightly pricey side
#2. 2020 Hobie Mirage Pro Angler 14 – Most Powerful Propulsion System
>>Check Price on Austin Kayak<<
Features
Type: Sit on Top
Length: 13 feet 8 inches
Material:Rotomolded Polyethylene
Width: 38 inches
Hull Design: Sit-On
Weight Capacity: 600 pounds
When you first sit on top of the Mirage, you feel like you are in the cockpit of a speedy ship. That's because this kayak gives paddlers the power to propel themselves in every direction. If you're chasing after a big fish, the Mirage is your ticket to success. The kick-up fins provide speed, while the rudder offers precise 360-degree navigation.
This boat provides anglers with an ample amount of onboard fishing gear storage. Front and rear hatches are a winning combination when it comes to protecting ample amounts of angling gear. You can easily stash your phone, some dinner, a change of clothes, and more aboard the Mirage. An H-rail serves as mounting space for rods, nets, and other accessories. However, there is also lots of horizontal storage space. We're fond of the Mirage's behind-the-seat pivoting tackle station. This element makes it easier to retrieve and employ essential items on rocky open water.
The boat is also equipped to take on all sorts of specialty accessories. For example, there is a sail mount behind the cockpit. On the bottom of the hull, a retractable transducer shield provides a secure space for an electronic fish finder. The boat even comes with a set of medium-sized Hobi tackle boxes. These boxes are designed to stand on top of the pivoting tackle console.
Overall, the BOA lumbar support system offers a great vantage point for anglers. Riders can adjust their seats for more comfortable floats on open water. The MirageDrive360 will propel you in every direction. Since this system is only available with the 2020 Mirage, this boat is well worth every penny you pay for it.
Customers say thi boat is a great deal and all-around solid performer. Some consumers even said it boosted their confidence during offshore excursions. While the mounting systems are a bit finicky, they're worth the hassle.
Pros
Mirage 360 Drive Technology and kick-up fins provide unmatched power and navigation
Camo hull patterns help anglers blend into their surroundings
Vantage seat with padded backrest
Pivoting stand for tackle and other fishing essentials
Front and back hatches
Flush-mount rod holders
Cons
#3. Feelfree Lure 13.5 Kayak – Best Upgrade Option
>>Check Price on Austin Kayak<<
Features
Type: Sit on top
Length: 13 feet 5 inches
Material: Polyethelen
Width: 36 inches
Hull Design: Sit-on
Weight Capacity: 500 pounds
The FeelFree Lure 13.5 Kayak is our top upgrade option. This incredible ocean fishing kayak offers a large cockpit and lots of fishing gear storage options. One of these kayak's most desirable features is its large standing deck. We like to do a little sightseeing while we are on the water. We can safely plant our feet on top of the slip-resistant surface and look around without risking falling over. The Lure is super stable. The adjustable extra-wide Gravity seat provides a nice vantage point.
Storage options start close to the bow. There is a water-resistant hatch for stashing valuables. The hatch also holds a sonar pod for installing electronics. The hatch lid even doubles as a deck-top cutting board. There's no need to prep your bait ahead of time when you are riding atop the Lure. You can ready your line right from the water. The hatch is also insulated, making it a great place for a cooler insert. You can keep cold beers and fresh fish within arms' reach of the cockpit.
Other customizable articles include a transducer cutout and a Uni-Track gear system. The Lure's two molded fishing rod holders enable paddlers to rest their hands in the middle of a paddling session. The boat also has bow, stern, and side carry handles for easier transportation sessions. The wheel in the keel feature eliminates the need for a beach trailer.
Pros
Wheel in the keel for easier transportation
Comes in a wide range of camo prints
Sonar pod for electronics
Large standing pad
Gravity seawt can be moved up, down, back, and forth
Bow hatch with cutting board and insulated compartment
Cons
#4. Vibe Kayaks Sea Ghost 130 – Best Budget Option
Features
Type: Touring
Length: 13 feet
Material: Remolded Polyethylene
Width: 33 inches
Hull Design: Sit-On
Weight Capacity: 550 pounds
If you're looking to purchase an impressive ocean fishing kayak on a budget, be sure to check out Vibe's Sea Ghost 130. To start, this kayak handles very well. It has a virtually indestructible molded polyethylene hull with a raised seat and adjustable foot braces. The deck is also equipped with a generous amount of customization storage. The boat is even stable when it is packed for multi-day fishing excursions. You can sit, stand, or edge your way around the deck without coming close to tipping. This is the type of platform you need when you're going up against heavy surf or fast currents while handling a geared-up rod and angry catch.
This budget-friendly boat also tracks well. The sleek hull glides across the water without much effort from the paddler. The toe-controlled rudder gives paddlers the freedom to navigate without using their upper-body muscles. In doing so, anglers can conserve their energy for more important moments. The onboard seating couldn't be more comfortable. The seat has two optional positions. What's more, it is made from breathable materials. There are also paddle parks, gear tracks, and cup holders alongside the floating cockpit.
When it comes to onboard tackle and gear storage, the Sea Ghost has it all. First off, this tiny boat has a whopping weight capacity. With a 550-pound weight limit, you can bring your gear and a cooler without having to worry about the deck taking on water. The Ghost is also one of the best boats for watertight storage. Our only complaint is that the dual-hinged console will occasionally come loose. No angler has time to chase down a free-floating gearbox.
Still, the multiple gear tracks, rod holders, and tackle trays provide ample space for fishing gear essentials. You can even stash a transducer in the cavity at the bottom of the hull. Anything leftover can be placed in the rear bungee rigging. The extra space makes multi-day fishing trips a possibility.
Customers agree that this boat has a few minor design flaws. Still, the Sea Ghost is steadily rising to the ranks of a consumer favorite. Perhaps the shoddt gearbox mounts are such as big deal. When it comes down to offshore navigation, the Sea Ghost is a trustworthy vessel.
Pros
Combo of watertight cargo bags, sealed hatches, and bungees
Flush-mounted fishing rod holders
Universal transducer mount
Dual position vantage seat with adjustable foot graces
Built-in toe-controlled rudder
10 plugged scupper holes
Cons
Center console comes loose easily
#5. Ocean Kayak Trident 13 Angler – Best Mid-Range Ocean Fishing Kayak
>>Check Price on Water Outfitters<<
Features
Type: Light Touring
Length: 13 feet 6 inches
Material: Single Layer Polyethylene
Width: 29 inches
Hull Design: Sit-On
Weight Capacity: 355 pounds
The newest addition to the Trident Angler Kayak family offers lots of onboard storage and excellent maneuverability. At 13 feet 3 inches, this boat is the biggest member of the Ocean Kayak fleet. Still, its precise tracking and awesome agility make it feel like a much smaller kayak. Paddlers get a lot of relief from the Trident's second-generation Air Comfort seating system. They can also use the adjustable foot braces to eliminate lower-body discomfort. The roomy cockpit also allows paddlers to stretch their legs.
The Trident also features a wide range of customization storage options. The raised seating area is sandwiched between a pair of paddle rests and rod holders. There are also two flush-mounted rod holders located on each side of the hull. A Gunnel accessory track provides ample space for custom additions. There's also an accessory plate with a transducer-compatible scupper. Finally, a bow-based hatch provides watertight storage just below the deck. The compartment even features a special battery storage bag. The click-seal hatch makes it super easy to access and secure essential items. The stern also has bungee rigging for surplus gear.
There is also a large module storage unit located in the center of the cockpit. The unit has an accessory plate, a cup holder, a tackle tray, and enclosed compartments. This station makes it easy to rig a pole on top of turbulent water. While we wouldn't recommend standing on top of the Trident, the adjustable seat is a lifesaver when you're headed out for a long haul.
The trident does not come with a preinstalled rudder. However, it's ready for an aftermarket one. Overall, water conditions seem to have very little impact on this boat's accuracy. The hull remains stable when traversing over small swells. With a lengthy hull and whopping weight limit, the Trident won't force you to toss back your precious catches.
Pros
Gunnel accessory track systems make basic improvements easier
Transducer-compatible scupper
Paddle holder and rod rests
Ergonomic side-mounted, bow, and stern handles for on-shore maneuverability
Ready for a rudder system
Reflective deck rigging for safer nighttime travel on open water
Cons
Rudder system is sold separately
#6. Feelfree Moken 14 Angler Kayak – Best Standing Area
Features
Type: Light Touring
Length: 14 feet 7 inches
Material: Polyethylene
Width: 3- inches
Hull Design: Sit-On
Weight Capacity: 432 pounds
Rounding out our list is the Feelfree Moken 14 Angler. This incredible ocean fishing boat has a lengthy hull and large cockpit. Its unmatched stability enables fishermen to stand and scout. Small swells roll right under the hull. There is even a stand-up leash and slip-resistant standing pad on this incredible vessel.
To start things off, this boat has a very comfortable cockpit. The padded seat is equipped with adjustable straps, making it easier for anglers to find their sweet spot. Large molded foot and leg wells provide paddlers with lower-body support. The recessed cockpit is also the location of the slip-resistant standing pad. An onboard stand-up leash gives paddlers extra protection. Like most ocean fishing kayaks, the Moken also has a small module station. The unit has a molded gear tray, cup holder, and accessory slot. The unit fits nicely between the two footwells.
On the hull side, there is a sealed storage well with a hinged latch. On the stern-side, a large storage well with bungee rigging serves as the perfect space for an overnight bag, cooler, or crate. There are also Unit track rails on both sides of the bow and stern. Additional quarter-turn hatches provide a safe space for cell phones, batteries, and other sensitive items.
We love that this boat has molded paddle parks and fishing rod holders. There are plenty of places to secure fishing and kayaking gear. As such, you're free to rest your hands and enjoy the view for a few minutes. Drain plugs enable paddlers to eliminate pooled water. Side pockets offer yet another place for anglers to stuff their belongings.
Overall, this large boat performs well in the ocean. It can handle small swells, fast currents, and errant spray. The onboard drainage ports make it easy for users to remove water from the deck wells. While some customers have difficulty getting this boat on top of a car or down to the water, we were not taken back by its girth. The Moken's hefty hull gave us the confidence to stand with our poles in hand. Moken has mastered the design of a stand-up kayak.
Pros
432-pound weight limit is quite generous
Ample onboard storage, including customizable accessory racks, water-resistant hatches, and bungee rigging
Slip-resistant standing pad and stand-up leash
A variety of camouflage designs and colors
Angling-geared molded center console
Molded handles for easier on-shore movement
Cons
What Makes a Good Ocean Fishing Kayak?
It's hard to summarize the qualities that translate to an awesome ocean fishing kayak. After all, these incredible vessels provide paddlers with comfort, stability, speed, and agility in open water. As fishing kayaks, they need to be equipped with plenty of angling elements, such as raised vantage seats, large storage wells, watertight hatches, and tackle trays. We've even come across models with gutting stations! Some elements are great in theory. However, the only way to determine a feature's effectiveness is to test it on the water.
Our ideal fishing kayak is long and slim. It has a soft chine, a rear tracking accessory, a sit-on-top cockpit, lots of bungees, watertight hatches, and a conveniently located center console. Our dream ocean fishing kayak is capable of covering long distances, squashing large swells, and destroying harsh currents. It can maneuver in shallow inshore water and more turbulent offshore water. Our dream boat can also be paired with any number of customizable accessories. Naturally, it has to have a roomy cockpit with a padded seat, a molded cup holder, and adjustable footrests. On top of that, we wouldn't even glimpse at a kayak that didn't have paddle rests and rod holders.
It may seem like we are asking a lot of ocean kayak manufacturers. However, all six of our top picks have managed to fufill our lofty requirements. When you settle for an inferior kayak, you put your fishing reputation and safety on the chopping block.
What Doesn't make a Good Ocean Fishing Kayak?
Some obvious features do not belong on ocean fishing kayaks. For one, we rarely see sit-in hulls on these types of boats. While sit-in kayaks provide lots of protection from the elements, they also tend to accumulate water. Not to mention, they limit a paddler's freedom of movement. Sit-on-tops are our ideal method of travel when it comes to deepwater angling expeditions.
Most sit-on-top kayaks enable paddlers to stretch their legs or even stand. They also free up space for rods, paddles, nets, and other bulky accessories. Accessibility is key when you're looking to fish from a small craft.
Other features that we do not see on many ocean fishing kayaks are hard chines. Hard chines offer excellent secondary stability. However, when it comes to ocean fishing, we're more focused on achieving stability from the start. As such, our preferred hulls boast soft chines.
Paddle Ability
Ocean kayakers need quick access to their paddles. They cannot afford to have their only steering tools stashed below the deck. We prefer to have our paddles in rests alongside the cockpit. This way, we can put them to use at any given moment.
Tracking (Ability to Mount Skeg or Rudder)
Skegs and rudders give paddlers the ability to navigate and track with precision. When you're making your way across open water, you do not want to pour all your energy into paddling. A slim hull and tracking accessory will allow you to double your water coverage. Both rudders and skegs are located on the stern-sides of kayak hulls. These navigational tools can be used alone or together.
A skeg is a small fin that is attached to the bottom of a kayak stern. When a skeg is employed, it helps kayaks stay on course. There's no way to manipulate a skeg from the cockpit. You must use your paddles to set your kayak on an intended course. The skeg simply prevents your boat from blowing off course.
On the other hand, a rudder is a small fin that attaches to the top of a kayak stern. Rudders also help kayaks to stay on track. However, users can use pedals to play around with their rudder's direction. This enables paddlers to conserve their energy for paddling.
When you are chasing down fish in wide-open water, tracking is essential. Keep an eye out for kayaks with rudder and skeg mounts. A reliable tracking system will enable you to traverse long distances.
Keep in mind that a kayak's hull shape also plays a big part in its tracking capabilities. Ocean kayaks tend to have rounded hulls. Rounded hulls provide stability and speed in choppy, unpredictable water conditions.
Length (Must be Longer)
Ocean fishing kayaks should have long, slim hulls. Most ocean kayaks range between 12 and 20 feet in length. The angling variety tends to be a bit shorter, ranging between 13 and 15 feet in length.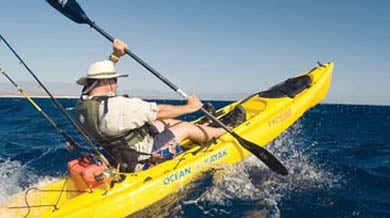 Kayak that Can Handle the Surf Well
If you're planning on doing a lot of offshore fishing and touring, you'll want a boat that can handle surf well. Most anglers do not enjoy tipping their kayak over in the middle of open water. If you want to avoid becoming the victim of a wave, opt for a long, slim kayak with a soft chine. You'll be able to cut through decent-sized swells without tipping or going off course.
Narrower Bow
Ocean kayaks tend to have long, narrow bows. That's because this sort of design is capable of cutting through big ocean waves. Ocean kayaks are usually 18 to 24 inches wide. Their narrow bows help paddlers to travel speedily over choppy water unlike fishing kayaks designed for lakes. Ocean kayaks are also incredibly stable. Unlike traditional touring vessels, they can handle quite a bit of turbulence.
Can You Add Accessories?
Yes! There are so many great gear options for saltwater anglers. It's nice to have a boat that can accommodate aftermarket accessories. Popular accessories include camera, sounder, flag, phone, sail, fish finders, and rod mounts. Mounting systems vary between manufacturers. Kayaks may boast individual cut-outs or slender track systems. Both types of mounts work well. Just choose one that will accommodate all of your favorite fishing accessories.
Storage
When it comes to ocean fishing kayaks, we like to see a lot of onboard storage. Most of our favorite vessels have at least one bungee rigging, a closed hatch, and an accessory rack. We wouldn't even consider purchasing a boat if it didn't have horizontal and vertical pole holders. We like to have the option to add custom aftermarket accessories, such as transducers, accessory mounts, and tackle boxes. Even the most over-the-top setups require paddler ingenuity. You need to think about what you will be using, how to distribute weight evenly, and how to access items from the water.
Compartment Storage
We cannot stress the importance of having watertight bulkheads. Since most ocean fishing kayaks have sit-on-top hulls, there are usually lots of hollow spaces in the bow and stern areas. These space can be transformed into a water-resistant storage space with the help of tight hatches.
Dry storage compartments are great places for electronics, food, matches, and extra clothing. After hours on the open water, you'll be grateful that some of your gear isn't soaking wet. Since ocean kayaks are long and thin, most boats boast two sealed hatches as well as a large storage well with bungee rigging.
Tackle Storage
After looking at several ocean fishing kayaks, we have seen a wide variety of tackle storage options. The best designs feature tackle storage right in the cockpit. We appreciate the use of tackle trays and closed containers in center consoles. Sharp lures, live bait, and small accessories are incredibly difficult to manage. A tackle console will help you stay organized.
Live Bait Storage
There are quite a few ways that you can store live bait on your ocean fishing kayak. If your boat doesn't come with any onboard storage, you can float a bait bag on the side of the deck. Another option is to shove a bait bucket under the bungee rigging on the back of your kayak. Of course, many fishing kayaks have molded bait wells and insulated hatches. These areas are designed to hold live bait for extended periods. These isolated areas are typically located below the deck. As such, they are easy to access and do not create physical or visual distractions. Of course, you can always bring along some artificial lures. After all, there's no right or way to go about saltwater fishing.
Find that Balance between Speed and Stability
When it comes to ocean fishing kayaks, it can be challenging to find a balance between speed and stability. A long, slim body, hard chine, rudders, and skegs all improve a boat's stability, speed, and tracking.
FAQs
1. Can I just use a regular kayak for saltwater fishing?
We empathize with some kayakers' desires to use regular ocean kayaks for angling expeditions. These boats are great for touring and casual paddling. They are even capable of cutting through waves and currents. However, they do not have adequate fishing setups. Ocean fishing kayaks have large cockpits and specialized storage options. These boats enable paddlers to rig a line, stow a catch, and rest their poles. If you are serious about ocean fishing, a specialized craft is an essential investment.
2. How do I know my kayak is the right size for me?
One of the most common questions we get asked is how to pick the correct kayak size. Remember, ocean fishing kayaks tend to be long and slim. However, that doesn't mean you should ignore the details of a kayak's weight, length, and weight capacity.
The size of a kayak's hull, your weight, and the boat's weight capacity are all going to determine how much gear you can pile onto it. By the time you add up the weight of your fishing poles, tackle boxes, live bait, and other essentials, you may need to reserve 100 or pounds of your boat's weight capacity just for your angling essentials.
Most of the kayaks we came across had weight capacities between 350 and 600 pounds. While that may seem like a lot, the margin isn't very high after you add on a passenger and basic supplies.
Of course, you also have to consider how you are going to distribute the weight of everything. If you have long legs or a wide bottom, you need to pay close attention to a boat's cockpit design.
3. Can I still make good distance with an ocean fishing kayak?
Ocean fishing kayaks tend to provide paddlers with impressive speed and maneuverability. If you are looking to cover long distances, we recommend opting for a model with excellent tracking capabilities. A rudder and skeg pairing will help you cut through open water without producing excess drag.
4. Can I stand on top of my fishing kayak?
Some ocean fishing kayaks have standing platforms. These areas usually consist of wide flat pads. They make a kayak feel a lot like a stand-up paddleboard. While standing platforms are immensely popular, they are not available on all ocean fishing kayaks. Some kayaks just don't provide enough stability for this type of maneuver.
5. Can I put a sail on my kayak?
Many ocean fishing kayaks have special mounts for sails. Sails are a great propulsion alternative for anglers who want to take a break from paddling. Of course, we do not recommend adding a sail unless you are comfortable and knowledgeable about these dynamic boating elements.
6. Does ocean fishing kayak boast a big learning curve?
Many anglers are surprised at how easy it is to adapt to a kayak setting. For the most part, these boats maintain their stability on the water. Anglers simply need to cast their line and wait on a tug, just as they would from a larger craft or the shore. There is always the risk that you will be capsized or towed. However, these are the challenges that make life worth living.
7. I live in New England. Should I invest in a sit-on-top kayak?
We get it! Cold water can be a major bummer. Still, a solid wetsuit is probably a better investment than a sit-in fishing kayak. Sit-on-top kayaks have more storage potential. They also give anglers a better vantage point. After all, the seats are typically raised above the cockpit. Salty swells are not very forgiving. The last thing you want to worry about is bailing out your waterlogged cockpit. Water bounces right off the deck of sit-on-top kayaks. What's more, drainage holes get rid of any lingering puddles. As such, sit-on-tops are the most tried and true ocean fishing kayak options. If you do opt for a sit-in kayak, invest in a spray skirt. This accessory will help keep your cockpit dry.
8. Can I bring my dog along on my ocean fishing excursion?
Pups make great kayaking companions. Make sure there's an adequate space for your pooch to cozy up and stay dry. Of course, only bring them along if they fit safely within your kayak's weight capacity. Fishing kayaking can be done with a canine companion. However, you should always prioritize your animal's welfare.
9. Can I use my ocean fishing kayak in calm water?
Many paddlers are surprised at how poorly ocean fishing kayaks perform in still water. These boats are designed to track well in light surf and rough currents. They don't blow it completely in lakes and rivers, but they do show their true colors when they are up against maritime hazards.
Final Thoughts
We hope you enjoyed our rundown of the top ocean fishing kayaks. These incredible vessels make it possible for anglers to make solo fishing pursuits on big water. There's nothing more gratifying than hauling a big fish home after a rough and tumble adventure filled with choppy waves, salty spray, and powerful tugging sessions. It is never easy to name a favorite. If we had to choose just one ocean fishing kayak, we'd go with Jackson Kayak's 13.5-foot Kraken. This vessel is fast, stable, and accurate. It has an ample amount of customizable storage. Not to mention, it is affordable.