Often considered one of the more exciting types of fishing, surf fishing, like kayak fishing is very scenic and unpredictable. You can never know what type of fish you will catch. It is important to have the right gear when you are out surf fishing since you need the right type of reel to take on those powerful gamefish everyone wants to encounter. Here are a few tips on what to look for in the best Surf Fishing Reels and a few reviews to help you start shopping.
The Best Surf Fishing Reels go as follows:
Best Surf Casting Reels Reviews
Below are some of the top rated surf casting as reviewed by customers.
1. Penn Spinfisher V & VI Spinning Fishing Reel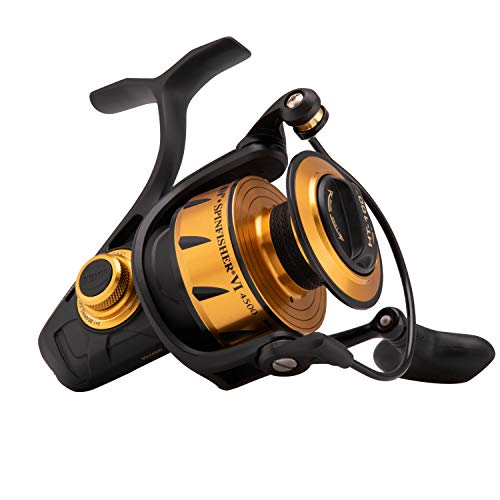 Offering durability in harsh saltwater conditions, the Penn Spinfisher V & VI Spinning Fishing Reel has a design that is watertight sealing out sand and water from the drag system and gearbox. Giving you smooth performance when you are fighting in the surf, the Penn Boxed Spinfisher has long-range casting with a watertight and durable design that was created for an adventurous angler. Its full metal construction and watertight frame will hold up well to years of harsh surf and water spray.
The Penn Spinfisher also gives you smooth reeling action and extreme drag range to bring in the fiercest gamefish. With three high-performance drag washers, you get a robust and smooth drag through the entire drag curve. This gives you a huge drag range for added versatility and power while also being able to crank down to max drag seamlessly without worrying about a line break.
Each drag washer has a treatment with a proprietary grease that guarantees long-lasting and smooth performance. You can also cast at long ranges with incredible accuracy. Equipped with a friction trip ramp that stops the bail from prematurely tripping when you cast so you can get to your preferred range.
An instant anti-reverse bearing also stops rotor backplay allow you to set your hook and reel without getting interrupted. Fitted with a rubber gasket, the spool stops the line from slipping under pressure. Plus, you get fluid cranking with five shielded ball bearings made of stainless steel that are shielded and anti-reverse bearing.
Pros:
Best Reel For Surf Fishing
Saltwater resistant and fully sealed
Extremely smooth to use
Tons of crank power
Cons:
2. Penn Battle II Spinning Fishing Reel
Jam-packed with fish-fighting features and made from durable materials, the Penn Battle II Spinning is constructed to be used year after year. All components are created to help you land your fish from the rotor to the stainless-steel ball bears, side plate, and full metal body. The drag system uses each side of the drag washer to give you the most drag while the instant anti-reverse bearing gets rid of pullback allowing you to reel without being interrupted.
For long-lasting performance, the drag washers have been treated with a proprietary grease. Fitted with a rubber gasket, the spool stops the Superline from slipping under pressure so you can use that braided line without having to use the monofilament backing. And, with its line capacity rings, you can tell from a glance just how much line you have left. the spool displays at a glance how much line is remaining.
Pros:
Great for the occasional angler
Great for both salt and fresh water fishing
Great design with trouble-free use
Cons:
Not good for regular use
Main gear fails after a few months
3. Shimano Baitrunner D Spinning Reel
With better castability, the Shimano Baitrunner D features the auto return and drivetrain that Baitrunners are known for. You also get fewer tangles, less backlash, better line lay, a more comfortable grip, and less friction on the line. Plus, you get a higher max drag and a wide range of Baitrunner settings than previous Batirunner models.
This classic live bait reel comes equipped with a secondary drag system that lets you free spool with a closed bail and lets your bait move around naturally. It also uses an oval oscillation gear that gives you consistent spool speed for an even line lay and great casting. And, the Dyna-balance technology gets rid of wobble caused by counterbalancing the rotor during the retrieve that improves smoothness and sensitivity while stopping vibrations that are caused by the reel
Pros:
Smooth use, and it doesn't get tangled
Gives you a wonderful fishing experience
No match to other reels
Cons:
4. HaiBo Saltwater Spinning Reel
Specifically designed to take on the abuse of a hard-pulling fish, the Haibo Cheetah Spinning Reel is great for corrosive saltwater environments. It offers durability, casting range, and power so that you can land those large saltwater gamefish built for jigging fish or heavy-duty surf casting, the Cheetah works on shore or on a boat. Featuring a drag system that is mechanically sealed, the Cheetah also comes with Dura-Drag that stops saltwater corrosion and infiltration while giving you the most protection from sand.
The Cheetah has a one-piece body is made completely of metal to give you more strength, the bail wire is made of heavy-duty aluminum to give you incredible durability, and the side plate helps to give you accurate gear alignment with the rotor when dealing with heavy loads. Six sealed ball bearings made of stainless steel come with an anti-reverse system giving you unmatched smoothness and corrosion-resistance when used in saltwater. Plus, you get a spool with a long wheelbase design for more power and finesse when you need it.
Pros:
Great looking reel with great casting distance
Nice handling that feels good to use
Comfortable casting
Cons:
Has aluminum alloy parts that won't last long term
5. Okuma Azores Spinning Reel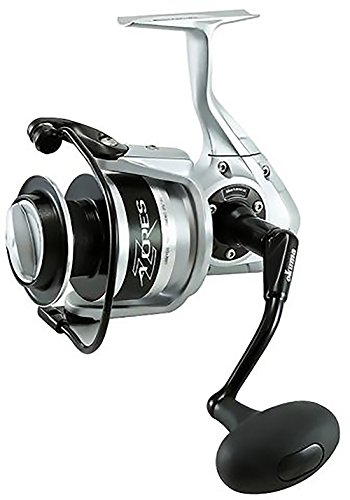 Coated with a durable corrosion resistant coating, the Okuma Azores Spinning Reel features a well-built reel with a rotor, side plates, and frames made with anodized and machined aluminum that was born to work in saltwater. Designed with a Mechanical Stabilization System (MSS), this reel lessens the possibility that metal inside the gearbox will feel the effects of corrosion and electrolysis. Using a three-piece carbon fiber construction process, electrolysis is stopped immediately.
A dual anti-reverse system, six stainless steel bearings, and an oversized spool shaft give the Okuma Azores great strength and smooth turning. The crank handle is also reversible for both left and right-handed anglers. All size Azores reels offer a high-speed retrieve ratio that varies between 35 and 46 inches with each crank of the handle.
You also get increased drag force thanks to its Dual Function Drag (DFD) that features precise rotary adjustment control. Depending on the size reels you choose, you will max out between 28 and 44 pounds of drag. The Azores reel also features a wider spool center space when compared to other reels allowing it to have larger drag and disc plates to cover a wider drag surface.
The knurled aluminum spool on the Azores lets you fishing line to connect directly without a layer of backing underneath that will increase your line capacity overall. Other features include high-density gearing that is corrosion-resistant, a precise machine cut brass pinion gear, and dual anti-reverse systems.
Pros:
Great quality, works well
Smooth drag and the reel is extra fast
Good value for what you get
best surf fishing spinning reel for the money
Cons:
Only good as a starting reel
Have unexpected bail closures when you cast
How to Choose The Best Surf Casting Reel
What is Surf Fishing?
As you can probably tell from its name, surf fishing is a type of fishing done when standing on a shoreline or when you wade into the surf. Other terms that are often used when describing surf fishing are beachcasting and surfcasting. These two types of fishing actually differ from surf fishing which is primarily done in saltwater. You can even pair it with drone fishing to maximse your chances of a catch!
When your surf fishing, you are most likely to catch redfish, bluefish, Spanish mackerel, flounder, blackfish, and even some sharks. Some regions make this type of fishing illegal while other areas allow you to drive your vehicle onto the beach to help practice your hobby. Although remember that you may need a permit to make sure to check the fishing laws of the area you plan to surf fish in.
Surfcasting and Beachcasting
Differing from surf fishing, these two types of fishing use different casting techniques. Surfcasting uses a long rod and use to main methods to catch fish. The two-handed cast approach allows you to get the target while others use the pendulum cast allowing the distance to lengthen even more.
In Montauk, NY, skishing is a type of surf casting that was invented in 1995. Using a wetsuit and flipper, you can actually swim right into the ocean and fight the fish. Beachcasting is a method that is preferred in Great Britain and can be done on the shoreline or beach.
Surf Fishing Reels Explained
When considering a surf reel, it is helpful if you know how the reel actually works. Even if you have the best possible reel you can buy, it might still not be the type of rod you need. The type of rod used for this technique needs to be at least 10 and 11 feet long.
When it comes to ball bearings, you should have between two to thirteen ball bearings in a high-quality reel. Remember that the more ball bearings, the better. As you shop, consider the line roller, the spool, the resistance, the drag, and the number of ball bearings. The handle is another important consideration but it depends a lot on how large your hands are and what you consider comfortable when using the rod. You also want to make sure that it has anti-reverse and, when considering durability, having parts that are all metal will increase its strength and usability.
What Makes a Good Surf Fishing Reel?
You will find that there are three different types of reels that can be used for surf fishing including side-cast reels, bait casting, and spinning. Most commonly used are spinning reels that can cast a long way out for an experienced user. Long distance surf casting reels will give you a smooth and long cast that won't have issues with premature ball closures or fishing line jump-off.
Baitcasting reels have seen an increase in popularity as more anglers are using braided superlines and as reel technology has improved. Reducing the normal problems created by tangles and backlash, baitcasting reels have the added benefit of accurate thumb control and extreme distance casting. Commonly used in Australia, side-cast reels aren't normally seen in North America.
Other things to look for in a best surf casting reel is a tough drag that helps when you are dealing with large fish and with those powerful currents and waves that put consistent pressure on your reel. You also want a very sturdy bail that can handle a heavy line and weight when you are using it. And don't forget about corrosion-proofing which is necessary for any reel that could be accidentally submerged into saltwater.
Ball Bearings
Ball bearings are equipped on all fishing reels to provide smooth operation as you retrieve and cast. How many bearings there are will tell you how smooth and how fast the retrieves and cast are for any reel. With a higher number of ball bearings, the smoother the operation of the reel will be. When choosing a reel for surf fish, you want a reel that has a lot of high-quality bearings. Also, make sure your reel comes with an anti-reverse bearing to get rid of backplay.
Sealing and Corrosion Resistance
Any time you are surf fishing, you and your gear have the possibility of getting wet. Your reel needs to be able to withstand getting sprayed with saltwater and maybe even fully submerged on occasion. Saltwater can be hard on your fishing gear taking its toll particularly on a reel and its fragile components. To be able to last awhile and withstand exposure, corrosion resistance is necessary for your reel especially if you want it to continue to perform well.
Choose a reel featuring construction that is corrosion-resistant and components that are watertight or sealed like the gear system, drag system, and bearing to protect them from abrasion and corrosion effects of sand and saltwater. You will also see protective gaskets as another form of corrosion resistance for a reel on the side plates and drag housing.
Even if you have a great anti-corrosive surf  reel, you need to make sure you clean and maintain it properly to stop corrosion from starting. Always rinse your reel after it is exposed to saltwater with fresh water to extend its lifespan.
Drag System
Everyone wants to land a big fish when surf fishing. Keep in mind that there is a very diverse variety of species in the surf so you never know what type of fish you will end up catching. Having a reel that comes with a smooth and powerful drag system will allow you to take on those strong and big fish that fight hard. You don't want to end up with broken tackle and no fish to show for it. Having a drag system that is strong allows you to withstand any pressure you feel from the current and waves and guarantees how durable saltwater surf fishing reel is. Remember that the bigger the species you try to catch, the higher the drag power your reel needs. Make sure to find a large reel that has at least twenty pounds of stopping power.
Size
When choosing a spinning reel, you will find that they come in sizes that start at 1,000 and go up. The higher number the reel, the larger its reel size is. You will find that casting reels are also available in different sizes.
Reels created for freshwater fish are the smaller sizes while the larger sizes are intended for serious saltwater fishing and come with larger line capacities and spools as well as a stronger drag system. If you are planning to do surf fishing, a large reel is required to handle the larger line lengths and weights and to battle the large saltwater species.
Gear Ratio
If you ever wondered what the gear ratio means, it tells you how many times that the spool will rotate with every handle turn. If you have a gear ratio of 7.3:1, you know that the spool will rotate 7.3 times with each turn of the handle. If you have a high gear ratio, your line retrieval will be faster but lower cranking power. With a lower the ratio you have higher cranking power but a slow retrieval.
Higher speed retrieval also means lower torque, so if you need more torque to pull in a large fish, you need to give up some of your speed. For those that want the best of both worlds, a medium gear ratio gives you a good balance of both.
Line Capacity
You also want to be aware of how much line you have on the spool so you know how much you can hold. Your line capacity will be marked on the details of the reel and listed in yards and pounds. Keep in mind that surf fishing needs a longer line so you can cast long distance or to handle a fast fish. Plus, it can use lines that are heavier to give you the strength you need to fight a huge fish without breaking the line.
Always make sure that the line capacity of the reel you have matches your casting needs and be there in case you catch a fast swimmer. The best performance line for surf fishing is a braided line and most of the better surf fishing reels are made to handle braided line without a problem.
Lures
The best lures for surf fishing are plugs, jigs, and spoons. You can also use soft plastics. It's always a good idea to buy several types and keep them with you so you can change them out depending on the fishing conditions.
Do You Need a Spinning or Casting Reel When Surf Fishing?
Either one will work well as they are both effective for surf fishing. It all depends on the type of fishing rod you pair it with, what type of tackle you use, your skill level, and your personal preference.
Beginners and your average angler will prefer a spinning reel that attaches on the underside of a spinning rod. Great for casting lighter lure and lines long distance, a spinning reel can also cast heavyweights and come with a spec that let you fight big game fish.
Baitcasting reels are placed on top of baitcasting rods and more popular with advanced anglers. Good for casting heavy lures and lines long distance, these reels give you more precise lure placement and control in harsh conditions. They are also notorious for creating backlash when casting, particularly from inexperienced users which is why beginners often avoid them. Most casting reels made today are designed to lessen the possibility of tangles.
Final Thoughts
The winner of the best surf fishing spinning reel roundup is the Penn Spinfisher V & VI Spinning Fishing Reel. Durable in harsh saltwater conditions, the Penn Spinfisher V & VI Spinning Fishing Reel has a watertight design that keeps sand and water out of the drag system and gearbox. You also get smooth performance and long-range casting with a full metal construction and watertight frame that will hold up well to years of harsh surf and water spray.
The drag system gives you smooth reeling action and extreme drag range to bring in the fiercest gamefish. You get a robust and smooth drag through the entire drag curve with three high-performance drag washers that also gives you a huge drag range for added versatility and power. Each drag washer also comes with a treatment of proprietary grease that guarantees long-lasting and smooth performance.
Stopping the bail from prematurely tripping, the Penn also comes with a friction trip ramp so you can get to your preferred range. The instant anti-reverse bearing also stops rotor backplay allowing you to set your hook and reel without getting interrupted. The definite winner of the best surf fishing spinning reel roundup is the Penn Spinfisher V & VI Spinning Fishing Reel hands down.