Kayaking with a friend is exhilarating, especially when you can enjoy the time in the same boat. It allows you to enjoy conversation, paddle together, and enjoy a day on the water. You can row in calm water when you begin, and as your skills improve, take your tandem kayak into rougher water to see how well you paddle together. But before you jump in, you need to find a 2 person kayak that works for your needs.
Best Tandem Kayak Reviews
In this guide, we will take a look at seven of the best tandem kayaks on the market. Our reviews will include both hardshell kayaks and inflatable models. In addition, many of these kayaks are rated to be used solo, so if your buddy can't go out on the water with you, you will still be able to enjoy the day. Let's get started!
1. Ocean Kayak Malibu Two XL Tandem –Best Sit-on-Top Kayak
Key Features
Molded seats and footwells
Center-seated paddler
13 feet long
500-pound load capacity
61 pounds
The first product in our guide is the Ocean Kayak Malibu Two XL. These tandem boats comes in multiple colors and is considered a unisex model. This is also a sit-on-top variation, so you and your kayaking buddy will be sitting atop the molded seats. The Malibu Two XL also has molded footwells that are deep enough to provide the stability you need as you are paddling along the body of water you're in.
While the sitting areas are molded-in, it's important to understand that the Malibu Two XL isn't just for tandem kayaking; you can shift the seat backing forward and remove the additional one so that you can have a solo experience. This is very beneficial for those looking to kayak solo from time to time, and it adds a bit of versatility for when you have a friend with you.
Measurement-wise, this is a vessel that has enough size for stability but is slender enough for tighter spaces. It has a length of 13 feet, which is about three feet larger than the average solo kayak, but its width is only 34 inches, so it still feels very stable for novice kayakers. This is a relatively heavy kayak; in total, it weighs about 61 pounds, so hefting it atop a vehicle may take a bit of work if you're by yourself.
The higher weight capacity is also great for larger adults; it holds up to two people weighing a total of 500 pounds. Features such as the screw-in drain plate, the deck bungee, and the bow and stern toggle handle make your day out on the water extra convenient.
Pros
This kayak shifts easily from a tandem to a solo vessel.
The material on the kayak durable.
There are deck bungees on the front and the back for both kayaker's gear.
Cons
The paddles are sold separately, so there's an extra expense.
The area around the rear scupper plugs can easily develop cracks.
This is definitely a very heavy kayak.
2. Vibe Kayaks Yellow Fin 130 T – Best Premium Pick
Key Features 
High-density polyethylene construction
Sit-on-top, hero seat kayak
13 feet long
500-pound load capacity
80 pounds
This kayak is unique in this list because it's excellent for a family. While it's technically a two-person vessel, the kayak also has a space in the middle for a child. The kayak is built from a single piece of roto-molded, high-density polyethylene. This makes it a very rigid kayak with a sleek design that isn't broken up by sharp lines and creases. It virtually cut through the water with ease thanks to minimized drag.
The kayak is also fairly middle-of-the-road when it comes to storage. There are the traditional bungee sections on the bow and stern as well as four mounting points for various accessories that you might find from the manufacturer or aftermarket. There are also storage hatches in the front of each of the dedicated Vibe hero seats.
Like the previous product, this Vibe kayak can be used by two kayakers or by a solo paddler that doesn't mind the extra vessel length. The seats on this kayak are really comfortable, and each has a breathable mesh body designed to provide support and dry out quickly when the kayak is out of the water.
Despite the fact that this Vibe kayak is a bit on the heavier side, it's easily carried by two individuals. In fact, there are four handles attached to the body that allows paddlers to heft the vessel when they are going overland or shallow water. Are you going to use this for fishing trips? The Vibe Yellowfin 130 T has a unique shaping that helps it glide through water almost silently. This is very useful when trying to paddle through areas of a lake that are packed with fish.
Pros
The fishing-stealth hull design helps you quietly cut through the water.
The storage compartments and bungees provide adequate space for both kayakers.
This is a very comfortable kayak with extra room for a small child.
Cons
It's on the longer side, so don't expect a ton of maneuverability.
There isn't a skid plate, so the shore in shallow water can damage the kayak.
It's definitely a heavy kayak.
3. Sea Eagle 370 – Best Cheap Tandem Kayak Pick
Key Features
Inflatable design
Sit-on-top
Maximum capacity of three paddlers
I-beam construction in the floor
Hull that's resistant to saltwater
650-pound capacity
12-foot, six-inch length
There was a time when inflatable kayaks were considered somewhat less-than when compared to traditional vessels. This entirely inflatable kayak outperforms some traditional kayaks, especially when considering the massive weight capacity. Three adults can easily ride in this vessel because it can manage a maximum weight of 650 pounds. The length of the boat is also more than adequate for this number of riders.
As an inflatable vessel, this is an excellent option for anyone looking to go out on the water but doesn't have the dedicated space for a roof rack on their vehicle. You simply inflate the craft, and it'll be more than sturdy enough to accommodate your kayaking crew. The inflatable nature of the vessel also makes it ideal for those on a budget; typically, you'll find this product at a significantly reduced price when comparing it to traditional kayaks.
It's also much lighter; when deflated, the Sea Eagle 370 only weighs about 32 pounds, so it can be carried with relative ease by a single person.
One of the biggest concerns with an inflatable is the level of durability that you can expect while out on the water. Simply put, you don't want a kayak that sacrifices sturdiness for convenience. The Sea Eagle 370 is made of a durable polykrylar material that is very hard to puncture and is also sun- and saltwater-resistant. The material can withstand chemicals in the water that may wear the material down gradually.
The seats on the 370 are also detachable and inflatable. This guarantees a comfortable ride, and it also makes the trip adjustable based on your needs. For example, as a tandem kayak, this is definitely an ideal choice if you'll be out on the water solo from time to time; the lightweight construction makes it an easy solo carry. While you're out solo, there are bow and stern grab lines that make it easy to drag the vessel in and out of the water.
Sea Eagle also offers a QuickSail package that allows you to attach a sail, which will provide speeds up to seven knots.
Pros
Five deluxe one-way diaphragms help prevent air loss when inflating.
This is a very durable kayak.
The Sea Eagle 370 has two skegs at the bottom of the kayak for better maneuverability.
Cons
It doesn't always feel stable.
It can blow in the wind at higher speeds.
There aren't many options for storage space.
See the Full Review on the Sea Eagle 370
4. Lifetime Beacon Tandem – Best for Flat Water
Key Features
500-pound weight capacity
12-foot length
Sit-on-top
Self-bailing scupper holes
Bungee and mesh for storage at bow and stern
When it comes to reliability, this Lifetime Beacon tandem kayak is a standout product. At first glance, you might not see it as a vessel that is all that special, but its design provides a reasonable degree of stability and control when out on the water. It's even one of the more maneuverable tandem kayaks in this guide, which is impressive given its 12-foot length.
Construction-wise, the Beacon tandem kayak is crafted out of polyethylene, and it also is UV-protected so that it doesn't fade or warp while stored in the sun. The seating areas are molded into the body of the kayak, and each seat is adjustable for the paddler. The front and back of the kayak have storage areas; the front using the bungee cord and the rear using cargo mesh. There's also a sealable compartment in the backmost seating area so that you can store smaller items.
This is definitely a heavier kayak. Unloaded, it is a full 90 pounds, so this is a vessel that you'll want to carry with a friend. Still, this kayak that can be converted for a single-paddler experience, so if you're expecting to take it out on the water for a solo experience, expect it to be a bit on the heavier side.
The Lifetime Beacon is primarily a flatwater kayak, so if there's a lot of chop, you might experience some turbulence. Still, in most applications, this kayak provides a very stable ride.
Pros
This vessel has footwells that accommodate any size of kayaker.
It's relatively inexpensive.
It is very durable with UV-resistant polyethylene.
Cons
It tends to wobble when you're getting in and out.
There's no padding.
This is a very heavy kayak.
5. Advanced Elements Convertible – Best for Solo Kayaking
Key Features
Inflatable kayak
15 feet long
Eight inflation chambers
Two screw-on valves
52 pounds
550-pound weight capacity
One of the best features of this Advanced Elements kayak is how little it looks like an inflatable. Features like its aluminum bow and stern frame, its outward physical design, and its durability will fool any casual observer into thinking that this is just a hard shell kayak. Compared to other models, this is a sturdier inflatable; it weighs about 52 pounds and is very long at 15 feet.
Like the other kayaks covered in this guide, you can use this in either solo or tandem mode, but despite the length, it will only accommodate two paddlers at maximum. The front paddler will have about 50 inches of legroom and the rear about 37 to 40 inches of leg space.
The kayak has a drop-stitch floor, which provides a cushioned, flat surface for the paddlers. This is comfortable and works well when you're cruising along flat water. Those looking for a comfy tandem kayak will love this because it accommodates any size of paddler. The seats even provide high and low lumbar support so that extended sessions on the water won't wear you out and cause back pain.
Pros
Despite being inflatable, this looks almost entirely like a standard kayak.
The carrying case has a backpack styling, which makes it very easy to transport.
It's effortless to inflate.
Cons
The 15-foot length reduces maneuverability.
It's heavy for an inflatable at 52 pounds.
There's not a lot of storage space.
See The Full Review of the Advanced Frame Convertible Here
6. Old Town Twin Heron – Best Tandem Sit-In Kayak
Key Features
64 pounds
500-pound capacity
Padded foam seats
13.5-foot length
Large cockpit
Three-layer polyethylene construction
Our final vessel is a sit-inside hard body kayak that has a stable design and works on most bodies of water. This product, which is from Old Town, quickly converts from solo to tandem and has an adjustable foot brace system that's designed to fit most foot types and provide structure as you row.
The hull uses a unique, auto-trim system that provides a good level of stability, even when getting in and out of the vessel. The material used in the kayak is tri-layer polyethylene, which won't bulge outwards, even when you're standing atop the kayak and fishing. The sit-inside cockpit is also very roomy so that even larger paddlers won't feel cramped as they paddle.
When soloing on the Twin Heron, the front seating provides plenty of room for storage. It makes it a particularly useful kayak for hunters and anglers with a need to stow gear. At only 64 pounds, this kayak can easily be dragged from place to place if you're kayaking alone.
Both seats use a comfort flex system that provides extra padding, which is useful when you're out on the water for hours.
Pros
The polyethylene body is very stable and won't budge.
There is plenty of storage space in this kayak.
For a hard body model, this is a relatively lightweight kayak.
Cons
There aren't many extra features with the Twin Heron.
The high gloss material picks up nicks and scratches easily.
There's no dry storage.
7. Intex Excursion Pro – Best Lightweight Fishing Package
Key Features
Inflatable kayak
86-inch aluminum oars included
Carry bag included
400-pound maximum capacity
Spring-loaded inflation valve
Includes pump and PSI gauge
The second inflatable kayak featured in this guide is a perfect option for anyone looking for a lightweight kayak that accommodates at least two paddlers, especially if fishing is a hobby of yours. This is also a very durable kayak; it has a tri-layer construction that incorporates a woven layer, a PVC layer, and another layer of PVC so that abrasions won't be an issue when you hit shallow water.
When there's a need to carry the kayak, there are carry handles built into the bow and stern of the kayak so that two people can drag/lift the kayak easily. Carrying the kayak is also aided by its lightweight construction. In total, the kayak weighs less than 45 pounds, so it's easily a one-person carry if needed. The seats are also optional; it's straightforward to use this kayak as a canoe if you wish. For those looking to use the removable seats, the adjustable footrests accommodate paddlers of any height. It also moves silently through the water, making it our favorite choice for fishing.
Comfort was clearly a goal when Intex constructed this kayak. Each seat has inflatable backrests that offer comfort and support. Additionally, there's a seat booster that any kayaker can use to make their trip more comfortable. Worried about the kayak not being rigid enough for stability? This vessel has an I-beam floor that helps it maintain its shape while in use.
Pros
The tri-layer construction makes this a very durable kayak.
It inflates within about five minutes.
The carry bag makes this a very easy kayak to transport.
Cons
It only accommodates a maximum of 400 pounds.
The oars aren't high quality.
It isn't great on turbulent waters.
Why Choose a Tandem Kayak
When you are looking for a new kayak to take with you on adventures in the water, there are advantages and disadvantages to getting a tandem one that allows you to share the experience with another. So, why would you choose a two seater kayak over a solo model? Let's take a more in-depth look at some of the advantages and the disadvantages of one of these kayaks to help you decide whether or not a tandem kayak is right for you.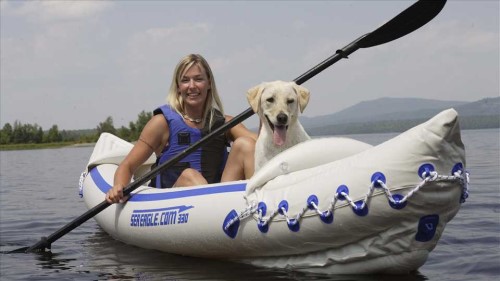 Advantages
First, let's take a look at some of the advantages of a tandem kayak. This section lays out some of the benefits you will experience when you use this type of kayak. It will also cover some of the reasons that you may wish to own this type of kayak.
More Room for Stuff!
Since this is a larger kayak designed to accommodate more than one person, there is more storage space to accommodate the gear that you will be taking with you on the water. If, by chance, you have a kayak that is designed for two, but there is no additional storage space, then you may be able to store some equipment by your feet. You also have the option of taking the trip solo, which will allow you to use the additional seats as a place for storage.
Great for the Whole Family
One of the main reasons that you may be interested in a tandem kayak is to enjoy outdoor adventures with those that are closest to you. This may mean that you will want to take your partner with you on the water. Having companionship while on a kayaking trip is something that many will not want to pass up, and with a tandem kayak, you have seating for at least two without needing to purchase or rent another kayak.
It could also mean that there is more space in the kayak to take your children with you. Many smaller children do not have the skills or the strength to row their kayak on the water, so being able to ride with you on your kayak will give them the assistance they need. It will also provide you with the ability to be close to your child in case anything happens during your kayaking trip.
Dogs also offer great companionship on a tandem kayak. Most dogs will sit at your feet in the kayak, so you can still bring another person with you on the trip. Dogs love the water, and they are a part of your family, so why not bring your furry friend along for some enjoyment.
Can Sometimes be Used as a Solo
Depending on the model, some tandem kayaks can also be used by a single person or multiple people. One of the seats can be removed or folded into a position that makes it more convenient to store items for your trip. With the inflatable models above that have adjustable seats, this can easily be done with little effort.
If you don't have a companion that will go kayaking with you all of the time, then make sure that you consider a tandem model that has adjustable seats so that you can go solo if you prefer from time to time. All of the models that we looked at above can be used solo or with a second rider.
Safety Reasons
Safety is always a big concern when you are on the water, especially if you take the kayak in rough, white water that can be unpredictable. They say that you should never swim alone, and the same is true of kayaking to make sure that you have the support you need to survive if something happens in the water. For example, with a kayak, rough water can flip it, which could leave you stranded if you are not able to turn the kayak back upright. When you have two people, you will have more leverage and strength to maneuver the kayak and get yourselves back out of the water and into the boat again.
They can even be there to rescue you if you get swept away in a rapid or hit your head when you get knocked from the boat. Having a companion with you is a great way to keep you safe and prevent you from drowning in rough water.
You Can Get to your Destination Quicker
Ideally, having a tandem kayak means that you should get to your destination quicker than when one person is paddling. Two people paddling is faster than one, right? This is true with experienced kayakers, but people who are new to the activity may not have the coordination or the skills to navigate the water, especially if you are navigating through rough rapids or waves in the ocean. With a bit of practice on calm water, you and your kayaking buddy will most likely be able to row in unison without issue.
Disadvantages
Now that we have covered the benefits of a tandem kayak, let's take a look at some of the disadvantages of this type of watercraft to see why you may not want to purchase one for yourself. They may not be deal-breakers, but knowing about the disadvantages will help you make a well-balanced, fully-informed decision.
Not Recommended for Beginners!
Since this type of kayak requires some skill to row with another person, it is not a great idea for a beginner who is still unsure how to get from one location to another when they row. If you are a beginner looking for a tandem kayak, make sure that you plan to use the kayak with someone who is patient and can teach you how to use the kayak properly.
Named as Divorce Boats
Yes, kayaking with another person can be a lot of fun, but if you and your spouse are not able to work together, it can cause issues between you two. That being said, a tandem kayak is often referred to as a divorce boat, and if you and your partner have issues communicating, this may not be the best option for you to consider. Both parties will need to be in sync when they are paddling to go faster. If you can't synchronize your paddling, you can spin in circles and get fatigued because you are fighting against each other to move the boat in different directions.
Harder to Transport
Since these are typically a bit on the longer side when compared to a solo kayak, they can be more challenging to transport. You will not be able to fit one of these kayaks into a vehicle, so you will need a roof rack on your vehicle at the very minimum if you have a tandem kayak that has a hard bottom. Inflatable models can typically be folded up into something that can be easily transported. However, once it is inflated, it will still take two individuals to carry it to the water.
How to Choose the Best Tandem Kayak for You
Once you decide whether or not a tandem kayak is right for your needs, you need to consider some things to help you decide which is the best option. This can include thing s like the durability of the kayak, the type of kayak, and the amount you are willing to spend on your hobby to get a new kayak. Let's take a look.
Where are You Kayaking?
The first thing that you should consider is where you are planning on taking your kayak. Calm waters are not hard on the boat, so you can have one made out of less durable material. You may want to consider an inflatable model if you are only planning on kayaking in calm water because there is less chance that the material will get torn by a sharp rock when it's bounced in rough water.
Whitewater is rougher, so it may not be ideal for all kayaks. If you plan to use it in these rough waters, then finding a kayak with a rocker on the bottom may be critical to help you turn with ease to avoid rocks. You can also consider kayaking in the ocean, but you will want a kayak designed for saltwater.
For a beginner, we advise against kayaking in water that is rough, like the ocean or a river with rapids. This can be challenging for a beginner, so you need to get the hang of paddling in calm water that will not throw a wrench in your plans.
Types of Kayak
There are a few different types of kayaks that you will need to consider before making a purchase. Some of the most common models include:
Tandem Inflatable Kayaks: This is the type of kayak that you blow up, so they can conveniently fit into the interior of your vehicle. Even though these are inflatable, they are nothing like rafts and inflatables you purchase for a pool when it comes to durability. They have a very rigid design that can stand up to a lot of abuse, which means that the material is not likely to snag or get torn during use.
High-pressure pumps are used for inflation, which means that you never have to manually blow up the kayak before taking it in the water. In most cases, these kayaks are lighter and easier to carry, which can also make it easier to maneuver in the water. When you are done kayaking for the day, you will need to deflate the kayak to take it home.
Tandem Hardshell Kayaks: Hardshell kayaks are typically made out of a few durable materials that work well in the water. They can be made of wood, fiberglass, or plastic, but each material will behave differently in the water. These materials are heavier than inflatable kayaks, so they may be heavier to carry and will sometimes require two to handle walking the distance with the kayak. However, once at the water, it will be ready to go much quicker because there is no setup process. Traveling with a hardshell kayak will require you to have a kayak rack on your car. Because of this lack of flexibility, the kayak will be more prone to bumps and scrapes in the water, which means that more maintenance may be required to keep the kayak in good condition.
Tandem Sit on Top Kayaks: This is a type of kayak that may look a little strange to you. There is no cockpit for this type of kayak; you simply sit on the top of the boat and put your legs along the side. These are typically self-draining kayaks, so if the boat flips, the water will automatically drain out. This is an excellent option for exploring calm water and those who need stability in open water.
Tandem Sit-In Kayaks: This is the more traditional type of kayak that most would have used in the past. It limits the area where kayakers can sit, but they typically have a higher level of performance, and they are a good option for advanced paddlers who want to enjoy kayaking in rougher waters.
Price
Budget is always a concern when purchasing something new, especially if it's a larger item that could be costly. Overall, the budget limitations that you have will only allow you to purchase specific kayaks, and if you are not willing to spend more, you may be limited. Thankfully, tandem kayaks range in price, so you should be able to find one that accommodates your budget. Typically, one of these kayaks will be under $1,000, and less expensive models will only be a few hundred. Inflatable models generally are cheaper, so if you are a beginner, you may want to start looking at some of the inflatable options listed above.
Maximum Capacity
Remember, not every kayak is capable of holding the same amount of weight, and that weight includes not only the people that you are kayaking with but the weight of the equipment that you bring along. Most kayaks have a weight capacity between 350 and 550 pounds, which should give you plenty of leeway when it comes to bringing things like fishing gear, snacks, and other essentials.
How Heavy is it?
This may not seem like a consideration that you need to make because a tandem kayak is designed to be used with two or more people, but it must be considered. Imagine that you purchase a heavier kayak with the intent of always going out with a buddy. You take off work to go out on the water, and he calls you to let you know that he will not be able to make it. To go solo, you need to be able to carry the kayak alone. The last thing you want is to cancel the trip entirely because you can't carry the kayak. Some kayaks can weigh as much as 80 pounds or more, so if you are not a muscular person, consider the weight of the kayak before purchasing it.
Tips for Maintaining a Tandem Kayak
Before you purchase your new kayak, you need to know how to maintain it and care for it year-round so that you don't need to replace it soon. Maintenance for tandem kayaks come into play during kayaking season and at other times throughout the year. This will help keep the kayak in good condition as well as keep you safe on the water. Let's take a look at some critical tips that you will want to remember.
Always inspect the rigging and the hull before the kayaking season begins.
Replace old seats, oars, life jackets, and other accessories.
Check your first aid kit to make sure it's complete.
Carry your kayak instead of dragging it.
Wash down your kayak after use, especially if it's used in saltwater.
Store kayaks out of the sun to prevent UV erosion and wear.
Keep the cockpit covered to prevent animals or insects from making their home in the kayak.
Final Thoughts
As you can see, several different types of tandem kayaks could fit your needs. If the seven reviews that we provided for you in this guide are not ideal for you, then take another look at our buyer's guide section to help you determine what you are looking for in a tandem kayak. Do you want an inflatable kayak or one with a hard bottom? Are you considering a traditional sit-in kayak or a newer sit-on kayak? How much space do you need to store your gear? Regardless, make sure to be well-informed about tandem kayaks before making a purchase decision that doesn't suit your needs.
If you are looking for advice, the one that stands out the most for family kayaking is the Vibe Kayaks Yellow Fin 130 T. It has two seats for adults and a smaller middle seat that accommodates a small child or a pet. The Intex Excursion Pro is an excellent option for fishing. It has rod holders that swivel, fish finders, and plenty of room for gear. It's also designed to be resistant to abrasions and sun damage. Overall, the best kayak that we reviewed is the Old Town Twin Heron because it handles well in all water. The seats are very comfortable, and it's versatile enough to use for fishing.