Thinking about adding a new kayak to your arsenal? Whether you're a shopping addict or a reluctant first-time buyer, there's nothing quite like breaking in a new kayak out on the water.
Today, we're going to review one of the most popular, customer-loved kayaks out there: the Sea Eagle 370. We'll dive into a discussion of its specifications, features, drawbacks, and potential alternatives.
But first, let's briefly discuss the company that conceived of the SE370: the Sea Eagle brand.
Founded in 1968, Sea Eagle Boats first opened shop on the shores of Long Island, NY. Just a two-minute walk from Jefferson Harbor, the Sea Eagle company enjoyed some of the most versatile water conditions with which to test their line of kayaks.
The company quickly found success after introducing one of the world's first two-person inflatable kayak in '68, which enjoyed massive success in the Western market.
Since then, the brand has only continued to enjoy household-name status among water sportsmen. Now, the company boasts a line of ten different inflatable kayaks, six inflatable SUPs, two inflatable pontoon boats, and several inflatable canoes.
So, does the Sea Eagle 370 live up to the reputation of its predecessors? Let's find out.
Overview of the Sea Eagle 370
Below, we're going to discuss anything and everything number-related when it comes to the Sea Eagle 370. Make sure to consider your own needs when looking over the kayak's specifications.
Specifications
When purchasing a kayak, one of the most important aspects to consider are the kayak's materials, weight capacity, and other quantifiable qualities.
The Sea Eagle is a three-person inflatable kayak with a maximum weight capacity of 650 pounds. Lightweight and easy to portage, the SE370 boasts great stability and durability in rough water conditions.
The floor features an inflatable I-beam construction to provide extra rigidity along with an inflatable spray skirt. The hull is made from ultra-thick 38 mm Polykrylar, which is rugged enough to withstand impact or even sharp puppy paws on deck. A pair of two molded skegs provide better tracking across the water.
For even greater assurance, all seams and sensitive parts of the watercraft are welded with high-frequency fused seams for extra solidity. The inflatable kayak features three isolated air chambers for the port, starboard, and floor.
Five durable one-way air valves allow for easy inflation and deflation after a day out on the water.
In addition to the kayak itself, the entire purchase comes with a self-bailing drain pump, removable skegs, a pressure gauge, a patch repair kit, bow & stern grab lines, and lashed-down spray skirts for each paddler seat. Moreover, the kayak comes with two four-part paddles with asymmetrical blade design and lightweight aluminum shaft.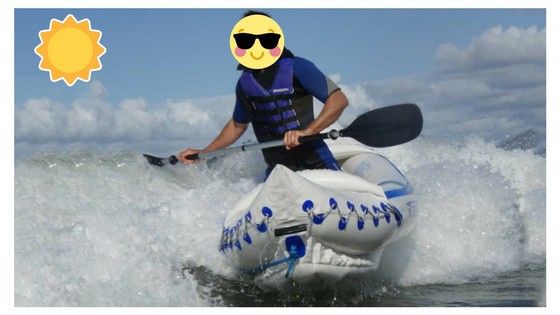 Benefits of the Sea Eagle 370
The Sea Eagle features several great benefits owing to its unique construction. With a lightweight design and efficient hull shape, the SE370 can accommodate both beginners and more intermediate paddlers alike.
Why is the Sea Eagle 370 so great for beginners? Perhaps it because of the high level of primary stability and reasonable secondary stability offered by the kayak. The inflatable hull is flat-bottomed and the central crossbeam is wide, offering easy entry and exit. Many new paddlers find the recessed yet open cockpit more beginner-friendly than standard sit-in kayak designs.
That said, it's not so "beginner-geared" that experienced paddlers would be bored. In fact, the kayak is rated for Class III rapids. The kayak can withstand waves up to four feet and shimmy through narrow passages with ease. A self-bailing drain valve, in addition to spray skirts, makes it easy to withstand frequent waves that would otherwise swamp the kayak.
Moreover, it is very easy to port the boat from land to water. Without any gear, the boat only weighs 32 pounds when inflated, which is nearly half the weight of a standard-size hardshell kayak with the same dimensions. It's easy to portage the boat across land, which makes it the perfect option for exploring new terrain.
The SE370 is rated to hold up to three people (or 650 pounds), which makes it an excellent choice for use with friends and family. Carry your kids or pets without fear, especially since the seating can be flexibly adjusted for additional riders.
Buyers can choose from several different packages, depending on the type of kayaking they'd like to do. The company offers deluxe, fishing, pro, and quiksail packages.
Drawbacks of the Sea Eagle 370
The Sea Eagle 370 isn't for everyone. Perhaps most concerningly, the SE370 doesn't offer the best tracking. For reference, tracking refers to the kayak's ability to move in a straight line in response to paddling. Like most inflatable kayaks, the SE370 suffers from poorer tracking ability than hardshell recreational style kayaks..
As a result, the SE370 doesn't withstand windy conditions that well. Without proper tracking, it's easy for the SE370 to get swept off course by powerful gusts of wind. Carefully consider the type of weather conditions you're most likely to kayak in before investing in the SE370.
If you do select this kayak, we suggest investing in a dedicated pair of paddles. The plastic four-part paddles are of poorer quality than most paddles, which can end up becoming a barrier to performance as you improve.
We wouldn't recommend the SE370 for long, multi-day trips. The seatbacks are not very adjustable and the watercraft features no foot braces, which can make long trips feel arduous or overly cumbersome.
Things to Consider Before Purchase
Which Sea Eagle Package Should You Get?
The Sea Eagle 370 is available in many unique packages for different types of kayakers. The packages include a deluxe, fishing, pro, and quiksail option.
The Sea Eagle 370 Deluxe package includes the inflatable kayak, two paddles, two inflation pumps, moveable seats, a foot pump, a repair kit, and a rugged carry case with an easy-carry shoulder strap.
We recommend the Deluxe for any paddler that wants to get all the basic gear in addition to the kayak. This discounted package is especially useful for beginners that don't own any specialized equipment yet. The Sea Eagle 370 fishing package is rife with attachable gear that anglers need. In addition to the kayak, it comes with a multi-purpose storage box for stowing tackle and two customized rod holders.
The Sea Eagle 370 Pro package is similar to the deluxe package, yet offers additional stow pouches and provides improved back support with five-inch high seating. It also comes with the foot pump, carry case, patch repair kit, and two ABS plastic paddles offered by the Deluxe package.
If you want to enjoy the thrill of sailing, the Sea Eagle 370 Quiksail package comes with an attachable sail that catches the wind. It attaches to the bow of the kayak and provides thrilling downwind action.
Ultimately, the package you select should depend on what type of kayaking you'd most prefer.
What Are The Water Conditions?
As a beginner and intermediate kayak, we recommend the Sea Eagle 370 for small lakes and rivers. The flat-bottomed hull and inflatable design make the SE370 best-suited for relatively calm water conditions and windless days.
We would not recommend the SE370 for ocean or coastal conditions as it does not provide the best tracking or secondary stability. For coastal kayaking, we recommend seafaring kayaks that feature a longer length, V-shaped hull, and hardshell design.
For a more thrilling ride, the Sea Eagle 370 is certified to competently withstand Class III rapids. The kayak's self-draining design and puncture-resistant materials provide extra assurance under a barrage of waves and light impact.
Features and Benefits
Let's discuss the most compelling features and benefits of the Sea Eagle 370.
Set Up
With a triple-isolated air chamber design, the Sea Eagle 370 is dead-simple to tote to the dock and inflate right away. The watercraft features five one-way inflation and deflation valves for easy set-up.
Regardless of your level of experience, the SE370 can be set up in as little as ten minutes. At the end of the day, the kayak packs down to a mere fraction of its inflated size.
Portability
When inflated, the Sea Eagle 370 weighs just 32 pounds, which is nearly half the weight of a hardshell kayak with the same dimensions. This makes it easy for just a single paddler to haul it to and from the water.
Deflated, the kayak measures just 31″ x 19″ x 8″. It can be easily folded down and stowed in the included carry case. That's right: You won't have to haul the kayak onto a car roof rack, it can be thrown in the backseat.
Like other inflatable kayaks, the SE370 is simple to portage. It's the ideal watercraft for exploring disparate bodies of water or unexplored territory.
Durability
Compared to other inflatable models, the Sea Eagle 370 is surprisingly durable and resistant to impact. It is one of the only inflatable kayaks that's certified to withstand Class III rapids, owing to its thick material construction.
The SE370 hull is made with 38 mm polykrylar, which is a rugged PVC material that performs similarly to other synthetic plastic polymers in its class (like hardshell polyurethane kayaks).
On-the-Water Performance
Offering great primary stability, the Sea Eagle 370 is recommended for beginners for use in calm water conditions. It's a fun and easy kayak to get the hang of easily.
That said, we should warn potential buyers that the SE370 doesn't have the best tracking and maneuverability compared to other models. If tracking isn't something you're willing to skimp on, we suggest checking out an inflatable kayak with a more rigid bow and stern design, such as theAdvanced Elements single-rider kayak.
Gear Storage
The SE370 is spacious enough to fit up to three riders and some gear onboard the watercraft. Unfortunately, the kayak doesn't include any internal storage container, so you'll need to think carefully about what you bring on the trip.
Comfort
The Sea Eagle 370 is comfortable enough for day-long trips, especially since the high-back inflated seats are adjustable in the boat. The kayak is wide and long enough to allow even the tallest paddlers to spread out their legs.
What Do Buyers Think?
We made sure to scour the web, looking for any and all reviews on the Sea Eagle 370. Overall, most buyers are pleased with their purchase, yet they do mention a few of the same drawbacks.
"The Sea Eagle has almost too many great qualities to name. What's not to love about lower cost, solo-transport, inability to capsize, and the ability to self-drain? Your friends without roof racks can borrow it any time," one Amazon reviewer mentioned. "Of course, it's not the best option if you want to cover big distances as quickly as possible. And, like any inflatable kayak, it could potentially be punctured."
"I've hard this boat for a bit over a month and been out with it several times. I love this boat, but wouldn't ditch my hardshell for it," another claimed. "It's a solid and well-made boat. And it easily compares to any commercial-grade inflatable boat I've been around. My wife and I can set it up in fifteen minutes flat."
"The Sea Eagle 370 does track well with two skegs in the back and it doesn't do bad on speed," Kaitlyn from the YouTube channel Road Gear Reviews mentioned. "However, it is an inflatable boat: It does sit high up on the water, so you're more susceptible to the wind and you won't have the speed you would have in a hardshell kayak."
Ultimately, the SE370 won't offer the same performance guarantees as its hardshell counterparts. However, the kayak's benefits are nothing to scoff at either – users love the easy set-up, durable performance, and affordability of the SE370.
Alternatives to the Sea Eagle 370
Not quite sold on the Sea Eagle 370? No worries, we've rounded up a brief comparison with a few popular alternatives.
More Compact compared to 370
Lighter and smaller than the SE370
Carries up to 500 pounds on board
Comes with the same gear add-ons offered by the SE370 Deluxe package
Hull is thinner compared to 370 
The entire package fits inside a 26″ by 48″ carry case
Has lower capacity and higher weight than the SE370
Offers improved rigidity and puncture resistance than the SE370
Features mounted footrests and integrated fishing rod holders
 Hull offers better resistance to abrasion and sunlight 
A bit more cumbersome to transport
Vinyl is cheaper yet less resistant to damage than PVC inflatable kayaks
Offers maximum weight capacity of 400 pounds
Meant purely for calm lakes and rivers
More streamlined in the water
Hull is not as impact resistant as the Sea Eagle 370
Less expensive
Final Thoughts
Ultimately, the Sea Eagle 370 is a worthy option for any beginner or intermediate paddler that wants to experience the benefits of an inflatable kayak. Certified for Class III rapids, this rugged kayak can withstand impacts with ease.