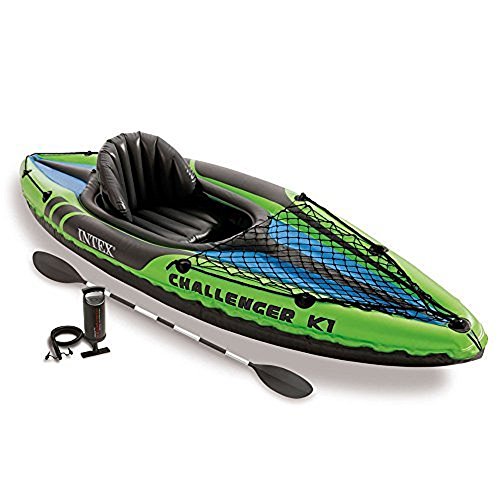 Intex is one of the biggest inflatable kayak manufacturers out there that make a wide range of different inflatable products from pool toys to beds and everything in between! The  Intex Challenger K1 Kayak is one of the best priced inflatable kayaks out there but also comes with great quality.
Features
Removable Skeg

Grab Line

Cargo Net for Storage

Repair Patch Kit

86" Aluminum Paddle

Grab Line

Puncture resistant Heavy Duty Vinyl

Removable seat

Double air chambers

I Beam Floor

Pump
Intex K1 Challenger Kayak Review: Features Analysis
In terms of what you actually get for what you spend The Intex K1 Challenger kayak is at the top of the list for value. First off it comes with many different useful accessories including a 86" aluminum paddle, hand pump as well as cargo netting and a removable seat. All of this for the price listed below. It is the perfect introductory kayak for those who want to dip their foot in the water without committing to more room and a bigger price tag.
Some other features that highlight this inflatable kayak are the fact that for the price it's on water performance is actually pretty good. It's stability is great in both calm and rougher waves. You never feel like you are in danger of flipping over which is a great feeling! Especially if you are a new kayaker! The big removable fin is key to the Intex K1 Challenger kayak's tracking ability. If you do not have it on it is a lot more difficult to paddle in a straight line.
In calmer waters it's tracking ability is much better than in rougher waters like coastal bays or windy big lakes. This is because the kayak simply sits on top of the water thanks to its I beam floor, as a result the kayak can be pushed around and it takes more work on your end to get the kayak moving in a straight line.
The Intex K1 Challenger Kayak is great for people who want to get out on the water and not have to worry about storage space. When packed up it's dimensions are 16.25 in x 23.125 in x 8.5 in. It only weighs around 24 lbs so it can easily be stored in a closet or other storage that you desire. The inflation process is relatively simple and takes under 10 minutes to inflate the cockpit of the Intex Challenger K1 Kayak and the I beam floor. Deflation and packing it up is also a relatively simple affair which takes around under 10 minutes! Just make sure to dry it to prevent mold build up!
Pros
One of the best "Value" Inflatable Kayaks out there

Great stability thanks to its I beam floor

Highly portable, which is great for people with condo's or apartments

The Price is one of the best in the industry

Can handle both calm and wavey conditions

Comes with a lot of extra gear such as paddle, hand pump, cargo net, inflatable seat

Great kayak for a beginner looking to get into the sport but does not want to invest a lot
Cons
Tracking ability without fin and in wavy conditions is not very great

While it is a good beginners kayak it is not a kayak that grows with you as you get more skilled

Hard to paddle in windy conditions

Not a great kayak for taller folks, get the Explorer K2 for more leg room

The back rest is not the most comfortable especially for taller people who need a higher backed rest
What Customers Say
Almost every positive review about the Intex K1 Challenger Kayak stated that they felt the received a lot of value for what they payed for. Some have even went on to state that they have used this kayak for many years and it still holds together! Buyers also appreciated how portable it was and more than quite a few stated they could store the kayak perfectly in their condo or apartment. A few people even stated it's a great kayak to go out and fish on but did advise against fishing in windy conditions.
The majority of the people who ordered this kayak were beginners so they had nothing to really compare this kayak with. However there were some more experienced kayakers who had their part to say about the Intex K1 Challenger. The more experienced kayakers had some mixed feelings about it. Many stating the the price point was a big plus and that it was sturdy and stable enough. Others did not like the fact that it did not track well in more difficult conditions. If you watch some youtube videos you will see what I'm talking about. If you are looking to keep up with hard shelled kayaks be warned you will have to work harder.
Rating 8.1/10