Sea Eagle is a pioneer in the inflatable kayak industry. In Fact they have been perfecting their craft since 1968! Over the years they have perfected the art of making inflatable kayaks which is a big reason why they are one of the industry leaders today! The Sea Eagle SE 330 Deluxe is no stranger to that philosophy.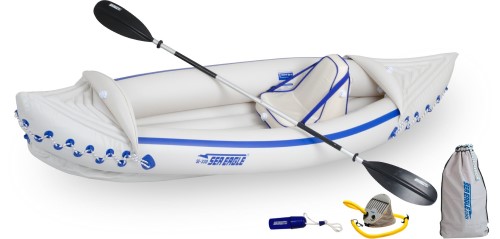 Sea Eagle SE 330 Deluxe Kayak Features
Open and close drain valve

Five deluxe one way valves

Sun and Saltwater resistant material

Inflatable spray skirts

I- Beam construction floor

Two Tracking Skegs

Grab Lines located on the bow and stern

Foot Pump

Two Paddles

Two Seats

Repair Kit

Carry Bag

Made of thick K-80 Polykrylar Hull material
Features Analysis
One of the best options available in terms of durability and affordability The Sea Eagle SE330 inflatable kayak is a great versatile option for some fun on the water. This kayak can be used both as a solo and a two person kayak for a variety of different waters including Class III Rapids, Calm lakes and coastal Oceans! This kayak can tackle a variety of different conditions that is thrown its way thanks to its durable K-80 Polykrylar Hull Material. Infact Sea Eagle are so confident with their inflatable boat that they attach a 3 year manufacturer  warranty on their kayaks.
A few years ago Sea Eagles decided to uplift it's floor to allow you to sit higher in the kayak and create greater durability with the floor. They created the I- beam floor which was met with different reactions among customers. On one hand it helps further the already impressive durability of this kayak and allows you to sit higher up to make paddling easier. On the other it makes the kayak more susceptible to being pushed around by the wind. This is a big problem with most inflatable kayaks but when you have it raised even further up you create more surface area for the wind to push against.
Sea Eagle is known for giving good value so as a result they make sure to include all the accessories that allow you to get in the water right after purchase. Some accessories that the Sea Eagle SE330 Inflatable Kayak (Deluxe) comes with includes the pump, two paddles, two seats. a carry bag, repair kit, grab lines, spray skirts and two skegs
Pros
Light Weight and very portable weighing in at 26 lbs

Has a 6 minute inflation time

Made of strong material

One of the best priced inflatable kayaks out there

Can be used for class 3 rapids

One of the better inflatable white water kayaks out there

Very Stable
Cons
The wind easily pushes this craft

Tracking is not the greatest from an inflatable boat

Difficult to board especially from a dock
What Customers say:
Many people are impressed with how the Sea Eagle is so durable. Some people have had this kayak for well over 10 years and some even 20! Others have tested Sea Eagle on it's claim of being able to tackle Class III Rapids and have come out satisfied. I have also heard of people tackling 3 to 5 foot waves and this kayak seems to be on top. The SE 330 Deluxe is also a very underrated fishing vessel. Inflatable kayaks tend to make less noise than hard shelled kayaks so you can sneak up on fish and catch them by surprise! You are also seated high enough where you can spot fish easier in clear water.
People who have owned the Sea Eagle 330 seem to enjoy the open layout and state that you can fit a good amount of gear in it. It is also easy to set up and takes less than 10 minutes for full setup time. Many customers were blown away by Sea Eagle's 3 year manufacturer's warranty which is rare among many inflatable kayak manufacturers.
Most people have mostly good things to say about the Sea Eagle 330 kayak but some of the most common complaints were directed at how easily the boat gets pushed by wind. The Sea Eagle SE 330 Deluxe is raised higher than many kayaks on the market, and it's inflatable. That combination makes it easy to be pushed around in wind over 3 mph. Tracking ability is a bit of a mixed bag with this watercraft. Some people swear by it while others are not very happy with it. Ultimately the difference between the two is how much kayaking experience you have and how many different models customers have tried and owned.
Rating: 9/10