I researched 17 products and found the Sea Eagle 330 to be the best cheap kayak for beginners on a budget.
The Floating Authority is a website that features nature enthusiasts who love being in the water in a variety of capacities. Our team has tested hundreds of water sports equipment ranging from canoes, kayaks, paddleboats, and more. We care about safety, affordability, and quality; we assessed various products to suit different lifestyles.
Our mission is to help our readers feel more informed before they make a purchase. We also want to provide valuable and high-quality details that have a practical application in everyday life. I have over 20 years of experience in the water, and I don't plan to stop anytime soon!
Our list of the best cheap kayaks consists of vessels that shine in a particular area, like the least expensive, the best for two people, and so on. You're sure to find at least one kayak on this list that can accommodate your needs as a new or seasoned kayaker.
If you're short on time, we'll let you know upfront that our top pick is the Sea Eagle 330 (Best for Beginners). It's an inflatable kayak that only weighs 26 lbs. It's pretty lightweight, despite accommodating two small adults or a small child and an adult.
You can also pack it down to make it fit in a car trunk, even a really tiny one! The weight capacity is 500 lbs, but one person can easily paddle this baby out on the lake and carry it by themselves to the water.
Keep reading for helpful tips on finding the best inexpensive kayak, and we'll also answer some frequently asked questions regarding features and performance.
Here are our top picks for the best cheap kayaks that won't compromise on quality. We've chosen a variety of vessels that accommodate up to three passengers, and we've given you a breakdown of the features and extras. So, without further ado, the best inexpensive kayaks for a tight budget!
Best Cheap Kayak Reviews
below are our top-rated affordable kayaks as picked by us.
Kayak
Weight
Max Capacity
Where
Rating


26 lbs
500 lbs
Lakes, Rivers




23.9 lbs
220 lbs
Lakes, Rivers




30.6 lbs
400 lbs
Lakes, Rivers




32 lbs
650 lbs
Lakes, Rivers
Coastal




57.6 lbs
325 lbs
Lakes, Rivers
Coastal




19 lbs
100 lbs
Shallow
Lakes, Rivers




40 lbs
250 lbs
Lakes, Rivers




39 lbs
400 lbs
Lakes, Rivers
Coastal




57.5 lbs
275 lbs
Lakes, Rivers
Coastal


1. Sea Eagle 330 (Best for Beginners)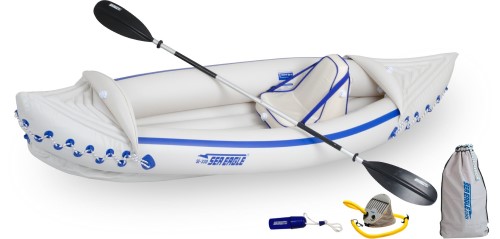 Benefits:
The kayak won't break when it scrapes the rocks below
Because of the durable material, it can last for years, saving you even more money
One person can carry the boat and paddle it on their own.
Fit this kayak in a small trunk or in the backseat of your car
Specs:
Length: 11 ft 1 inch
Width: 2 ft 9 inches
Weight: 26 lbs
Weight Capacity: 500 lbs
Number of Passengers: 2
Packed Dimensions: 24 in x 16 in x 7 in
The Sea Eagle 330 is one of the most popular and versatile inflatable sit-in kayaks in America. The brand is well-trusted and has proven to be reliable. The durable construction of the craft, featuring K80 PVC, gives you that feeling of sturdiness when you're out paddling. It's also UV-resistant to increase the lifespan of your vessel.
You'll feel like you're gliding through the waters effortlessly, exceptionally shallow waters. There's not too much rocking or tipping when you move around, so you feel in control during your tour.
This is especially important for beginners who may have some apprehension about going out for the first time. Additionally, the I-beam structure offers stability and rigidity when kayaking, which makes you feel secure. There are three air chambers so that you don't have to worry if one gets punctured. The setup for this is about 6 minutes, which is perfect when you're trying to maximize your time kayaking.
Overall, we think this is the best kayak that's versatile enough for both beginners and experienced kayakers, is affordable, and is made with high-quality materials.
See the Full Review of the Sea Eagle 330 Here
Pros:
It's beginner-friendly and doesn't take much time to learn how to use
Six-minute setup
It is versatile and can accommodate both adult and children
Lightweight, easy to carry design
Cons:
Some customers feel that it's hard to get out of the boat without it tipping
The seat isn't very comfortable
Can take on tiny leaks if rubbing on rocks near the dock
2. Intex Challenger K1 (Best Budget)
Benefits:
The puncture-resistant vinyl protects the hull
The padded backrest makes this single-seater comfortable for extended tours
The Boston valves allow you to quickly inflate and deflate the kayak
The extra storage space is excellent for essential belongings
Specs:
Length: 9 ft
Width: 2 ft 6 in
Weight: 23.9 lbs
Weight Capacity: 220 lbs
Number of Passengers: 1
Packed Dimensions: 23.05 in x 16.05 in x 8.6 in
For starters, the Challenger K1 is an excellent sit-in craft that is convenient, portable, and lightweight. It's constructed of vinyl, so you have to be careful because it's not as resistant to punctures. You don't want to paddle anywhere where there are a lot of rocks.
The I-beam floor structure makes it feel stable when you're on slow-moving rivers, and there haven't been any complaints of tipping when you're getting in and out. The open cockpit is really spacious and gives you a lot of legroom. It has a slow load capacity, but it holds enough for one. At just under 10ft, the Challenger is great for taller kayakers as well.
You can maintain a moderate speed while out on the water. The Challenger K1 can stand up to waves, to an extent. I wouldn't recommend long travel, merely because the material is not as sturdy, but you can still enjoy a lovely day out with family and friends.
Setup is less than ten minutes with the Challenger and compared to the other kayaks in the list, that's about average. It's also pretty stylish and comes in neat colors. It has extra storage space like many of the other vessels on the list. We'll have to say that this is the best budget kayak for the money and the accessories that you receive.
See The Full Review of the Intex Challenger K1 Here. 
Pros:
It comes with a repair kit in case it gets punctured
A carry bag is included with the package
Bright colors are critical in emergencies
The inflatable seat has a backrest for added comfort
Grab lines on both sides of the boat
Cons:
Not ideal for traveling long distances
There have been some complaints of poor customer service in the instance of product defects
The material is not very strong
3. Intex Explorer K2 (Best for Small Bodies of Water)
Benefits:
You can go to any lake or mild river with your family and enjoy a lovely afternoon on the water
Enjoy the security of the brightly colored vessel that is easily visible in case of an emergency
The inflatable seat is comfortable for two passengers, and it also includes a backrest
This watercraft is very spacious and doesn't cramp your legs
Specs:
Length: 10 ft 3 in
Width: 3 ft
Weight: 30.6 lbs
Weight Capacity: 400 lbs
Number of Passengers: 2
Packed Dimensions: 24.3 in x 17.7 in x 14 in
This sit-on-top Intex Explorer K2 kayak is perfect for both seasoned and newbie kayakers. The construction is rugged, but like the previous kayak, it's not as durable. The vinyl construction doesn't last as long as the others that are made of PVC. The removable skegs make it easier for directional stability. It can handle heavy loads, but you have to be careful near rocky terrain.
The I-beam structure is sturdy, and there's plenty of space for your legs. The two seats are removable and adjustable, and they make you comfortable for longer periods. A ten-minute set-up makes this vessel easy for beginners as well. The on-water performance is sufficient. It paddles smoothly, you can turn without worrying about the craft tipping, and the valves make it easy to drain if water gets in.
It stacks up to the competition in that it's spacious, seats two people, has storage space, grab lines at both ends, and is easy to transport. We recommend it as the best kayak for small bodies of water.
See The Full Review of the Intex Explorer K2
Pros
The seats are adjustable and removable
It comes with a storage bag
Grab lines on both ends
Includes removable skegs
It comes with two paddles
Cons:
Some buyers complained that the seam on the pontoon split with minimal use
The redesign seems a little weaker than the original Explorer
More susceptible to holes and punctures
4. Sea Eagle 370 (Best Tandem)
Benefits:
Three people can fit in this inflatable kayak
Two skegs on the bottom are suitable for directional stability
It has spacious leg room
You can set it up in ten minutes or less
Specs:
Length: 12 ft 6 in
Width: 2 ft 10 in
Weight: 32 lbs
Weight Capacity: 650 lbs
Number of Passengers: 3
Packed Dimensions: 31 in x 19 in x 8 in
The Sea Eagle 370 is a sit-on kayak that's similar to the Sea Eagle 330 but more spacious. The company redesigned the floor, integrating a five-tube, I-beam structure. Why does this matter? Well, it makes for a better experience for the paddler. The paddler will now sit higher, with most of their weight near the floor instead of the side chambers.
The strong PolyKrylar material is resistant to punctures, and it's safe to take this inflatable kayak near rocks. Set it up in around 8 minutes, and enjoy your day. Since the larger tubes offer more rigidity on the inflatable floor, the natural chines help to improve the tracking and speed of the Sea Eagle 370. You can paddle all day for long distances with no problems.
You can glide across the water with the removable skegs on the bottom of the boat so that your paddling effort feels seamless. Go further and faster!
The deluxe air valves seal the air in to prevent it from escaping afterward. This is something that the other kayaks don't necessarily feature, though air leakage isn't a problem for lost other models. Overall, the roominess makes this the best tandem kayak on the list. It's best to travel with two adults, though it can accommodate three people.
See The Full Review of the Sea Eagle 3370 Here. 
Pros:
Long-lasting material
Includes a carry bag and paddle
Improved design for easy paddling
The skegs on the bottom help with tracking and speed
Cons:
Some customers have complained of a tight fit when fitting three people
The kayak doesn't have additional footrest positions
5. Perception Pescador 10 (Best Single)
Benefits:
You don't have to worry about getting wet because the kayak is made of a leak-proof material
There's plenty of legroom because the kayak is 10 ft and only seats one person
You can store your favorite beverage in the convenient drink holder whole you're in the water
You can enjoy fishing in this kayak thanks to the rod holders and striate compartments
Specs:
Length: 10 ft 6 in
Width: 2 ft 8 in
Weight: 57 lbs
Weight Capacity: 325 lbs
Number of Passengers: 1
The Perception Pescador 10 is a versatile sit-on kayak for both anglers and paddles alike. It's constructed of polypropylene, which will get the job done, though it's not very durable and can be set up in about 7 minutes. It does offer low friction and is resistant to impact. From what we understand, it does feel highly stable, but you want to stay in mild rivers and shallow lakes instead of trying an ocean surf.
This single-seated boat is 10-feet long. So, there's plenty of room for your legs and your gear. The padded seat feels great on your back and offers extreme support. Enjoy a cold beverage while kayaking with the convenient drink holder. Keep your things dry in the front storage compartment.
Compared to the other cheap kayaks, this is the best single kayak because it has a lot of space, a comfortable seat, built-in accessories, and a good amount of storage.
See The Full Review of the Perception Pescador Here. 
Pros:
Leak-proof kayak with a buoyancy system built-in
Footrests adjust quickly for different heights
Large-hinged hatch for easy access to the storage area
Includes a drink holder
Cons:
Some customers stated that the seat is uncomfortable and feels a little cramped
The Pescador 10 isn't as durable in construction
6. Pelican Solo (Best for Kids)
Benefits:
Perfect for your child to learn how to ride the waves
The adjustable footrests mean that the kayak will accommodate your child as he or she grows
If any water gets into the kayak, there's an easy-to-use drain hole
Your child can quickly get in the water to play and get back into the kayak due to its convenient open cockpit design
Specs:
Length: 6 ft
Width: 24 in
Weight: 19 lbs
Weight Capacity: 100 lbs
Number of Passengers: 1
Package Dimensions: 72 in x 23 in x 9.25 in
This one, in particular, warms my heart because I can remember being as young as 5 years old in a kayak, out on the lake. Children get to learn how to kayak with ultimate safety and stability. The durable RAM-XS material will keep them dry and resist abrasions.
They can get in and out of the boat with ease and take time to play in shallow waters before returning to the kayak. Little paddlers ages 5 and older can carry the kayak to the water, and it only takes about 5 minutes to set up.
The Pelican Solo is easy to maneuver, doesn't require much effort for further distances, and has a rear deck that can be reached by swimming up.
Built on a twin tunnel hull, this sit-on-top kayak is easy to maneuver and provides superior stability. It allows young paddlers to quickly master their new kayak. This means more safety for kids and fewer worries for their parents.
Pros:
Kids can learn as beginners with this easy to use vessel
The drain valve can be used by small children to remove water
Kids can climb in and out of the kayak with ease
Adjustable foot braces
Cons:
No backrest on the kayak
Parents don't recommend long journeys
7. Sun Dolphin Aruba 10 (Best Recreational)
Benefits:
You will feel stable out on the water for hours due to the high-density polyethylene construction
The open cockpit design means that you can get in and out of the kayak with ease
You have a lot of storage space for your personal belongings like extra coast, goggles, etc.
You can track and maneuver very quickly in the water.
Specs:
Length: 9 ft 6 in
Width: 2 ft 4 in
Weight: 40 lbs
Weight Capacity: 250 lbs
Number of Passengers: 1
Package Dimensions: 115 in x 30 in x 12 inches
The hard-shell, sit-on-top, the Aruba 10 gets the job done. You can set it up in about 6 minutes and carry it to the water quickly. Inflation and deflation are super easy processes.
The hull is Fortiflex polyethylene (high-density) and UV-stabilized; you can protect your kayak and worry about impact or holes. With the extra storage space, you can bring adult gear aboard the watercraft. The inflatable seats can be removed for comfortable traveling and maximized paddler comfort on makes and river.
Despite the Aruba 10 being shorter than traditional hard-shells, it has plenty of storage space and room to stretch. The only exception to this is the taller paddlers, which can have you searching for a little more room. There is a 250-lb weight limit, and it features a storage hatch located in the back, a bottle holder in the front, and a shock cord deck rigging.
The Sun Dolphin Aruba 10 doesn't feature any other accessories, and the lack of a seat cushion is very noticeable. However, it is still the best recreational kayak.
See The Full Review of the Aruba 10 Here. 
Pros:
Storage hatch
Deck rigging
Portable and lightweight
Spacious cockpit
Uv-protection
Polyethylene hull
Cons:
Lacks bottom cushion
Not as comfortable if you're tall
It is not equipped with paddles or other accessories
8. Intex Excursion Pro (Best Fishing Kayak)
Features:
You will feel safe while you're out on the water because the durable, three-ply PVC material is abrasion resistant
You can enjoy fishing with extra accessories such as the rod holders and storage space
The adjustable footrests allow you to get comfortable while you're on the water
You will feel more stable thanks to the i-beam floor that offers rigidity while you paddle
Specs:
Length: 12 ft 6 in
Width: 2 ft 1 in
Weight: 39 lbs
Weight Capacity: 400 lbs
Number of Passengers: 2
Package Dimensions: 25 in x 23 in x 13.5 in
This tandem kayak is a formidable option in the budget market of inflatable kayaks that are safe and secure. It takes about 8-10 minutes to set up, and it's the best choice for fishing while kayaking.
The Excursion Pro weighs 39 lbs, feels very lightweight, and it has a three-chamber hull. The hull is made of PVC (three-ply), which gives you steadiness while paddling out. The overall length of the kayak is 12.6 ft long, and it's stylish. However, due to the light construction of Excursion Pro, battling winds and boisterous currents will prove to be a bit difficult.
The Excursion Pro has a lot of storage onboard, which is very convenient. It even has D-rings, with stern and bow storage as well. Furthermore, if you enjoy fishing, it has an adjustable mounting bracket and rod holders. When you consider all of these things plus its 400-lb capacity, it's safe to say that Excursion Pro is better equipped than the first Intex vessel that made it on this list.
The Excursion Pro comes with the following: pressure gauge, two skegs, two paddles, pump, and a footrest mounted on the floor.
Pros:
Useful accessories included
Storage in the rear and front
Includes D-rings for tying down
High-pressure inflation makes the kayak rigid and stable.
Skegs (2) that are detachable for deep and shallow water
Cons:
The carry bag is low quality
It has difficulty handling both the currents and the wind
The paddles are not crafted well, and they are too short
9. Lifetime Tamarack Angler (Best for Space)
Features:
You can paddle at a moderate speed because the sharp bow allows for better angling
The kayak comes with one paddle, so you don't have to purchase one separately
The flat-bottom hull makes you feel more stable on the water
Enjoy an afternoon of fishing with this comfortable kayak design featuring fishing pole holders
Specs:
Length: 10 ft
Width: 2 ft 7 in
Weight: 52 lbs
Weight Capacity: 275 lbs
Number of Passengers: 1
Package Dimensions: 120 in x 31 in x 14.1 in
The Lifetime Tamarack Angler is a sit-on-top kayak with highly durable Polyethylene (HDPE). The flat bottom hull makes the kayak rigid and durable to move if you stand up to cast it while fishing. The waves won't toss your boat, and you don't have to use a lot of force to travel at a decent speed on lakes and rivers.
With front and rear shock cords and a paddle keeper, you have numerous options to store loose items while you fish or enjoy the serene waters. It's about 10 ft long, and you have two separate storage compartments for your gear. As a paddler, you'll be comfortable in a padded seat for long periods.
See The Full Review of the Tamarack Angler Here.
Pros:
Spacious kayak for one passenger
Durable HDPE Polyethylene
Quick setup
Flat bottom hull for extra stability
It comes with a hand pump
Cons:
Customers don't recommend going out into deep waters with this kayak
The hand pump is a little weak and has broken for some customers after mild use
How to Choose a Great Budget Kayak
When purchasing cheap kayaks, you want to be mindful of the features that require a certain level of quality to ensure your safety. Remember, just because it doesn't cost as much doesn't mean that you should just pick the cheapest kayak you can find.
The Price/Quality Trade-Off
The best cheap kayaks are made of high-density polyethylene, a synthesized plastic used in various products. It's very durable and withstands a lot of pressure. Don't count out warranties, either. Purchasing a kayak with a lifetime warranty will ensure you get a replacement at no cost should something break.
What Kind of Budget Kayak Do You Want?
You can opt for a sit-on-top or sit-in kayak, depending on your needs. Sit-on-top kayaks are more spacious and less likely to tip over, while vessels you sit inside are great for speed, particularly on rougher water. Don't forget to consider whether you want a one- or two-person kayak, too.
How Easy is it to Transport?
Do you plan on carrying the kayak long distances? Look for budget foldable or inflatable kayaks. If your kayak is going from the car straight to the shore, transport is less important.
Does it Perform Well on the Water?
Kayaks over 12 feet long are excellent for speed and tracking, especially if you plan on being out on the water for a long time. Shorter kayaks are a lot slower, but you can maneuver them and even transport them more easily.
The Most Overlooked Criteria: Comfort
Seat comfort is a lot more critical than you'd expect. You don't want to get back pain from sitting uncomfortably for long periods. A good budget kayak has some sort of adjustable padded seat.
What Are You Bringing?
Do you plan on bringing a lot of items with you on your kayaking journey? Are you an avid angler? Look for cheap kayaks that offer a lot of space, a cargo net, and even a paddle holder.
Frequently Asked Questions
Below are some of the most common questions that people ask me about budget kayaks.
Can I Modify a Budget Kayak for Fishing?
Yes, you can use track mounts or pipes to create fishing rod holders on your kayak, and you can also cut down pool noodles to use to transport your rods. Additionally, milk crates can be strapped down inside the kayak to be used as extra storage for things like tackle boxes. You can create a makeshift fishing kayak little by little.
How Long Do Cheap Kayaks Last?
The answer to this question depends on the frequency of usage to an extent. If you're using your kayak regularly and not too rough, it should last you about five years.
How Do I Know Which Kayaks Are Stable?
The general consensus is that kayaks with wider bottoms are more stable than narrow bottoms. Also, sit-in kayaks are preferred to sit-on-top kayaks, depending on whether you're using them casually or recreationally.
What Size Kayak Should I Get for my Height?
You should be able to slip inside your kayak without squeezing your hips beyond the width. For taller kayakers, be sure you have enough leg space or adjustable footrests to achieve a comfortable sitting position.
Final Thoughts
We've taken the good and the bad into consideration, and these are our top picks for budget kayaks. Remember to keep the features in mind when you pick a cheap kayak. There are some standards that the kayak has to meet to ensure your safety. Always keep your life jacket with you when you go kayaking, and above all else, have fun!