Is your budget preventing you from breaking into the kayaking world? We're here to bust the myth that all inexpensive kayaks are inferior. With more and more big box stores and bargain brands breaking into the water sports industry, we've witnessed a flood of cheap kayaks priced under $500 that are both hardshell and inflatable models. We're here to shine the light on 8 of the best budget yaks and provide you with some essential buying tips.
The Best Cheap Kayaks Go as Follows: 
1. Sun Dolphin Aruba 10-Foot
(Top Pick)
Length: 115 inches
Width: 29 inches
Weight: 40 pounds
Max Weight : 250 pounds
Material: UV-stabilized Fortiflex® and high-density polyethylene
The 10-foot Sun Dolphin Aruba is a safe, roomy, and reliable watercraft. A hard shell polyethylene exterior makes this boat an excellent choice for low-key lake and river excursions. It also comes with built-in paddle holders, shock cord deck rigging, a water bottle holder, and a recessed storage area. Paddlers of all sizes will find comfort in the easy-to-access and highly accommodating cockpit. The Sun Dolphin Aruba features a open cockpit which makes it an excellent selection for extended paddle sessions. There's enough onboard storage for a day's worth of gear, snacks, and fluids. The sit-in setup supports the whole body. The padded back support and lower leg have inspired some paddlers to spend more time on the water.
The Sun Dolphin is an impeccable piece of architecture. Its Fortiflex®-enhanced, high-density polyethylene shell is designed to hold up for years. UV stabilizers prevent the boat's colorful cast from fading. A limited lifetime warranty protects consumers from potential defects. The Sun Dolphin tracks unusually well for a cheap kayak. Just be sure to limit your paddle sessions to mostly tranquil waterways. The boat's molded handles come in handy during loading, unloading, and porting. Still, the boat is light enough that a solo paddler wouldn't struggle to lift it on their own.
Pros
Paddle holders
Adjustable foot braces
Padded seat and protective thigh pads
Carry handles for easier portages
Exceptional tracking
Low price
Cons
Padded Seat section may peel off
2. Sea Eagle 330 Inflatable Kayak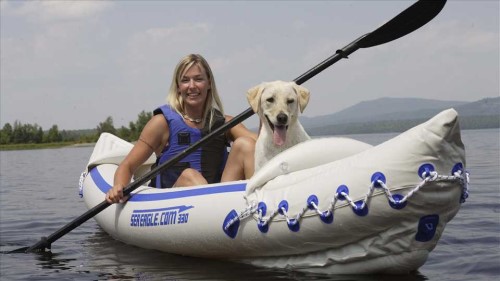 (Top Budget Inflatable Pick)
Length: 11 feet 2 inches
Width: 2 feet 10 inches
Weight: 26 Pounds
Max Weight : 500 pounds (two people)
Material: 33 mil Polykrylar (K80 PVC)
Resistant to sun and salt
Inflatables are some of the most affordable kayaks on the market. If you want to squeeze a tandem into an already tight budget, be sure to check out the legendary Sea Eagle 330. This rugged inflatable can hold two people or 500 pounds. At just 26-pounds, a single paddler will have no trouble managing it on their own. The hull is made of three rugged polykrylar (PVC) chambers. There are separate air pockets for the port, the starboard, and the rigid l-beam floor. Five one-way valves help the boat to maintain consistent air pressure.
Bow and stern grab lines make for easier portages. There is an even an open-close drain valve built into the cockpit. Not to mention, you can remove and rearrange the inflatable seats to maximize you and your companion's comfort within the boat.
See Our Full Review of the Sea Eagle 330 Deluxe Here:
Pros
High-frequency welding
Inflatable l-beam construction
Suitable for up to Class III whitewater
1.1 PSI
Comes with two paddles
Cons
Not the best kayak when it comes to tracking
3. Perception Pescador 10.0 Kayak
>>Check Price on Auston Kayak<<
 (Best for Fishing)
Length: 10 feet 6 inches
Width: 32 inches
Weight: 57 pounds
Max Weight: 325 pounds
Material: Polyethylene
The Perception Pescador will help you make the most of your off-shore paddling pursuits. This solo fishing kayak has a spacious sit on top cockpit and a rugged polyethylene shell. It doesn't matter if you're heading out on a recreational kayak tour or an angling adventure. The sit on top cockpit boasts a super comfortable seat, complete with an adjustable  padded cushion and back panel. Quick-adjust footrests make this craft comfortable for paddlers of nearly every size. Meanwhile, you can stow your gear away in a hinged front storage bunker. You can even keep a beverage within reach with thanks to a molded cup holder. Should you want to bring a lunch along, the stern boasts a cooler-sized molded storage compartment with stretchy bungee rigging. Molded rod holders make this boat fish-ready. However, there's plenty of room for aftermarket accessories.
We recommend this boat for recreational use. It performs best in flat bodies of water, such as lakes, slow-moving rivers, and calm coastal estuaries. Experienced paddlers may be able to navigate the Pescador through mild surf. Without any skegs, the yak struggles to cut through rough water. They've including molded and attached handles for more manageable portages. While the 10-foot model isn't as fast as the 12-footer, its small size makes for more natural loading and unloading. We'd recommend this boat to both newbie and experienced paddlers. However, we wouldn't take this model out in cold water. After all, the low sit-on-top deck and open scupper holes allow water to enter the cockpit and footwells.
Pros
Fish-ready molded pole holders
Adjustable padded seat back and footrests
High-visibility colorway
Dry bunker storage and bungee rigging over-molded storage space
Cons
Hard plastic pieces behind seat produce discomfort
Not suitable for cold water
4. AE AdvancedFrame Sport Inflatable Kayak
(Best Inflatable Performance Pick)
Length: 10 feet 5 inches
Width: 32 inches
Weight: 26 pounds
Max Weight: 250 pounds
Material: PVC-coated polyester/aluminum ribs
The AdvancedFrame Sport is the perfect inflatable for performance-minded off-shore adventures. Aluminum ribs serve as rugged reinforcements for the front and rear air chambers. There's no assembly required. You just inflate it when you're ready to hit the water and disassemble it when you're ready to head home. This yak's triple-layer polyester hull is reinforced with a weatherproof PVC coating. Dual air chambers ensure that a single puncture won't send this boat to the bottom of a lake. The design rivals that of premium hard-shell kayaks. It's spacious enough for all-day adventures.
While some paddlers find the metal frame to be cumbersome, its benefits are barely ever refuted. The AdvancedFrame is capable of achieving high speeds while maintaining a straight path. Its impeccable performance in still and fast water make it one of our preeminent choices.
See Our Full Review of the Advanced Frame Sport Here:
Pros
Comes with a repair kit and heavy-duty duffel bag
Inflates in minutes
Removable seat
Plenty of below- and on-deck storage
Cons
Limited weight capacity
Only suitable for day paddles
5. Perception Sound 9.5 Kayak
(Most Stable)
Length: 9 feet 6 inches
Width: 28 inches
Weight: 38 pounds
Max Weight: 300 pounds
Material: Polyethylene plastic
The Sound 9.5 is a premium recreational fishing kayak. Its wide, spacious sit in cockpit serves as a stable base for off-shore angling pursuits. The Sound's tri-keel hull gives it undeniable stability and smooth steering in quiet, slow-moving waterways. The yak's open cockpit rivals that of much pricier boats. The Sound boasts a large dashboard, multiple accessory mounting points, and two molded rod holders. A spacious rear cargo spot is reinforced with bungees. There is also a padded seat with an adjustable backrest, neoprene armrests, and leg pads. You can take this boat out for an all-day adventure without cramping up prematurely.
At just under 40 pounds, most solo paddlers have no trouble lifting and loading the Sound. Still, a set of molded handles make portages all the easier. The Sound's high-density polyethylene shell holds up well to UV light, harsh impacts, and surface abrasions. The vibrant colorways are resistant to fading and wear. With three skegs, the Sound tracks magnificently. However, it is quite slow. Even pronounced paddling efforts do not translate to enhanced speed. With all that said, this boat seems like the perfect trade-off between a sit-on-top and a sit in kayak. The non-confining cockpit and stable foundation will give apprehensive first-time paddlers a major confidence boost.
Pros
Backed by a 5-year warranty
Butterfly clip seat adjustment
Two molded rod holders
Ultra stable tri-keel hull
Cons
6. Explorer K2 Kayak
(Budget Pick)
Length: 10 feet
Width: 3 feet
Weight: 30.60 pounds
Max Weight: 400 pounds (two people)
Material: Vinyl
This tandem inflatable makes it possible for almost anyone to take their turn on the water. Intex is a company that's known for their affordable inflatable watercraft. The K2 is a rugged boat that offers comfort and stability. Inflatable vinyl air chambers surround a rigid l-beam floor to create this impressive watercraft. A pair of inflatable seats with raised backrests offer added comfort. However, you won't find much room for onboard storage. If anything, this boat is ideal for close-to-the-shore adventures.
Of course, the Intex's soft shell makes it super easy to store and easy to transport. A set of one-way Boston valves and the included high-output air pump make it easy to inflate this boat on the spot. Meanwhile, front and rear grab lines make for easier portages. While it can't perform as well as a hard-shell yak, it does offer an authentic, safe, and comfortable on-the-water experience.
See Full Review of the Intex Explorer Here: 
Pros
Comes with twp 86-inch aluminum oars
High-output pump included
Removable skeg for better tracing
High-visibility colorway
Cons
Slow
Tracking won't be too great
7. Dagger Zydeco 9.0 Kayak
>>Check Price on Austin Kayak<<
(Best Hybrid)
Length: 9 feet 1 inch
Width: 28.5 inches
Weight: 36.5 pounds
Max Weight: 220 pounds
Material: Polyethylene
The Zydeco happens to be one of the most comfortable and navigable boats on our list. This tiny ship cuts through the water with accuracy and speed. All the while, the recessed yet roomy cockpit lets paddlers stretch out and make the most of your float session. Consumers find the Zydeco to be small yet mighty. At just 36 pounds, the boat is incredibly easy to load and unload. Not to mention, most paddlers find it easy to enter the roomy, partially open cockpit. The raised backrest and adjustable foot braces offer even more on-the-water comfort. While some customers said their seat base cracked after several years of use, this wasn't the consensus.
The Zydeco is stable enough for fishing and photography. Many paddlers also say the boat performs better than expected in the surf and wind. However, we do advise most paddlers to stay in the recommended flat water conditions.
Pros
Proprietary contoured seating system
Contoured knee and thigh pads
Front and rear bungee deck rigging
Cons
Seat rest material breakage
8. Old Town Heron 9XT Kayak
>>Check Price on Austin Kayak<<
(Best for Day Touring)
Length:9 feet 6 inches
Width: 28.5 inches
Weight: 37 pounds
Weight Capacity: 300 pounds
Material: Polyethylene
The Heron 9XT offers peak comfort and performance at a reasonably low price. This Old Town yak is perfect for beginner paddlers who are looking to cruise open waterways. The polyethylene hull achieves high speeds when straight-lining across mostly flat water. However, it doesn't track very straight. Still, it boasts good maneuverability for a budget-rate recreational ride. Moreover, its width helps it maintain its stability in choppy white water. The Heron has a spacious sit-in cockpit and plenty of onboard storage. A pair of flush-mount rod holders make this craft fish-ready. Meanwhile, a Click Seal bulkhead is an excellent place for items that paddlers wish to keep dry. The foot brace system and thigh pads enable paddlers to lock in their legs for better control.
The Old Town seat is quite comfortable as well. It boasts an ergonomic back and base. The Neoprene pads that line the cockpit give paddlers' arms a bit of reprieve. Meanwhile, the bungee paddle holder tends to break off as some customers report. Overall, the Heron is an excellent first kayak. This boat is exceptionally stable and fast. Meanwhile, the cockpit is quite roomy and boasts plenty of storage. All and all, it is perfect for day tours and recreational stints in freshwater.
Pros
Support track foot brace system
Click seal bulkhead with hinged hatch
Paddle keeper
Flush mount rod holders
Cons
Does not track well
Paddle holder does not hold up well
How to Choose a Budget Kayak
Read along for tips on choosing affordable solo and tandem boats.
Pick a Budget
Many outdoor enthusiasts are shocked to find an extensive collection of cheap kayaks. At the lowest tier, consumers can find both inflatable and hard-shell models priced well below $500. That said, it's far easier to find budget-friendly inflatables. The trade-offs at this level usually include inferior on water perfomance. However, that's not to say these boats aren't durable enough to withstand regular day time paddling trips.
Between $300 and $500, you're likely to find more hard-shell and tandem offerings. At this price range, you can expect vessels to perform well.A Sit in kayak within this range tend to be faster and more stable than those priced below $200. Some vessels at this range can even handle light surf and mild white water.
What Type of Kayak?
Inflatable
Inflatables will save you storage and trunk space. Plus, you won't have to invest in a car rack, ratchet straps, or any other mounting gear. inflatables are surprisingly rugged and sometimes can even outlast their hardshell cousins. We recommend this type of boat for shore-side recreational pursuits away from choppy waters.
Recreational
Recreational kayaks are ideal for gentle waterways, such as flat lakes. If you're a casual paddler, this type of boat should meet most of your needs. While recreational yaks tend to track poorly, they're perfectly suitable for low-key angling and exploration expeditions. Recreational crafts tend to boast wide, stable hulls. As such, they are capable of making abrupt maneuvers.
Sit-On-Top
Sit-on-top kayaks are excellent for hot summer days. Don't expect to stay dry in an open cockpit. Do expect to stretch out your feet and make the most of the spacious layout. A sit on top kayak is great for fishing too!
Durability
How can you be sure that an inexpensive boat is durable enough? Most budget hard-shell yaks are made from polyethylene plastic. This material holds up well to abrasion and UV light. The trade-off is that it tends to be heavier than most materials. At the same time, most budget inflatables are made from single-layer vinyl drop stitch material. Meanwhile, pricier models usually boast puncture-resistant covers and multi-layered laminates.
On-water Performance
Stability
Boats with wide hulls tend to offer the most stability. While wide vessels are not very speedy, they give novice paddlers a confidence boost when paddling on the water.
Maneuverability
Shorter boats tend to be easier to maneuver. Usually, boats that are 9 feet or less turn quicker.
Tracking
Long, thin boats tend to maintain consistently straight paths. Meanwhile, skegs and tracking fins are used to improve wide hulls. Tracking is particularly important during lengthy tours, choppy sea paddles, and whitewater excursions.
FAQs
Are Cheap Kayaks worth it?
While we always advise paddlers to make upgrades whenever possible, cheap kayaks are magnificent options for landlubbers who are looking to spread their wings without busting their budgets. They're also excellent options for inexperienced paddlers.
How do I know which kayaks are stable?
Kayaks boast both primary and secondary stability. Initial stability is when a boat does not wobble upon immediate entry. Secondary stability represents a boat's resistance to wobbling in surf and wind. Boats with initial stability are best suited for inexperienced paddlers. Meanwhile, boats with secondary stability are better matched for
What's the best kind of kayak to buy?
You'll need to make several considerations before settling on a particular kayak. While hard-shell vessels once reigned supreme, inflatables are soaring in popularity. Your choice of a boat should come down to your personal preferences, budget restrictions, and performance goals. Are you looking to learn some entry-level paddling skills or cruise along the shores of a calm waterway? Or, are you looking to traverse large swaths with distance shores and overnight camping in mind?
Final Thoughts
We hope you enjoyed our guide on how to find the best cheap kayaks! If you're in a rush, check out the Sun Dolphin Aruba 10-Foot Sit-In Kayak. This speedy, stable hard-shell vessel rivals far pricier alternatives. If you're new to paddling or simply don't have much money to spend, a cheap kayak may be your only way to break into this exciting sport. Have you set your eyes on a particular cheap kayak? Let us know in the comment section below!