Isle Inflatable Paddle Board Airtech Yoga Review
About the Company
How Isle came to be is somewhat of a feel good story that many of us can relate to. Isle was founded by two ambitious paddle boarders Marc and Doug. They left their corporate jobs to start a paddle board company out of their parents storage unit in San Diego CA. Since then Isle has transformed to be one of the largest online retailers for paddle boards in the world.
Marc and Doug are actively involved in paddle boarding and strive to base their business around customer satisfaction and quality products. Their business model revolves around a board that both novices and pros can ride with an affordable price tag. Isle is one of the more involved paddle board companies that promotes a positive work environment blended with environmentally conscious programs that help conserve the planet and the ocean.
Specifications
What is the Isle Inflatable Paddle Board Airtech Yoga Used for?
The Isle Inflatable Paddle Board Airtech Yoga can be used for a variety of different uses but the main reason why this board is so popular is because it is designed for Yoga Paddle Boarding. Some of the features that makes this board unique from other Inflatable Paddle Boards is the fact that it has a large grip pad and a side rail mounted bungee system for your paddle.
The large grip pad is great for a variety of different yoga poses and with the boards 31" Width and 6" Thickness you have the stability needed to try those complicated poses like handstand scorpion! The Side Rail Bungee is a great addition to this board because it allows you to store your paddle to the side of the board so that you don't have to worry about bumping into it or the paddle slipping off and floating away.
Another thing that benefits this board is the fact that it is an inflatable! Meaning two things, One: you can pack it up and go pretty much anywhere without having to worry about space restrictions and Two: It's completely safe. Let me go into more detail about two. When trying Yoga poses from time to time you may be a bit clumsy like myself and fall off . With this inflatable board you don't have to worry about a possible concussion because the board is soft so if you do happen to hit your head you can simply just shake it off and climb back onto the board!
It also makes a great recreational/ all around board thanks to its three fin system. The Three fin system comprises of two smaller fins centered by a larger removable fin giving this board better tracking ability. No this board will not win any races, I don't think any Yoga paddle board would but it is a solid option for the Yoga enthusiast who wants to combine two of the most calming activities, paddle boarding and yoga.
Why Yoga Paddle Boarding?
Yoga and Paddle Boarding are two activities that were made for eachother in my mind. The peacefulness of floating on the water on a nice sunny day combined with the meditative environment allows you to be at peace with nature allowing your fears and worries to drift away.
Besides the Meditative nature of stand up paddle boarding it also has some advantages over regular yoga. For one you can move to any desired spot with relative ease without having to worry about rolling up your mat and packing your things to go else where. Two, Yoga Paddle Boarding actually helps develop your core muscles which in turn help aid your stability. This in turn will actually make the poses in your regular Yoga classes much easier. As with anything a little knowledge is crucial so I recommend that you try going to a a SUP Yoga Class just to get an idea of what it's all about!
Isle Inflatable Paddle Board Airtech Yoga Features
Steel D Ring on the Tail

Center and Nose Carry Handles

Bungee Deck Lacing

Paddle Holder Rail Bungee System

Diamond Groove Traction Pad

Three Fins ( Two Smaller Ones and One larger Removable One)

Back Pack

Paddle

Pump
Features Analysis
Diamond Groove Traction Pad and Paddle Holder Rail Bungee System
Isle Inflatable Paddle Board Airtech Yoga features a wide Diamond Groove Traction Pad to give you grip for yoga poses. The Rail Bungee system is what I thought was a really smart add on. Typically you see bungee rails on kayaks and only seldomly on paddle boards. When doing different Yoga poses like Downwards dog you don't want to worry about where the paddle is.
Included Accessories
The folks at Isle gave you almost everything you need before heading out to the water including a paddle, handy traveling bag/ backpack and a high pressure pump. The Paddle is aluminum and breaks down into three parts while the backpack comfortably holds all of the contents. I say gave you almost everything because there is no leash coil that comes with this package.
This package also comes with Three tracking fins (Two attached and One larger detachable one. These Fins help the paddle board track in a straighter line when paddling so that it does not feel that you are paddling a pool toy. Without these fins to guide you tracking would be more compromised because of the wider nose and tail of this board. I've even overheard some people say it makes a half decent small wave surf board because of these dimensions.
Materials and Installation
The Isle Airtech Inflatable Yoga Stand Up Paddle Board is constructed of Military grade PVC with internal 6" Drop Stitch material to insure durability. Isle is so confident about their construction that they give you a One Year Warranty on Materials and a risk free 30 day money back guarantee. After reading some customer feedback I have yet to find comments criticizing the construction of the board.
Installation is pretty self explanatory, simply insert the nozzle and pump it up! Some of the criticisms of this board are directed towards the confusion of the pump that comes with this board. The Pump will only read as soon as the pressure gets to 10 PSI. You also cannot over pump this board with the manual pump. Setup time takes less than 10 minutes with the manual pump provided. If you are planning on using the board for a paddling excursion don't forget to screw on the center fin!
Pros
Built with High Quality Materials

Perfectly designed for Yoga in mind thanks to the Boards shape, Dimensions, deck pad and Paddle Holder Rail Bungee System

Makes a decent all around board for Day Paddling

Comes with Three tracking Fins, Performance is enhanced when Center Fin is Installed

Very Stable thanks to it's 6" Thickness, 31" Width and it's Wider Nose and Tail

Comes with Paddle, Backpack, Fins, as well as Pump

Deckpad makes it a comfortable ride on the feet

Customer Service Team is very helpful and Active
Cons
Quality of the Pump included put into question by some

The Board Design is more woman friendly

Paddle Does not Float

Does not Come with Leash
Bodies of Water
Isle Inflatable Paddle Board Airtech Yoga is made for mostly calmer waters. It can tackles some smaller waves though. If you live close to a lake or calm bay than this is a good board to get. If you are looking to try your yoga skills on the water and do some casual day paddling this would be an ideal board. Don't forget to install the center tracking fin!
Customer Feedback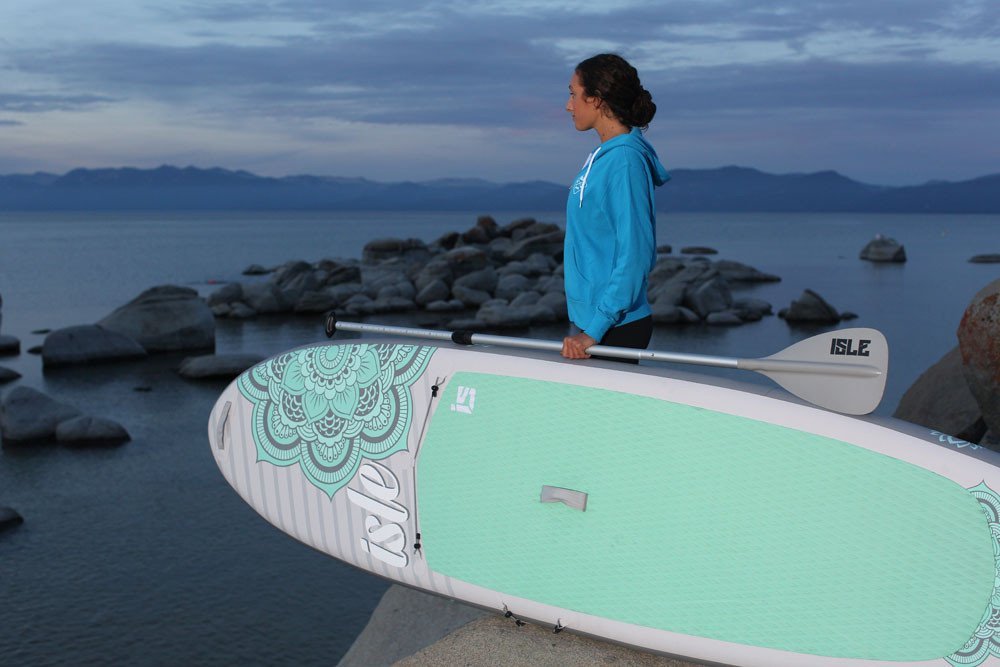 The Positive
As stated above many of the the individuals who purchased this board were more than impressed with the construction of the board. In terms of the board itself there was nothing but good things said. Another Main positive that came up was the fact that the Customer Service Team was so helpful. This is good to hear especially when the manufacturer claims on their website that they always put the customer first. Some Other Positive Points of the Airtech Yoga that were made were..
Easy Storage and Transportation

When Pumped Properly is as Sturdy as a hard board

Great board to ride on with kids

Very Affordable for the Quality of board you get

Excellent Stability

Good board to ride with Pets or Small Children

Very Stylish

Easy to Carry thanks to the Center handle and 18 Lb weight
The  Negative
Most of the negative or critical comments directed at the Isle Inflatable Paddle Board Airtech Yoga had to do the with the inflating process involved. Some main concerns Included
Confusion with the Pump not working (although a lot of this was because the pump only registers from 10 PSI and up!)

The Paddle that came with the board was flimsy and broke

The Paddle sinks in the water

Problems with the needle of the air pump
Analysis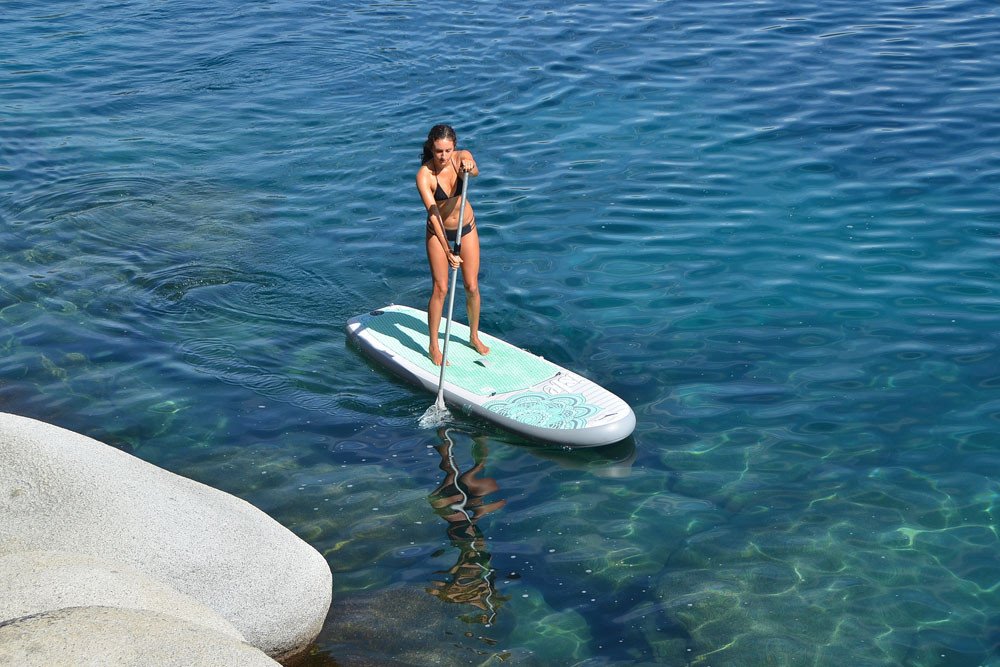 The Isle Inflatable Paddle Board Airtech Yoga is one of the best boards on the market for Yoga. One of the main things that makes this board very attractive to Yogi's is the fact that it is portable.
Some complaints about fiberglass and hard board paddle boards is that they are big and tough to lug around. This can be tough if you are a smaller person as you don't always have a partner available to help you carry it around. In comes the Inflatable Paddle Boards and all those questions wash away. This particular board can fold and roll up and takes up about as much room as a sleeping bag.
The features that separates this board from other regular inflatable boards is the fact that it has a Rail Bungee system for your paddle. This is great for Yoga users as it allows you to not get distracted about pumping into your paddle or possibly losing it in the lake. Other features that makes this a great yoga board is the fact that it has a wider nose and tail and has a large diamond groove deck pad. The 6" Thickness and 31" Width also keeps you away from the water and offers maximum stability.
The Isle Airtech Inflatable Stand Up Paddle Board is mostly designed for flat water use but can take on a small bit of surf. The board comes with a paddle, backpack, pump and a center fin giving it great value for the quality put into this board. The construction of the board is top notch as you are stretched to hear anything criticising the boards composition. With that being said the accessories have hit some criticism among customers including some problems with the pump and the paddle.
Although the customer service of this company seems to more than make up for any shortcomings. Overall this is a great board for Yoga enthusiasts and recreational paddlers alike that want a solid quality board at an affordable price.
Rating: 9.5/10