Why The Hobie Mirage Outback?
Kayak Fishing is one of the biggest growing sectors in the fishing industry, because of this we are spoiled for choice. It is rare to have a truly perfect fishing session where everything comes together and you catch lots of different fish. With the Outback you increase your chances of having more good fishing days.
Fishing is one of those things where if you could, you would live on the water but things get in the way. Whether it be anything from your wife yelling at you to come back home to getting a sore back, butt or lack of room to put anything. Often times as much as we want to stay out in the water we can't due to kayak seats often being uncomfortable. As a result you only get a few good hours on the water if you are lucky. Worse yet afterwards your back gets all stiff and sore which makes you postpone your next fishing trip. It just wasn't meant to be was it?
Well it does not have to be like that! The Hobie  Outback is built for the hard core fisherman who wants to be fishing all day thanks to a few accessories such as the Vantage CT Seat. The comfort of the Vantage CT seat allows you to double or even triple your fishing time which in turn will give you a high probability of catching fish! It is universally considered one of the best in the kayaking industry meaning you can spend more time on the water doing what you love. It also has many other distinguishing features.
What is the Hobie Mirage used for?

A lot of people who buy this kayak use it for fishing purposes but it is also just as good of a recreational boat. The Hobie Outback has a maximum weight capacity of around 400 lbs meaning you can take a good amount of gear with you if need be. It features three hatches and two dry hatches that allows you to take valuables as well as a rear bungee tie down area for bigger items such as waterproof backpacks.
 Ideally you can take this pedal kayak out for day trips around the lake or calmer waters but it can also handle some ocean surf making it a very flexible boat in that aspect. Hobie is well known for being stable kayaks but some people get too brave and tackle bigger surf than the kayak can handle. The Fully Adjustable Vantage CT seat also allows you to remain in the kayak for long periods of time without having your back get sore throughout the day. We will go more into the features of this pedal kayak in a few paragraphs.
For those looking for a finely tuned Fishing kayak take a look at the Hobie Pro Angler 12. The Angler 12 has some built in features that come with the kayak including the H Rail system, Lowrance installation system (for fish finders) as well as two tackle boxes that pop out of the cockpit hatch.
Mirage Outback Kayak Features
Carrying Handles on front and back and middle of kayak

Large Bow Hatch with a detachable clip

Sail Mount allows you to install a Hobie Sail (sold separately)

Mirage Pedal Drive 180 with ST Fins

Rod Holders

Mesh Storage Side Pocket

8" Twist and seal Mid Hatch

Vantage CT Seating

Rudder up/ Down Control with Twist and Stow Rudder

Two Piece Paddle

Rear Cargo Well Area

8" Rear Twist and Seal Hatch

Lowrance Ready System
Features Analysis
Lots of Room for Customization
The Hobie Outback has lots of room for customization. Really it is one of the most customizable kayaks on the market! With so many options it is easy to lose track of what you want in the first place so we will briefly tell you what you can add to the Hobie Mirage.
Fish Bags:


You have caught that monster fish of your dreams! Now what? You don't want a sneaky seal or otter to steal your catch from your kayak nor do you want the fish to be in the baking hot sun. The answer is fish bags! Hobie has made a bag that you can store your catch in without worrying about predators or the sun. The Fish Bag comes in a large and a medium size, the medium bag actually fits in the front hatch of the Hobie Mirage Outback Kayak ! The Large and Medium bags come in  70 quart sizes and 26 quart sizes respectively and feature carrying handles, D Ring Tie downs as well as a convenient drain plug!
Mirage Sail Kit:


If you are tired of peddling or paddling and want mother nature to do her share then no problem! In Enters the Mirage Sail Kit which comes in a variety of different colors and a durable storage bag. All Hobie Kayaks have a sail mount to attach the Mirage Sails.
H- Crate:


Many Fisherman like to build their own do it yourself crates to attach to their fishing kayaks. By all means you can do it with this kayak as well! For those that want something more customizable there is the H- Crate. It slides in nicely to the Cargo Well of the Mirage and comes with clips that can attach to the kayak. There are also grid walls on the H- Crate that allow you to drill and add to it much like you could a milk crate.
Live Well and Live Well XL:


If you like your fish fresh then there is the Hobie Live Well that can be added on the Cargo Well. The Live Well holds Eight Gallons of water and features Three rod holders, Attwood pump, adjustable drain, as well as the battery and charger. The Live Well XL features a two level capacity (6 gallon and 11 gallon), removable tank partition as well as two molded-in rod holders, corrosion resistant power switch, tank water level control and a 6 v Sealed Gel cell battery.
H- Bar and H- Rail System:
The H-Bar is used as a standing deck aid for people who are still getting used to standing up in a kayak or have difficulties standing up. It is a great device that allows you to be on the water and enjoy your favorite hobby. The H – Rail System goes on each side of the kayak and allows your Hobie to transform into the ultimate kayak fishing machine! You can clip rod holdersm mounting platesm cup holdersm tackle bins, Ram Ball's, HD Mounts and much more see here for more customizability options for the H- Rail system.
Side Kick Ama Kit:


For ultimate stabilization the Side Kick Ama Kit installs onto your kayak and gives you extra support when on the water. These are great for sailing fishing sight fishing as well as shooting activities.
The Mirage Drive 180 with ST Fins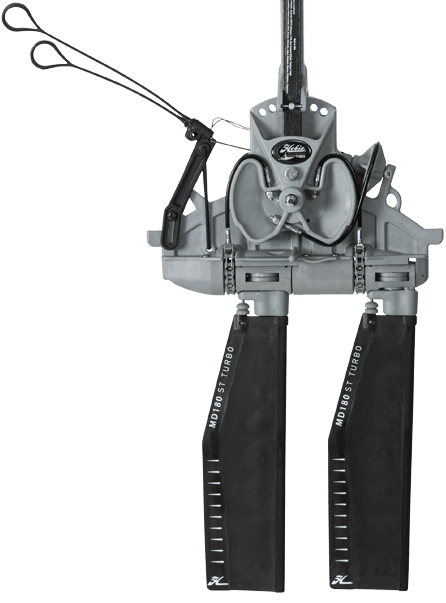 The Mirage Drive is one of the tools that have propelled Hobie into the fishing kayak lime light. This propulsion system just got an upgrade and can be found on all Hobie Mirage models! The Drive is relatively light weight for what it actually is at 8 lbs and it offers full power both forwards and backwards. These dual fins also provide shallow water access to avoid damage when peddaling in shallower areas. See video for more details below:


Vantage CT Seating

Considered one of the best kayak seating systems in the world the Vantage CT Seating System allows you to be out on the water for a long time without sacrificing your back! The Mirage Outback weighs six pounds and can support users of 270 lbs and under. It features four points of adjust-ability including the seat back, seat bottom, lumbar support as well as vantage seating.  It also comes with Four folding legs to make it into a beach chair!
Twist and Stow Rudder System
Engaged and disengaged by T- shaped handles on the side of the Mirage Outback the Twist and Stow Rudder. The Rudder is controlled by a knob that can be placed on the left hand side of the kayak. This differs from kayaks that traditionally control the rudder with the their feet.
Lowrance Ready System
The Outback has a Lowrance adapter system that allows you to install a fishfinder to your kayak. There is a built in Cavity underneath the Hobie Mirage  protected by a plate. There are pre drilled holes and plugs that allows you to install the fish finder with little work to be done.
Storage Galore
The 2017 Hobie Outback has a ton of storage room including a large bow compartment, and 8" Twist and Seal Hatch, Large Rear Cargo Area and a 8" Twist and Seal Rear Hatch Hatch. The Large hatch has enough room for a small backpack and is held in place by a security strap with detachable clip tethers. The 8" Twist and Seal Hatches is operated with a corkscrew mechanism that ratchets down the hatch keeping items secure even when flipped over. The lid is permanently attached to its base by a hinge. The Rear Cargo area gives plenty of space to put anything from crates, to live wells to coolers and everything in between!
Pros:
Comes with a lot of features including the Pedal Drive System, Twist and STow Rudder and Lowrence Ready System.

Lots of customizability with their own add on products as well as others including pre drilled space for fish finders, H- Rail systems, Sails and many other features (See Above).

Has a good mixture of speed and maneuverability.

Very Stable to stand on for Fishing, Spot Fishing, Shooting or just simply admiring the view!

Vantage CT seat is so comfortable that it can be used as a beach chair!

Includes a paddle!

As with any Hobie Kayak it is well thought up and designed.

Lots of Room for Storage!

400 Lb Weight Maximum Capacity
Cons
Very Heavy Weighing in at 99 Lbs Fully Rigged

Price Tag is expensive

Does not include the H- Rail System like the Pro Anger 12
Bodies of Water
The Outback can handle its own in a variety of different conditions but it is most at home in calmer waters like lakes and bays. The Mirage Outback can handle some surf but I would not take it out in really rough ocean conditions.I have seen videos of people flipping their Mirage Outbacks in the Ocean. This is because of the larger surface area it covers and the fact that you sit higher in these kayaks.
It is maneuverable enough to go through tighter waterways like rivers. Just make sure to do smaller pedalling motions so that the Drive does not scrape the bottom.
Customer Feedback
The Positive
The majority of people that rate this kayak usually give it at least 4 Stars out of 5. Some of the most common compliments people give these kayaks is the fact that they are really stable. This bodes very well for fishermen as many people like spot fishing and casting while standing.
The Vantage CTW seat is also a major talking point among many customers. They note that it is extremely comfortable and appreciate the Four adjust-ability options.
Other Positive Notes included:
How the Mirage Outback can turn on a dime thanks to it's design and Tow and STow Rudder System.

The Pre Drilled Holes that make installing a Fish Finder easy

The Outback is easy to paddle with when not using the foot pedal Drive

Many Fisherman appreciated the Hand- free Casting Platform that Hobie promotes with this kayak. It allows them to fish while pedaling on the go.

People did notice the difference between the standard fins on the Mirage Pedal Drive and the Turbo Fins. Many noted that the Turbo Fins did give a significant boost of performance to this kayak and recommended them.

Many People noted that they could fish over 6 hours without any discomfort to their backs.

There were actually a few Customers who defended the Price Tag of the Mirage Outback saying things like " You get what you pay for" and that the kayak was "well worth the price tag".
The Negative
Some of the most common complaints about this kayak did not relate to the price tag or weight but actually were directed at the Mirage Pedal Drive. There were a few people who complained that this kayak is better for deeper lakes. Some had some complaints about the kayaks shallow water perfomance. This could relate to the Older version of the OutbackDrive as Hobie Kayaks are equipped with a more powerful Mirage Outback Drive 180.
Some more Customer Concerns were:
In unstable waters the kayak can flip over

The Wind compromises the kayaks handling sometimes

Not the Easiest Kayak to unload by yourself. It is best to have another person help you unload it.

Kayak is pricey, some people did not think it was worth the price tag.
Analysis
Similar to the Pro Angler 12 I believe Hobie sets the benchmark for fishing kayaks and pedal kayaks alike. I rated the Hobie Mirage Outback as the 2nd Best Fishing Kayak for good reason. While it may not include the H- Rail System or the Pop up Tackle Box included in the Pro Angler the  Mirage Outback has many improvements. 
Some of these improvements include The Improved MirageDrive 180 which allows greater pedaling power both backwards and forwards allowing you to maneuver this kayak like you would a car. The Vantage CT is improved from the previous Vantage models with Four different adjustability options that allows you to stay on the water for as long as you want (Hint Bring Sunscreen! :D) .
Hobie has done a good job in my mind not just revolutionizing the kayak world but also listening to the concerns of their customers and addressing them. I have noticed that they have looked at previous customer concerns and have hit back with improvements to make the 2017 model more user friendly.
Of course the Hobie Mirage Outback also kept in tradition to what made it successful in the past . With the Twist and Stow Rudder, Lowrance Ready Fish Finder system as well as their many storage compartments that allows you to bring 400 lbs (including yourself) on board!