If you're someone that fishes quite a bit in deep water and wants to have more success in knowing where the fish are, you may want to consider purchasing a fish finder for your kayaking fishing trips. Fishfinders are compact systems that can be installed to the kayak that are designed to provide modern technology to help you determine a few different factors. How deep the water is below your kayak as well as where the fish are and where to cast your line.
There are various different devices on the market, so it's important that you consider all of the different types as well as the different features that they come with. This guide can help you to find the best fish finders by providing you with the features to look for as well as information on how to install the fish finder systems onto your kayak.
The Best Kayak Fish Finders Go As Follows:
Kayak Fish Finder Reviews
1. Garmin Striker 4 Sonar Fish Finder GPS Plotter (Top Pick)
>> Check Price on Bass Pro Shops<<
Features:
Display size: 3.5"
GPS: Yes
Mounting: Transform/Trolling motor mounting kit
Classified as our top pick and best option, the Garmin Striker is one of the most high-quality and reliable fish finders for kayaks available. It features a compact and easy-to-transport design with a color-display that measures 3.5 inches. Constructed with CHIRP sonar and HD-I'd sonar technology, the Garmin Fishfinder is designed to provide temperature display ranges of the water, the water depth and it's also capable of marking hot fishing spots so that you can return to them later.
Furthermore, this fish finder from Garmin features a keypad option that makes for easy usability. You can even install it easily using the versatile mounting options that it comes with. More specifically, this fish finder comes with a tilt/mount swivel, transom and a low-profile trolling motor transducer mounting kit that gives it durable and high-quality assembly.
Pros:
Affordable for its quality
Built with CHIRP sonar and GPS technology for accurate readings
Keypad function makes it easy to use and alter the settings while on the water
Solid battery life
Cons:
Previous customers say that the display is a bit smaller than expected, but the contrast of the display screen makes it easy to view in the sunlight
2. Venterior Portable Rechargable Wireless Fish Finder (Best Value)
Features:
Display size screen: 2.6"
GPS: No
Mounting: Castable
Available for the cheapest price on the list, these Venterior Portable Fish Finders are highly suggested for those of you that either fish using other people's kayaks frequently or that don't fish very often. It has a color-display size measuring 2.6 inches, and the castable design allows you to easily tether the fish finder to your fishing line.
Moreover, this fish finder from Venterior has a depth reading of 131 feet, and the display allows you to view the readings in either color or black and white modes. There is even a power-saving mode that's beneficial for longer fishing trips. Lastly, this device will automatically turn on when it's cast into the water, so you can quickly gather accurate readings in the saltwater or freshwater that you're fishing in.
Pros:
Available for the most affordable price
2 small holes in the design allow quick tethering to your fishing line
Features 2 display modes
Rechargable battery
Cons:
Only has a depth of 131ft
3. Lowrance HOOK2 7 TripleShot Fish Finder Bundle (Best Display Screen)
>>Check Price on Bass Pro Shop<<
Features:
Display size: 7"
GPS: Yes
Mounting: Front-dash or Gimbal-mount brackets
Offering a 7-inch high definition SolarMAX display, this fish finder from Lowrance features the easiest to read display regardless of whether you're fishing in the direct sunlight or at nighttime. The screen itself offers an HD display that has optimal brightness for sunlight viewing. The software is also easy-to-use and includes easy-to-use menus.
Unlike most other models on the market, this one comes with an autotuning sonar technology that has the ability to adjust the sonar settings according to the specific fishing conditions that you're traveling through. Lastly, the micro SD card slot has enough space for saving up to 100 routes and 3,000 waypoints. If you have or are looking at a hobie Kayak, many models like the Outback and the Pro Angler have Lowrance transducer mounts.
Pros:
Features Autotuning sonar technology
Stores up to 100 routes
Built-in US map of 3,000+ lakes
Cons:
More expensive than most of the other fish finders for kayaks available
4. Humminbird HELIX 5 CHIRP GPS G2 Fish Finder (Best Max Depth Range)
Features:
Display size: 5"
GPS: Yes
Mounting: Gimbal mounting bracket
Capable of reading a maximum depth up to 1,500 feet in the water, this Humminbird HELIX 5 CHIRP GPS Fish Finder is best used by those that are planning on going deep-sea fishing. It's made with an easy-to-read 5-inch display size and has built-in Anima cartography. There are also two display modes that you can utilize to best fish and see the underwater environment, which include the Max or Clear modes from the Helix 5 display setting.
Additionally, this Humminbird HELIX 5 fish finder comes with a micro SD card slot that allows you to conveniently save any favorite fishing spots or routes that you take while on the water. The Down Imaging technology built into this fish finder gives you a clear bird's eye view of the underwater environment as well.
Pros:
Capable of clearly viewing up to 1,500ft below the water's surface
Built-in Anima cartography
Features 2 display modes: Max or Clear mode
Cons:
Previous customers claim that the mounting system could be improved, since it's not as durable as expected
5. Humminbird PiranhaMAX 4 DI Fish Finder (Clearest Color Imaging)
>>Check Price on Bass pro Shop<<
Features:
Display size: 4.3"
GPS: No
Mounting: Tilt-mount base
Made with the clearest color imaging technology, you can easily view up to 320 feet under the water's surface. The display itself measures 4.3 inches, which is 20% larger than past versions of the device. The Down Imaging technology included also helps you to clearly see not only the overall depth of the water below your kayak, but it also gives you a fish's eye view of the deep water below.
The display is unlike any of the others on the market because it's capable of displaying up to 256 colors altogether, giving you the clearest view possible. Lastly, kayakers with a range of fishing experiences can benefit by using this fish finder because of the easy-to-use tilt-mount base.
Pros:
Screen displays up to 256 colors
Features a 600ft dual beam
Down Imaging technology works in up to 320ft maximum depth
Cons:
Doesn't some with CHIRP sonar or GPS technology
6. HawkEye Fishtrax 1C Fish Finder with HD Color Display (Most Versatile)
Features:
Display size: N/A
GPS: No
Mounting: Handheld
Given that this HawkEye Fishtrax 1c fish finder is castable, trollable, mountable and floatable, it features the most versatile design that can be used in various types of water for different types of fishing setup methods. Even more, this fish finder has Fishtrax Expandability, which allows it to be used with virtually unlimited accessories and platforms.
It even has a weight-saving design that comes with an auto-switching sonar accommodating for optimal precision. The algorithmic software built-in gives it the ability to reduce the number of false readings that many other fish finders will experience.
Pros:
Capable of being either casted, trolled, floated or mounted
Made with an algorithmic software that eliminates false readings
Features a glare-free display
Cons:
Doesn't have GPS or other tracking technology
7. Deeper PRO Smart Portable Sonar Wireless WiFi Fish Finder (Portable Option)
Features:
Display size: N/A
GPS: Yes
Mounting: Castable
Offering a versatile and wireless design, the Deeper PRO Smart Portable Fish Finder is great for various types of kayak fishing methods, even ice fishing. The sonar fish finder features a castable design that gives you the ability to easily tether it to your fishing line and then cast it up to 330 feet away from your kayak. The readability of the device is capable of providing accurate readings about the overall underwater structure of certain bodies of water, and it's even detailed enough to give you information about the underwater vegetation.
Furthermore, this Deeper PRO Smart Fish Finder has dual beam sonar frequency for highly-detailed and accurate underwater mapping. Along with the castable design, this fish finder comes with free access to the Lake Book management platform that lets you analyze bodies of water and save your tracking routes.
Pros:
Capable of being casted up to 330ft
Can be used for a variety of fishing methods, including ice fishing
Includes free access to Lake Book
Cons:
Only compatible with iOS and Android devices
How to Choose Fish Finders for Kayaks
How deep do you want to fish?
In order to find the best fish finder for your specific purposes, you'll want to first consider how deep you're planning on fishing in the water. Fish finders are really only meant for those that want to fish in waters more than eight feet deep, so any shallower waters can be fished in using sight skills. More specifically, you'll want to think about whether you're planning on engaging in structure fishing or shallow water fishing.
Structure fishing
Structure fishing ultimately refers to fishing in deeper waters. That being said, structure fishing is the best for using fish finders in. These models work best in structure fishing because they can display the overall structure of the water beneath the kayak's surface, and they can display the temperatures of the water at certain depths.
Shallow fishing
Opposite from structure fishing, shallow fishing refers to the type of fishing methods used in shallower waters. Usually, they encompass bodies of water that measure less than eight feet deep. That being said, you may not need a fish finder device, and you may even be able to more accurately catch fish using sightseeing skills.
Features included
There are a few features that you can look at in order to help distinguish the higher-quality fish finders from the lower-quality ones. Most makes will have the ability to display at least the depth of the after as well as the structure of the bottom ground. But you'll see as you're browsing that the different features offered by more expensive models can make your fishing experiences more convenient.
For instance, most expensive fish finders will have CHIRP sonar technology, which is essentially the ability to better identify fish throughout the water. With CHIRP technology, fish finders can more accurately notify you of the types of fish below the surface as well as their distance from one another. Additionally, some of the higher-quality and better models will come with GPS map functions. You'll usually want a fish finder that has built in GPS technology because you can more easily track your routes and personalize your kayak fishing experiences and mark favorite fishing spots. Also, GPS technology can give you more accurate readings of the slopes and edges throughout the underwater structure.
More expensive and higher-quality fish finders will also come with the ability to display easier-to-read screens, especially when reading them in direct sunlight. Overall, some of the more expensive models will offer you better and more accurate readings of the underwater strata, water flows and temperatures as well as more detailed readings of fish in the underwater world below your kayak.
Do you want it mounted to the kayak or handheld?
You should also consider whether you'll want to purchase a fish finder that can be mounted to the kayak or a portable fish finder that you can hold while you're kayak fishing. You should really only consider handheld ones if you're known to use other people's kayaks or if you don't use the same kayak often since you can more easily transport the whole fish finding system to a different boat when needed.
You'll ultimately benefit more from using mounted fish finders, since they can be mounted in any location that benefits you the most and you don't have to worry about holding the device to read the results it displays.
The Transducer
The transducer is the main device on fish finders that's responsible for providing the readings of the underwater world. A higher-quality transducer will deliver more accurate readings, since they can better convert the electrical pulses into sound waves under the water. It functions by sending out sound waves into the water and using the returned waves to determine the waterscape of the underwater world. It's a separate unit from the readable fish finder device, so you should consider if a certain fish finder is compatible with your kayak and where it's attached.
Is it compatible with your kayak?
Different transducers require certain conditions that you'll need to accommodate for if you want accurate readings of the underwater world. Ultimately, they require different mounting and visibility methods, so it's important that you adhere to them for your specific kayak. Most Fishing kayaks should be compatible with side-mounted fish finders because the transducer can simply be installed on the tracks, but you'll have to ensure that your kayak has tracks.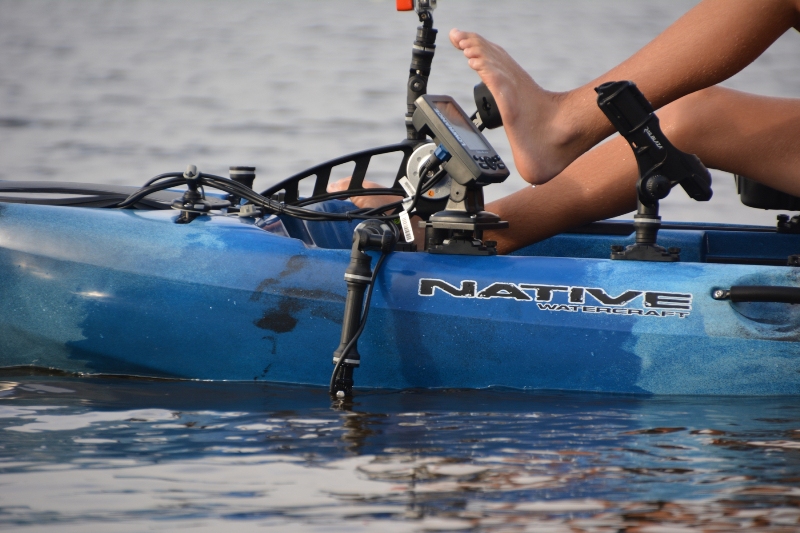 Attaching a transducer
Transducers have different mounting requirements, so you'll want to read the instructions thoroughly to determine whether you have to attach the transducer in a certain location. More specifically, transducers can either be installed onto the tracks on the side of the kayak or through the inside of the hull. Either way, you should make sure that you're capable of attaching the transducer according to the assembly guide that it comes with.
Software
You'll want to consider what type of software the fish finder operates on, since this will ultimately determine the level of usability that the device is compatible with. Many companies release software updates frequently that can help to improve the user's experience, so it's important that you learn how to access and modify the settings on the installed software of your fish finder device.
Power Source
The power source refers to what powers the fish finder and where you'll need to install it. Most finders can function off of at most a 12-volt power supply, but you may be able to use a battery with less power depending on how often you're planning on using the device.
FAQs
Where can you install it?
Where you install the fish finder device ultimately depends on your personal preference as well as the requirements of the device. Some fish finders require a certain mounting location, while others give you the option to choose where you mount it. Regardless, you should read the instructions that come with your fish finder and accommodate for the location that it requires. Most even come with the mounting gear to install the device, so you may want to consider purchasing a device that includes this option.
Which is the easiest fish finder to install?
The ultimate easiest fish finder to install is the Deeper PRO Smart Portable Fish Finder, since it features a castable design that's compatible with your smartphone. Aside from a castable design, you can also benefit from the Garmin Striker 4 Sonar Fishfinder that has an easy-to-install transform/trolling motor mounting kit.
Final Thoughts
Overall, the best fish finders can make your kayak fishing experience much easier. When using the right inns of kayak fish finder, you can more easily find out what the structure of the underwater world looks like and, in turn, you'll be able to find the best places to cast and effectively catch the types of fish that you're looking for. We hope this best kayak fish finder guide was helpful, and you're welcome to leave some additional advice in the comments section below. If you liked it, we recommend that you share it for others to see.