Do you want to up your kayak goals by trolling for your favorite freshwater species from the deck of a kayak? We've got all the tips and tricks you need to master this fun and innovative trolling style.
The Ultimate Guide to Freshwater Kayak Fishing
At Floating Authority, we take pride in giving expert water recreation tips. This guide will teach you how to put a bullseye on your target fish while cruising past the shores of your favorite freshwater body of water.
We discuss the gear you need to bring along to create a safe and successful freshwater fishing trip. We also share some game-changing freshwater fishing tips and well as several fishing gear recommendations. If your an angler who's looking to step away from the shore, freshwater kayak fishing may be a promising prospect. There isn't a better way to take in the sights and sounds of a fishing hole. So, grab your rod, reel, and kayak, and join us as we go over the essentials of freshwater kayak fishing.
What Do You Need For Freshwater Kayak Fishing?
Check out FLW Fishing's Beginner's Tips for Kayak Fishing for a quick look at an expertly stocked freshwater fishing kayak. In this video, Eric Jackson, an expert fisherman, offers viewers a glimpse at his sit-on-top fishing kayak setup as well as some successful kayak maneuvers.
Fishing PFD
We cannot overemphasize the importance of a quality personal flotation device. When you're shopping for an angling PDF, make sure that the vest options you are looking at boast plenty of storage space, preferably in the form of padded pockets. The jacket should also boast multiple adjustment points and a secure suspension system. Bonus points go to attractive offerings that are available in a variety of colors and patterns. Still, safety should remain your number one consideration.
Many PFDs come in universal adult and child sizes. Make sure to choose a life jacket that is suitable for your particular body size and weight. Check out Palm Equipment's tips for fitting yourself in a PDF. As they mention, you may need to fasten multiple buckles or zippers before tightening the straps. You should always work your way up from the bottom of the vest when increasing the tension of multiple suspension points.
Check out our reviews of our favorite PDFs. You can learn about nine of our favorite potentially life-saving angling PDFs.
Fishing Rods
If there's anything worse than being stuck up a creek without a paddle, it's being stuck up a creek without a fishing rod. You're going to need a quality rod and reel combo if you plan on catching anything more than a piece of stray seaweed. As always, keep your target species in mind when choosing a rod for your freshwater kayak expeditions. Fishyaker, an online angling content creator, has a well-liked YouTube video about choosing the right rod length for kayak fishing.
Most paddlers prefer the feel of shorter rods, usually ones that are no greater than 7 feet in length. You should always keep your target species in mind when choosing a rod for your next kayak-based fishing trip.
If you're stuck, check out our guide on choosing the best beginner fishing rods. From the moment you rig the line, these starter rods will have you hooked on freshwater fishing. Unlike your typical box store offerings, these rods won't snap under the pressure of powerful tugs and bites. Still, they're lightweight, manageable devices. They will help you to gain the confidence you need to wrestle with the most dominant species.
Tackle and Miscellaneous Gear
When you're paddling your way across the water on a kayak, you have to make judicious decisions. Most boats boast limited weight capacities. Let's run through the list of gear that you'll need to make the most of your time on the water.
Tackle
The holy trinity of the fishing tackle consists of hooks, weights, and floats. You'll also need a substantial supply of live bait, artificial lures, or both. On top of that, you're going to want a reel or two of backup line, a pair of needle-nose pliers, and a reliable line cutter. Most expert anglers keep a set of nail clippers tethered to their kayak cockpit.
Net
If you're trolling from the deck of a small boat, you're probably not targeting the largest species. Regardless of that, you should always keep a landing net within arm's reach. Landing nets boast long handles attached to wide hoops. These nets come in a variety of materials, sizes, and weaves. Common netting materials include rubber, coated-nylon, and nylon fibers.
You can learn more about the pros and cons of the various landing net varieties at Bass Pro Shops' website.
A quality landing fish will help you master your catch and release method without endangering yourself or your target fish. While not all anglers net their fish before unhooking them, there's no doubt these gear items make for cleaner, safer, and more responsible landings.
Fishing Line
Modern fishermen have more than a few options when it comes to fishing lines. We focus on line diameters and strengths (test pounds) when selecting our favorite freshwater fishing lines. Professional fishermen tend to obsess over every detail, selecting lines that are compatible with their target species, trolling style, fishing conditions, and bait or lure options.
Options aren't just limited to size. There's also a variety of material options, including monofilament, braided filament, and fluorocarbon .
If you're looking to set your line up based on your bait or lure selection, check out Bass Fishin's Fishing Line Guide . Cabela's also has a super helpful online fishing line guide.
There's no doubt that your fishing line is the backbone of your fishing system. Take the time to choose a suitable variety, and fill your spools before setting out on your next adventure. Keep an extra spool of line in your fishing tackle box to ensure that you're prepared for those inevitable line snaps.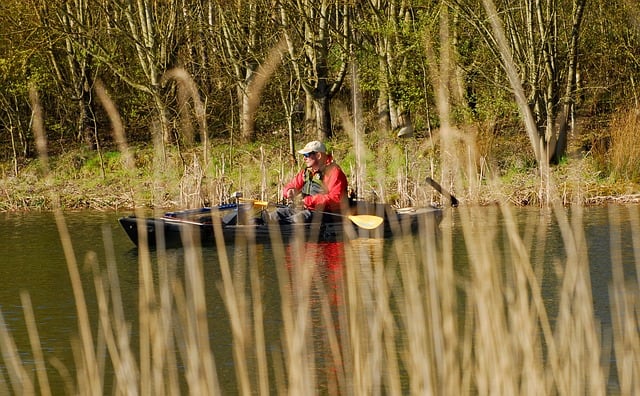 A Kayak Paddle
Check out our guide to the best kayak paddles for the money. Paddles are an essential piece of any kayak setup. If there is one piece of gear that can make or break your angling experience, this is it.
There's a lot to consider when selecting a kayak paddle. You need to take the material composition and shape of the blade into account. The same goes for the shaft. Be sure to choose a shaft that is compatible with a person of your height and the width of your kayak.
A Decent Quality Kayak
There are quite a few considerations you need to make when selecting a new fishing kayak. In this section, we discuss our base standards for fishing kayaks. Then, we go over the pros and cons of each style of fishing kayak.
Criteria
Before you select a new fishing kayak, consider the following:
The different kayak styles
Your body size and weight
Your angling preferences
Your target species
Your target waterways
Stand-Up Fishing Kayaks (Sit-On-Tops)
Stand-up fishing kayaks must be wide, flat, and stable. They enable paddlers to stand up while navigating waterways. Standing provides anglers with a preferred vantage point. They check for shallow water, bait schools, weed patches, and underwater hazards. While stand-up kayaks don't offer the same speed and precision as recreational kayaks, they are a highly desirable option for avid anglers.
Shopping for a new stand-up fishing kayak? Check out our all-encompassing buying guide.
Inflatable Fishing Kayaks
Inflatable fishing kayaks are excellent options for anglers with limited storage and transportation space. While some anglers are skeptical about combining an inflatable watercraft with hooks and other sharp tackle elements, there's no reason for anglers to be apprehensive. Inflatable fishing kayaks tend to boast wide, stable hulls. They're excellent options for freshwater fishing.
Head on over to ourguide to the best inflatable fishing kayaks. We give our honest review of several consumer favorites.
High-Quality Fishing Kayaks
High-quality fishing kayaks double as recreational crafts. What makes these boats stand out against other offerings? Many premium fishing kayaks boast bonus accessories, such as paddles, rudders, and covers. They also tend to be made of more durable materials. Some are even backed by multi-year warranties. You can judge a fishing kayak by its stability. Overall, high-quality fishing kayaks boast more thoughtful designs.
Check out the picks in our guide to the best fishing kayaks to get a glimpse of the true winners. These award-winning offerings will help you make the most of your angling adventures. If you're fully committed to fishing, you're sure to find a suitable boat on this list.
Tips on How to Freshwater Fish from a Kayak
Consult a Fishing Expert in Your Area
The best fishing advice comes from experienced anglers. Take the time to connect with seasoned trawlers in your areas. Most anglers find it easy to connect with their fellow fishermen. Those early morning conversations can lead to huge payloads. Your fellow fishermen just may let you in on some local secrets.
Keep Your Target Fish in Mind
Rule number one of fishing is to always keep your target fish in mind. Rod and reel pairings for multi-species fishing tend to be less successful than species-specific rigs. Everything from your rod length to your line size should, in an ideal world, correlate with your target species. Feel free to celebrate those random catches, but get into your kayak with a calculated plan of attack.
Use Fishing Gear You Are Comfortable With
More often than not, fishing is an act of patience. You can easily spend an entire day with your rod in hand. As such, you must always choose gear that you are comfortable with. Fish see weeds as protective structures. They often retreat to these shaded regions in search of food and protection.
Fishing Tips for Lakes
Are you struggling to find fish in your local lake? To find a fish, you need to think like a fish. Lake swimmers tend to favor cooler, protected areas, such as weed beds, rock patches, inlets, and outlets. If you've stumbled upon a school but can't seem to land any bites, then your bait or lure choice may be the problem.
Earthworms, minnows, and bait balls are all popular options for lake fishing. Jigs, spoons, and plugs are also perfectly suitable selections. If you're after a specific species, be sure to check guides to ensure you're using optimal lure and bait options.
Fishing Near Weed Beds
Weed patches are hotbeds for catches, but they're also some of the most frustrating places to pitch a line. Savvy anglers have figured out how to troll inside a weed patch with the help of lipless baits and lures. Don't let that fish-rich aquatic vegetation deter you from making your dream catch and release. Plastic frogs, flipping jigs, and weedless spoons are just a few lures with high success rates when it comes to exiting thick clusters of aquatic plant life.
Casting Techniques That Work
Since fishing kayaks put you close to your fish, you don't need to make super long casts. Simply hold the spool with your thumb, raise your arm and release your thumb to drop the line. You can also release the stopper on your reel and use a pendulum motion to quickly pitch your line.
If you are pitching your line from the standing position, all you have to do is release your reel brake and flick your wrist. In this position, you can use gravity to your advantage. There's no need to pitch your line several feet from your boat.
Fishing Tips for Rivers
River-base kayak fishing can be a fun and thrilling challenge. How do anglers make the most of flowing rivers? The first skill you're going to need to master is anchoring. You can anchor your boat artificially or with the help of a natural obstruction, such as rocks, trees, and weeds. You'll also want to learn boating basics so that your response to current changes is second nature. River-based kayak fishing is exhilarating, but you're sure to encounter a few learning curves along the way.
Casting Techniques
Your kayak is going to constantly drift in a river. As a result, you're going to have to amend your regular casting techniques. Check out thisvideo to see how the pros do it. In Kayak Fishing Tales, they battle against raging white water. You can witness how they handle themselves before pitching their line into the current.
Position Your Kayak Correctly When Fish Strike
Just as knight guides their horse in a joust, you're going to want to master strategic kayak positions to make the most of your fish strikes. After all, your position is going to dictate your safety as well as your catch rate.
Park your boat in a position that is perpendicular to your fish. Fish off the side of your kayak to ensure that the fish cannot drag the boat. You want to prevent your boat from moving when you're reeling in your catch. There are also plenty of tactical maneuvers you can master to avoid being spotted by your target. While it may seem counterproductive, most anglers prefer to angle themselves toward the sun, current, and wind.
Follow these tips to ensure that your boat does not turn or drag with your catch. Keep in mind that you will not be able to rely on your paddle when you're handling your rod.
Bonus Items That Will Improve your Fishing Experience
Kayak Fish Finder
Many anglers steer clear of these game-changing electronic tools. We were once fish finder skeptics. However, these incredible devices provide anglers with an unmatched look at the contours and structures below the surface of the water. If you want to become an inevitably more successful angler, be sure to check out your kayak fish finder options. If you're not a big fan of downtime, you can use your fish finder to plot your course while scouting out hot spots in your favorite waterways.
Cooler
We've seen plenty of soft- and hard-shelled kayak coolers that can outperform most refrigerators. When you're on the water, you must balance your load. You'd be pleasantly surprised by the number of cans you can squeeze into some of these tiny insulated food storage containers. Opt for floating, or in the least, leak-proof option. No one wants to dehydrate when they're floating in the middle of a waterway.
Extra Rod Holders
Many kayaks come equipped with extra rod holders or gear bars that can accommodate them. We like to use a mix of the deck- and flush-mount rod holders when fishing on the water. Boats with multiple rod holders help anglers stay flexible.
Final Thoughts
We hope this freshwater kayak fishing guide has you hooked. Kayak fishing lets you get away from the shore and explore your surroundings while potentially reeling in those rigorous swimmers.